Copenhagen has many sides that can be explored even in a short city break: Romantic castles and crazy neighborhoods, the oldest amusement parks, and modern art. And the Copenhagen Card allows exploring at a very reasonable price.
Scandinavia is beautiful: There are modern cities and cute little towns, rambling woods, broad sand beaches along the Northern Sea (which is actually part of the Atlantic Ocean), and the Baltic Ocean.
And where there is water, there are islands; actually Scandinavian countries consist of many islands – and the most rugged one is Denmark.
Germany is actually the only neighboring country from where it's possible to get to Denmark without wetting your feet. You can cross a practically non-existent border North of Flensburg. I once took a hike in a forest close to Flensburg and came accidentally out in Denmark – different language and more importantly different currency. I had to pay for a small bottle of water and ice cream by credit card.
This changed a bit in 2015 when many refugees came to Europe and Denmark and Sweden began to control their borders.
Going to Copenhagen: The journey is the reward
Anyway, if you are going to Copenhagen from Germany, it's much nicer to take the ferry – it makes the journey so idyllic.
When you are driving or taking the Flixbus or take the train from Germany, you can cross a bridge to the island of Fehmarn and take the ferry at the harbor of Puttgarden on Fehmarn's Northern tip.
All passengers are requested to get out and spend the crossing on deck – actually for security reasons, but who wants to sit in a moving garage with no windows when you can spend an hour watching the waves roll, hearing the seagulls scream and smelling the salty air of the sea!?
Another hour travelling on land and you reach Denmark's capital.
Copenhagen has over 602,000 inhabitants who share a little over 86 square km resp. a little over 33 square miles. It is connected to Malmö in Sweden by the Øresundbridge.
If you chose to fly in, Kastrup airport is about twenty minutes from the main station, trains are going every couple of minutes. Copenhagen's strong suit is not only its beauty, but it's mainly its diversity. It's a city of so much history and so many stories – very old and just recent.
But Copenhagen is also a Scandinavian capital, and that's synonymous with neck-cutting prices. All the more surprising that – while it's really difficult to tighten your belt when it comes to lodging and food – you can easily save a lot on a fun, diverse, and cultural program: Get the Copenhagen Card as soon as you arrive and forget about fares and entrance fees for your entire stay!
Copenhagen Card and other great deals
You can get very far with Copenhagen Card – metaphorically and literally speaking: Whether you chose the 24-hour card, a 48-hour card, a 72-hour card or a 120-hour card, you can use all public transport like trains, busses, harbor busses, and the Metro in the entire Copenhagen Region – even from and to the airport. There is an adult card that starts at 57 €uro for 24 hours and costs up to 135 €uro for five days. Kids between 10 and 15 years of age pay about half, two children under 10 are included in an adult card.
While unlimited mobility is already great, the variety of attractions to choose from will simply blow you away: There are 83 attractions to visit! Even if all of them were in the center of Copenhagen, I bet that even in five days you couldn't manage to see them all.
I don't know you, so obviously I don't know what you are mainly interested in. I'm mainly interested in art, but also in history and traditions. Therefore I introduce the places I've visited. Fortunately, the Copenhagen Card People have a really good and informative Website where you can get information on more sights that I possibly don't care too much for.
If you don't have that much time to spend in Copenhagen (which would be a pity), the ticket for the Parkmuseerne, the six museums in the park area might be a better deal. For DKK 195 resp. 31 USD you have free admission to The Hirschsprung Collection, SMK – National Gallery of Denmark, Natural History Museum of Denmark and Rosenborg Castle, 10% discount on publications at The David Collection, and a free cinema ticket to ordinary film screenings at The Cinematheque.
Gardens and Parks
Of course, a walk through Copenhagen's manicured parks like Kongens Have (a rather French style) and Østre Anlæg (rather English) is free.
However, a visit to the famous amusement park 'Tivoli' right across from the main station is not free at all. Built in 1843 as one of the first amusement parks worldwide – and mind you the very oldest one is in Copenhagen, too: it's the much less known Dyrehavsbakken (no wonder it's less popular – try to pronounce this name…). Anyway, Tivoli counts today with 23 fairground rides and 37 different restaurants, furthermore theaters, a small lake, and more.
I'm not into amusement parks at all and I'm even less into amusement parks from 1843, but about 4 million visitors per year prove me wrong.
However, entrance to the 'Tivoli' is included in the Copenhagen Card, but none of the rides. Still, especially when you have a little spare time before your train is due, you can spend it at the 'Tivoli"s garden instead of the station's arrival hall.
Tivoli
Vesterbrogade 3
1630 København
Phone: + 45 – 33 15 10 01
Email: info@tivoli.dk
Opening hours: Please check their website for the date you need – there are so many variations that it would make a too-long list. Thank you for your understanding.
Castles and Fortresses
Amalienborg
Although Amalienborg should be Copenhagen's most important castle since it's actually the Queen's and her family's home, it's the most unadorned of them all.
Its four residences were built between 1750 and 1760. One part is a museum and can be visited, but if you don't have time to visit too many sights, I would rather visit Rosenborg for the unique wooden decoration and Royal Reception Rooms at Christiansborg Palace if only for the at first crazy carpets by Bjørn Nørgaard describing in bright colors Denmark's history.
If you have much time and happen to be a royalist, be my guest at Amalienborg (or of course rather the Queen's guest…).
Amalienborg Slot
Christian VIII's Palæ
1257 København
Phone: + 45 – 33 15 32 86
Opening hours: Please check their website for the date you need – there are so many variations.
Christiansborg
This castle, although it's not the royal family's home, is actually at least as interesting as Amalienborg and most importantly the building looks much more like we imagine a castle.
It has a quite wild – and hot! – history: Today's building was built only from 1907 to 1928, yet it's already the fourth castle since the very first one, built by bishop Absalon in 1167, was destroyed in fights in the 15th century. The following two castle buildings burned down in 1794 resp. 1884.
Since 1918 Christiansborg castle houses the Danish parliament. Some parts can be visited whereby the Royal Reception Rooms, which are used for official occasions, are the most interesting part. They are richly adorned with furniture and decorations. Some were rescued from the two earlier palaces.
The most surprising are the tapestries by Bjørn Nørgaard, depicting scenes from Danish history, but in colors and style that you would not expect in such a venerable place.
Besides the Reception Rooms, there can be visited the royal stables, the royal kitchen as well as the ruins of Absalon's castle underneath Christiansborg Palace.
Christiansborg Slot
Prins Jørgens Gård 5
1218 København
Phone: + 45 – 33 92 64 92
Email: christiansborg@natmus.dk
Opening hours: Please check their website since the hours to the various parts of the castle differ.
Rosenborg
This Renaissance castle, built from 1607 to 1617, was the summer residence of King Christian IV. It houses the Danish royal treasure chamber. Since 1833, this building is a museum, housing highly interesting pieces of furniture and decoration such as the ivory throne and the three silver lions whose replicas are exhibited at the Victoria&Albert museum in London.
Also Christian IV and Christian V golden crowns can be admired.
The painting collection includes portraits of Johan Friedrich Struensee, physician of the insane King Christian VII, and lover of his wife Queen Caroline Mathilde. Thusly secretly governing the country for almost two years, Struensee was arrested and executed in 1772.
Rosenborg Slot
Øster Voldgade 4A
1350 København
Phone: + 45 – 33 15 32 86
Opening hours: Just like Amalienborg, I kindly ask you to check their website for specific dates and hours since there is a long list.
Towers and Outlooks
Rundetårn
The Rundetårn to me is a mix between a fortress and a tower. It's a remarkable structure: 34,8 m high and its lookout can be reached over a 209 m long corkscrew landing with no steps.
The lookout was built from 1637 to 1642. Adjacent to the Rundetårn is the Trinitatis Kirke, the Trinity Church Sankt Petri Kirke that has been the German community's parish church. Built in 1586, it's Copenhagen's oldest church.
Rundetårn
Købmagergade 52A
1150 København
Phone: + 45 – 33 73 03 73
Email: post@rundetaarn.dk
Opening hours: Here again – a broad variety of different hours…to be checked on their website.
Vor Frue Kirke
I personally urge you to visit the classicist Church of our Lady, Copenhagen's cathedral, if only for the gorgeous statues by famous sculptor Bertel Thorvaldsen – we get to him later.
Vor Frue Kirke – Københavns Domkirke
Nørregade 8
1165 København
Phone: + 45 – 33 15 10 78
Email: kontor@domkirken.dk
Opening hours: Monday to Saturday 8.30 a. m. to 5 p. m. (Friday closed from 10.30 a. m. till noon) Sunday noon to 4.30 p. m.
Vor Frelsers Kirke
Our Saviour's is another tourist magnet mainly for the 400 steps there are to climb to the top.
While the first 250 are inside the tower, the last 150 are outside…and the higher you get, the tighter are the steps: Welcome to 90 glorious meters above street level! But you are really, really close to Our Saviour who is standing on a golden globe.
Vor Frelsers Kirke
Skt. Annæ Gade 29
1416 København
Open daily 10 a. m. to 4 p. m. (Sunday 10:30 a. m.)
Rådhus
…and yet here comes another opportunity to get all dizzy and nauseous: climb up the 300 stops from street-level to the tower and you find yourself on one of Copenhagen's highest building up about 106 meters.
Either freak out – like me, or enjoy the fantastic view – like everyone else.
Since it's actually the town hall, public opening hours are pretty restricted: You can on go on the tower Monday to Friday at 11 a. m. and 2 p. m. and on Saturday at noon.
Guided tours in English are available Monday to Friday at 1 p. m. and on Saturday at 10 a. m. and in Danish Monday to Friday at 10 a. m. and 3 p. m. and on Saturday at 11 a. m.
Rådhus
Rådhuspladsen 1
1599 København
Phone: + 45 – 33 66 25 86
Email: rundvisning@okf.kk.dk
Børsen
My favorite tower is the tip of the stock exchange: four dragon tails twisted around each other.
You'll find Børsen, one of the most eclectic buildings in Copenhagen, right in the neighborhood of Christiansborg castle.
Built by King Christian IV in the early 17th century it was used as a commodity exchange and was thusly one of the first European exchanges.
The building has been owned since 1857 by the chamber of commerce and is not open for tourist visits. However, its various rooms and halls can be rented for special occasions.
Painting and Sculptures
Ny Carlsberg Glyptotek
Mr. Carl Jacobsen (1842-1914) was a good doer. Not only did he brew beer, no, in addition, he also founded the Ny Carlsberg Glyptotek, a museum with a great collection of ancient and modern art.
Apart from about 10,000 artworks, the building itself is a highlight – mainly the beautiful winter garden right adjacent to the entrance area where you can just listen to the fountain and enjoy the sight of lush plants – or have a light snack at the 'Café Glyptotek'.
Ny Carlsberg Glyptotek
Dantes Plads 7
1556 København
Phone: + 45 – 33 41 81 41
Email: info@glyptoteket.dk
Open Tuesday to Sunday from 11 a. m. to 6 p. m. (Thursday to 10 p. m.)
SMK – Statens Museum for Kunst
The National Gallery of Denmark SMK – The National Gallery of Denmark (Statens Museum for Kunst), located next to Nørreport station, is Denmark's largest art museum.
It houses a permanent collection of Danish and international art from the past seven centuries and organizes many interesting special exhibitions.
I particularly like the sinister, a little depressed Danish impressionism by Krøyer, Hammershøi and their contemporaries.
SMK – Statens Museum for Kunst
Sølvgade 48-50
1307 København
Phone: + 45 – 33 74 84 94
Email: smk@smk.dk
Opening hours Tuesday to Sunday from 11 a. m. to 5 p. m. (Wednesday to 8 p. m.)
Den Hirschsprungske Samling
The Hirschsprung Collection is even more focused on Danish art from the 19th and early 20th centuries. Its focus lies on the Danish Golden Age and the melancholic Skagen painters showing the hardship of life on the Northern shores.
Whether Købke, Krøyer, or Hammershøi, besides their great talent, these artists allow you to peep into Danish households of the poor and the wealthy alike.
Den Hirschsprungske Samling
Stockholmsgade 20
2100 København
Phone: + 45 – 35 42 03 36
Email: dhs@hirschsprung.dk
Opening hours Wednesday to Sunday 11 a. m. to 4 p. m.
Thorvaldsens Museum
I already mentioned superstar Bertel Thorvaldsen above: Thorvaldsen (1770-1844) was one of the many classicist artists who had found their artistic cradle in Rome, and that he was an important part of this artists' circle prove many paintings depicting him either working on his sculptures or celebrating life with his peers.
The museum that houses a nice collection of his statues and friezes was opened in 1848 as Denmark's first museum. Its size and decoration alike are quite impressive.
Thorvaldsens Museum
Thorvaldsens Plads 2 1
213 København
Phone: + 45 – 33 32 15 32
Email: thm@thorvaldsensmuseum.dk
Opening hours Tuesday to Sunday 10 a. m. to 5 p. m.
Ethnics and Cultures
The Worker's Museum
Although this museum is probably one of the less popular with the tourist crowd, I like it a lot. When travelling I always enjoy getting a feel for the destination's everyday life, and this museum allows in a very cute and entertaining way to approach the Danes next door.
Besides a permanent exhibition with old gear and tools from the past century, there are also temporary shows of very Danish topics.
I personally recommend a visit, it's not very big, anyway, and it's of course included in the Copenhagen Card.
The Worker's Museum
Rømersgade 22
1362 København
Phone: + 45 – 33 93 25 75
Email: info@arbejdermuseet.dk
Open daily from 10 a. m. to 4 p. m. (Wednesday to 7 p. m.)
The Danish Jewish Museum
The Danish Jewish Museum in Copenhagen presents Jewish life in Denmark through 400 years. The venue was designed – like many Jewish museums such as the one in Berlin and also the Felix-Nussbaum-Haus in Osnabrück/Germany – by star architect Daniel Libeskind.
Like at all these venues, the building's layout and conception are in close dialogue with the exhibition itself.
Especially interesting and very touching is the section about the rescue of the Danish Jews from Nazi prosecution during WWII: The Danish resistance movement managed to evacuate 7,220 of Denmark's 7,800 Jews together with their 686 non-Jewish spouses across the sea to neutral Sweden. Sadly an exceptional rescue.
The Danish Jewish Museum
Proviantpassagen 6
1218 København
Phone: + 45 – 33 11 22 18
Email: info@jewmus.dk
Open Tuesday to Friday 1 p. m. to 4 p. m., weekend noon to 5 p. m. (June to August Tuesday to Sunday 10 a. m. to 5 p. m.)
Freetown Christiania
Since 1971, 'Freetown Christiania' is a world-famous 'alternative' neighborhood project at the Christianshavn district.
It is spread over 34 hectares (0,13 square miles) on the former Bådsmandsstrædes-barracks and includes the historical embankment.
The Burghers of Christiania consider themselves living in an autonomous freetown: The project was initially started as an angry answer to the housing crisis, it is a hippie initiative and a squatter movement – including all advantages and disadvantages; and of course a tourist magnet.
Christiania (Main Entrance) Prinsessegade/Bådsmandsstræde 43
1407 København
Phone: +45 3295 6507 (Information), +45 21 85 38 78 (Guided Tours)
Email: nytforum@christiania.org (Information), bestilling@rundvisergruppen.dk (Guided Tours)
Daytrips and Excursions
Louisiana Museum of Modern Art
A day trip that almost everybody does is a ride to the extraordinary Louisiana Museum of Modern Art – extraordinary for its exhibition as well as for its location: 35 km North of Copenhagen, it is located in a huge garden on the shore of the Øresund, the sea between Denmark and Sweden, so that even families with small kids can spend the entire day.
You can look at the amazing art collection of over 3,000 modern works – completed by temporary special exhibitions, you can have a snack at the cafeteria or your own picnic on the lawn – or you sit on the rocks and watch the sea.
Louisiana is a dreamy place for everybody, and that was Knud W. Jensen's intention when he founded the venue in 1958.
Louisiana Museum of Modern Art
Gammel Strandvej 13
3050 Humlebæk
Phone: + 45 – 49 19 07 19
Email: mail@louisiana.dk
The venue is open Tuesday to Friday from 11 a. m. to 10 p. m. and on weekends to 6 p. m.
ARKEN Museum of Modern Art
Getting to the ARKEN Museum of Modern Art is a bit of a drag, but I find it's absolutely worth it, especially on a nice day. It's located in Ishøj, and while the trip there by train is no biggy, to continue to the beach where the ARKEN is located can result in a long walk along the freeway since bus 128, which takes you there, runs only every half an hour.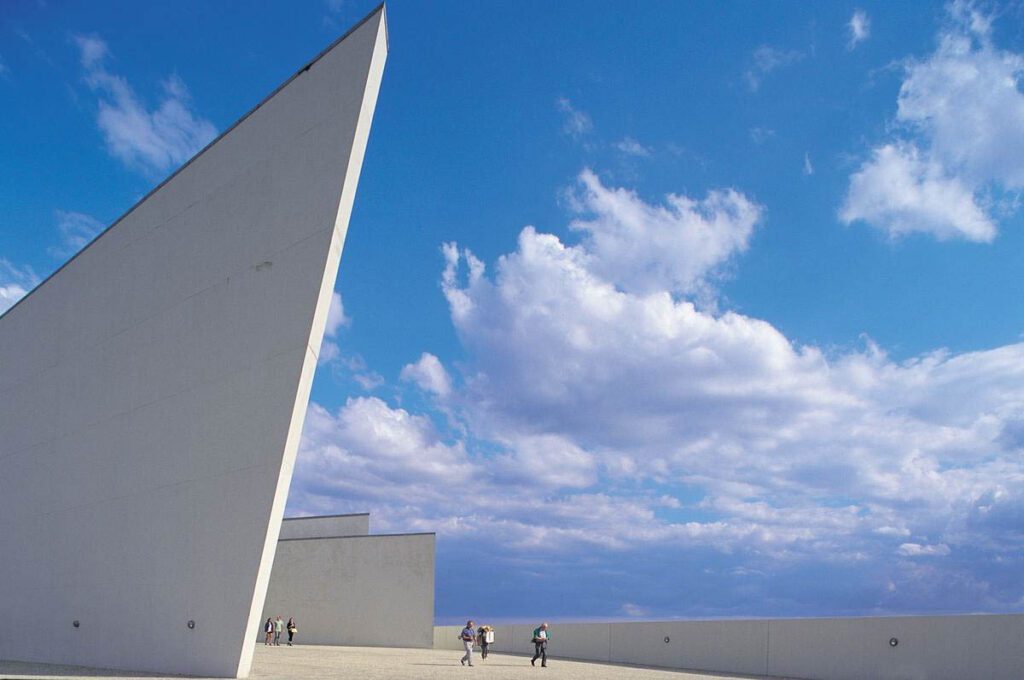 Besides special temporary exhibitions, they pride themselves to have really outstanding pieces by Damian Hirst, Ai Wei Wei, and Grayson Perry, to mention only the most famous and eclectic.
ARKEN
Skovvej 100
2635 Ishøj
Phone: + 45 – 43 54 02 22
Email: info@arken.dk
Opening hours are Tuesday to Sunday 10 a. m. to 5 p. m. (Wednesday to 9 p. m.)
Frederiksborg Palace
Like Louisiana, Frederiksborg palace, apart from Rosenborg castle my favorite 'slot' (castle), is also situated north of Copenhagen, namely in Hillerød. This palace, surrounded by a lush garden, was built by King Christian IV – like Rosenborg castle – in the renaissance style at the early beginning of the 17th century.
Since 1878, it houses The Museum of National History, and walking through the beautiful rooms, thoroughly arranged and decorated, is an encounter with many important epochs of Danish history.
Particularly impressive is the castle's chapel.
Frederiksborg Palace
Møntportvejen 10
3400 Hillerød
Phone: + 45 – 48 26 043 9
Email: dnm@dnm.dk
Opening hours
April to October: Monday to Sunday 10 a. m. to 5 p. m.
November to March: Monday to Sunday 10 a. m. to 3 p. m.
Big extra in Summer: The Palace can be reached by the 'Little Ferry' that sails "Denmark's most beautiful nautical mile" on the castle lake.
Sailing season: May 12 to September 17 daily from 11 a. m. to 5 p. m. (Sundays from 1 p. m.) every 30 minutes from three piers Hillerød Torv, Rosenhaven, and Baroquegarden approximately every 30 minutes.
Slotssøen
3400 Hillerød
Email: info@partrederiet.dk
Roskilde Cathedral
Today, Roskilde, located 30 km west of Copenhagen, is mainly famous for its wild rock festival.
But I, being an elderly lady not splashing in the mud flashing my private parts at rock festivals, I am rather amazed by the cathedral which is for good reason on the UNESCO World Heritage List.
The variety of graves is amazing. It was built in the 1170s by bishop Absalon – see also the above section on Christiansborg castle. Since then, the cathedral has been rebuilt several times.
Since the Reformation, all Danish kings and queens have found their final resting place here.
Roskilde Domkirke
Domkirkepladsen 3
4000 Roskilde
Opening hours: April to September daily from 10 a. m. to 6 p.m. (Sunday from 1 p. m.) October to March daily from 10 a. m. to 4 p.m. (Sunday from 1 p. m.)
RAGNAROCK
Once in Roskilde, honor the tradition of rock music and make your trip complete by visiting RAGNAROCK, a new venue focussing on music and youth culture.
RAGNAROCK
Rabalderstræde 16
4000 Roskilde
Phone: + 45 – 46 31 68 54
Ragna rocks Tuesday to Sunday from 10 a. m. to 5 p. m. (Wednesday to 10 p. m.)
Roskilde Museum
Like I already explained above, I love to learn and get in touch about everyday life, and the Roskilde Museum focusses exactly on that: customs, culture, and history of Roskilde, the country's first capital, since the times of the Vikings.
Roskilde Museum
Sankt Ols Gade 18
4000 Roskilde P
hone: + 45 – 46 31 65 29
Email: roskildemuseum@romu.dk
By the Waters – On the Waters
Not only is Copenhagen located on an island shore, but it also has canals and lakes. So visiting Copenhagen is almost impossible without getting on board:
Canal Tour
Taking the Canal Tour, which I really recommend, is the perfect way to get a good overview of the city – and at the same time get to see many of the most important sights.
Just look around, listen to the guide and note which churches, castles, and other sights you are interested in to come back later and visit them on your own.
There are various tours, but the one that's included in the Copenhagen card is the one that starts at 'Gammel Strand' (Ved Stranden).
But before you hop on the boat, don't miss out on strolling up and down the Nyhaven with its colorful buildings today housing mostly restaurants and bars.
Canal Tours Copenhagen
Gammel Strand 32
1200 København
Phone: + 45 – 32 96 30 00 (weekdays 8 a. m. to 4 p. m.)
Email: info@stromma.dk
Lake Tour
From May to September, when it's hot and you want to enjoy Denmark's lush green surrounding from the water, go on one of the boat tours on beautiful lakes and streams in North Zealand, just 20 minutes from Copenhagen: Lyngbysø, Bagsværdsø, Furesø, Vejlesø, and Mølleåen are awaiting you.
Baadfahrten
Sorgenfrivej 23
2800 Kgs. Lyngby
Phone: + 45 – 32 96 30 00
Email: info@baadfarten.dk
The ticket office is open Tuesday to Friday from 9:30 a. m. to 5 p. m. (weekends to 7 p. m.)
Den Blå Planet
Of course, you can also enjoy being by the water without actually going on the water: Why not taking a walk on the Amager city beach and then pay the aquarium, Den Blå Planet (The Blue Planet), a visit?!
Besides different aquariums showing life under and above water, they have also crocodiles and sea otters. Then, in their tropical rainforest, you will admire beautiful butterflies, birds, and the world's biggest freshwater fish, the Arapaima.
Den Blå Planet
Jacob Fortlingsvej 1
2770 Kastrup
Phone: +45 – 44 22 22 44
Email: info@denblaaplanet.dk
The aquarium is open year-round daily Monday to Sunday 10 a. m. to 5 p. m. (Monday to 9 p. m.)
Phew – that sure is a long list, right?! And for those who still cannot believe it: Yes, all these attractions are included in the Copenhagen Card – and the transport there and back, too!
Practical Information
Where to stay
Copenhagen is really, really expensive when it comes to accommodation. I solved the problem by staying in the outskirts, namely at the Glostrup Park Hotel* in Glostrup. It's only about 20 minutes from the main station plus a five minutes walk. There, you get value for an okay price. A good, generous breakfast buffet is included which is a big plus in an expensive city like Copenhagen.
However, on this map, you can check out more convenient lodging options*:
Where to eat
Again: Copenhagen is really, really expensive – also when it comes to eating out.
But you have to eat, so I tell you about a couple of places where a look at the prices will not spoil your appetite:
Paludan Bog&Café
Fiolestræde 10-12 (near the botanic garden)
1171 København
Phone: +45 33 15 06 75
Email: info@paludan-cafe.dk
They are open for breakfast, lunch and dinner (between 85 and 100 DKK / 13,50 and 16 USD) from 9 a. m. to 10 p. m.
Grød
Jægersborggade 50 (behind the botanic garden. This is the first and main of four locations around Copenhagen)
2200 København
Email: info@groed.com
Open daily from 7.30 a. m. to 9 p. m. (Saturday and Sunday 9 a. m.) – opening times of the other locations might vary a teeny bit.
Everything here is porridge/grits/legumes-based and costs between 60 and 80 DKK / 9,50 and 13,50 USD
Money
Although Denmark is a member of the European Union, it kept – just like Sweden by the way – its former currency, the Danish Kroner. At this moment (September 2021) the exchange rate is 1 US $ = 6,29 DKK (current rate) / 1 €uro = 7,44 DKK (current rate). Obviously, credit cards are widely accepted.
Language
Scandinavians are known for not being very affected by the building of the tower of babel – they seem to speak like every language on planet earth.
It still might be nice to be able to greet and thank in Danish, and on babbel you can reach this goal already with the first, free lesson.
Great Reads
There is, of course, the iconic, romantic story of the Little Mermaid by Hans Christian Andersen, but there are also the thrilling crime novels by Jussi Adler-Olsen.
Also, very recommendable is the book Countrymen by Bo Lidegaard dealing with the rescue of the Danish Jews to Sweden that I've mentioned above in the Ethnics section.
Pinnable Pictures
If you choose to pin this post for later, please use one of these pictures:
Note: This post is being regularly completed, edited, and updated – last in September 2021.
Did You Enjoy This Post? Then You Might Like Also These:
* This is an affiliate link. If you book through this page, not only do you get the best deal, I also get a small commission that helps me run this blog. Thank you so much for supporting me!