The long beach on the outskirts of the idyllic town of Alcúdia is one of the tourist hotspots on Mallorca's north coast. The white sandy beach stretches for kilometers along the turquoise waters. As the beach slopes gently into the sea, it is the ideal spot for families – foreign visitors and locals alike.
And due to first-class wind conditions, also sailors'n'surfers find their dorado off Alcúdia's shores.
Alcúdia
After having arrived in Mallorca the day before, my day trip to Alcúdia was basically the first real encounter with the island. And since the capital Palma is in the very south while Alcúdia is on the northern shore, I got a comprehensive island tour right away.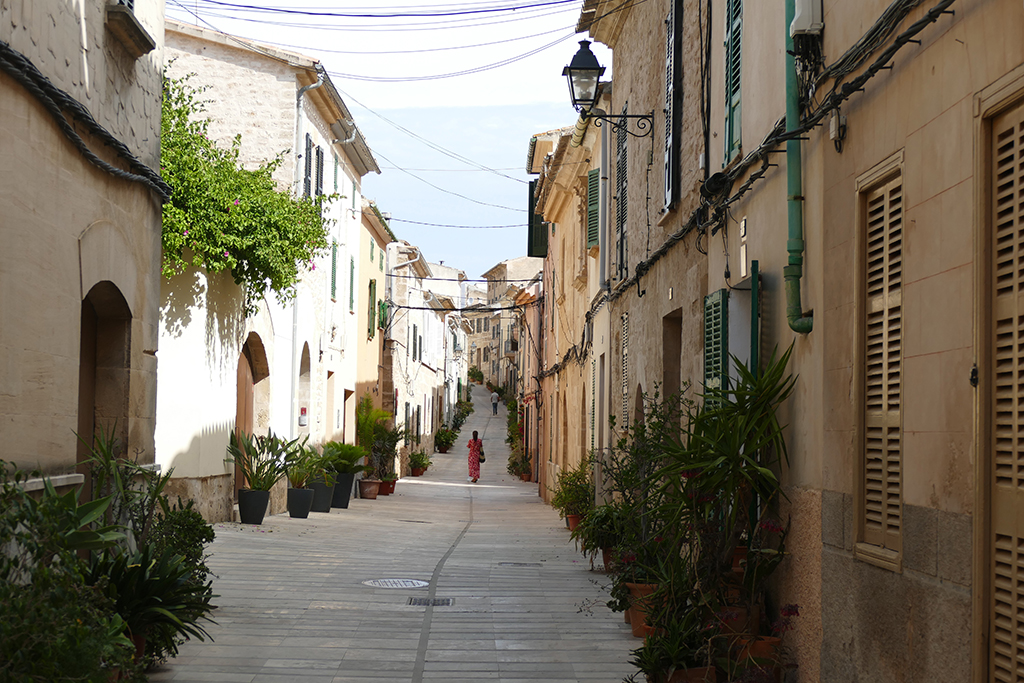 Alcúdia is a historic city, surrounded by a city wall. Located on a peninsula between two bays, the Phoenicians settled in the area for its strategically favorable position. Yet, they had to give way to the Romans, who made the settlement Pollentia in today's Alcúdia the island's capital.
Traces of Roman occupation can still be found. There are the remains of Mallorca's only Roman amphitheater, and on the outskirts, you can visit the ruins of Pollentia.
To dive deeper into Alcúdia's past, visit the archeological museum on Carrer de Sant Jaume 30. The building from the 14th century houses an interesting collection of Roman finds and ceramics. Mind you though that it's open only from Monday to Friday between 9.30 a. m. and 2.30 p. m.
The old town of Alcúdia is walled and you enter through imposing city gates. However, you can also walk right on the walls and enjoy grand panoramic views in all directions.
Access to the city wall is possible both at the Porta de Santa Sebastià and at the second still preserved city gate, the Porta del Moll.
It is quite amazing that the medieval city wall is this well-preserved since the fence, as well as its once 26 towers, were built without the use of mortar.
As a matter of fact, the old houses within the city walls date back to the 16th to 18th centuries. Today, some of these buildings are housing bars, restaurants, and small specialty shops.
Sundays and Tuesdays, there is a farmers market just outside the Porta del Moll. Although it's not the most picturesque market I've ever seen, it was the perfect place to stock up on Mallorquin apricots and some hearty local snacks for my day on the beach.
Platja d'Alcúdia – Dreamy Beach on the North Coast
Normally, I'm a huge culture vulture and hardly skip any museum. Since Alcúdia has one of the whitest and widest beaches in Mallorca, awarded with a Blue Flag for the quality of the water, I skipped my history class. After a quick stroll through the old town between and also on the walls, I headed for the coast south of the city.
You can also walk north to Es Barcarés where you find lovely bays.
But I didn't want bays, I wanted an endless beach.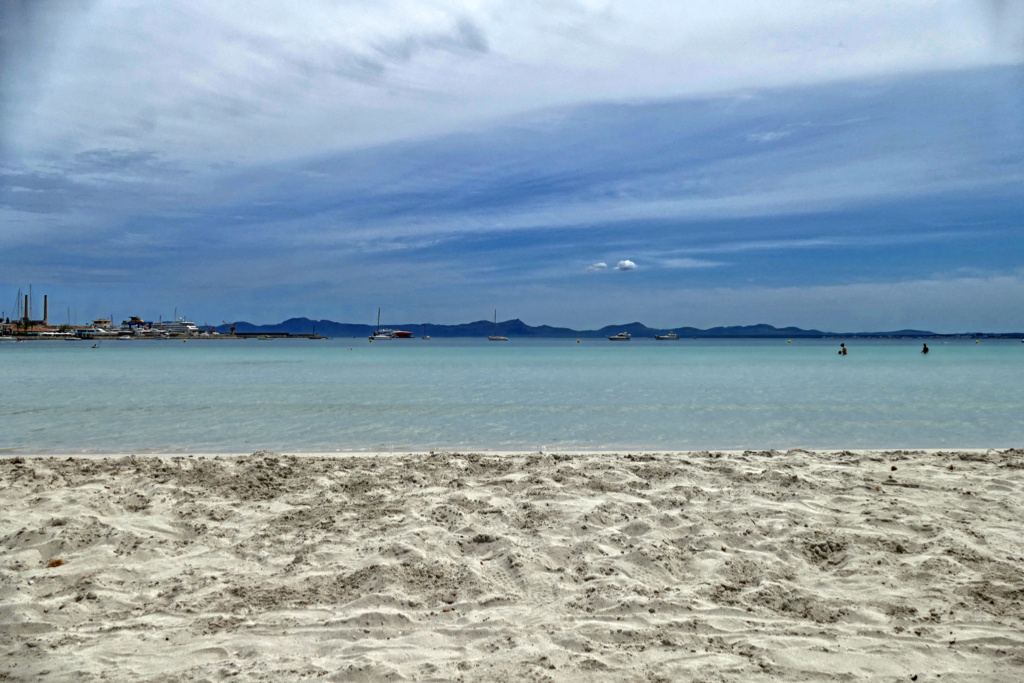 The sandy paradise begins at Port d'Alcúdia, Mallorca's largest holiday resort on the north coast. It's also the second-largest freight port on the island with a regular ferry service to Barcelona on the Spanish peninsula and Mallorca's little sister Menorca just 70 kilometers east.
Hence, the first one of the northeastern chain of beaches is the Bay of Alcudia. Here, it is more serene than on the sections towards Can Picaford. There are hardly any buildings, no wild beach life, and rather local beach bums than foreign tourists. Total relaxation.
Nevertheless, if you tend to have itchy feet as I do, you can basically walk for hours on the soft sand and let the cool waters splash your feet.
Also, approximately halfway, around the bus stop S'Albufera, is the homonymous nature reserve which should be a must-see for ornithologists.
How to Get There
On weekdays including Saturday, there is an approximately hourly bus service between Palma and Alcúdia respectively the final stop Platja de Muro. On Sundays, it's a bit limited, however, the first bus #302 leaves Palma at 8 a. m. and the last one departs from Platja de Muro around 9 p. m. with buses about every 90 minutes.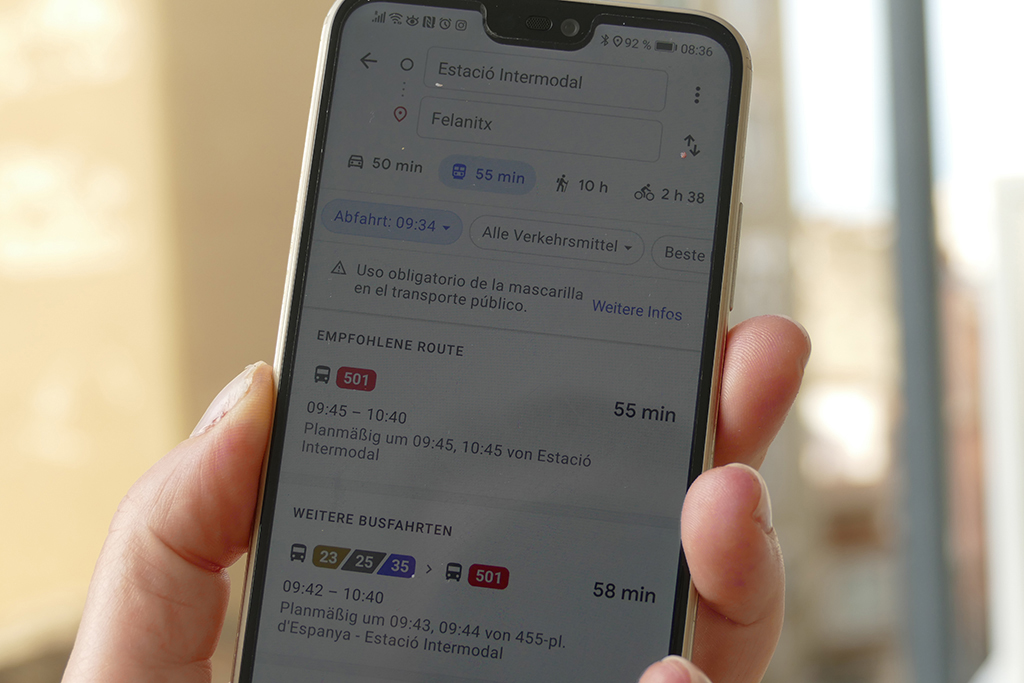 To have a schedule on hand, you can download it from the bus company's website. Transportes de les Illes Balears – short tib – have a very informative website in five languages. However, for a quick check, also google maps is really great and doesn't show you only the next available bus but also the following one.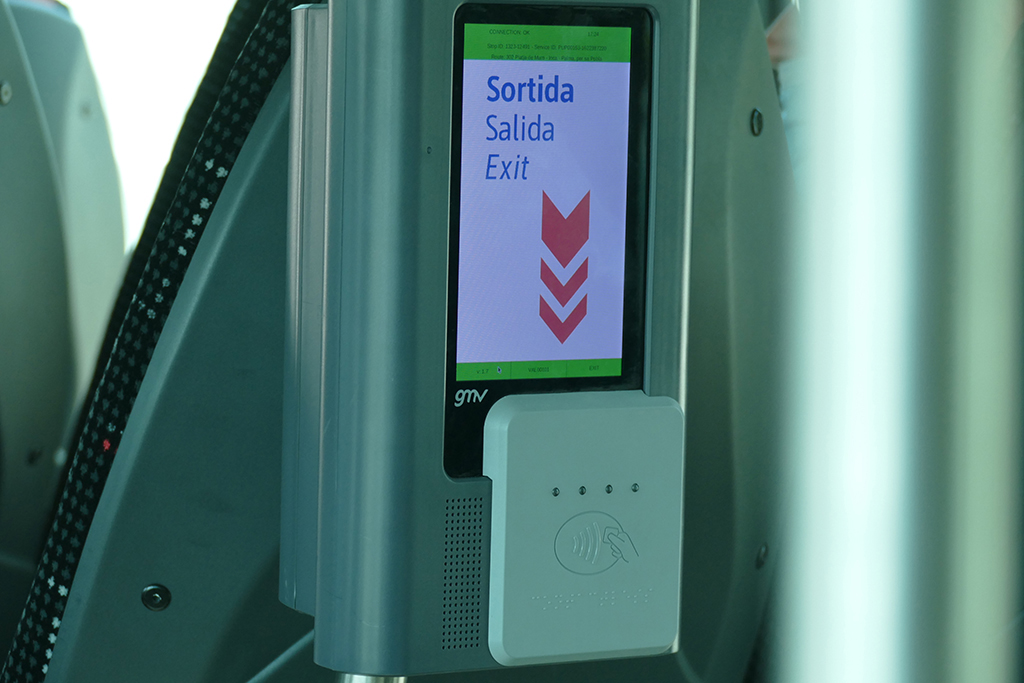 A single ride from Palma to Alcúdia costs 9 €uro if you pay cash on the bus. This is not exactly cheap, but don't forget that you are crossing the entire island. Also, as you pay with your credit or debit card, you get an incredible discount of 60%.
In case your card is not equipped with Near Field Communication – short NFC – you can simply obtain a so-called intermodal card for instance at the Estació Intermodal in Palma and just charge and recharge it as needed. This way, you'll get the same discounts. These discounts depend on the fare – the cheaper the ticket, the smaller the discount, i. e. if your fare is 3 €uro, you get 10%. For a long ride that normally costs 9 €uro, you get 60% which is pretty amazing.
There are five stops in the area around Alcúdia: Downtown, at the yacht harbor Port d'Alcúdia, on the beach Platja d'Alcúdia and two along the beach Platja de Muro. Hence, if you don't feel like walking, you can always hop on the next bus.
Well-Organized Activities
Although I'm an avid solo-travelling woman, I sometimes like to join organized tours. Not only are they a valid option to go to remote places since I'm not driving. They also allow me to meet fellow travellers – for just a short moment or a lifelong friendship.
Therefore, here are some great ideas of what to do when visiting Mallorca. Especially during high season, pre-booking online will guarantee your place at the activity of your choice*:
My day trip to Alcúdia was only the first of many amazing tours during my nine days on the island of Mallorca. To read about the others, go to this post and take your pick!
For general information on Spain, go to the main post. There, you'll find information and tips that will make your trip much smoother and more enjoyable.
Map
This map should help you to find your way around Alcúdia and the adjacent beach area:
Pinnable Pictures
If you choose to pin this post for later, please use one of these pictures:
Did You Enjoy This Post? Then You Might Like Also These:
* This is an affiliate link. Hence, If you book through this page, not only do you get the best deal. I also get a small commission that helps me run this blog. Thank you so much for supporting me!