Let me guide you to Bonito which means pretty in Portuguese – hence, here, nomen est definitely omen.
Actually, Bonito seems to be one of Brazil's internationally hidden gems.
When It Rains It Pours
I once read that wearing blue – and particularly sky blue – makes attractive. I guess it doesn't work only for people, but also for places. At least Bonito – which already means pretty, cute, charming – became more idyllic the bluer the sky got.
However, it did not start that way at all. I flew into Campo Grande from São Paulo where the lovely people from my hostel had arranged a shuttle from the airport straight to their place in Bonito.
It's a four hours drive along meadows and fields, very idyllic. Only that now, they were full of knee-deep puddles and pools under low clouds ranging from purple to dark grey. Even J.M.W. Turner couldn't have painted them more dramatically. A hard rain had flooded the land so that the soil wasn't able to absorb the waters anymore.
Oh my, what will I do in this weather at a place that's known for eco-tourism and outdoorsy activities?
Predictions
I didn't even think of jinxíng it when I told Alexandre – who runs the lovely hostel – that he will see: After three days of deluge the next day would be pure sunshine and heat!
We both had a good chuckle.
But what can I say? After all, I was right: The next morning was pure sunshine – and it got actually really hot!
Still, there was one problem. After days of rain, many of the rivers and pools were closed to visitors because the waters were rough and muddy. Also, since people hadn't been able to go out for a couple of days, the few available tours were booked out in a blink of an eye.
What good was the sunshine if I couldn't go anywhere?! As they say: It might as well rain until September….
Actually, in a spot like Bonito, you don't really need an organized tour. You just need a bike and off you go on the dirt roads cycling between the lush meadows and fields, greeting friendly people, waving at cows and horses.
The Best Kept Secret
Only a few international tourists find their way to the Mato Grosso region, located relatively close to the Pantanal, a wetland rich with the most exquisite flora and fauna.
Mainly Brazilians – as well as other South Americans, for that matter – come to Bonito to enjoy the lush nature, the serenity between the rolling hills, and the pleasure of waters in caves, creeks, and natural pools.
It's not very complicated to get to Bonito, but it requires some stopovers. Although the town even has its own airport, you can get there only via a weird, complicated routing, so your best option is to go either to Campo Grande or to Dourados and continue from there by bus. This takes about four hours.
Taking a Look Around
I must admit that I was a bit disappointed when I first arrived in Bonito. I was expecting cute little houses with some colonial charm. Yet, I found myself in a town where the streets seem to be drawn with a ruler.
Actually, Bonito's architecture is not colonial at all, the town itself deems rather mundane. There is a dull bus terminal, a big supermarket, around the town square a couple of banks, along the main road cafés, restaurants, and souvenir stores. Friendly, yes, but nothing really special.
The wonders of Bonito – which means pretty respectively cute in Portuguese – start on the outskirts.
It's the fields, the pastures, the bushes, the flowers, the trees. It's the waters that have formed mysterious caves, that are rolling in creeks and rivers and form natural pools for visitors to enjoy.
Visiting Bonito means spending the day outdoors. But it means spending money, too, since the day trips are far from being cheap.
All the nice places – whether caves, waterfalls, rivers, or pools – are private property, and entrance fees are high – between about 50 R$ for a cave tour and about 270 R$ for snorkeling in the Rio de Prata. And this doesn't even include transportation.
Hitching a Ride
Since Bonito has more national tourism, many visitors have their own cars. Hence, there is not much public transport to the points of interest and places sell out quickly.
Therefore, I can only recommend booking your tours as soon as you arrive. Since all the tours depend on the weather, booking long in advance is quite risky. So yes, it's a bit of a lottery.
Also, at most places, you cannot just waltz in. You need a voucher. That's easy to obtain since every hotel or hostel in town or one of the many, many tour agencies around town will arrange your booking. However, this is crucial. Since everything is very eco-oriented, places for basically everything are strictly limited.
You'll probably notice that I'm not quoting prices. The reason is that they vary, so fast that it doesn't make sense to let you know how much they are right now. The rule of thumb might be that for a day tour including flotation, you will pay between 180 R$ and about 300 R$. Yes, that's very expensive. Nevertheless, by avoiding a sell-out, they are protecting the environment and keep it eco-friendly. So take your pick: Do you prefer to pay really little and snorkel with hordes that cannot even swim and therefore trample down corals and destroy the water world? Or are you willing to pay more for a trip with a small group that is individually briefed and disciplined by a tour guide not to destroy the waters? Toughie, right?!
Most of the places I'm introducing below offer a combination of activities like flotation, swimming, horseback riding, and bird watching. Sometimes the rivers also have a smaller waterfall or a cave.
I sort them by what they are mostly known for.
Rivers
Since flutuaꞔao – which is basically snorkeling without moving your legs – is the big thing, everybody comes here for doing so. Therefore, I first list the rivers where you can float.
I found snorkeling in sweet water actually quite nice and very unusual. Your eyes and mucosa do not burn even if water gets into your mask or snorkel.
About 7 kilometers from Bonito, you can enjoy flutuaꞔao at the Parque Ecológico Rio Formoso as well as floating down the river in a tube. Alternatively, you 'fly' along a zipline, ride on horses and on bikes.
Like all the other parks, they have great, clean facilities and a restaurant.
At this resort, located about 20 kilometers south of Bonito, you can also do flutuaꞔao, horseback riding, or cycling. It's a short, scenic walk to the starting point from where you float along almost 2 kilometers.
They supply you with a neoprene suite against the ice cold water and crocs as well as a snorkel and a mask.
The farthest and most popular day trip to do engage in flutuaꞔao takes you to the Rio da Prata, the silver river, located about 50 kilometers east of Bonito.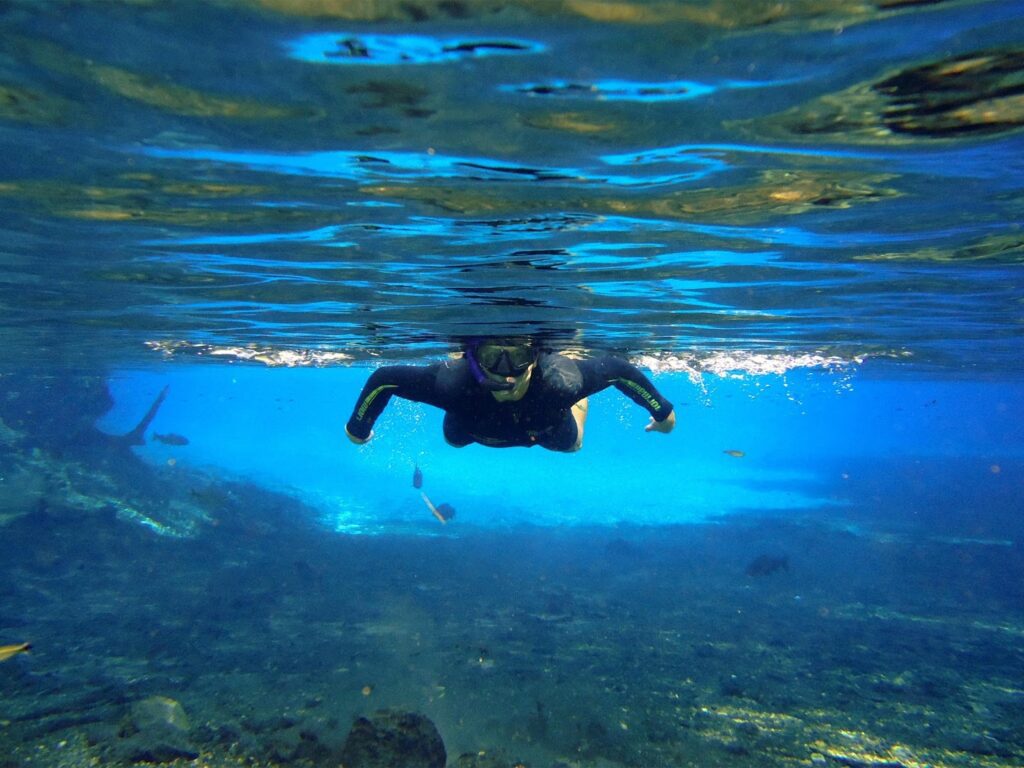 Here you can engage in all the activities that are described above, but in addition, there is some wonderful bird watching here, too.
Rio da Prata is the most expensive of these trips, but its also very nice. However, I've met people who found it far too expensive.
Pools
Very similar activities like on and in the rivers, only that they less sporty and more family oriented. The pools are all natural and a couple of fun water games and activities are included. You can decide whether you want the day with our without 'flutuaꞔao', the price difference is about 100 R$ / 30 US$.
This nearest natural public pool is located about 7 kilometers north east of bonito, hence, actually reachable by bike.
Here too: good, well-maintained facilities. Although far cheaper than the trips on the rivers, still overpriced for what you get – which is nice floating with the fishes in clear waters. But face it: That's Bonito.
This pool – located about 11 kilometers north of Bonito – offers more games and fun activities than the Balneário Municipal and is more family and kid-oriented.
Of course they, too, have a good restaurant and impeccable facilities – and if you are not too much of a couch potato and don't mind exercise in the sun, you can get here cycling.
This pool, located 34 kilometers west of Bonito, can definitely not be reached by bike, unless you did participate in the iron man contest. Also, never underestimate the sun – and the dirt road is not shady at all!
It's very similar to the Balneário do Sol with lots of activities in and around a natural pool. There is also a small artificial and a big natural waterfall. You can do – you probably guessed so – some really good flutuaꞔao.
The Nascente – which translates to source – is where the Rio do Peixe begins. Therefore, the water is very clear.
Here too, after the floating, you can go back to the pool really fast by using a zipline.
Waterfalls
All the waterfalls worth seeing are west of Bonito.
Parque da Cachoeira is about 16 kilometers from Bonito. This nature reserve is mostly known for its waterfall. Of course, there is also some nice hiking and you can spend the night camping.
Since it's more about natural beauty than facilities, the entrance fee is only about 5 US$. Finally a place that does not burn a hole in your wallet!
However, if you go on an organized trip including guided tours through the forest, you pay about the same price as for the other activities listed above.
The Estȃncia Mimosa is a nature reserve in a breathtaking setting.
On a guided tour, you can enjoy the serene nature – horse back riding is optional, too – and observe some wonderful birds in their natural habitat. Then, you can swim in the ice-cold waters coming from a majestic waterfall – simply Edenic. The reserve is about 25 kilometers from Bonito.
The farthest from Bonito is Boca da Onꞔa. It's actually more than 60 kilometers – you can trace the route on the map below.
However, it's the most spectacular of all those places.
Not only is the waterfall really high – 156 meters! – you also can go down 90 meters on ropes to have a closer look into the Rio Salobra canyon.
Yap, there is some adrenaline involved.
Caves
Yes, here, too, water is involved. After all, it was the water that created the beautifully shaped formation of the caves that you can now visit around Bonito.
I cycled and cycled and eventually, I reached an old farmhouse which is now a museum. They also offer tours through the Gruta de São Mateus that I was able to join spontaneously. Normally, you need to have reservation for everything around Bonito which is kind of a drag, but also has its positive side. This way, they keep the groups of visitors really limited.
The Gruta São Mateus e Museu is less than 4 kilometers north of Bonito. You can easily cycle or even walk there.
The first thing you notice is the majestic manor that gives you an idea of the former owner's wealth. Inside there is a nice museum showing antique tools and utensils.
The exhibition on the first floor is a bit creepy: Stuffed animals, partly in weird poses.
The highest floor grants finally access to a pendant bridge that leads into the jungle. After a short hike you reach the entrance of the São Mateus cave.
Nothing spectacular, but very nice.
Only the very sporty ones will go to Grutas de São Miguel by bike since it's located 18 kilometers southeast of Bonito. Although this is Bonito's most popular cave – and bigger than Gruta São Mateus, I'm not sure if it's really worth the detour if you're no geologist.
Located about 22 kilometers from southwest of Bonito, Gruta do Lago Azul – the cave of the blue lake – is the most beautiful one. Obviously, for the blue lake, the water of an incredibly shiny blue color and partly 90 meters deep. Here, too, I would say if you have seen grottos like this before, it's questionable if the trip, which in total will take about three hours, is worth the effort.
Practical Information
How to Get There…
Since I didn't have so much time, I flew from São Paulo to Campo Grande where my hostel had arranged a shuttle straight from the airport to their place. It was much more expensive than going from the airport into town to take the Cruzeiro do Sul, but for me, it was worth to pay about 10 US$ more and not having to meander around downtown Campo Grande – and Vanzella grants a plane to door service.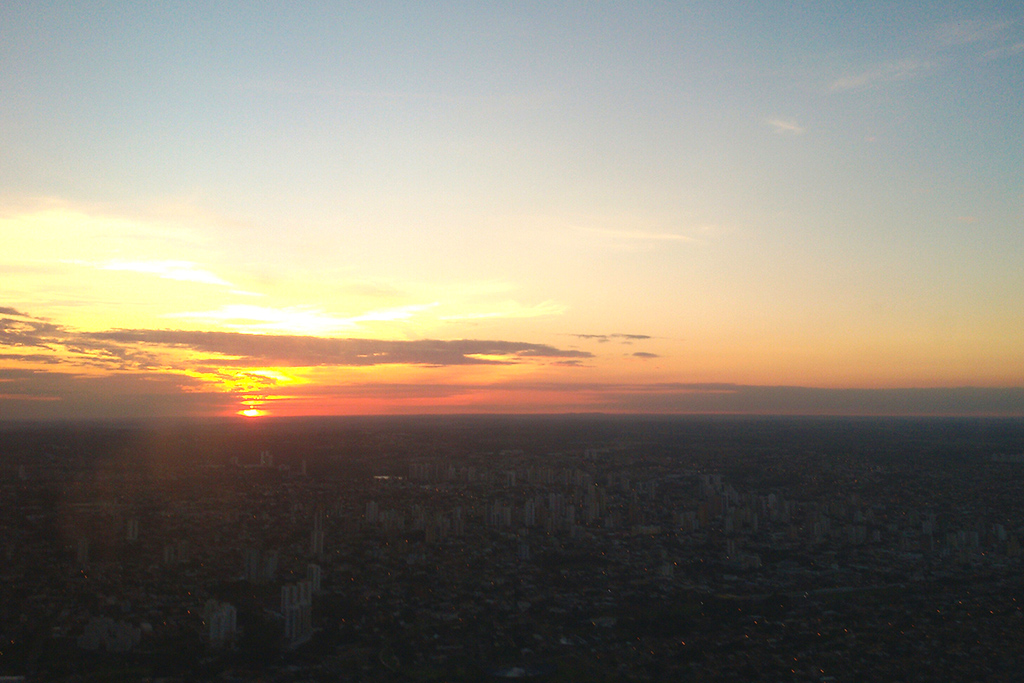 Obviously, it's also possible getting to Bonito by bus. Howsoever, that trip will be long and relatively expensive compared to a quick'n'comfy flight. As a matter of fact, a plane ticket will cost you about the same if you search a bit in advance.
Since the cheapest flights are either very late or extremely early, you might need to spend the night – or what remains from your bedtime – in Campo Grande. Actually, there is the Aeroporto Plaza Hotel* right across the street from the airport; I wonder how many guests actually spend the entire night there….
For more tips and hacks on how to save money and still travel comfortably, check out my posts on planning and organizing your trip respectively when to book ahead.
…and Around
If you want to go straight to Bonito without paying the city of Campo Grando a visit, the airport-to-door service that I've mentioned above is definitely your best option. Alternatively, you can also venture by public buses.
Once you get to Bonito, you should ask your accommodation to organize a bike for the entire stay for you. Also, let them know as soon as possible that you'll need a transport to the places I'm introducing above.
Where to Stay and What to Eat
You cannot avoid spending much money in Bonito. But I can at least recommend a really nice lodging option. The Pousada Papaya* has small dorms, but they have also private rooms with en suite bathrooms at unbeatable prices.
There is a pool, you can use their kitchen and they are super nice and fun and helpful.
A nice breakfast was included. Also, having the opportunity of using their kitchen was great since also eating out in Bonito is not exactly cheap. Just around the corner from the hostal is a large supermarket where they also sell some grilled goods. Also, make sure to try some of their homemade desserts!
However, if you want to check out further lodging options in Bonito, here is a map*:
What to See
I'm an avid solo-travelling woman. Since solo-travel doesn't equal solitude, I love to join organized tours here and there. They allow me to meet fellow travellers – for just a short moment or a lifelong friendship.
Therefore, here are some great ideas of what to do during your stay in Bonito. Especially if you travel solo, they'll enable you to see many great sites in a comfortable way since means of transportation tend to sell out quickly*:
Cash And Cards
The currency in Brazil is the Real (plural Reais) and the rate is 1 US$ = 5,42 R$ (as per April 2021). For further conversion check this page.
There is a bank with an ATM on Rua Luís da Costa Leite on the northern side of the Praça da Liberdade.
Language
Since Brazil used to be a Portuguese colony, people speak Portuguese. As Bonito is very touristy, many people working in tourism speak English and Spanish.
Nevertheless, it's a nice gesture to learn at least some basic words and expressions. You can do so right online with babbel.com.
For two weeks, I actually took language lessons in Rio de Janeiro, which was a great experience and enriched my stay in many ways. To learn more about this option, please go to my post Language Learning in Brazil.
Connection and Communication
Brazil is one of the very few countries where I got a national SIM-card. To be honest for the sole reason that I had accidentally blocked mine and wasn't able to use my phone at all. I got a pre-paid card from Claro and was very happy with their service.
This being said, I actually prefer to use free WiFi. Actually, there was connection to the internet without any issue at basically every museum, eatery or café and, of course, hotel. Worked like a charm.
At the end of my trip to Brazil, I had three or four different adapters. Although there is an official type N socket and plug, you'll find also type C plugs. Also, there were type A sockets like in the US – howsoever, it was a wild mix, but in the end, everything turned out fine.
Also, the voltage is either 127 or 220 V and the frequency 60 Hz. Thank God, nowadays, all these chargers for phones and readers and computers have integrated adapters. Therefore, voltage and frequency don't really matter.
By the way, you'll find this kind of practical travel info in my post World's Most Complete Travel Information – an indispensable globetrotter-classic.
Map
Bonito was only one stop of my exciting visit to Brazil's South. Go to the main post to check out all the other destinations. There you'll also find valuable general information that will make your trip smoother.
Pinnable Pictures
If you choose to pin this post, please use one of these pictures:
Did You Enjoy This Post? Then You Might Like Also These:
* This is an affiliate link. If you book through this page, not only do you get the best deal. I also get a small commission that helps me run this blog. Thank you so much for supporting me!