A guide to Cusco, the gateway to fantastic places such as the Sacred Valley, Sacsayhuamán, Ollantaytambo, and, of course, Machu Picchu.
But the city of Cusco as such is an extremely charming place, too. Therefore, here is an introduction to some places not to be missed.
Cusco's History in a Nut Shell
Cusco is a fantastic treasure box full of pre-colonial and colonial architectural gems and monuments. It's nestled in the Peruvian Andean highlands. Hence, that the city's name supposedly translates to "navel of the world" seems to make sense.
Also, today the former capital of the Inca Empire is Perú's center of attraction for many tourists.
Inca period
According to legend, the first Inca Manco Cápac, the son of the sun, founded the city with his sister Mama Ocllo. The area was probably previously inhabited by the Quechua Indian tribe Tampu. With certainty, it belonged to the Wari culture, whose center of power fell into disrepair in the 11th century.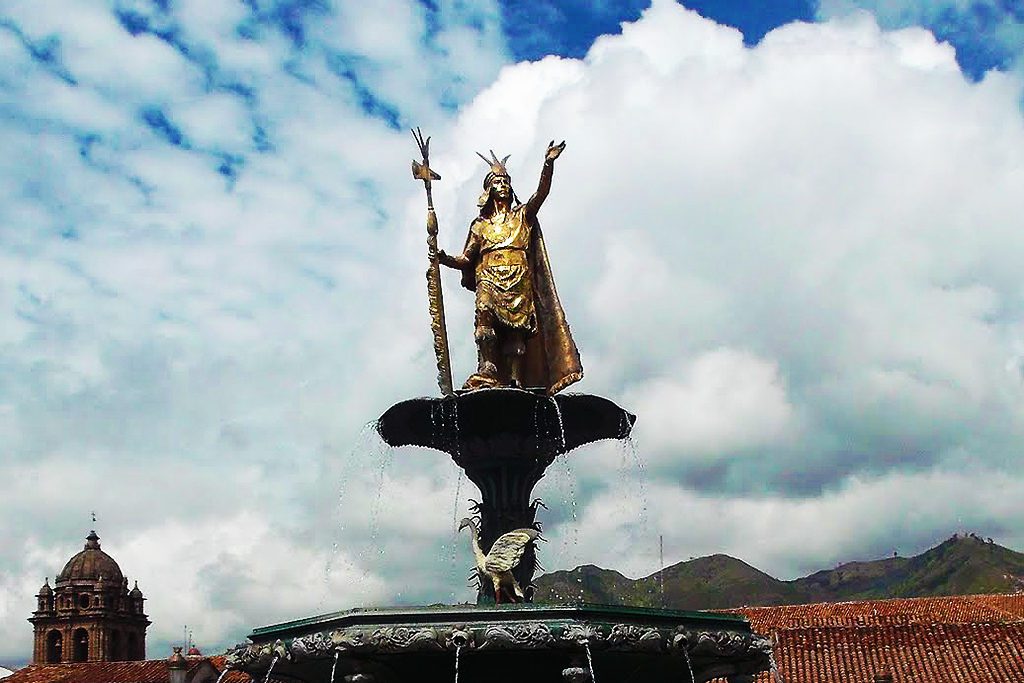 More precise records on Cusco and its governments have only been available since the time of the 9th Inca, Pachacútec Yupanqui. During his reign from 1438 to 1471, he extended the Inca empire in the Central Andes from Lake Titicaca to Junín.
To ensure the nourishment of the population, Pachacútec had agricultural terraces built for the cultivation of corn.
In the city, canals were dug to the rivers Saphi and Tullumayu. They provided the citizens with fresh water and also kept the city clean.
The Sun Temple Inticancha was built in Cusco, housing unimaginable amounts of finest gold jewelry.
In 1471, Túpac Yupanqui, took over from his father and became the 10th Inca ruler.
Under his leadership, the Inca Empire reached its greatest expansion. Through different alliance measures, he was able to enlarge the empire from today's Ecuatorian Quito in the north to what is now Santiago de Chile in the south.
Colonial Times
On November 16, 1532, infamous Spanish conquistador Francisco Pizarro captured the last Inca emperor Atahualpa in Cajamarca. To buy himself free, Atahualpa had immense quantities of gold and silver brought from Cusco. Pizarro still had him killed and moved to Cusco.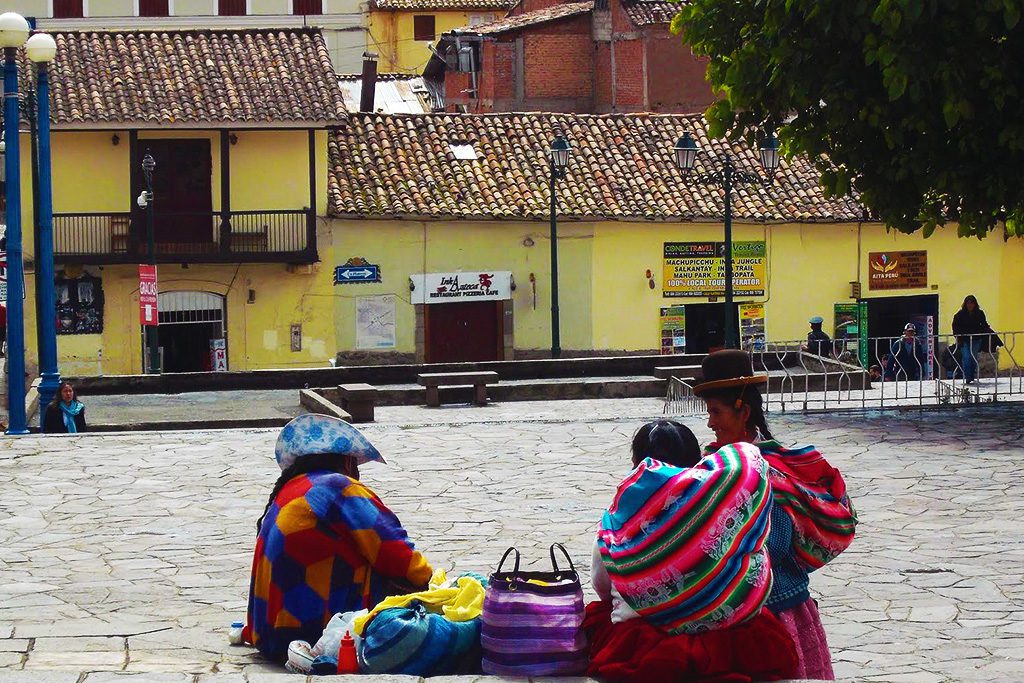 On November 15, 1533, he conquered the capital. Initially, Cusco remained mostly undamaged. Eventually, however, the Spaniards looted the city.
In 1543, the Spanish royal administration shifted the capital status to Lima. Cusco finally ceded its former importance.
In 1572, at the order of Viceroy Francisco de Toledo, the last Inca king Túpac Amaru was demonstratively beheaded in front of an indigenous audience. Obviously, in order to discourage the native inhabitants from any form of rebellion.
Cusco Today
When the city of Machu Picchu, hidden on a mountain, was discovered in 1911, the importance of Cusco changed dramatically. The city became the center of renewed interest in the Indian past. Obviously, at the same time, Cusco developed into the largest tourist center in Peru.
Finally, in 1983, UNESCO added the Andean city to the list of World Heritage Sites. Cusco is also the starting point for excursions to the long-hidden Inca city of Machu Picchu, about 100 kilometers away.
Nonetheless, for centuries, the indigene culture was considered inferior and savage. Hence, the greedy Spanish conquerors were followed by European clerics who convinced the native population to convert using sword'n'bible.
Churches
Therefore, only a few Inca structures survived the colonial period. In return, towns were basically flooded with Catholic churches'n'convents. Hence, listing all those houses of worship from the colonial era would be….a very long list.
The most important one is certainly the Cathedral. It was built from 1560 to 1654 on the foundations of the 8th Inca Viracocha Palace and stands on the eastern side of the Plaza de Armas.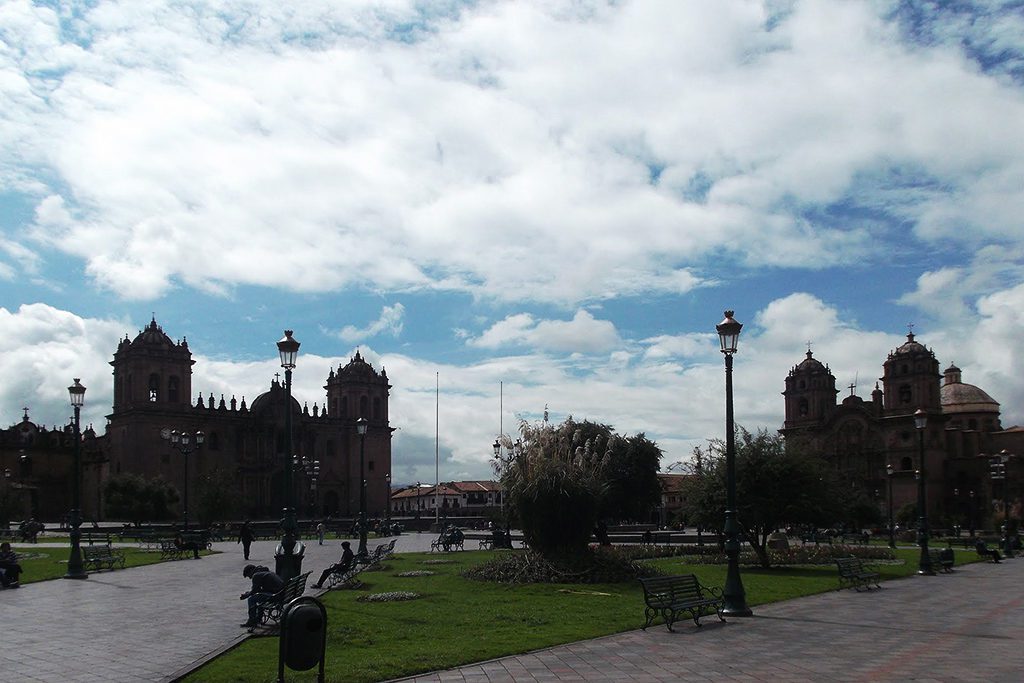 Not far, on the square's southern side, stands the Iglesia de Compañia. This Jesuit church was built from 1552 to 1668 on the foundations of the Huayna Cápac Palace. It even surpasses the cathedral in splendor and beauty.
Culture Crash Clash
Only three blocks west is the next grand square, the Plaza de San Francisco. The church of San Francisco, first built in 1572, is richly decorated with a carved choir and baroque paintings.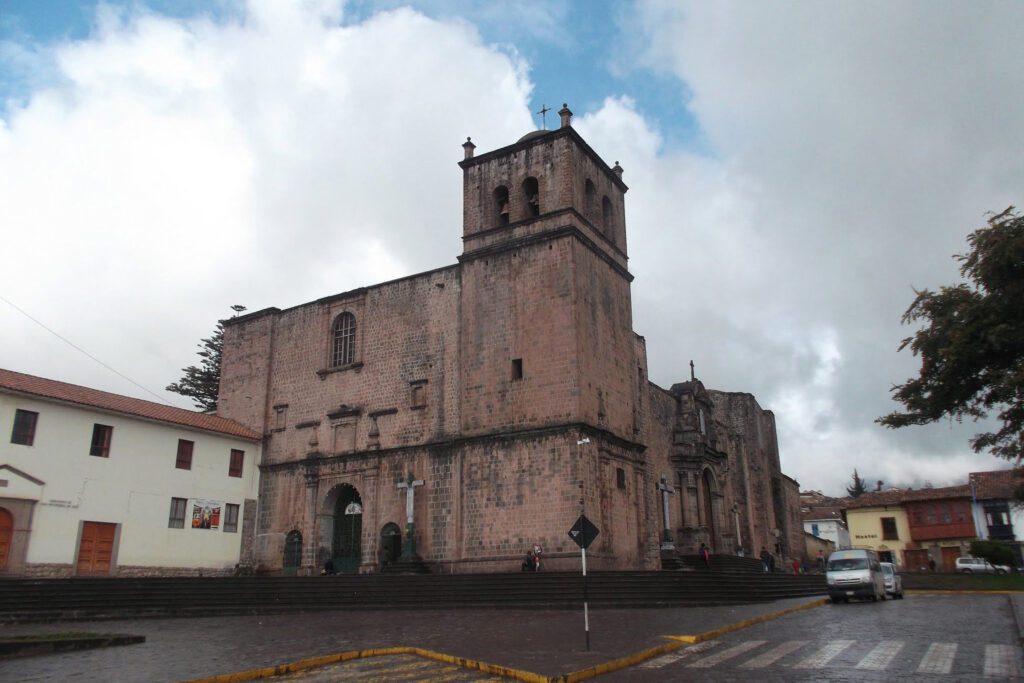 However, the most fascinating structure is the complex of the Santo Domingo Convent. It was Juan Pizarro, brother of the infamous conqueror, who gave the land together with the Inca temple to a congregation of a Dominican order.
After several years of construction, Santo Domingo was finally officially consecrated in 1633. In 1650, an earthquake severely damaged the convent. The Inca Coricancha, however, remained undamaged. Karma is a…beach. Reconstruction took until 1680.
In 1950, another earthquake seriously damaged the Santo Domingo church even more. Again, the Inca stone walls, built from huge interlocking blocks still withstood due to the sophisticated masonry.
Museums
Basically, the entire city of Cusco is kind of an open-air museum. All those churches and abbeys and colonial buildings lining cobblestone alleys will just make your eyes pop, your head spin, and your heart melt.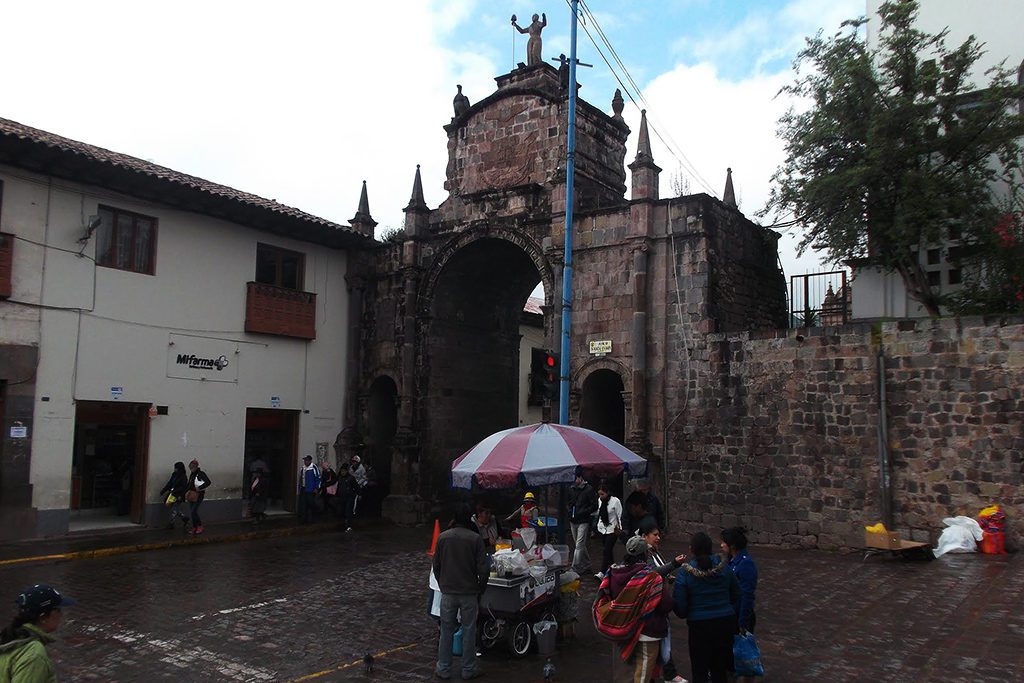 In addition, there are some real museums that you should not miss out on.
Before the Arrival of the Spaniards
Chronologically, you should start at the Museo de Historia Regional. Here, you can admire Pre-Columbian objects and ceramics from the Chavín, Mochica, Chimú, and Nazca cultures.
Next on your list should be the Museo Inca. Here, you'll see traditional fabrics, ceramics, jewelry, and everyday objects. But there are also mummies and trepanned skulls from the Inca period on display.
Escuela de Cusco
I'm very much into art.
Therefore, I enjoyed the Museo de Arte Religioso a lot since they have some masterpieces from the Escuela de Cusco, the baroque Cusco style.
Right next to the Museum of Religious Art is the famous Twelve-Angled Stone.
More of those wonderful paintings are shown at the Iglesia De La Compañia De Jesús at the Plaza de Armas.
Next door is the Museo de Historia Natural. The exhibition on the Andean surroundings along with the collection of regional animals and birds is certainly interesting – if you have enough time.
I personally preferred to see the surroundings and animals and birds where they were. But everyone has their personal interests and passions.
Another fine place to admire the artistic fusion between the baroque colonial style and local motives is the Museo Monasterio de Santa Catalina de Siena. Besides grand art, it also explains the culture of the female monasteries in colonial Cusco and the economic autonomy and intellectual self-determination of the nuns in a male-dominated society.
Then, there is also the Machu Picchu Museum Casa Concha, housing a collection of objects from Machu Picchu. This small museum is only worth the visit if you're not planning on going to Machu Picchu; but – who doesn't!?
Mercado San Pedro
Another lively area is the Plaza San Francisco and the street Santa Clara: much local color – shoeshiners, vendors, school kids…you name it!
Turn left at the street Tupac Amaru and you find yourself at one of Peru's most vibrant markets, the Mercado San Pedro.
The variety of fruits and vegetables, exotic roots, and potatoes in many colors, spices, and herbs is just overwhelming.
But also just strolling up and down – literally, whereby the latter is the easier part – Cusco's picturesque streets and alleys are a treat for the eye, the heart, and the soul.
Extra-Tip: If you are thinking about doing a language course in Perú, I'd recommend doing it in Cusco – alone to enjoy the array of cultural attractions.
Going to Cusco on the Ruta del Sol
Going from Cusco to Puno – or the other way around, for that matter – you can easily add a handful of really nice sights on the way. When you book with Turismo Mer, the trip takes the entire day. Either way – literally – the trip starts at 7 a. m. and you reach your final destination around 5 p. m.
This way, you don't enjoy the Altiplano just from your bus window, you actually get to see some beautiful place,s and your guide supplies you with all the necessary information.
Between Cusco and Puno, there are five official stops.
Andahuaylillas
Leaving Cusco at 7 a. m., already after 40 kilometers, Andahuaylillas is your first stop. At Andahuaylillas – nope, there is not one single typo in this name – you visit the really beautiful church of San Pedro de Andahuaylillas.
It was built by the Jesuits in the late 16th and early 17th centuries with architectural structures that are typical for Latin America's small-town churches.
The walls are wide and made of sun-dried clay bricks. Murals and two stone columns are adorning the facade.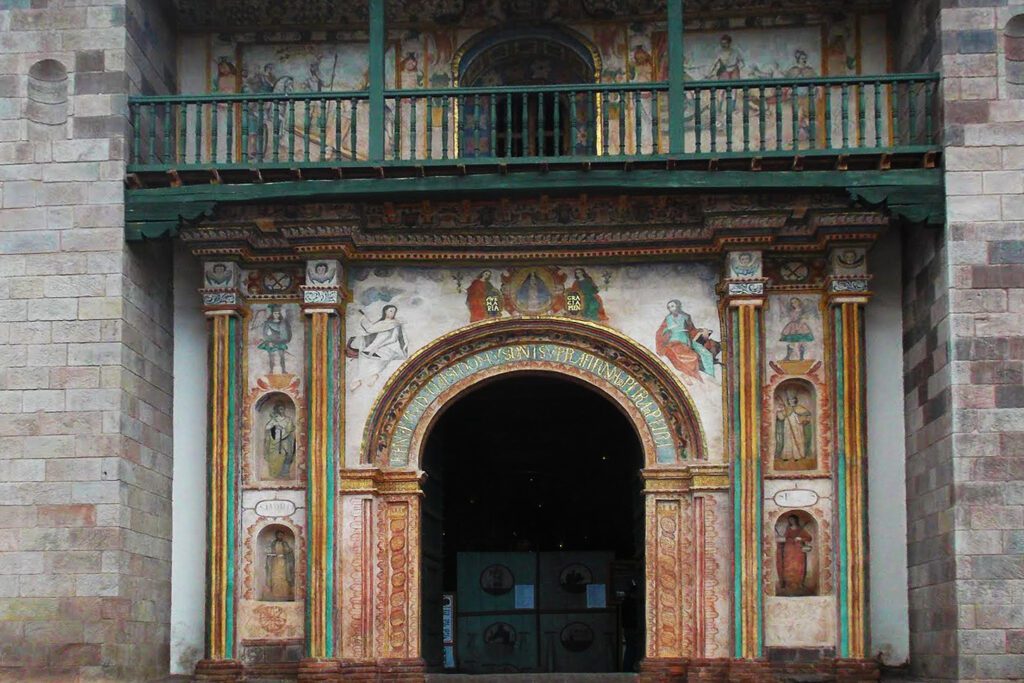 Because of the quality of its works of art like for instance the Virgen de la Asunción by Spanish painter Esteban Murillo, it is also referred to as the Sistine Chapel of the Americas. However, the church also houses a collection of paintings from the baroque "Escuela Cusqueña".
Raqchi
At Raqchi, you visit the archeological site with the remnants of the Great temple the Incas had built for God Wiracocha.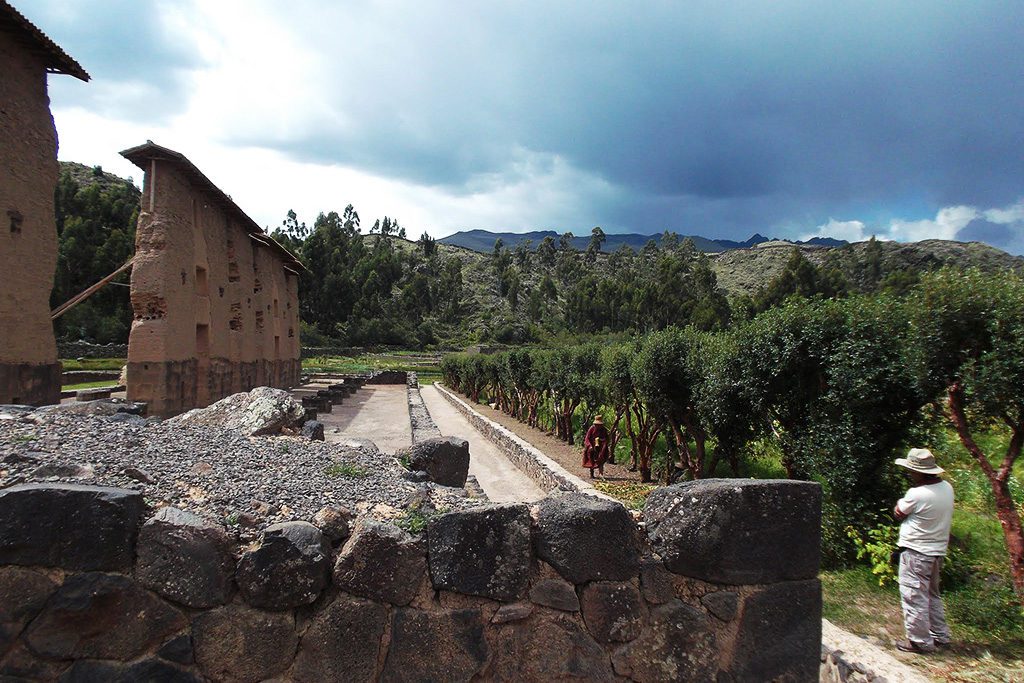 Made of volcanic rock and clay, the temple in honor of the Inca god is absolutely unique and, hence, very different from all other Inca ruins you'll get to see in Perú.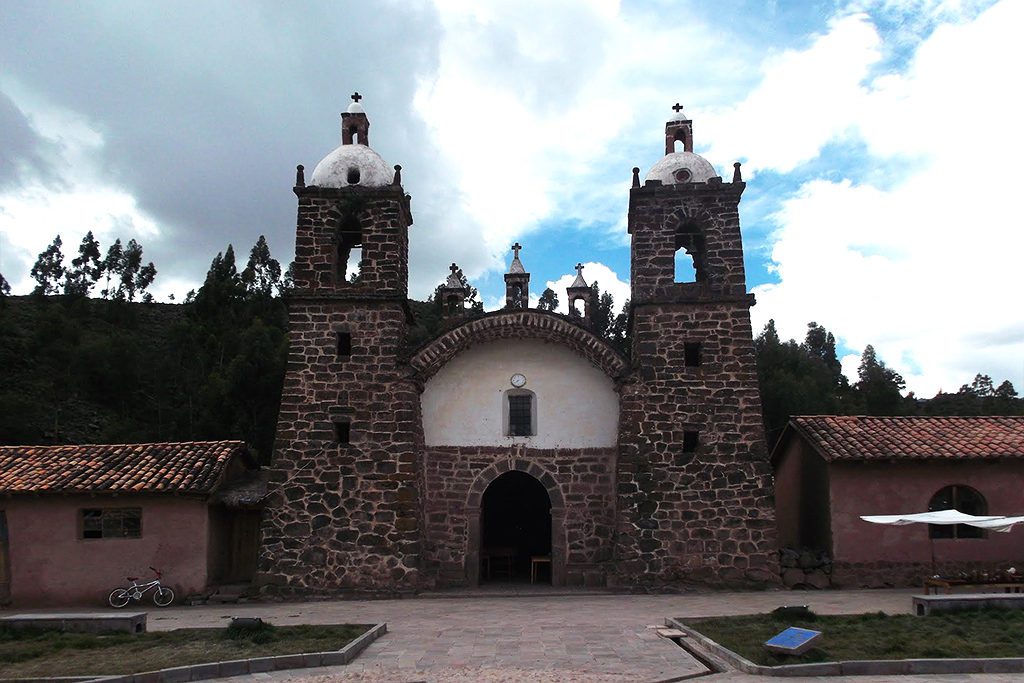 Souvenirs also here – I bought a really neat woolen wall hanging.
Don't forget to bargain gently.
Pascana
Around noon, you'll enjoy a lunch buffet at the Pascana II restaurant at Sicuani. Here, you cannot only sample Peruvian food, but also buy all sorts of knitted wear.
Also, you can take cheesy pictures with llamas and alpacas and Peruvian kids dressed as…Peruvians.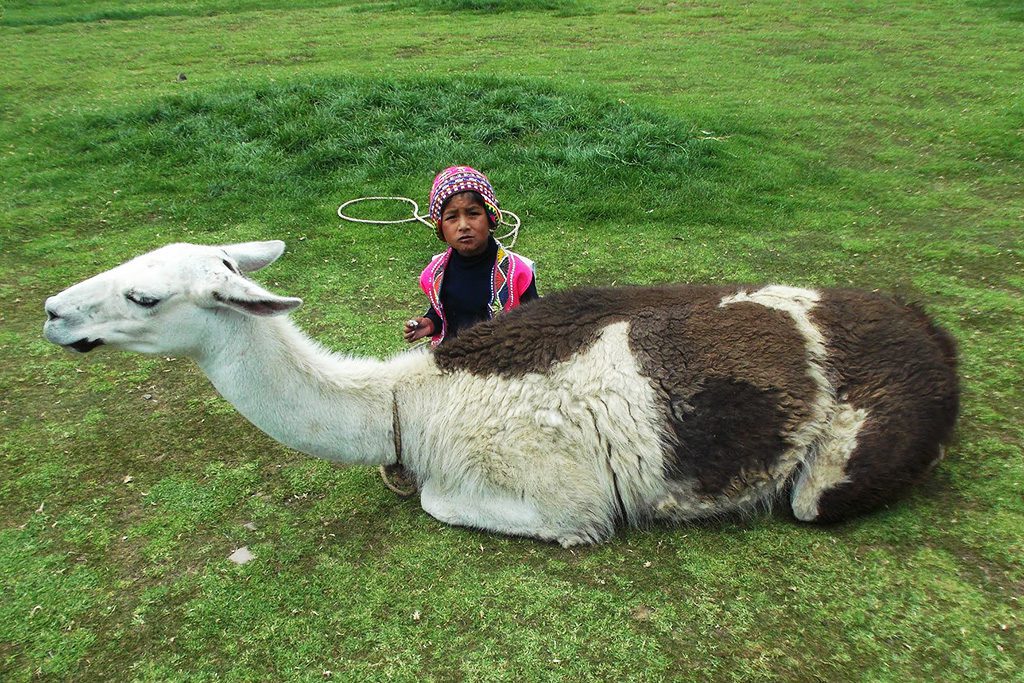 Although this part of the trip is a bit tacky, the food is really nice, considering that it is a tourist restaurant.
La Raya
The Cordillera la Raya will be the highest part of your trip. You'll find yourself at 4,335 meters above sea level.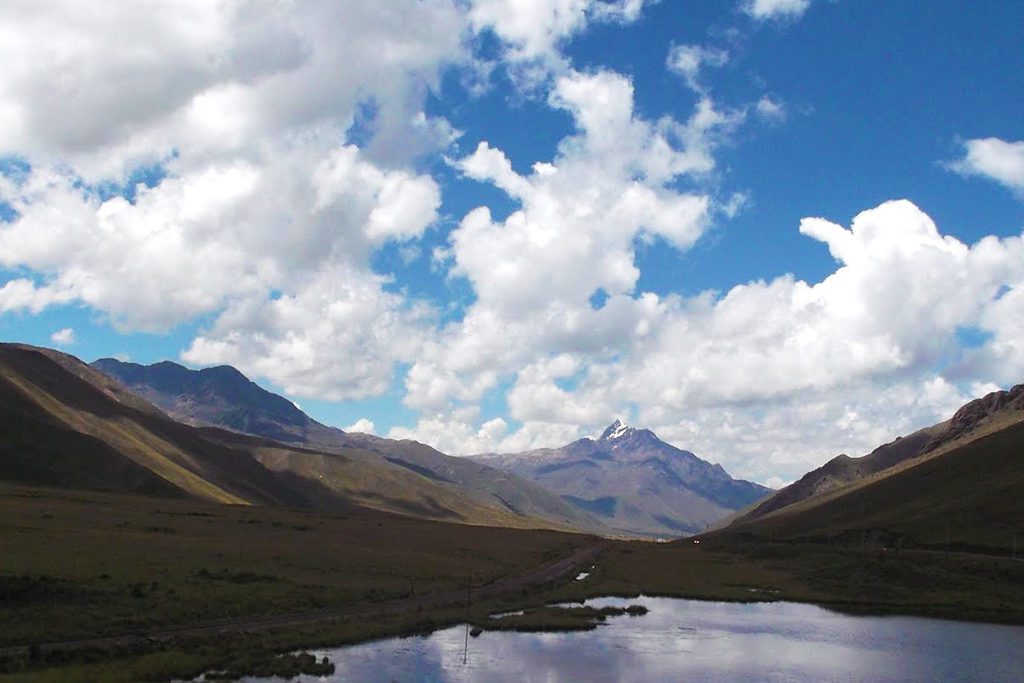 From here, you'll have a grand view of Mount Chimboya.
Pukará
Your last stop will be the town of Pukará. From here, it will be another 100 kilometers to Puno.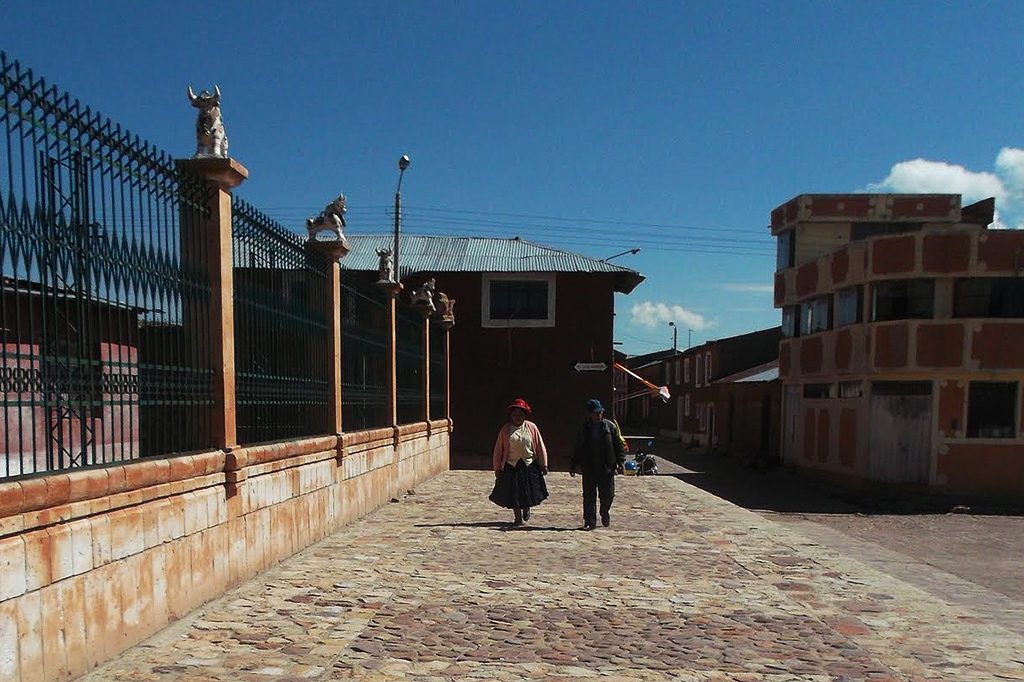 There is a beautiful cathedral from the 16th century at Pukará's central square.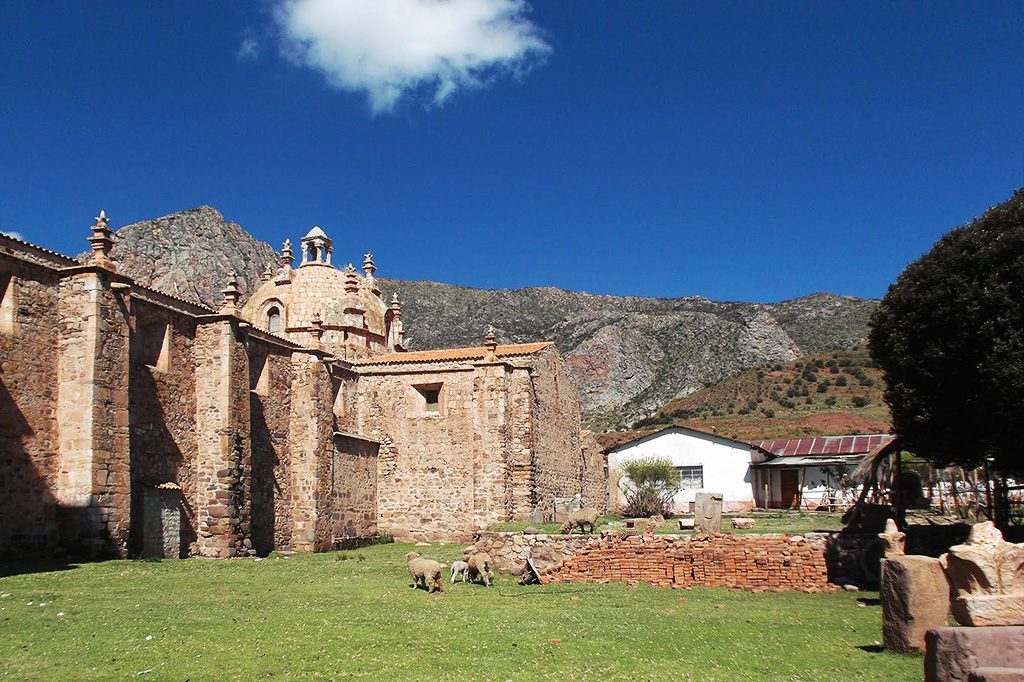 If you intend to get some ceramics for a souvenir, buy them here. The vendors around the plaza sell nice pieces at really good prices.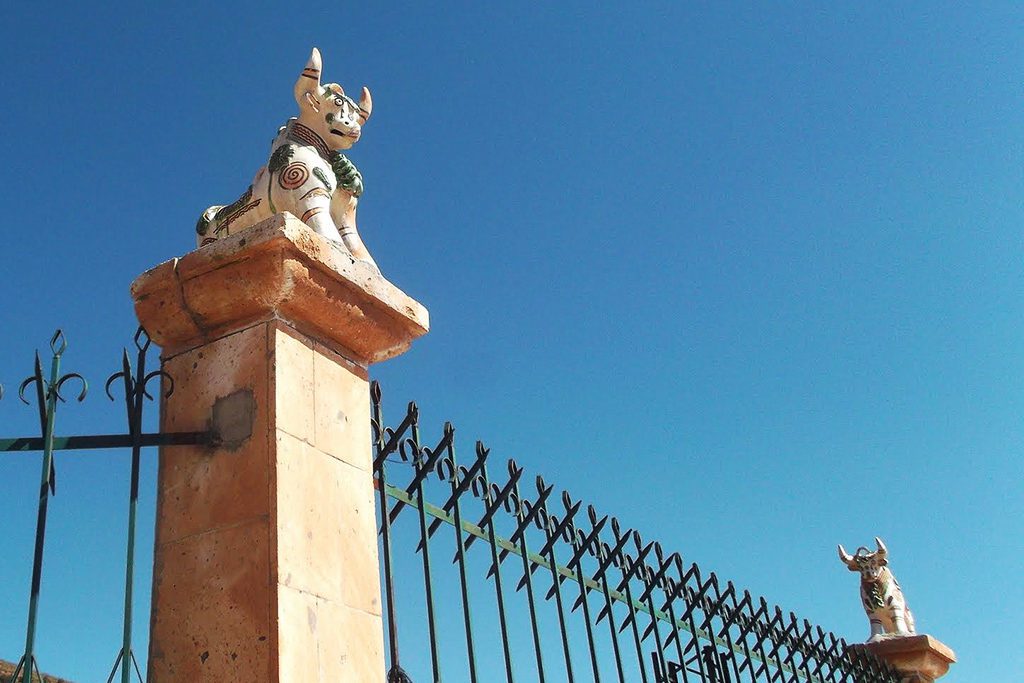 At this stop, you'll also enjoy a guided tour of the regional archeological museum.
After Pukará, hop on the bus, lean back, relax and enjoy the views on the last 100 kilometers towards Lake Titicaca.
And finally, in the late afternoon, you arrive at Puno.
¡Feliz Viaje!
Practical Information
How to Get There
Getting to Cusco is easy and companies like PeruHop and other tour operators are taking travellers there. However, don't underestimate the distances. If you go from Lima to Cusco without making stops in other places, it will take at least 18 hours. So if you have limited time, flying is a good alternative.
By Plane
The Alejandro Velasco Astete International Airport actually is an international airport insofar that besides domestic flights, there are also flights to Chile. It is located about three kilometers east of the city center.
Cabs are waiting just outside of the arrival area. If you take the official Llama Taxi, the ride will be quite expensive, about 35 Soles. In comparison, non-official cabs charge about 15 Soles.
Surprisingly, the most expensive options are the shuttle services like Cusco Airport Shuttle and Cusco Shuttle. They actually charge for those three kilometers – that you practically could walk – about 18 to 20 US-Dollars. This is an incredible rip-off!
By Bus
As I mentioned above, it won't be a problem finding a bus connection to Cusco from any place in Perú. Still, the ride can be very long. However, usually, big bus companies like Cruz del Sur have a modern, clean fleet with reclining seats. So at least you'll be really comfortable on your long trip.
Special Tours
I've introduced the special tour to Puno above. If you go from Cusco to Lake Titicaca by Turismo Mer, you get to see some amazing landmarks during your trip.
If, on the other hand, you intend to travel between Cusco and Chivay respectively Arequipa, going with the 4M Express bus company is a great option.
Pick up at your hotel is around 7 a. m. Then, there are a couple of stops at the most scenic places along the route.
You arrive at Chivay in the afternoon. If you intend to continue to Arequipa, note that there is no public transportation on the same day, hence, you have to spend the night in Chivay.
At 65 USD per person, the tour is not exactly cheap. However, you get to see far more than on a regular bus, and it's also much more comfortable and fun.
How to Get Around
You'll probably explore the city of Cusco mainly by walking. That's nice and charming, however, the city is extremely hilly. You might possibly opt for a cab ride from time to time. In this case, make sure to negotiate the fare beforehand and have small change ready – basically, as anywhere else in Perú.
For longer distances like going to the bus terminal or the airport, you might want to use an App or ask at your accommodation.
Organized Travel
For most travellers, Cusco is also the gateway to the Sacred Valley and, of course, Machu Picchu. Obviously, you'll do that on an organized tour.
It was in Cusco that I understood how tourists might get ripped off. Firstly, I had a limited amount of time and wanted to have everything organized and ready when I got to Perú. Also, I was afraid tours might be booked out.
At least the first argument is understandable. However, you might have to pay more than what they charge on the spot. As soon as you get to Cusco, go to the Plaza de Armas. Across from the Cathedral are tons of small tour agencies that will charge a fraction. There are so many, you probably don't have to worry that they'll leave you behind. I got to Cusco in the evening and they still had places available for the next morning. Unfortunately, I had already forked out a small fortune for another tour.
Apart from Machu Picchu, many activities can be booked sometimes spontaneously and a bit cheaper on the spot. However, if you want to make sure to join a certain activity or tour on a specific day, you might want to pre-book*:
I wrote about the dilemma between booking ahead or just on the spot in another post that might be helpful especially if you're planning on going to Perú.
Boleto Turistico – Tourist Pass
There are so many places and churches and museums to be visited in Cusco as well as at its proximities. Getting a Boleto Touristico, the Cusco Touristic Ticket, will save you a little money since entry to 16 attractions in the city of Cusco and adjacent places are included – have to be visited within ten consecutive days, though.
Where to Stay
Cusco is one of the most touristy places in Perú, consequently, accommodation for all budgets is plenty. I stayed at the Hospedaje Hatun Quilla* and liked it a lot. It's not a fancy hotel, but a cozy guest house with very friendly people. Also, the breakfast room on the top floor is just wonderful. Up there, you won't find only a nice meal to start the day. You'll be also amazed by the view of the city of Cusco from above.
However, here is a choice of various accommodations around Cusco*:
Cash And Cards
Most larger businesses in Cusco are accepting credit cards. However, many still prefer cash – and you often get a small discount if you pay with Soles.
In the area of the historic city center are various banks and all of them have ATMs.
Note that sometimes, a perfectly good ATM does not work with your perfectly fine credit card. If your card declines at an ATM, don't panic, just try another bank.
The exchange rate is 1 US$ = 3.96 PEN current rate resp. 1 €UR = 3.95 PEN current rate as of November 2022. Credit cards are widely accepted.
Language
Since Cusco is probably Perú's most important tourist hotspot, at least people who work in tourism speak pretty good English. Nevertheless, it's always a courteous gesture to learn at least some basic vocabulary when visiting a country. Therefore, you might want to brush up on your Spanish on babbel.
Map
Cusco is packed to the brim with amazing landmarks. Although it is not that large, I'm marking them in this map so that you'll find them easier:
Puno and its amazing surroundings were only one of many beautiful stops on my tour through Perú, obviously. So to read about the others, go to the main post and take your pick! There, you'll also find further relevant information on money, communication, and more.
To read a post on the mountainous region around Arequipa and the Colca Canyon, Puno and Lake Titicaca as well as Cusco, the Sacred Valley of the Incas, and Machu Picchu, go to this special post.

Pinnable Pictures
If you choose to pin this post for later, please use one of these pictures:
Note: This post is being regularly completed, edited, and updated – last in November 2022.
Did You Enjoy This Post? Then You Might Like Also These:
* This is an affiliate link, obviously. So if you book through this page, not only do you get the best deal. I also get a small commission that helps me run this blog. Thank you so much for supporting me!