Reportedly, there are about 1,430 islands in Thailand – hence, there is a lot to visit during your Island Hopping in the Andaman Sea.
Still, not all of them inhabited, but sadly, many of them crowded.
Charmingly, some of the Thai islands come in clusters and are therefore easily accessible when island hopping.
While formerly, most of Thailand's islands were uninhabited, more and more have been developed for tourism. The most famous and popular ones are not automatically those that have the most beauty and serenity in store. But with a little research – and a tip from me – you can still find your tropical paradise far from the party crowds.
KOH PHI PHI
Nevertheless, I'm beginning with the party people infiltrating Koh Phi Phi. This archipelago became world-famous as Danny Boyle shot the movie The Beach on the smaller side island Phi Phi Le.
Here we might get into a generation conflict since there are flocks of young people coming to Koh Phi Phi to hang out on the beach and to party. While I can relate to the beach part, the party part bugs me a bit – mainly for the shitty music.
Let's face it, I'm old.
But even when I was younger, I didn't see the point in flying for hours and hours just to hang out on a beach by day and getting wasted by night. I can have that cheaper and closer to home.
I want to immerse as much as I can in local culture – and most importantly, life!
Apart from the main island Koh Phi Phi and the smaller movie star Phi Phi Le there are also Koh Mai Phai, the so-called bamboo island, and Koh Yung, the mosquito island. Those are only inhabited by a few fishermen.
In the south are the inaccessible rocky Koh Bida Nai and Koh Bida Nok. The biodiversity of their surrounding coral reefs and steep walls going up to 24 meters deep make them extremely popular with divers.
All these islands form the 390 square kilometers large Hat Noppharat Thara Marine National Park in the Krabi Province. Against the backdrop of towering rock formations, they offer an ideal environment for water and diving activities. Nevertheless, tourists and day-trippers threaten the sensitive ecological structure of the islands.
Bad Choices
I had booked myself accidentally at the wrong end of a long half-moon shaped beach on the West coast. At night, my bed was vibrating till the party was over in the wee hours. The worst part is, that the music was less loud at places much closer to the party beach. This was some interesting yet unnerving physical effect that carried the noise straight into my room. And since also the place itself was quite a shabby mess, I by far wasn't as happy as the rest of the travellers' pack.
Although the owner was a sweetheart, I really recommend that you don't rent the cheapest place in Koh Phi Phi. If you don't go there to party all night long, don't book more than one night beforehand. This way, you can check the acoustic is in your room and possibly change it after a sleepless night.
As a matter of fact, I wouldn't recommend Koh Phi Phi at all. These masses of party people were really getting on my nerves. I'm simply not travelling to party. I can party anywhere in the world, so in Thailand, I rather enjoy what I cannot have anywhere else. That is, of course, absolutely my personal opinion. And if you wanna go to Koh Phi Phi – knock yourself out.
Life's A Beach
Actually the beaches on Koh Phi Phi – even the smaller bays towards the South East – are much nicer and less crowded than those around Krabi on the mainland.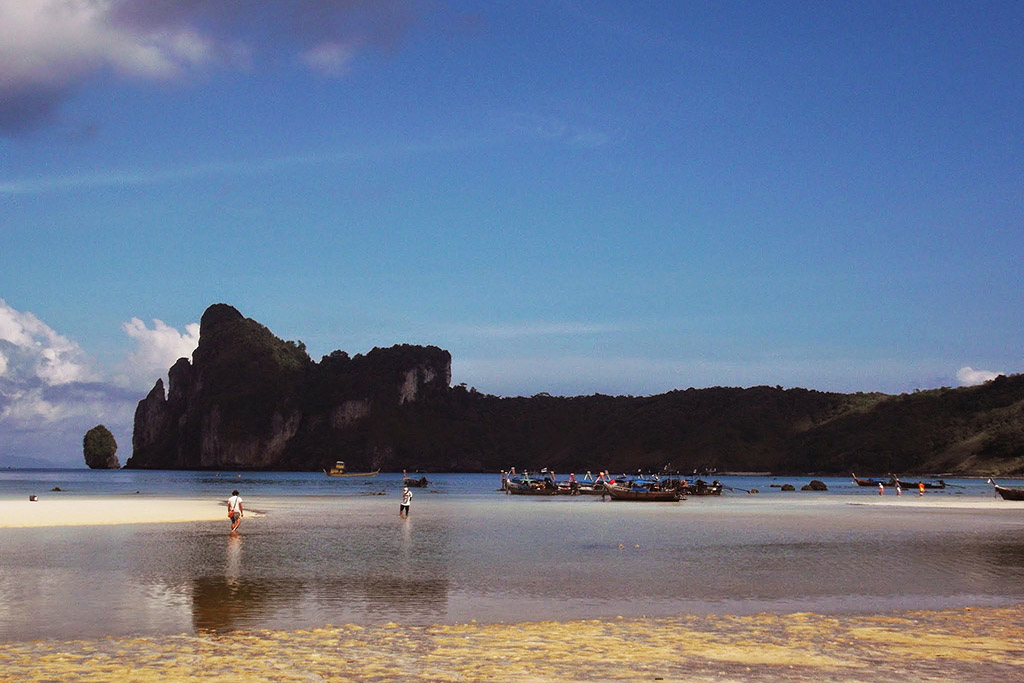 Not bad at all was a half-day boat trip to the Viking Cave including some nice snorkeling. Eventually, we went to Maya Bay where supposedly parts of The Beach were shot.
As we got there, a Russian tourist group was shooting pictures of each other. This brouhaha made the place a teeny bit less dreamy and sexy than Di Caprio and Tilda Swinton getting it on.
KOH LANTA
After Koh Phi Phi, Koh Lanta was a treat. It's much less party, but still pretty standard touristy. Long beaches, restaurants, bars, bike rentals, tour operators – everything the good tourist wants and needs. Not bad, but nothing special.
Here I cannot stretch the point enough that when you pre-book in Thailand, you'll probably pay higher prices. On the ferry from Koh Phi Phi to Koh Lanta, people offered accommodations at a fraction of the price I paid. And my hotel really wasn't that good – although the owner is very nice. Read about the pros and cons of pre-booking in my post Booking Ahead Versus Walking In.
Koh Lanta is a twin island with about 20,000 inhabitants, mostly Muslim fishermen. In addition to their main livelihood fishing, the residents also breed cattle, cultivate rice, and cultivate coconut and rubber plantations.
Out of Koh Lanta
Besides hanging out on Koh Lanta's long sandy beaches, you can book many different diving and snorkel trips.
I've heard that a trip to Koh Rok Nai and Koh Rok Nok are recommendable. These isles are in a national park and hence protected. Therefore the marine life is not as destroyed as on the closer touristic islands and the mainland – for the time being. I wonder how long this will last since you're getting there by speed boats. Also, where there are people, there is trash such as plastic and tin foil.
Anyway, if I should go to Ko Lanta again, I would definitely give a try and spend the night camping.
Instead, I did the Four Island Tour. It is not much different from any other four island tour I did elsewhere, nevertheless, very nice.
The destinations on this day trip were much less crowded than those on the day trips from Ao Nang and Koh Phi Phi. And there is the swimming into the Emerald Cave where you swim 80 meters through a tunnel emerging into a lagoon in the center of the island.
The lagoon is surrounded by pristine jungle and cliffs nearly 100 meters high. That gave this otherwise average trip a really special twist.
And that was it for Koh Lanta. The next day I continued my travels to Koh Jum.
KOH JUM
Koh Jum – now we're talking! This is a remote, secluded island – very close to paradise.
Come to think of it, paradise is always associated with tranquility, serenity, quiet. You never hear somebody say: "Man, I got wasted on my spring break at Cancun, music pumping, chicks winning wet t-shirt contests – it was like paradise." This scenario is rather connected to the alternative afterworld – they don't call it a "hell of a party" for now reason.
So back to Ko Jum where there is…nothing. Wonderful nothing. They don't even have a jetty.
You take a ferry from Ko Lanta that takes you to a spot within sight of Ko Jum and then a fleet of boats join it, disembarking leaving guests, and taking arriving guests to the respective hotels. This procedure is only possible under weather certain conditions and only during high season.
Therefore only a comparatively low number of tourists make it to Koh Jum, thus you are quite dependent on your hosts since there are hardly any stores or restaurants and they even don't have an ATM so make sure to bring cash.
The Golden Pearl Beach Resort* – a conglomeration of wooden huts on steels that I'm recommending below – does take credit cards, though.
And there is hardly anything closer to paradise than having a sundowner at the hotel's own beach bar.
Playing Hard To Get
Koh Jum, approximately 25 kilometers south of Krabi town, consists of three villages, Ban Koh Pu, Ban Ting Rai, and Ban Koh Jum. Those are permanent homes to about 1,500 islanders. Residents of the south end call the island Koh Jum while the northerners call it Koh Phu. Local villagers take fierce pride in the two different names.
On the west side of the island, about 20 resorts provide very simple bungalows.
Relax in a hammock by the beach, swim, and take walks on the beach. Actually, there is not a lot of other diversions there.
However, most resorts will also be able to arrange day trips with treks up to the top of Mount Phu on the northern part of the island, which has a majestic view of the islands and the Andaman Sea. Also, the customary island tours can be booked.
Practical Information
How to Get There And Around
The closest airport to the islands is in Krabi. From there, you need to take a minibus to the jetty.
Krabi to Koh Phi Phi
Once your flight arrives at Krabi International, go through customs and purchase a ticket to the Klong Jilad pier in Krabi. Let the teller know that you are heading to Koh Phi Phi.
As you arrive in Krabi town, you have to change busses to go to the pier. Unless you are going to Ao Nang. In this case, just stay on the airport bus.
The ferry ride to Koh Phi takes less than two hours. Normally, there are three ferries, at 9 a. m., 1.30 p. m., and 3 p. m.
The minibusses to the pier are usually waiting until all seats are sold. Hence, if you're not on a too-tight budget or if you can share the fare, you better take a cab straight to the pier.
Bear in mind that a cheap option can turn quite expensive. Read more on this subject – and other valid traveller-tips – in my post Keep Calm And Travel Solo.
Ao Nang to Koh Phi Phi
Going from Ao Nang to Koh Phi Phi, you'll need to catch a ferry at the Noppharat Thara Pier. In any case, I recommend buying the ticket at least one day ahead at one of the agencies. Normally, a pickup at your accommodation is included in the price you pay.
Koh Phi Phi to Koh Lanta
The Chaokoh ferry company is taking passengers twice a day from Koh Phi Phi to Koh Lanta. One ride is at 11.30 a. m., the other one at 3 p. m. and you'll get to the Saladan pier in about an hour.
This little town of Saladan has the highest density of shopping and banking options, hence, it's not exactly idyllic. The further south you go, the more remote you'll be from any action, but also services.
If you are going to Koh Lanta from the mainland, you don't need to go to the pier. An hourly public minibus runs year-round from the bus station. This ride takes about two hours, possibly more if there's a queue at the ferry. If you buy your ticket at a local travel agency, they will arrange a free pick up at your guesthouse.
To Koh Jum From Koh Lanta And Krabi
Koh Jum is on the sea route between Krabi Town and Koh Lanta. Regular tourist ferries are going only during the high season from the end of October to the end of April.
During the low season, you can only go from Laem Kruat to Koh Jum – just as the locals do. Boats are leaving between 9 a. m. and 6 p. m. and foreigners pay 100 Baht. Obviously, this is also an option during high season, you only have to be very persistent to get info on this connection. Since sellers get a commission when selling you a ticket for the expensive tourist ferry, understandably, they are not keen to inform you about this alternative.
Ko Jum has no jetty or dock. The ferry is met by longtail boats offshore.
If you've pre-booked, the resort's longtail will be waiting for you. Otherwise, you can just ask for a lift ashore.
Where to Stay And What to Eat
As I pointed out above, the hotel on Koh Phi Phi was horrible and the one on Koh Lanta was okay. Nevertheless, there are better options. You find them on these maps*:
Finally, I can only recommend the Golden Pearl Beach Resort* on Koh Jum. In case it is booked out, you can check out valid alternatives on this map*:
Local eateries on all three islands are plenty.
What to See
I'm an avid solo-travelling woman. Since solo travel doesn't equal solitude, I love to join organized tours here and there. They allow me to meet fellow travellers – for just a short moment or a lifelong friendship.
Therefore, here are some great ideas of what to do when visiting the islands in the Andaman Sea. Pre-booking online will guarantee your place at the activity of your choice*:
Cash And Cards
Especially the islands are very touristy places, hence, credit cards are widely accepted. Nevertheless, you can get cash at ATMs only on Koh Phi Phi and Koh Lanta. There is no ATM in Koh Jum. Some guesthouses will be willing to change foreign currencies, howsoever, at a terrible rate.
As of January 2023, one US-Dollar equals 35 Baht (THB), but you can check the current rate on this page.
Language
Since especially the island are so over-touristy, I thought everyone there would be more or less fluent in English. But apart from some glorious exceptions, most islanders have only a rudimentary command of the language. Then, often their accent is so peculiar that you don't really get what they are saying. In return, they might not really understand what you are saying but just grasping the supposed meaning from one or two words they got from your sentence. Hence, prepare for some hopeless explaining, quirky conversations – and many bright smiles.
This being said, obviously, it's a nice gesture to say at least the greeting Sawasdee Kha and Sawasdee Khun as well as Khop Khun Kha respectively Khop Khun Khap. Kha is a suffix used by women, men are using Khap.
Communication and Connection
There is an internet connection on all three islands – actually, Koh Lanta is becoming a bit of a digital nomad hub.
If you want to be sure, I recommend you check the Wi-Fi quality of your hotel beforehand. You'll find the link in my post World's Most Complete Travel Information which is actually an indispensable globetrotter-classic.
The islands in the Andaman Sea were only the relaxing part at the end of my exciting visit to Thailand. Go to the main post to check out all the other destinations. There you'll also find valuable general information that will make your trip smoother.
Pinnable Pictures
If you choose to pin this post for later, please use one of these pictures:
Note: This post is being regularly completed, edited, and updated – last in January 2023.
Did You Enjoy This Post? Then You Might Like Also These:
* This is an affiliate link. If you book through this page, not only do you get the best deal. I also get a small commission that helps me run this blog. Thank you so much for supporting me!