Due to its favorable location in the very east of Crete, the coastal town of Agios Nikolaos is not only a nice base for your stay on the island but most of all the ideal destination for a lovely day trip.
Agios Nikolaos
The small town of Agios Nikolaos is nestled on the western shore of the Gulf of Mirabello in the very east of Crete. Since it is pretty much hidden, Agios Nikolaos has maintained a serene and also quite authentic atmosphere. This makes it very pleasant for a relaxed day out.
Despite its moderate size and secluded location, it was already a thriving port during Hellenistic times. From the Venetian era remains a fortress that towers over the north-western side of the tranquil Gulf of Mirabello.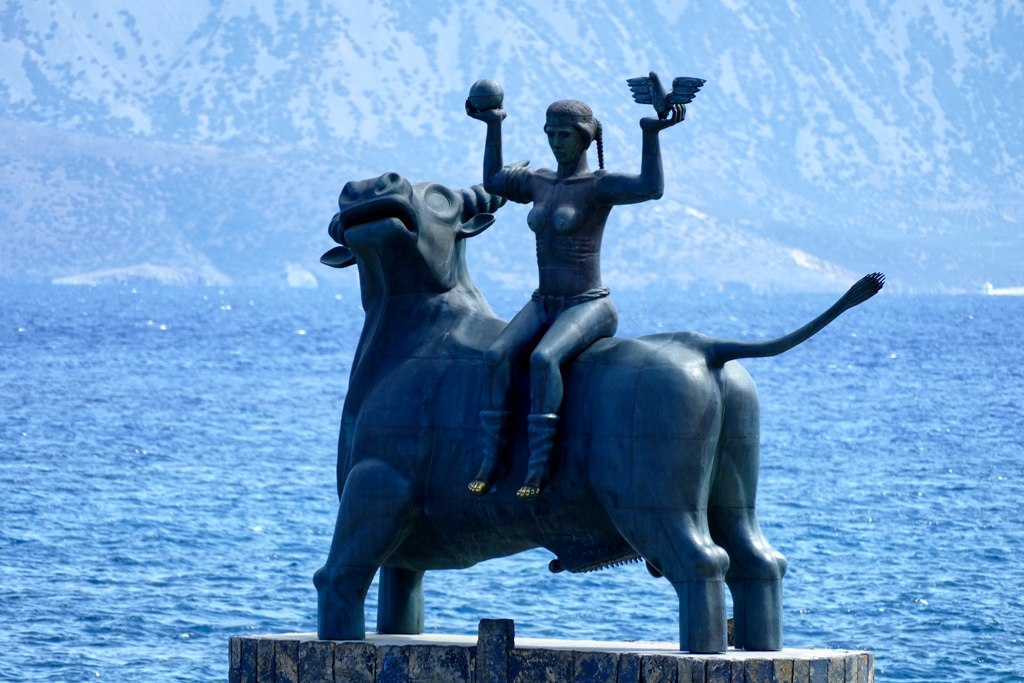 Agios Nikolaos' most significant feature, however, is its central Lake Voulismeni. This former freshwater lake has been connected to the sea by a canal since 1870. According to legend, the lake is bottomless and connects to the island of Santorini. As far as I know from less utopian sources, the lake does have a ground, but is still a pretty impressive 65 meters deep.
Legends Of Agios Nikolaos
Other romantic sources claim that the Greek goddess Athena bathed here.
Well, even if you're not a goddess, Agios Nikolaos and its surroundings are a great place for swimming and sunbathing. The best spot closest to the center of town is Paralia Kitroplatia, a small pebble beach squeezed between houses, shops, and restaurants. It's the nearest, yet definitely not the nicest one.
I would argue that Ammos is the best beach in the area. It is a clean sandy beach with rental sunbeds and umbrellas. You can enter the crystal clear water smoothly as they are no slippery rocks. Although it's only a ten-minutes-walk from the center, it's not overcrowded. Actually, it lies right behind Agios Nikolaos' marina so you get to see some posh yachts.
On The Town
Although the center of Agios Nikolaos is really pretty and alluring, there are not as many landmarks to see as for instance in Rethymno or let alone Chania. At this moment, even their small archeological museum is closed. Anyway, it's much smaller than the one in Chania – and don't get me even started on the one in Heraklion – so you better quench your culture thirst in those cities.
I'd argue the best way to enjoy the town is to just wander around – and since it's very hilly, also a lot up and down – and take it all in and appreciate what's truly Cretan and less touristy.
However, if you cannot do without designated landmarks, there are some lovely churches like for instance Agia Triada right in the center. This cathedral, dedicated to the Holy Trinity, is a three-nave Byzantine basilica known for its extensive interior paintings and colorful mosaic on the facade.
Then, on a promontory in the north of Agios Nikolaos, stand the Byzantine church of Agios Nikolaos which gives the town its name, obviously.
On The Waterfront
In Agios Nikolaos, it's all about the waters. Apart from the iconic Lake Voulismeni, there is also a port in the very heart of town. It is lined with hotels and guest houses, cafeterias, and lovely specialty shops. Agios Nikolaos' harbor is also a favorite destination for liners cruising the southeastern Mediterranean.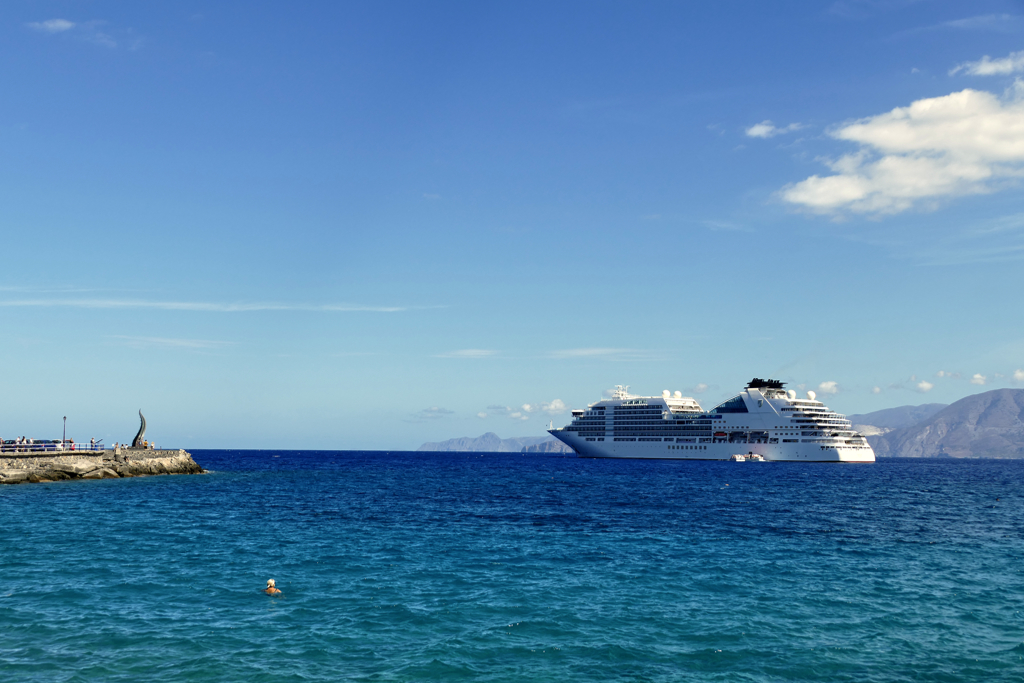 A few kilometers north of the city is the Spinalonga peninsula which is connected to the mainland by a causeway. North of the peninsula is the much smaller Spinalonga island. During the Venetian era, salt was harvested from salt pans around the island. Also, until the middle of the 20th century, it was a leper station and actually the last leper colony in all of Europe.
Sail Away
Today, you can visit it by boat but only on a day tour as there are no accommodations on the island. Apart from the abandoned leper colony and the fortress which has been a Unesco World Heritage Site since 2014, Spinalonga is known for pebble beaches alongside amazing waters. On this website, you can check out options on how to visit Spinalonga comfortably by boat.
Also, there are the two islets Agii Pantes and Mikronissi located right off the coast of Agios Nikolaos. However, only a small sandy beach can be visited by boat as the islands are nature reserves for the Cretan wild goats.
In Agios Nikolaos' vicinity are also significant archeological sites like the ancient city of Lato, one of Antiquity's most important Dorian cities. However, if you are coming to Agios Nikolaos on a day trip, you might not have enough time to explore more of the surroundings on your own. In this, you might opt for an organized tour:
Practical Information
How to Get There
By Plane
Agios Nikolaos has no airport of its own, obviously. The closest one is on the outskirts of Heraklion.
If you haven't booked a package where the travel company arranges the shuttle from the airport or jetty to your hotel, you have different options for how to get to your final destination. The most comfortable option is taking a cab, obviously. The ride will take about one hour and should cost around 75 to 80 €uros. In any case, don't forget to clearly agree on the fare with the driver before you board his cab.
Obviously, you save lots of money by taking the public bus. For a small fare of a couple of €uros, a coach takes you comfortably from Heraklion's Nikos Kazantzakis International Airport to Agios Nikolaos in about 90 minutes. However, the bus goes only about six times a day so it can well be that you have to wait at the airport for an hour or even more. Hence, if you are tired after a more or less long flight and you want to go to your accommodation asap, waiting for an hour will feel really long.
I'm not driving, but if you do, you can rent a car right at the airport and off you go.
By Bus
You can reach Agios Nikolaos easily and quickly by public bus from Heraklion. Currently, as of May 2023, there are six buses per day. They take about 90 minutes, and a single trip costs 8,30 €uros.
In general, bus connections in Crete are very punctual. However, a minor accident or a breakdown can always occur, hence, I wouldn't travel on a tight schedule. For instance, if your flight or ferry leaves from Heraklion, add an additional two to three hours to your itinerary. If you get there too early, who cares? In Crete, you'll always find something to do to fill those extra hours with joy. What's definitely not enjoyable is watching your flight taking off without you.
Obviously, there are only a few – sometimes even only one – connections to more secluded places. However, if you are halfway organized, you can still easily explore major parts of the island by bus. Nevertheless, in the off-season during the winter months, some connections to secluded places might be suspended. Therefore, always check out the bus company's website before planning your day.
By Ferry
Ferries run daily between Crete and the Piraeus port in Athens. The ferries arrive in either the port of Souda in the vicinity of Chania or at the port of Heraklion.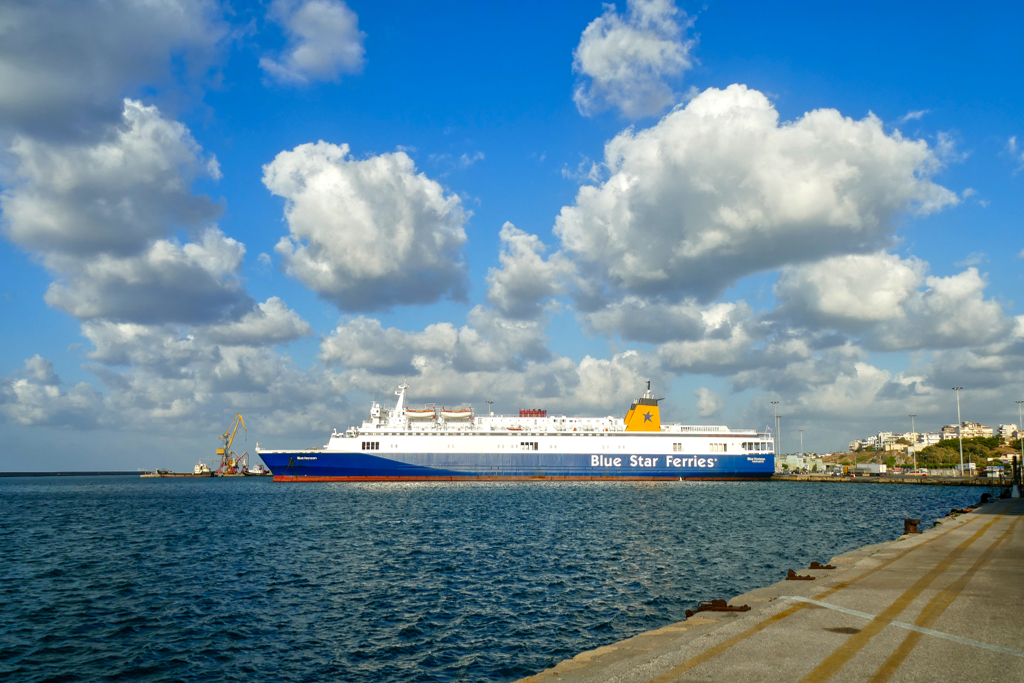 Depending on which company and type of ferry you choose, the trip takes between 6.5 to 8.5 hours and costs around 50 €uros one way. Keep in mind that the trips are always night cruises: You leave around 9 or 10 p. m. and get to your final destination in the wee hours.
Yes, the trip is quite cheap but it can also be a real drag.
From Heraklion, there are also regular trips to Santorini as well as many of the other Cycladic islands like Ios, Mykonos, or Naxos.
Where to Stay
Crete has been a popular tourist destination for decades, and although Agios Nikolaos is rather a hidden gem and not overcrowded, the town does get its fair share of tourism. Therefore, you'll find many kinds of accommodation for each taste and every budget within the town limits as well as on the outskirts.
You can check out the availability and prices of many suitable lodging options on this map*:
What to Eat
After having spent a couple of weeks in different places around Greece, I'd argue that the country in general is not a destination for self-proclaimed gourmets. There are tons of food everywhere. However, the classic cuisine is intended to fill you up and is definitely not refined. Also, Greeks prefer their food to be lukewarm, and that's how they serve it in the taverns.
In most restaurants that cater to tourists, you'll find all the dishes you know from your Greek restaurant back home: Gyros, Souvlaki, Bifteki, and the like. All very much on the meaty side. As a vegetarian, you'll probably stick to Greek or Creten salad day in and day out.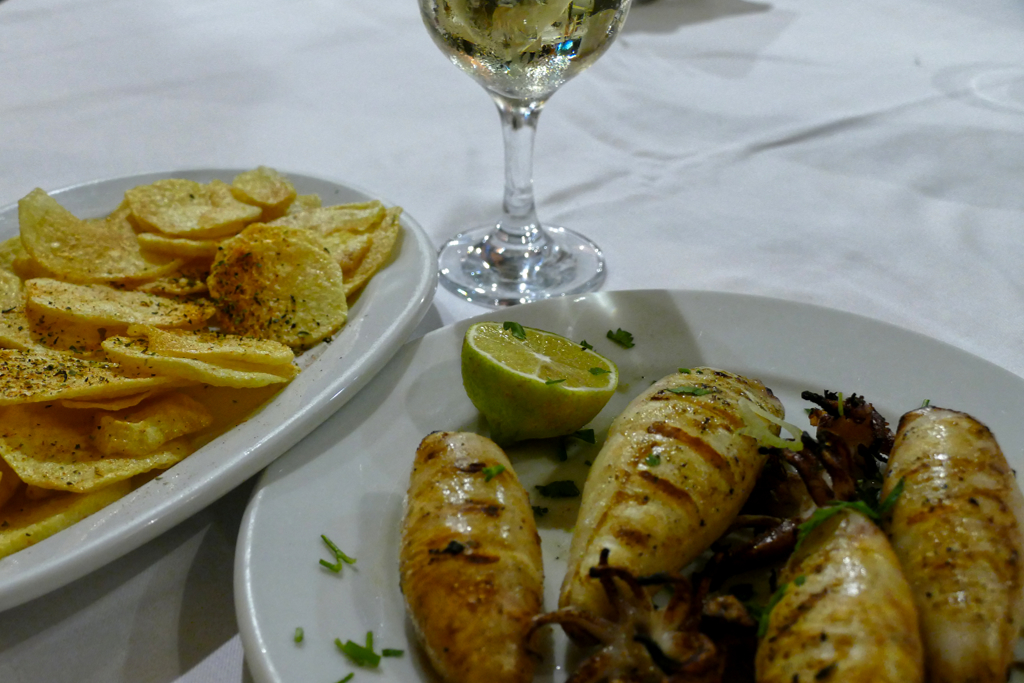 This being said, I need to point out that, being based in Germany, Greek food is by no means special to me. In Germany, every forlorn hamlet has a German pub and an authentic Greek restaurant run by real Greeks. Therefore, I don't associate all those aforementioned dishes with vacations in Greece. But if for you that's the case, I'm happy for you and please forget all my critique and immerse yourself in heaps of grilled meat.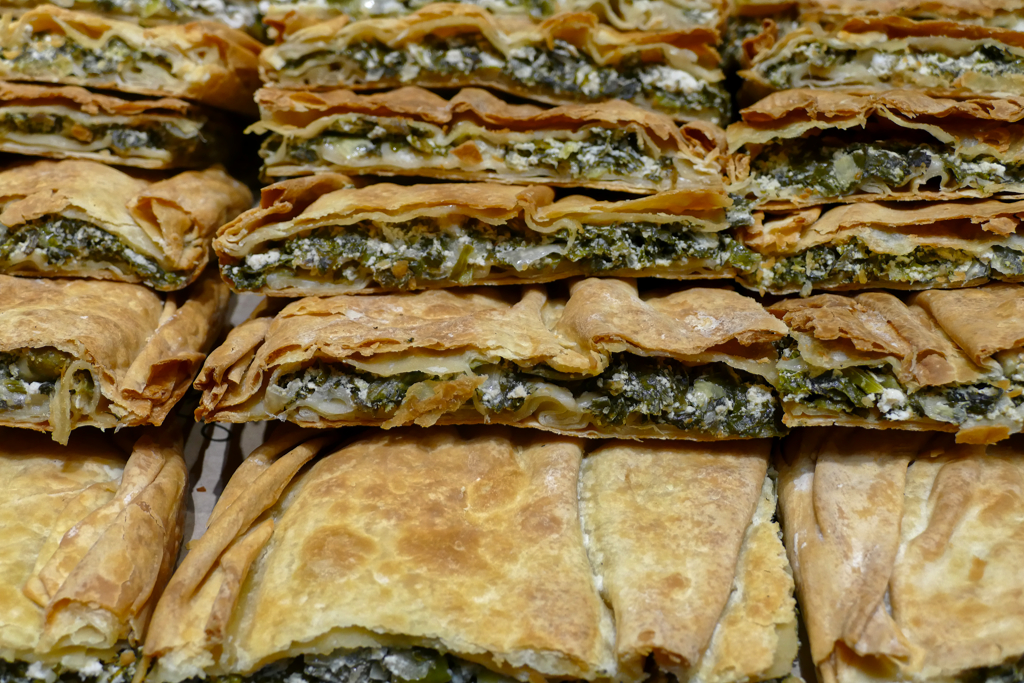 However, as soon as you leave the touristy epicenters on the coast, you'll discover that Cretan cuisine goes far beyond gyros and moussaka. Cretan recipes combine Italian, Balkan, and Turkish influences. You'll find unexpected delicacies on the island that have a long tradition.
If you are as much into carbohydrates as I am, you'll find many snack bars and bakeries catering to your needs with all kinds of filled pastries.
Organized Trips
Yes, you can get to most of the major day trip destinations by public buses. Howsoever, since Agios Nikolaos is on Crete's easternmost tip, it's not always that easy to organize a day trip smoothly. Therefore, I highly recommend going on trips organized. You'll see that at the end of the day, the price difference is not that big and it's a good feeling to know that there is someone there for you in case you need assistance. Also, exploring Crete from the water is a very special experience that you can book only organized.
Here you can check out some of the best tours to join during your trip to Crete*:
Cash And Cards
Since 2001, 20 European countries are paying with €uros, and Greece is, obviously, one of them. The exchange rate is 1 US$ = 0,94 EUR (May 2023), but you can check the conversion on this page.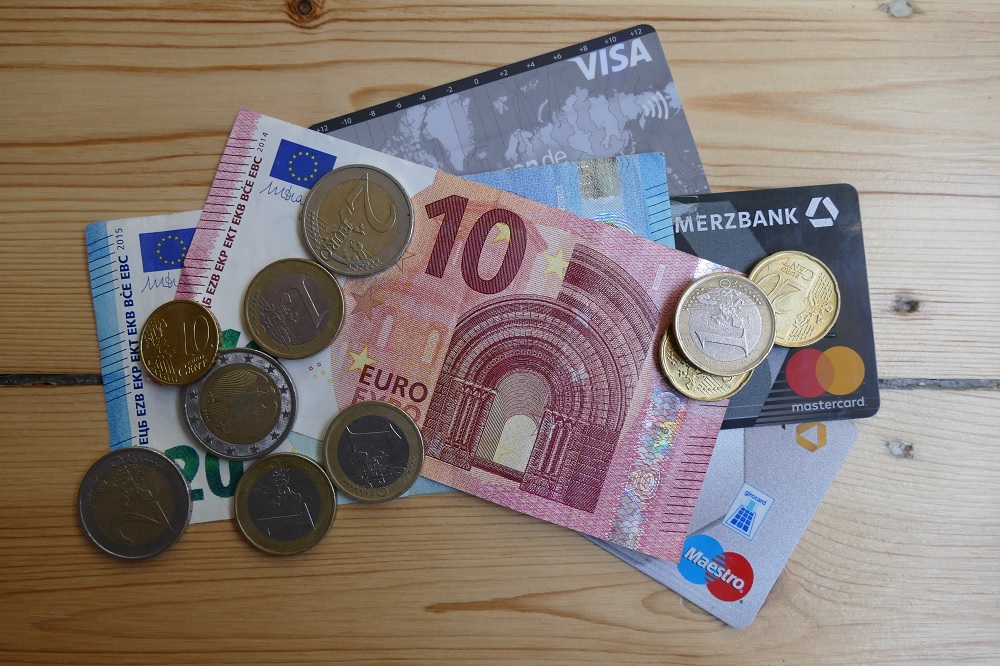 Especially due to the Covid pandemic, even small businesses prefer that you pay by credit card, and preferably contactless.
However, I was also asked if I could pay cash – even for hotel rooms. Obviously, this makes business for locals more profitable, if you know what I mean. In return, they made me a slightly better price.
Language
The Greek language had an immense impact on the development of Europe. Both the Latin and the Cyrillic alphabets were developed on the basis of the Greek alphabet. Also, the New Testament was written in classic Greek and is still read in the original version during Greek church services. Only the fall of the Byzantine Empire in 1453 marks the end of the Medieval Greek period.
This is when the era of today's version of the Greek began.
To this date, scientific terms stem directly from classic Greek – and Latin, obviously.
Although Greek is such a significant language, not many foreigners speak it. But basically, all Greeks working in tourism and gastronomy speak quite decent English. However, it's always nice to be able to say at least some pleasantries in the local language so you might want to pick up some words for instance on Lingohut. This online program offers an amazing choice of more than 45 languages!
By the way, in general, menus, timetables, street signs, and other important information are written in both Greek and Latin letters. Nevertheless, to make things easier for you, below is a list of Greek letters and their respective translation.
Greek Alphabet
| Upper Case Letter | Lower Case Letter | Greek Name | English Name |
| --- | --- | --- | --- |
| Α | α | Alpha | a |
| Β | β | Beta | b |
| Γ | γ | Gamma | g |
| Δ | δ | Delta | d |
| Ε | ε | Epsilon | e |
| Ζ | ζ | Zeta | z |
| Η | η | Eta | h |
| Θ | θ | Theta | th |
| Ι | ι | Iota | i |
| Κ | κ | Kappa | k |
| Λ | λ | Lambda | l |
| Μ | μ | Mu | m |
| Ν | ν | Nu | n |
| Ξ | ξ | Xi | x |
| Ο | ο | Omicron | o |
| Π | π | Pi | p |
| Ρ | ρ | Rho | r |
| Σ | σ,ς | Sigma | s |
| Τ | τ | Tau | t |
| Υ | υ | Upsilon | u |
| Φ | φ | Phi | ph |
| Χ | χ | Chi | ch |
| Ψ | ψ | Psi | ps |
| Ω | ω | Omega | o |
Connection And Communication
Since June 2017, no roaming charges apply within the EU with a European mobile phone contract. This applies to all 27 countries of the European Union as well as Great Britain, Iceland, Liechtenstein, and Norway. It pertains to all contracts.
When roaming is unavailable, you can connect to the internet at basically every museum, eatery, and hotel.
You can get a SIM card if you insist on being online 24/7. The most popular ones are from COSMOTE, Vodafone, and WIND. You can get them for 5 €uros in their respective stores.
In Greece, they use plug types C and F. Their voltage is 230 V, and the frequency is 50 Hz. Whereby, as nowadays all these chargers have integrated adapters, in general, the voltage and frequency don't really matter.
By the way, you'll find comprehensive travel info in my post World's Most Complete Travel Information – an indispensable globetrotter-classic.
Agios Nikolaos was just one of the places I visited on a day trip during my stay on the island of Crete. To read about other amazing places on the island, go to this post and take your pick!
Map
On this map, you can see where all the wonderful places I'm introducing in this post are located. This way, you can plan your itinerary accordingly.
Clicking on the slider symbol at the top left or the full-screen icon at the top right will display the whole map including the legend.
Pinnable Pictures
If you choose to pin this post for later, please use one of these pictures:
Did You Enjoy This Post? Then You Might Like Also These:
* This is an affiliate link. If you book through this page, not only do you get the best deal. I also get a small commission that helps me run this blog. Thank you so much for supporting me!