I love to learn foreign languages and travelling is my passion. Therefore, I joined a couple of courses abroad. For two weeks, I was learning Italian in Rome – and I'm telling you here how that went.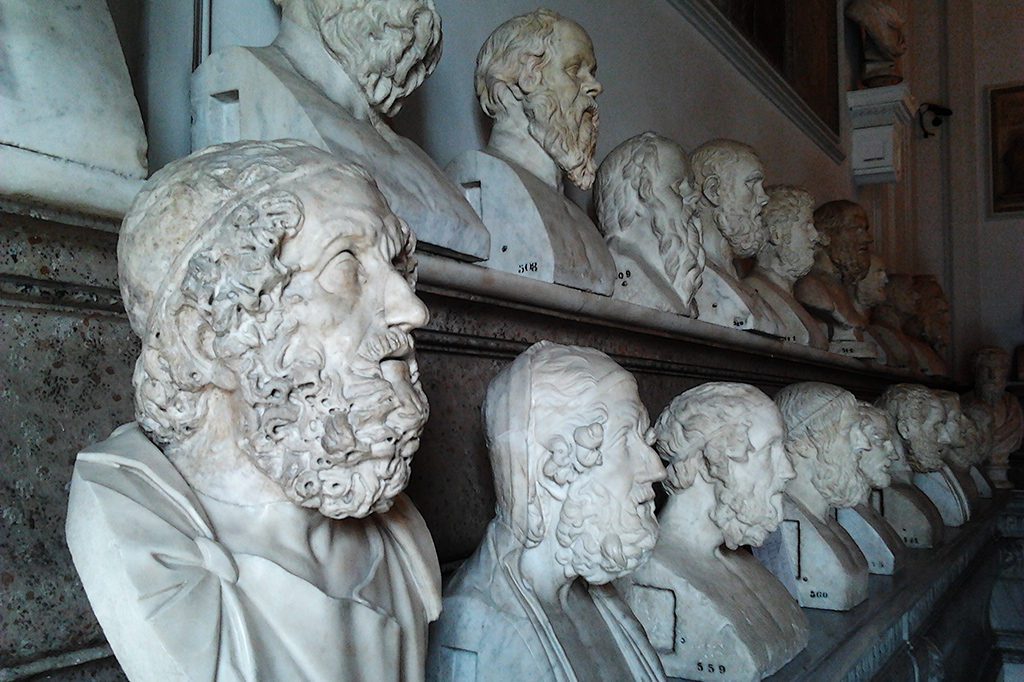 I love to learn foreign languages. Big problem: I hate joining learning groups, at least those around the corner where everybody is starting from scratch.
For various reasons, I have an easy time learning languages. The main reason is certainly that I grew up bilingual in German and Czech, and the latter is a bitch. But all its peculiarities prepare you for many other languages.
Anyway, the fact that I'm a fast learner in combination with my legendary impatience makes me a horrible, moaning, eye-rolling classmate. I recognize this, thus I stay away from evening classes for my and their good.
But joining the native speakers in their homeland is of course a whole different story.
Luckily, I have these three passions that are perfectly combinable: languages, travelling, and art. So the consequence is obvious: Let's travel to another country and learn the language right there.
Also, I have one big advantage – I'm based in Germany.
The Greatest German Invention of All Times
Here we have this wonderful thing called Bildungsurlaub – freely translated: educational leave. And even better: it's a paid educational leave.
Every employee has the right to take a class for one week per year resp. two weeks every other year. While your employer has to pay your salary, you have to pay for the course, and that is certainly one of the reasons why not everybody does it. You can pick from a wide range of courses, only the school has to be certified and the class you choose has to last at least six hours per day.
Who wants to learn conflict management or macramé back home?
I booked myself into two weeks intensive course at Scuola Leonardo da Vinci in Rome. Supposedly it was the same school where Elizabeth Gilbert – you know: eat pray yawn – took Italian lessons. However, this is the only similarity we have.
It's such fun when at almost fifty you become an exchange student. Including a guest mother and some sort of curfew ("please arrive on your first evening before 10 p.m.").
I had the choice between living with a family, sharing an apartment with other students, or staying at a hotel. The school arranged the lodging to my liking.
La Famiglia
I chose the family stay since I thought that would be a great opportunity to practice right away the Italian I learned in the morning.
Well, my intention was good, but reality proved me wrong. The landlady was – quirky, to say the least.
She lived in a rather big apartment with her daughter who was in her thirties and rarely at home. The lady was quite the opposite. Actually, she always stayed at home, mostly rummaging in her bedroom.
I haven't seen her in anything other than her pajamas.
Ever.
I was accommodated in a narrow room – probably foreseen to be a maid's chamber. Also, it was facing an eight-lane arterial road.
Obviously, it was a Roman eight-lane arterial road, hence full of Vespas and other bikes.
The first night while I was laying on the narrow bed foreseen to be a very skinny maid's bedstead, it dawned on me that bikes make up for being much smaller than cars by being waaay louder. With earplugs in my ears, listening to a slightly muffled sound of millions of Vespas, I recapitulated the film "Roman Holiday" where Audrey Hepburn was charmingly riding one of these bikes from hell. And on the backseat of her Vespa, I rode into the arms of Morpheus.
The first morning in the apartment's kitchen, I ran into Cendrine, a pregnant French teacher, living in La Réunion, spending her holidays in Europe. One week of Italian lessons in Rome was part of her trip.
The quirky lady accommodated her on a cot in the living room. Poor pregnant Cendrine.
Hence, I had no real Italian family to talk to, but a French roommate. Why not improve my French after all?!?
Back to School
It was high school all over again.
I had a – however weird – guest mother, I had a best school mate, I had class, and I had homework. Since I spent 90 percent of my leisure time at galleries and museums – remember? my third passion – I often did my homework a couple of minutes before class or during the break.
Like I said: high school all over again.
In class, I met all these interesting people. There was a retired American teacher who learned Italian to understand operas. She had her husband in tow, a retired gynecologist working voluntarily for a breast cancer organization in Bangladesh.
There were two sweet Dutch girls studying art, learning Italian to become tour guides, and there was the sophisticated British journalist following her husband around the world – just relocating from Mexico City to Rome. And of course darling nurse Rosa from Barcelona, at that time living in London, now saving lives in Liberia or wherever they need her.
Meeting all these people from different parts of the world learning the language for various reasons was so pleasantly different from the housewives back home learning Italian for ordering a pizza and vino, per favore, on their next vacation in Rimini.
And with my everyday visits to surreally precious places, my life was just perfect. Life long learning forever!
Exploring the Eternal City
I went to the Villa Farnesina with Raphael's fresco "Amor and Psyche", the Palazzo Spada with Francesco Borromini's truly amazing trompe-l'oeil, the Galleria Borghese hosting all the artistic treasures, Musei Capitolini with the abundant collection of historical statues, and of course the Musei Vaticani with all the wonderful works the catholic church has acquired with your money, Mr. and Mrs. Catholic, so thank you very much for supporting the arts; maybe not always all voluntarily.
By the way, here is a quick tip on how to avoid standing in the midst of tourist masses while admiring the indeed admirable Sistine chapel: be at the museum's gate short before they open (9 a.m.), and once you enter the building, just pace to the chapel. Don't let all the pretty stuff on the way distract you, you can look at it later. Pace, and you'll share the place for a short time with maybe a handful of people.
If you need more tips and hacks for your trip, check out my post comprehensive post on Rome.
Home Alone
After the first school week was over, Cendrine had to return to France before heading home to La Réunion, I planned a trip to Naples and Pompeii, and the guest mother left for her weekend home at the seaside. She left and never came back, I've never seen her again. Since her daughter was still at the apartment from time to time and didn't seem to be in distress, I don't think that anything happened to her. Her disappearance only proved my point that she was…special.
The second week was at least as exhilarating as the first one, I just got into the groove of this perfect life between learning and getting inspired and meeting interesting people and hunting art in Villas and Palazzi, and eating the best pizza ever at this hole in the wall-pizzeria at Trastevere and spending nights listening to Vespas. The whole experience was so enriching! I wasn't ready to go home. I was hooked on learning. Forever.
But ready or not – after two weeks at the Pleasuredome, I had to go back to the routine that allows me to try out what a perfect life would feel like.
Rome had been my first Bildungsurlaub. Since then, I was learning Turkish in Izmir, Italian in Milan, and Portuguese in Rio de Janeiro.
Right now, I'm planning on brushing up my Arabic in Rabat.
Pinnable Pictures
If you choose to pin this post for later, please use one of these pictures: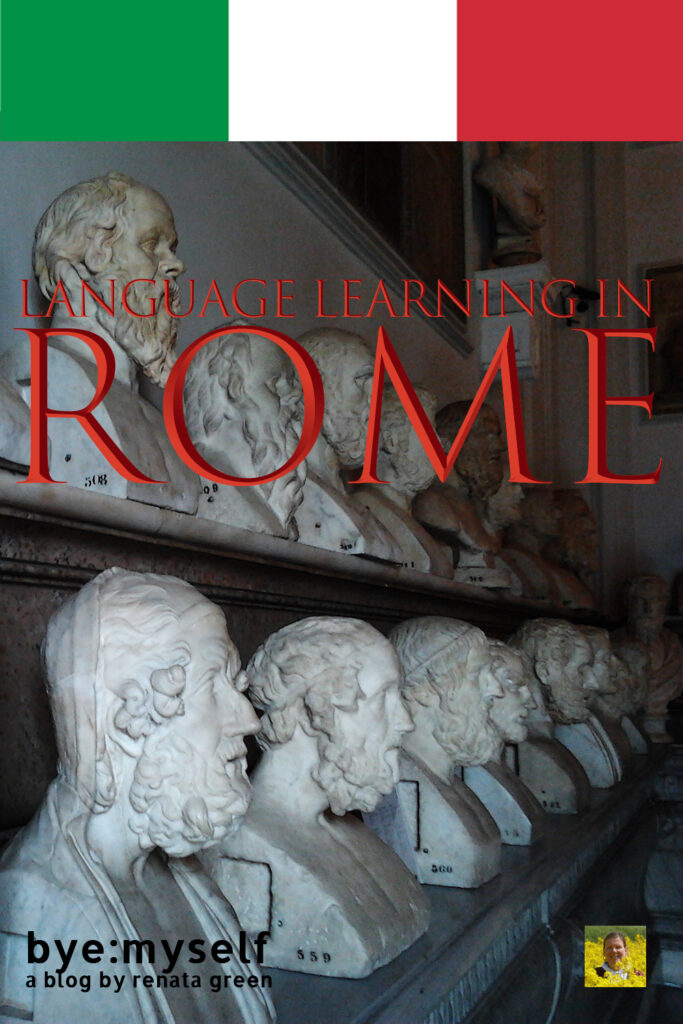 Did You Enjoy This Post? Then You Might Like Also These: