Pucallpa is the gateway to Perú's Amazon region and has the charm of a B-movie.
It's the jungle. Therefore, you can watch birds and sloths and fish for piranhas in the river Ucayali as well as the Yarinacocha lagoon.
So I had seen Lima and Paracas on the costa, Perú's pacific coast. I also visited Arequipa, Cusco, and Machu Picchu in the sierra of the Andean region. Hence, all that was missing was a little selva, the jungle.
That would make the Peruvian trilogy complete.
The Awakening
"Hola". What's that?
"Hola". Am I dreaming?
"Hola!" Where am I?
I'm laying on my back. When I fell asleep, my face was in the shadow of a huge potted plant.
Since then, the sun moved and now it's shining right in my face.
It's blinding me.
I'm sweating.
"Hola. Quiere comprar algo?"
I open my eyes and blink into the sun and as I turn my head a bit, I see an Indian.
This is probably not PC, but the tiny lady that's standing next to the sunchair on which I crashed….actually, I can't say how long ago, is wearing a brown-beige leather-ish costume with embroideries and feathers and all you can imagine.
"Hola. Compra algo!" She sees that I'm awake now, hence, she becomes more determined.
"No. No, gracias", I frown and turn away.
Away from the sun and from the Indian lady.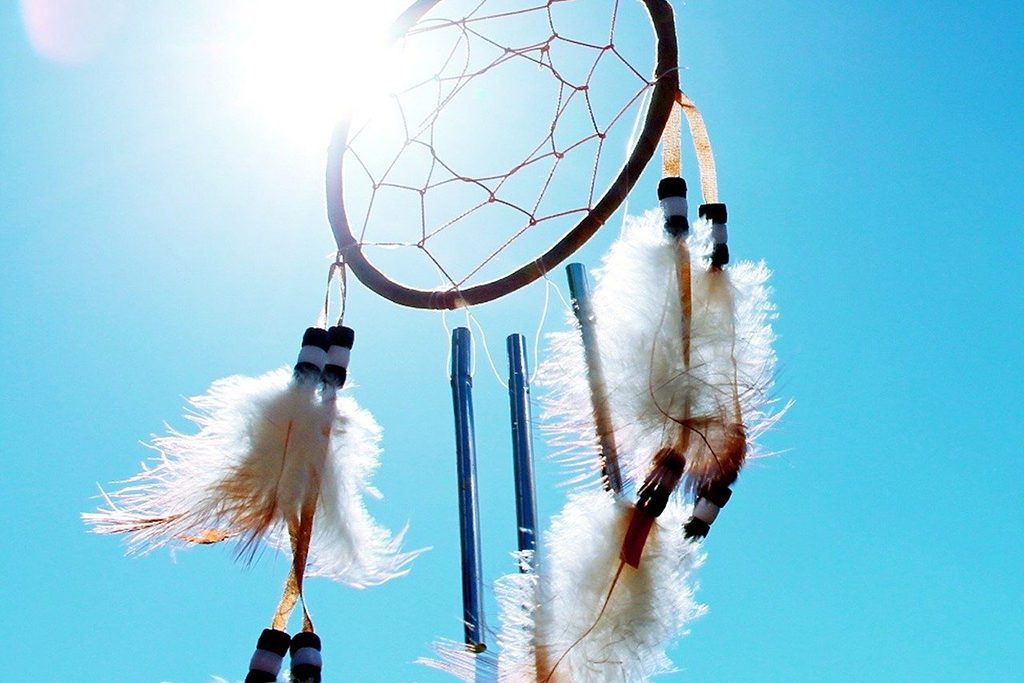 Although, now that I'm awake, we can as well explore what there is to be explored in Pucallpa. We get dressed. We're a bit grumpy since we took the early flight from Lima. Like getting-up-at-4 a. m.-early. Exhausting.
As we cross the small reception, I see the tiny lady again. She's sitting on a chair, her tiny legs dangling. To her right sits a man in a bluey. Next to him a gentleman in some uniform.
They look like extras from a B-film.
Or maybe the main characters of a B-film.
Either way, Jim Jarmush would be delighted.
Living the B-Movie
All of Pucallpa has a B-movie feel to it.
Obviously, it must have rained since the side alleys that are not tarred are muddy with huge puddles. There are a couple of stray dogs. The people we see staring at us. I don't have the impression that they get to see many gringas here.
I would love to stare back – but I don't. I sheepishly look the other way.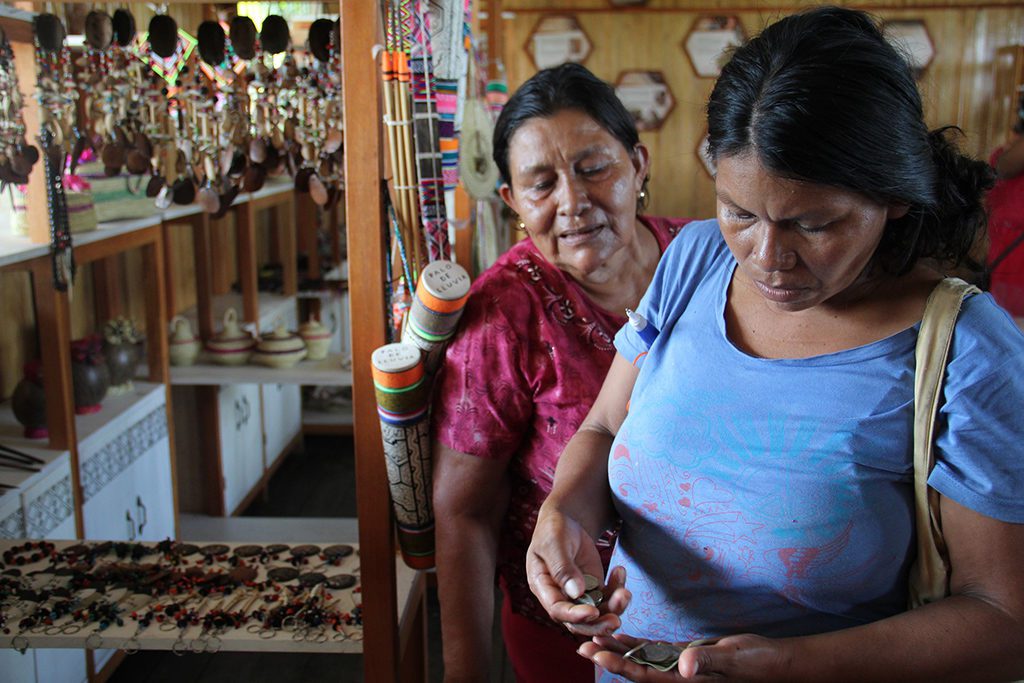 Later as we enjoy some fish with a lot of garlic, three men are sitting at another of the four tables that make this garage into a makeshift eatery. A middle-aged, sleeky-dressed guy puffing a cigarette asks us through the smoke where we're from. He's Italian. From Naples. Vacationing, he explains unasked and with a smirk.
Yeah, right.
The chubby Peruvian next to him laughs a dirty chuckle.
The third one doesn't speak. He seems to be the hatchet man in this trio.
I give them an innocent smile.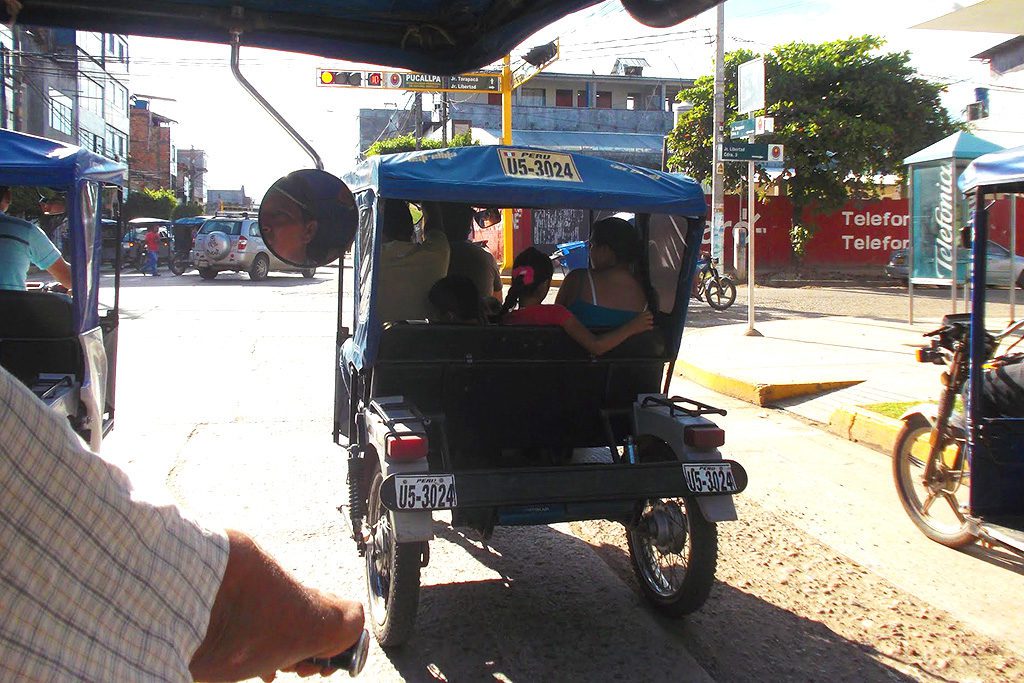 However, I wasn't born yesterday.
As they leave, all three of them squeezed into one of these moto-taxis that are filling Pucallpa's streets, I finally crack up laughing.
The whole scenario was so obvious. It was just screaming drug trafficking.
Down by law – dammit – where is Jim Jarmush when you need him?
Pucallpa
Pucallpa lies on the banks of the Río Ucayali. This stream is one of the two source rivers of the Amazon.
Until in 1840, the city was founded by Franciscans, the area at Ucayali has been inhabited by different indigenous peoples.
Before the Lima-Pucallpa Expressway was completed in 1945, Pucallpa was a small, isolated city with no electricity or cobbled streets. And as I described above, it still flashes some of the secluded, almost lost charm.
As in every Peruvian city, there is a Plaza de Armas, hence, a central square. To no one's surprise, it is surrounded by locally important buildings like the town hall and a modern yet quite ugly cathedral.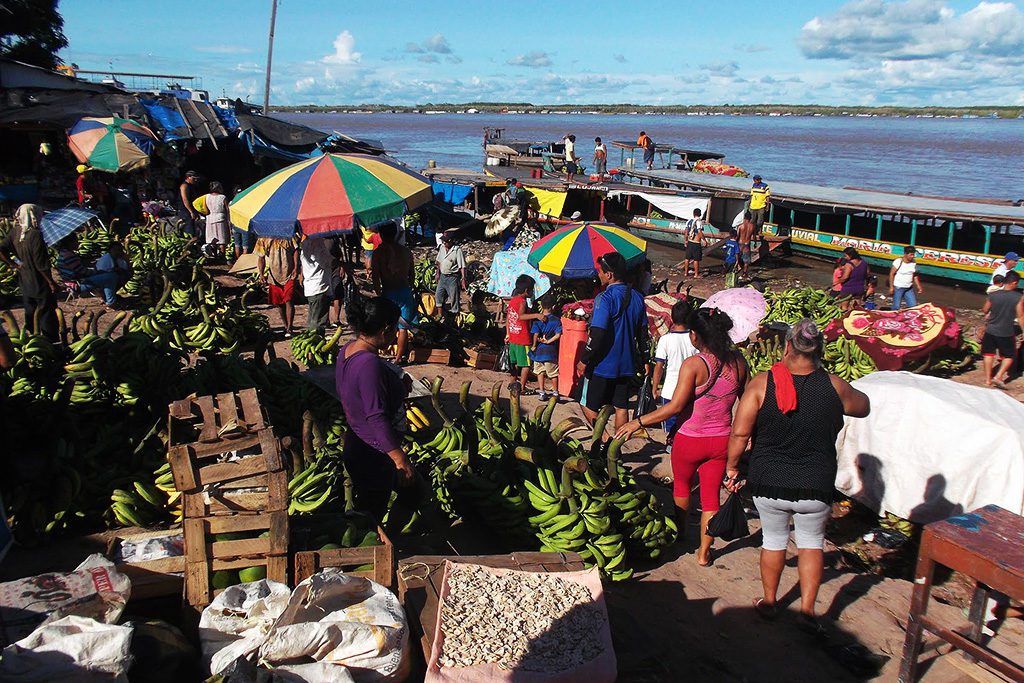 From the plaza, the pedestrian zone, and commercial street Avenida Tacna leads all the way down to the river bank. Here are greeneries, the river port, and a clock tower.
Yes, that's already it, indeed.
You don't come to Pucallpa for the city's beauty.
If anything, you come for the vibe.
Yarinacocha Lagoon
Or, in case you don't have enough time to make it into the real Amazon area, you come for the slightly jungle-ish feeling of the surroundings. That was actually also the reason why we came here.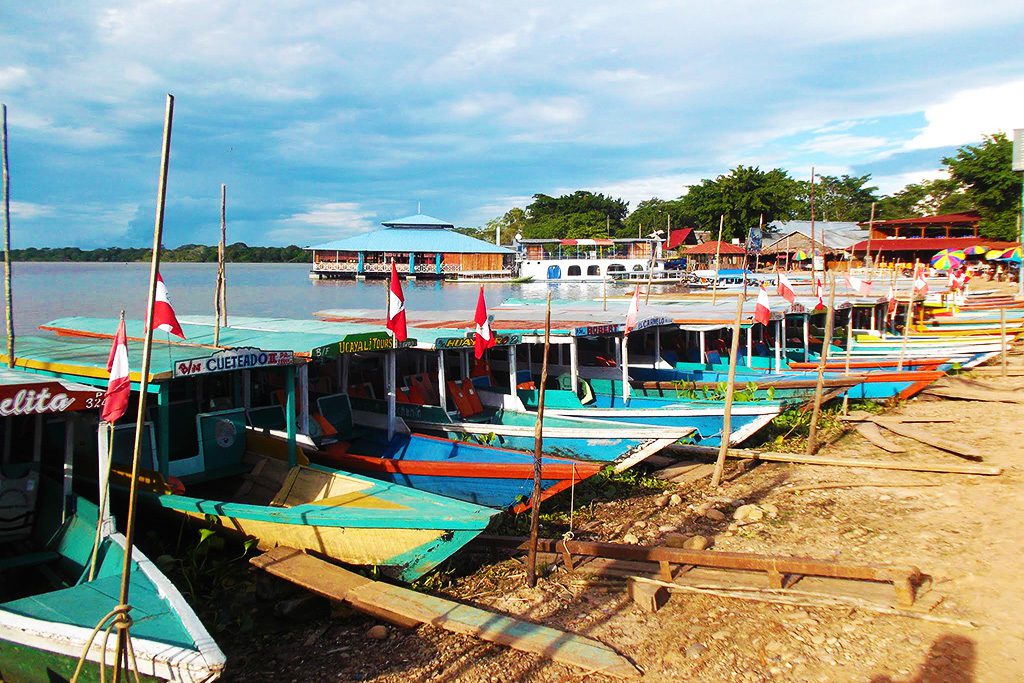 As a matter of fact, the jungle starts just a couple of kilometers from Pucallpa at the Laguna de Yarinacocha.
Yarinacocha is a lagoon respectively an old arm of the Ucayali river. Today, however, the diversion of the river bed isolates it from the river. Still, its waters are fed by the river and rise significantly during the rainy season.
The lagoon is surrounded by abundant vegetation.
Here, the Shipibo-Conibo ethnic group settled in communities such as San Francisco. To this date, the Shipibos run handicraft cooperatives.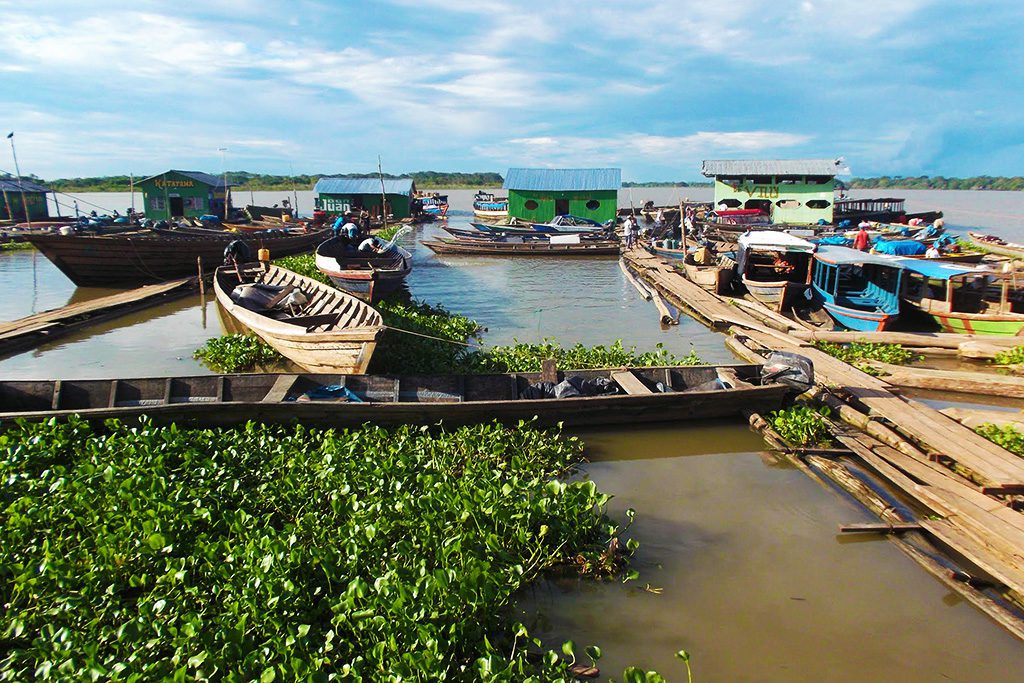 Puerto Callao is the capital of the Yarinacocha district and its main port.
Obviously, the most popular thing to do in Puerto Callao is getting navigated across the lagoon Yarinacocha and the adjacent bayous. As a matter of fact, it's also basically the only really interesting thing to do.
While one of the fishermen rows the boat in total silence through the canals, you get to see birds and sloths. Also, he makes you fish piranhas, and you have a really nice day out in the wilderness.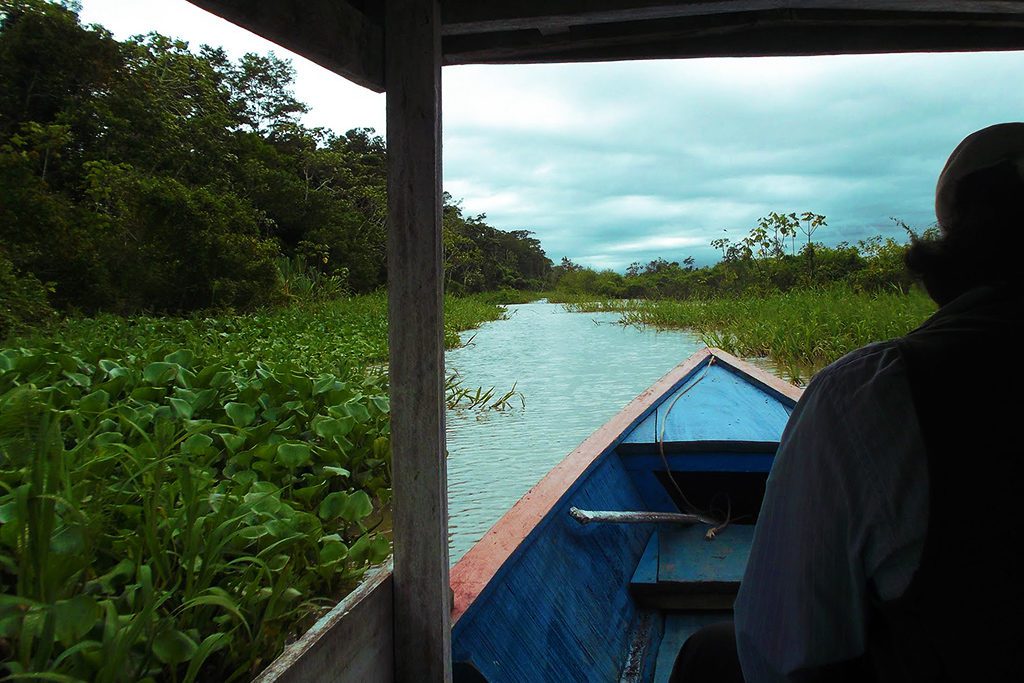 Obviously, you can book this trip with an agency in Pucallpa.
Of course, you can also just go by one of that funky motobicis to the lagoon and negotiate a deal with one of the fishermen hanging around on the jetty.
Padre Abad District
Another great day trip goes along the mountain ridge Padre Abad towards the town of Tinga Maria.
The Padre Abad province in the department of Ucayali honors the Spanish Franciscan friar Francisco Alonso de Abad. In the 18th century, he explored the Aguaytía River and was the first to make contact with the native Cashibos.
Wet in the Wild
As you leave Pucallpa, you spend about 3 hours going on the Federico Basadre road. From here, you enjoy the views of the beautiful jungle sceneries.
The first regular stop is at the waterfall La Ducha del Diablo, hence, the devil's shower.
Also, you get to visit some local producers of dairy as well as a craft brewery.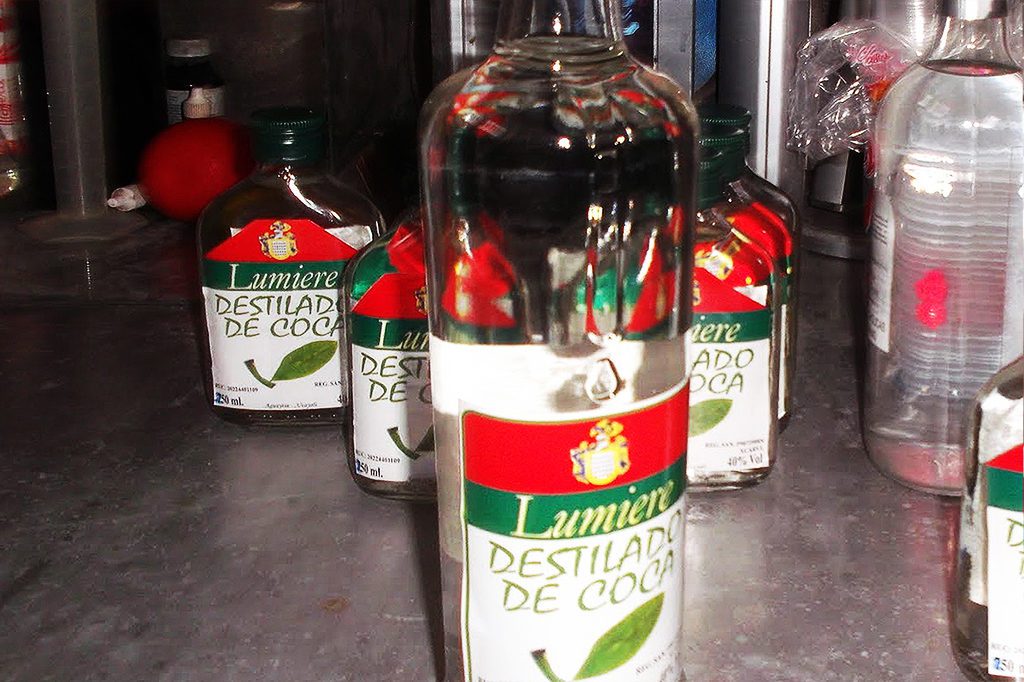 At the town of Aguaytía, you cross the same-named bridge over the same-named river – man, they are truly into Corporate Identity at this place. However, be aware that Aguaytía is actually the longest suspension bridge in Perú.
Finally, you get to the tour's highlight, namely the Velo de la Novia waterfall. Velo de la Novia translates to the bride's veil, and the water actually falls in an elegant bow into a large natural pool.
Here, you can take a refreshing dip. Also, a late lunch is served on the premises. And as everywhere in Perú, the food is excellent.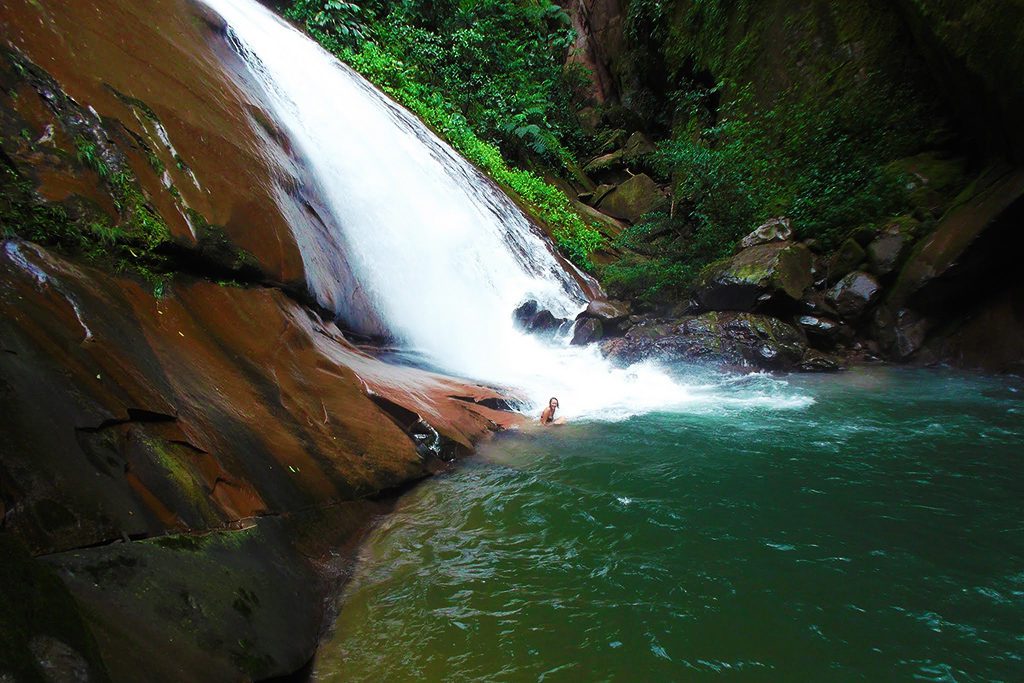 They take you back to Pucallpa in the late afternoon. This way, you can easily catch the late flight to Lima.
Practical Information
How to Get There
Talkin' 'bout flight to Lima: Pucallpa also has a flight connection via the Aeropuerto Internacional Capitán FAP David Abensur Rengifo to Lima, Tarapoto, and Iquitos.
In general, if you plan on travelling on, you should refrain from a too-tight schedule. I would actually always plan one extra day between flights. This way, you have the chance to make it also by bus to Lima in case something goes wrong with your flight.
Talking 'bout buses: It takes at least 18 hours to go from Lima to Pucallpa.
Check schedules and fares on AndesTransit's website.
From Iquitos, it is even possible to travel to Pucallpa by boat on the Rio Ucayali.
Also, coming from the south, you can go by smaller boars almost all the way from Cusco along the Urubamba and Ucayali rivers.
How to Get Around
As I mentioned above, moto-taxis are Pucallpa's most common mode of transportation. Within the downtown area, you should pay about 2 soles and double for a ride to Yarinacocha.
The only other mean of public transportation are colectivos. These are regular cars that run set routes. They are a bit cheaper and, therefore, the better option for solo travellers. You should pay 1 sol downtown and about 1.50 soles to Yarinacocha.
Where to Stay
There are actually not that many nice options in Pucallpa. We stayed at Antonio's Hotel* in the very city center which was very convenient, obviously.
Although the place as such is not bad, I didn't appreciate the fact that they first put us in some side building that looked rather than the storage room for unused furniture. Only when I asked for a decent room, they booked us into the main building.
Therefore, here is a choice of other accommodations around Pucallpa*:
Where To Eat
There are some Cevicherias south of the Plaza de Armas.
However, some very exotic and beautiful places to eat are on the banks of the Yarinacocha Lagoon. Especially east of Puerto Callao along the shores are really nice places – with a million-dollar view of the waters.
Cash And Cards
Bigger hotels and businesses in Pucallpa do take credit cards. However, you won't make it there without cash. Especially if you plan on booking your lagoon tour privately, you'll have to pay your guide in cash.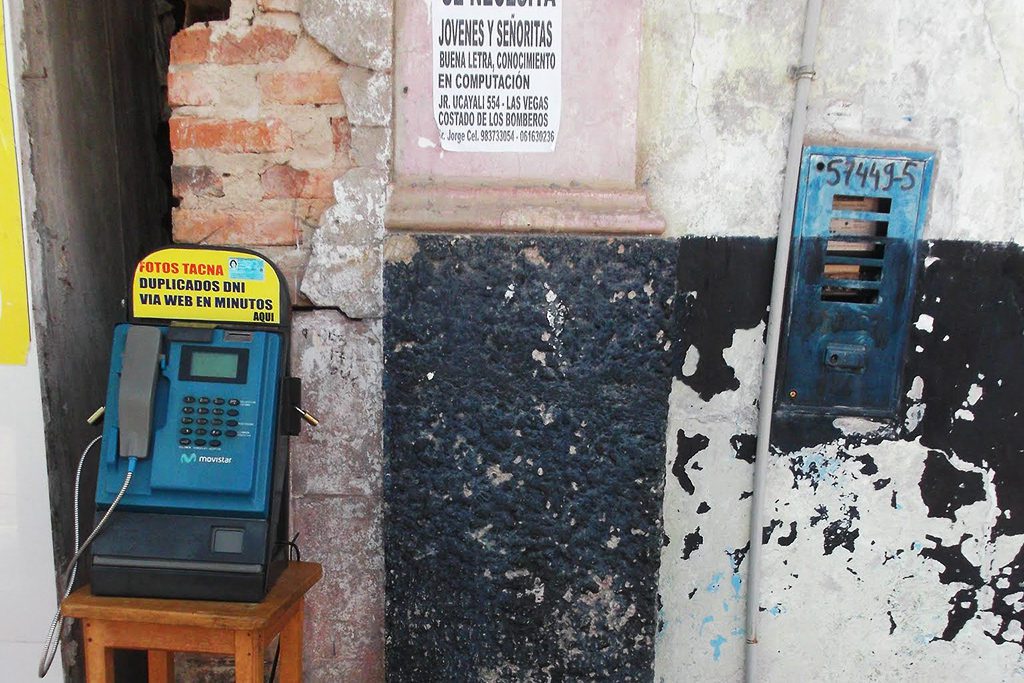 There are various banks in the city center and all of them have an ATM.
The exchange rate is 1 US$ = 3.96 PEN current rate resp. 1 €UR = 3.95 PEN current rate as of November 2022.
Don't panic if some of your cards don't work at certain banks. It happened to me from time to time. You then have to look for a different ATM respectively another bank. Usually, no biggie.
Language
Most people's English is rather rudimentary and certainly not good enough for more complex conversations. Also, since it's always a courteous gesture to learn at least some basic vocabulary when visiting a country, you might want to brush up your Spanish on babbel.
Pucallpa and its truly amazing surroundings were only one of many exciting stops on my tour through Perú. In order to read about the others, go to the main post and take your pick! There, you'll also find further relevant information on money, communication, and more.
To read a post on the mountainous region around Arequipa and the Colca Canyon, Puno and Lake Titicaca as well as Cusco, the Sacred Valley of the Incas, and Machu Picchu, go to this special post.
Pinnable Pictures
If you choose to pin this post for later, please use one of these pictures:
Note: This post is being regularly completed, edited, and updated – last in November 2022.
Did You Enjoy This Post? Then You Might Like Also These:
* This is an affiliate link, obviously. So if you book through this page, not only do you get the best deal. I also get a small commission that helps me run this blog. Thank you so much for supporting me!