So here comes an itinerary for a stay of up to 24 hours in Zurich. Designed for instance for a layover. Or a very short city break. Or an appetizer for a longer stay.
Zurich is Switzerland's largest city. Located in the German-speaking part of Switzerland – like the country's capital Bern – It is mainly known as the rich, expensive financial center.
But the river Limmat, the Zurich lake, and of course the circumjacent mountains make Zurich one of the cities with the highest quality of life. Albeit, at the same time the highest costs of living.
Despite Switzerland's squeaky-clean reputation, they have a long history of unusual, quirky artist personalities.
Already a hundred years ago the Dada movement started at Zurich's Cabaret Voltaire.
Today there are free spirits like the conceptual artist and musician Dieter Meier, ingenious video artist Pipilotti Rist, or the hysterical projects by Peter Fischli and David Weiss – who unfortunately died in 2013.
So Zurich with its large number of museums and galleries is a pleasant destination to be explored on a day trip or for a couple of hours during a layover.
Local Currency
Swiss Franc (CHF) / 1 CHF = 1 US$ as of November 2022. However, make sure to check the current rate.
Emergency Contacts
Police 117
Fire Department 118
National Airline
Airports
Zurich Airport / IATA-Code: ZRH
Tourist Info Online and Onsite
Tourist Information
Zurich Main Station
Phone: + 41 – 44 – 215 40 00
Email: info@zuerich.com
Getting Downtown and Back
Either by train or by streetcar and/or bus you get from the airport to the main station in less than 30 minutes, so even when your stay respectively stopover is just a couple of hours, it's worth it to spend them downtown rather than waiting at the airport. If you have luggage, you'll find enough lockers of different sizes at the station.
Before you leave the airport, I highly recommend you get a Zurich Card – the 24 hours-version costs 27 CHF and the 72 hours-version 53 CHF.
With this card you can use all public transport as often as you please, you get discounts on the Limmat cruise, on a city tour, and more and you have free or discounted entrance at most of Zurich's museums.
If it pays when you follow the sunny day program depends on how often you use public transport. It definitely pays when you do the rainy day program.
Morning Activities
On the Waters
Sunny day in a city with a river and a lake – you know the drill: a boat ride! To take a long look at the city from the water, a Limmat cruise is the most relaxing activity.

To get to the landing, take the tram No. 11 from the stop Bahnhofquai in front of the main station towards Rehalp and get off at Bürkliplatz.

The Lake Zurich Navigation Company ZSG offers a trip along the Limmat towards the lake, which starts every 30 minutes and takes about an hour, as well as many different trips from two to four hours to choose from. So if these longer trips are an option, you better check their website before you go.
On the Shores
Once you're back ashore, it's time to explore some of Zurich's landmarks. So get back on tram No. 11 – this time towards Auzelg – and get off at Rennweg. Walk up Kuttelgasse and turn right into Rennweg to get to the famous outlook 'Lindenplatz' from where you have a spectacular view of Zurich's attractions like the Limmat, the Grossmünster, and more.
Walk South downhill, and get a glance at St. Peter's church. It was Zurich's first protestant sacred building after the reformation and prides itself to have Europe's largest clock face (don't forget – we're in Switzerland, home of watches) with an outer diameter of 8,64 m/28.35 ft.
But your destination is the church Fraumünster, famous for the magnificent windows created by Marc Chagall in 1970 respectively 1978. These windows alone make a short visit a must.
Fraumünster
Münsterhof 2
8001 Zurich
Phone: + 41 – 44 – 221 20 63 Office / + 41 – 44 – 211 41 00 Sigrist
Email: info@fraumuenster.ch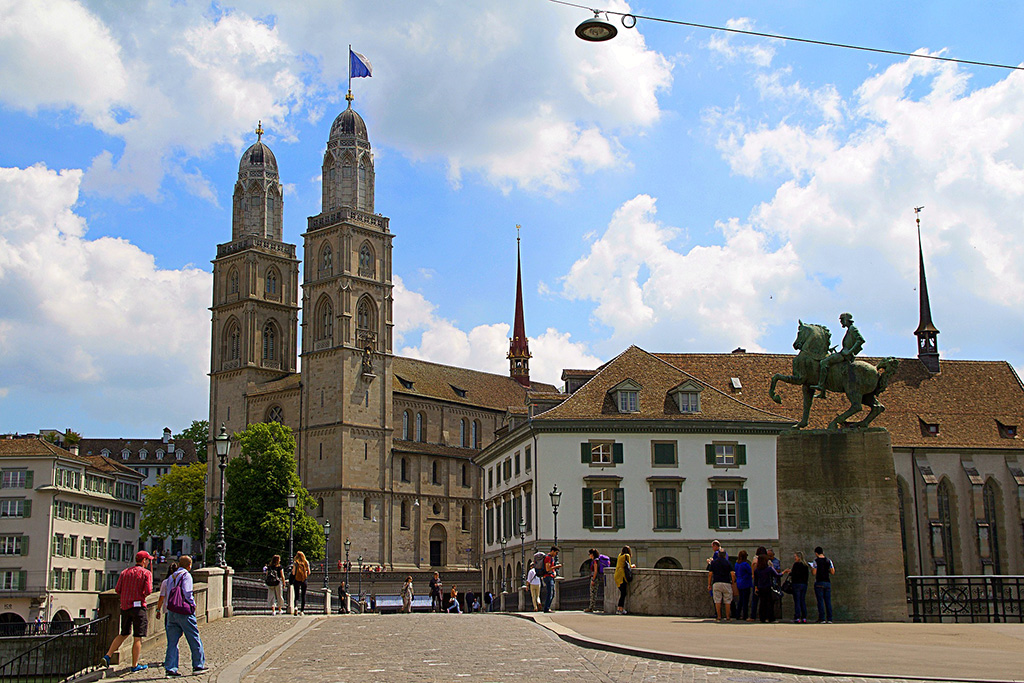 While the Chagall windows are indisputably the most beautiful, they are not Zurich's only exquisite art in sacral buildings. You only have to cross the Münsterbrücke to get to the Grossmünster, Zurich's most important double-towered landmark.
The Grossmünster is decorated with windows designed by Augusto Giacometti in 1933, and since 2009 by seven windows by German postmodern artist Sigmar Polke. Besides these steady attractions, there are temporary exhibitions taking place.
Grossmünster
Zwingliplatz 4
8001 Zürich
Phone: + 41 – 44 – 250 66 50
Email: sekretariat.grossmuenster@zh.ref.ch
Morning Activities
It's raining? No problem, cross the street to the tram stop Bahnhofsquai and take either train No. 7, No. 11, or No. 13 to Paradeplatz. From there you walk three minutes to the Fraumünster to admire Chagall's windows (see above).
Once you're done awing at this really sophisticated art, you just have to cross the Münsterbrücke to find shelter, i. a. from the rain, at the majestic Grossmünster with its windows by Giacometti and Polke – also described in the sunny activities section above.
I hope it's not raining too hard, since now you have to walk for about ten minutes to get to one of Zurich's best museums, the Kunsthaus. This venue houses a wonderful collection from all epochs, focussing mainly on Swiss artists like the Giacomettis, Böcklin, Füssli, and my personal darlings Ferdinand Hodler and Giovanni Segantini. The contemporary section presents – next to i. a. American and German artists – Urs Fischer and Franz Gertsch. Of course, there are special exhibitions along with the permanent collection.
Kunsthaus Zürich
Heimplatz 1
8001 Zurich
Phone: + 41 – 44 – 253 84 84
Email: info@kunsthaus.ch
The Kunsthaus is open from Tuesday to Sunday from 10 a.m. to 6 p.m. (Wed & Thur to 8 p.m.)
If you're too tired to walk the kilometer / 3/4 mile to the restaurant, you can take tram No. 5, No. 8, No. 9, or No. 10 from the stop Kunsthaus towards the river to stop Bellevue.
Note: If you're in for great art and have a bit more time in Zurich, you might wanna pay Basel a visit. By train, it's only an hour away and totally worth a visit – check it out in this post.
Lunch
Of course, you have to have a Swiss specialty for lunch, and although you'll find this restaurant costly, let me assure you that it's still a reasonable option.
Serving local delicacies, the "Zum weissen Kreuz" is located just a few steps South of the Grossmünster in the heart of the old town.
Zum weissen Kreuz
Rössligasse 3
8001 Zurich
Phone: +41 – 44 – 252 51 65
Email: info@zumweissenkreuz.ch
The restaurant is open from Monday to Friday from 11 a.m. to 2 p.m. and 5.30 p.m. to midnight.
Afternoon Activities
While the morning was all about Zurich being a destination by the water, the afternoon will be Zurich being a city in a valley between Swiss mountains.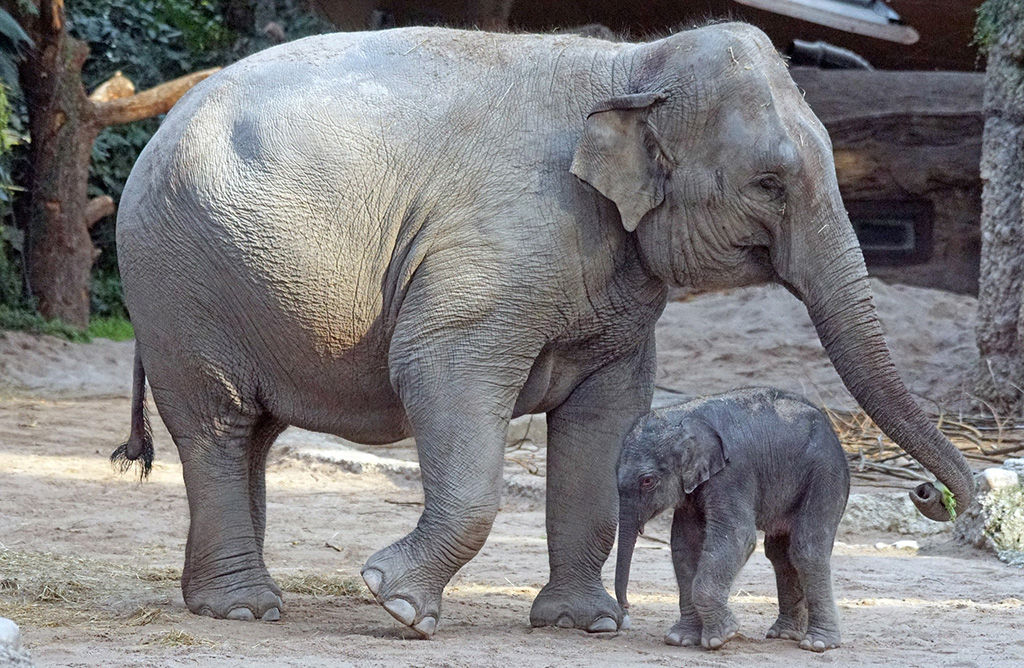 Put on your hiking shoes and hop on tram No. 9 or No. 10 from Bellevue to Seilbahn Rigiblick. Here you get on the funicular and up to the Rigiblick. Enjoy the view of Zurich in the serene surroundings, take a hike (literally, so no offense), walk about 30 minutes to the Zoo; or just enjoy a sunny afternoon in the Swiss mountains.
Zoo Zurich
Zürichbergstrasse 221
8044 Zürich
Phone: + 41 – 44 – 2542500
Email: zoo@zoo.ch
The zoo is open 365 days a year, in Summer from 9 a.m. to 6 p.m. and in Winter from 9 a.m. to 5 p.m.
Afternoon Activities
To catch the tram No. 13 (towards Frankenthal) or No. 17 (towards Werdhölzli) that will take you to the Kunsthalle, you have to cross the Limmat at Münsterbrücke and walk back to the Paradeplatz. From there, you go by tram to Dammweg. This stop is like one minute from the gallery.
The Kunsthalle – an art institution located in a former beer bottling factory (no, it doesn't smell anymore) – presents some of the most uncommon, unconventional, and controversial art – hence I recommend it only to this sort of audience.
Kunsthalle Zürich
Limmatstrasse 270
8005 Zürich
Phone: + 41 – 44 – 272 15 15
Email: info@kunsthallezurich.ch
A bit more conventional, yet still highly interesting and inspiring, are the exhibitions at the galleries of the Migros Museum for Contemporary Art that – like the Kunsthalle – does not show any permanent collection but exclusively temporary exhibitions; therefore you better check beforehand whether the current shows meet your interest and liking.
Migros Museum for Contemporary Art
Limmatstrasse 270
8005 Zürich
Phone: + 41 – 44 – 277 20 50
Email: info@migrosmuseum.ch
Except during some public holidays (pls. check their page), both venues are open from Tuesday to Friday from 11 a.m. to 6 p.m. (Thur to 8 p.m./free entrance after 5 p.m.) and Saturday and Sunday from 10 a.m. to 5 p.m.
If you still have energy and time before dinner, I recommend you explore a bit the former industrial and now hip neighborhood – the recently renovated Viadukt along the Viaduktstrasse and the Josefswiese, today a pleasant park surrounded by shops, restaurants, and bars, formerly disreputable for being an outlaw hardcore drug vending and using place. Sometimes gentrification does actually improve neighborhoods.
Dinner
You had a typical regional lunch, so at night you should go to a Zurich institution – Hiltl, allegedly the first vegetarian restaurant in the whole wide world.
Honestly, I don't care if they were the first, I deeply appreciate that they are the best! You sample and combine your food from a buffet on your plate and pay according to the weight.
They are at various locations, but I suggest you go to the rooftop restaurant on Bahnhofstrasse, not far from the main station, thus from your hotel.
Hiltl Dachterrasse
Bahnhofstrasse 88
8001 Zürich
Phone: + 41 – 44 – 888 88 00
dachterrasse@hiltl.ch
The restaurant is open Monday to Saturday from 9 a.m. to 10 p.m. (Friday till midnight, DJ music from 7 p.m.) and Sunday from 10 a.m. to 7 p.m.
Nightcap
It's so comfortable here on the terrace – do you really want to leave?!
Just order a lovely cocktail, lean back, and let the pleasant view do the rest.
Accommodation
Especially if you are on a layover and need to get back to the airport in the early morning, staying close to the main station is crucial. Since everything, and hotels, too, is very expensive in Switzerland, this accommodation is quite a good deal.
To get to the main station from here, you can either walk about one kilometer / 3/4 mile, or take tram No. 3, No. 13, or No. 17 at Limmatplatz to Bahnhofquai.
X-TRA
Limmatstrasse 118
8031 Zürich
Phone: + 41 – 44 – 448 15 00
Email: info@x-tra.ch
Map – sunny day itinerary
Map – rainy day itinerary
Pinnable Pictures
If you choose to pin this post for later, please use one of these pictures:
Note: I'm completing, editing, and updating this post regularly – last in November 2022.
Did You Enjoy This Post? Then You Might Like Also These:
* This is an affiliate link. If you book through this page, not only do you get the best deal. I also get a small commission that helps me run this blog. Thank you so much for supporting me!
Icons: money bag by Roundicons from www.flaticon.com, police car, train, sun, glass, and bed by Freepik from www.flaticon.com, takeoff plane and board made by ultimatearm from www.flaticon.com, info made by Roundicons from www.flaticon.com, umbrella made by Kiranshastry from www.flaticon.com, food plate by Vectors Market from www.flaticon.com