4 Days in Kyoto should actually be the minimum to explore Japan's Treasure Box – plus, you absolutely need to add a Side Trip to Nara.
Oh my God, I'm such a tourist: Visiting Japan, I had all these iconic motives in my head that I wanted to ban on….well, there is no celluloid anymore, so on a storage chip.
Interestingly, many of them are at the former capital Kyoto, ergo, practically Japan's Treasure Box.
Still a Treasure Box
After over a thousand years, Kyoto lost this political status in 1868. Yet, it is still considered the country's cultural capital and therefore, a major tourist magnet. It is home to numerous Buddhist temples, Shinto shrines, palaces, and gardens. Many of those are listed collectively by UNESCO as World Heritage Sites.
So it cannot be denied that Kyoto is beautiful and has some truly magnificent landmarks. Nonetheless, I wasn't overwhelmed – because, from everything I had heard and seen beforehand, I expected Kyoto to be overwhelming.
I visited the places I'm introducing below in four days. On the one hand, I was pacing quite a bit. However, on the other hand, the rains in Arashiyama slowed me down dramatically. So finally, if you can afford it timewise, you should foresee four days for Kyoto and add another whole day for Nara.
The Legend of the Suica Card
The Suica card – another of these myths being forwarded from traveller to traveller: "They don't accept credit cards in Japan. You'll be short of small change. You need a Suica card. You! Need! It!"
Well, after having spent three long weeks in Japan, I'm saying: Nope, you don't.
First of all, the myth that credit cards aren't accepted in Japan is a….myth. You cannot pay everywhere with plastic, but basically at all hotels, bigger restaurants, stores, some public transportation, landmarks, and museums. Also, you can book a lot of tickets'n'things online – and guess how you pay for those. Of course, by credit card.
It's correct that you cannot pay for individual subway or bus tickets by credit card. At least on buses, you need small money since the bus driver doesn't carry any change. But if you don't have the exact amount, there is a changing machine next to the ticket machine. Therefore, even that shouldn't be a problem.
In three weeks, I'd found myself one single time in a situation where I didn't have enough small change. Hence, a Suica card would have come in handy. One single time.
Maybe this should be the moment to clarify that a Suica card is basically a debit card that you can obtain at JR stations or online. JR, by the way, stands for Japanese Railway, the national railway company -You charge a minimum amount of 1,000 Yen and 10,000 max. You can then use it for smaller buys such as subway tickets or soft drinks at convenience stores.
That's cute and very Japanese and therefore I totally understand if you want to have one – but it's not necessary. If you make sure to always have a couple of 100 Yen coins, you'll be fine.
Kaching
Like I mentioned above, there was one incident when I would have used a Suica card: The night I arrived in Kyoto.
At the enormous, busy Kyoto station at 8 p. m., I still somehow figured out how to get to my hotel. Bus #26 to Shijo-Omiya, then around the corner, and there it should be – easy as ABC.
Rush hour at Kyoto station. Waiting in a very long line with locals and tourists alike, we got cramped into the bus. Especially since many of the passengers had at least one huge piece of luggage with them.
You need to know that riding the bus in Japan is a bit different from most other countries. In general, you are not entering through the front door and paying the fare as you start your trip. You enter through the backdoor and only as you alight, you pay at a little machine next to the driver. Plus, you have to have the exact fare.
So I was standing there, squeezed between my little hand luggage and an enormous suitcase belonging to some Spanish lady. With one hand, I was holding on to the handrail, with the other I managed to open my purse. Only to realize that for the first time on this trip I did not have enough small change: 200 Yen – I was 30 Yen short.
Dammit.
Maybe if I paid looking really distressed, the driver would let me get away with it.
Or maybe some good soul would chip in.
Or….I decided to pay immediately. This way I would have enough time to solve the problem before we reached my stop.
We Have a Winner
I worked my way through the bus climbing over bags'n'people and threw all my change into the ticket machine. The driver shouted no and tried to put his hand over the slot – but it was too late. With a loud brazen kaching, all those coins big and small rattled through the slot.
Oddly, they didn't stay inside the box but fell through into a small pan – oh, what the hell, I quickly climbed back across bags'n'people towards my suitcase. Maybe the driver would just leave it at that instead of haggling with a useless tourist.
But no. At the next stop, the driver ordered me back up front and handed me the coins from the little pan. I hadn't paid, I accidentally had thrown all those coins into the changing machine. This explained why they had fallen through.
Looking at the money in my hand I realized there was more than before. Somehow my coins must have swept out about 50 Yen more from the machine.
Yei – I obviously won a teeny-tiny changing machine jackpot!
Before I got off at the Shijo-Omiya stop, I orderly put the right amount of 230 Yen into the slot of the right machine.
Sometimes, faith is on your side and things do simply work out.
Cardinal Directions
The concept to explore the city by cardinal points is as recommendable for Kyoto as it was for Tokyo. Although Kyoto is smaller and has significantly fewer inhabitants, most of the important points of interest are not cobbled together in the city center but lie scattered to the four winds.
Therefore, to save time, you should visit them by area.
Right in the Middle
Strictly speaking, Kyoto Station can be considered a landmark in itself. It is Japan's second-largest station building and far more than just a major transportation hub. Just like at Tokyo Station, there are shops and restaurants, there is a hotel, and a movie theater as well as several local government facilities.
Since all the city buses, subways, and local trains pass Kyoto Station, I passed it at least once every day.
Like my new Indian friend Lakshmi said, every Japanese city has a castle, an aquarium, and a tower.
I laughed.
But she's right.
Kyoto's tower with an observation deck is located just north of the station, the aquarium is just a few blocks west, and the castle can be reached in about 20 minutes by bus No 9 or the Karasuma subway line.
Nijō Castle
Kyoto Castle – or Nijō Castle – is one of Kyoto's seventeen historic landmarks that made it to the list of UNESCO World Heritage Sites.
Built in the early 17th century by the Tokugawa Shogunate, it was in use till 1939 and then donated to the city. Since 1940, it can be visited by the public. And this visit is totally worth it – as a matter of fact, if there is only one castle you can visit in Japan, it should be Nijō Castle.
Fortified
Two fortifications, each consisting of a wall and a wide moat, are surrounding the copious complex. Both walls have beautifully elaborated gates.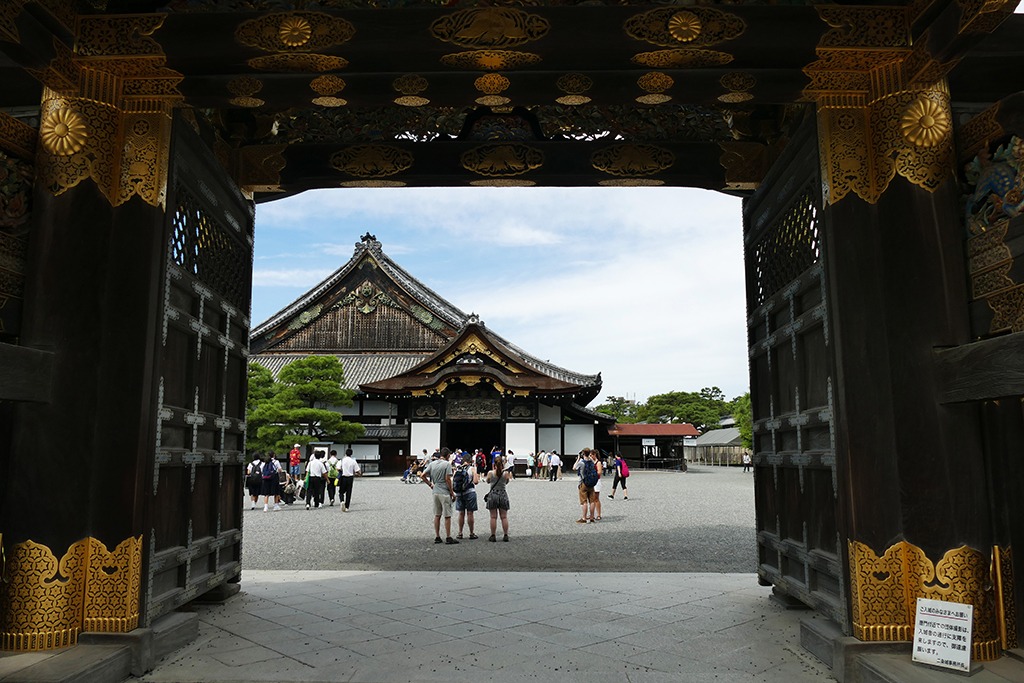 The larger Ninomaru Palace is built of Hinoki cypress and consists of five buildings, connected by corridors. These are equipped with a quirky security system. The so-called nightingale floors charmingly squeak when stepped on so no enemy could approach the emperor unheard.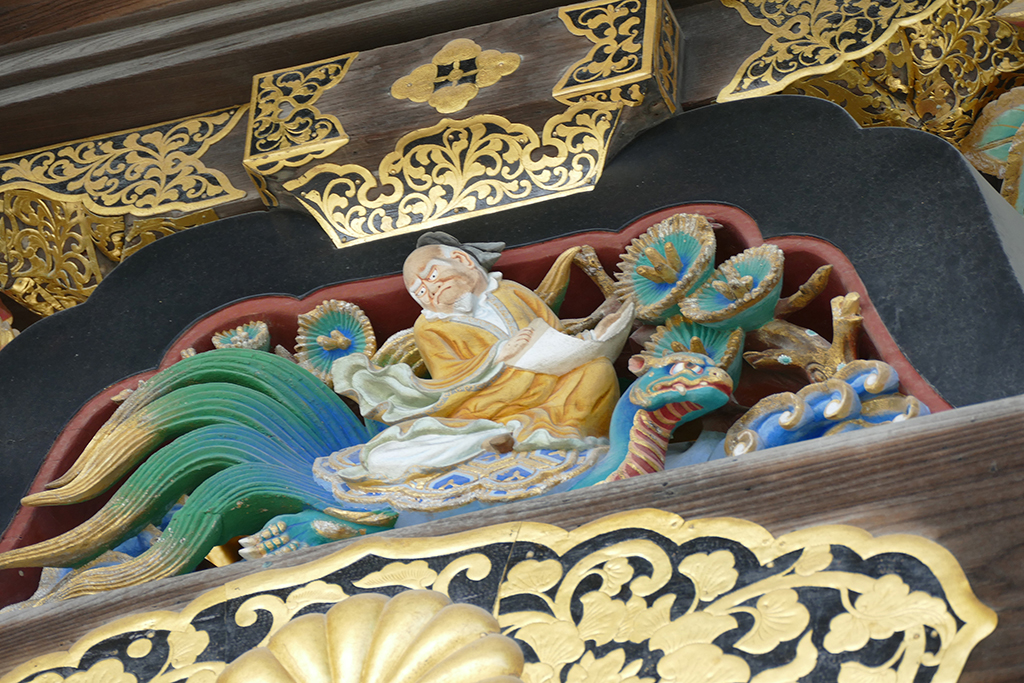 All the rooms are lavishly decorated with gold and fine wood carvings. Photography is strictly prohibited, therefore you have to take my word for it that it's truly beautiful.
The smaller Honmaru Palace is only open to the public on special occasions. However, it's possible to walk around the Honmaru gardens and climb the stone foundation of the former castle keep for a panoramic view. The premises are gorgeous with several gardens and groves – and I wasn't even there as the cherry and plum trees were in full bloom.
Oh, by the way, you can pay the 1,000 Yen entrance fee either at a booth or at a ticket machine by…tadaa…credit card. This much for 'they only accept cash in Japan'.
Kyoto Imperial Palace
Kyoto does not have only a castle, there is also an Imperial Palace. It is conveniently located only 15 minutes walk north of the castle.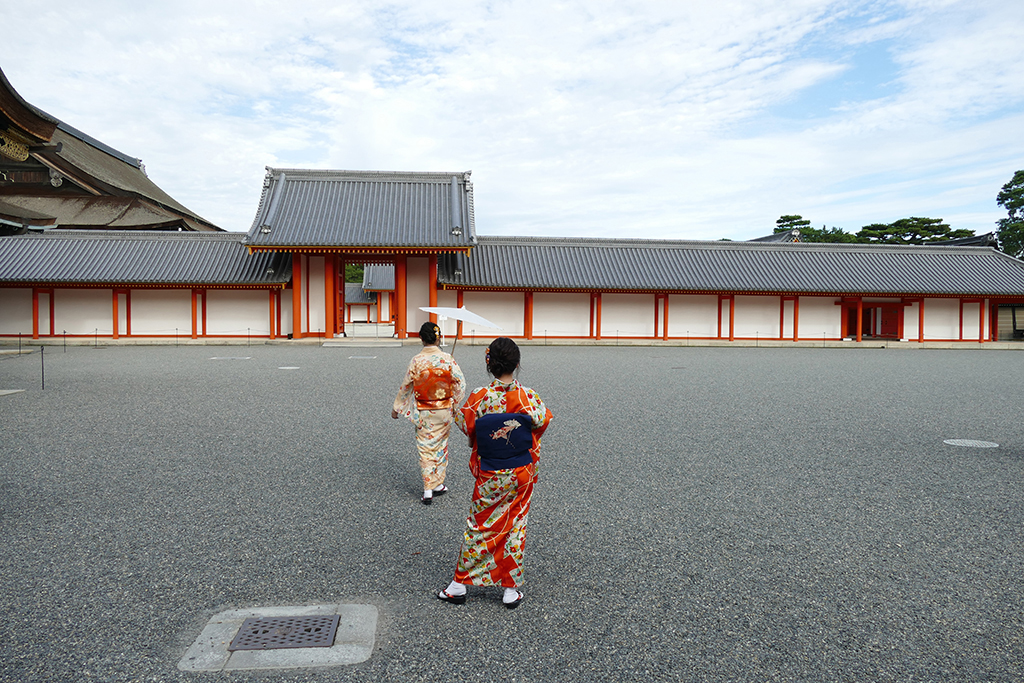 Since Kyoto used to be the country's capital for more than a thousand years, this Imperial Palace was the residence of Japan's Imperial Family until 1868.
Together with the Sento Imperial Palace as well as some other historic sites, it is located in the huge Kyoto Imperial Park.
Entrance to the Palace is free of charge, but note that they are closing pretty early – depending on the season between 4 and 5 p. m.
The palaces are located in a rectangular park in the very city center. It is a wonderful recreational area for both tourists and locals, featuring broad gravel paths, lawns, and tree groves.
Before you leave the city center to explore the attractions scattered to the four winds, you should pay the Nishiki Market Shopping District a visit. It's 20 minutes south of the Imperial Gardens, either by walking or by public transportation. Here you can try – and buy – all the local delicacies.
East
Kiyomizudera
I began my epic visit to Kyoto's historic sites at the Kiyomizudera, one of the most important temples in Japan. Founded in 780, this temple was originally associated with one of the oldest Buddhist schools in Japan, the Hosso sect. In 1994, the temple was listed as a UNESCO world heritage site.
Kiyomizudera's strongest suit is the wooden terrace in front of the main hall. Located 13 meters above the hillside, it grants a fantastic view of the surrounding landmarks, the Matsubara-dori street stuffed with visitors, as well as the distant city of Kyoto.
Obviously, the main hall is the main worship site.
Sanneizaka
As a matter of fact, the eastern part of Kyoto is landmark-wise incredibly rich and impressive.
Walking down the Matsubara-dori south of Kiyomizudera and turning right into the Sanneizaka alley, you find yourself in a warren of pedestrian streets densely lined with souvenir stalls, specialty shops, and eateries, all housed in traditional Japanese structures.
Ryōzen Kannon
The Ryōzen Kannon, located east of the famous Gion neighborhood respectively the adjacent warren of narrow alleys and side streets, is a war memorial constructed in 1955. The accessible Bodhisattva Avalokiteśvara statue – called Kannon – is 24 meters high.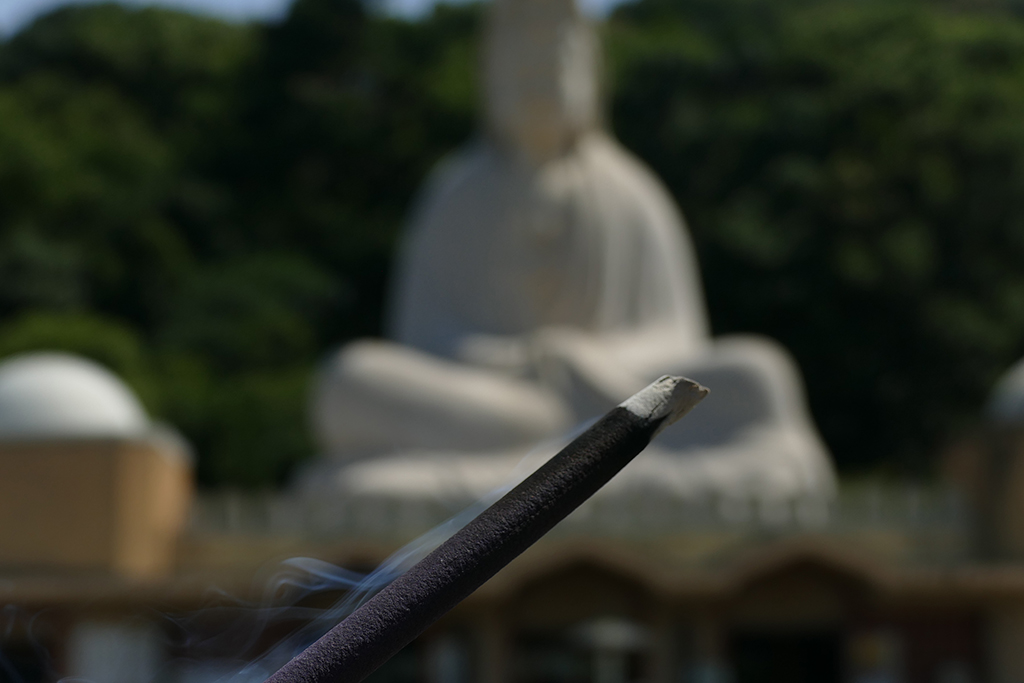 The entrance fee is 300 Yen and includes an incense stick that you can place in a large vessel next to the pool.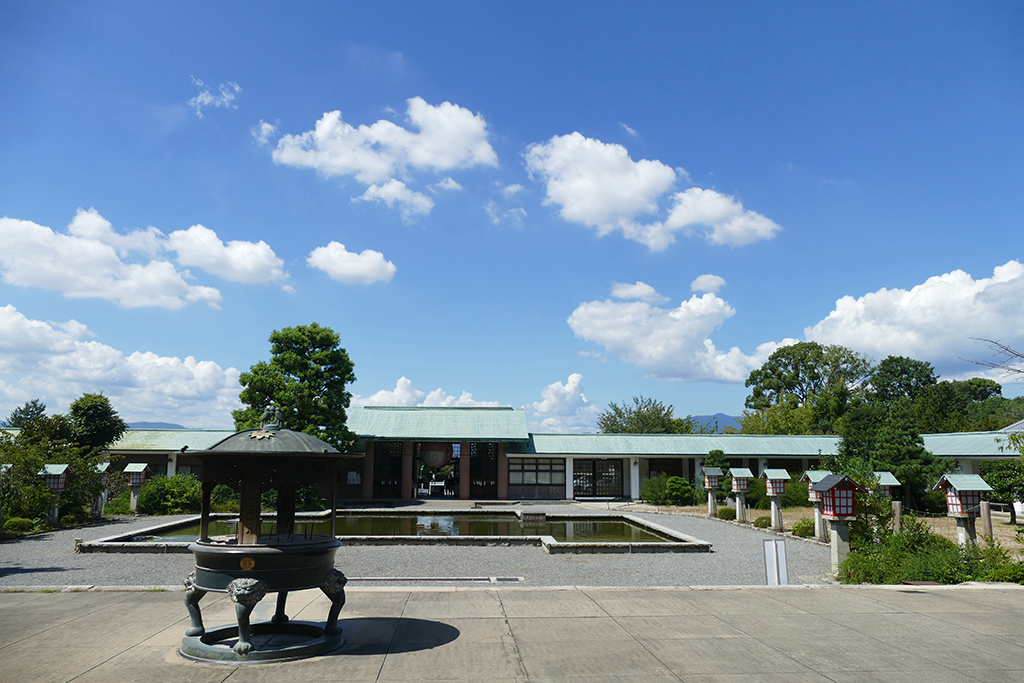 Besides many Buddhist statues, there is also Buddha's footprint.
Just to be clear: Kyoto has 1600 Buddhist temples and more than 400 Shrines – and I have the feeling that 90 percent are located on the stretch north of Ryōzen Kannon all the way up to the Heian Shrine.
Exhaustion
After the first dozen, I felt unable to cope with all this history and beauty – they made my head spin. I would really like to know how many people have visited them all – and do, in addition, remember all the stories and details.
I'm introducing some of the most impressive of those places of worship that I had shared with Chinese twosomes in rented Yukatas and Kimonos in search of the most instagramable angle, with couples and groups from Italy, Spain, Germany, and the US, eagerly reading guide books while walking the premises.
We were all staring around in exhaustion, trying to soak in the majestic sights and atmosphere, sweat running down our faces and spines. Although it was already mid-September, the temperature had risen to 35 degrees Celsius.
I was basically tottering like a remotely controlled puppet from one alluring spot to another, holding up knowing that I wouldn't have the chance to visit Japan again anywhen soon.
Enjoying the beauty of the world can be very hard and tiring.
Yasaka Shrine
The Yasaka Shrine, also cleverly called Gion Shrine since it's located right across the famous Gion District, consists of several buildings including gates, halls, and a stage.
While the initial construction dates back to 656, from 1871 to 1946, the Yasaka Shrine was designated one of the Kanpei-Taisha shrines, meaning it was venerated by the imperial family and stood in the first rank of government-supported shrines.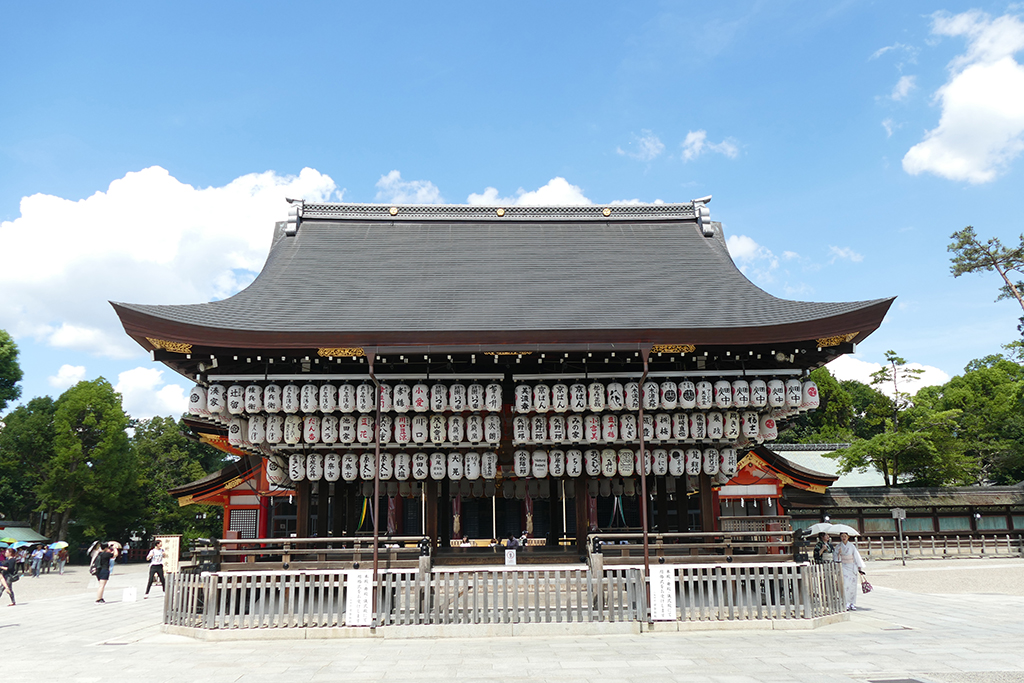 Chionin Temple
The Chionin Temple is the head temple of the Jodo sect, one of the most popular Buddhist sects in Japan.
Already entering the premises through the humongous Sanmon Gate is a grand epiphany. This entrance – 24 meters tall and 50 meters wide – was built in the early 17th century and is the largest wooden gate in all of Japan.
Behind the gate, whose terrace can be accessed, stairs are leading to the main temple premises.
In the center is an open space with stone trails connecting the main structures such as the majestic Miei-dō hall or the Amidado hall. These halls are housing the actual objects of worship like a statue of the priest Honen, founder of the Jodo sect, and Amida Buddha, the sect's most important Buddha.
Heian Shrine
Interestingly, this Shrine is a downscaled reproduction of the former Imperial Audience Hall from 794. The Shrine was initially built in the late 19th century on the occasion of the 1100th anniversary of the capital's establishment. Heian, by the way, was Kyoto's ancient name.
Since it burned down in 1976, today's structure is from 1979.
The principal entrance to the main Shrine is the Ote-mon, a two-level gate created as a copy of the original Palace's entrance gate.
The most impressive feature is probably the colossal Torii gate.
Nanzenji Temple
Can you feel the serenity? Nanzenji is one of Japan's most important Zen Buddhist temples, constructed in 1291 by Emperor Kameyama.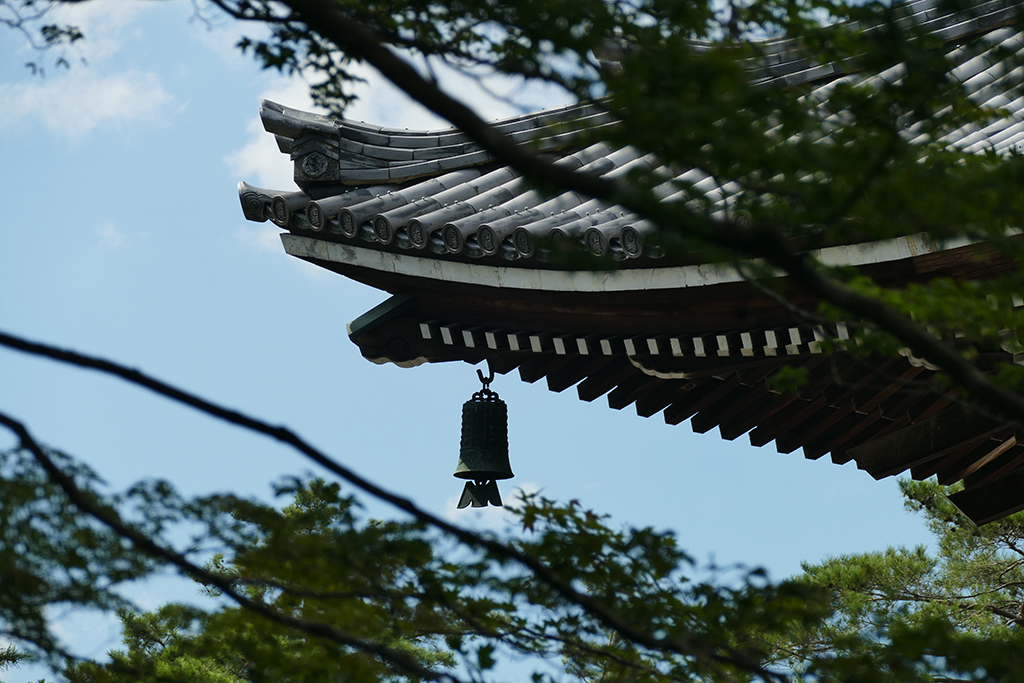 Especially the Hōjō gardens are of incredible beauty.
However, the temple's one-of-a-kind feature is the ancient aqueduct, also known as Suirokaku. It was constructed in the Roman style in the Meiji Era at the turn of the 20th century. To this date, the aqueduct carries water from Lake Biwa and supplies the city with water and electricity.
Tetsugaku no michi, the Philosopher s Path
They want you to feel small, they want you to feel tired. That's why they build all these temples and shrines way up high with many, many stairs to climb.
As you get there, sweating and out of breath, Buddha is expecting you with this impish smile whispering I got here first…I'm the winner!, and I can clearly see him winking. He does it very fast so you don't notice, but I've seen him winking with mischievousness.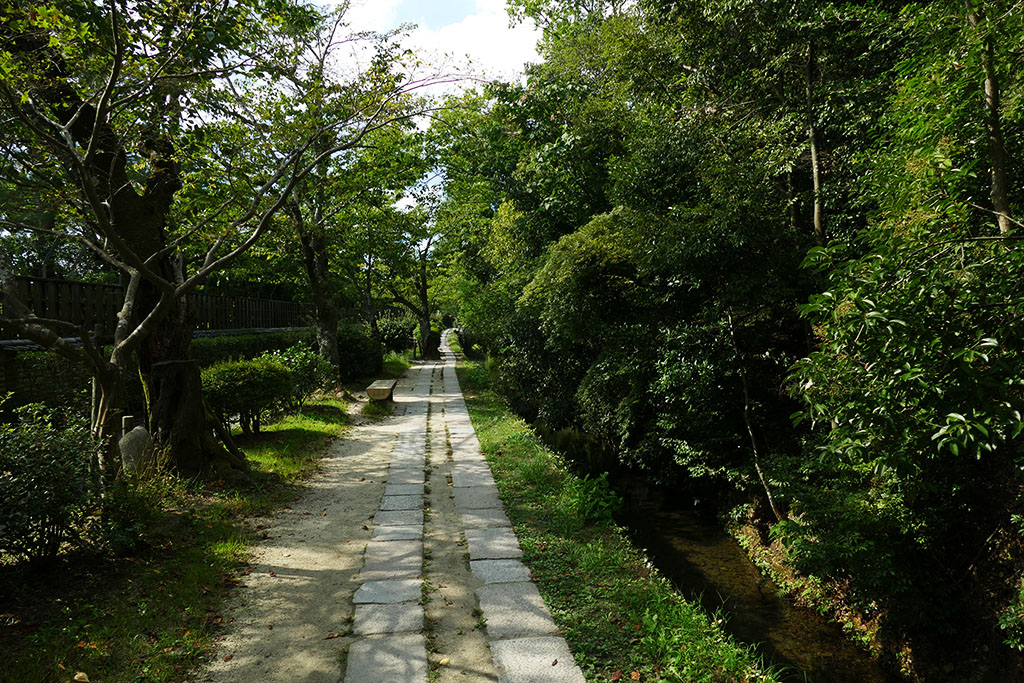 So after all the ups and downs of my Temple tour, I was happy when hitting the Philosopher's Path north of the Nanzenji Temple. It is a nice stone path along a canal lined with cherry trees and bushes leading all the way to the Ginkakuji, the so-called Silver Pavilion.
The path must be simply breathtaking during hanami, the cherry blossom period. However, as I visited in September – an exceptionally hot September – the two kilometers on a straight trail in the shade from the trees was a real treat. Also, there are eateries and cafes along the way – and for those who do not want to rest but just need a refreshing sip, there are vending machines with water, teas, and sodas.
The trail is named Philosopher's Path since Mr. Nishida Kitaro, one of Japan's most important philosophers from the 20th century, supposedly meditated here on his daily commute to Kyoto University.
Ginkakuji
While meditating on whether it's disciplined or downright crazy having raced along the Higashiyama mountains, climbed up and down the Temples and Shrines in the hellish heat, I finally reached the end of the Philosopher's Path and got to Ginkakuji, the so-called Silver Pavilion.
This structure, built in 1482 after the so-called Golden Pavilion Kinkakuji – see below in the chapter on the North, was commissioned by Shogun Ashikaga Yoshimasa as his retirement villa. In 1490, after Yoshimasa's death, the villa was transformed into a Temple.
West
Arashiyama
A visit to Arashiyama should definitely be on every Kyoto visitor's list. It is located about 9 kilometers from the city center, but you'll have the sensation of being in a different world – maybe even in another century. No wonder that with its temples and villas, the Togetsukyo bridge, the bamboo forest, and lush parks, it's Kyoto's second-most important sightseeing area.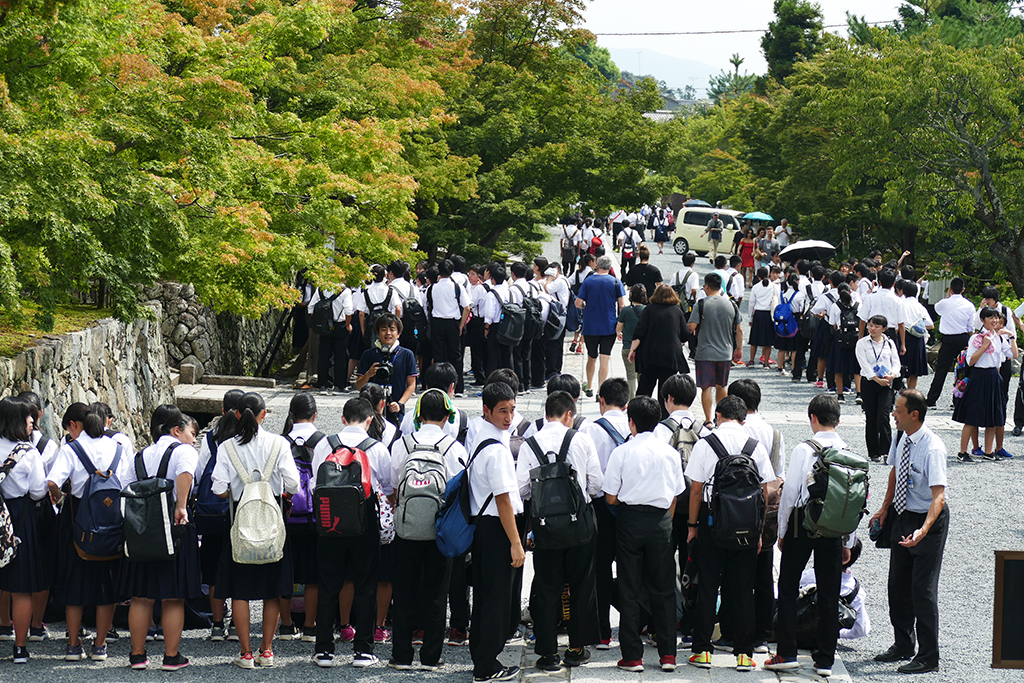 Everyone comes here for one or the other fantastic landmarks, be it the river, a cruise on it, the bridge crossing it, the bamboo grove, the kimono forest….I don't know where to even stop, attractions are so plenty. After all, Arashiyama has been a popular outing destination for centuries. Even Japanese nobles came here more than a thousand years to enjoy the beautiful natural scenery. These are particularly popular during the cherry blossom and change of colors in autumn.
Well, I didn't enjoy either of these special seasons – and in addition, it started to rain.
But what can I say – Arashiyama was mesmerizing even in the pouring rain; in a different way – nevertheless, mesmerizing.
Tenryuji Temple
I began my visit with the Tenryuji Temple, one of Kyoto's five great Zen temples. Founded in 1339, the temple made it to the list of UNESCO World Heritage Sites in 1994.
Albeit the Temple structures are lovely, the gardens surrounding them are almost even more alluring.
Bamboo Forest
I love bamboo – I love the trees and I adore products made from this fascinating material that is sturdier than even concrete.
Walking across the famous bamboo grove, you have to stay on a walking path. As a matter of fact, that makes taking good pictures so much easier since nobody can photobomb your image. Obviously, if you need a photo me in the bamboo forest – unconsciously walking away from the camera, holding my hat with one hand – that will be far more difficult since there are many visitors around. Always.
At the end of the bamboo forest trail, you can either turn right and visit the Mikami Shrine above the
Ogura Pond or you turn right and get to the pleasant Kameyama park. From here, you have a great view of the Hozu river and the famous monkey park Iwatayama.
To get there, the Togetsukyo bridge, one of Arashiyama's most famous landmarks, can be crossed.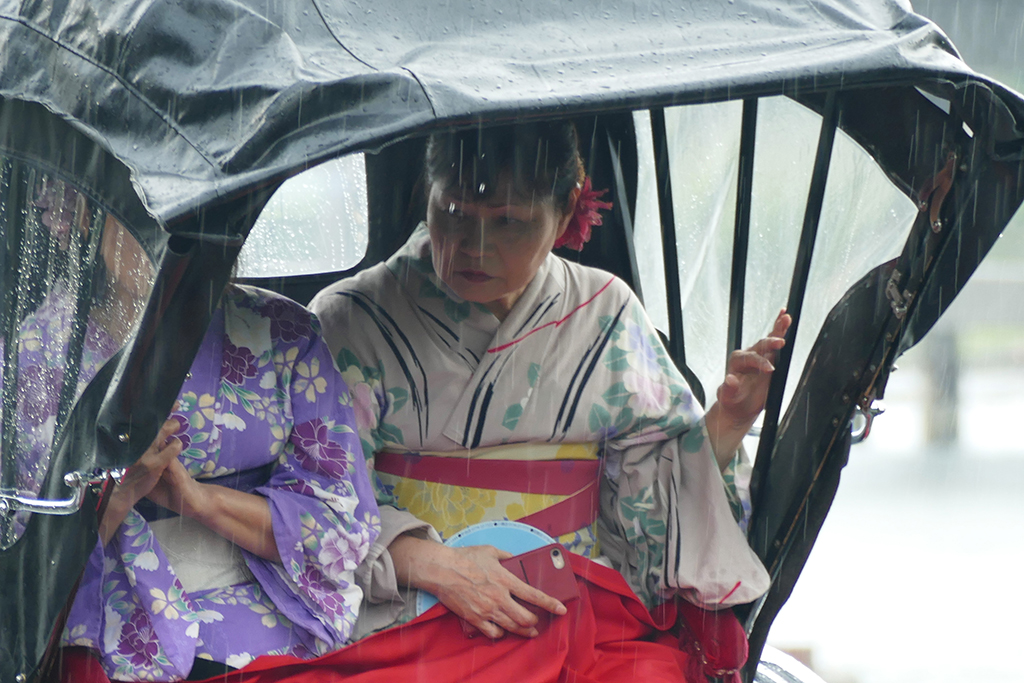 As I said, the day I visited, Arashiyama lived up to its name: Arashi translates to storm – and minutes after I entered Kameyama park, a strong wind sprang up and it was pouring cats and dogs. Later, I learned that there had been a Taifun in Tokyo so I assume those were the troughs.
Washed Away
So, no bridge and no monkeys for me, I turned left into the main street that caters exclusively to the tourist crowds, browsed a little, had a…green snack, and made it back to the JR station – in short stages since, of course, I had left my still brand new raincoat from the trip to Kawaguchiko in my suitcase. Hadn't needed it since.
At the end of the – stormy – day, I cannot check Arashiyama off my bucket list, after all. There are still too many places I wasn't able to see – and I absolutely want to take the Sagano Scenic Railway Ride. It runs about 7 kilometers or 5 miles to Kameoka from where you go back by boat all the way to the Togetsukyo Bridge.
By the way, there are different options for getting from the city center to Arashiyama: The easiest one is to take the San-in local train to Saga-Arashiyama station. If you have a JR pass, this trip is included, otherwise, it will cost you 240 Yen. You can also take the Karasuma subway line, but then you have to change trains.
The city bus # 28 takes you to Arashiyama-Tenryuji-mae station.
However, the most intriguing way of getting to Arashiyama is certainly by the Randen tram. Founded in 1910, it is the only tram in Kyoto and its final stop is right at the kimono forest.
North
Kinkakuji
After having travelled so much and having seen so many beautiful places, I'm literally grateful that there are sights that can still overwhelm me. And seeing the so-called Golden Pavilion Kinkakuji definitely was one of those sights. This villa, completely covered in gold leaf, located in the center of the deep blue waters of the pond, surrounded by lush greenery is like straight out of a fairy tale.
Initially, this building was the retirement villa of Shogun Ashikaga Yoshimitsu. Following his will, it was transformed into a Zen temple of the Rinzai sect after his death in 1408.
Today's structure, by the way, had to be rebuilt in 1955 after a fanatic monk had burned it down.
Kinkakuji was the model after which Ginkakuji, the so-called Silver Pavilion, was built decades later by Yoshimitsu's grandson Ashikaga Yoshimasa – mentioned in the East section above.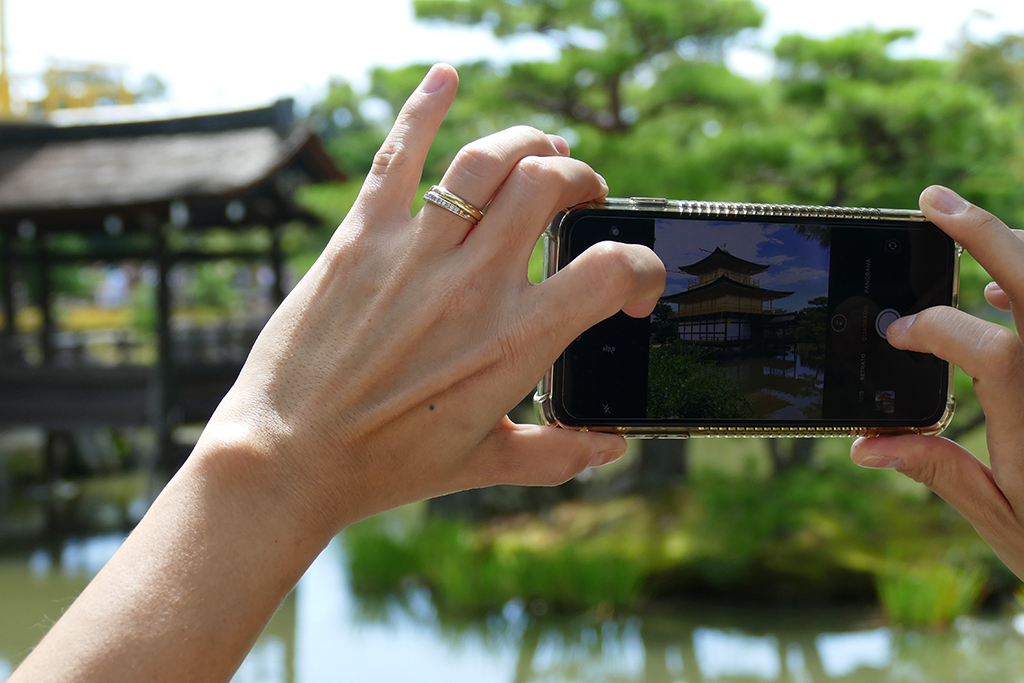 Interestingly, each floor of the Golden Palace was built in a different fashion: The first floor in the Shinden style, Bukke style was used for the second, and the third floor is built like a Chinese Zen Hall.
There is one specific route you have to follow throughout the entire premises. It ends at the Sekkatei Teahouse. As I intended to turn around and make my way back to the Pavilion since I regretted having rather taken pictures than having soaked in the mesmerizing sight, I was turned down. I had to go back to the entrance and start my visit anew; using the same ticket, though.
Ryōanji
After all the glamour it was time to rock it: Ryoanji Temple is less than two kilometers west of Kinkakuji, and the bus takes you there in a couple of minutes. It houses one of Japan's most famous rock gardens. Ryoanji, too, was built as a noble's villa and eventually converted into a Buddhist Zen temple in 1450.
The stone garden is a rectangular plot covered with pebbles and containing 15 rocks. What this formation actually represents is not clear – which is good since this way, you can interpret it to your liking. One fact, though, remains: From any vantage point at least one of the rocks is always hidden from the spectator.
Besides the stone garden, the villa can be visited – my favorite, however, where the surrounding gardens with the large pond covered by water lilies.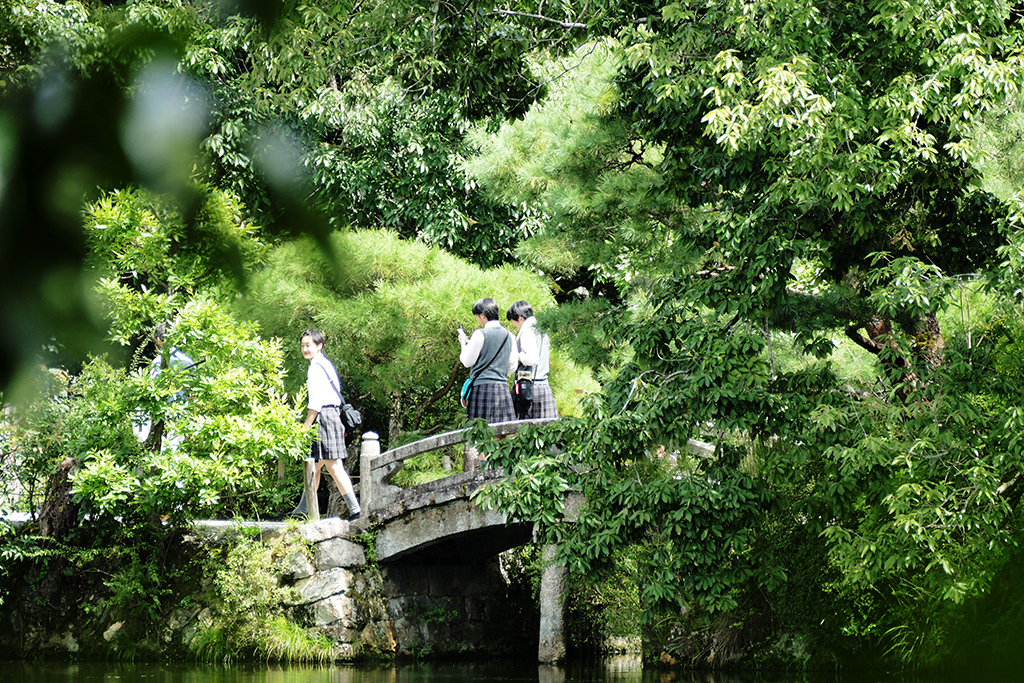 If you happen to be hungry, there is also a restaurant on the premises, serving traditional food in beautifully decorated tatami-covered rooms.
South
Fushimi Inari-Taisha
Come to think of it, dry moments on my trip to Japan were few. I'm not referring to the weather, I'm talking 'bout myself. I was constantly soaked. Either it was pouring – or it was hellishly hot so that I was soaked in my own sweat. Either way, evening by evening, I was peeling my wet clothes off my skin as if I had been repeatedly falling in the hotel pool.
And the visit to the famous, spectacular Fushimi Inari-Taisha was one of my wettest tours.
The Fushimi Inari-Taisha was – besides Mount Fuji, the Floating Torii Gate of the Itsukushima Shrine, and deer – on top of my list for Japan. Following the recommendation to get there early, I arrive at Inari station around 8:30 a. m. – and with me a remarkable group of other early birds.
No wonder, since the Fushimi Inari-taisha is the Eiffel Tower, the Empire State Building, the Colosseum of Kyoto – in other words: a must.
Most Instagramable
The main shrine structure was built in 1499 – but everybody comes here for the path lined with thousands of the iconic Senbon Torii gates. On the premises should be about ten thousand of these vermilion gates – big and small.
As you walk through the gates, turn and you'll see that there are writings on the backs. These are the names of the donors, a custom that spread since the Edo period as a token for wishing or giving thanks.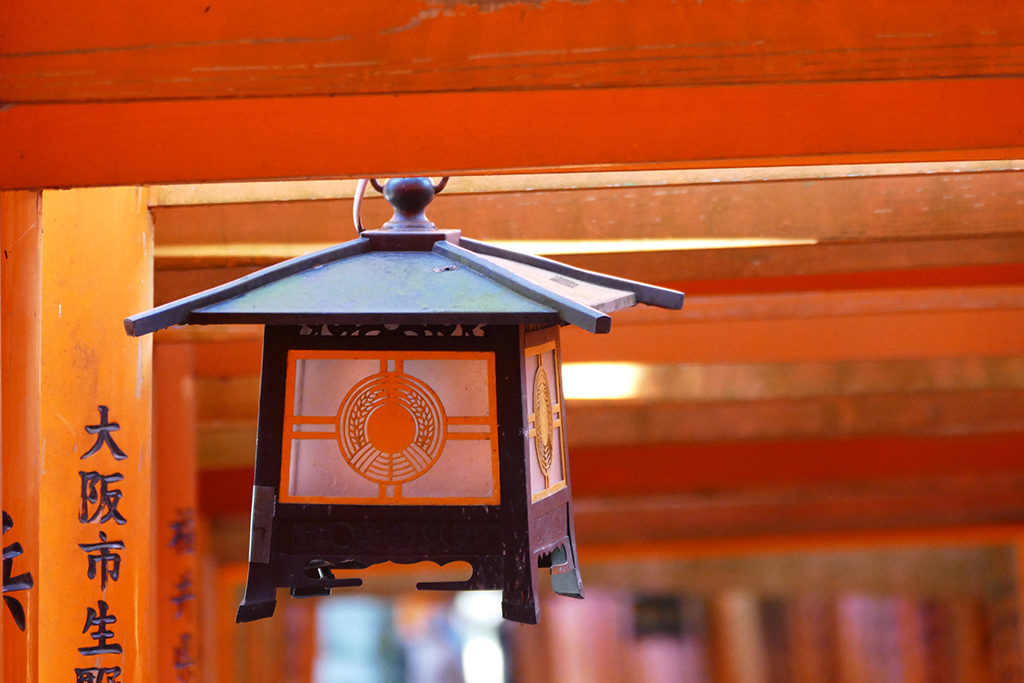 As I was wandering through these amazing tunnels I was totally wrapped up in the enchanting views of the gates. Therefore, I didn't stop where most visitors make their minds up if they really want to climb the mountain all the way to the top.
I was mindless, and mindlessly I continued way up high.
Actually, it's not that steep and it takes about an hour, but it was hot. Extremely hot. As I reached the top, it was as if I had fallen into a well. I was completely soaked. Everything I was wearing – including my skirt – was wet. Never in my life had I sweated through a skirt.
A Side Trip to NARA
If you plan on visiting Nara – and saying hello to Bambi's Asian relatives is one of the must-dos on every trip to Japan – combining it with your visit to the Fushimi Inari-Taisha is very time-saving: After a – preferably early morning – visit to the shrine you don't need to go back to Kyoto station but can hop on the next regional train, the – who would have guessed – Nara line – of course, included in the JR pass.
Just so you know, Nara is halfway between Kyoto and Osaka. It can be reached from either city in 30 to 45 minutes, depending on the type of train.
Nara was Japan's capital right before Kyoto – namely from 710 to 794. Interestingly, it got the status of a city only in 1898. A hundred years later, the city made it to the list of UNESCO World Heritage Sites.
No wonder – this relatively small place has a number of grand Temples, Shrines, ruins, and museums as well as the Kasugayama Primeval Forest. It is one of Japan's most important tourist sights. Every year, about 18 million national and international tourists pay the about 360,000 inhabitants a visit.
Most of these visitors – including me – go there to see the freely roaming deer from close. More than a thousand deer roam the park and are designated as national treasures.
And some of these visitors – excluding me – behave like idiots and tease those gracious animals….by holding the special crackers out of reach or even grabbing them by the horns.
Reality Check
And guess what, this is not Bambi, this is a wild animal that fights for his right. Around 200 foreign visitors were wounded this year – most of them were bitten, but eight people had more serious injuries such as broken bones.
In return – and to be honest, this saddens me much more – these beautiful creatures are dying at the hands of tourists:
Since this spring, six of the deer in Nara Park have been killed by swallowing plastic that tourists left behind. One of those poor victims had almost 4.5 kilograms of plastic in the stomach!
After the US, Japan is second in producing plastic waste per capita. Coming from Europe where supermarkets ban plastic bags or at least you have to pay for them, where you are encouraged to bring your own container when buying fast food, where every household makes a serious effort to reduce plastic waste, it was very shocking being offered bags for every little piece of I purchased, seeing tissues individually wrapped in plastic as well as fruits like apples and oranges. Oranges! Guys, oranges come in their own natural wrapper! Even when I had my drink on the spot, I got the cup automatically with a lid and a straw. They did it so fast and automatically that I didn't even have the chance to refuse it. This was a side of Japan – of the Americanized Japan – that I strongly disliked.
Kasuga Taisha
But let's get back to Nara – the pleasant side of Nara. On the park's east side is Nara's most celebrated Shinto Shrine Kasuga Taisha. It was established in 768 while the city was Japan's capital.
Kasuga Taisha is famous for its lanterns. While other places of worship such as the Fushimi Inari-Taisha were given Toriis, here the worshipers donated lanterns – hundreds of them. There are bronze lanterns hanging from the buildings and stone lanterns lining the trails around.
These lanterns are only lit twice a year during the Lantern Festivals in February and August.
Most of the important Temples and Shrines are located at Nara Park which was established in 1880 and is – like any other park in Japan – just lush and beautiful.
Todaiji
Walking up north, crossing creeks and passing ponds, you get to another one of Japan's notable and historically important temples, the Todaiji, the Great Eastern Temple.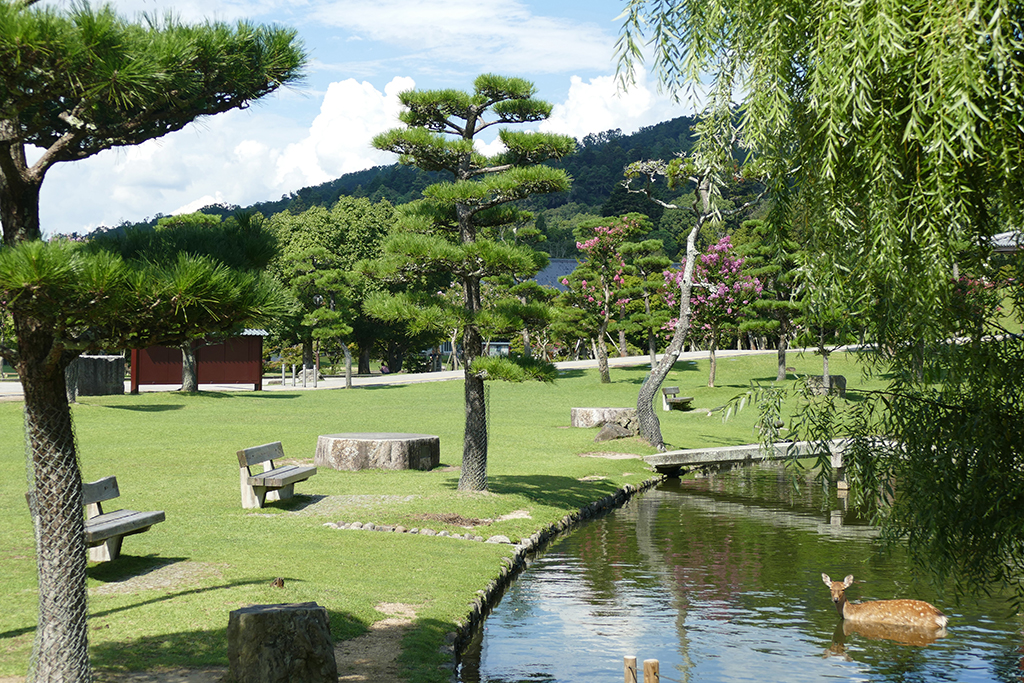 It was constructed in 752 as the head temple of all provincial Buddhist temples. Funny story: The temple became so powerful that the capital was moved from Nara to Nagaoka in 784 in order to keep political affairs at a safe distance.
For the longest time, Todaiji's so-called Daibutsuden, the main hall housing the big Buddha, used to be the world's largest wooden building. No wonder, it is home to one of Japan's largest bronze Buddhas – seated 15 meters tall.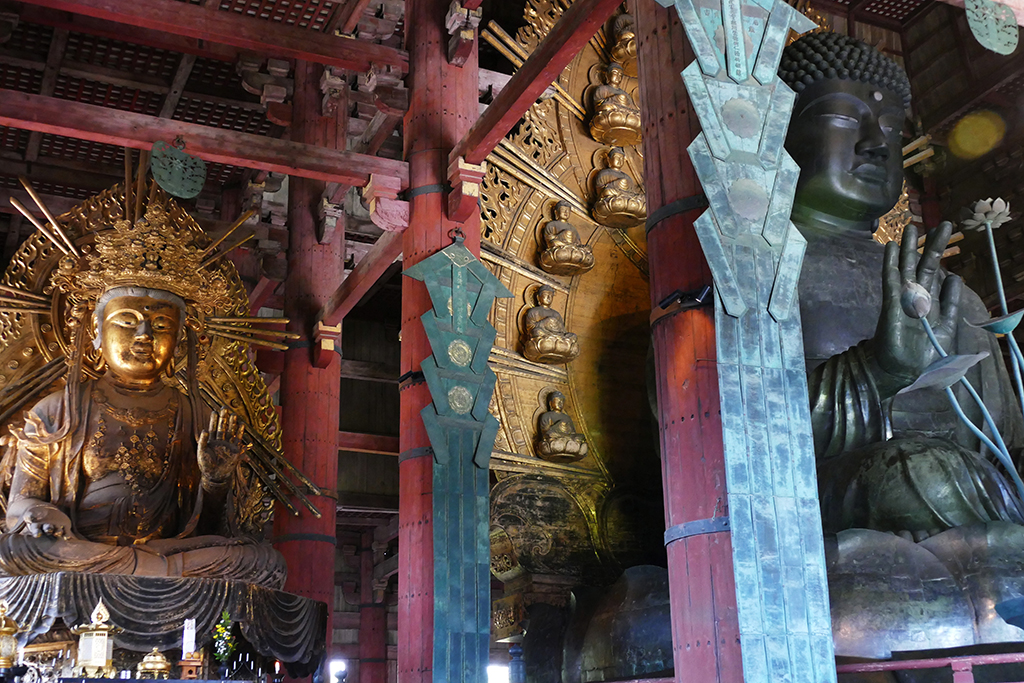 Not far from the Temple and next to the Nandaimon Gate is the Todaiji Museum presenting mostly sacral pieces.
Visiting the Temple costs 600 Yen, a combi-ticket that includes the museum sets you back 1,000 Yen; to be honest, the exhibits didn't impress me much.
I Need a Break
This is by far not all there is to see in Nara: There are more Shrines'n'Temples, there are museums, and there are some historic buildings downtown. Oh, and, of course, there is a castle, but that's on the western side of town. You'll probably only make it if you spend an entire day in Nara; and even then it will be tight.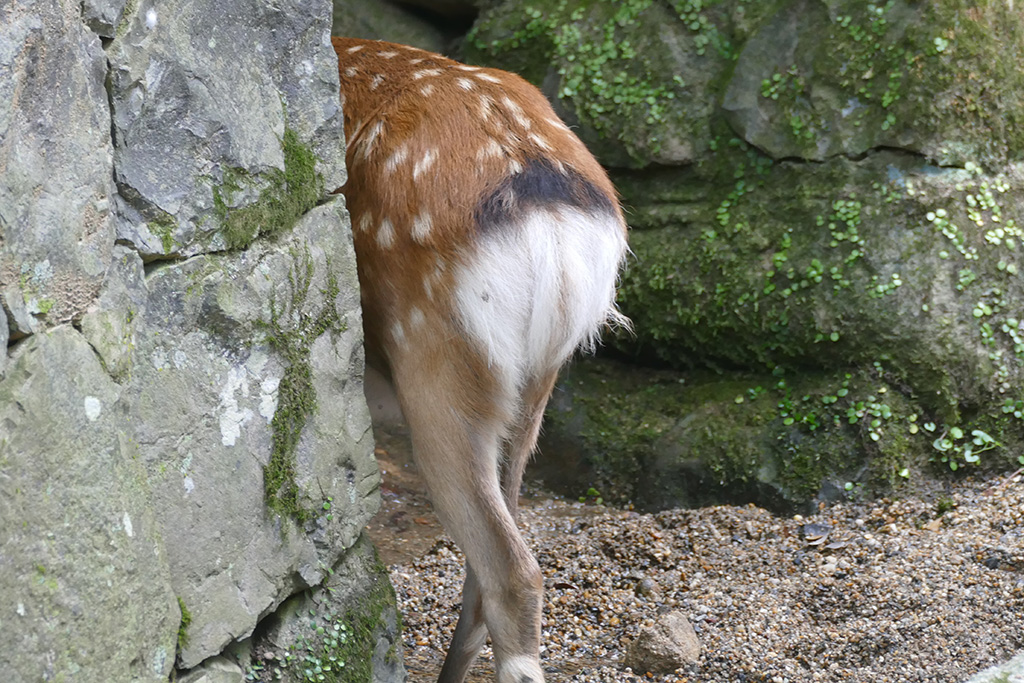 I already mentioned in previous posts on this trip to Japan that I really paced across the country. I had only three weeks and wanted to see as much as possible. However, I missed out on so much.
Notwithstanding, there were moments when my head was spinning and all those images were swirling before my eyes and I tried to figure out which castle was in what city and where I had slept in which room. My brain capacity is definitely limited.
In those moments it was good to back up from cult'n'culture and rest my eyes'n'brains.
In Nara, I did that at the Higashimuki shopping street behind the Kintetsu Nara station approximately halfway between the main station and the park.
I took place at the long counter across the kitchen area made from stainless steel, ordered a medium-sized tempura bowl, and dug in. Stainless steel, no frill'n'fancy, stainless steel, and a bowl full of crispy vegetables, shrimp, and fish.
The only brainer was how do they fry a softboiled egg? No, seriously: How do they do it?
Obviously, they cannot put it in the fryer raw. But if it's already soft-boiled, how does it stay that way in the hot oil? Because it comes out with a crispy crust but the yolk is still creamy.
Amazing. And good – oh, so good!
Practical Information
How to Get There
Since Kyoto is definitely one of the most touristy spots, it's easily accessible by various trains and long-distance buses.
However, if you are flying in, you won't arrive somewhere near Kyoto, but at the Kansai airport south of Osaka. From there it's a 90 minutes trip to Kyoto which costs 2600 Yen one way 4260 Yen round trip – but mind you your return trip has to be within 14 days. You should plan about 90 minutes for this trip.
If you are coming to Kyoto from another Japanese city, you'll probably take a train or an overland bus. Public transportation is very reliable, safe, and clean. However, it is not cheap: A one-way trip from Kyoto to Tokyo on a regular Shinkansen is about 13,500 Yen. A bus ride can set you back up to 8,000 Yen – although it's mostly a bit cheaper.
However, this is the reason why practically every foreigner is getting a JR pass. Why locals don't? Because they are not allowed: Only non-residents are entitled to get this – by the way, still very expensive – pass for unlimited travel on the national trains.
Read more about it in my main post on Japan
How to Get Around
Public transportation all over Japan is perfect, and in Kyoto, it is also extremely neatly arranged and clear; I have no sense of orientation whatsoever and I got lost only one time in four days.
However, many of the touristy spots of interest are quite apart in the outskirts and getting from one to another might take more time than you think. That's the reason why I divided this post according to cardinal directions – it's very timesaving.
Usually, travelling by bus in foreign cities can be pretty confusing. In Kyoto, not only the bus system is very clear, they also have a fantastic bus map – you hardly can get lost.
One ride sets you back 230 Yen so getting a day pass – which is good for the day of purchase, not for 24 hours – for 600 Yen pays almost all the time.
Yes, there are also subways and local trains. Different means of transportation are operated by different companies so you cannot use e. g. the subway with your bus day pass. You need another ticket – or, if it pays, another day pass for 600 Yen. However, there is also a combined day pass for 900 Yen.
To make things a little bit more complicated for you, there are also the local trains that are operated by the Japanese Railway and included in your JR pass – like for instance the one going to Arashiyama and Nara.
Note: I've mentioned the JR pass a couple of times. If you don't know what it is, make sure to check the respective chapter in the general Japan-post – it might save you much money!
Best Place to Stay
I booked the M's plus hotel mainly for the excellent price and the central location.
As it turned out, it wasn't only one of the nicest accommodations of my entire stay at a really cheap price. There were also perks like a small but absolutely sufficient and most importantly free breakfast. No, it was not a bit buffet with a cook preparing eggs to your liking. It was a variety of danishes – sweet kinds and thank God also hearty options filled with spinach, tomato, and cheese. There were some box juices and milk and perfectly brewed coffee from a machine.
Actually, everything I needed for a perfect headstart into days filled with awe and inspiration.
The rooms are small – like most rooms in Japan – but perfectly furnished. Of course, there is a small laundrette, ice- and vending machines. Two minutes away is one of Kyoto's most important hubs – you can get comfortable and fast to all places of interest.
Here you can check their rates and availability.*
Best Place to Eat
I'm sure if you ask a hundred different people about their favorite eatery in Kyoto, you'll get a hundred different answers. Actually, I always had interesting and most of all exquisite food in Japan – and, after all, it's always a question of taste.
Tendon Makino Nara Higashimuki
17-1 Higashimuki
Nakamachi, Nara 630-8215
Phone: +81 – 742 – 23 56 00
What to Do
I'm an avid solo-travelling woman. Since solo travel doesn't equal solitude, I love to join organized tours here and there. They allow me to meet fellow travellers – for just a short moment or a lifelong friendship.
Therefore, here are some great ideas of what to do during your stay in Kyoto. Especially if you have only a short time to stay, they'll enable you to make the best of it*:
Cash and Cards
The Japanese currency is called Yen and it's the third most traded currency after the US$ and the €uro. The exchange rate for these currencies is 1 US$ = 146 Yen and 1 €UR = 146 Yen as of November 2022, but you can check the conversion on this page.
Contrary to all these legends about how you hardly can pay with a credit card in Japan, you actually can at basically every hotel, most restaurants, many museums and landmarks, and large stores.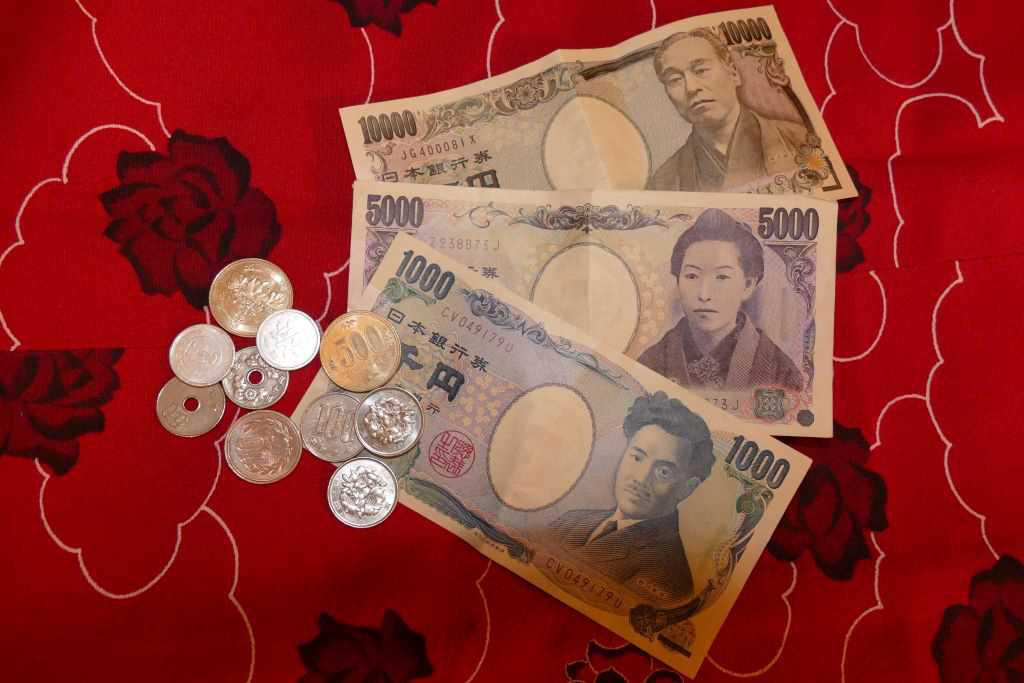 Even though there are some small restaurants, shops, and minor train stations that accept only cash, there will be a convenience store like a 7/11 or a Family Mart within a radius of ten feet where you'll find an ATM; and at most of these convenience stores, you can also pay with your credit card.
However, many guides claim that your trip will be much more complicated if you don't get a Suica or Pasmo card. Although I'm a sucker for local cards – I got loyalty cards on many of my travels since it made me feel so….local – I managed to spend three weeks in Japan and never found myself in a situation where I needed one. I either bought a day pass or paid by credit card – and I made sure to have enough small change which really was no biggy.
Advertising that you get a discount on your tickets is ridiculous as the amount you actually save is between €0.01 to around €0.08 on a trip in Tokyo. So how much do you need to travel to save a significant amount of money?!
However, at least they canceled the 500 Yen deposit for tourists. Since September 2019, there has been a deposit-free Welcome Suica card which is valid for 28 days. The card is available with different pre-loaded amounts ranging from 1,000 to 10,000 Yen.
Language
Japanese speak Japanese – fair enough. Since I'd heard that they speak almost exclusively their mother tongue, I was completely freaked out before going to Japan. I was downloading language apps and trying to memorize some Japanese signs. I was afraid of losing my way and never making it back to Europe.
Just like this no credit card thing is basically a myth, there is no reason to be scared by the foreign language with these funny letters.
The fact is, most people really have a quite rudimentary knowledge of English. You can slowly and clearly ask for things or directions and people will probably get what you need. Even if they cannot actually answer you, they will find a way to help. More complex matters and conversations, however, might be an issue.
But most importantly, many announcements at stations, on trains, etc. are also in English. Signs at airports, stations, trains, subways, hotels, and all touristy places are also in English. The only time I got a bit lost was on a city bus where the timetable was only in Japanese and the translation app failed.
As a matter of fact, in general, I felt rather overprotected than lost.
Of course, it is a friendly gesture when you are able to say good morning – ohayo gozaimasu, hello – konichiwa, good evening – konbanwa, thank you – arigato gozaimasu and maybe a couple more words in Japanese, but you won't get lost if your knowledge of the language is next to non-existent.
Map
You'll find all the wonderful places mentioned in this post on this map:
Do you want to read about all the other beautiful places I've visited in Japan? Then go to the main post and take your pick!
Before you go, you might want to check out my post on What (not) to pack for JAPAN. This will make your packing – and consequently your luggage – so much easier.
Also, there is a post on How (not) to behave in JAPAN. It will help you with some of the most important rules so you won't stand out like an ignorant tourist.
Pinnable Pictures
If you choose to pin this post for later, please use one of these pictures:
Note: I'm completing, editing, and updating this post regularly – last in November 2022.
Did You Enjoy This Post? Then You Might Like Also These:
* This is an affiliate link. If you book through this page, not only do you get the best deal. Also, I get a small commission that helps me run this blog. Thank you so much for supporting me!