The other day at a party, I overheard a conversation. Two people were talking about travelling, and the girl said: "You know, when travelling, I also enjoy just being in a place". She could have been talking about Rijeka, a place where the visitor can indeed just enjoy the Istrian lifestyle.
Actually, I've found that great – just being. No racing through cute alleys full of historic buildings. No waiting in line at museums. No pushing on boats and squeezing in vans. Just being in a place.
And being is exactly what you can do best in Rijeka, Croatia's third-largest city.
Just walk down the pedestrian street that is called Korzo – an old-fashioned name that makes me smile. Just watch the locals shopping at ordinary stores. Then, have a coffee or an Aperol on one of the terraces.
Just enjoy being there.
Taking A Break
I was on a road trip through Croatia, so, obviously, I was moving on and on. Although I wasn't racing, I had hardly spent two nights in a row in one place.
At the beginning of this trip, I had been to three cities – Munich, Ljubljana, and Zagreb. Therefore, before going to the coast, I was looking for something less urban.
Coming from Poreč, though, I had to take an early bus which gave me over four hours in Rijeka before taking the ferry to Cres. There simply was no other option.
The Real Life
These four hours convinced me that Rijeka is a great place. It's beautiful and charming, and there are tourists, but Croatian life continues undisturbed. There are real stores where locals are shopping for real things such as clothes and toiletries and groceries. I cannot remember having seen one single souvenir shop.
But I've been to a wonderful farmers market taking place in two beautifully decorated halls.
Huge and juicy and fresh produce, grown to perfection under the Croatian sun.
Between all this abundance, an old man was sitting a bit crocked behind a wooden counter. In front of him about eight tiny bundles of chili peppers, six pieces each. Seeing him, just touched me deep in my heart. I clearly had to buy chilis, whether I needed them or not.
Later, I had coffee in front of the Hotel Continental and a soft drink in front of the majestic Jadrolinija building.
I felt so comfortable and relaxed in Rijeka. I even adjusted my route a bit to stay one more night.
Besides being a beautiful, interesting city, Rijeka is also a great base and starting point for many day trips and excursions to the beaches and the countryside.
Actually, I could have visited even Poreč on a day trip from Rijeka.
Not Flawless
Although I really liked Croatia and did feel very comfortable in general, there were two elements that drove me berserk.
These elements are fire and water.
Water – bottled, with or without gas, no difference: It's terrible! It tastes like someone dissolved a fistful of Alka-Seltzer in the bottle. It's salty and bitter and really, really gross. Plus, I have the feeling that it upsets my stomach.
I would love to support the local economy by buying Croatian mineral water, but this taste makes it just impossible. Altogether, I've tried about six different brands: No difference worth mentioning.
I sadly will have to switch to some of the imported stuff.
Smoke on the Water
Nevertheless, the other element, fire, is even worse: Everybody in this country is smoking! Everywhere! At any time! On any occasion!
When the overland bus stops at a red light, everybody gets out to smoke at least half a cigarette. Okay, you've got me: This is a lie.
But they do get off to smoke at any stop the bus has to make. Then they come back and sit next to me and they reek!
I cannot sit on the terraces of restaurants because around me everybody is smoking. It's like having lunch in hell.
I also have the impression that the cigarettes here are stinkier than anywhere else. Or maybe I'm becoming more sensitive.
Seriously, it's unbelievable. Like in the 1950s when people didn't know about the long-term effects of smoking.
I don't like that the coffee here is often sweetish. I don't know if it's their way of roasting or if they add sugar when preparing it.
I don't like that people tend to jostle, push, and shove each other instead of waiting, giving way when indicated, enter and exiting one after another. Nope, it's always the law of the jungle; I wonder how British and Americans cope with this survival of the fittest way of 'queuing'.
But these flaws can be considered folkloric foibles – hence the smoke is just killing me – metaphorically; and those who cause it, literally.
Rijeka's Past
Rijeka is one of the very few cities in Croatia that has not made it to the Unesco World Heritage list. How refreshing!
However, in the 16th century, the city began to flourish. Fiume, her Italian name, commerce, arts, and education developed. After all, the first high school on the Adria was founded here in 1626 by the Jesuits.
Dark Era
The hegemony of the city altered between Italy and the Austro-Hungarian empire until, in 1919, 2,500 Italian franc tireurs led by Italian nationalist and writer Gabriele D'Annunzio conquered the city – against the will of the Italian government.
Today, this reign is considered one of the predecessors of Italian fascism – and led to a harsh Italianization. For this reason, Croatians and other non-Italians were forced to assimilate or leave. Also, the Croatian language was banned.
For four years, Fiume was an independent territory and became Italian in 1924.
This hegemony ended with the end of WWII in 1945 when Rijeka was conquered by the Yugoslav troops and annexed to the Socialist Republic of Croatia.
Rijeka's Present
While there are a lot of beautiful landscapes to enjoy around the city center of Rijeka, my guide focuses on activities within the city limits. However, if you have the time, a trip to the beaches around Opatija, Pula, and, of course, Poreč will be a great completion.
The first attraction is right at the bus station. It's the Gospa Lurdska, Our Lady of Lourdes Church, built over 30 years in an eclectic style. As a matter of fact, it's a mix of Medieval architecture and Venetian Gothic.
Need a break and some refreshments? One block east is the Jadranski Trg. It's a big, elegant square dominated by the Jadrolinja palace, without a doubt one of the city's most representative structures.
Since at that time, Rijeka was still under the Austro-Hungarian hegemony, the first shipping company founded here in 1882 under the name of Adria was actually Hungarian. The Palace, built by Giacomo Zammatio, is decorated with eight statues by Sebastian Bonomi. It is representing a ship's key figures: hence, the master, chief engineer, helmsman, and pilot.
I personally love Jadrolinija – they are reliable, the ferries are comfortable, the tickets dirt-cheap, and you can easily buy them online.
Elegant Boulevard
Jadranski Trg is where the Korzo begins. As I said, it's not spectacular, but nice and relaxed with many unspectacular shopping opportunities and cafés and restaurants.
Of course, you'll find in this post many important info and tips to make the most of your stay in Rijeka. However, I recommend you pay the tourist information office on the Korzo a visit. They'll supply you with free maps and brochures and additional, updated information on where to go and how to get there.
There is the town hall at #16 and the city clock tower decorating the gate to the Trg Ivana Koblera – a square with further stores'n'cafés.
At the End of the Tunnel
Behind this square, you'll get through a narrow alley to the Roman Arch. That's the main entrance to the center of the late antique command compound of the Roman Tarsatica, obviously, an ancient town on whose ruins the medieval Rijeka was built.
Walking further north, you'll spot the amazing church of St. Vitus' Cathedral opened in 1638.
Unfortunately, it's often closed. No problem since the most amazing part is the engravings on the doors, anyway. Like a precious comic book, they are telling stories of Christianity.
Right next to the Cathedral is the entrance to one of Rijeka's quirkiest attractions, namely a tunnel that spans 350 meters / 1,150 feet from the cathedral to the Dolac Primary School. Built from 1939 to 1942 by the Italian military to protect civilians from aerial bombings in WWII, the original writing Riservato all U.N.P.A., Reserved for the Anti-aircraft Corps, can be still spotted in various places.
The tunnel was re-opened to the public in 2017 after 75 years. It can be crossed every day from 9 a .m. to 5 p. m. and entrance is free.
It is a bit creepy since not too many people seem to visit it. As I crossed, I was all by myself. However, at the end of the tunnel were two young ladies sitting, looking from time to time at one of the dozen monitors.
I hope I didn't spoil the thrill and suspense for you by revealing that the whole thing is under surveillance.
Cultural Highlights
Walking in the other direction – eastwards – you'll get to another beautiful church, the Church of the Assumption of the Blessed Virgin Mary. Seriously, guys, I'm not lazy, but the history of this place that actually dates back to the first century is exciting and very long. The leaning tower next to the church is the bell tower which was added in the 14th century.
Behind the church next to the Mrtvi kanal, the dead canal, is Fiumara ulica. From here, you should walk to one of Rijeka's most beautiful buildings, namely the Croatian National Theatre Ivan pl. Zajc. Opened in 1885, its Venetian architecture is certainly striking. But I'm more impressed by the fact that none lesser than Gustav Klimt – yes, the Kiss-Gustav Klimt – along with his brother Ernst helped Franz Match to paint the ceiling.
Adjacent to the theater building is the Kazališni park. Here, you can sit on a bench and enjoy some of the juicy fruits you've shopped at the Main Market just next to it. This extraordinary farmers' and fishermen's market consists not only of countless stalls on the streets. There are also two beautiful halls designed in classic art nouveau style and completed in 1916.
Actually, if you intend to buy olive oil and truffles, this market is an excellent stop to do so.
The market is open from Monday to Saturday 7 a. m. to 2 p. m. and Sunday from 7 a. m. till noon.
Beaches
At the main market, you are basically on the way to Rijeka's waterfront. You'll notice that it's not one of these cute little harbors with boats and sailing ships but an industrial harbor with regular ferry service to different islands – like, for instance, Cres.
However, you can easily enjoy a day – or just an afternoon – on the beach, since the closest, small but nice beach is about 15 minutes away; by a city bus that is.
Right in front of the port is a bus stop. You should be waiting for # 1 to take you to the hotel Jadran. Once there, you have to climb down some stairs – and you can just hop into the water.
I will not lie to you: While the water is fantastic and clean like basically everywhere in Croatia, the beach – which by the way is called Sablićevo – could be cleaner. It's not really disgusting, but you have to look for a cleaner spot. Especially if you want to stay in the shade close to the steep face.
There are more beaches within reach. Just inquire at the tourist office, they'll give you a brochure and be happy to explain how to get there.
Trsat
The outer borough of Trsat is on a mountain northeast of the city center, hence, just a short bus ride away. Take line #2, #8, or #8A. Trsat is a great place for hiking. However, most people come here for the castle that dates back to prehistoric times when it was used as a watchtower. In fact, Count Laval Nugent bought the complex in the first half of the 19th century and turned it into a family mausoleum.
A popular pilgrimage site is the Shrine of Our Lady of Trsat, in fact, one of the most ancient in Croatia. Even pope John Paul II. visited this site in 2003.
Museums
And if the weather happens to be not so very….Adriatic? Well, then you have the great opportunity to visit some of Rijeka's museums like
The Computer Museum PEEK&POKE
Ulica Ivana Grohovca 2A
51000 Rijeka
Phone: +385 91 780 5709
The museum – a paradise not only for nerds – is open from Monday to Friday from 2 p. m. to 8 p. m. and on Saturday from 11 a. m. to 4 p. m.
Prirodoslovni muzej Rijeka
Natural History Museum Rijeka
Lorenzov pro. 1
51000 Rijeka
Phone: + 385 – 51 – 553 669
The museum is open every day from 9 a. m. to 8 p. m.
Maritime and History Museum of the Croatian coast
Pomorski i povijesni muzej Hrvatskog primorja Rijeka
Muzejski trg 1
51000 Rijeka
The museum is open Monday to Saturday from 9 a. m. to 8 p. m. and Sunday from 4 p. m. to 8 p. m.
Museum of the City of Rijeka
Muzejski trg 1
51000 Rijeka
Phone: +385 – 51 – 336 711
The museum is open from Monday to Saturday from 10 a. m. to 7 p. m. and Sunday from 10 a. m. to 3 p. m.
I'm not afraid you might get bored.
Practical Information
How to Get There…
Unless you have your own vehicle, you'll probably arrive either by train or by bus. Both stations are just off the city center. Therefore, even if you have just one hour or two, you can enjoy that time and don't need to wait at the station.
Of course, you can leave your luggage at the stations. I must say, this is a great advantage of these countries that are not all freaked out because of terrorism. You can leave your luggage unattended; or, preferably, attended, obviously.
If you're flying in, you'll notice that the airport catering to Rijeka is actually located on the island of Krk. Of course, there is a shuttle service scheduled according to departures and arrivals. Taking a cab will set you back about 45 €uros.
…And Around
If you stay in the very center, you can explore walking, it's not that big. To get into the suburbs, to the beaches, or to Trsat, there is a comprehensive public transportation system. On this page, you'll find a system map and all info regarding fares, schedules, and more.
Best Place to Sleep
If I had to give a prize to the nicest Apartman on my trip, Jasmin* in Rijeka would get it. Albeit, I didn't get the name since I was greeted by a bear of a young man who had just finished cleaning the place.
It would truly surprise me if his name is Jasmin.
Anyway, the place consists of a comfy living room with a state-of-the-art kitchenette. Of course, it also includes all the appliances a good wife on a vacation is dreaming of.
Bathroom and toilet – everything is new and modern and top-notch. The bedroom is minimalistic chic.
The place is located right on the Korzo. Obviously, this is great since you are a stone's throw away from each and every place of interest. Don't you worry 'bout the noise at night. Rijeka is not that much of a wild party hell. You'll be able to sleep with the window open although it's facing the street.
Apartment Jasmin*
30 Korzo 2 kat
51000 Rijeka
Phone: + 385 – 95 – 857 4027
Since the owners of Apartment Jasmin* have only two rooms, chances are they might be booked out. Therefore, you can comfortably search for a suitable lodging option on this map`*:
Best Place to Eat
Right at the next corner from the apartman is a narrow alley where a very pleasant restaurant is located. They are offering a wide range of different local as well as international dishes and drinks at okay prices.
Conca d'oro
Kružna ulica 12
51000 Rijeka
What to Do
I'm an avid solo-travelling woman. Since solo travel doesn't equal solitude, I love to join organized tours here and there. Since I was travelling through Croatia by public bus, I needed to join organized tours when I wanted to go on a day trip. Hence, especially if you don't have your own vehicle and want to visit more remote places in a comfortable and secure way, here are some great options*:
Cash And Cards
In 2022, Croatia replaced its currency Kuna with €uros. The exchange rate is 1 US$ = 0,94 EUR as of July 2023, but you can check the conversion on this page. Credit cards are widely accepted.
Rijeka is only one of many beautiful places I've visited in Croatia. So to read about the others, go to the main post and take your pick! There you'll also find valuable general information that will make your trip smoother.
Pinnable Pictures
If you choose to pin this post for later, please use one of these pictures: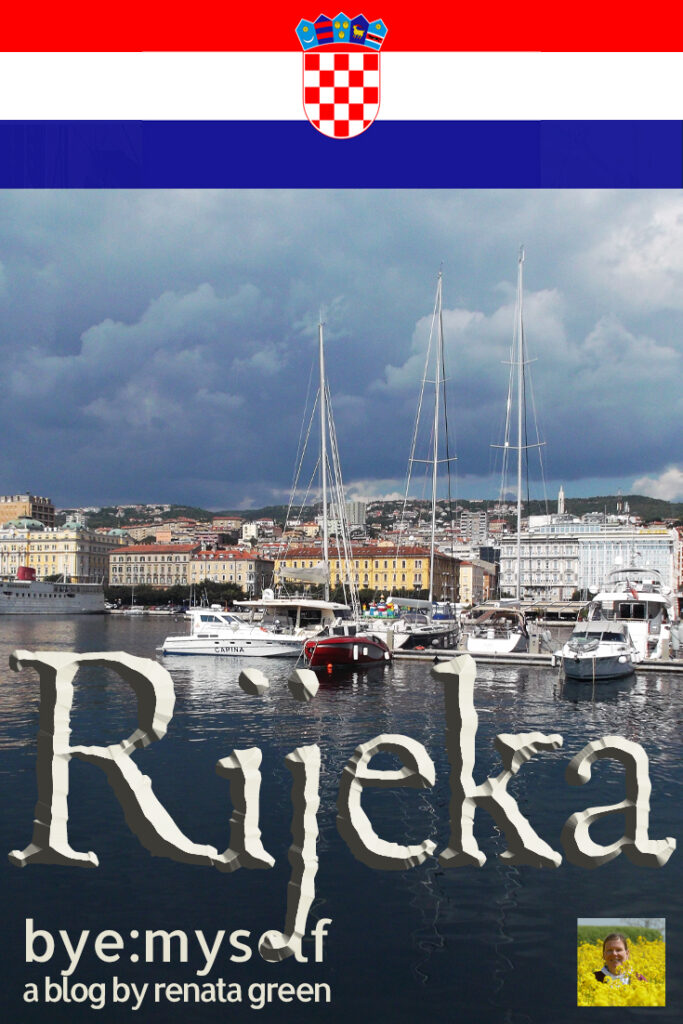 Note: I'm completing, editing, and updating this post regularly – last in July 2023.
Did You Enjoy This Post? Then You Might Like Also These:
*This is an affiliate link. If you book through this page, not only do you get the best deal. I also get a small commission that helps me run this blog. Thank you so much for supporting me!