Yes, London is packed with iconic landmarks that every first-time visitor should see. But what if this is not your first visit to London or you simply want to add some unusual and quirky – in short: very British – spots to your itinerary? Fear you not, after many visits to London – and with a little help from a local – I put together the most intriguing, interesting, and idiosyncratic places off the beaten path.
My First Visit to London
When I was 14 – hence, a couple of years ago – I visited London for the very first time. I was on a language trip to the Isle of Wight where I was hosted by a young British family. An extremely young British family, I think they were in their very early twenties. They had a baby boy and a dog named Rod. After Rod Steward. The host father was a huge fan which he also expressed by imitating the singer's outlandish hairdo.
The cherry on the cake of what was technically my first solo trip were the last three days that our lot spent in London. I refer to our lot because although it was the first trip without my parents, the whole thing was an organized group vacation, obviously.
In London, we were booked into three- to four-person rooms in a cheap dump. One night, we got to see Jesus Christ Superstar. I'm referring to the musical, obviously, not the man. I've never been fond of musicals. Nonetheless, despite the dump and the musical, London was amazing. Just strolling around felt like exploring a compelling world apart. Everything was exciting and cool and had this bright lights, big city energy to it.
I didn't conquer London, London conquered me. I came back the following year. And the year after that. And many more times. Although by now, I've seen all the major tourist attractions and even many of the less obvious ones, London surprises me time and again.
Whether you're planning your very first trip to London or if you've been there many times before, I'm sure that in this guide, you'll find some unexpected spots that you haven't heard of before and that will amaze you.
Believe me, you're in for a treat!
A Quick Look Back In Time
True to the title of this section, I will not go back in time and list all the Kings and Queens and internal battles and external conquests. I just turn my head to take a quick look at how it all began.
The Romans founded the settlement that they called Londinium in 50 AD, and to this date, you find many fascinating traces from that era.
Eventually, after the Norman conquest in 1066, the city became the capital of the Kingdom of England and the seat of the British royal family. Richard the Lionheart ordered the first mayor in 1189. From 1215 onwards, however, mayors were elected by the increasingly powerful merchant guilds.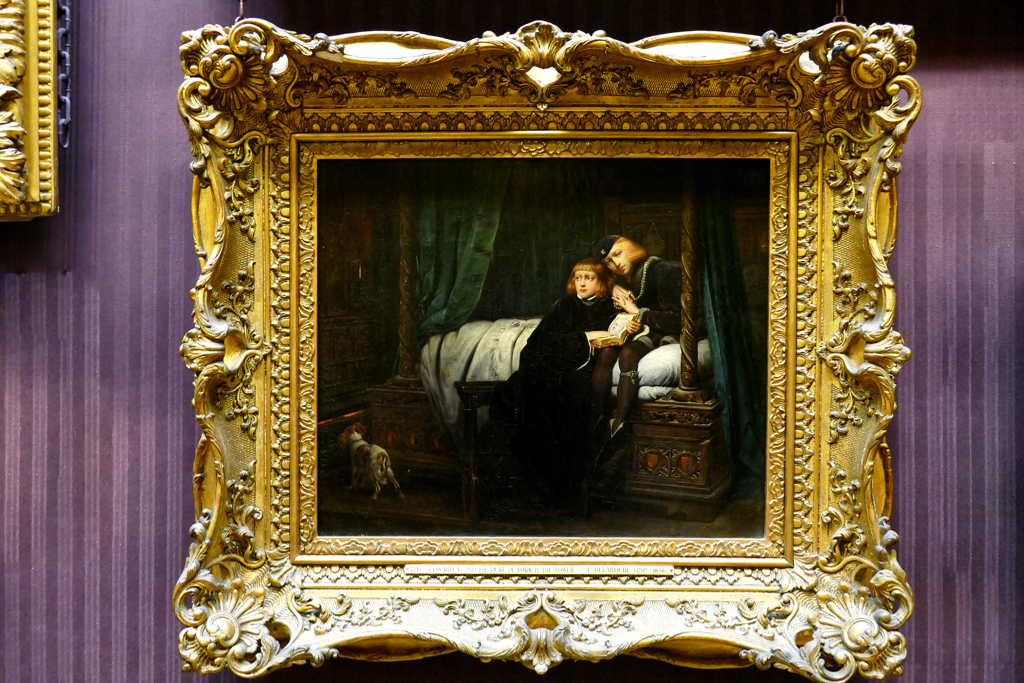 In 1209 London Bridge was completed. It remained the only bridge across the river Thames in what is now the city center until 1750. After the so-called War of the Roses, Henry Tudor was crowned Henry VII. The Reformation broke the power of the church, and the redistribution of ecclesiastical property from 1535 contributed significantly to London's economic growth.
Famously, Pope Clement VII refused to annul King Henry VIII's marriage. Henceforth, the popes were no longer recognized as an authority in the kingdom of England. Instead, from 1531, their monarchs became the Supreme Heads of the Catholic Church in England.
Life can be so easy.
Ups And Downs
In the Middle Ages, London became an important trading center in Europe. Especially its naval significance increased under the rule of Elizabeth I. in the 16th century. Nevertheless, London suffered a number of setbacks over its checkered history. Shortly after the economic and political boom in the 16th century, the city was hit by the plague in 1664 and 1665, which claimed over 70,000 lives. Then, in 1666, the so-called Great Fire of London devastated large parts of the city. About 13,000 houses as well as an incredible 89 churches fell victim to the flames.
In the 18th century, industrialization led to a significant growth in the population of London. By the 19th century, London had become the largest city in the world and rose to prestige as the capital of the British Empire during the Victorian era. The construction of railways and subways enabled the rapid expansion of the city.
During WWII, London suffered severe destruction from the so-called Blitz bombings. After the end of the war, many Londoners settled in new satellite towns. In 1965, the administrative region of Greater London was installed including also the suburbs.
To this date, London is one of the world's most important cultural and commercial centers. Together with New York, Singapore, and Hong Kong, the city is also one of the largest financial centers. UNESCO lists London's following grand historic landmarks on its list of World Heritage Sites: The Tower of London, the Royal Botanic Gardens at Kew, the Palace of Westminster, Westminster Abbey, and St Margaret's Church, as well as Maritime Greenwich.
My Tip
If you actually do want to learn more about all those Kings and Queens and internal battles and external conquests, I highly recommend a visit to the fantastic Portrait Gallery which is conveniently located right behind the Nation Gallery off Trafalgar Square. There you'll find portraits of all those important figures from British history with brief information. Therefore – and for the amazing portraits of all kinds of past and present Brits – the Portrait Gallery is one of my favorite venues in the city.
From Little Venice to Camden Town: A Picturesque Stroll
As I wrote above, Greater London was installed in 1965, and since then, it also includes the Borough of Camden. Camden is a residential district rooted in the late 18th century. It became an important location during the early development of the railways.
In 1816, the Regent's Canal was built through the area. To this date, you can trace deep marks in the handrails around the bridges. They stem from the towropes by which horses pulled barges. Also, there are still ramps on the bank that assisted horses to come ashore after they fell into the water when startled by the noise of a train.
Over the decades, the area's heavy industry has been replaced by quirky retail and entertainment. However, up to the mid-20th century, Camden was considered a lower-class neighborhood. Eventually, subcultures like the punk movement took over, and finally, the former cradle of alternative scenes became a popular tourist spot.
You can spot young-at-heart fathers taking selfies with their grumpy sons and daughters who wish they were in London without their parents – but someone has to pay for the flight and the accommodation, after all.
Only the heavily pierced punk posing for some change next to the entrance to Camden Lock Market reminds us of the good old days when Camden was a hidden gem.
Damn you, gentrification.
My Tip
I cannot introduce all of Camden's beautiful murals. Therefore, an entire post dedicated exclusively to London's best street art will follow in August.
Little Venice
Yes, Camden went down the way of all flesh underground neighborhoods and became tragically hip. And still, I'd argue that it's absolutely worth a visit if you get there the right way.
I mentioned the idyllic Regent's Canal above. Actually, this waterway is almost 14 kilometers long, and part of it flows through the blissful neighborhood called Little Venice. On a sunny day – or at least when it's not pouring – it's a serene walk that guides you on a route of about five kilometers from the Paddington Basin all the way to Camden where you then can admire some of the urban art and enjoy a great variety of delicious street food; just ignore the crowds.
Major parts of the pedestrian and cycle route are along the towpath. Although the name Little Venice became quite popular, the neighborhood is officially called Maida Vale and is known for the classic Regency-style white stucco buildings. Nevertheless, its most intriguing features are the canals and moored boats.
Especially in summer, taking a waterbus up or down the Regent's Canal is a valid alternative. The boat ride takes around 45 minutes. Also, you can rent an electric boat and navigate your way from Paddington Basin to Camden Lock by yourself.
Regent's Park
Whether you are walking or sailing from Little Venice to Camden, you'll inevitably pass the wonderful Regent's Park. Just to be clear: London has some 3,000 parks which cover almost a fifth of the city's surface. Wherever you go, you'll always find at least a small greenery to take a seat and watch time and people walk by.
One of my favorite of London's gardens is Regent's Park. It has a size of roughly two square kilometers and is surrounded by a ring road, the so-called Outer Circle. Then, a so-called Inner Circle surrounds the Queen Mary's Gardens which is the most-manicured part of the park.
However, it mainly consists of lawns with recreational and sports facilities as well as playgrounds for the youngest visitors. Also, you can row, row, row a boat on an idyllic lake surrounded by ducks, herons, and other waterfowl.
At the north end of the park is London Zoo. Winfield House, the residence of the US Ambassador, is on private property on the west side. Right next to it is the London Central Mosque, the largest mosque in the city.
I'll Trade You: London's Lesser Known Galleries
London has over 192 museums of which 11 are national venues. Among those are world-famous galleries like the British Museum, the Victoria And Albert Museum, the Natural History Museum, the National Gallery as well as one of my favorites, namely the Portrait Gallery. You can actually spend an entire day at each of these five venues alone. They house amazing cultural treasures and every tourist visits at least one of these places during a trip to London.
But that's only five – what's with the other 187 museums?
Well, since I'm a culture vulture and always in search of inspiring exhibitions, let me introduce you to three very impressive galleries that are far less famous – despite the fact that they are housing amazing treasures. So once you get tired of the tourist crowds pushing through the British Museum or the V&A, why not explore some valid alternatives not everyone knows about?!
Wallace Collection
The Wallace Collection is located on Manchester Square only a couple of blocks north of Oxford Street in a pretty posh neighborhood, hence, already the walk there is a treat.
The collection is housed in what used to be Manchester House, but is now Hertford House. No matter what you call it, it is an 18th-century mansion commissioned by George Montagu, fourth Duke of Manchester, and constructed between 1776 and 1788. Back then, the location was chosen based on its excellent duck hunting opportunities.
After the Duke's death, the building hosted the Spanish Embassy before Francis Ingram-Seymour-Conway, 2nd Marquess of Hertford, leased the mansion as his city residence in 1797.
Going Public
Almost a hundred years later, Sir Richard Wallace, the illegitimate son of Richard Seymour-Conway, 4th Marquess of Hertford, inherited his late father's riches in 1870. The inheritance included an important art collection. Since Richard Wallace – just like his father – spent many years of his life in Paris and was also a passionate art collector, he added some noteworthy pieces to it. In 1897, Wallace's widow bequeathed the collection to the British state. Three years later, the museum opened to the public.
The collection consists of paintings from many different art epochs by famous artists such as Canaletto, Titian, Rembrandt, Rubens, and van Dyck. I particularly love the British portraits by Joshua Reynolds and Thomas Gainsborough. The rooms are equipped with precious French furniture. Also, there is a vast arts and crafts collection that includes porcelain from Sèvres and Meissen. A large room is dedicated to historic weapons.
The Wallace Collection can be visited every day between 10 a. m. and 5 p. m. While general admission is free, you have to pay an entrance fee to see the temporary exhibitions.
Sir John Soane's Museum
One of London's main shopping streets, namely Oxford Street, connects the Wallace Collection with the collection of Sir John Soane, located on the northern side of Lincoln's Inn Fields.
Today's museum is made up of the three former homes of Sir John Soane that have been merged together. They were turned into a museum in 1837 after Soane's death.
Soane's collection is more than vast: This architectural mastermind collected basically everything. He even acquired an alabaster sarcophagus of Seti I. It stands in the Sepulchral Chamber. The arrival of the sarcophagus was actually celebrated by a three-day extravaganza.
Kinda borderline ingenious is the so-called Monk's Parlour. It is fully furnished and decorated by eerie medieval gargoyles. This stuffy place was allegedly the drawing room of Soane's imaginary friend, the monk Padre Giovanni.
Soane was definitely a colorful character with a wild imagination.
Although Soane's museum is comparatively small, you can easily spend hours there.
Sir John Soane's Museum can be visited free of charge from Wednesday to Monday between 10 a. m. and 5 p. m.
Meet John Soane
Sir John Soane was not just some idle heir, but an important architect. Although he is most famous for the Bank of England building, I'm rather impressed by the fact that he designed the first building in the world to be designed and designated from the beginning as a museum. I'm referring to the Dulwich Picture Gallery in the borough of Southwark, which opened in 1817.
Also, there is Pitzhanger Manor in Ealing which John Soane initially designed as his summer house. Completed in 1804, today, it is a museum and open to the public.
By the way, these galleries are also two of London's amazing hidden gems. Nevertheless, since they are quite far from the city center, you should foresee a half day for your visit to either of them.
The Dulwich Gallery is open from Wednesday to Monday between 10 a. m. and 5 p. m. and the general entrance fee is 15 GBP.
Pitzhanger Manor is open from Wednesday to Sunday between 10 a. m. and 5 p. m. – on Thursdays, it's open till 7 p. m. – and the general entrance fee is 9 GBP.
In 1806, Soane was appointed professor of architecture at the Royal Academy. Along with John Nash and Sir John Wyatvill, he is one of the most famous architects of the Regency.
Somerset House And The Courtauld Gallery
Just a short walk towards the river Thames takes you from Soane's crazy crib to the stately Somerset House.
The central part of the neoclassical palace was completed in 1796. Eventually, it was expanded by flanking wings in the Victorian style. The building housed various academic institutions like the Royal Academy of Arts, the Society of Antiquaries, and the University of London.
Towards the end of the 20th century, however, Somerset House became a hub for the visual arts including a souvenir shop and a fine café.
The most exquisite tenant is the Courtauld Institute of Art including its Courtauld Gallery. Samuel Courtauld founded the institute together with the collector Lord Lee of Fareham and the art historian Sir Robert Witt in 1932. Courtauld's art collection consists mainly of French Impressionist and Post-Impressionist paintings, yet, there are also some of the so-called Old Masters. Although the Courtauld Gallery is one of few art venues that charge an admission fee, it's definitely worth a visit since you get to see some outstanding art treasures.
While access to the Somerset House and its courtyard is free, the Courtauld Gallery charges an entrance fee of 9 GBP on weekdays and 11 GBP on weekends. The galleries are open to the public every day between 10 a. m. and 6 p. m.
London From Above: The Best Panoramic Viewpoints
There are various high structures in London from where you have mindblowing views of the city. Whether from rooftop bars and restaurants such as the 12th Knot at Sea Containers or the Radio Rooftop, whether from natural elevations like Parliament Hill in Hampstead Heath Park, or from highrise landmarks like the Tower Bridge or the Tate Modern: A panoramic view of London is an unforgettable sight and you should definitely add at least one of the viewpoints to your itinerary.
Below, I'm introducing three of the highest spots that are located right in the city center.
Remember: The sky's the limit!
Sky Garden
The skyscraper that houses the Sky Garden is located on Fenchurch Street just a five-minute walk from the Tower. Due to its unusual shape, it is also referred to as the Walkie-Talkie or the Pint – like in beer glass. Initially, it was designed with a height of 200 meters.
Because of the proximity to St Paul's Cathedral and the Tower of London, it was finally reduced to 160 meters. At 155 meters, the so-called Sky Garden is located on the 35th floor and is open to the public.
Plan Your Visit
…and plan it well!
The good news: Tickets to the Sky Garden are free! All you need is an online reservation that grants you a free ticket for a certain time slot.
The bad news: Those free tickets tend to be gone basically as soon as they are online.
By the time I checked, everything was sold out. It wasn't even possible to book a table at one of the restaurants.
Damn you, overtourism!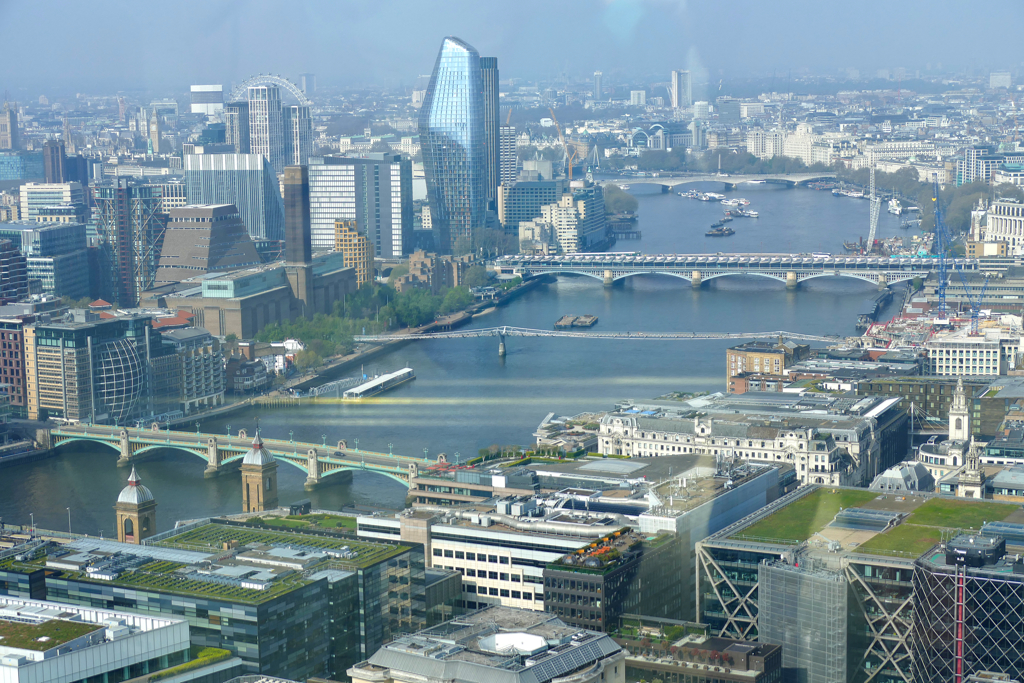 Another good news: They do accept walk-ins. You just have to show up and keep your fingers cross and preferably be at the entrance before 9 a. m.
Another bad news: These walk-ins are not free of charge but cost 9.50 GBP. But since you get a hot beverage of your choice when you show your ticket at the Sky Garden's bar, the entrance fee is technically only a fiver – a more than fair deal.
Another minor disadvantage is that they open the terrace only at 11 a. m.
While you can wait for two hours, obviously, I'd argue it's not worth it. Mind you, you are standing behind glass on the terrace, too. And the views from the floor-to-ceiling windows are amazing just the same.
Hence, get up early, buy a ticket, and enjoy the city from above.
Fun Fact
In 2015, the building won the Carbuncle Cup. We're talking about an award for the ugliest building to be completed in the United Kingdom over the past 12 months. I'm sorry to say that I actually second that decision.
London Eye
With a height of 135 meters, the London Eye aka the Millennium Wheel is the second tallest observation wheel in Europe as it lost its pole position by 5 meters to the so-called Sun of Moscow in 2022. Although it was opened on December 31, 1999 – which explains its alternative name – it was opened to the public only in March 2000. It is located on the south bank of the Thames not far from Westminster Bridge and therefore basically across from London's historic complex of power.
The ferris wheel has 32 glass gondolas with a capacity of up to 28 people each. A complete ride last 30 minutes and tickets start at 30.50 GBP. You need to choose a time slot. When same-day tickets are available, they cost significantly more, namely 40 GBP. Operating hours are weekdays from 11 a. m. to 6 p. m. and on weekends from 10 a. m. to 8.30 p. m.
Fun Fact
London Eye was opened on the occasion of the millennium and intended to be operated only for about five years. Since the ferris wheel quickly became the most popular paid tourist attraction not only in London but in all of the United Kingdom, there was a change of plans, obviously.
And if you think that such a popular tourist attraction doesn't belong on this list, you're absolutely right, but nobody no list is perfect.
The Garden at 120
I was lucky to get a walk-in ticket to the Sky Garden in the early morning. However, if you show up somewhen during the day, chances are that all walk-ins are sold out. In this case, you still have the chance to climb at least 15 storeys above the streets of London: The skyscraper on 120 Fenchurch Street aka the One Fen Court building was completed in 2019. At 69 meters above ground, it has a publicly accessible roof garden cleverly named The Garden at 120. This viewpoint can also be accessed free of charge, and you don't even need to make a reservation.
Digging Deeper: London's Subterranean Treasures
Londinium
Many visitors to London are surprised to learn that there is a Roman Wall and Roman ruins. Indeed, around 50 BC, a Roman settlement was established near what's now the City of London. Romans then abandoned the so-called Londinium in the 5th century.
Although it was a rather small settlement – maybe the size of today's Hyde Park, there were temples, markets, and even an amphitheater. To this date, it is possible to visit the remains of this formerly sophisticated city.
The easiest to visit are the various pieces of the Roman Wall, obviously. One of the highest parts stands right next to the Tower Hill Station.
To visit the Billingsgate Roman House and Baths, you need to descend into the basement of an office block on Lower Thames Street. It can only be accessed on a guided tour on Saturdays for 10 GBP.
But it gets even quirkier: At the corner of Gracechurch Street and Leadenhall Market is a hairdresser. Ask nicely one of the staff to show you to the lower floor. There you'll see a hunk of a brick wall behind a glass door. This was part of a Roman Basilica. It was built around 70 AD and extended over the decades until it became the largest building of its kind North of The Alps.
When In Rome
Londoninium's only Roman amphitheater was unearthed in 1988 when London's Guildhall was excavating a site for their new art gallery. Today, it is possible to visit the ruins every day between 10.30 a. m. and 4 p. m. The visit is free of charge, however, you need to book a timed ticket.
The same goes for the Temple of Mithras. It is actually one of the most important finds from Roman times in London. It was first uncovered in 1954.
The Mithraeum was built in the mid-3rd century and stood on the east bank of the Walbrook, a creek that now flows underground. Due to a building project, the excavated site was moved off Queen Victoria Street where the ruins could be visited in the open. Eventually, they were moved back to their original location. Since 2017, they are in the basement of the so-called Bloomberg building. Presented in a very sophisticated display, a visit to the site is free of charge, however, you need to book a timed ticket.
Last but not least, to admire a variety of Roman artifacts, you should visit the Museum of London. Even if you're not into old rocks, the museum is absolutely worth a visit since they deal with many interesting aspects of the city's recent history in temporary exhibitions.
The Museum of London is open to visitors every day from 10 a. m. to 5 p. m. free of charge.
Silver Vaults
London has tons of hidden gems – metaphorically speaking. However, there is also a literally hidden treasure, and you shouldn't miss out on a visit.
I was expecting something like an oriental jewelry market that I know from travels to North Africa. An alley lined with stores selling silver. But no, visiting these shops is a whole different experience. I got to enter a distinctive world with a very unique atmosphere, to say the least.
After I accessed the inconspicuous building, I first have to show the content of my bag to a rigorous concierge. "You are not allowed to take pictures. As you walk around, keep to your left. But no pictures. You can ask the shop owners if they let you take pictures. But outside, no photography allowed". Then, I am allowed to descend the stairs.
Living In A Box
Through a gigantic safe door, I'm entering a bizarre space. It is a giant safe with long corridors. Left and right are strong rooms, each protected by a massive safe door. Behind the open doors, you can spot vendors sitting between lots and lots of trinkets, decorations, cutlery, jewelry, and whatnot. These vaults are the largest single collection of silver for sale in the world, after all.
Today's Silver Vaults opened as The Chancery Lane Safe Deposit in 1885. Originally, the place was renting out strong rooms to households to safeguard their valuables. Eventually, it transitioned into the world's most unique silver market. Today, all of the more than forty shops have been owned by the same families for at least 50 years.
The Silver Vaults are at Chancery Lane 53 and open to the public on weekdays between 9 a. m. and 5 p. m. On Saturdays, they are closing at 1 p. m.
Fun Fact
The vault's walls are 1.2 meters thick. In addition, they are lined with steel. As a matter of fact, the vaults were never broken into. Even when the building above was destroyed by a bomb in WWII, the vaults remained undamaged. Ten years later, a new building was constructed above them.
St Martin-in-the-Fields
The Anglican Church St Martin-in-the-Fields is my absolute favorite house of worship in London. Located off Trafalgar Square, it was built between 1721 and 1726. The shape of the facade with a tower integrated into the portico was an absolute architectural novelty, and the architect James Gibb was harshly criticized for it. Nevertheless, it was eventually often imitated. It didn't inspire only London's church architecture in the 18th century, but became a model for many churches around the world.
So why is it my favorite church? Well, firstly, I'm always in support of the daring and revolutionary. But the main reason is the church's many great activities: There are all kinds of concerts held in the church as well as in the café that's located in the crypt. Every day, hot and cold dishes are served from 11 a. m. to 2 p. m. From Thursday to Sunday, they are available throughout the day. Small snacks and drinks are obtainable at any time.
Since the opening hours vary from day to day, please check their website.
Since 1976, the crypt has also been home to the London Brass Rubbing Centre. There is a gallery and a gift shop. All this makes St Martin-in-the-Fields more of an assembly place for the community – as well as visitors from out of town, obviously – than a simple house of worship. Since I'm not very pious, I appreciate this social side of the church a lot.
Historic'n'Hip: East End of London
In a West End town
a dead-end world
the East End boys
and West End girls…
Based on T. S. Eliot's poem Waste Land, the pop duo Pet Shop Boys wrote a song about young women from London's posh West End hooking up with lads – how the Brits would call them – from the proletarian East End. Obviously, it underlines the – still existing – differences between social classes.
Everchanging History
And indeed, the East End was one of London's slums in the 19th century. Extensive construction in the area began after the Great Fire of 1666. In the 1680s, Spitalfields Market was installed. Weaving became Spitalfields' main industry. Especially silk weaving which the French Huguenots had brought with them, became really big. Yet, to this date, the area is London's garment district.
Following the repeal of an Act that had prohibited the import of French silks, Spitalfields' economy decreased and it became one of the poorest and most criminal parts of London in the 18th century. After all, two of Jack the Ripper's victims, namely Annie Chapman and Mary Jane Kelly, were found dead in Spitalfields.
In the 18th century came mainly migrants from Ireland who were then followed by Eastern European Jews in the 19th century. Obviously, every group of migrants left a distinctive mark in the neighborhood. Also, to this date, the traditional Spitalfields Market still attracts 20,000 visitors on Sundays.
Ever since the Whitechapel Art Gallery was built to revive London's East End of London in 1901, Spitalfields attracts also the bohemian and artsy crowd like for instance the celebrated artist duo Gilbert Prousch and George Passmore, better known as Gilbert & George.
The most recent wave of immigration, however, brought migrants from Bangladesh to the area, mainly to Brick Lane. Due to a colorful street market and a vast number of South Asian eateries, Brick Lane developed into one of the city's many tourist attractions.
Fun Fact
In 1742, the Protestant Huguenots built La Neuve Eglise, hence, the new church, on the corner of Brick Lane and Fournier Street. From 1819, it served the Methodist community as their church and became eventually the Jewish Machzikei HaDath Synagogue in 1898.
Now, with the influx of Bangladeshis, it has been the London Jamia Masjid mosque since 1976.
Yes, this building most definitely mirrors the quarter's everchanging history!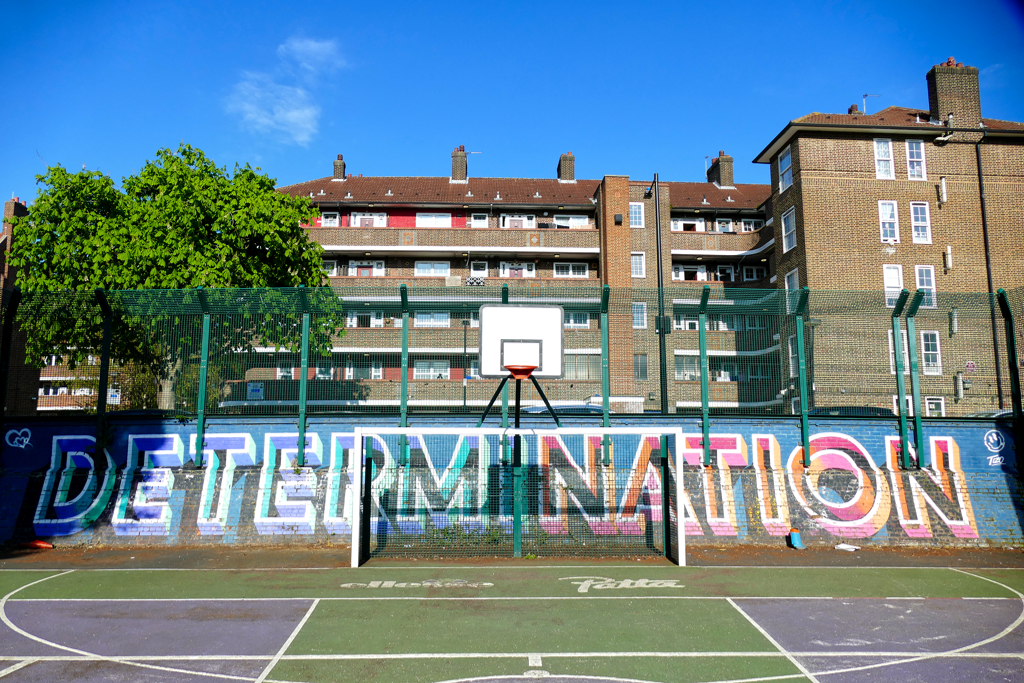 My Tip
Monica Ali, a British novelist of Bangladeshi descent, published her debut novel "Brick Lane" in 2003. The story describes in a poignant way the struggle and adaptation of a Bangladeshi woman who moves from her home to London to marry an older man. In 2007, the book was adapted as a movie by the same title.
London's Up-And-Coming South: Bermondsey, Rotherhithe, Peckham
So yes, not many decades ago, today's trendy hotspots like Camden, Shoreditch, and Spitalfields were run-down neighborhoods. Today, they are supposedly alternative spots off the standard tourist places. The only problem is that they are just different tourist places. Especially on weekends, all you can do is go with the flow as herds of visitors from out of town try to be hip'n'wild for just one Saturday morning. On Brick Lane, I even spotted a tour guide holding up one of those foldable umbrellas, leading a large group of amazed tourists down the street. Is this what it came to? Oh, dear!
However, Greater London is so large that until now, they still find a new forgotten part of the city that just seems to wait to be kissed awaked, and transformed into an up-and-coming cradle of creativity.
So let me introduce you to three neighborhoods in London's Borough of Southwark on the southern bank of the river Thames. But let's be quick so we can truly enjoy Bermondsey, Rotherhithe, and Peckham before the next rush of wannabe hip tourists flushes the charm down the Thames drain.
Bermondsey
As you cross the Tower Bridge, you find yourself at the gates of the compelling neighborhood of Bermondsey.
After the Great Fire of London, the wealthy crowd crossed the Thames to settle in Bermondsey. This transformed the area into some kind of a garden suburb. In the 18th century, the discovery of a spring made Bermondsey a spa town. Hence, there is still a Spa Road in Bermondsey.
Nevertheless, by the mid-19th century, the industrial boom reached the area and led to an expansion of manufacturing plants. As in the East End, many of these industries were too noisy, smelly, and dirty for the inner city of London. For instance the treatment and trade of leather and animal skins. Many workers from the industrial plants and docks inhabited particularly Bermondsey's parts along the Thames. Notorious slums emerged. Charles Dickens powerfully depicts the social and economic circumstances in his novel Oliver Twist.
Tables Turn
As the river trade became less and less important in the 1960s, the docks were abandoned. The artsy and bohemian crowd obtained the empty warehouses and transformed them into workshops and apartments. When investors began to take an interest in Bermondsey in the 1980s, a residential and business district emerged around the docks. Today, it is one of the most expensive and popular residential areas in London.
Also, there are cafés, pubs, gourmet restaurants, and specialty shops for instance in the railway arches of Maltby Street Market which opened in 2010.
Culture vultures can visit the Fashion and Textile Museum as well as the art gallery White Cube. I've marked these venues on the map below.
Yet, I'd argue it's mainly Bermondsey's village vibe that attracts trendy crowds.
Maltby Street Market is open on Saturdays from 10 a. m. to 5 p. m. and Sundays from 11 a. m. to 4 p. m. The established restaurants and grocery stores are open from Wednesday to Sunday between 10 a. m. and 10 p. m.
Rotherhithe
About two kilometers east of Maltby Street lies Rotherhithe. I'm emphasizing the relatively short distance since getting there can be a wonderful walk – or bike ride – alongside the moody river Thames.
Located right on the river Thames, Rotherhithe has a long history as a port. In the 1980s, however, the docks were closed and largely filled in to offer building space for warehouses and residential areas. Being connected to the city center by the tube as well as the so-called overground, Rotherhithe is now getting more and more gentrified. Nevertheless, it retains much of its village character and maritime charm.
The largest prevailing dock on the south bank is Greenland Dock, yet, there are other preserved wharves along Rotherhithe's riverside.
Also, there is Canada Dock which was linked to Greenland Dock through the Albion Canal. This dock has been remodeled so that its northwest half is preserved as a charming small lake called Canada Water.
Since much of Rotherhithe's former dock had vital trade connections to Scandinavia and the Baltic region, there is still a thriving Scandinavian community. Also, Rotherhithe is home to a Norwegian, a Swedish, and a Finnish church. Those were initially established as seafarers' missions. Around the churches is also a number of Scandinavian businesses such as guest houses, shops, cafés, and the obligatory sauna.
Treasures From the Past
The main and foremost reason I ventured eastwards to Rotherhithe was a visit to the Brunel Museum, a truly hidden treasure. When I visited, I was the only foreign visitor in our group – the others were Londoners who wanted to learn about Brunel's unique building project.
The museum is accommodated in an engine house designed by French-born Sir Marc Isambard Brunel as part of the Thames Tunnel and deals with this very 8th wonder of the world. That's what the tunnel was referred to when opened in 1843. As a matter of fact, it was the world's first tunnel under a navigable river.
Below the engine house is the former Tunnel Shaft. It was the world's very first caisson, a huge water-safe structure designed for construction below sea level. Brunel's brick caisson was a brick tower with a diameter of about 15 meters. It was built above ground to a height of about 13 meters and then sunk by its own weight into the river. The digging was then done by miners standing in a cofferdam.
The museum houses a model of the tunneling shield as well as pictures, drawings, and artifacts. There are even some old souvenirs with a picture of the tunnel visitors could purchase. Mind you, in ye olden days, the tunnel was a huge spectacle and a great tourist attraction. Ironically, as I said, in our group, I was the only visitor from out of town. The amazing Brunel project seems a bit forgotten – very unrightfully so!
You can visit the Brunel Museum only from Friday to Sunday between 11 a. m. and 5 p. m. for the small entrance fee of 6 GBP.
The Mayflower
If you'd like to stay for a moment in the past after your visit to Brunel's 8th Wonder of the World, you'll find the famous Mayflower pub right next door. Although the building looks as if it was centuries old, it dates only back to the 1950s. However, it has a beautiful wooden terrace overlooking the River Thames.
Now, the pub takes its name from the Mayflower that set sail in Rotherhithe to cross the Atlantic to America in 1620. It's not known where in Rotherhithe the ship set sail, the Mayflower pub claims it was berthed in that very spot and lists the names of the Mayflower passengers on their wall.
What is known, however, is that the Mayflower's shipmaster Christopher Jones passed shortly after his return to Rotherhithe in 1621. He is buried in an unmarked grave at St Mary's Church across the street from the pub.
Peckham
The last up-and-coming part of the city I'd like to introduce is Peckham. In contrast to Bermondsey and Rotherhithe, this district is actually still on its way up – but it's getting there, I'm sure.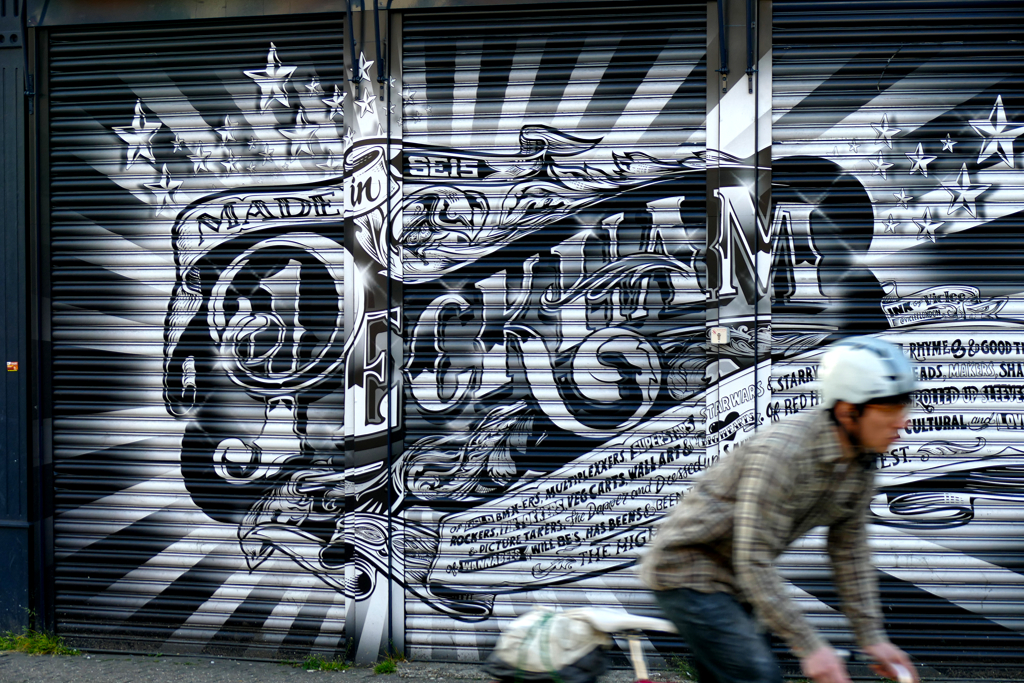 Peckham became popular as a wealthy residential area in the 16th century. There were extensive orchards growing produce for London's farmers' markets in Peckham, and the village was the last stopping point for the livestock before it was sold in London. Initially, most of the people of Peckham were agricultural workers. With the growth of suburbs, however, an increasing number of people sought work in the emerging brick industry. As a matter of fact, Peckham attracted manufacturers who wanted to avoid the high rents in the city center in the 18th century.
In 1851, the first bus service from Peckham to London was installed. These buses were the first to use pre-arranged bus stops and reliable timetables.
About a hundred years later, the district was heavily redeveloped. Soulless high-rise buildings were constructed to rehouse people from worn old houses. In the beginning, these projects were popular due to their high quality and modern standards.
Yet, lack of chances and high unemployment caused decay in the late 1970s. The North Peckham Estate became one of the most deprived residential areas in Western Europe.
The Only Way Is Up
As a result, the area was subjected to a regeneration program around the turn of the 21st century. With the influx of younger residents, there are fashionable pop-up stores, organic grocers, artisan pastry bakeries, and cool pubs and bars. Places like Frank's on the 10th floor of a car park and Forza Wine on the rooftop of a high-rise building on Rye Lane definitely attract the trendy crowd.
Yet, even now, Peckham is one of the most ethnically diverse districts of an already diverse city. Most of the residents stem from Nigeria and the Caribbean, but also from China and Vietnam, Bangladesh, Pakistan, India, Turkey, and Eastern Europe. They make Peckham's arterial street Rye Lane a colorful hotchpotch of fruit vendors, butchers and fish mongers, and vendors of more or less original handbags and trainers.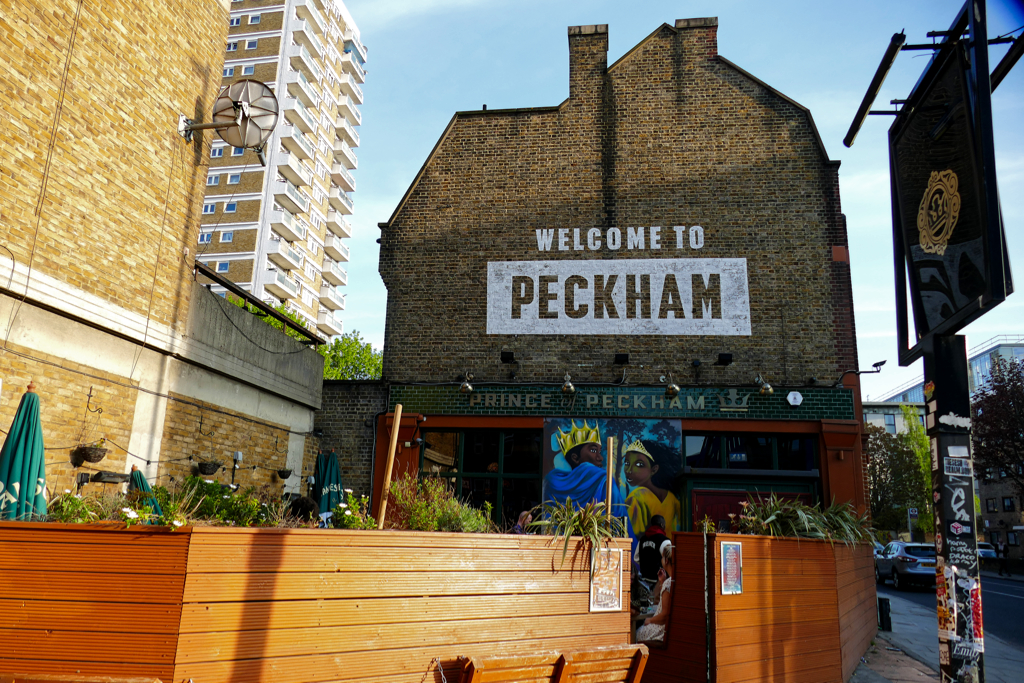 No, Peckham isn't yet up there with Bermondsey and Rotherhithe – but it's definitely getting there.
By the way, I wasn't even aware of Peckham's hip rising when I booked a room at the Peckham Rooms Hotel*. After four nights at this hidden gem, I cannot recommend it enough provided you enjoy a squeaky clean yet no frill accommodation and don't mind commuting to the city center for around half an hour.
My Tip
Rye Lane is a romcom directed by Raine Allen-Miller set in…you probably guessed so: Rye Lane in Peckham. Therefore, it shows a different side of London far away from Big Ben and Buckingham Palace. It underlines the city's compelling multicultural side. However, gentrification and hipsterism, which tend to take over these parts of a city, also get what's coming.
Rye Lane premiered in January 2023 at the Sundance Film Festival and has been on Hulu since March of 2023.
Practical Information
How to Get There
By Plane
London does not have one, not two, not three…no, London has actually six main airports: London City, Gatwick, Heathrow, Luton, Stansted, and Southend. All of these hubs are connected to the city center by public buses or trains. Also, you can always opt for a cab, obviously. However, this is a really pricey option and given the good connection by public transport really not necessary.
Since it would break the mold of this post to write down connecting services to all those airports, I limit myself to the most important hubs which are Heathrow and Gatwick.
Heathrow Airport is connected to the city center by the Heathrow Express going to Paddington Station in only 15 minutes, every 15 minutes. A one-way ticket costs 25 GBP. A roundtrip sets you back 37 GBP and the return to the airport must be within 30 days.
A cheaper option is the Elisabeth Line which was officially opened in 2022. It also connects Heathrow with Paddington, takes 30 minutes, and costs 12.80 GBP.
The cheapest choice, however, is taking the Picadilly Line. Depending on the hour of the day, a trip costs only 3.50 to 5.50 GBP, but it also takes an hour to get to the city center. Also, the Elizabeth Line trains are larger which you should keep in mind if you're having a lot of luggage.
All Ways Lead to Rome London
Gatwick Airport is connected with the Victoria Station in the city center by the Gatwick Express, local trains, and coaches. Express, the ride takes about 30 minutes and costs 20.70 GBP. The trains take a bit longer and tickets are around 18 GBP. Finally, there is also a bus. It can take up to two hours, but tickets start at only 10 GBP.
There are also buses connecting Heathrow and Gatwick. They take at least 70 minutes and cost 15 to 20 GBP, depending on the company. Mind you, this is only this direct connection between airports. For all other connections, you first need to go to the city center and take it from there.
If possible, I would avoid changing airports in general. Travelling in London is unnerving enough, you don't need this extra thrill.
To check connections between the city center and Stansted, Luton, London City, and Southend just click on the links.
Note that there is luggage storage at all London airports.
Fun Fact
We are living in such crazy times where airports compete about Instagrammability! I kid you not: Supposedly, a picturesque airport drives those Instagram-loving millennials to include it in their travel itineraries.
Heathrow is only the second most Instagrammed airport in the world after South Korea's Incheon International Airport. Now they try to make it to the top by recreating four of the world's most Instagrammed murals.
The power of Instagram is getting ridiculous – and also a bit sad.
By Long-Distance Bus
Ashes to Ashes
When we were teenagers, we Europeans used to travel to England by ferry. As a matter of fact, I took the ferry only on my very first trip to England when I was 14.
Later, I always went by plane.
Until the late spring of 2010.
I had come to London on a plane, yet two days before my scheduled flight home, Eyjafjallajökul changed my travel plans. Eyja…what? Eyjafjallajökul. That's an Icelandic volcano that erupted on March 20, sending loads of ash into the sky.
Europe stood still.
Air travel was completely disrupted. Therefore, trains and buses were booked out in the blink of an eye. Contrary to the planes, hotel prices went immediately sky-high. There was mayhem at London's Victoria Station – you cannot even imagine the crowds!
I didn't care where I was going as long as it was somewhere on the European continent. Pushing and shoving, I scavenged a precious bus ticket to Amsterdam.
Homeward Bound
Two days later, I got to the bus station. Waiting for my coach, I chugged a large mug of coffee, then I boarded the coach.
We hadn't even made it behind London's city limits when I felt the unappeasable urge to pee. The gallons of coffee demanded their rights.
The driver was very unsympathetic and it wasn't easy to convince him to unlock the toilet just minutes after the departure. And for a second time just twenty minutes later. The third time, I sneaked into the bathroom after another passenger so that the mean driver didn't see that I had to go again.
By the time we reached the Eurotunnel, me and my bladder were traumatized. All I was thinking was, I'm the master of my own bladder, I'm the master of my own bladder, I'm the… During a ten-minute break at a roadhouse somewhere in Belgium, I managed to go twice to the restroom just to avoid having to ask the driver to open the toilet for me – again.
In the late evening, we finally made it to Amsterdam where I spent the rest of the night at a slightly overpriced hotel.
The next morning, I finally got on a Hamburg-bound train.
Bus Travel
So yes, it is possible to travel to London by bus even from the European continent. One of the most popular bus companies serving Europe is flixbus. They are connecting London with Amsterdam, Berlin, Milan, Munich, Paris, and Rome. To cross the English Channel, they are going from Dover to Calais through the Eurotunnel.
Obviously, you can also travel by bus to many places around the entire United Kingdom. One of the companies with the widest coverage and the best service is National Express.
The main bus hub in London is Victoria Coach Station.
By Train
London does not have one, not two, not three…no, London has actually ten major train stations, whereby Paddington, St Pancras, Victoria, and Euston are probably the most important ones for foreign visitors.
Although the English Channel divides Great Britain from Continental Europe, London still can be reached by train. The Eurostar speeds through the Eurotunnel and you can board it in Amsterdam, Brussels, and Paris. Sometimes, other destinations are added.
Obviously, London is also the hub of the United Kingdom's rail network. There are frequent train services to basically all towns and cities. However, you have to check thoroughly from which one of the many stations your train is leaving. Also, at various times, I experienced major disruptions. I'm talking about hours spent between fields and meadows in the middle of nowhere.
Therefore, if for instance, you have a plane to catch, I would not travel anywhere by train that very day. Stay in London and make sure to get to the airport preferably too early than on a too-tight schedule.
Travelling in London is stressful and crazy!
How to Get Around
London Kills Me – An Ode to London's Transportation System
London kills me was a movie by Hanif Kureishi from the 1990s. Although the story of a young man trying to overcome his drug addiction has nothing to do with me, around 4 p. m. this afternoon, the sentence London kills me kept rotating in my head.
I'm a big-city gal. I'm streetsmart and I roam through the city jungles of this world with a fierce attitude. New York, Rio, Tokyo – been there, saw it, conquered it. But London – man, London sure puts me in my place. It's the only place that overwhelms me. The only city where I underestimate distances and lengths of trips so I'm constantly stressed out for getting lost and being late.
There is this tight-knit local train system consisting not only of a subway. Nope, there is also a so-called Overground, then there is the DLR, and a handful of regional trains, too. All on one map. I'm staring at this map and although at first glance, all those colorful lines seem to make sense, they trick you. I think I'm on the right train, but the upcoming stop is not the one I expected and as I want to get off at the next station to continue on a different line, I realize that in fact, I am going in the right direction, after all. So I stay on the train and keep staring at the map to understand where I am and why I'm there while the train is taking me to where I actually want to go.
Downhole
The problem with this system map is that the connecting lines are not necessarily connected on the map. At least not at first glance and when you're unfamiliar with the system. So yes, when you study this intimidating map closer, you realize that there are remote circles connected to a certain subway station. Duh!
The subway, by the way, is called underground or tube. A subway is an underpass – just so you know.
Not only is the system map huge and confusing, but the stations are hellish mazes, too. And the Londoners are taking the term underground dead seriously. Rows of the longest escalators are taking you down below – you can almost feel the heat from the center of the earth. But the spiderweb of tunnels doesn't just spread vertically. No, the subterranean maze also leads passengers through endless relatively narrow tunnels connecting different parts of the same station. I wonder how many of those lost tourists that cross my way have been down here since the late 1970s, looking for the right exit to Madame Toussaud's.
I cannot even count in how many cities around the globe I've taken public transportation. Nowhere else did I feel like a moronic peasant. Only London does that to me.
Even though the city doesn't actually kill me, it definitely damages my self-esteem as a worldly traveller.
Public Transport
After my extended rant about London's public transportation, let's get to the basics. London's network of public transport is comprehensive. Especially underground trains, the so-called tube, run on a high frequency. When there are no disruptions. And disruptions are frequent. Then, you are sitting among those annoyed people who need to be somewhere on time while they are waiting for the train to move on.
The tube also tends to be really packed during rush hours – I mean, really packed. If you ever wondered how sardines in a can must feel, take the tube in the late afternoon, and there's your answer.
Therefore, during my recent visit to London, I rather opted for buses. Yes, buses are even more prone to delays. Also, they have to change routes for no apparent reason, et cetera et cetera. However, I enjoyed the possibility to watch London and time go by while being stuck in traffic rather than in a stinky tunnel.
In the past, taking buses seemed confusing, hence, I preferred to take the tube as there is this halfway clear system map. Nowadays, with google maps, I'd argue that taking the bus is a far more charming option.
Fares
Now let's talk money. Public transport in London is not cheap. Also, it's a bit confusing since the fare does not only depend on the so-called zone but also on the time of the day and the solar altitude. The latter is a joke, the aforementioned aren't. To save some money, you can get a travel card for one but also for instance for seven days. With the latter, you save the fare for two days. However, these travel cards also come in a trazillion of varieties: You have to decide how many days you need, which zones you're travelling at what hour of the day. Are you by yourself or in a group, et cetera, et cetera.
The best you can do is get a so-called oyster card that you tap up with a certain amount and off you go. As you check in and out at the tube stations, the system does the math. As soon as you reach a certain amount – which also depends on various factors – it's capped. For instance, the daily cap in zones 1 and 2 is 8.10 GBP.
Taking the tube, you have to check in and out. On the other hand, you only have to check in as you enter a bus. The bus fare is 1.75 GBP per ride no matter how far you are going.
If you don't want to obtain an oyster card, you can also pay contactless with your debit or credit card as long as it is NFC equipped.
Cycling
London does not have one, not two, not three…no, London has actually five bike rental companies that enable you to pick up and leave a rental bike in many locations around town. You can pick up a bike using just a mobile app, Apple Pay, or a debit card.
Obviously, I cannot introduce all of those companies to the full extent. Therefore, I just point out the most important info and then link to the respective websites.
Dott is an internationally operating electric bike rental company. You need to do is download their app, locate an e-bike or e-scooter, and you're good to go. It costs one pound to unlock the bike and then 17p per minute. Their bikes come with a spacious basket and a phone holder. Dott also has e-scooters.
You'll find Dott in many places around the world such as Brussels, Paris, Milan, Padua, and Rome, as well as Málaga – to name just the cities that I'm introducing in this blog.
To use HumanForest, you need to download their App and sign up. You'll then get ten minutes for free every day. Thereafter, you'll 19p per minute.
Their bikes are equipped with a battery that is charged solely through renewable energy.
Lime Bikes are connected with Uber. Therefore, once you open the Uber App, you just have to follow the directions regarding bike rental. It costs a pound to unlock the e-bike, and then around 15p per minute. Lime has also e-scooters.
These bikes are rented out by Transport for London. With over 12,000 bikes and more than 800 docking stations, they are the most popular ones to rent. You pay as you ride 1.65 GBP for up to 30 minutes. However, they offer various plans that you find on their website.
TIER is operating e-bikes, e-scooters, and also e-mopeds in many cities worldwide like Berlin, Brussels, Copenhagen, Düssedorf, Hamburg, Málaga, Malmö, Milan, Paris, Rijeka, Rome, and Zurich to mention only some of those that you find on my blog. You need to download the app and sign up to locate the e-bike closest to you. You can unlock the cable lock by scanning the QR code. Unlocking the bike costs one pound, then you pay 15p per minute.
Walking
Although I refrain from referring to walking as an exclusive option to explore the city, you will be walking a lot. London is huge – actually, with 1,572 square kilometers, London is bigger than New York by nearly double!
Even if you explore just the very center, you'll have to take some sort of public transportation. But even then, you'll have to walk a lot. Therefore, do yourself a favor and wear sensible shoes like loafers or sneakers – or even light hiking boots.
Where to Stay
With almost 20 million visitors per year, London is the most visited city in Europe. Consequently, there is a wide choice of accommodation, however, rooms in central locations are quite expensive.
It's an easy equation: Of the three aspects of a good standard, convenient location, and affordable price, you always have to waive one. If you find a good standard hotel in a convenient location, it won't be at an affordable price. A hotel in a convenient location at an affordable price won't have a good standard. And finally, a good hotel at an affordable price won't be in a convenient location.
Wherever I lay my hat head
I opted for the last option which brought me to the Peckham Rooms Hotel* in – you probably guessed so – Peckham. Believe it or not, as I booked the hotel for a reasonable price, I wasn't even aware that I would be located in a very up-and-coming area of the city; go figure.
Also, having been to many other low-cost hotels in London, I was actually impressed by the relatively high standard. Plain yet functioning furniture, well-closing windows and doors. A lounge furnished in an alluring industrial style where for 7 GBP they offered a good breakfast: Coffee from a small roastery, pastries from a Portuguese bakery around the corner, organic eggs, and milk from cows they personally know by name. Okay, can you guess which part of my breakfast description is a slight exaggeration?
To wrap it up: I felt very comfortable there and until I find a gold mine to pay for a centrally located hotel in London, the Peckham Rooms Hotel* will remain my lodging option of choice.
Nevertheless, on this map, you can choose convenient lodging options according to your budget and favorite location in London*.
What to Eat
England is definitely not renowned for its refined cuisine. The staples are mostly based on what the working-class heroes ate to fulfill their daily chores.
Let's start the day – as well as this section – with a full English Breakfast. It consists of items that give every cardiologist a heart attack: fried eggs, fried sausage, fried bacon, fried ham, baked beans, fried tomato, fried mushrooms, and a slice of black pudding. I must admit that during every stay in London, I have at least once a full English Breakfast. The last time, however, I left the fried slice of ham on my plate since it looked as if the cook had accidentally stepped on it. Oh, that's a good tip in general: Don't inspect your food too closely.
Another beloved light'n'healthy delicacy is bangers and mash, hence, sausages with puree. Alternatively, you can also have pie with your mash, also referred to as Cornish pastry. The dough can be filled with everything the cook found in the kitchen and that needed to go. Officially, the most popular kinds are chicken and mushroom and steak and kidney
Compared to those leaden meals, a good share of classic fish and chips sounds like diet cuisine. But don't worry, you won't die from a vitamin shock as the fish is covered in batter and all ingredients are then drowned in oil.
Palate Expanders
But as the Brits sailed the Seven Seas, they did not only steal bring some cultural treasures back to the motherland – many of which are now displayed at the British Museum. They also collected recipes like for instance the Indian-inspired Mulligatawny soup, one of my favorite comfort foods.
Fortunately, migrants from the former colonies enriched Britain's culinary scene with all their local delicacies so that today, the city's gastronomic variety can hardly be beaten. Whether Austrian or Malay, French or Peruvian, not to mention Italian, Spanish, Chinese, and, obviously, Indian – your taste buds can travel to a different corner of the world every single day.
However, there are two downers when it comes to London's culinary scene: Most of the time, you have to make a reservation well ahead, and those delicacies do come with a price tag. Compared to many European countries, dining out in London ranges between quite pricey and ridiculously expensive.
Markets and Supermarkets
But fear you not as not every meal has to break the bank. One way to enjoy great food is by visiting London's many markets, Borough Market being probably the most famous one. Although compared to street food in other cities, it's still not a bargain, you can stuff face for an acceptable price-value ratio.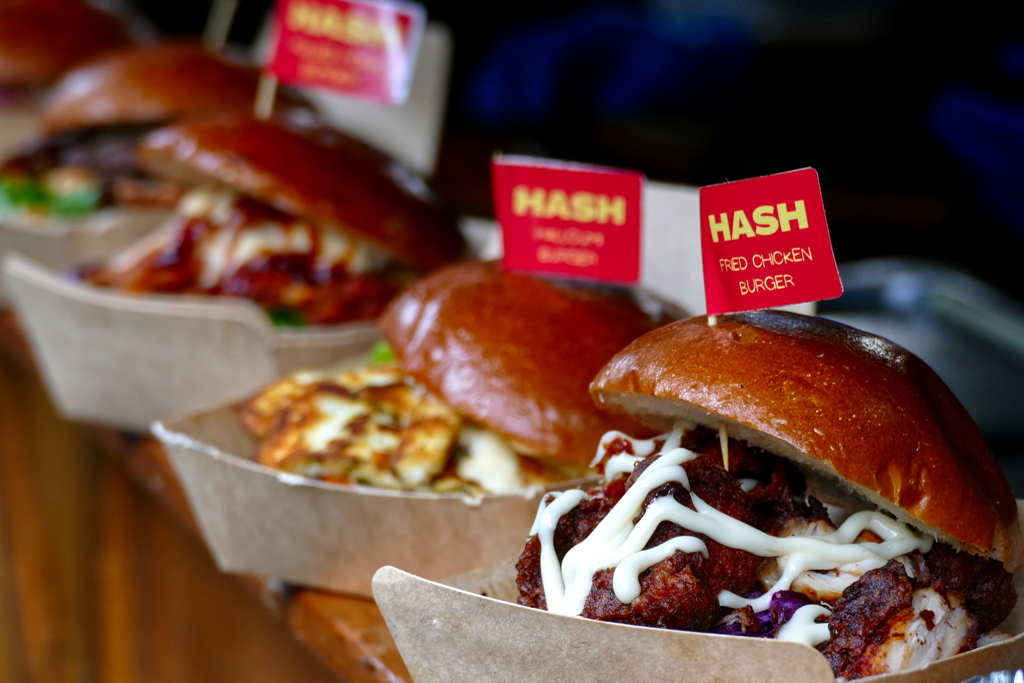 The last resort for a quick and filling meal are supermarkets and cooling shelves at drugstores. Here you find a variety of pre-packed sandwiches, yogurts, and other snacks. Often, you can combine three items into a so-called meal deal.
No, this won't be the fanciest meal during your stay in London, however, it's a quick – albeit not dirty – alternative if you are hungry and don't have the time for a regular set meal.
Cash And Cards
Sterling is the world's oldest currency that has been in continuous use since its inception. It is the currency not only of the United Kingdom but also of nine of its associated territories.
The term Sterling refers to the currency as a whole. It is divided into Pounds and Pennies. The exchange rate is 1 US$ = 0,80 GBP respectively 1 €UR = 0,88 GBP as of June 2023, but you can check the conversion on this page.
Credit cards are accepted everywhere. Especially if your card is equipped with NFC, you can pay quickly and easily just by tapping your card. As a matter of fact, during four days in London, I didn't pay cash one single time.
Connection and Communication
Since June 2017, no roaming charges apply within the EU with a European mobile phone contract. This applies in all 27 countries of the European Union as well as in Iceland, Liechtenstein, Norway, and Great Britain – temporarily even after Brexit.
Obviously, you can connect to the internet without any issue at basically every museum, eatery, or café, and, of course, your hotel.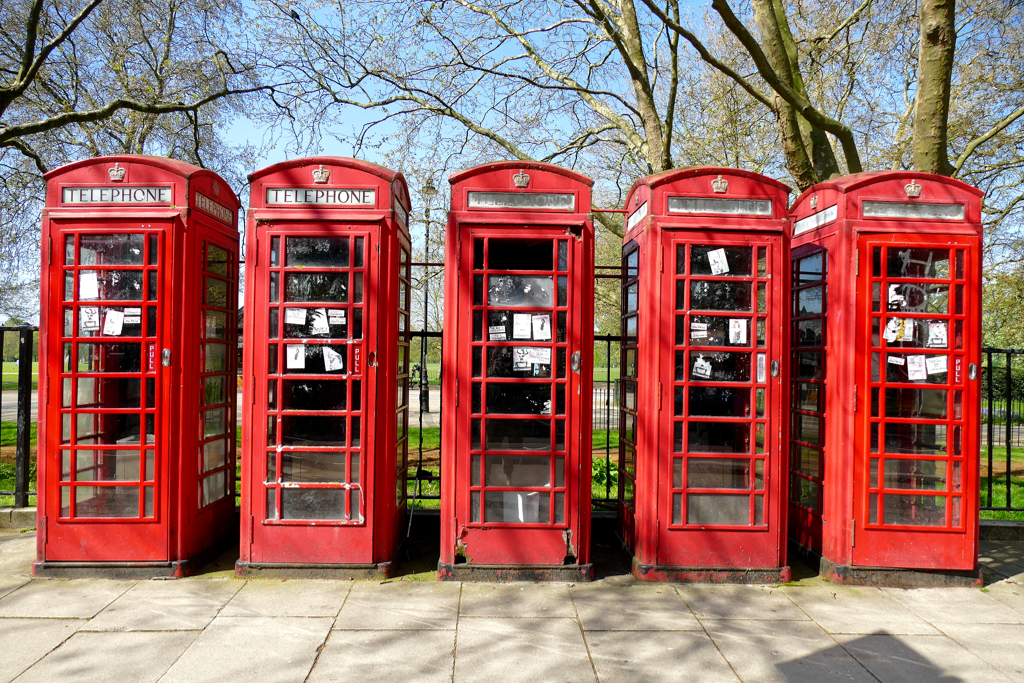 If you insist on being online 24/7, you can get a SIM card, obviously. However, not every card that you buy in the UK will offer free EU roaming! EE and Three UK still offer this service, O2 only on some of their plans, and Vodafone UK doesn't offer it at all. Hence, if you intend to use your local SIM card also in continental Europe, you have to check your options very thoroughly.
In Great Britain, they use plug type G. Their voltage is 230 V and the frequency 50 Hz. Whereby, since nowadays, all these chargers have integrated adapters, in general, the voltage and frequency don't really matter.
By the way, you'll find this information and many more comprehensive travel tips in my post World's Most Complete Travel Information – an indispensable globetrotter-classic.
Visiting Organized
Although I'm an avid solo-travelling woman, I sometimes like to join organized tours. Not only are they a valid option to go to remote places since I'm not driving. They also allow me to meet fellow travellers – for just a short moment or a lifelong friendship.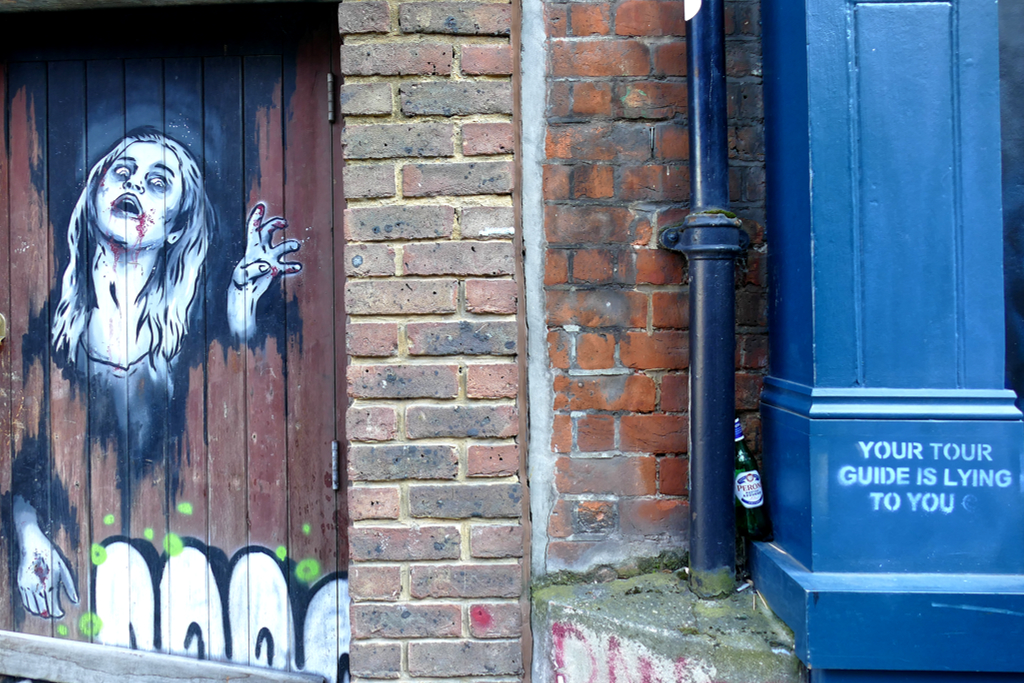 Therefore, here are some great ideas of what to do when visiting London. Especially during high season, pre-booking online will guarantee your place at the activity of your choice*:
Map
This map should help you to find all the off-the-beaten-path places I'm introducing in this post. This way, you can plan your itinerary accordingly. Clicking on the slider symbol at the top left or the full-screen icon at the top right will display the whole map including the legend.
Pinnable Pictures
If you choose to pin this post for later, please use one of these pictures:
Did You Enjoy This Post? Then You Might Like Also These:
* This is an affiliate link. Hence, If you book through this page, not only do you get the best deal. I also get a small commission that helps me run this blog. Thank you so much for supporting me!