Borkum – all the way in the West of East Frisia – is the last stop of my tour of German islands.
I've taken you with me from the former easternmost isle in the Baltic across the north sea to the Dutch border – where we'll spend a couple of carefree summer days on Borkum.
The island of Borkum is one of the seven East Frisian Islands off the coast of Eastern Friesland. It is not only the largest, but also the westernmost one. Therefore, it's geographically actually closer to the Netherlands than to the German mainland.
The island is located between the Westerems strait and the Osterems straits respectively between the North Sea and the Wadden Sea to the south which grants some fascinating and unique features.
Parts of Borkum, as well as the adjacent tideland, are also part of the Nationalpark Niedersächsisches Wattenmeer, Lower Saxon Wadden Sea National Park. I've described this fascinating natural phenomenon in my former post on the island of Neuwerk.
Humans
Borkum gained some remarkable wealth from whale catching – just like the North Frisian island of Föhr that has been also part of this series and was introduced three weeks ago.
To this date, some of the houses around the old lighthouse are surrounded by fences made from whale bones. You'll get further insight into the island's traditions and past at the museum of local history Dykhus. Not only are you entering through a whale's giant jawbone, inside, you can also admire a complete sperm whale skeleton.
Therefore, this museum with its exhibitions on furniture, attires, and the tradition of seaside resorts should be a must-visit not only on rainy days.
Heimatmuseum Dykhus
Roelof-Gerritz-Meyer-Straße 8
26757 Borkum
Phone: + 49 – 4922 – 48 60
The museum is open from Tuesday to Sunday from 10 a. m. to 5 p. m.
After the whaling came to an end in 1782, Borkum was impoverished. Consequently, many islanders left to look for work on the mainland.
In 1834, though, the first bathers came to the island. Ever since then, tourism has been Borkum's most important economic sector. Therefore, during the high season, it attracts even seasonal workers from the mainland.
However, Borkum's about 5,200 inhabitants owe their outcome almost completely to tourism.
Non-Humans
5,200 human inhabitants, that is. Don't make me count the number of bird species, seals, and gray seals inhabiting the highly protected habitats. These can be visited and enjoyed on professionally guided tours. Obviously, the tideland is on the UNESCO list of heritage for a reason.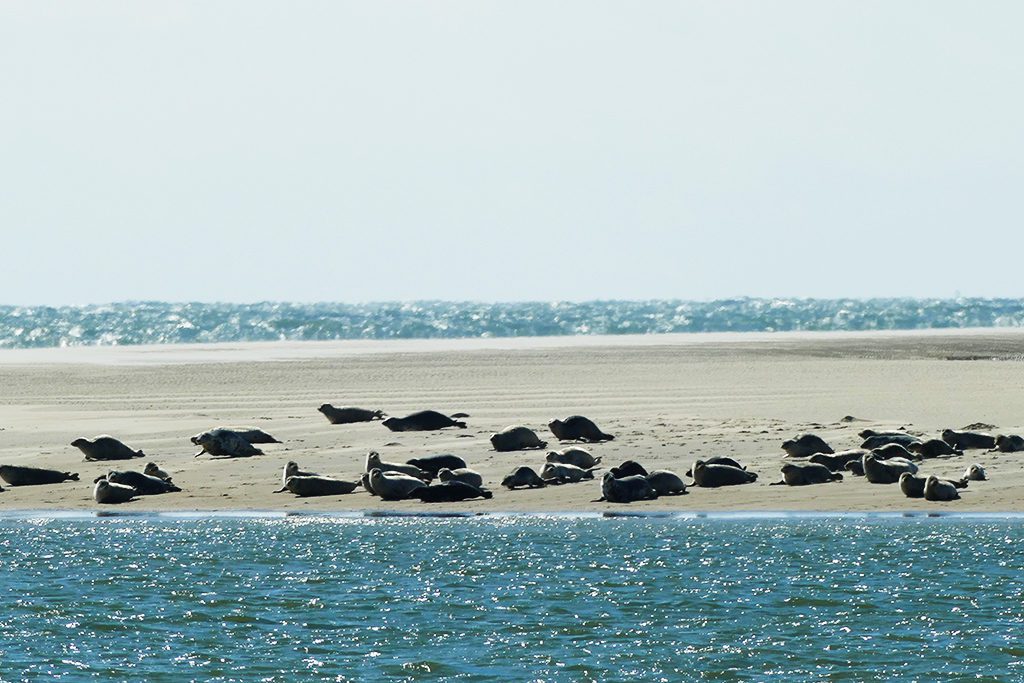 You'll be amazed how many creatures there are in the Wadden Sea and the waters around Borkum – hence, you'll probably get to see just a fraction.
Nordsee Aquarium Borkum
Therefore, it's highly recommended to visit the small Aquarium located in the southern part of the promenade.
Here, in about a dozen fish tanks, you can learn about the different habitats such as shell bars, riffs, tidal creeks, and the open sea. Of course, you can observe all the fishes and critters inhabiting the waters such as spider crabs, shells, and sea stars.
Believe it or not, there are about 500 species brought together. Although the Aquarium is rather small, it is a great way to familiarize yourself – and especially your kids – with the rich habitat that is the north sea.
Charts are informing on endangering activities such as over-fishing and, obviously, littering.
It seems to help: Borkum's beaches are unbelievably clean.
Nordsee Aquarium Borkum
Von-Frese-Straße 46
26757 Borkum
Phone: + 49 – 4922 – 93 37 44
The opening hours of the aquarium differ according to the season. For specific dates, please check out their website.
Hanging Out At The Bar….The Sandbar
Another fun and informative activity especially for kids is the visit to the offshore sandbars where the colonies of seals and gray seals are hanging out.
A carriage leaves at the Georg-Schütte-Platz across the train station in the town center of Borkum.
The sandbar Hohes Riff is located off the western shore right across from the main beach. You can spot the seals from the beach even without binoculars. The animals, weighing up to 250 kilograms, come to the sand bar, which usually appears only at low tide, to rest.
If you prefer to hike to the sandbar, there are signs you're not supposed to pass so that the mammals can rest in peace – in a non-sad way.
Also, hikes into the Wadden Sea should preferably be done only on a guided tour. Not only is it really dangerous to venture on the mudflat since the water might come back faster than you think. A qualified guide will also draw your attention to all the special features of this extraordinary habitat. Around 10,000 species of unicellular organisms, fungi, plants, worms, shells, and – obviously – fishes are living in the north sea.
Impressive is also the number of birds living here – and passing through: About 10 to 12 million birds take a refreshing break in the Wadden Sea on their way between the breeding grounds in Siberia, Scandinavia, or Canada and their wintering grounds in Africa. Here they find enough food to travel thousands of miles.
You can get further info on these tours at the Tourist-Information Borkum, I'll state the contact details below.
The Wide Wide West
Beaches and Dunes
To me, Borkum's most alluring feature is the wideness. I've been to coasts and beaches on four continents – never have I seen more sand….except in deserts.
The beaches on Borkum are not only almost endless – literally, it's an island, after all.
Most of all, they are impressively wide.
While in other regions, you walk for about an hour the length of a beach, here, you walk the width. Which leads to the length. You can basically walk for hours just on the sandy beach, and I think this is just so amazing.
Hard to believe, but the island has even more sceneries to offer than these spectacular beaches: Firstly, there are the high sand dunes behind the beaches – i. e. more sand, this time in high heaps, protected by marram grass.
Some Quiet Time For Beasts And Birds
Since the dunes are important protection, on wide parts, it's not allowed to trample on them. Also, birds are nesting here. These dunes belong to either Schutzzone I, the quiet zone, where visitors have to stay on designated trails all year round. Or they are Schutzzone II that off the breeding time can be accessed.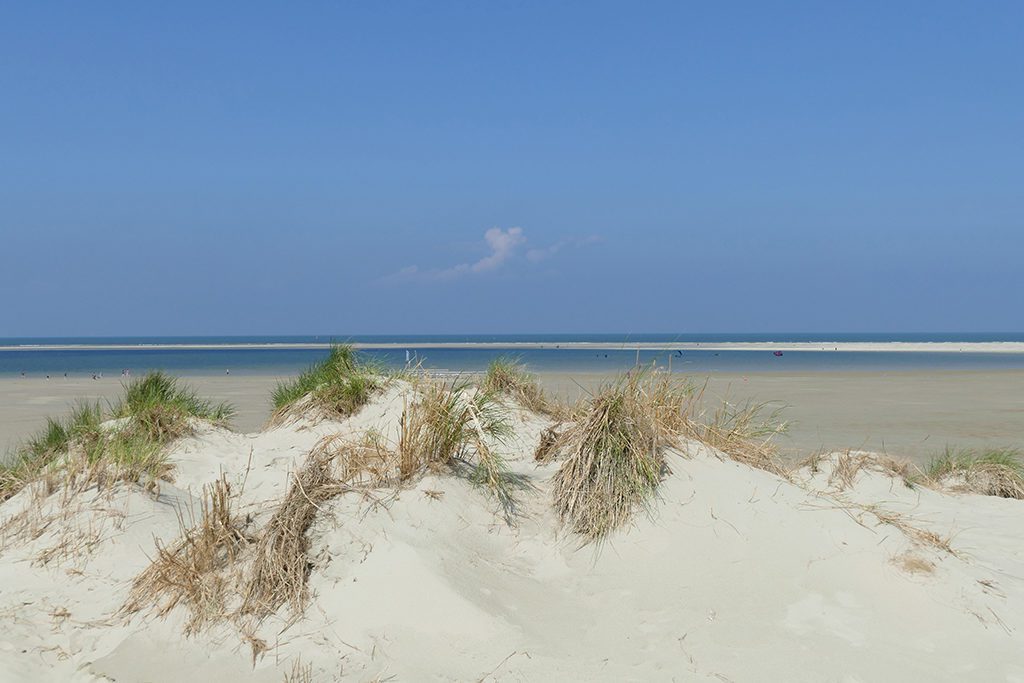 The Schutzzone III – located mainly around the public beaches – is fully accessible.
It is great fun climbing up and down the dunes – latter half-sliding on your buttocks.
But they are also a natural beach cabana: You'd be amazed how they grant shelter against the northern breezes that at times can be pretty harsh. Spread your beach towel between two peaks and you won't need a Strandkorb, a reclining wicker chair, anymore.
The Strandkorb, a Hooded Wicker Beach Chairs
Guilty as charged, in each of my posts on German islands, I've been raving on about this ingenious invention.
The Strandkorb, literally beach basket, is a reclining hooded windbreak seating furniture made from wicker, wood panels, and canvas. It has been designed to provide comfortable seating and shelter from wind, rain, and sun. Other built-in details are extendable footrests, sun awning, side-folding tables, and storage space.
It was invented in 1882 by German basket maker Wilhelm Bartelmann in Rostock for his customer Elfriede Maltzahn who suffered from rheumatism.
Once on display on the beach, this invention caused a big sensation among other bathers. Therefore, in 1883, Bertelsmann's wife was able to open the first rental service in Warnemünde, a beach resort near Rostock. While the first model was a single-seater, today's Strandkorb is usually made for two.
The Strandkorb can be rented per day for about 10 €uro. If you book a whole week, month, or holiday season, the price decreases dramatically.
The Hinterland
But Borkum is by no means just a big heap of sand: Behind the dunes, you'll find small forests, heathland, and meadows with countless bushes of corymb roses in full bloom.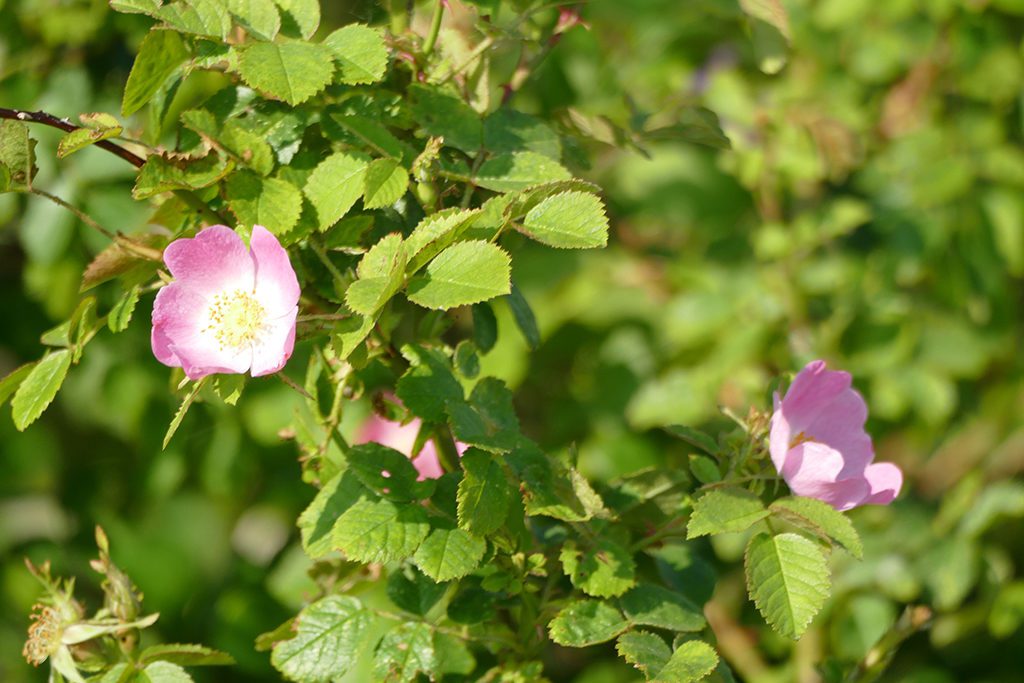 Passing them, the smell of wood and roses lingers and adds some olfactory beauty and stimulation to the beauty pampering your eyes and the wind caressing your skin, the taste of sea salt on your tongue, and the seagulls' cries teasing your ears. Enjoy Borkum with all your senses!
Unlike some of the smaller East Frisian islands, Borkum is not traffic free – you can even bring your car on a ferry. However, you'll see traffic only on the larger roads since major parts of Borkum town are pedestrian and at the wide nature reserve, cars are taboo, anyway.
As a matter of fact, like on most German islands, cycling is the best option – not only to get from A to B, but also just for the joy of it. And like on all German islands, cycling against the breeze is no….breeze. Therefore, an e-bike is a great alternative. Do you know how e-bikes work? You still have to paddle, but if it gets too hard, you can turn on a little motor that supports your moves.
There are many bike rentals, one is located right at the train station.
Made for Cycling
There are incredible 130 kilometers of designated, traffic-free hiking and biking trails on the island. Driving a car will make you a pariah.
Obviously, I'm just kidding. It's rather that you'll miss out on a wonderful experience not enjoying the island on a bike.
Also, besides the island of Heligoland that I've introduced two weeks ago, Borkum is the only German island priding herself with true ocean climate: Everyone will enjoy the air – rich in iodine and low in pollen.
Skyline
Not only is Borkum a bit hillier than the other islands I've introduced – by the way, another reason to opt for an e-bike – it also has a couple of high towers making the skyline pretty iconic.
Old Lighthouse
The massive, square Old Lighthouse, built in 1576, is today the center of the whaler cemetery. It belongs to the Local Association Borkum e.V. and is used as an exhibition building.
The Toornhuus, the former tower guardhouse, is now i. a. a ceremony room for the traditional East Frisian tea time; mind you, this tradition is on the UNESCO List of Intangible Cultural Heritage!
Beacons
There are still two beacons on Borkum by the name of Kleines Kaap, small beacon, and Großes Kaap – take a wild guess: tall beacon.
They were built in 1872 and are pretty unusual since they were made from red clinker with only a wooden top. This particularly solid construction ensured that the beacons are still in good condition, while many of their wooden counterparts often have to be replaced after three decades due to weather conditions.
New Lighthouse
New Lighthouse – well, if you want to call a structure from 1879 new, be my guest.
60 meters high, the New Lighthouse is Borkum's highest building. Mind you, Borkum is an important landmark for navigation in the German Bight.
The New Lighthouse, which is still operating, was built from black-brown bricks. The upper platform can be reached over 315 steps and visitors are rewarded with a great view of the island and the north sea.
Electric Lighthouse
Less intimidating and more traditional deems the red and white electric lighthouse. It is only 28 meters high and was built on a dune in southwestern Borkum in 1889.
This little fellow was the first electric lighthouse built in Germany. Since 2003 it serves as a carrier for a radar system.
Water Tower
Since getting water from wells did not suffice for the growing population of Borkum, from 1900 on, water was supplied by the water reservoir tower for about sixty years.
Due to the increasing number of visitors and the clinics and rehab centers on the island, in the 1970s, Borkum's authorities decided to switch to a more state-of-the-art system.
To save the historic structure, an interest group was formed. Not only did these guys preserve the building, but they are also planning on installing a museum dealing with the tower's history.
Time Well Spent
If you visit Borkum for a couple of days – or if the weather is not as beach-friendly as to spent the entire day there – you should definitely pay the Gezeitenland a visit.
This facility offers various activities for the entire family – or rather passivities if you are looking for a relaxing SPA-day.
Besides different pools on the first floor, they have three saunas and steam baths on the second floor. To cool down after your sauna-visit, you can just step out on their vast verandah – where you can also relax on a beach butt-naked.
Take All Your Clothes Off
I guess this is a thing visitors from some countries might find strange or ever intimidating: Sunbathing or going to a nudist beach is totally normal in Germany – if you wish so. There are designated nudist beaches where you have to be naked. If you're not comfortable with that, just stay on the regular beach.
However, at saunas, for hygienic reasons, it is obligatory to be nude. Of course, you can wrap yourself in a towel – and you have to sit or lay on a large towel since no part of your body is allowed to touch the wooden bench.
Being naked at saunas is not an option, but an obligation.
This is also a general rule at hotels – whereby I think that there they might be a bit less strict as a courtesy to international guests.
However, besides enjoying the public area, you can also book private arrangements like a private SPA-day, some water ceremonies and massages, and many other treats and treatments.
If you visit the Gezeitenland, make sure to walk across the Fautpadje, a narrow trail spiked with 1,400 different stones – some round, some really pointy- that stimulate the soles of your feet. 20 meters of actuation – or torture, whichever way you look at it.
Gezeitenland
Goethestraße 27
26757 Borkum
Phone: + 49 – 4922 – 93 36 00
Email: gezeitenland@borkum.de
The Gezeitenland is open daily from 10 a. m. to 7.30 p. m. and the entrance fee depends on the activities and length of your stay. For families, there are budget-friendly family-cards.
Practical Information
Getting there…
You won't believe it, but Borkum does have an airport – it even has an IATA code which is BKM. However, I've never met anyone who flew in – I probably don't know the right people.
Typically, you go to either Eemshaven in the Netherlands or Emden in Germany, and there, you take a ferry or a catamaran – according to this schedule. Even though Borkum is not a traffic-free island like for instance its neighbors Juist and Baltrum, I find it's a major part of the fun exploring the North German islands hiking or cycling.
If you're not getting there by car, you have to take the train.
Taking The Train
If you are coming from Hamburg, Bremen, or a city within Lower Saxony such as Hannover or Wolfsburg, the Niedersachsen-Ticket, valid in this federal state, might be your best option: It costs 24 €uro for one and you have to add another 5 €uro per person travelling with you. So if you are two adults, it will set you back 29 €uro for both of you, if you travel with four other people, you'll pay 44 €uro for your party of five; not bad, right?!
A child under 15 travels for free with two adults.
While you can actually travel the entire day within the respective federal state, you are only allowed to take the regional trains – train numbers beginning with RE, MET, etc., but not the interregional trains such as the Intercity (IC) or Intercity-Express (ICE).
Extra: The city-states of Hamburg, as well as Bremen and Bremerhaven, are automatically included in the state tickets of Lower Saxony.
Once you get to the port of Emden, Emden Außenhafen, you have to take a ferry or a catamaran. Latter is more expensive but takes only one hour. If you are bringing your car, you have to take the ferry which takes about two.
Once on Borkum, there is a small choo-choo train shuttling visitors from the pier to the town center and back. The fare is already included in your passage.
…and around
The best way to explore the island is definitely by bicycle. Due to the harsh wind, an e-bike is highly recommended.
Although Borkum is not traffic-free, the center of Borkum town is and so are the 130 kilometers of hiking and biking trails.
However, if you are not into cycling, there are public buses, but the service is pretty limited.
Where to stay and to eat
Having been a popular holiday destination for the longest time, there are all kinds of accommodations on Borkum.
Budget-friendly apartments, rustic camping, and a youth hostel. Nonetheless, there are also high-end hotels, decorated with five stars, and pampering their guests with a million-dollar ocean view.
If you want the view but don't have a million dollars on you, you might opt for the hotel Das Miramar*. It is a stone throw from the most popular beach, minutes from the city center with all kind of shops and restaurants, yet very quiet.
Albeit the furnishing will probably never win a design price, it's comfy'n'clean and the staff goes out of their way to make you feel welcome – they are just so friendly and helpful!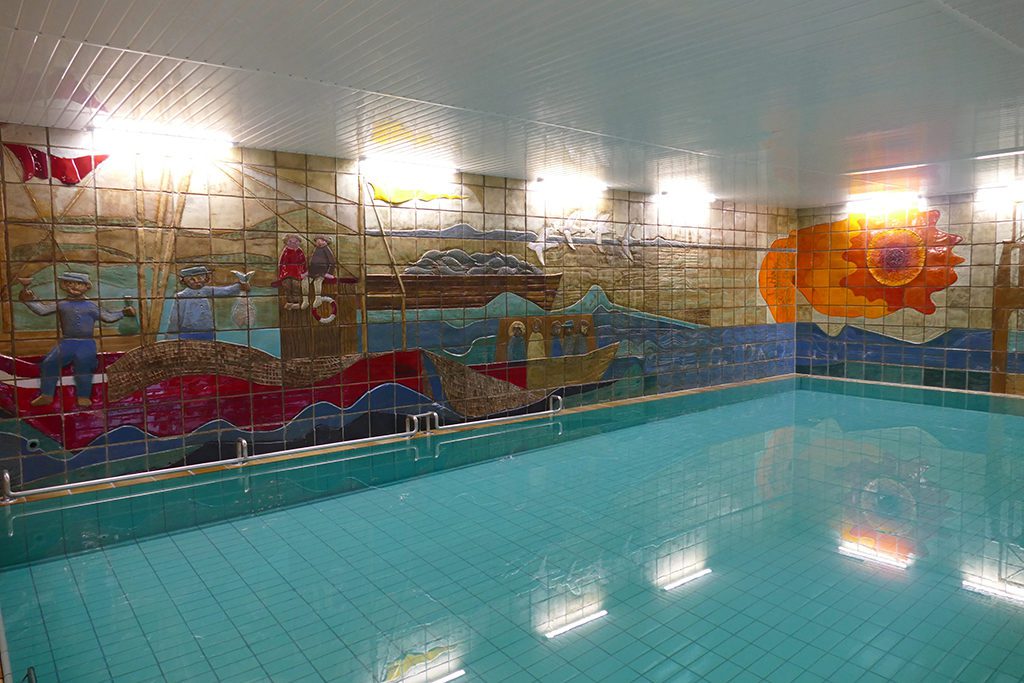 If there's a nip in the air and you don't want to go out, you can easily spend an entire day here, taking a dip in their large pool – filled with seawater! – or a schvitz at their sauna. After that, you can enjoy a good meal at their restaurant.

Of course, this is only one of the uncountable options to dine out. Apart from high-end restaurants, the booths along the beach and below the lovely promenade are a great way to enjoy a refreshing drink, grab a filling bite, and watch time'n'people go by.
Nevertheless, in case the Hotel Miramar is booked out, you can find some suitable alternatives on this map*:
Money
Borkum's main source of income is tourism so credit cards are widely accepted. However, not every small business might accept them, but there are various ATMs, so getting €uro shouldn't be a problem.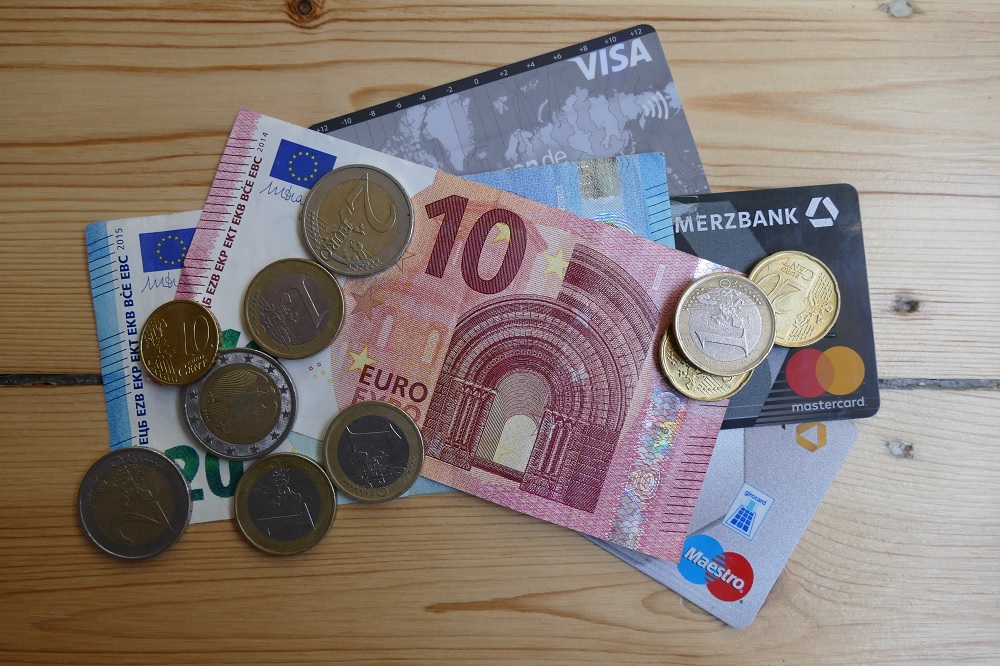 The exchange rate is 1 US$ = 0,94 €UR as of December 2022, but you can check the conversion on this page.
Language
Since Borkum is geographically closer to the Netherlands than to Germany, many people have at least a rudimentary knowledge of the English language, however, don't expect everyone to be fluent.
For some useful words and phrases, you might want to practice a little with help from e. g. Babbel (the first lesson is for free and already supplies you with useful basic vocabulary).
*Note: In this article, I'm writing out some of the German names and places and you will notice that there are letters that might not exist in other languages. Most importantly, there is the letter ß, which exists only in the German alphabet and is by no means a B – it's a 'sharp', double S as in kiss. When writing, you can actually replace it by a double S.
Then there are three unusual vowels: ä, which is very easy since it's pronounced like an open e as in head, ü that is pronounced approximately like the u in huge and ö being pronounced more or less like the u in fur.
Tourist Info
After having read this post down here, do you still need further information or have specific questions? Of course, I'm here for you, but more importantly, so are the friendly and knowledgeable people at the Tourist Information.
You can check their informative website or get your info in person at
Tourist-Information Borkum
Georg-Schütte-Platz 5
26757 Borkum
Phone: +49 – 4922 – 93 30
Email: info@borkum.de
On this map, you get an overview of the island. You can see where all the wonderful places that I'm recommending are to be found:
This is the fifth and last post of a series on five absolutely fascinating islands in North Germany. I hope you've enjoyed it. Did it make you curious for more? Then make sure to check out these posts on the other great isles:
Pinnable Pictures
If you choose to pin this post, please use one of these pictures:
Note: I am completing, editing, and updating this post regularly – last in December 2022.
Did You Enjoy This Post? Then You Might Like Also These:
Disclaimer: I appreciate that Tourist Information Borkum was supporting my blogger trip by supplying me with an e-bike, booking a room at the Hotel Miramar and granting access to some attractions. However, all opinions on these services are mine and weren't by any means influenced by my cooperation partner.

* This is an affiliate link. If you buy or book something through this page, not only do you get the best deal, I also get a small commission that helps me run this blog. Thank you so much for supporting me!