Kamphaeng Phet and Phitsanulok might not be the most exciting spots in Thailand, nevertheless, you'll possibly have to take those detours.
Therefore, I've put together itineraries for short stays in these places. This way, you still can make the best of these deviations.
I had to make these detours for different reasons. Most visitors skip Kamphaeng Phet altogether – although there is a wonderful archeologic site hidden in what seems to be a bewitched forest. On the other hand, it is metaphorically as well as geographically a bit off the beaten tracks.
Phitsanulok, on the other hand, cannot be avoided when travelling from Sukhothai up north to Chiang Mai by train. Still, it's totally okay to keep this phitstop rather brief.
KAMPHAENG PHET
Strategically located between the culture tourist spot Ayutthaya and the culture tourist spot Sukhothai, Kamphaeng Phet is a nice retreat if you care for a day without any tourists.
King Lue Thai founded Kamphaeng Phet probably in the 1360s. It was the southern outpost and buffer zone of the kingdom of Sukhothai. It then remained an important garrison town for the Kings of Sukhothai and Ayutthaya for centuries.
The fortress walls gave the city its name – it translates to Diamond Wall. They have a trapezoid shape with a width of 300 to 500 meters and are more than two kilometers long. They were surrounded by a moat.
The approximately high walls made of laterite blocks are partially preserved. The fortification was connected to the outside world by a total of 10 gates fortified by forts.
Kamphaeng Phet was next to the capital Sukhothai and Si Satchanalai one of the three big cities of the Sukhothai Kingdom. It had its heyday from the 13th to the 15th centuries and made it to the list of UNESCO World Heritage Sites in 1991 – together with the other two.
Kamphaeng Phet Historical Park
The Kamphaeng Phet Historical Park includes the ruins of the old border town of Kamphaeng Phet in today's city center.
The dominant structures of Wat Phra That are a Ceylon-style chedi with a bell made of sandstone and bricks and a Viharn with a surrounding wall, also made of sandstone, which has two opposite gates.
The chedi has a rectangular foundation and is framed by columns. It used to contain relics, but their whereabouts are not known today.
Wat Phra Kaeo
This temple was built as a rectangular monastery structure. Important buildings were erected along a west-east axis parallel to the city wall. A wall made of sandstone slabs served as a fence.
The foundation with the laterite core of the most important Buddha statue stands in front of the temple. All other structures of Wat Phra Kaeo are made of sandstone and surmounted by a large chedi in Ceylonese style. Ceylon is the old name of today's Sri Lanka.
There are 35 foundations of stupas of different architectural styles near the monastery.
According to legend, the Emerald Buddha, which is now at Wat Phra Kaeo in Bangkok, was once kept here.
Wat Phra That
This Temple of the Holy Relics is located right opposite the National Museum Kamphaeng Phet and east of Wat Phra Kaeo. It consists i. a. of some well-preserved Chedis.
National Museum Kamphaeng Phet
The most important finds of bronze sculptures and ceramics from different style periods are kept at this small museum.
There are also several areas in the immediate vicinity of the old city with an impressive collection of temples.
Khet Aranyik Forest
The Khet Aranyik Forest is an area northwest of the fortified city. The remains of around 40 temples are scattered across the hill.
Following the Ceylonese – today's Sri Lanka – traditions, some Buddhist monks preferred the quiet forest areas. This way, they were able to pursue their meditation undisturbed. Later, Thai monks adopted this forest tradition.
Wat Phra Non
This Temple of the Reclining Buddha is a sanctuary surrounded by a laterite wall and laid out in an east-west direction. Besides a Ceylon-style Chedi, there is a Mondap with the remains of a reclining Buddha. The roof of the building was supported by 6.4-meter-high laterite columns. Sadly, only the foundation walls of the adjoining Viharn can still be seen.
Wat Phra Si Iriyabot
The ruins of the Mondop a still impressive. It's a square 29 meters wide building with four Buddha statues in different postures.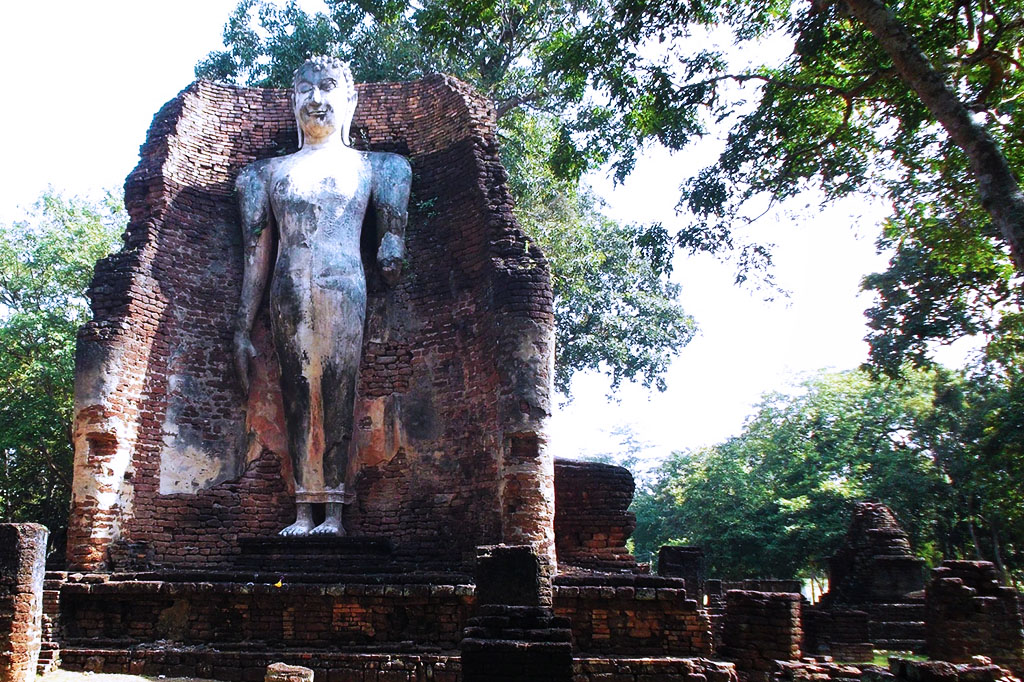 Only the 9-meter-high statue of the standing Buddha is almost completely preserved.
Wat Singh
This so-called Lion Temple is comparatively well-preserved. The remnants of an Ubosot are surrounded by laterite walls. Of the sitting Buddhas, only the silhouettes can be clearly seen.
Other smaller sculptures such as lions and nagas are also crumbled into silhouettes. However, at the back of Wat Singha, the remains of what must have been a Chedi are giving shelter to a sitting Buddha.
Wat Chang Rop
The temple complex was built in the 15th and 16th centuries and served in the final phase of the Sukhothai Kingdom for the religious consolidation of the claim to power.
The temple consists mainly of a Viharn, of which only the foundation walls are preserved, and the ruins of a large chedi. The top of the chedi is broken off, but it was likely a bell shape in the Sri Lankan style. Traces of stucco decorations can be seen on the uppermost ring that has been preserved.
It stands on a high, square base with four symmetrically arranged steep stairs. The base is surrounded by 68 elephant figures. These animals are made of laterite covered with stucco. The fine decorations are only preserved on one side of the building.
PHITSANULOK
If you don't have to go to Phitsanulok, just skip it. There are so many nicer and far more fascinating places to see in Thailand.
Nevertheless, Phitsanulok is one of the region's historically most important cities and most of all the economic and transport hub. Also, with Naresuan University, Phitsanulok has the largest university in the lower north.
From 1463 to 1488, Phitsanulok was the residence of King Borommatrailokanat of Ayutthaya. He commissioned the temples Wat Ratchaburana and Wat Nang Phaya. After the kingdom's residence was moved back to Ayutthaya, Phitsanulok was an important military training center during the wars against the Burmese.
Hence, at the time of the Sukhothai Kingdom, Phitsanulok was already a large settlement. Actually, in the 15th and 16th centuries, the Uparat, hence the viceroys, resided here. It was surrounded by a rectangular wall, the remains of which can still be seen in some places today. Centrally on the east-west axis of the rectangle was Wat Chedi Yod Thong, initially the main temple of the city.
In 1357, today's main temple of the region, the Wat Phra Sri Rattana Mahathat was built. Then, in the 14th and 15th centuries, the old temple Wat Aranyik was built and expanded.
When Sukhothai lost its power and became part of the central Thai kingdom of Ayutthaya in 1438, Phitsanulok gained importance and became the most significant center of the northern provinces.
An Afternoon in Phitsanulok
Coming from Sukhothai and heading for Chiang Mai, I had no chance to avoid Phitsanulok since it was the nearest train station. I went there at noon, booked myself in the reasonably priced Amarin Nakorn Hotel near the train station, and strolled along Menam Nan river.
There are many quite inviting coffee places overlooking the river. On the greeneries along the river, people are getting massages al fresco or doing Aerobics and Thai Chi. It's actually very pleasant.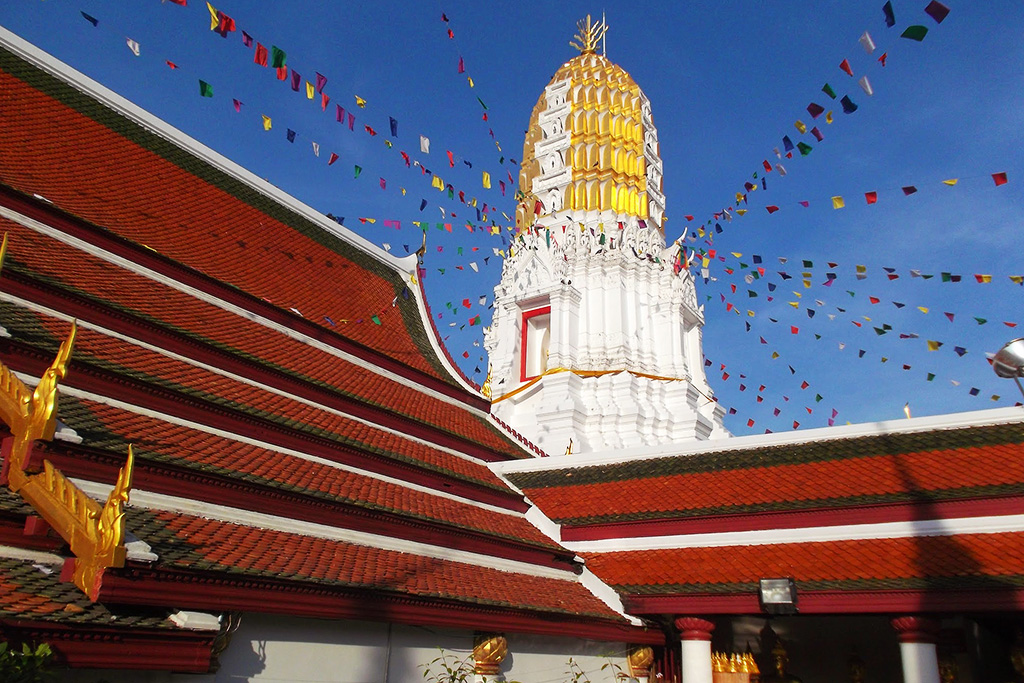 The above-mentioned temples are in the northern part of the city.
Also, next to the train station is a local farmers market worth visiting.
Maps
Here are maps of Kamphaeng Phet and Phitsanulok that will certainly help you find all the places I'm introducing above:
Practical Information
How to Get There
Getting to Kamphaeng Phet
Kamphaeng Phet does not have a train station. So if you are coming by train, you first have to go to Pak Nam Pho. This stop is on the railroad between Bangkok and Chiang Mai. There are cabs waiting at the station to bring passengers to the bus station. From there you continue by bus for another hour.
From the Kamphaeng Phet bus station, you can take a shared taxi or a private cab, obviously.
The bus from Kamphaeng Phet to Sukhothai also takes about one hour, but there are fewer coaches so you should be a bit more organized.
Getting to Phitsanulok
Phitsanulok is a stop on the railroad between Bangkok and Chiang Mai. Since Sukhothai does not have a train station, it is also the hub of this mesmerizing place.
Since the bus terminal is on the outskirts of Phitsanulok, you have to take a tuk-tuk or cab to get there.
How to Get Around
Tuk-tuks can take you to all the sites I'm listing in this post. I personally find that your best option to explore Kamphaeng Phet and the historic sites is by bicycle.
Normally, you can borrow a bike at your hotel for free or sometimes for a very small fee. Nevertheless, if your hotel does not supply you with a bike, they can at least arrange a rental.
If you are cycling from temple to temple, beware that it might get quite hot, although you are in the shade of the trees. Nevertheless, put on some good sun protection with a high SPF, wear a hat, and drink plenty of water throughout the tour.
The center of Phitsanulok can be explored by walking. For longer distances, you can hire a tuk-tuk, obviously.
Where to Stay
Kamphaeng Phet
At the Scenic Riverside Hotel*, every room including the reception was stuffed from floor to ceiling with terrible trinkets and plush toys. It was a bit scary – like in a horror movie where they could come alive at any moment. Ironically, there was a big sign in my room that all this junk is not to play with, but to look at. To tell you the truth, I wasn't keen to do it either.
On the other hand, they are right across from the Historic Park – literally minutes. Also, they supplied me with a bicycle so it took me only a couple of minutes to get to the Khet Aranyik Forest.
So if you don't want to freak yourself out amid all those creepy puppets, where should you stay?
You'll find other lodging options, you can do so on this map*:
Phitsanulok
My train to Chiang Mai was scheduled around midnight, therefore, I didn't really need a hotel. Since there are moments when I put comfort over budget, I still booked a room at the Amarin Nakorn Hotel close to the train station. Yes, the guys at the receptions were somewhat surprised when I checked in in the early afternoon and out in the late evening. But this way, I avoided hanging out on a park bench or loitering at an eatery.
If you want to follow my lead or even spend a night at Phitsanulok, you'll find some good lodging options on this map*:
What to Eat
When in Thailand do as…well, I think you should eat at night markets as often as you can. For the delicious food, but also for the unique atmosphere.
This being said, the night market in Phitsanulok is particularly charming since it's not just stalls but real, nice restaurants with terraces overlooking the river.
And the riverfront in Phitsanulok holds another pleasant surprise – some really good coffee bars.
There is one thing that I strongly disliked in Thailand: The coffee. Most of the time, they served me Nescafé. Not the George Clooney-stylish-coffeemaker-stuff but this horrible instant brew. Since they serve this bitter dishwater with such a lovely smile, I suffered in silence.
Cash And Cards
Kamphaeng Phet and Phitsanulokis are far less touristy than the other places I'm introducing in my guide to Thailand, yet, they are middle-sized cities with a full-functioning infrastructure so there are Banks with ATMs.
Beware that not every ATM works with every international card. Don't freak out – as I did – simply try a teller from a different bank.
As of November 2022, one US-Dollar equals 38 Baht (THB), but you can check the current rate on this page. Also, credit cards are widely accepted.
Language
Although Kamphaeng Phet and Phitsanulok are less touristy than many other places in Thailand, I had the impression that many people have at least a rudimentary command of English.
This being said, obviously, it's a nice gesture to say at least the greeting Sawasdee Kha and Sawasdee Khun as well as Khop Khun Kha respectively Khop Khun Khap. Kha is a suffix used by women, men are using Khap.
Communication and Connection
There is an internet connection practically everywhere.
Nevertheless, if you want to be sure, I recommend you check the Wi-Fi quality of your hotel beforehand. You'll find the link in my post World's Most Complete Travel Information which is an indispensable globetrotter-classic, anyway.
Kamphaeng Phet and Phitsanulok were only two of the destinations I visited during my exciting trip to Thailand. So go to the main post to check out all the other places. There you'll also find valuable general information that will make your trip smoother.
Pinnable Pictures
If you choose to pin this post for later, please use one of these pictures: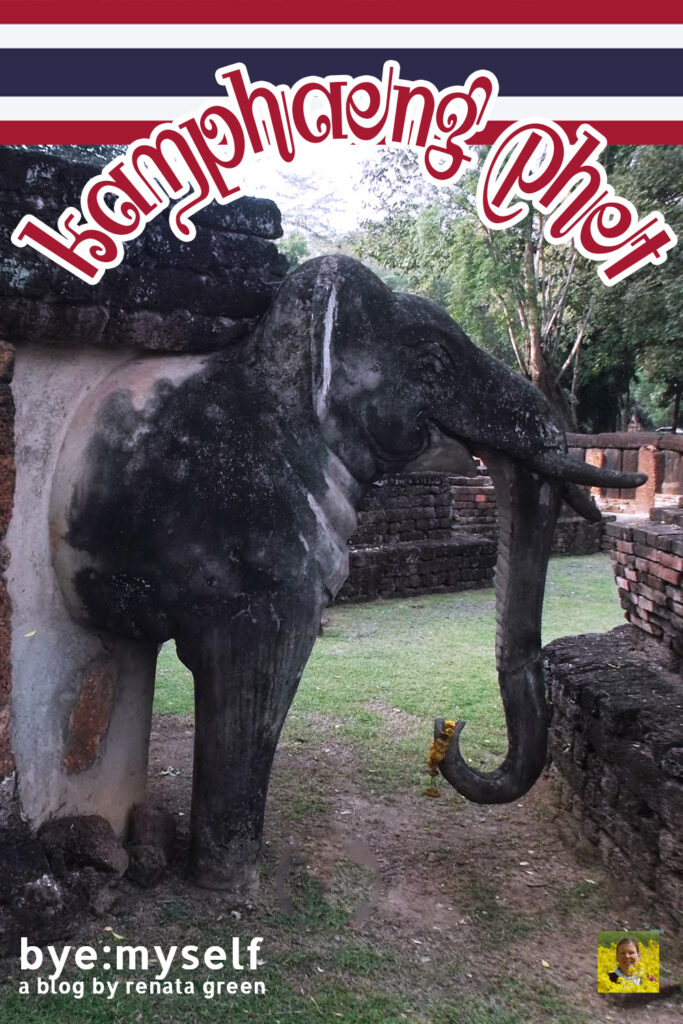 Note: This post is being regularly completed, edited, and updated – last in November 2022.
Did You Enjoy This Post? Then You Might Like Also These:
* This is an affiliate link. If you book through this page, not only do you get the best deal. I also get a small commission that helps me run this blog. Thank you so much for supporting me!