Let me guide you further South to the laid-back city of Curitiba from where you can venture out on a memorable day trip to scenic places like Morretes.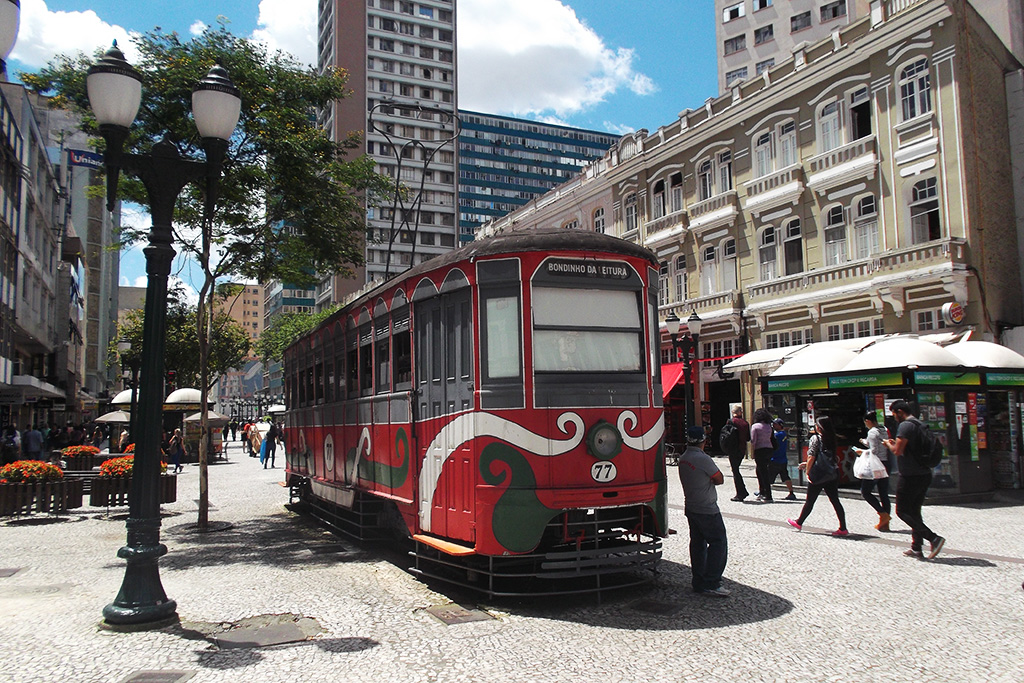 Master of Public Transport
As you might have noticed by now, I'm travelling quite a lot. Obviously, since I'm a travel blogger. But I'm also travelling a lot while I'm travelling.
As I've mentioned on earlier occasions, I'm not driving, Hence, I'm familiar with public means of transport basically around the world.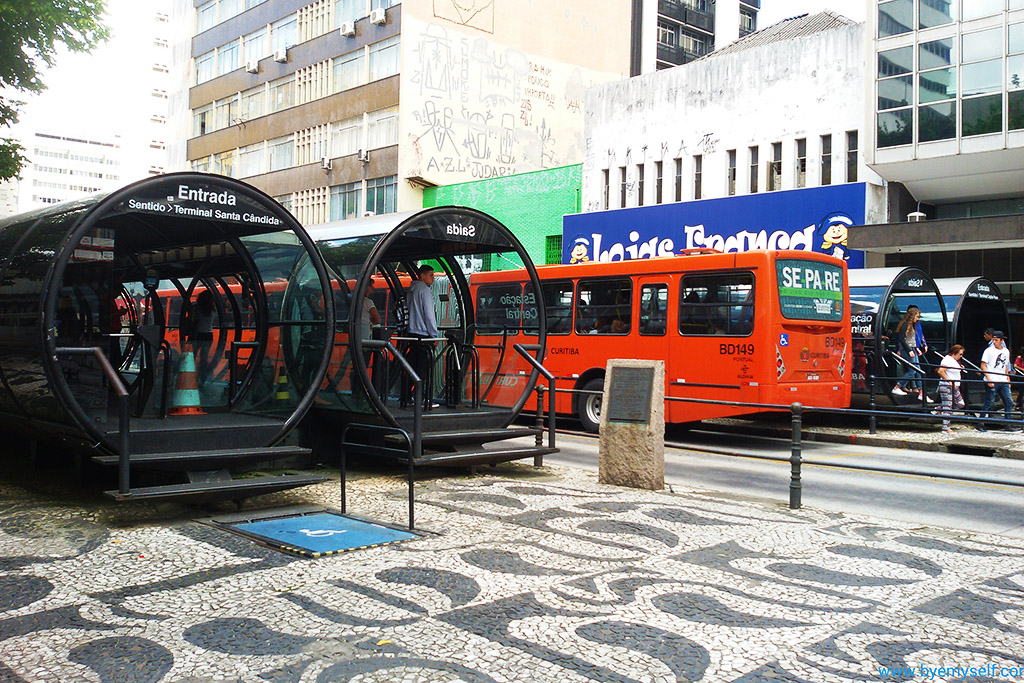 I'm even familiar with public means of transport in places where locals don't know that there is public transportation. This, of course, happened to me in the USA. When I told a lady at the mall in Naples, Florida, that I had to hurry to catch the bus, she looked at me in awe and admitted: "I didn't even know we had a bus." Well, the number of people on the bus proved that she isn't the only one. Naples' public bus seems to be one of Florida's best-kept secrets.
Actually, Curitiba was the first South American city to implement a very elaborated and sophisticated bus system.
According to my Portuguese teacher Marcie, Curitiba is not only leading in this aspect, but in many other aspects like housing, healthcare, and education.
Marcie says, it's the model city of Brazil.
Meandering Through Curitiba
One of Curitiba's most iconic places is the botanic garden. And visiting this site gave me the opportunity to experience the wonderful bus system of Curitiba.
On the walking tour I took on my first day, the guide explained the different kind of buses that can be identified by their color. Great system for illiterate people. Well, I'm actually not illiterate, still I ended up in a wrong bus. Actually, it wasn't really my fault since I had asked a lady whether this bus goes to Guadalupe station and she said yes.
Turns out she was wrong.
By the time I figured that out, I was already two stops too far. Doesn't sound like a big deal, but unfortunately, this was a rapid bus. This even illiterate people can easily identify by its silver color, as I had learned the day before. The rapid busses stop like every eight minutes. So two stops is actually a lot.
Some lovely fellow travellers tried to help. Unfortunately, they did it simultaneously which made them a bit difficult to understand. However, in the end, I filtered from their explanations that the best way was to stay on the bus and eventually take another one to the botanic garden at the final stop.
Driving Me…Crazy
I'm a nervous, highly impatient person, and riding a bus for about half an hour in the wrong direction drives me totally bananas.
However, as we reached the final stop, I found out the only advantage of my odyssey. The final stops are closed stations. So once you're in – for instance because you got there on a bus you never had to take…just an example – you can get on whatever bus you please without buying another ticket.
So I wasted about one hour, but I actually saved…one Dollar. Hence, if you have very much time and really very, very, very little money, this is my tip on how to save on public transportation. Just keep on going from final stop to final stop.
Not the Only Flaw
So although in Brazil the number of public transport means is quite good, the system sucks the big one. It actually does not even deserve to be called system. As a matter of fact, it's a bunch of different means that are mostly not combinable.
If you buy a ticket for the subway and have to take a bus eventually, you need to buy another ticket. That makes trips including connections quite expensive – for Brazilians, that was.
The average income is about 2000 Reais. So when you have to pay about 8 Reais to go to work, that's a fortune!
I first thought that they have some sort of season ticket since you can buy plastic cards and charge an amount of your choice on them. But supposedly, saving time is the only advantage, you can't actually save any money with it. So while the coverage is totally okay, they definitely should make it more affordable.
Another thing that's totally crazy is how you board: it's always through a really tight turnstile. It's already pretty difficult to go through when you're wearing nothing but clothes. It's a huge challenge when you're carrying anything, let alone e. g. a big bag or a suitcase.
These turnstiles are not only at the entrance of the subway station. No way, they are in the middle of the bus, too. They make getting in so complicated. And that the drivers as well as the cashiers are unfriendly and not helpful at all makes things even worse.
The Model City of Brazil
The model city of Brazil – well, I don't know about that, but I have to acknowledge that it is a very pleasant place.
There is an old city center which is pretty well maintained and not falling apart like the one in Rio de Janeiro. Also, it is not as sketchy as the one in São Paulo. Then, there are some lovely spots to be explored on the outskirts of the very center – so let's go check it all out.
City Center
A very convenient starting point for a city tour is at the Teatro Guaíra on the east side of the Praça Santos Andrade.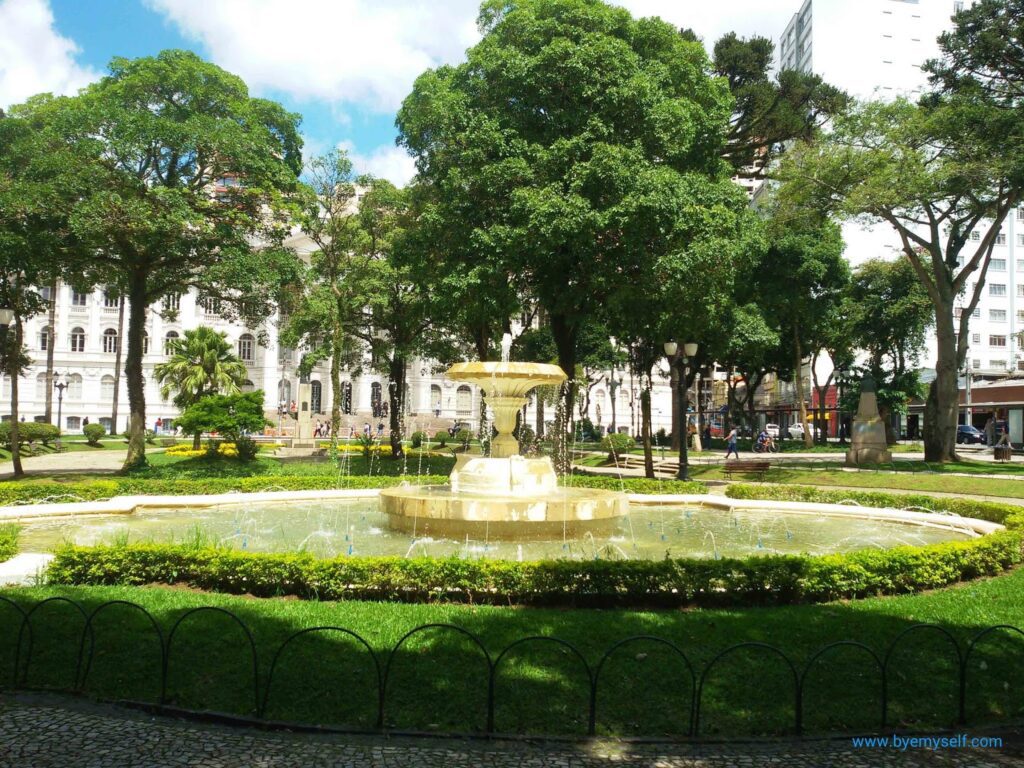 The Praça is not only a beautiful square with many sculptures of famous men – all facing the Universidade Federal do Paraná all the way across from the theatre. It is also a good point to start exploring the city center.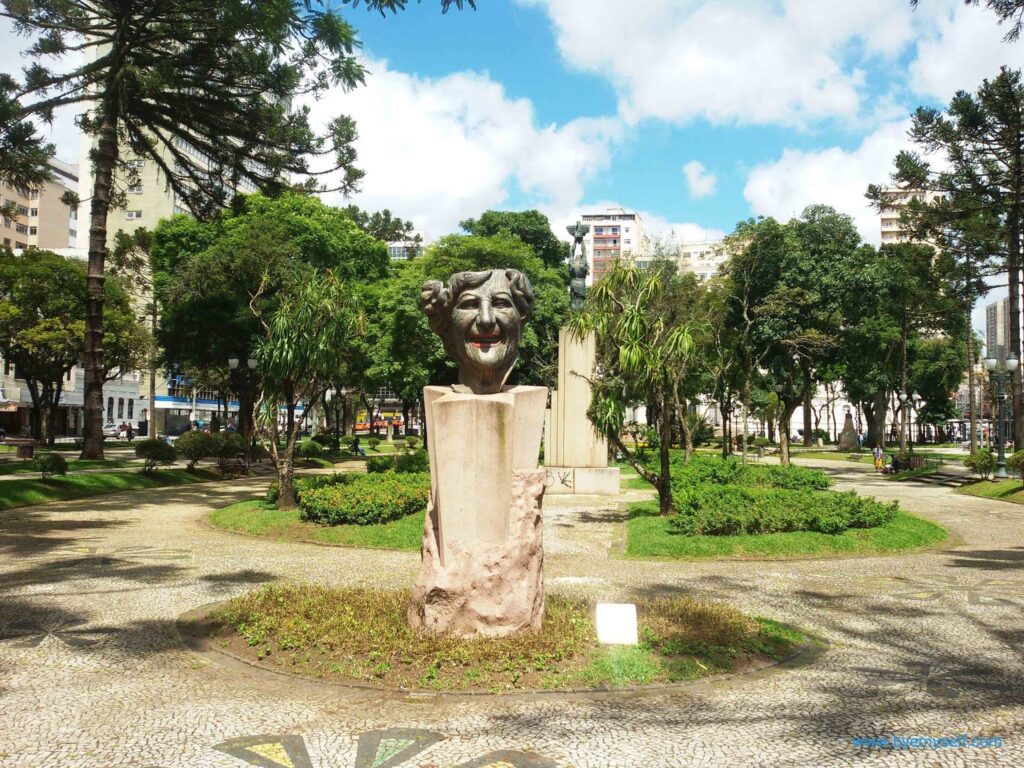 Obviously, you can do it by yourself. A much nicer option, however, is to join the interesting and fun free guided tour.
May I remind you – it's called 'free' since you are not obliged to pay for it…hence, I cannot understand how people actually do not pay for it: these guides work for tips, guys!
If you are in a hurry, an excellent option to get to see more of Curitiba is taking Linha Turismo tourist bus. It is basically a hop on hop off bus, only that you get five tickets so that you can re-board four times. That should be enough for one day in Curitiba. If you do the whole tour in one go, it will take about 2.5 hours.
Historic Center
Behind the University is the Praça Generoso Marques with many buildings reflecting the tradition of immigration. There are stores and restaurants founded by Germans and Lebanese and who not.
The nicest one is the Paço da Liberdade. Built between 1914 and 1916, it was the city's first town hall.
Later it housed the collection of the Museu Paranese until it finally became a wonderful community center.
There are spaces for different cultural activities, a computer room where everyone can go online for free, a library, and a very charming coffee house.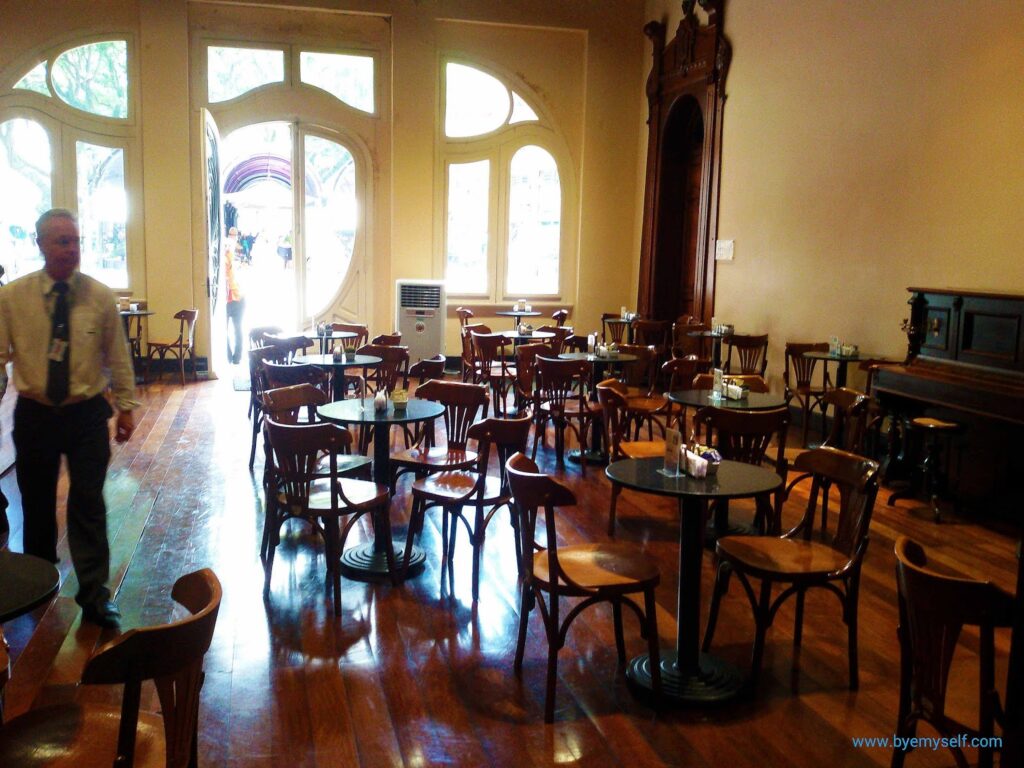 At the back of the building, you'll find yourself at another majestic square, the Praça Tiradentes with the Catedral Basílica Menor Nossa Senhora da Luz.
Walking along the right side of the Cathedral, you'll get to the Tv. Nestor de Castro. Here, Poty Lazzarotto created fun murals depicting scenes from everyday life in the city and its surroundings.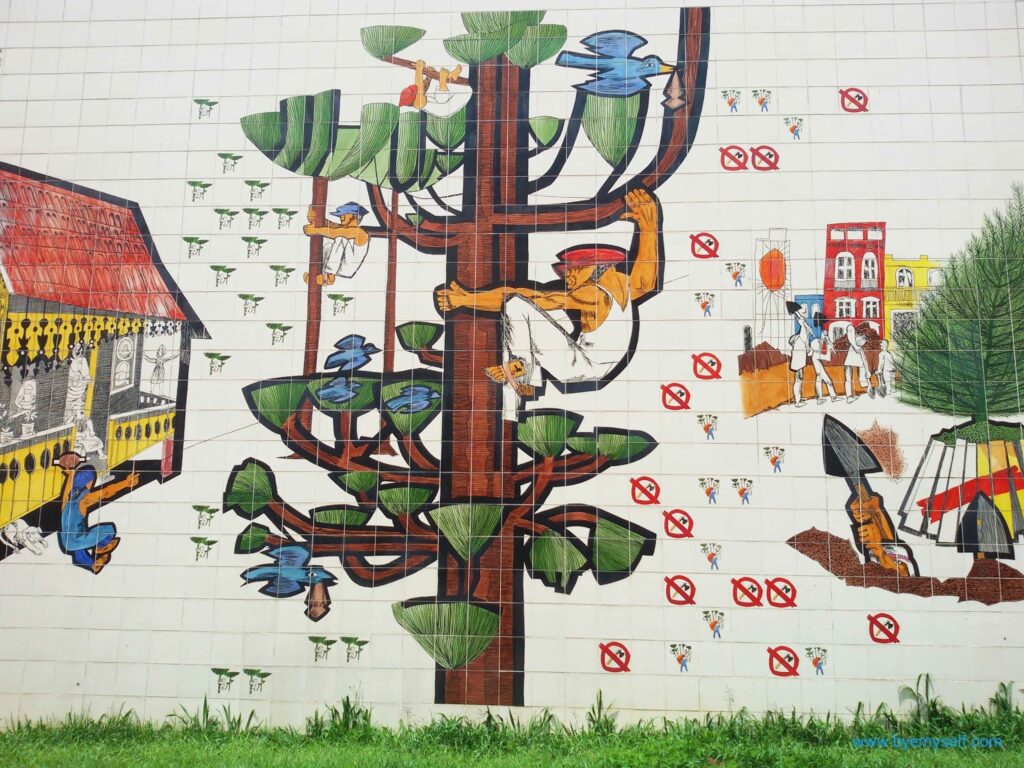 Poty's work is found all over Curitiba – and beyond. While on this masterpiece, he used colorful tiles for his images, he decorated the facade of the Teatro Guaíra in monochrome clay. Yet, you'll immediately distinguish his iconic style.
Right behind Tv. Nestor de Castro begins the Setor Historico, Curitiba's oldest part. At this historic part full of colonial houses and cute little churches, you'll find also many cool bars, restaurants, and specialty shops.
Museums
Curitiba experienced a lot of immigration over the centuries. Consequently, there are many museums and memorials remembering the different countries of origin. There are for instance the Museu Ucraniano, the Bosque Alemão, the Memorial da Imigração Japonesa or the Memorial Arabe. To get to see them all takes time since actually, only the Memorial Arabe is in the very city center.
Oscar Niemeyer
Of course, there are also various art museums in Curitiba. The most famous one is undisputably the Museu Oscar Niemeyer, located in the Centro Civico district north of the city center. If you don't mind walking, you can get there in about 20 minutes on foot. Otherwise, there are various buses going from the city center to the Centro Civico.
Oscar Niemeyer, who sadly passed away in 2012, was certainly one of the world's most important architects of recent times.
He was friends with Le Corbusier, and together they designed the UN-Headquarters in New York. Not only did Niemeyer design Brazil's capital Brasilia, but his buildings are also in England, Italy, France, and many other places.
At the museum, which was designed by the master himself, is an exhibition on his work in one gallery. The other spaces are for changing temporary exhibitions.
Museu Oscar Niemeyer
Rua Marechal Hermes 999
Curitiba
Phone: + 55 – 41 – 33 50 44 00
The museum is open from Tuesday to Sunday from 10 a. m. to 6 p. m. and the entrance fee is 20 R$
Jardim Botanico
The most iconic place not to be missed while in Curitiba is the Jardim Botanico, the botanic garden southeast of the city center.
While the garden will not overwhelm you with its variety of plants and flowers, the palm house has practically become the Logo of Curitiba.
Also, you can take great pictures of the premises and views of the city.
Day Trip to Morretes
A day trip to Morretes, a town located 70 kilometers east of Curitiba, is not to be missed. Actually – the journey is the reward, at least if you are taking the Serra Verde Express.
This train, consisting of many different wagons, takes you for three hours through the most scenic landscape. Along the Serra de Mar, the Atlantic rain forest, and through the untouched, rugged mountain scenery. Steep slopes and high bridges – it's like being on an old fashioned, extremely slow roller coaster.
After three hours – meanwhile, you are thinking it cannot get any better – you arrive in picturesque Morretes. Already at the town's entrance children greet the travellers by standing in front of their houses and waving.
It is all so idyllic!
Once you arrive at the train station, to your right is an information window where you can ask the friendly lady for a map of Morretes. You probably won't get lost without it, but I like knowing where I am and what it is that I'm looking at.
What to Do And Where to Go
There are attractions on the outskirts to be reached by buses. However, after over three hours on the train, I felt like walking – and the town of Morretes, which by the way has about 15,000 inhabitants, is such a cute little place.
Located in the Serra da Graciosa, every corner you turn, majestic views will simply mesmerize you!
There are the Paróquia Nossa Senhora do Porto and the Igreja de São Benedito. But most of all, there are lots and lots of cute little houses – many of which are restaurants or specialty shops; it's a touristy place, after all.
Ready For Lunch?
Walking around will make you hungry. No problem, since Morretes is famous for excellent food in general and its traditional dish Barreado in particular.
The food is probably good everywhere since that's how it is in Brazil. However, I picked a restaurant outside the mere center. I wanted to escape the crowds and large tourist groups.
They don't have a website, but I can tell you that the name is Dois Chefs. They are on the left-hand side when you're going from the iron bridge towards the old graveyard.
Oh, before I forget: After your big lunch, you might want to pick this cemetery for your postprandial stroll – it is beautiful and totally worth a visit.
Also, in the afternoon, there was a market on Rua XV de Novembros selling all kinds of local specialties.
I decided on a variety of tiny Cachaça bottles of different flavors such as ginger, pineapple, passion fruit, mint as a souvenir to take home.
Practical Information
How to Get There…
Obviously, it's possible to get to Curitiba by bus. As an example, a trip from São Paulo takes about 6 to 7 hours and starts at around 15 US$. You can search for rides and book your ticket for instance on busbud's website.
The long distance bus station is right next to the train station not far from the city center.
Howsoever, because of my detour to Bonito, I flew in from Campo Grande. And since I took a flight at about 5 a. m., it was quite cheap – and I really had a looong day ahead as I got to Curitiba….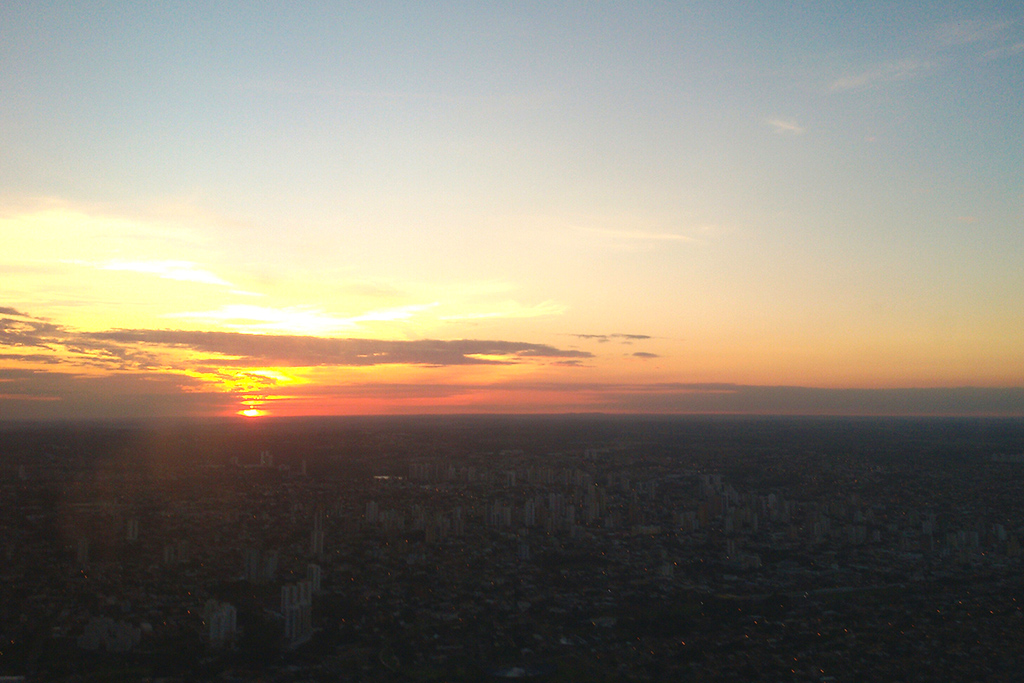 Nevertheless, I had also booked about two months ahead.
Of course, there's a reliable airport bus about two or three times per hour – it's Curitiba, Brazil's public transport paradise, after all.
For more tips and hacks on how to save money and still travel comfortably, check out my posts on planning and organizing your trip respectively when to book ahead.
…and Around
I think I've made my point regarding public transportation above – it's comprehensive and great.
Therefore, in this section you only find info on how to get to Morretes and back.
On the Serra Verde Express
There is one train going to Morretes at 8.15 a. m. and during high season another one at 9.15 a. m., but the latter one has only expensive, luxury seats.
You can choose from a wide range of different tickets and packages. It starts with a simple ticket for 130 R$. But you can also book a package including extra tours to Paranaguá or Antonina – both located on the banks of Baía de Paranaguá, the Paranaguá bay. This will cost you around 500 R$. However, also the tickets to Morretes can go up to 360 R$. In this case, you are seated in a nicer wagon with better seats. Also, there is a bi-lingual guide, and drinks like soft drinks and beer are included.
You find all these options on their website that is really good and clear.
The process of booking, though, was terrible, however, I've got the impression they've improved it lately.
Nevertheless, since I was quite frustrated with the booking process then, I just got up pretty early in the morning to be at the station a bit ahead of time.
At least in the cheapest wagon, they had still a lot of seats available – and it stayed quite empty during the whole trip.
It's quite ironic: since most people either go on an organized tour that books seats at the more expensive wagons, the cheap ones stay basically empty. So you pay a fraction of what they pay and you have the wagon basically to yourself. This way, you can move around from seat to seat according to the changing scenery.
Return Trip
Of course, you can also take the train to go back to Curitiba. It leaves at 3 p. m.
But it's far cheaper – about 25 R$ and much faster to go back by bus.
Since in Curitiba the bus station is next to the train station, I'd recommend you buy your return ticket right after you got your train ticket. This way you are all set and don't have to worry that the bus back from Morretes might be full.
If you have the time, just go to the station one or two days before and arrange everything ahead – especially during the high season and the Brazilian school holidays.
Train Curitiba – Morretes:
Serra Verde Express
Trem Curitiba – Paranaguá
Av. Presidente Affonso Camargo 330
Curitiba
Phone: + 55 – 41 – 38 88 34 88
Email: contato@serraverdeexpress.com.br
Bus Morretes – Curitiba:
Viação Graciosa
Av. Presidente Affonso Camargo
Phone: + 55 – 41 – 32 23 08 73 and – 32 13 55 11
Email: atendimento@viacaograciosa.com.br
Where to Stay
I stayed at the San Juan Royal* – which was very good, however, by far not as majestic as the name predicts. It's rather a business hotel, yet the rates are pretty amazing for what you get. Actually, I opted for this house for its location. From there, I was able to walk to the city center as well as to the Civic Center area.
Still, if you want to check out further lodging options in Curitiba, here is a map*:
What to See
I'm an avid solo-travelling woman. Since solo-travel doesn't equal solitude, I love to join organized tours here and there. They allow me to meet fellow travellers – for just a short moment or a lifelong friendship.
Therefore, here are some great ideas of what to do during your stay in Curitiba. Especially if you travel solo, they'll enable you to see many great sites in a comfortable and safe way*:
Cash And Cards
The currency in Brazil is the Real (plural Reais) and the rate is 1 US$ = 5,44 R$ (May 2021). For further conversion check this page.
Of course, there is cash and there are cards. Because of the relatively high crime rate such as pickpocketting, Brazilians tend to pay even tiny amounts with debit cards. Even street vendors and hawkers are accepting them when someone just buys a newspaper and a chewing gum.
Although there are notably many ATMs all over the place, not all of them work with international credit cards. But don't panic, there are so many different banks – sooner or later, you'll figure out which one works with your card.
Yet, you might encounter another small problem. There simply might be not enough cash in that stupid thing.
Yes, waiting is frustrating when you have to find out that the person before you got the last bills.
Also, some ATMs are limited to certain rather low amounts which is annoying since no matter how much you get, you always pay the same fee.
Language
Since Brazil used to be a Portuguese colony, people speak Portuguese. As Curitiba is not very touristy at all and Morretes caters rather to national tourists, few people speak decent English.
Also, don't rely on your knowledge of Spanish or Italian. Although I personally find that one could easily scrape through with these languages, most local people don't seem to hear any similarity whatsoever.
This being said, it's a nice gesture to learn at least some basic words and expressions anyway. You can do so right online with babbel.com.
For two weeks, I actually took language lessons in Rio de Janeiro, which was a great experience and enriched my stay in many ways. To learn more about this option, please go to my post Language Learning in Brazil.
Connection and Communication
Brazil is one of the very few countries where I got a national SIM-card. To be honest for the sole reason that I had accidentally blocked mine and wasn't able to use my phone at all. I got a pre-paid card from Claro and was very happy with their service.
This being said, I actually prefer to use free WiFi. Actually, there was connection to the internet without any issue at basically every museum, eatery or café and, of course, hotel. Worked like a charm.
At the end of my trip to Brazil, I had three or four different adapters. Although there is an official type N socket and plug, you'll find also type C plugs. Also, there were type A sockets like in the US – howsoever, it was a wild mix, but in the end, everything turned out fine.
Also, the voltage is either 127 or 220 V and the frequency 60 Hz. Thank God, nowadays, all these chargers for phones and readers and computers have integrated adapters. Therefore, voltage and frequency don't really matter.
By the way, you'll find this kind of practical travel info in my post World's Most Complete Travel Information – an indispensable globetrotter-classic.
Map of Curitiba
Curitiba and Morretes were only two stops of my exciting visit to Brazil's South. Go to the main post to check out all the other destinations. There you'll also find valuable general information that will make your trip smoother.
Pinnable Pictures
If you choose to pin this post, please use one of these pictures: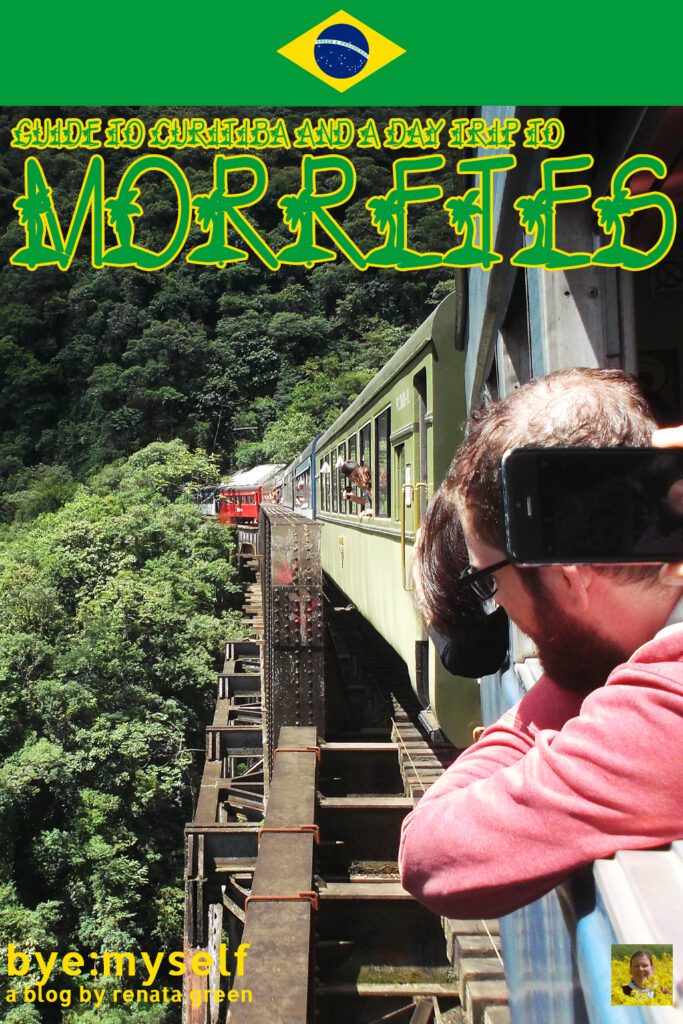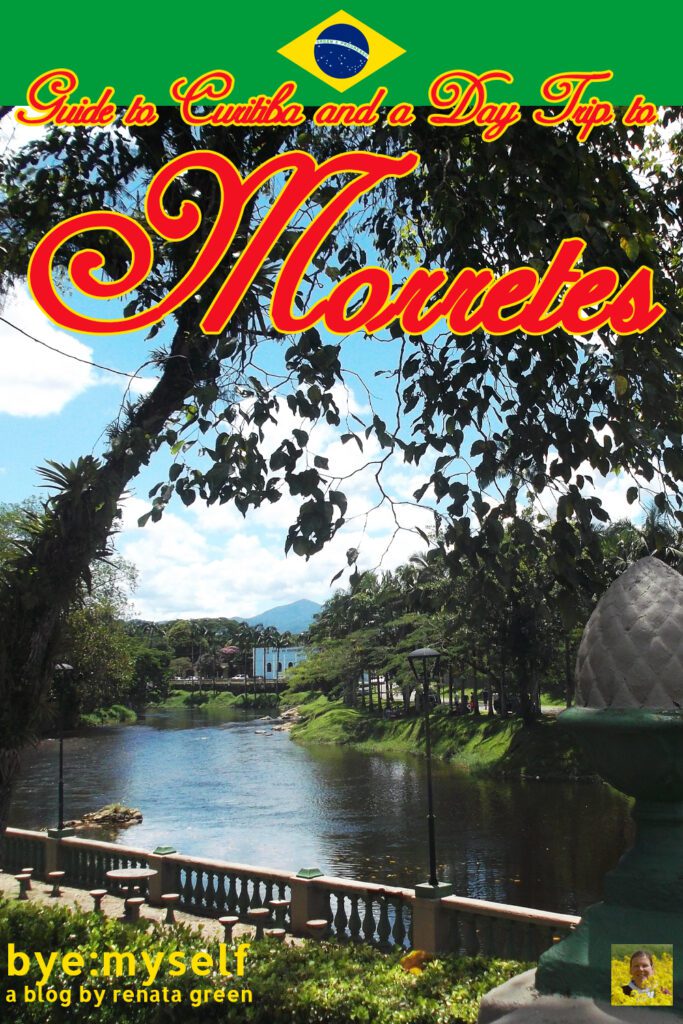 Did You Enjoy This Post? Then You Might Like Also These:
* This is an affiliate link. If you book through this page, not only do you get the best deal. I also get a small commission that helps me run this blog. Thank you so much for supporting me!