My category 24 hours in… is designed to transform a stay like a layover into a short extra vacation. You'll see that my itineraries are so attractive and fun that you might postpone your connecting flight just to enjoy the full 24 hours in Amsterdam.
If you have more time to spare in the city, good for you! In my comprehensive post Four Days in Amsterdam, you'll find tons of places and activities to choose from – the must-sees as well as some hidden gems.
Welcome to Amsterdam
Amsterdam has over 850,000 inhabitants and is the Netherlands' most populated city and the country's capital. However, the parliament and the government are located at The Hague. The former water transportation ways, the Grachten, together with the narrow row houses give this modern metropolis a romantic village charm. Also, many serene parks and some world-famous museums make Amsterdam worth visiting at any time.
With over 50 million passengers, Amsterdam's Schiphol Airport is the fourth-busiest airport in Europe. Even worldwide, it ranks very high. Honestly, I even cannot count anymore how many connections I had at Schiphol in my life. However, the center's proximity to the airport allows a short visit on a day trip or for a couple of hours during a layover.
Local Currency
€uro / 1 €UR = 1.10 US$ as of June 2023 / current rate
Emergency Contacts
Police, Fire Department, Ambulance 112
National Airline
Airport
Schiphol Amsterdam Airport / IATA-Code: AMS
Tourist Info Online and Onsite
I Amsterdam Visitor Centre
Amsterdam Airport Schiphol
Arrivals 2/Aankomsthal 2
1118 AX Schipol
I Amsterdam Visitor Centre
Amsterdam Centraal Train Station
De Ruijterkade 28
1012 AA Amsterdam
Going Downtown and Back
To go to the city center by train, tram, or bus is fast and relatively cheap. A train ticket costs €5.90 including a €1 surcharge for a disposable ticket.
You can also go to Amsterdam Zuid for €4.30 from where you then continue by Metro for an additional €3.40. The Amsterdam Airport Express Bus #397 costs €6.50, however, you can purchase an open return ticket for € 11.75. For € 3.40, the cheapest yet a bit longer option is taking bus #369 to Amsterdam Sloterdijk. Note that neither of the buses goes straight to Amsterdam Centraal!
However, for your safety, here you can pre-book a reliable and reasonably priced airport shuttle.
Once you're at the Amsterdam Centraal Station, you can leave your big luggage in a locker.
Deals And Discounts
Although the train from and to the airport is not included in the I Amsterdam City Card*, I highly recommend getting this travel pass as you set foot on Dutch soil at least if you follow the rainy day itinerary and intend to visit some of Amsterdam's world-famous museums. The best way is to order it online before you go.
For € 60 for one day up to € 125 for five days, you can choose between five cards. As a matter of fact, apart from the Van Gogh Museum, all the attractions listed in the rainy-day version are included. However, for the sunny day version, you could use it only for the canal tour and public transport.
Morning Activities
Undoubtedly, you have to explore Amsterdam from the water on one of the numberless Grachten trips. The waterways called Grachten were excavated to carry goods from the harbor into town.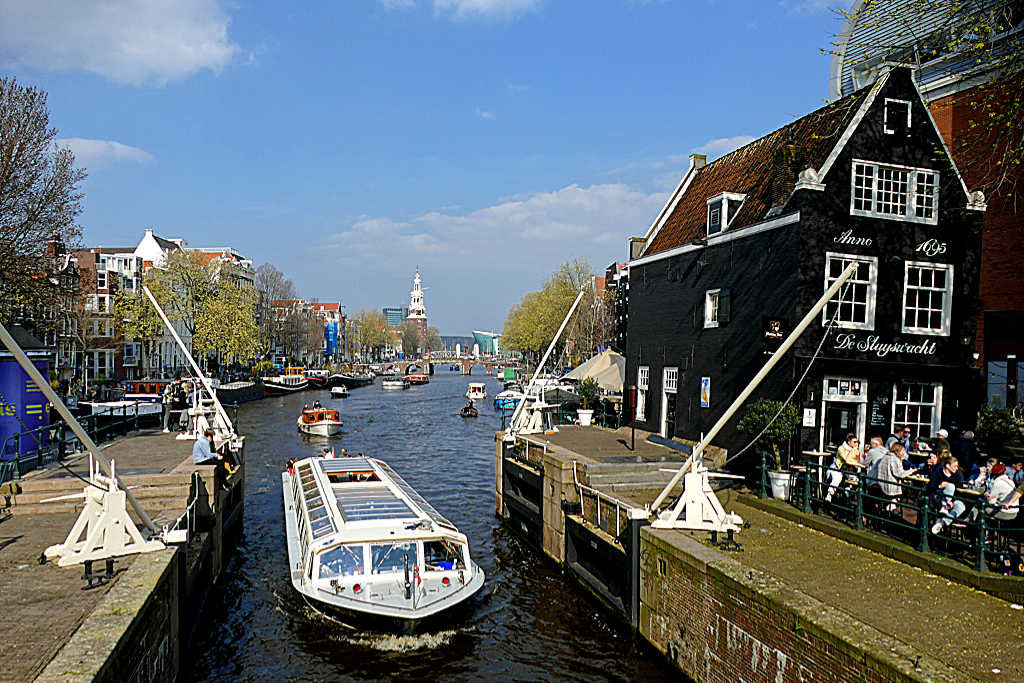 Hence, they used to be Amsterdam's vital lines. However, the waters were not always hygienic. Consequently, the Dutch preferred drinking beer over water. By the way, this is only one of the fun facts I've learned on a Grachten cruise.
Nowadays there are mainly tourists carried on these canals, but still, people live in houseboats in some spots.

Usually, the boats operate between 9 a. m. and the evening and a standard trip of one hour costs 16 €uros. Of course, a cruise on the Grachten is included in the I Amsterdam City Card*.
At the end of your cruise, as you get off at the jetty of the Damrak, I'd argue you don't need a strict itinerary: Just strolling alongside the banks of Amsterdam's canals is the best city tour you can get.
Mind you, there are 1,300 bridges over 165 canals remaining from the city's gilded age.
However, for lunch, make sure to venture toward Amsterdam's Chinatown. The main street Zeedijk is lined with tons of quirky shops and Asian eateries. I'd recommend the Thaise Snackbar Bird on Zeedijk 77 or the Maleis Restaurant Wau on Zeedijk 35 – just two suggestions.
Morning Activities
Rain in Amsterdam? No problem since this gives you enough time to explore the rich cultural past of the Netherlands.
For instance, the Rijksmuseum, the imperial museum that hosts more than 8,000 works. The most famous one is definitely Rembrandt's Night Watch, but make sure to not miss out on the traditional painted china and the dollhouses. Those were by no means toys, but the bored, wealthy ladies' leisure pursuit.
The museum is located in the Museumsplein and opens every day from 9 a. m. to 5 p. m. The general entrance fee is 22.50 €uros, but it is included in certain museum passes like the I Amsterdam City Card*. However, early booking of a time slot is highly recommended. During the high tourist season, it's sold out days in advance!
My Tip
If the museum should be sold out or if you prefer to pay another museum a more extended visit, there is a valid yet quick alternative to enjoy some of the Rijksmuseum's works: Since 2002, there has been a small branch of the museum at Schiphol Airport. Passengers who have passed passport control get to see a small changing exhibition – free of charge! Actually, Schiphol is the first airport with such an amazing cultural offer.
Lucky you: Since Amsterdam's most important museums are located around the Museumsplein, you don't need to walk for long in the rain to get from one to another.
A must-see is certainly the Vincent Van Gogh Museum. The collection consists of 200 paintings by the ingenious impressionist as well as art by Van Gogh's contemporaries such as Caillebotte, Courbet, Gaugin, Millet – do you really want me to list them all?!
The museum opens every day from 9 a. m. to 6 p. m. The general entrance fee is 20 €uros. Although you get a discount with certain cultural passes, it is not included in the I Amsterdam City Card*. As it is one of the most visited art museums in the world, very early booking of a time slot is absolutely indispensable – especially during the high tourist season.
If you are rather into modern and contemporary art, the Museumsplein is still a great place for you: Next to the Van Gogh Museum is the Stedelijk Museum which represents all significant styles and movements in modern art.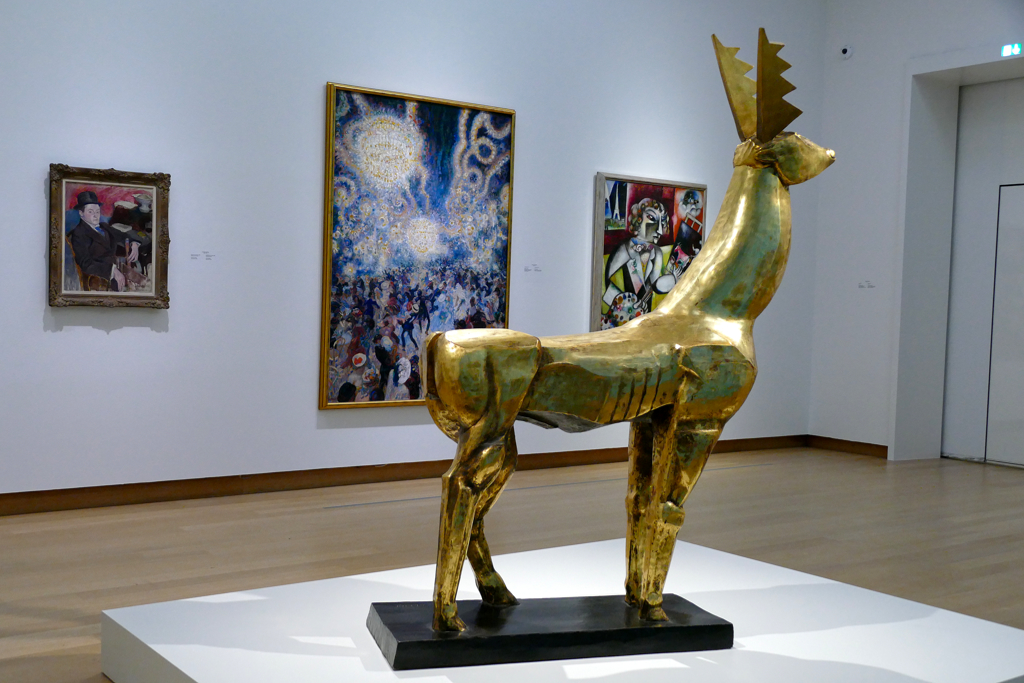 Apart from the classic modern artists like Marc Chagall, Claude Monet, Pablo Picasso, and Auguste Renoir – to name just a few – there are the German Expressionists, there is the Italian Arte Povera as well as Pop Art from the US. Obviously, you also get to see many works from the national De Stijl and CoBrA movements. Also, the Stedelijk hosts great temporary shows.
The Stedelijk opens every day from 10 a. m. to 6 p. m. The general entrance fee is 22.50 €uros, but it is included in certain museum passes such as the I Amsterdam City Card*. Nonetheless, booking a time slot is recommendable, especially during the high season.
Just a stone's throw away is the newest kid art museum in town. At the MOCO, you can enjoy works by Banksy, JR, Keith Haring, Jeff Koons, Damien Hirst, Yayoi Kusama, and Andy Warhol, to name just a few of the famous contemporary artists on show. Highly inspiring is also their collection of NFTs.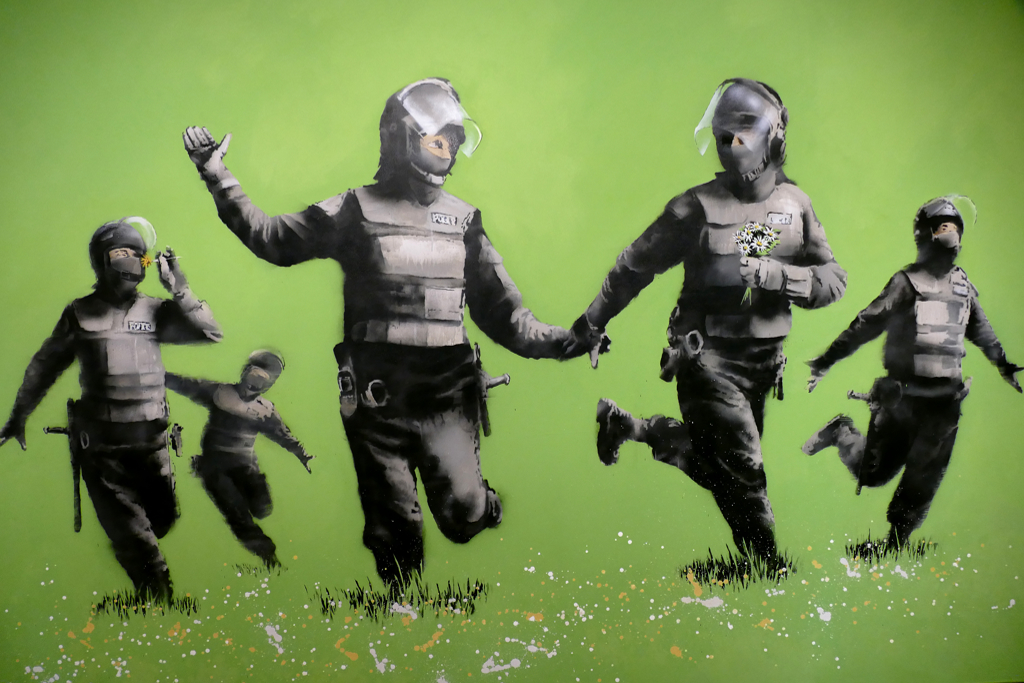 In addition, they have a great sculpture garden that you can visit for free even if you don't want to come in.
Either way, the MOCO is open every day from 9 a. m. to 9 p. m. The general entrance fee is 21.95 €uros. With certain museum passes like the I Amsterdam City Card*, you can visit the house for free. Nonetheless, booking a time slot is highly recommended.
Lunch
While I'm recommending going for lunch to one of the many Asian restaurants in Chinatown on a sunny day, when it rains, one of the brasseries around the Rijksmuseum will be just perfect. You might even opt for the museum's bistro RIJKS. It's an upscale restaurant serving local dishes prepared with regional ingredients.
Afternoon Activities
You might want to start the afternoon with a great panoramic view of Amsterdam from above. One of the best places to do so is the roof terrace of the NEMO Science Museum.
To get there from Chinatown, cross the Waalseilandsgracht to the Prinshendrikkade. Now you can just stroll around the Oosterdok all the way to the venue.
Although the NEMO Science Museum is a fantastic place where you learn a lot about scientific phenomena in an entertaining way, I'd argue it's rather an activity for a rainy day.
However, the building has a spacious rooftop terrace from which you have amazing panoramic views of the city and the waters around it. You can also enjoy a refreshment at the adjacent museum café which is accessible even if you don't have a ticket.
From the NEMO, you can cross the Mr. J.J. van der Veldebrug bridge and walk alongside the northern bank of the Oosterdok all the way to the Centraal train station.
Cross the station to the jetty on the IJ side. From here, ferries are crossing the IJ, and you can hop on free of charge!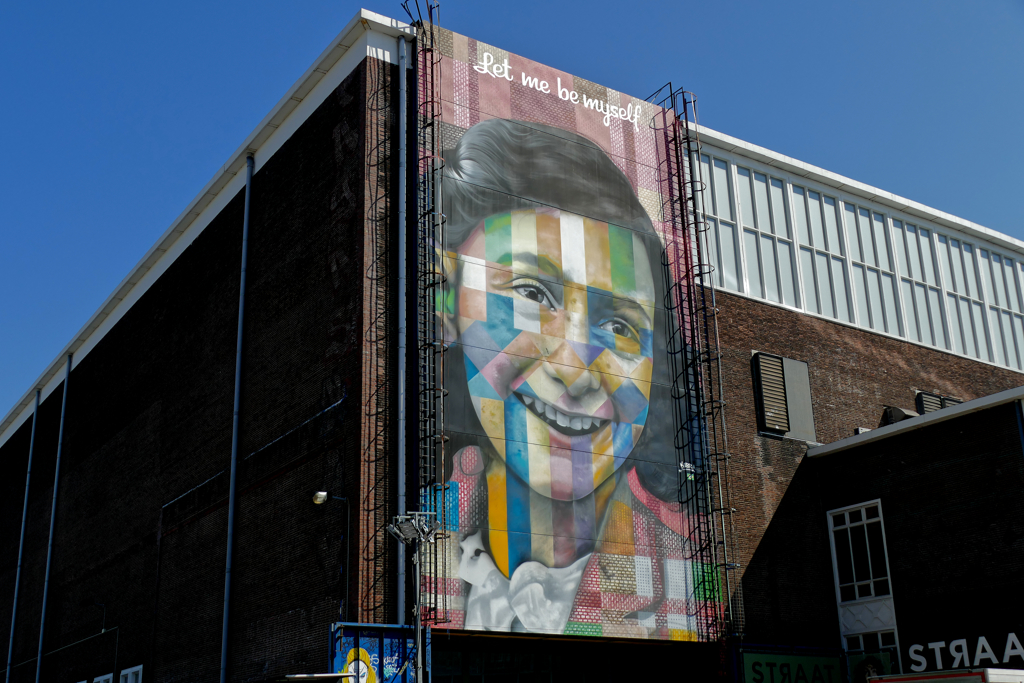 To get to see Amsterdam's cool'n'artsy side, ferry #4 takes you to the NDSM wharf in less than 30 minutes. The NDSM wharf is a former shipyard that has developed into a massive cultural area. The most popular venue is the STRAAT Street Art Museum. But you don't have to visit the gallery to admire some beautiful urban art as many artists have left their mark on the outer walls. I'd recommend just exploring the post-industrial surroundings at your own pace before you enjoy a drink at one of the many cafés and bars.
The ferries between Centraal and the NDSM wharf are going every 15 minutes, hence, don't worry and take your time.
Afternoon Activities
Amsterdam has more than 60 museums and while the ones you visited in the morning are among the world's most famous galleries, there are some beautiful – and quirky – hidden gems to explore.
One of them is certainly the Willet Holthuysen Museum. Mayor Jacob Hop commissioned the building in 1685. At the turn of the 19th century, it was purchased by glass merchant and coal magnate Pieter Gerard Holthuysen.
Today, three floors of the building are open to the public: The souterrain with the kitchen and the garden, the so-called bel-étage, and the top floor. Apart from the furniture, the house also houses the couple's rich art collection. You can see the previous owners in portraits decorating the so-called blue room.
The house is located on Herengracht 605 and opens every day from 10 a. m. to 5 p. m. The general entrance fee is 12.50 €uros. With certain museum passes like the I Amsterdam City Card*, you can visit the house for free.
Just a five-minute walk apart is another stately townhouse on the other bank of the Keizersgracht. The fine Van Loon mansion was built in 1602 by Willem van Loon who co-founded the Dutch East-India Company, a company that acquired ports in Asia and safeguarded its hegemony by seizing adjacent territories. It gained its wealth and power through enslaved laborers.
The house is a great example of how the upper class lived in the 17th century. It is fully furnished and decorated with antique sculptures and paintings, many of which are portraits. A special gem is the manicured garden.
The Van Loon House is located on Keizersgracht 672. It opens every day from 10 a. m. to 5 p. m. The general entrance fee is 13.50 €uros. With certain museum passes like the I Amsterdam City Card*, you can visit the house for free.
Dinner
A stone's throw from the Grand Hotel Amrâth Amsterdam* is the Hemelse Modder. While it's not exactly cheap, it's a treat you should not miss out on. In a chic minimalist setting, you'll be served local food made from regional ingredients of the highest quality. Since this gem is popular and tends to be booked out, I'd recommend making reservations as soon as your plans for Amsterdam are fixed.
Nightcap
There are tons of cool bars in Amsterdam. But if you're up for a drink with a view, nothing beats the tower bar at the A'DAM Toren. Although you need to cross the IJ river to get to its northern bank, it's definitely worth the little hassle. Also, it's a really short ride, and the ferry is free.
Accommodation
Hotels in Amsterdam are ridiculously expensive, indeed. In general, you have to do a lot of research and book well in advance to get a halfway acceptable price. Nonetheless, Grand Hotel Amrâth Amsterdam* is just across from the Centraal Station and close to many points of interest. Also, it has an excellent price-value ratio.
However, on the map below, you can choose suitable lodging options in Amsterdam according to the location – and your budget, obviously*:
Map – Sunny Day Itinerary
Map – Rainy Day Itinerary
Pinnable Pictures
If you choose to pin this post for later, please use one of these pictures: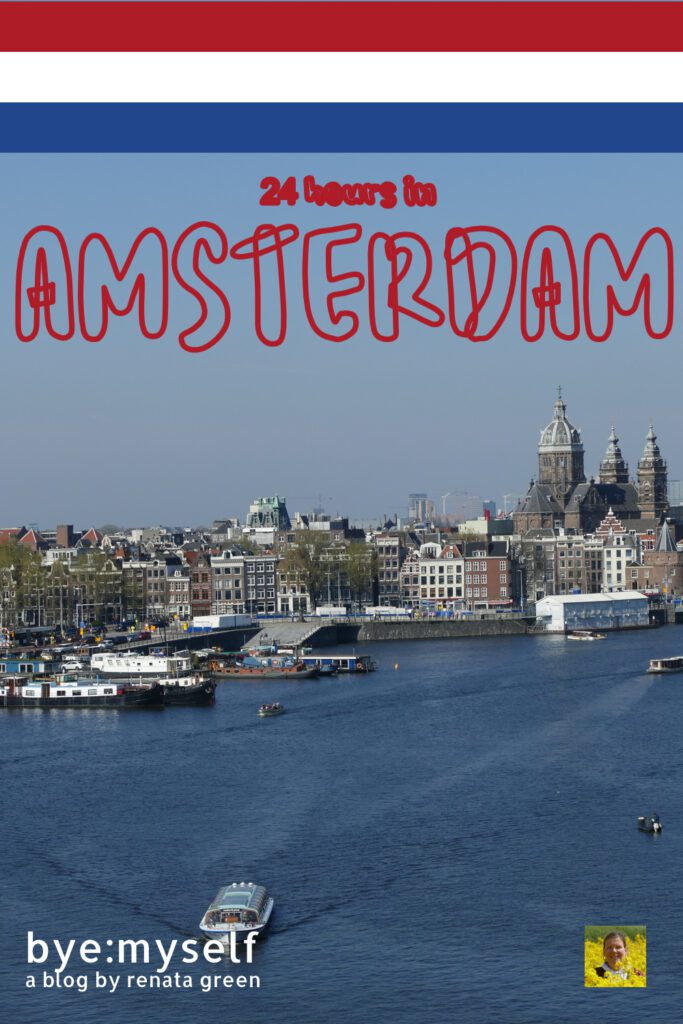 Note: I'm completing, editing, and updating this post regularly – last in July 2023.
Did You Enjoy This Post? Then You Might Like Also These:
I am very appreciative that amsterdam&partners International Press Office supplied me with a complimentary 72 hours I Amsterdam City Card and a 48 hours Amsterdam Regional Travel Ticket. Nevertheless, the description of these activities and all opinions on their services are mine and were in no way influenced by my cooperation partners.

* This is an affiliate link. Hence, If you book through this page, not only do you get the best deal. I also get a small commission that helps me run this blog. Thank you so much for supporting me!
Icons: money bag by Roundicons from www.flaticon.com, police car, train, sun, glass, and bed by Freepik from www.flaticon.com, takeoff plane and board made by ultimatearm from www.flaticon.com, info made by Roundicons from www.flaticon.com, umbrella made by Kiranshastry from www.flaticon.com, food plate by Vectors Market from www.flaticon.com