My category 24 hours in… is, obviously, designated to transform a stay like a layover into a short extra vacation. You'll see that my itineraries are so attractive and fun that you might postpone your connecting flight just to enjoy 24 hours in Amsterdam.
And if you're not on a layover at the capital of the Netherlands – well, you also can always come to visit on purpose. Preferably for longer than just 24 hours.
Amsterdam has over 850,000 inhabitants and is therefore Netherlands' most populated city and according to the constitution the capital.
Its Airport Schiphol is one of Europe's busiest aviation hubs.
However, the parliament and the government are situated at The Hague.

Mainly the former water transportation ways, the Grachten, together with the narrow row houses give this modern metropolis a romantic village charm.
Also, a couple of parks and world-famous museums make it worth visiting at any time.

The center's proximity to the international airport allows a short visit on a day trip or for a couple of hours during a layover.
Local Currency
Euro (EUR) / 1 EUR = 1 US$ as of November 2022 / current rate
Emergency Contacts
Police, Fire Department, Ambulance 112
National Airline
Airports
Schiphol Amsterdam Airport / IATA-Code: AMS
Tourist Info Online and Onsite
I Amsterdam Visitor Centre
Amsterdam Airport Schiphol
Arrivals 2/Aankomsthal 2
1118 AX Schipol
Getting Downtown and Back
The easiest and cheapest way to get from Schiphol airport to Amsterdam Centraal, the main station, is by train, obviously. It takes you downtown for € 5,50. Trains are going very often and take you downtown in less than 20 minutes. Once there, you can keep your big luggage at the lockers.

The easiest way to get back from the Jupiter Hotel* to the main station is to walk to the streetcar stop Elandsgracht. From there, you reach Amsterdam Centraal by car No. 17. For details, check this schedule and the maps below.

Although the train from and to the airport is not included in the I Amsterdam City Card, I highly recommend you buy one as soon as you set foot on Dutch soil if you follow the rainy day itinerary – or you order it online before you go.
For € 65 for one day up to € 130 for five days, you can choose between five cards. As a matter of fact, all the attractions listed in the rainy-day version are included. However, for the sunny day-version, you could use it only for the canal tour and public transport, so that it probably doesn't pay.
Morning Activities
Undoubtedly, you have to explore Amsterdam from the water on one of the numberless Grachten trips. The Grachten are excavated waterways to carry the goods from the harbor into town.
Hence, they used to be Amsterdam's vital lines. Obviously, using those waters was not always hygienic. Consequently, the Dutch preferred drinking beer over water. By the way, one of the fun facts I've learned on a Grachten cruise.
Nowadays there are mainly tourists carried on these canals, but still, people do live in houseboats at some spots.

Of course, a cruise on the Grachten is included in the I Amsterdam City Card. Albeit, normally it costs around € 15.
The park is not just a meadow, it's like an open-air culture center, especially during the Summer months when the Openluchttheater, the open-air theater, is taking place, a free spectacle for everyone.
Morning Activities
Rain in Amsterdam? No problem since this way you'll have enough time to explore the rich cultural past of the Netherlands.
For instance the freshly renovated 'Rijksmuseum', the imperial museum which hosts more than 8,000 works. The most famous will be Rembrandt's 'Night Watch', but not to be missed are the dollhouses that were by no means toys, but the bored, wealthy ladies' leisure pursuit.
Rijksmuseum
Museumstraat 1
1071 XX Amsterdam
Phone: + 31 – 20 – 647 70 00

Open daily from 9 a.m. to 5 p.m.
Lucky you, three of Amsterdam's most important museums are located just a stone's throw from each other.
A must is the Vincent Van Gogh museum, owning 200 paintings of this ingenious impressionist as well as art by Van Gogh's contemporaries such as Caillebotte, Courbet, Gaugin, Millet, Pissaro, Seurat, Signac – do you really want to read the whole list?!
Van Gogh Museum
Museumplein 6
1071 DJ Amsterdam
Phone: + 31 – 20 – 570 52 00
Email: info@vangoghmuseum.nl
Open daily from 9 a.m. to 6 p.m. (Fridays till 10 p.m.)


But maybe you prefer to skip one of the above-mentioned mandatory venues in favor of some wild, contemporary art? No problem, almost next door is the world-renowned Stedelijk Museum at Museumplein 10 waiting for your visit every day from 10 a.m. till 6 p.m. (Fridays till 10 p.m.)

Stedelijk Museum
Museumplein 10
1071 DJ Amsterdam
Phone: + 31 – 20 – 573 29 11
Email: info@stedelijk.nl
Lunch
Just around the corner from all those world-famous museums is the posh Brasserie Keyzer.
Here, you can sample some of the most iconic Dutch snacks and lunch staples in a beautiful setting.
Brasserie Keyzer
Van Baerlestraat 96
1071 Amsterdam

Open daily from 10 a.m. to 1 a. m., Fridays and Saturdays until 3 p. m.
Afternoon Activities
After lunch, some more walking is indicated. Yet, to Amsterdam's probably best market, the Albert Cuypmarkt, it's only about 15 minutes.
It has been there for over a hundred years, and at the 260 stalls – which makes the Cuyp Europe's largest day market – the craziest in accessories and fashion is offered next to fresh fruits and firm vegetables and of course a wide variety of Dutch cheese.
Albeit, the perfect place to take a rest and maybe sample some of the produce bought at the market is the idyllic Sarphatipark just one block South. It's by far not as spacious as the Vondelpark, but the lush meadows around the statue honoring Samuel Serphati, who in the mid-1800 had the idea to add a park to a then-new housing project, are just as comfortable to relax on.
Afternoon Activities
Willet Holthuysen Museum
There are by far not only the big, famous museums worth a visit.
At the Eastern part of the Grachtengordel are a couple of ancient, originally furnished townhouses where you get a close look at how the wealthy merchants and their families used to live during the Dutch gilded age (of course often from their colonies).
Also, there is the Willet Holthuysen Museum, a magnificent double-fronted townhouse, built in 1687.
Unquestionably it was always a home to very wealthy families, the last one Abraham Willet and Louisa Holthuysen, who after her husband had died, donated the house including all furniture and decoration to the city of Amsterdam, modestly demanding to name the museum after the couple's names.

Museum Willet-Holthuysen
Herengracht 605
1017 CE Amsterdam

Open Monday to Friday from 10 a.m. to 5 p.m., Weekends and Holidays from 11 a.m. to 5 p.m. (except Dec 25, Jan 1, and April 27).
Tassenmuseum Hendrikje
About one block West on the Herengracht used to be the, undoubtedly, unbeknownst "Tassenmuseum Hendrikje", a venue housing an incredible number of handbags from the first beaded pouch to nowadays clutch.
In 2020, this little gem fell victim to the Covid 19 crisis.
Museum Van Loon
Now you have to cross two canals down South to get to the other bank of the Keizersgracht where another ancient townhouse is to be admired, namely the Van Loon Museum. This fine mansion was built in 1602 by Willem van Loon. He co-founded the Dutch East-India Company. Hence, we all know how and by which means all these good people who did business in the former colonies got rich.
However, today, the van Loon family allows visitors to admire their wealth on a daily basis.
Make sure to stroll also through the exquisite garden in the back.

Museum Van Loon
Keizersgracht 672
1017 ET Amsterdam
Phone: + 31 – 20 – 624 52 55

Open daily from 10 a.m. to 5 p.m. (except Dec 25, Jan 1, and April 27).
Finally, at the end of your day, don't miss the wooden Amstelkerk from 1670, located on the Kerk Straat just one block South of the Van Loon Museum.
Dinner
A stone's throw from the Jupiter Hotel* is the Bar DK Amsterdam, popular also with the local crowd for good food and a pleasant atmosphere. It's located at Tweede Helmersstraat 26.
Nightcap
Actually, at The Waterhole, you'll get much more than just a nightcap. Therefore, better make sure you're connecting flight is not too early in the morning. Also, they have a generous happy hour and live music every night. And later, it's only ten minute walk to the Jupiter Hotel*.

The Waterhole
Korte Leidsedwarsstaat 49
1017 PW Amsterdam
Phone: + 31 – 20 – 620 89 04
Email: info@waterhole.nl

They are daily – weekdays from noon till 3 a.m., Friday and Saturday from noon till 4 a.m.
Accommodation
Hotels in Amsterdam are ridiculously expensive. indeed. In general, you have to do a lot of research and book well in advance to get a halfway acceptable price. Nonetheless, The Jupiter Hotel* is close to many points of interest and recommendable if you don't expect 'luxury'.
Map – sunny day itinerary
Map – rainy day itinerary
Pinnable Pictures
If you choose to pin this post for later, please use one of these pictures: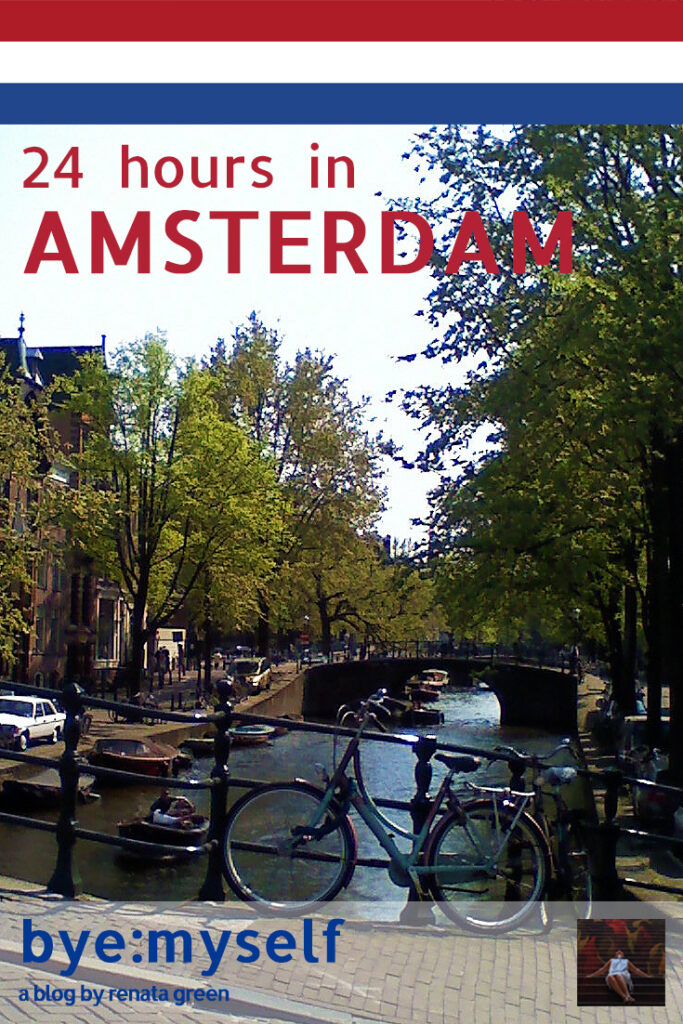 Note: I'm completing, editing, and updating this post regularly – last in November 2022.
Did You Enjoy This Post? Then You Might Like Also These:
* This is an affiliate link. If you book through this page, not only do you get the best deal, I also get a small commission that helps me run this blog. Thank you so much for supporting me!
Icons: money bag by Roundicons from www.flaticon.com, police car, train, sun, glass, and bed by Freepik from www.flaticon.com, takeoff plane and board made by ultimatearm from www.flaticon.com, info made by Roundicons from www.flaticon.com, umbrella made by Kiranshastry from www.flaticon.com, food plate by Vectors Market from www.flaticon.com