Way back in Tenerife's early years of tourism, the former fishing village Puerto de la Cruz was apparently destined to become this major mass tourism resort. Sadly, in some spots, merciless planners succeeded so that the town has to endure some of those horrific soulless high-rising prefab buildings. But as mass tourism finally moved mostly to the south coast, Puerto de la Cruz got somehow stuck between its old charm and the ugly remains from the second half of the 20th century. It remained in a peculiar limbo between idyllic beaches and striking urban art. There is the old and the new, the borrowed and the blue – all in all, Puerto de la Cruz is a place of many contrasts which makes it the perfect base on Tenerife's northern coast.
Memories
As I explained already in the general post on Tenerife, I was hesitant to visit the island because it was inseparably tied to my childhood memories as we spent Christmas here when I was about eight. I don't quite like to go back down memory lane of my childhood. Hence, I was particularly hesitant to make Puerto de la Cruz the base of my stay since this is where we spent our vacation as a family back in the day. Nevertheless, in my post on my early travels, I'm telling the crazy story of a mindless purchase – so if you haven't read it yet, you might wanna check it out.
However, after checking out lodging options in Santa Cruz and in La Laguna, Puerto de la Cruz turned out to be definitely the perfect location for what I was planning to do and to see.
As you probably know by now, I'm not driving, hence a centrally located place with tons of public buses passing through was just too convenient to pass on.
So, Puerto de la Cruz, thy will be done.
It's In The Mix
If you've followed my blog for a while, you know that I'm not the leisurely cocktail-sipping next-to-the-pool type of traveller. I do like to squeeze in a day or two on a beach. However, I mainly get my travel kicks out of meeting the people, getting to know the country, its traditions, and quirks. Therefore, a good-sized, centrally located town like Puerto de la Cruz turned out to be perfect for me.
I stayed at a hotel about halfway between the center and the Taoro Park. Both were within walking distance, however, there also was a bus service in case I got too tired to walk uphill.
But no matter which neighborhood you choose, Puerto de la Crux has the perfect mix.
Puerto de la Cruz
Puerto de la Cruz developed from a fishing village to the largest tourist center on Tenerife's north coast. In contrast to the rather dry south coast, up here, a warm and most importantly humid climate prevails. This ensures particularly rich and varied vegetation.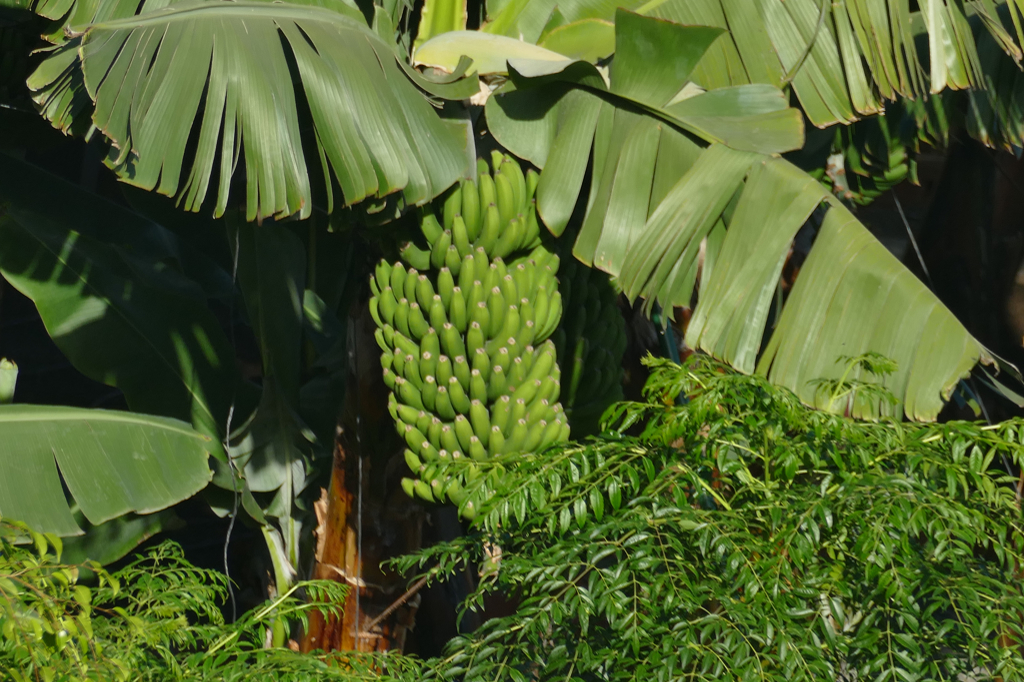 Therefore, Puerto de la Cruz is surrounded by vast banana plantations and vineyards as well as other agricultural products.
Going Way Back
In ye olden days, the wealthy merchant towns of La Orotava or San Cristobal de La Laguna were built inland for strategic reasons. There they were protected from pirate attacks. However, there were no roads so supply over land was not possible.
Therefore, already in the 15th century, the lower end of the San Felipe gorge west of Puerto de la Cruz was a landing place for the goods coming into the then-wealthy town of La Orotava. The cargo that the ships brought in was rowed to the beach in boats and eventually transported up to La Orotava on wagons or mules. Then, the first agricultural export products like sugar went the opposite way. However, the landing site could no longer be used after a flood in 1590.
Eventually, Italian master builder Leonardo Torriani planned a castle at the mouth of the Barranco San Felipe which was then completed in 1655.
Tourists Take Over
Tourism slowly began in the 19th century. Hotels were often set up in former mansions. To this date, you can admire the Hotel Marquesa in the town's historic center just around the corner from the Iglesia de Nuestra Señora de la Peña de Francia. The Cólogan family opened this jewel back in 1883. It still is one of the most endearing hotels on the entire island. In 1893, the Taoro Grand Hotel was completed. The guests came mainly from England, seeking the Spanish sun and the healing effects of the perfect climate.
Mass tourism was promoted from the 1950s on. Sadly, this led to an atrocious building boom. Project-like buildings from that era are still ruining every panoramic view of Puerto de la Cruz.
Fortunately, the government didn't go all through the way as a return to traditional, more environment-friendly architecture took place eventually. It started with the Lago Martiánez east of Puerto de la Cruz and the Playa Jardín in the west. Both sites were designed by the famous Canarian architect César Manrique. You can see his wonderful, very consciously thought-out creations on many of the islands such as Fuerteventura and, obviously, his home Lanzarote.
Although tourism still has a high impact on the economic and cultural life of the city, the government of the Canary Islands declared downtown Puerto de la Cruz and some remote structures a Site of Cultural Interest. Obviously, all this conceptual back and forth lead to a quirky mix of stark contrasts.
Getting Around
Sadly, the most prominent buildings in Puerto de la Cruz are those horrific skyscrapers built in the soulless style of the 1970s. You notice them first since they are so high. Bus as you walk around town, turn corners into narrow streets and stay as close to the water as possible, you'll discover the Puerto de la Cruz the way it must have been before the tourists flocked in.
You'll walk through alleys lined with low, humble, at times a bit crooked houses. But you'll be pleased with how colorful they are painted. Behind some of them, on higher façades, you'll spot bold murals. You'll hear waves crashing and seagulls squeaking and you'll understand that Puerto de la Cruz came a long way.
Although the town was my base, I actually spent too little time in Puerto de la Cruz. Simply because I had too little time for Tenerife altogether. But I made sure to visit the most alluring spots – which you won't find necessarily in other city guides – and below, I'm introducing them to you.
So, come on, let's explore Puerto de la Cruz, a town full of contrasts.
Taoro Park
While the fishermen's town's fame started down there by the waters, Puerto de la Cruz's glory began above in the settlement in the vicinity of Taoro Park. In 1892, the Grand Hotel Taoro was opened up there. At that time, it was the largest hotel complex in all of Spain and was financed primarily with English funds. To give you an idea: Today's park used to be the hotel's garden.
During that era, the hotel welcomed Europe's rich and famous. Luxurious features like hot and cold water as well as electricity were standard. In 1929, however, the hotel burned to the ground. Although it was rebuilt, it never achieved the grandeur of its early days.
Today, you can visit the still well-kept park above Puerto de la Cruz's old town even if you are neither rich nor famous. You need to climb steps that divert from the Carretera Taoro. Obviously, you can also drive up the Carretera if you have a vehicle. Either way, after a walk in the park, you should definitely pay the eatery Terraza Taoro a visit. While enjoying a refreshing drink or a nice meal, you'll relish the grand view of Puerto de la Cruz and its surroundings. Terraza Taoro is open every day from 10 a. m. to 10 p. m.
Plaza del Charco
While the wealthy visitors from foreign met uphill, locals gathered around the Plaza del Charco in the heart of the old Puerto de la Cruz.
The Plaza del Charco was already planned in 1610 by Jerónimo Mines – at that time it was still purely a landing place for the goods of the ships moored in the port.
Today, the square is lined with palm trees and old Indian laurel trees. In its center, an old fountain surrounds a truly unique plant. Just like the laurel trees, the Ñamera, also known as elephant ear, comes from India. The locals cherish the Ñamera so much that there are even poems about her.
For some people-watching along with refreshments, you can look for a seat at one of the many restaurants and cafés. Also, there are kiosks at the corners of the square selling newspapers and magazines, drinks and snacks, and toys and souvenirs.
The Plaza del Charco is obviously the main venue during the carnival.
Plaza de la Iglesia
From the Plaza del Charco, you can walk on the shopping street Calle Quintana towards the town's historic center. To your left, you'll pass the quaint little church Iglesia de San Francisco. It used to be the church of the Franciscan monastery. When the monastery building was destroyed by fire in 1967, the church suffered only minor damage. The municipality of Puerto de la Cruz had it then listed as a historical monument.
The historic center is dominated by the Plaza de la Iglesia in front of the Nuestra Señora de la Peña de Francia church. Actually, it is a lovely square where you can take a break on a bench below palm trees, enjoying the sight of lush flowers and a small swan fountain.
On the northern side of the square, you'll notice the charming Hotel Marquesa*, one of the first and to this date most enchanting lodging options on the island. In its glorious past, it offered accommodation for many famous people like German explorer and geographer Alexander von Humboldt and French composer Charles-Camille Saint-Saëns.
You'll spot more alluring houses from the city's glorious past on Calle Agustín de Betancourt towards the old harbor. For instance, there's the former home of Canarian painter Luis de la Cruz from the 18th century. Declared a painter of the King's Chamber by Fernando VII, some of his works can still be seen at the church.
The Port of the Puerto
As you get to the end of Calle Agustín de Betancourt, turn left and you'll find yourself at the old harbor. I assume that today's small fishing port won't impress you much. From here, small boats set sail to catch fish. Eventually, you can purchase it at a small counter right by the harbor.
Obviously, this is not the only place to buy some fresh catch in Puerto de la Cruz. As you turn into the picturesque Calle Las Lonjas, you'll find a couple of fishmongers housed in the old buildings next to the iconic Casa de la Aduana. The intriguing building complex also houses two interesting museums – just in case Tenerife's microclimate plays a trick on you. At the Museo de Arte Contemporáneo, you'll get to see a collection of Canarian art that art critic Eduardo Westerdahl put together from the 1950s on. However, there are also other cultural activities and events going on, including Spanish lessons. The cultural center is open from Monday to Saturday between 10 a. m. and 2 p. m. temporary exhibitions.
At the other end of the complex facing the Plaza de Europa is the Museo Del Pescador, a small venue informing on Puerto de la Cruz's maritime history and showcasing ship models. They open every day at 9 a. m. and close from Tuesday to Thursday at 4.30 p. m. and from Friday to Monday already at 2 p. m. The entrance is free.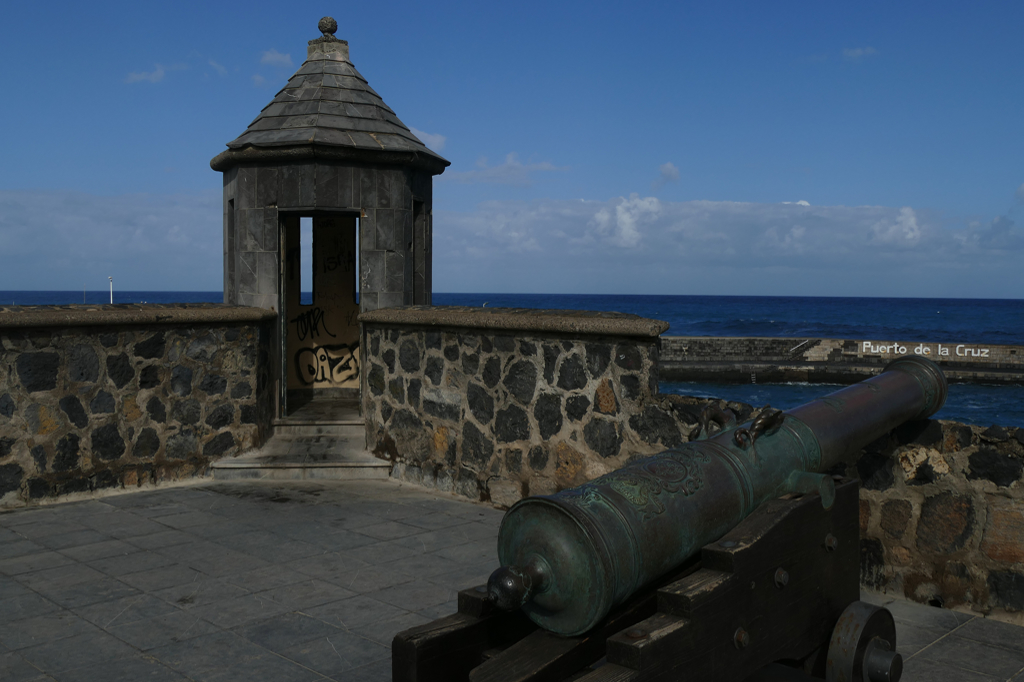 Right behind is the Batería de Santa Barbara, a defensive fortification that was built to defend the town from possible attacks by pirates.
The Promenade
As you walk east on the Calle Santo Domingo, you reach the spacious promenade of Puerto de la Cruz. It was completed in 1977 and since then modernized a couple of times. It leads alongside the powerful waters of the Atlantic and is lined with hotels, restaurants, and all kinds of shops.
Below the promenade is the beach of San Telmo where lava pools protect bathers against the crashing waves of the mighty Atlantic. Nevertheless, the pools are only open if the weather conditions allow swimming safely. You can see in my pictures what the water looks like when this is not the case.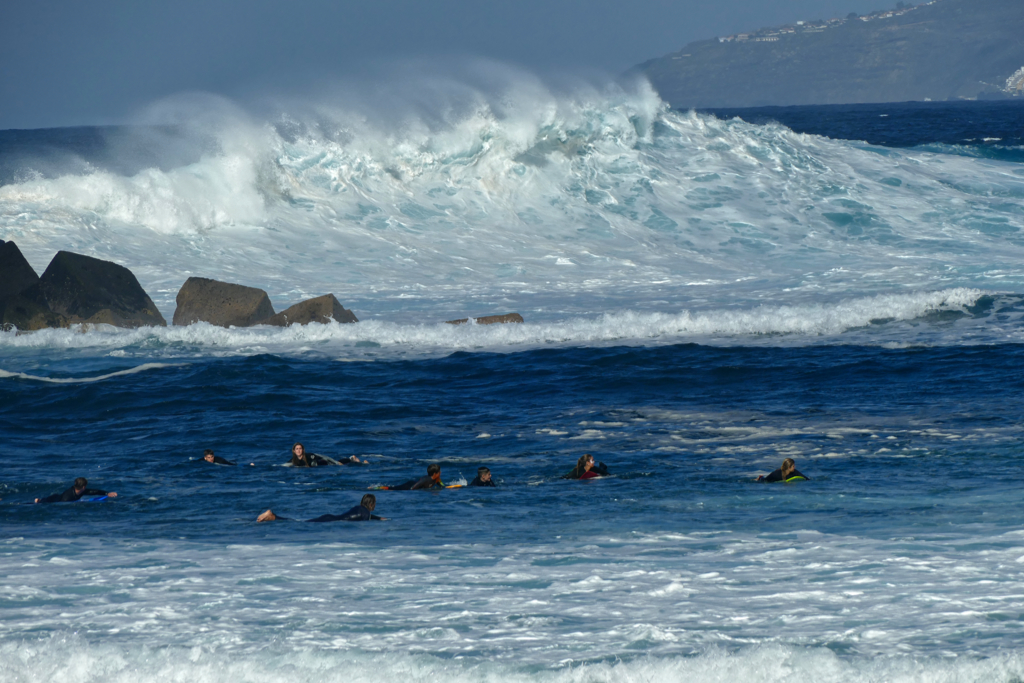 The area owes its name to the small Ermita de San Telmo which is located about halfway between the city center and the Lago Martiánez. It was built in 1608 and named after the Dominican Friar San Pedro de Telmo, the patron saint of seafarers.
In 1778, a fire destroyed the chapel and the adjacent monastery. Today's chapel was built in 1780 on the east side of the bay in the area of ​​the fortifications that were supposed to protect the bay from pirates. In 1968, the chapel was restored with the support of the German Catholic community of Puerto de la Cruz.
Beaches
I've already briefly introduced the beach San Telmo which consists mostly of those iconic lava pools that you find all over Tenerife but also on the northern coast of Gran Canaria. These so-called Charcones, which translates to puddles, are some of the most amazing peculiarities in the Canary Islands.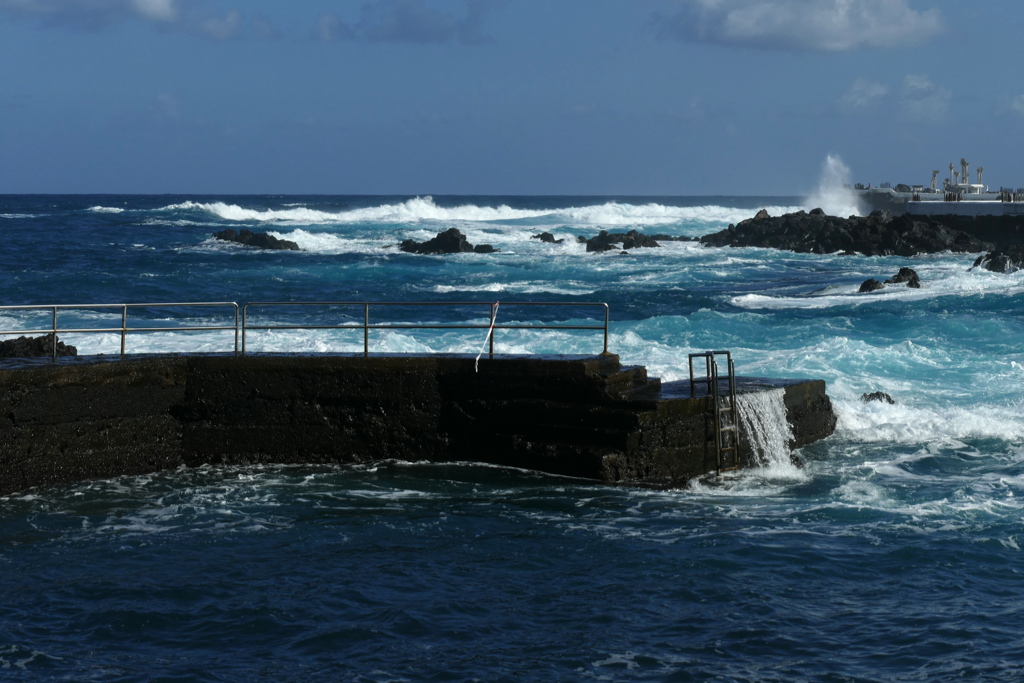 Thousands of years ago, volcanic lava set into a solid state and thusly, created pools. Those fill up with seawater so that you can swim in the Atlantic absolutely safely. Going for a swim at these unique swimming pools is a truly great experience. Nevertheless, if the waves get too high, those pools have to be closed to the public for safety reasons.
There are more Charcones around the tip of the Punta Brava peninsula west of the city center.
Lago Martiánez
Not far from the San Telmo beach, celebrated architect César Manrique, a native of the island of Lanzarote, tried to keep it rather natural as he designed the pool complex Lago Martiánez. It was opened in 1977. During that time, tourist resorts in the south of Tenerife were constructed so that tourism on the northern coast declined. Supposedly, Puerto de la Cruz needed a tourist magnet. And indeed, locals, as well as tourists, enjoy these facilities especially since bathing can get quite dangerous in the surf of Puerto de la Cruz. Lago Martiánez is the largest natural seawater pool complex in all of Europe. There is a total of seven different bathing areas of which three shallow pools are specially designed for kids.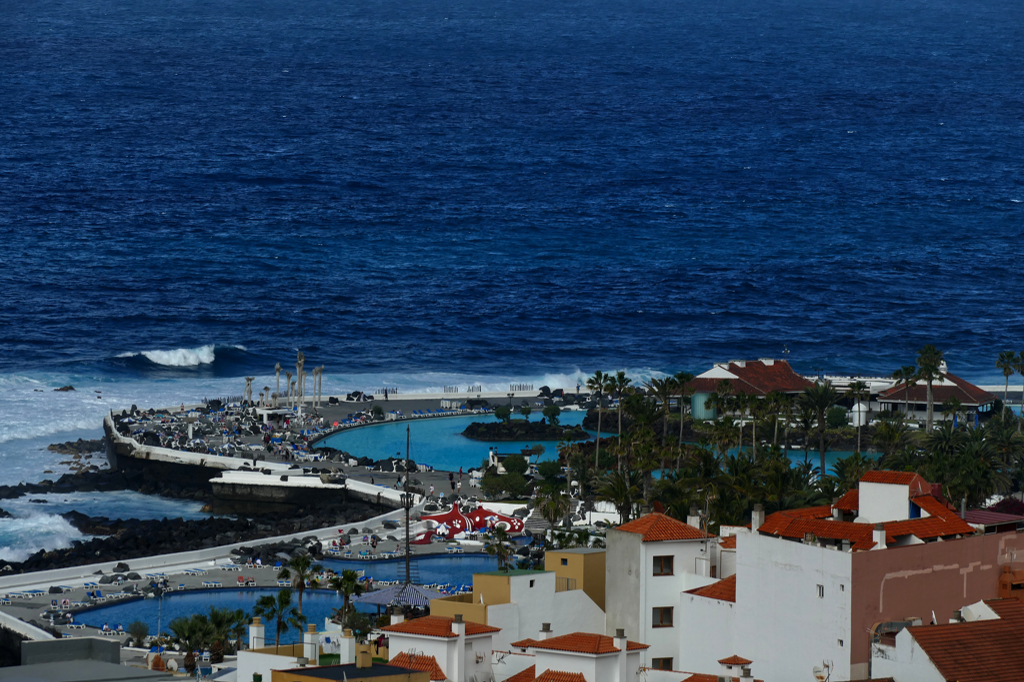 The complex is decorated with seven sculptures by César Manrique. Obviously, a restaurant and a bar are catering to the visitors' needs. While the sunbeds can be used free of charge, using an umbrella costs 2.50 €uros in addition to the entrance fee of 5.50 €uros for adults and 2.50 €uros for kids.
You can visit the Lago Martiánez every day between 10 a. m. and 7 p. m.
There is a very similar yet significantly smaller pool complex on the outskirts of Tenerife's capital Santa Cruz.
Playa Jardín
Apart from the Lago Martiánez, Manrique also designed a beach area west of the center of Puerto de la Cruz. Although Playa Jardín is popular with residents and tourists, it is not overly crowded.
Obviously, Manrique incorporated the landscape into his project. His vision of a beautiful yet natural coastal site definitely came true.
Its name Playa Jardin, which means garden beach in English, describes the facilities perfectly. You can rent sunbeds and umbrellas right on the beach and get refreshments from the nearby eateries. By the way, it's better to swim on the western part of the beach as there are no rocks in the water.
In the vicinity of Playa Jardin are also the black sand beaches Playa del Castillo, Playa Chica, and Playa Maria Jiménez
La Ranilla
The old town's district of La Ranilla is one of Puerto de la Cruz's oldest neighborhoods and has actually preserved its village charm to this day. It is definitely the most enjoyable part of town. There's no traffic so you can just stroll up and down the idyllic alleys or just rest for a while on a bench in one of the many squares and watch locals and time go by.
The nicest streets are Calle del Lomo and Calle de Mequinez where you also find many of those powerful murals I'm introducing in the chapter below. Here, you'll also find numerous restaurants where you can usually dine al fresco.
Also, make sure to visit La Ranilla in the evening when the residents put a few chairs in front of their door and play a game of cards while the children romp on the Plaza Benito Pérez Galdós.
Go Back in Time
At the western end of Calle Mequinez are two historic structures you might want to visit on your way to the adjacent beaches.
The first one is a white tower called El Peñon del Fraile. This volcanic rock dates back to 1430, hence, around the time of the Taoro volcanic eruption. The rock practically moved along cliffs and slopes before it reached this spot where it cooled and solidified.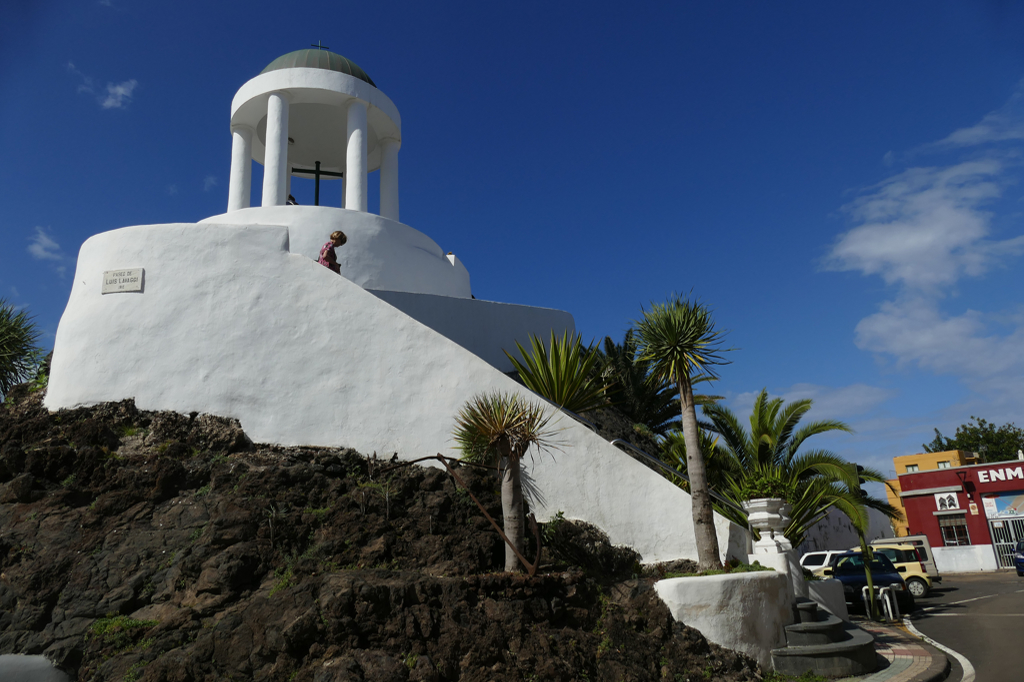 After a few centuries, for some religious people, like the friar Juan de Jesus from Icod, it became a perfect place to pray and shut out all the outside world. This Icodense eagerly came to the rock to pray. He did it with a green cross placed on it, an object that helped him in his prayers.
In 1813, thanks to the donation of a Genoese religious resident of Puerto de la Cruz, the rock began to be decorated and was provided with a side staircase, a base and a cross.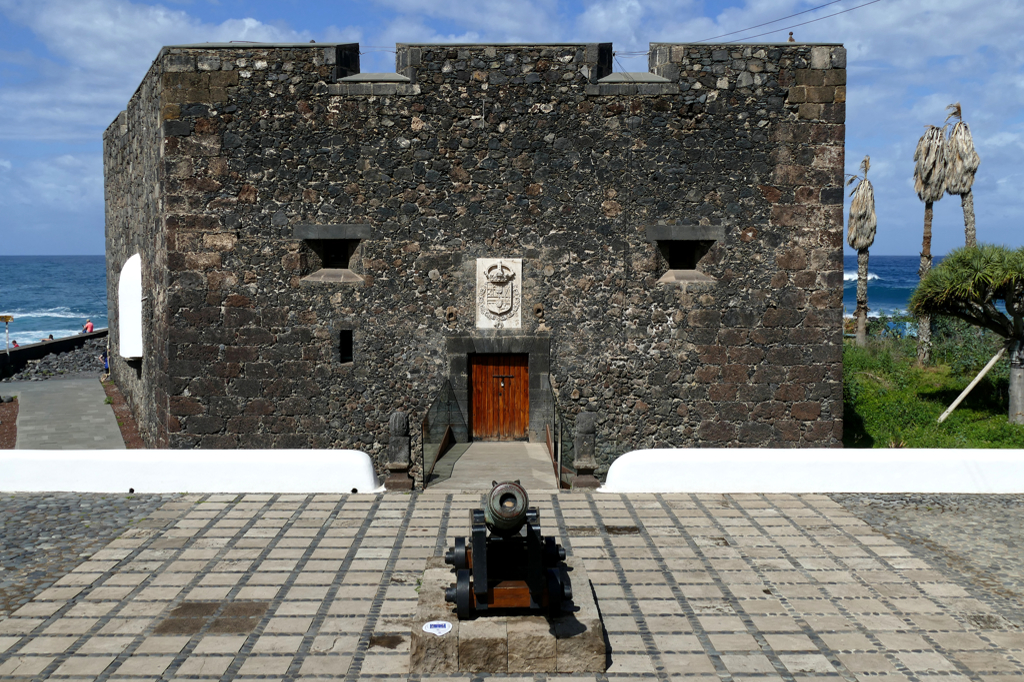 Not far from the Peñon is the Castillo San Felipe. This small fort was built to ward off pirate attacks. Construction of this irregularly shaped pentagon was completed in 1655. Today, it houses a cultural center where concerts and art exhibitions are held. Normally, it is open to the public from Tuesday to Saturday between 11 a. m. and 1 p. m. and in the afternoon from 5 p. m. until 8 p. m.
Urban Art
If you are a regular reader of my blog, you know that I'm a huge fan of urban art. I even have a whole section where I'm raving about great street art in many cities worldwide such as Berlin, Rio de Janeiro, and George Town. Interestingly, I've spotted some of the best pieces in Spanish metropolises like Málaga and Valencia. If you are into urban art, you should definitely check them out.
Hence, to my and many other visitors' delight, the urban art project Puerto Street Art has been installed in 2014. Since then, various internationally renowned artists have painted the city's façades. I cannot tell you the exact number of these large-scale paintings since some of the first ones are already gone while there is a new one added from time to time. However, most of them can be found in the old district of La Ranilla.
Also, the creation process of the paintings has become an attraction on its own. Bypassers can watch artists on lifting platforms, spraying and painting walls for days or even weeks.
Below, I'm presenting some of my favorite pieces. You'll find their exact location on the map at the end of this post. Nevertheless, this list does by no means show all the ingenious works you'll spot in Puerto de la Cruz. There are enough undiscovered treasures left for being found on your own mural hunt.
Oakoak
Let's begin with one of the paintings by French urban artist Oakoak. His specialty has been the transformation of everyday objects or even ugly obstacles into ingenious pieces of art. As he turns zebra crossings, bollards, and even a simple crack in a wall into an amazing sculpture, he also paints a smile on the bypassers' faces.
Since his works were shown in several solo and group exhibitions around Europe and North America and are featured in two books, Puerto de La Cruz can be very lucky to have a couple of his quirky pieces around town.
There are painted power boxes in Avenida Familia de Betancourt y Molina at the corner of Calle del Obispo Perez Caceres. On the same street, there are also painted recycling bins, as well as other elements of urban life.
I've chosen his lamplighter to shine a light on the powerful murals to come.
Miguel Ángel Belinchón Bujes
I'm delighted to introduce another excellent mural by Miguel Ángel Belinchón Bujes aka Belin. I've introduced him in my post on the Best Street Art in Málaga where I even chose his hommage to Picasso as the heading picture.
Belin is an artist from the city of Linares. Today, most of his paintings and sculptures are presented in galleries around the world. However, his work derives from urban art. It's a steady dichotomy between tradition and contemporary. This applies to the motives as well as the techniques.
Interestingly, in his urban art, Belin connects hyperrealism with surrealism and neo-cubism.
Martin Ron
Martin Ron is an urban artist based in Buenos Aires, the capital of Argentina. In his hometown, he has decorated many facades with his larger-than-life murals.
Although painted in a hyper-realistic fashion, his pieces often include dreamy and fictitious segments. Being a renowned street artist basically around the globe, Martin Ron contributed a lovely piece to Puerto de la Cruz's murals – paying tribute to its people.
Matías Mata
Matías Mata was born on the Canarian island of Lanzarote in . He has been spraying walls on the various Canarian Islands, on the Spanish peninsula, as well as in many countries around the globe. He did start his career as an illegal sprayer but due to his indisputably outstanding talent as an artist, he's commissioned to embellish ugly buildings in dreary city areas.
After having completed two training courses in the graphic and technical fields, he studied fine arts at the University of San Cristobal de La Laguna. There he also created one of my very favorite murals. Obviously, you'll find his masterpiece in my post on this alluring town. Then, in my post on Santa Cruz de Tenerife is his portrait of the local street musician Nilo Caparrosa who sadly passed away in 2021.
Víctor Seus
Canarian artist and political activist Víctor Seus contributed a powerful mural dealing with the culture and heritage of Puerto de la Cruz.
Just like Mata, Seus also studied Fine Arts in La Laguna – gosh, this university seems to form the best of the best. He was awarded the Seneca and Erasmus mobility scholarships to study in Granada and Lisbon, respectively, before he graduated in 2009.
Víctor Sues lives in Tenerife and created this hommage to local traditions only in 2021 which makes it one of the newer pieces in Puerto de la Cruz.
Obviously, I also included his work in the urban art section in my post on San Cristobal de La Laguna.
Sebas Velasco
So, I'm fond of street art and I love hyper-realist paintings. Sebas Valesco, born in the Spanish city of Burgos in 1988 combines both. As a matter of fact, looking at some of his larger-than-life portraits that he created in many places around the world, my heart skips a beat. His way of capturing individuals stricken by faith just doesn't leave room for oblivion.
His piece Rebellion of the Dreamers shows a young man lost in an urban landscape. This dreamer searches for a way of dealing with the influence of foreign tourists on the development and traditions of his home, the Canary Islands.
ROA
If you have read some of my former posts on urban art like for instance the one on Málaga or the one on Berlin, Mr. ROA is an old friend to you.
ROA is an enigmatic muralist from Ghent. His love for music, particularly hip-hop, pulled him towards graffiti. Like many muralists, he began by illegally spraying bridges and walls.
Today, ROA is mainly known for rodents, but also birds and other animals. He paints them including the skeleton and intestines which makes them look even more realistic. While he first painted buildings and walls in his hometown, you'll find his distinctive pieces in black and white not only throughout Europe, but worldwide. So make sure to look for it for instance in Berlin, London, Madrid, New York, Paris, and Mexico City, to name just a few.
ROA insists to remain anonymous in order to keep his work independent and his spirit unburdened.
Victor Ash
Victor Ash is truly über-European: Born in Paris in 1968, he currently lives in Copenhagen – but paints basically around the world. Following his first exhibition in 1989, his work has been exhibited in many places including in Berlin, London, New York, and Tokyo.
In his mural in Puerto de la Cruz, he shows how a human mesh closes the way to freedom and prosperity for the less fortunate ones through economic constraints and social prejudices. It comes as no surprise that this mural was created back in 2014 in the heyday of mass immigration to Europe.
Raul Ruiz aka El Niño de las Pinturas
Raúl Ruiz aka El Niño de las Pinturas was born in Madrid but grew up in of Granada. That's also where he eventually studied fine arts.
The most important features in his works are human figures. He's highlighting their facial expressions such as fear, astonishment, sadness, or even impudence.
In his mural La Fuerza está en las Raíces, Ruiz combines the passion of feelings with poetry and quotes so gripping that no one remains oblivious.
Raúl Ruiz's style is not fashionable graffiti, his goal is true street art. I've introduced some of his work in the post Street Art in SEVILLE: Arte Para Todos in the San Pablo District.
Juliana Serrano
Just like some other artists I've introduced above, Juliana Serrano does not only paint walls but also people. Will say she has a tattoo studio in her hometown Puerto de la Cruz. Well, art is art, am I right?
The bright colors of the houses lined up along the narrow streets of the La Ranilla neighborhood are truly outstanding. But what makes them extra special and true pieces of art are the tender patterns and little paintings you find mainly around the doors and the windows.
Serrano doesn't choose these designs willy-nilly. Actually, her fine decors are inspired by the inhabitant's personal story, their nickname, and other individual features.
On Instagram
Just like in my former posts on urban artists, I'm listing their Instagram accounts below:
Practical Information
How to Get There
Tenerife Norte
Tenerife has two commercial airports. The first one was opened on a high plateau about 10 kilometers west of Santa Cruz de Tenerife. Unfortunately, over the decades, there have been several accidents due to its location. Although security measures have been improved, there are significantly fewer international connections.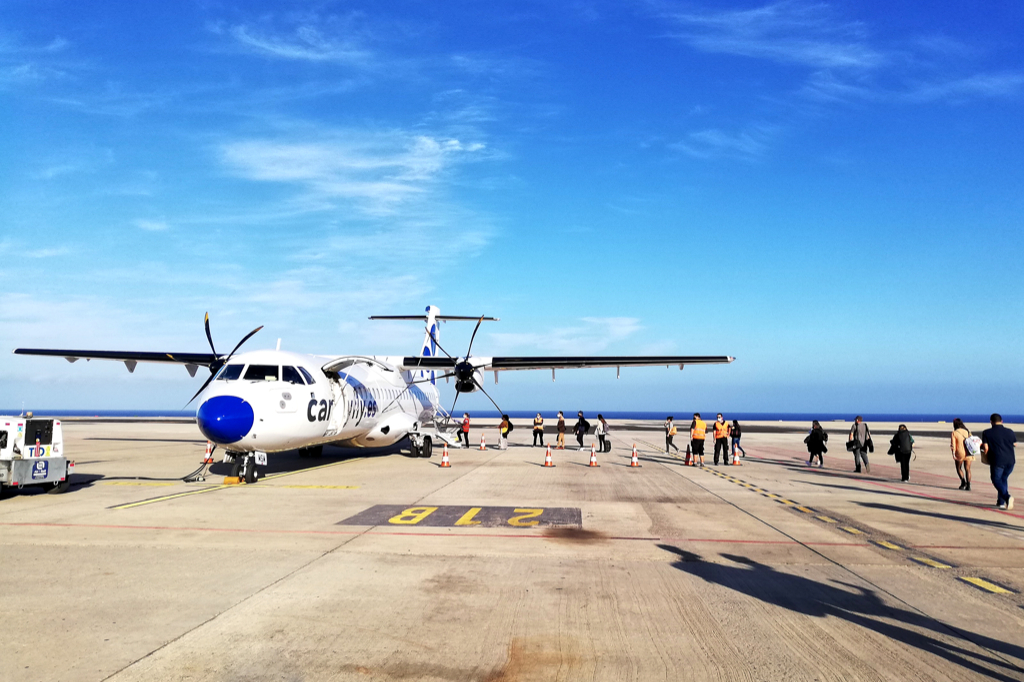 However, there are connections to various domestic destinations including the other Canary Islands such as Fuerteventura and Gran Canaria operated by local airlines like Binter, Canaryfly, and Air Europa. If you check prices on their websites, don't get over-excited about the incredibly cheap rates as these apply only to permanent residents. However, even for other passengers, flying between the islands is very reasonably priced and oftentimes cheaper than taking the ferry.
Although it's much farther away from the island's capital, far more international visitors proceed through the island's southern airport Tenerife Sur Reina Sofia which was opened only in 1978.
If you haven't booked a package where the travel company arranges the shuttle from the airport or jetty to your hotel, you have different options for how to get to your final destination. The most comfortable option is taking a cab, obviously.
However, you save lots of money by taking one of the public buses.
From Tenerife Norte, bus #20 shuttles travellers to and from Puerto de la Cruz. If your flight is to or from Tenerife Sur, you can take bus #343 which also connects the old airport with Tenerife Sur Reina Sofia.
I'm not driving, but if you want to rent a car, you can do so right at the arrival hall. There are different car rental companies to choose from.
By Ferry
There are regular ferry services to Tenerife from the other Canaries as well as from Huelva and Cádiz on the Spanish mainland throughout the year. Whereby trips from Huelva are usually faster than those from Cádiz. Nevertheless, the trip takes between 30 and 40 hours – mind you, Spain is very far away, not only geographically speaking.
From Santa Cruz de Tenerife port, Olsen Express and Naviera Armas grant regular ferry services to Puerto de las Nieves in Gran Canaria, Morro Jable in Fuerteventura, and Arrecife on Lanzarote. To get to the island of La Gomera, you need to get on board in Los Cristianos.
Taking the ferry is not necessarily cheaper than going by plane. Yet, it is a more eco-friendly way of travelling. Also, it is the only option if you have to take your car across the sea vehicle.
However, my trip from Gran Canaria to Morro Jable in the south of Fuerteventura took about 2.5 hours, and I paid over 50 €uros, which is by no means a bargain.
If you're on a flexible schedule, you should check thoroughly the prices at different times of the day as well as between the individual companies as they can differ a lot. Also, just like the airlines, the ferry companies grant residents of the Canary Islands a considerable discount.
How to Get Around
Exploring the island by public bus is highly recommended since it's comfortable, reliable, and cheap.
To take the bus, you can obtain a ticket from the driver. Prices depend on the distance, obviously, and you can pay cash or by a bank card that's equipped with NFC. You save 10 percent of the single ticket price if you buy a round-trip for the same day.
TITSA, the local bus company, has a great website where you'll find all the connections and prices, and everything you need for an easy trip. There is even a section that's especially catering to tourists. But you can also easily check your connections on google maps.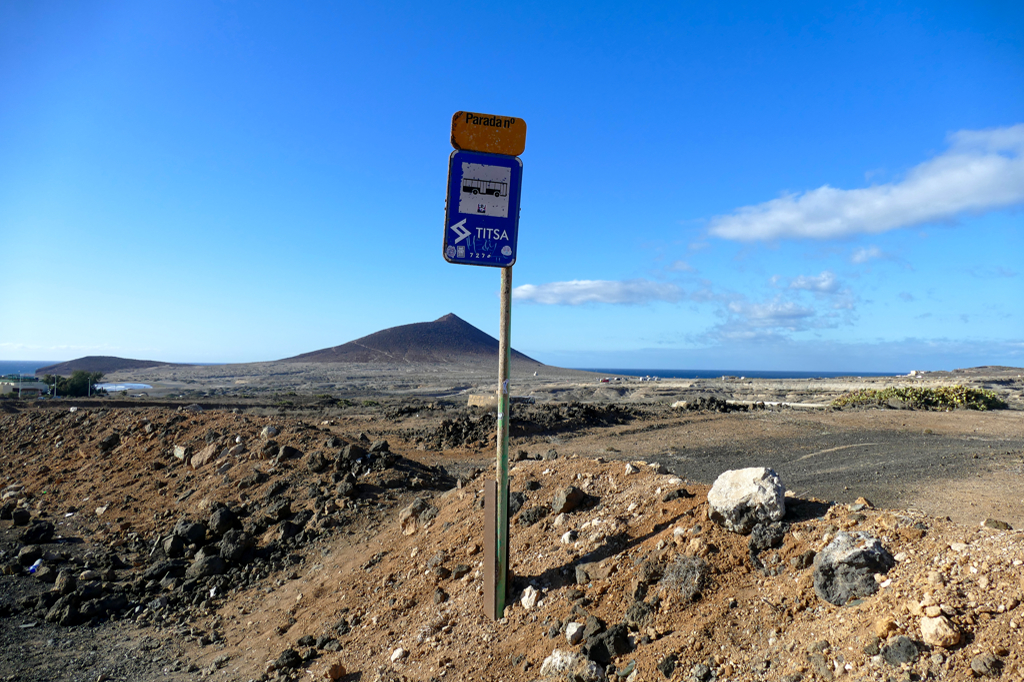 The city's main bus station is located west of the city center and is one of the island's busiest hubs. From here, you have connections to practically every spot on the entire island.
While the very center is not that large, it can easily be explored by walking. However, the entire area stretches quite far. Although there isn't a designated city bus, some of the intercity buses do stop at various bus stations around town apart from the main bus terminal.
You'll find comprehensive information on buses, tickets, and discounts in my general post on Tenerife.
Organized Trips
As I pointed out, there are many many wonderful spots in Tenerife to be explored. Basically, all those places can be easily visited by public transport especially if you are based in Puerto de la Cruz. However, in certain cases, it can still be a good idea to join an organized tour, especially if you have only a limited amount of time.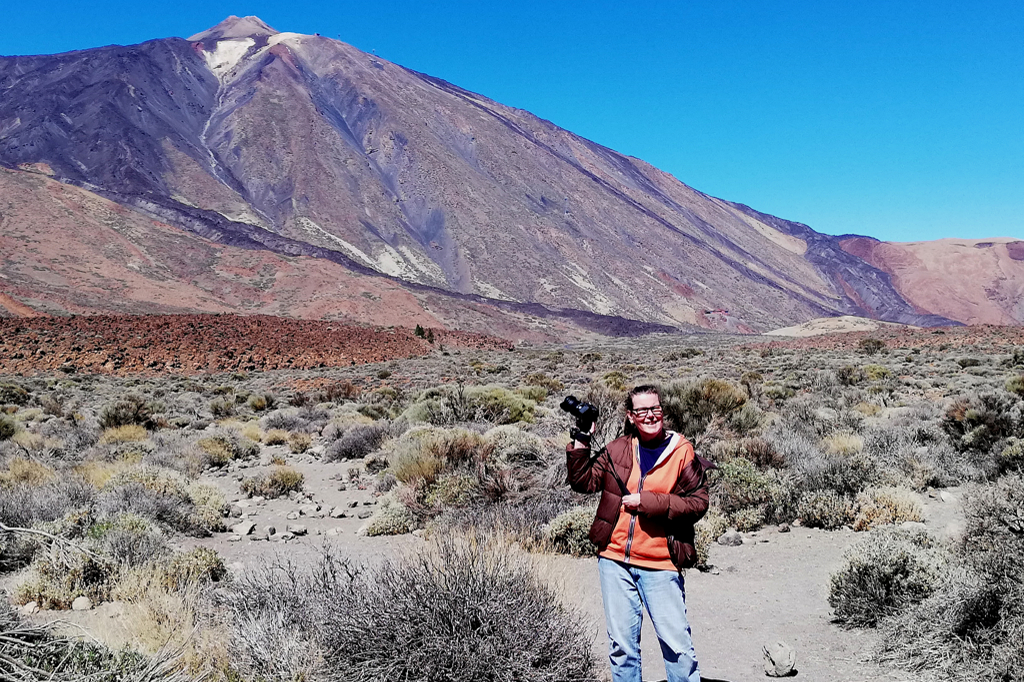 For instance, I wanted to see some of the most idyllic villages along the north coast which is absolutely possible by bus. But I also wanted to take a trip to Mount Teide National Park. At the end of the day, I was very happy to find a tour that included both: I went with them comfortably to all the lovely villages without constantly checking the time and the bus schedule, and eventually, we went to the most alluring spots at the national park before they safely drove me back to my hotel.
Will say, the pure fact that you can visit places self-organized doesn't necessarily mean that it is the most convenient option. Therefore, when planning your trip, make sure to check out these great tours of Tenerife:
Where to Stay
Tenerife has been a popular tourist destination for decades and Puerto de la Cruz is the main tourist center on the north coast. Consequently, you'll find a good choice of hotels and apartments. Especially if you want to explore more of the islands by public transportation, Puerto de la Cruz might be your best bet since there are many buses passing through the city's main bus station. Furthermore, you are located close to great beaches. Also, some of the island's most popular attractions like the Loro Parque or a beach and a natural swimming pool, both designed by Canarian superstar César Manrique, are in the town's vicinity.
I stayed about ten minutes uphill from the city center at the Hotel Puerto Palace. The rooms are nice and you have great views of the sea as well as of Mount Teide. They also have a well-maintained and spacious pool area.
This being said, I definitely recommend booking just the room. I had also breakfast and lunch, and the food was pretty bad. Get the room and enjoy your meals downtown.
However, you can check out the availability and prices of other suitable lodgings on this map*:
What to Eat
Since Puerto de la Cruz is a very touristy place, things are a bit different when it comes to gastronomy. Not only is there a wider choice of different cuisines. Also, contrary to genuine Spanish eateries, you'll be able to obtain food throughout the day and don't need to stick to those terribly late Hispanic meal times.
What the Hispanic peninsula and the Canary Islands do have in common are Tapas. Tapas are varied snacks such as sliced ham, diced or grilled cheese, boquerones en vinagre, marinated anchovies, papas bravas, tiny potatoes with a spicy dip, albondigas, small meatballs, to name just very few. A selection of two or three tapas can actually replace a meal. However, you can also order a ración, hence, a whole serving, or a media ración, a half-sized serving.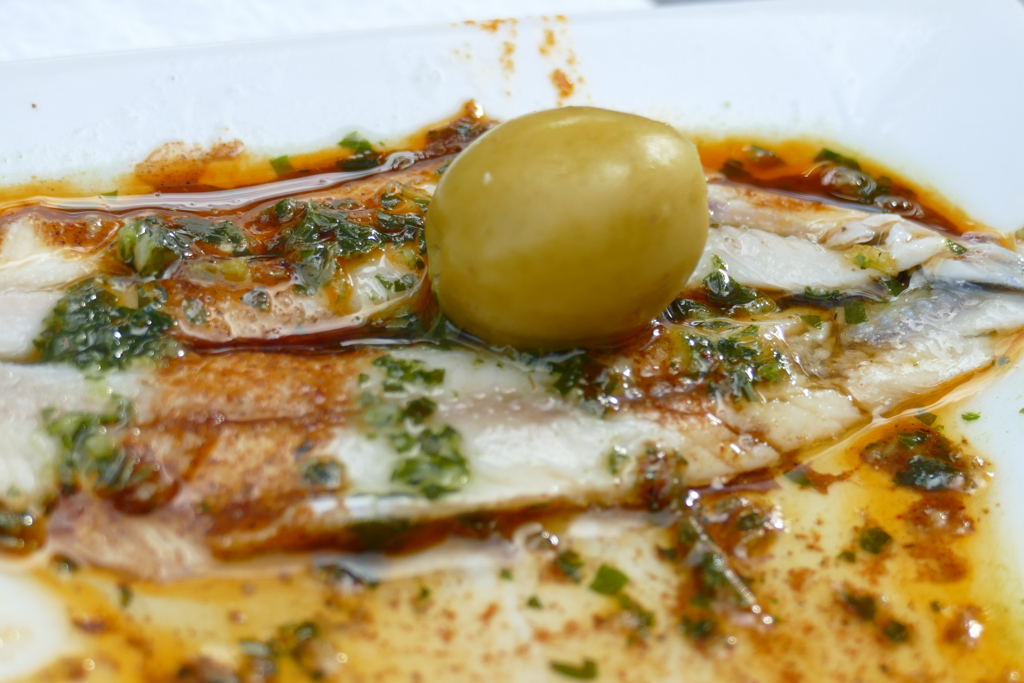 When you are really hungry, the menú del día might do. It's usually a three-course meal. You can combine it to your liking from different starters, main courses, and dessert options. Often, the price of around 10 €uros includes water or even wine. However, the menú del día is most of the time just a lunch option.
As in most other European countries, tipping is rather optional in Spain. It is not compulsory, but an appreciative gesture. Also, you don't need to calculate a certain percentage. Rounding up to the next full €uro might be a bit chintzy. However, adding one or two €uros will normally do.
Cash and Cards
Until now, 20 European countries replaced their former local currency with the €uro starting in 2002. Obviously, Spain is one of them. The exchange rate is 1 US$ = 0.94 EUR as of January 2023. However, you can check today's conversion rate on this page.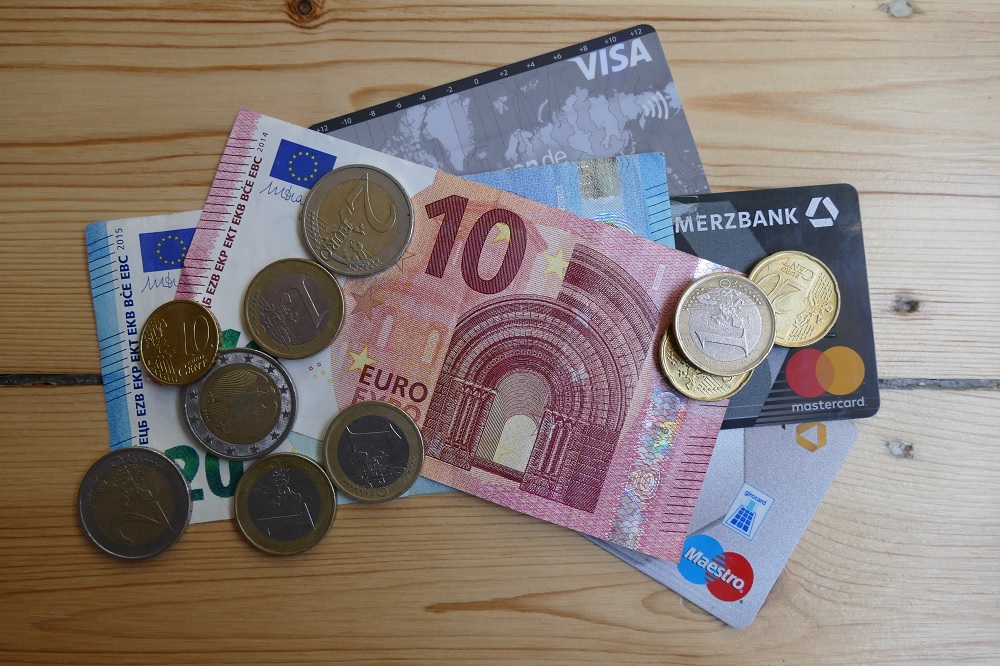 Especially due to the Covid pandemic, even small businesses prefer that you pay by credit card, and preferably contactless.
Language
Before the Spanish conquest, each Canary Island spoke its own type of the Guanche language. Due to the systematic pushback of the local culture by the Catholic conquerors, only fragments of the language exist to this date. You mostly find those traces in the names of places.
Today, the official language is Spanish, obviously. If you want to learn some basic Spanish or just brush up on your knowledge, there are various apps and online tools. I personally like to practice with babbel. However, due to international tourism, most people working in tourism and gastronomy speak at least some rudimentary English and very often also German.
Nevertheless, here are some ground rules for Spanish pronunciation since saying for instance city names wrong can cause some problems. If people don't understand where you want to go, they won't be able to give you directions.
Say It Right
The good news is, that in general, you read Spanish the way it's written. Although, the letter C is a bit tricky for foreigners. Placed before an A, O, or U, it's hard and pronounced as K. Followed by E or I, it is pronounced like an English the. Now, if you want that th-sound in combination with A, O, or U, the letter Z comes into the picture. So you have to pronounce Canaria Kanaria, and Plaza Platha.
On the other hand, if you want C to sound hard in combination with E or I, you make it a QU – but you don't hear the U. Fine example: Tequila, that you pronounce like Tekkila.
This applies also to the letter G. If it's followed by A, O, U, or a consonant, it's pronounced like the G in guitar or Gran. To make a G sound hard before an E or an I, they squeeze in a mute U – like in guilt. If G stands before an E or an I, it is rather breathed than pronounced – a bit like the H in house.
The same applies to the letter J. You always pronounce it like the H in house.
The last trap is double L which is not pronounced like an L but like a Y in yellow. Hence, talking about the neighborhood La Ranilla, you say the L in la like a simple L while you pronounce Ranilla raniya.
Connection and Communication
Since June 2017, no roaming charges apply within the EU with a European mobile phone contract. This applies in all 27 countries of the European Union as well as in Iceland, Liechtenstein, and Norway. It pertains to all contracts.
When roaming is not available, you can connect to the internet at basically every museum, eatery, and, of course, hotel.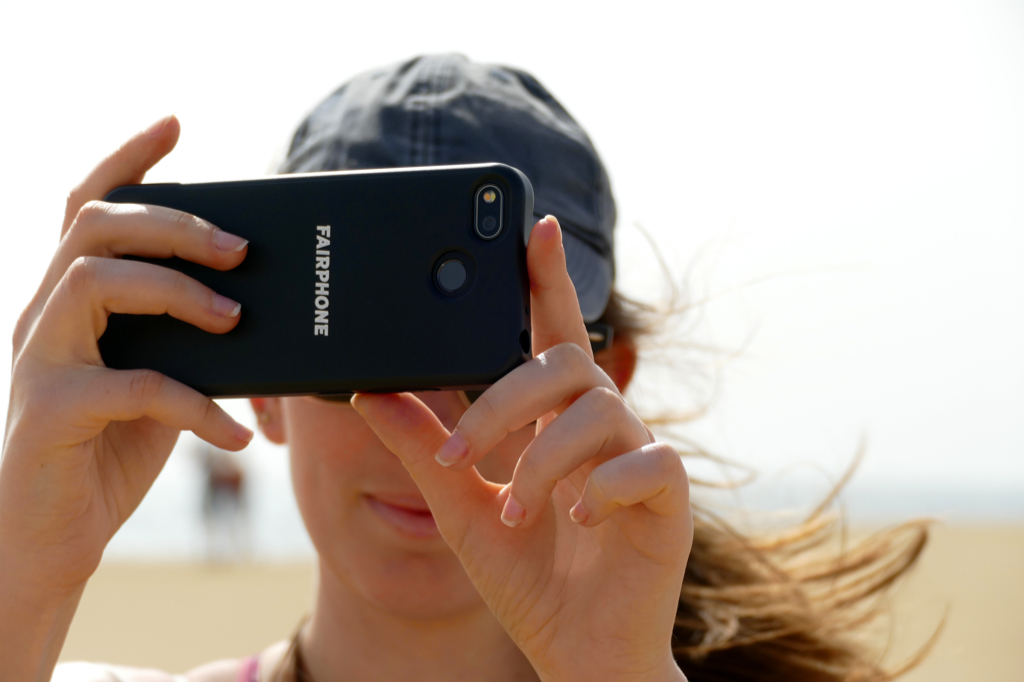 If you insist on being online 24/7, you can get a SIM card. The cheapest one would be Lycamobile while Orange Tu Mundo has the widest coverage.
In Spain, they use plug types C and F. Their voltage is 230 V and the frequency 50 Hz. Whereby, as nowadays all these chargers have integrated adapters, the voltage and frequency don't really matter.
By the way, you'll find comprehensive travel info in my post World's Most Complete Travel Information – an indispensable globetrotter-classic.
I chose Puerto de la Cruz as my main base during my stay in Tenerife. To read about the places I visited on day trips, go to this post and take your pick!
For general information on Spain, go to the main post. There, you'll find information and tips that will make your trip much smoother and more enjoyable.
Map
On this map, you can see where all the places I'm introducing in this post are located.
Clicking on the slider symbol at the top left or the full-screen icon at the top right will display the whole map including the legend.
Note: I'm completing, editing, and updating this post regularly – last in January 2023.
Pinnable Pictures
If you choose to pin this post for later, please use one of these pictures: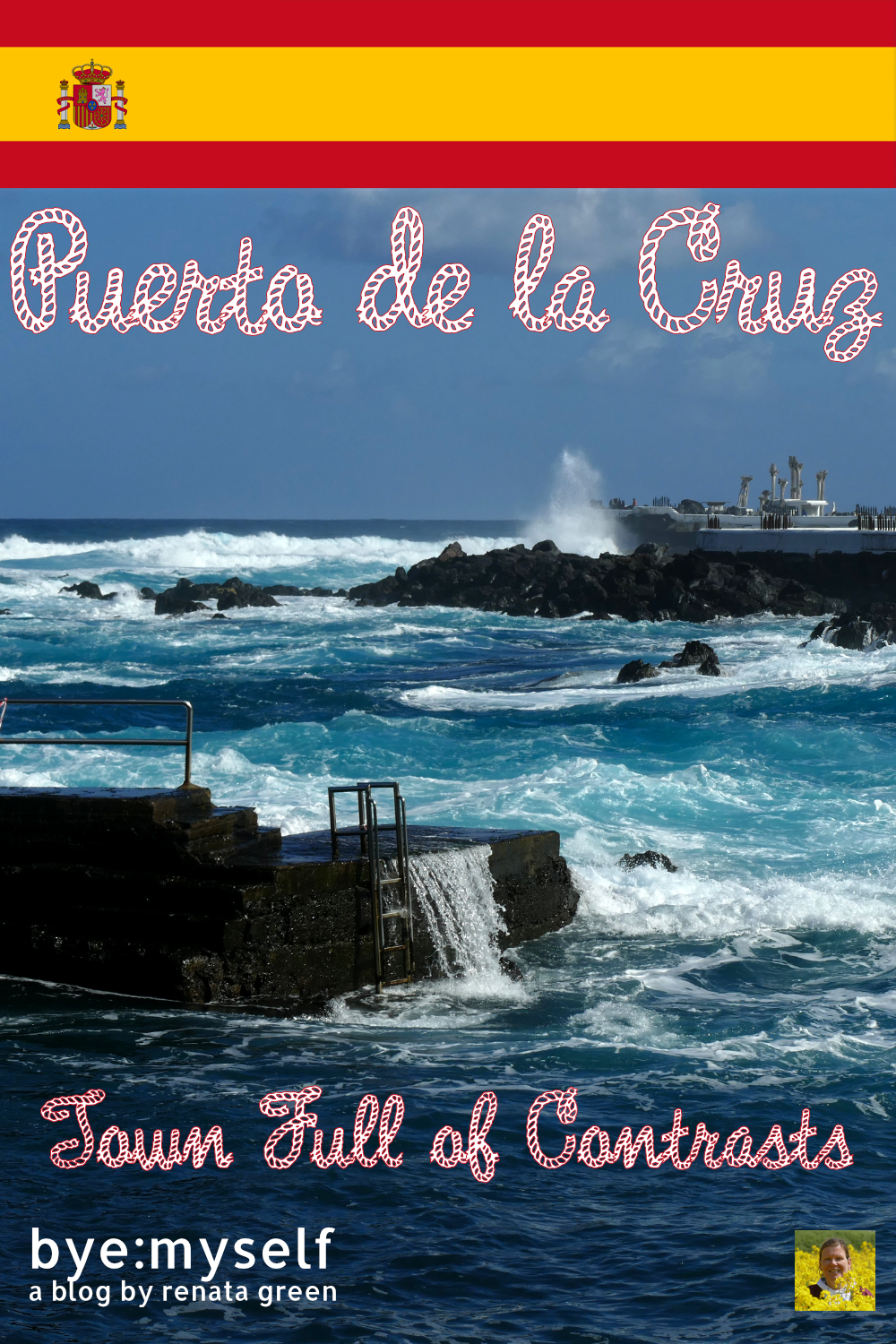 Did You Enjoy This Post? Then You Might Like Also These:
* This is an affiliate link. If you book through this page, not only do you get the best deal. I also get a small commission that helps me run this blog. Thank you so much for supporting me!