Picturesque villages of white-washed houses with blue windows and doors, overgrown by blazing red bougainvillea. White church domes against the bluest skies and at dusk, the iconic sunset over the southern Aegean Sea – who doesn't dream of Santorini? In this guide, I'm showing you how you can tour the island and explore the most enchanting places in Santorini self-guided by a local bus.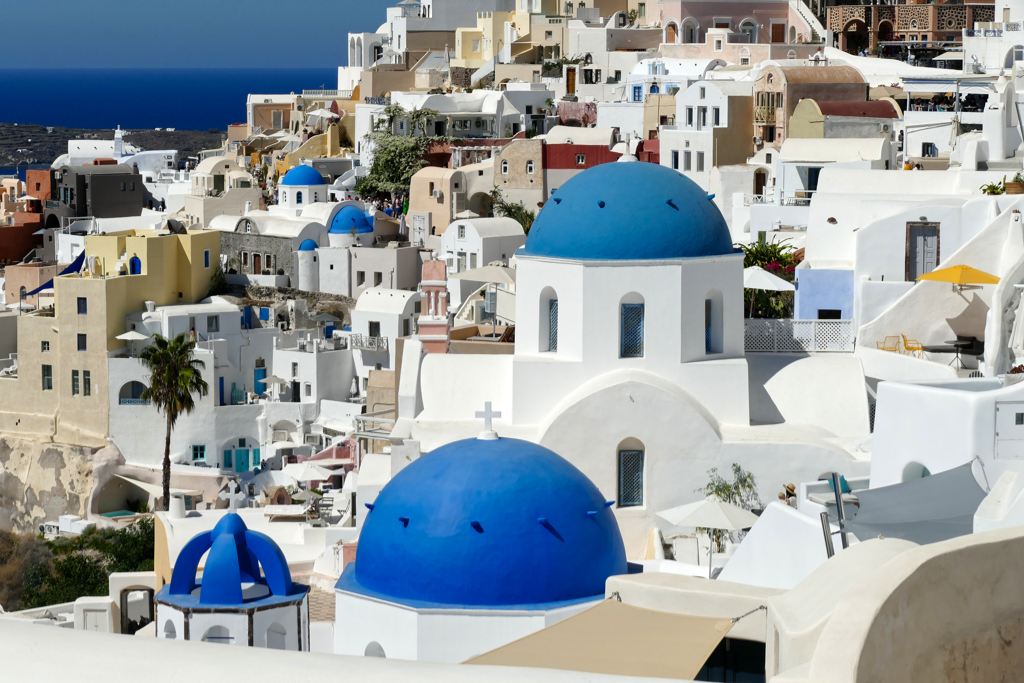 I spent three days on the island and got to see the most iconic places at a relaxed pace. If you want to add some hiking – which I didn't since it was simply too hot – or spend some time on the beach – which is a bit pointless since Santorini's beaches just aren't that good – you might want to spend up to one week. However, I'd argue that less than two entire days on the island are definitely too short.
Making Friends
"Do you want these napkins? I didn't use them, anyway!" I'm taking the stash of napkins that I took from the bar as I ordered my breakfast coffee and hand it to my neighbor. We are on the morning ferry from Heraklion on Crete to the island of Santorini.
The sea isn't exactly rough, but the vessel is certainly moving quite a bit. I'm staggering like an early morning drunk as I'm heading for the bathroom, swaying from side to side, bumping into rows of seats. But other than that, I'm fine. My neighbor is not fine at all. She's sick. Very sick. Very seasick.
On-Board Entertainment
While she's throwing up into one of the designated paper bags, I give her some privacy by watching the entertainment program on board. It's a documentary on some quite good-looking Aussies who are trying to haul some broken truck out of the mud. Or so. Since the TVs are muted, I only get the Greek subtitle. And since my Greek is limited to less than ten words, that doesn't really help. During the commercial breaks, they are advertising that the next show will be Demolition Down Under. Judging from the teaser, the show will introduce us to Australians who are destroying stuff – like for instance houses.
I mean, come on, I'm on a ferry trying to give my puking neighbor some privacy, hence, I don't really care what I'm watching. But as I assume that they are not filming this nonsense for my kind of situation, there must be an audience for this. Really? There are people who are wasting their precious life away by watching people hauling vehicles out of the mud or crushing structures? Unbelievable!
Finally There
We are about an hour late when we finally reach the port of Fira. Everything is really well organized. While the herds of day trippers rush in great excitement to their tour busses, we overnight visitors are ushered by a surprisingly grumpy and rude conductor into a coach heading for the center of Fira.
I make myself comfortable in the first row and as the poor young woman from the ferry enters the bus, I quickly make space next to me. "Do you feel better?" "Yeah, thanks again for the tissues. I really needed them as one of the puking bags leaked". "No problem". And then we are chatting away, exchanging travel stories and affirming how much we love solo travel.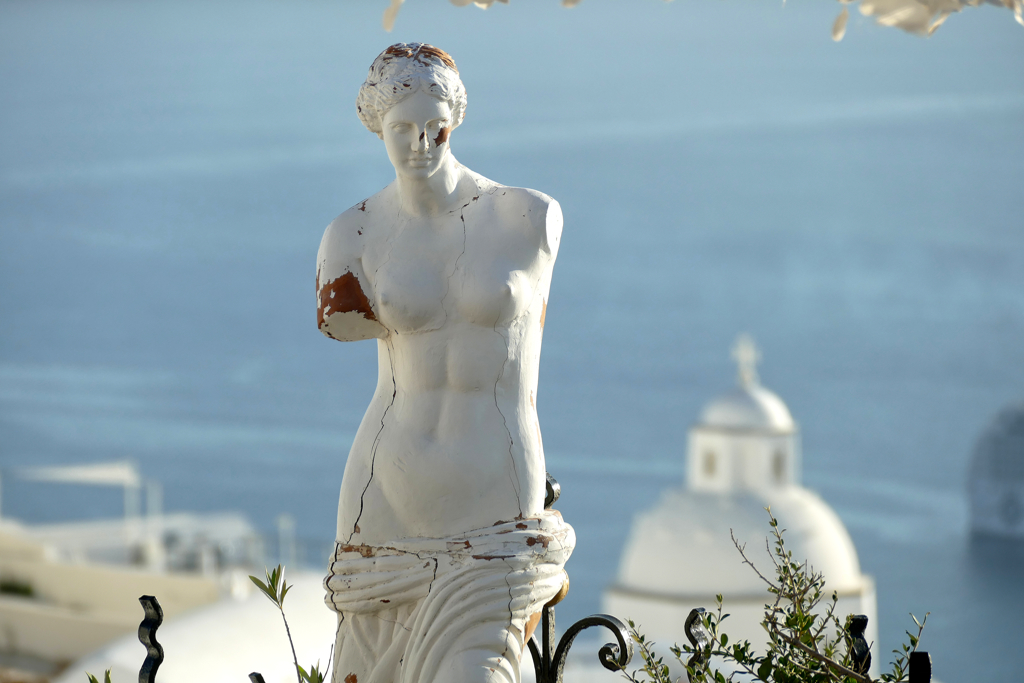 By the time we reach the central bus station in Fira, we have exchanged Instagram accounts and phone numbers and are kind of instant travel buddies. Believe you me, this solo-travel thing is farther from loneliness than you can ever imagine.
We take the same bus as she's convinced that the one to Perissa also goes to Kamari. Since it doesn't, we part as I'm getting off in Perissa and she has to go back to Fira to catch a different bus. "Bye, it was a pleasure, I'll text you later".
You Cannot Have It All
My guest house is right next to the bus stop. Since it's even not noon, the room is not ready yet. I quickly change into my bikini and hit the famous black beach that's located basically right behind the hotel.
The so-called black beach is one of Santorini's three famous beaches. The other two are white and red.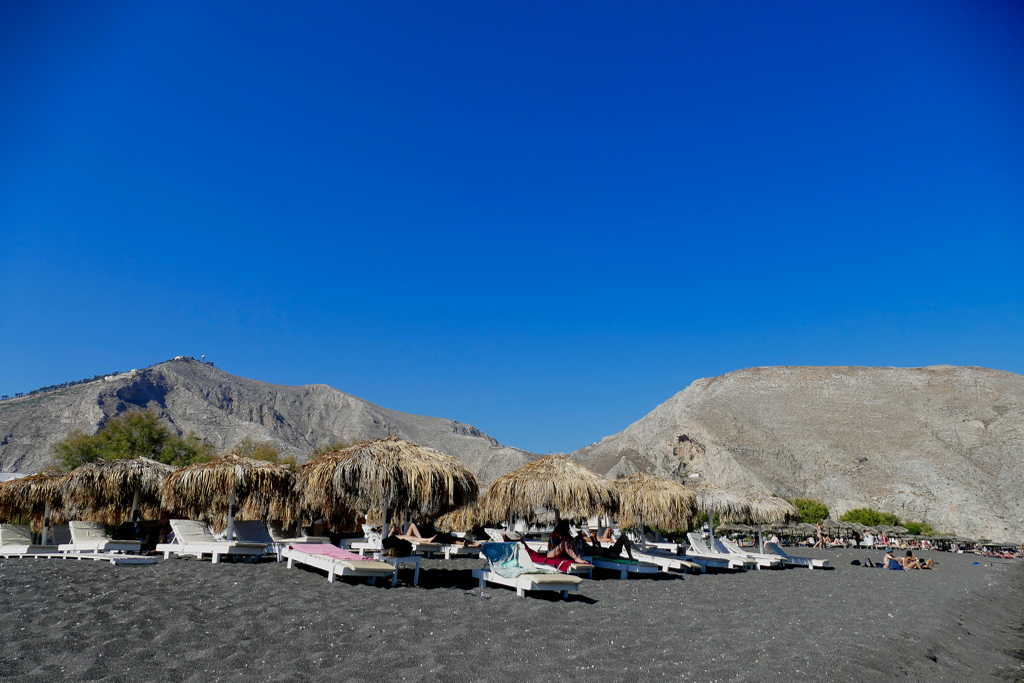 But no matter what people say, you shouldn't come to Santorini for the beaches. They are by far not as beautiful as in most of the other Cyclades. Also, they are relatively small and get very crowded. Unless you spend at least one week in Santorini, I'd recommend you focus on the mesmerizing settlements.
Below, I'm listing those you definitely should visit.
Going Public
Yes, there are real locals in Santorini, as a matter of fact, the island has about 15,000 permanent residents. Everything begins and ends in Fira, with about 7,000 inhabitants, Santorini's largest town and the capital. Fira – or Thira – is also the geographic center and the most important hub. Actually, there is hardly a way to change buses outside of Fira's central bus station. So if you follow my advice and explore the island by public bus, be prepared to see a lot of Fira just between buses.
For me, this turned out to be very feasible: In the morning, I enjoyed a quick coffee and a snack, at noon, I had a pita and stocked up on water, and in the afternoon, I took a short walk through the busy alleys. And then I hopped on the next bus to yet another mesmerizing place.
Fira
Fira is the capital of Santorini. Sometimes it is also transcribed as Thira which is also the ancient name of the entire island.
Whitewashed houses are lining the streets of Fira, located 400 meters above the caldera on the western edge of the semi-circular island. Therefore, from Fira, you see the entire panorama of the about 16 kilometers long caldera. The islands of Santorini, Thirasia, and Aspronisi are forming a circle around that kettle formed by volcanic eruptions. In its center are the islands of Palea Kameni and Nea Kameni which are popular day trip destinations.
Due to its beauty and exquisite location, just strolling through Fira's picturesque streets is already such a treat. However, there are two informative museums, namely the Archaeological Museum and the Museum of Prehistoric Thera. Also, there is an incredible number of churches, especially for such a relatively small place. Yet, thanks to avid Instagrammers, I guess some of them got world-famous.
Although I'm not exactly your shopping queen, I must recognize that there are plenty of high-quality souvenirs and handicrafts in Fira. But like they say: You get what you pay for – and here, you pay a lot.
The Center Of Attention
As I said, Fira is the island's central point, not only geographically. All buses arrive and depart at the central bus station. There is a small information booth but don't expect to be greeted with a smile. You'll probably be either ignored or barked at. But next to the window is a very well-structured schedule, just take a picture of it and you'll be set for your entire stay.
The old port is on sea level far below Fira. A small cable car is taking people up and down for 6 €uros per ride. An alternative is climbing the zigzag footpath on foot – which is exhausting especially during the hot summer months – or on mules. While to others it might look fun and scenic when a bunch of people is riding up the hill, the sight makes me personally feel uncomfortable.
Take A Hike
Obviously, the borders between Fira and the neighboring villages of Firostefani and Imerovigli are fluid. As you meander through the town, all dazzled by its beauty, you reach those adjacent beauties without even being aware. However, there is also a bus taking you there in a couple of minutes.
Very popular is the beautiful hike from Fira all the way to Oia alongside the caldera. If I'd need a reason to ever come back to Santorini, it would be for this trek. Yet, I would do it rather in winter since hiking the shadowless ten kilometers seemed far too tiring to me. Also, my newly-found travel companion had been to Santorini before and she said that the trail is a bit sketchy in some parts and after my accident in Gran Canaria, I'm not willing to take another risk hiking solo.
Oia
But it wasn't necessary to hike to this famous gem since there is a bus going to Oia from Fira every half an hour.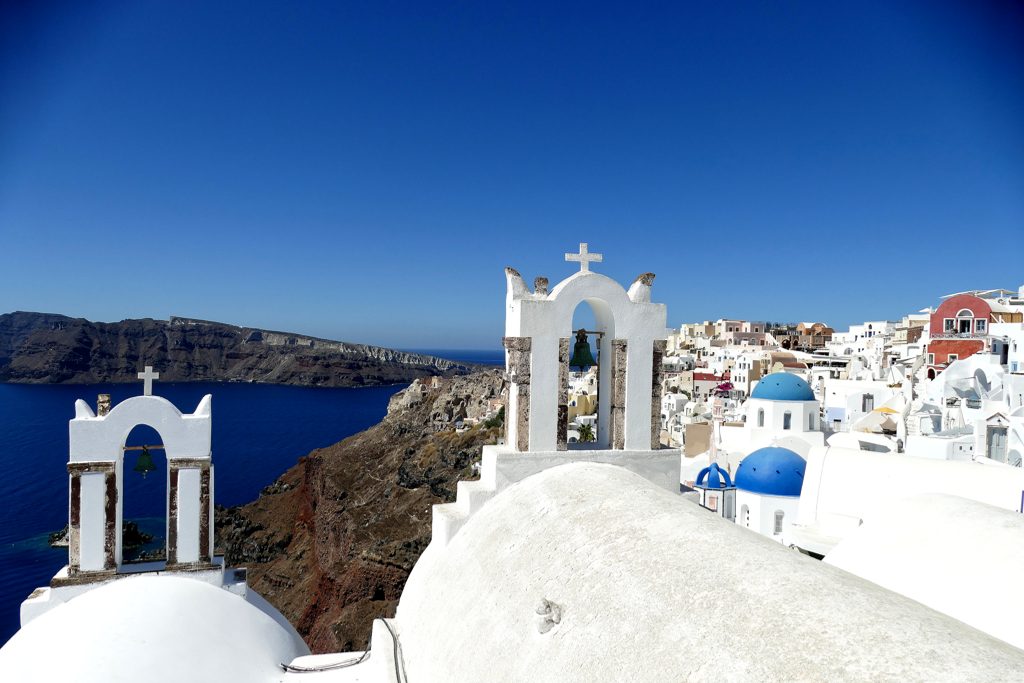 Already before the Venetian rule in the 13th century, the village was mentioned in travel reports. Today, the village's oldest residential area is found on the southwestern outskirts. The ruins of the Londsa Castle, which used to be the residence of the noble Argyri family during the Venetian times, are a popular vantage point that grants a fantastic view of the caldera.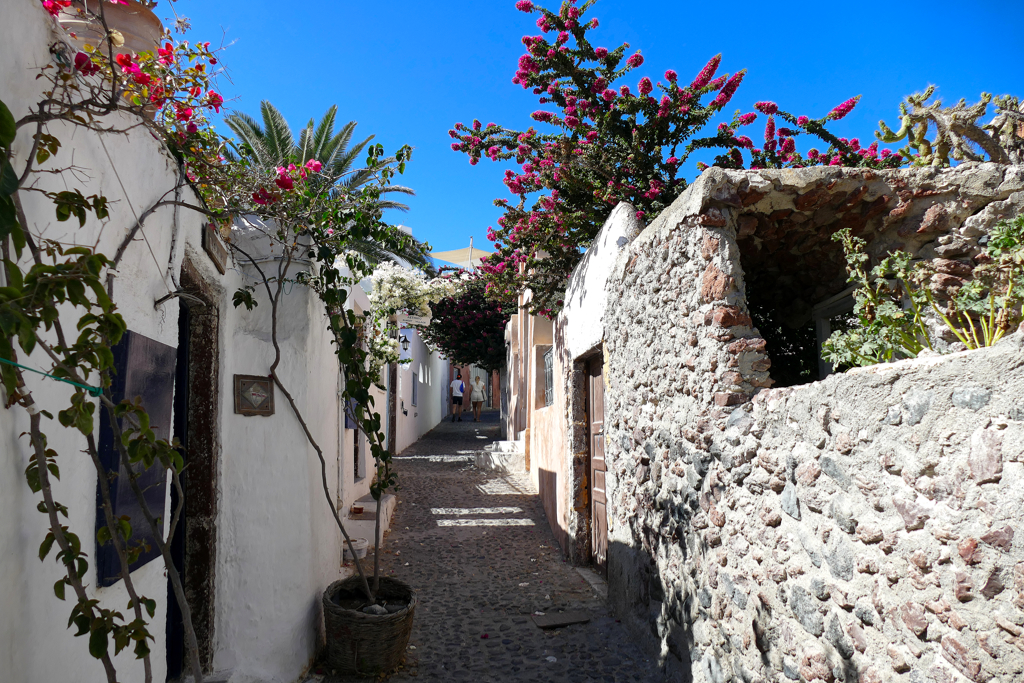 After an eventful history, the village, which was then named Ia, experienced its gilded era in the late 19th and early 20th century as sea trade in the Mediterranean brought significant wealth. However, the invention of steamships and the predominance of the port of Piraeus in Athens led to a drastic decrease.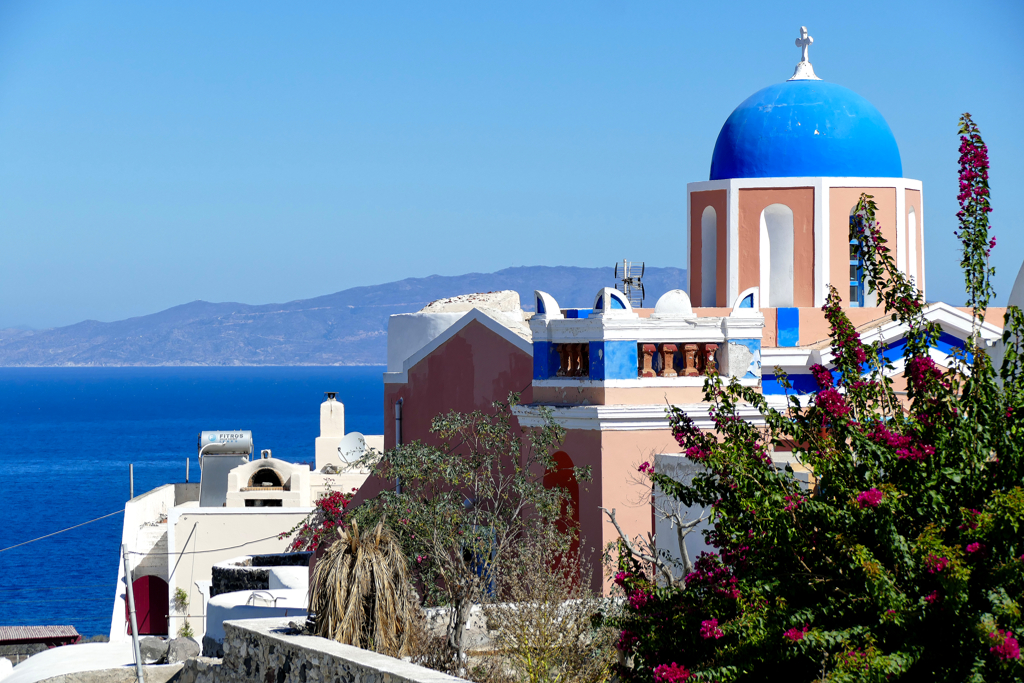 As a destructive seaquake near Amorgos hit the northeast coast of Santorini, Oia experienced strong migration. Well, today, you certainly do not feel abandoned and alone when pushing your way through Oia's narrow alleys or sharing vantage points with what feels like a bazillion of other romantics, especially during the world-famous sunset.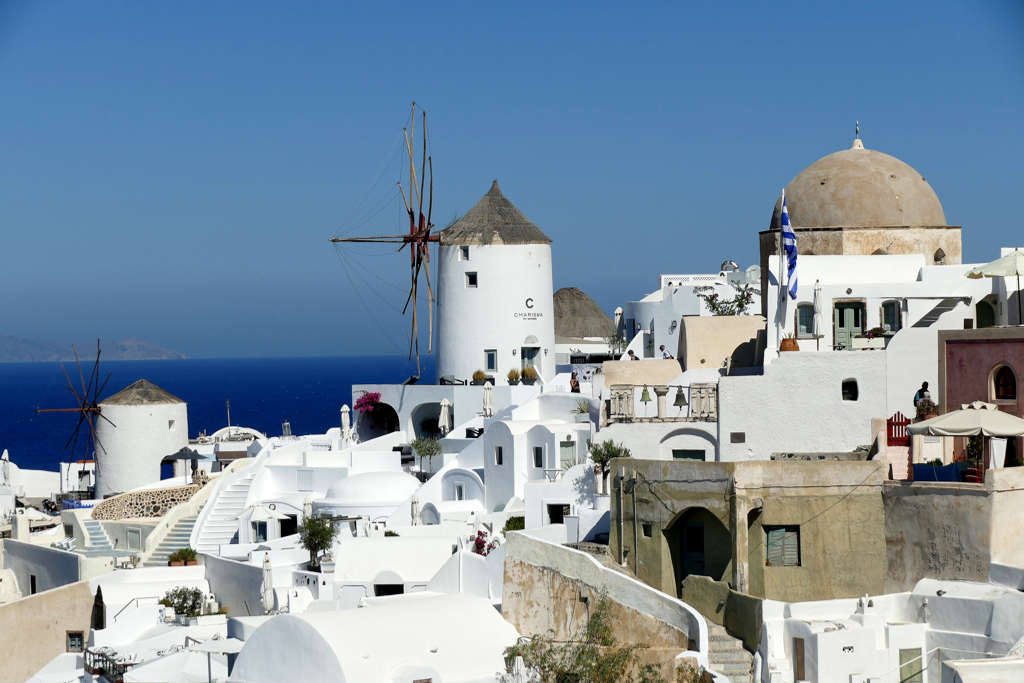 Beauty In White And Blue
Just like in Fira, the most inspiring activity is just walking around and taking the views in. However, there are many small art galleries, the famous windmills, and the imposing church of Panagia to be seen and visited. Also, there is a maritime museum that exhibits ship models, ancient nautic equipment, as well as historic photographs of seafaring in ye olden days.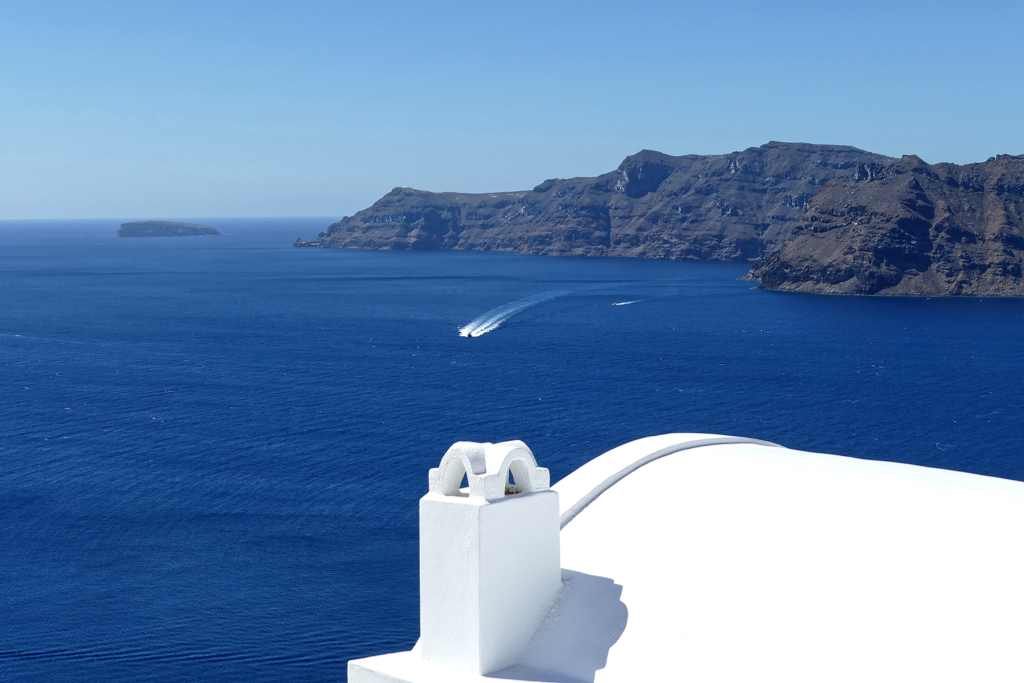 The iconic whitewashed houses, often built right on the edge of the crater, were transformed into guest houses and restaurants. Don't even ask about the prices.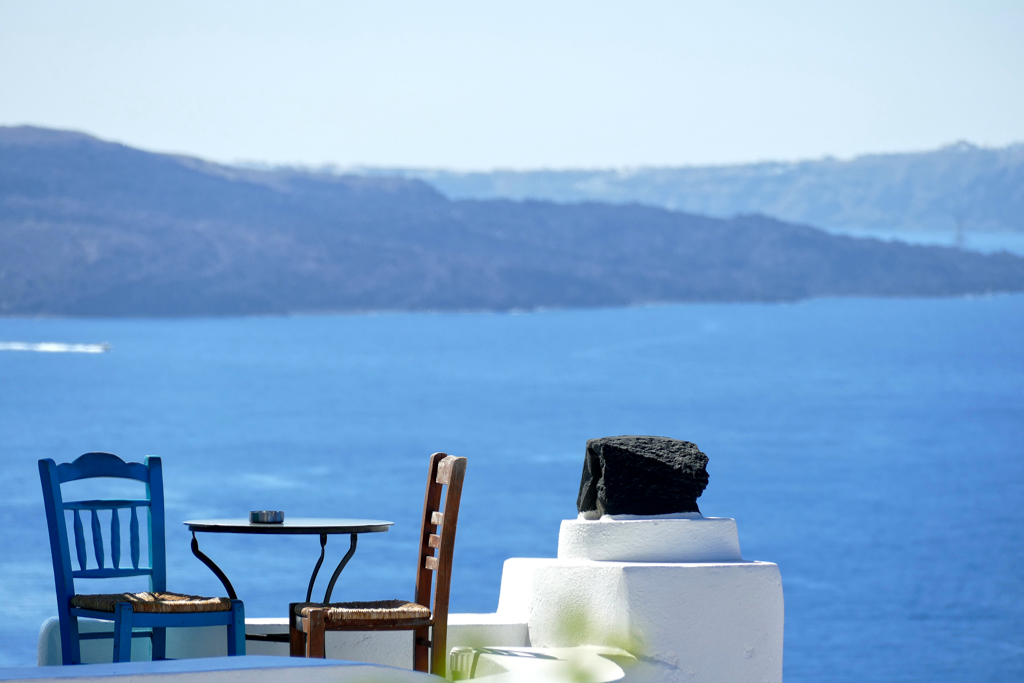 You can descend on foot or by mule to Armeni Bay on the southern shore below the town. From here, boats depart on day tours across the Caldera and to Thirasia.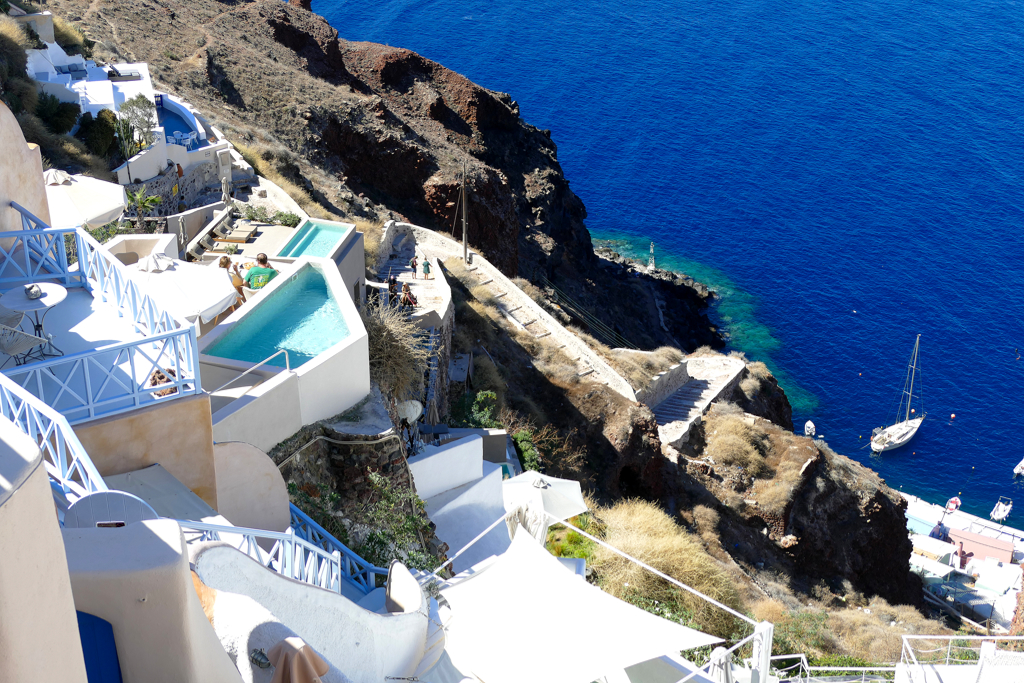 On the very southern tip of the town is the Bay of Ammoudi. You can start your descent to this favored beach north of the Londsa Castle. However, keep in mind that it is just a very small pebble beach. Although it is very popular, especially with young'n'hip visitors, it's simply not that great. Again, I really don't think Santorini is a good choice if you want to go on a beach vacation.
Imerovigli
Even at the end of the high season when masses of people were pushing through Fira's and Oia's alleys, especially in the evening, I found Imerovigli surprisingly tranquil. Only a few tourists were strolling through the alleys and climbing the steep stairs, all whitewashed just like the houses lining them.
From Fira, you can get there by bus within minutes. Walking, it's about half an hour, however, rather up than down. So if you're not ambitious at all, you might want to go there by bus and back to Fira walking.
Walking up and down the village's steep alleys and stairs, you'll notice that in Imerovigli, the iconic whitewashed houses are decorated by an abundance of bougainvillea in incredibly bright shades of purple. Add some ink-blue spots from the church domes, and I'd argue this is the most exquisite settlement of Santorini.
Walking back towards Fira, you'll pass the monastery of Agios Nikolaos. It lies in the vicinity of the famous Skaros rock. On this huge promontory are the ruins of a medieval Venetian fortress town built in 1207. It existed until the 18th century. From there, you have the best panoramic view of the entire archipelago.
Pyrgos
But not only are the views of the surrounding Aegean sea mesmerizing, but the island has lots of gems, too. Every time I took the bus between Perissa and Fira, I saw this beautiful settlement way up high at the foot of mount Profitis Ilias about kilometers south of Fira. No doubt, I had to follow the place's loud call.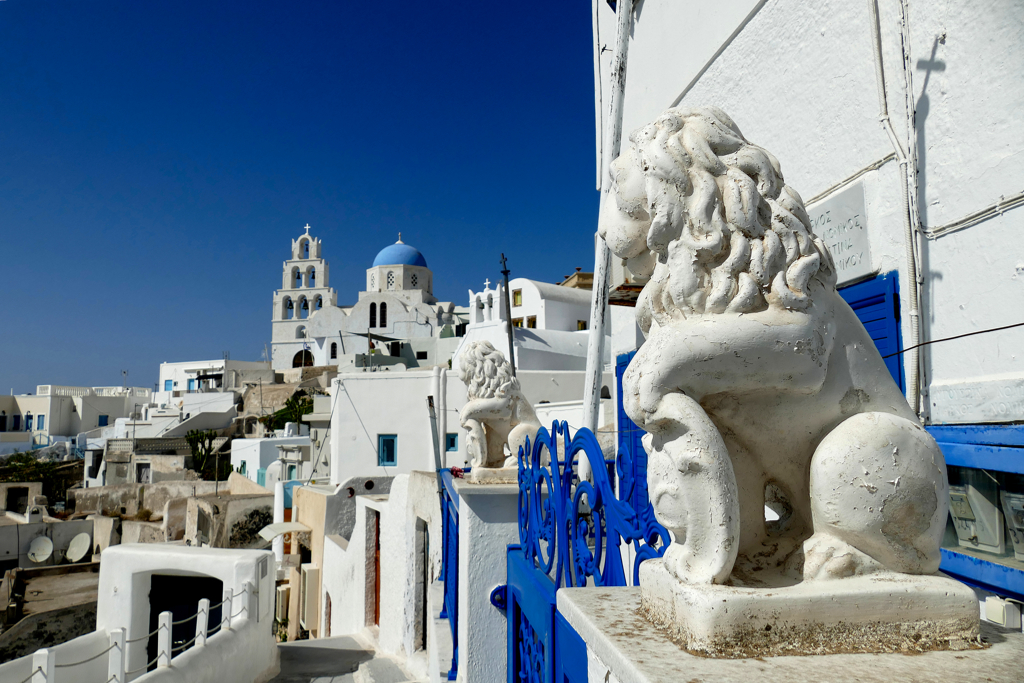 It's called Pyrgos just like villages in other places, too. Because just like Chora stands for the main town in the Cycladic islands, Pyrgos is the highest one. Since in Santorini's Pyrgos, real people have a real life, there is a good bus connection there. This way, you can explore this picturesque village on a half-day trip.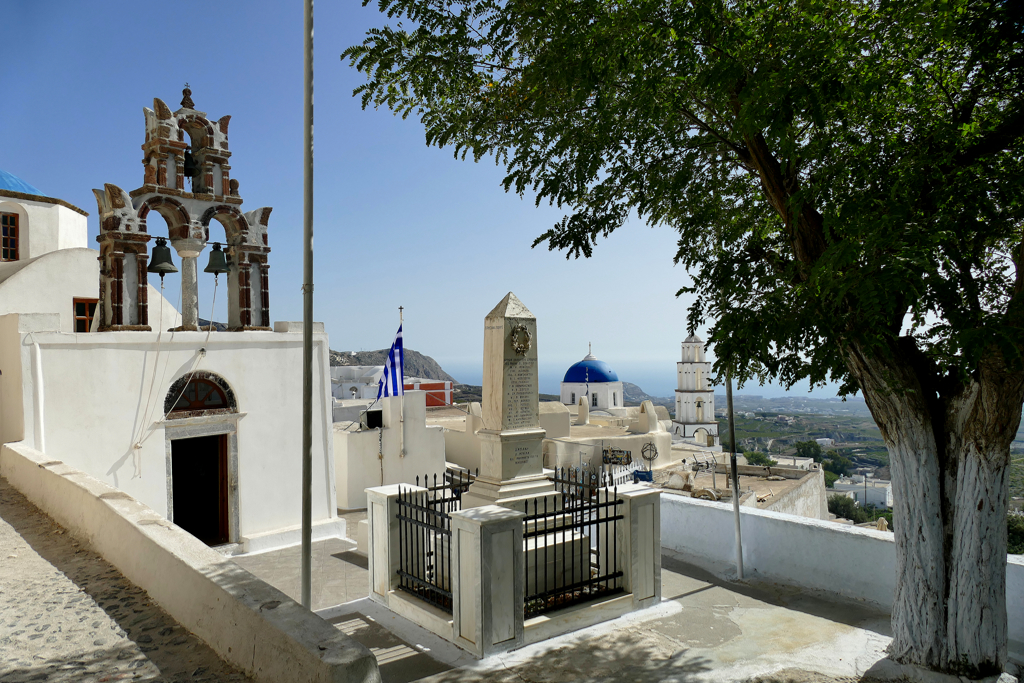 During high and also shoulder-season, there are so many visitors in Santorini that you most certainly won't find a spot you might call empty. However, the pace in Pyrgos is far more relaxed than in the famous towns of Fira and Oia.
Pyrgos is one of the five fortified towns built by the Venetians on Santorini in the 14th century. The other fortresses are in Akrotiri, Imerovigli, Oia, and Emporio.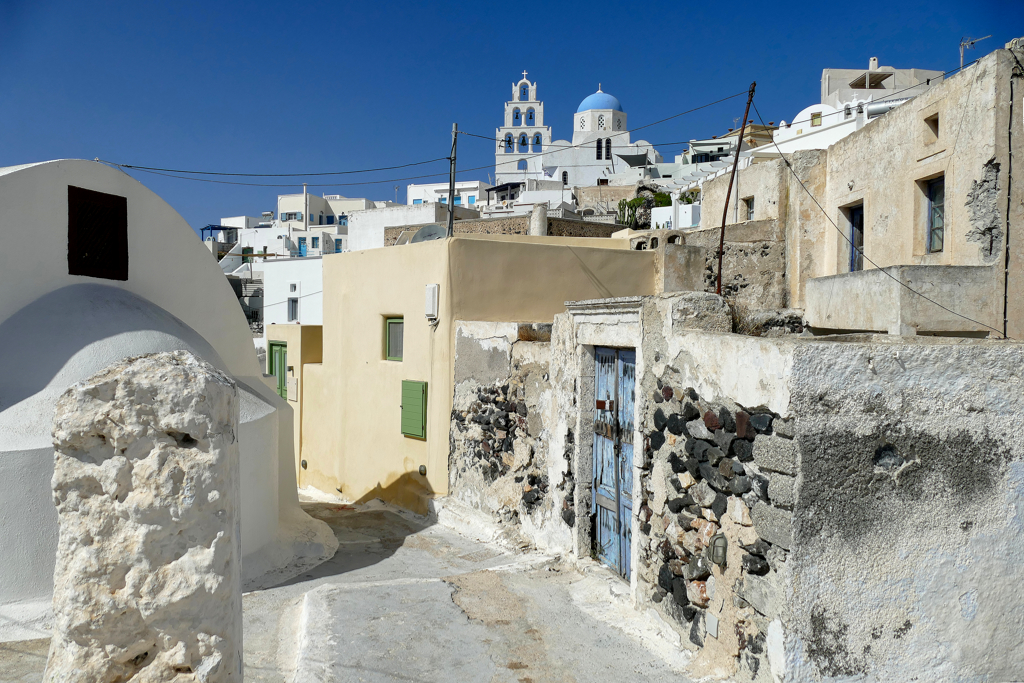 Everything revolves around the castle of Pyrgos, literally. As you get off the bus at the main square and follow the narrow alleys and stairs uphill, you will notice that the streets follow the shape of the hill until they turn into a maze of narrow alleys. The settlement was built this way to protect its inhabitants from enemies – basically like the old medinas in the Maghreb.
Holy Moly
Pyrgos is everything you expect from a dreamy Greek village. Just climbing up and down the narrow alleys feels like walking through some fairy tale. There's beauty at every corner. But don't get too distracted, especially when walking down. These whitewashed alleys tend to be slippery, so better wear flat shoes with a good grip.
However, Pyrgos is by now means'n'standards short of landmarks. There are 48 churches – an impressive number given that the village has less than 600 inhabitants. Nevertheless, many of them are private and therefore cannot be visited. But you might want to pay at least the church dedicated to the Assumption of the Virgin Mary a visit. It is located all the way up in the northern part of the fortress. Dating back to the 10th century, it is known for beautiful frescoes and icons.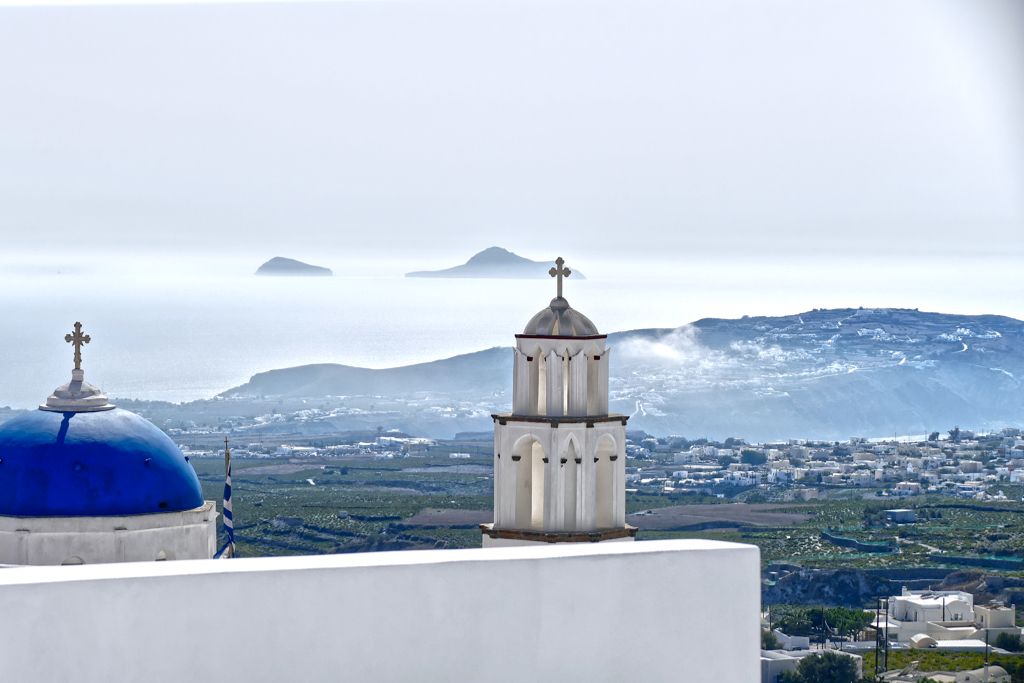 Another significant sacred structure is the monastery of Profitis Ilias. It is about four kilometers south of the city on the top of the eponymous mountain at the island's highest point at 567 meters.
Obviously, Pyrgos is one of the best places to enjoy wonderful panoramic views of the island and the caldera.
Emporio
From the highest village to the largest settlement of Santorini: Emporio is located about 12 kilometers from Fira on the way to Perissa. It is built in the lowlands at the foot of mount Profitis Ilias. That the village was named Emporio, which translates to trading center, proves that the town must have been an important trading post back in the day.
Today, however, Emporio is a serene town with beautiful houses and yards. You can find plenty of shops and traditional taverns. Its proximity to the beach of Perissa also makes it a good base during your stay in Santorini.
You'll find some of the most enticing architectural features in Emporio including a remarkable Venetian castle.
The most prominent landmark apart from the fortress is the Panagia Mesani Church, standing in the town's very center right next to the main road.
Kasteli
Walking past the Panagia Mesani Church, you'll enter the amazing maze of narrow alleys. This is the medieval castle part called Kasteli.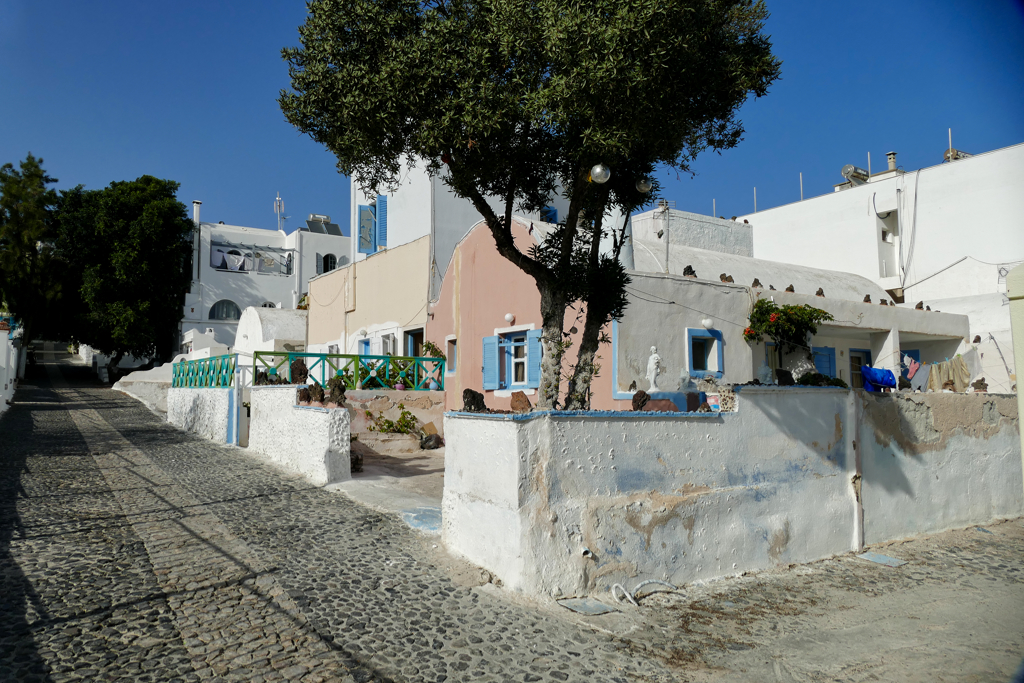 It is outstanding even among medieval castle towns for various reasons. First of all, the walls are built from mortar containing volcanic materials which gives them a strikingly smooth appearance. Then, the winding alleys and pathways are so narrow that in many spots, only one single person can walk through. With their steep staircases and extremely narrow doors and windows, Kasteli's houses seem to form an unbreachable barrier.
Since Emporio is a typical Greek townlet, there are tons of churches, obviously. In addition to the Panagia Mesani Church, I'd like to point out the intriguing Holy Church of the Transfiguration of Christ the Savior on the southeastern edge of Kasteli. Apart from its beautiful façade, it has a lovely churchyard and bell tower. Its strongest suit, however, is its intricate mosaic floors and stunning gold-plated walls of icons.
On the Top
Located right in the heart of the Aegean Sea, Santorini had to be protected against piracy, obviously. Therefore, so-called goulas, which stems from the Turkish word for tower, were constructed in strategic locations. These towers were huge and square in shape. Today, there are still five of them on the island. However, Emporio's Goula is definitely the most impressive one. The fact that it used to house an entire chapel gives you an idea of its dimensions.
On the opposite side of town from the tower is Gavrilos Hill. At its top stand eight windmills which were constructed in the 19th century. Currently, they are undergoing reconstruction intending to make two of them work like in ye olden days. The others are housing a museum, a café, and shops where you can buy local produce. If you don't shy away from another hike uphill, you can explore the mills and enjoy the breathtaking view of the entire valley and the coast.
As many buses are going between Fira and Perissa, you'll certainly have the chance to squeeze in a couple of hours in Emporio as the town lies on that highly frequented route.
Perissa
I was based in Perissa for the sole reason that I found the most convenient and at the same time reasonably priced accommodation there. Other than that, I'd argue Perissa is the least interesting settlement in Santorini. The village is located around 13 kilometers from Fira on the southern east coast of the island. There is a long black sand beach alongside the turquoise crystal clear Aegean Sea.
However, as you try to get into the water, you have to be extremely careful since you have to cross big and very slippery rocks. Doing so without good water shoes with a very good grip is extremely dangerous if not impossible. Although major parts of the beach are occupied by businesses renting out umbrellas and beach beds, you can easily find a nice spot to spread out your towel for free. Also, some trees and bushes grant shade.
Alongside the main road, you'll find taverns, cafés, and bars.
Although there aren't significant landmarks in Perissa, a trail leads up the mountains to the ruins of ancient Fira, an archaic settlement on the ridge of the 360 ​​meters high mountain Mesa Vouno. It was inhabited from the 9th century B. C. until the year 726. To this date, you can trace the settlement's layout as well as some of the impressive buildings. Since wood has been sparse and precious on the island, all structures were made from limestone.
Kamari
On the other side of mount Mesa Vouno is Kamari, another seaside village. To be honest, I probably wouldn't have visited Kamari if it hadn't been for my travel buddy that I met on the ferry. She stayed in Kamari for a couple of days and invited me over to spend the morning with her on the beach.
Well, the beach. Maybe Kamari's beach is the most beach-ish one on the entire island. The water is incredible just like anywhere else in the Cyclades and has been awarded the Blue Flag for excellence. The beach is long and covered with light-colored coarse sand and pebbles. It is completely occupied by businesses renting out umbrellas and beach chairs and serving slightly overpriced drinks to their customers. Also, you can go on snorkeling and scuba diving trips from there or practice water sports, too.
The village has the infrastructure of any seaside resort. Alongside the main roads are countless bars and eateries, stores and tour agents. Also, Santorini's only cinema is found in Kamari, a very charming open-air screen surrounded by trees.
On the way to Kamari, there is a wine museum in the village of Vothonas. You get to see tools and machines which were used for wine-making and you also learn about its tradition and history on the island of Santorini.
Akrotiri
The village of Akrotiri is on Santorini's southernmost tip. It became particularly famous for the ancient Minoan from 3500 years ago which was discovered under volcanic ashes only in 1967. The well-preserved buildings and frescoes grant a good idea of the social, economic, and cultural past during the Bronze Age in the Aegean.
Another fascinating landmark is one of Santorini's Venetian castles.
Since I was on an extended trip to a couple of the Aegean islands as well as Crete, I focused rather on the picturesque settlements in Santorini than on the archaeological sites. Therefore, I missed out on these two landmarks. But if I ever come back, I will visit it for sure. Sometimes, it's good to keep some things on your bucket list.
Beaches In Many Colors
Although I had the beach part of my trip covered during my stays on Ios and Naxos, I still came to Akrotiri for the beaches. The three beaches are famous for their differently covered sand'n'scenery.
The red beach lies closest to Akrotiri and can actually be accessed by walking. Since I wanted to see the other two as well, I took a shuttle boat for about 15 €uros. Keep in mind that if you access the beaches by boat, you have to wade through deep water. Therefore, make sure to keep your valuables safely stored in a wet pack. Also, you should wear your swimsuit or another piece of garment that can get wet.
After leaving passengers off the shore of the white beach, it continues to the black beach Mesa Pigadia before going back to the pier south of Akrotiri.
If you are in the mood for walking, you can hike from the village of Akrotiri westwards to the light tower.
So yes, these were the mesmerizing villages I managed to visit during my stay of three days on the island of Santorini. I hope it inspired you to venture out there by public bus and see all those wonders for yourself.
History in a Nutshell
Santorini is an archipelago ever since massive eruptions created a crater that has been mostly flooded by the Aegean sea. Today, its fragments form small islands with Santorini being the largest one.
Like all of Greece, Santorini fell under Roman rule in 146 B. C. In those times, extensive construction took place. Also, officials from Santorini occupied high positions. In the Byzantine era from the 3rd century, the church of Panagia Episkopi in the village of Mesa Gonia was the episcopal seat.
After the division of the Byzantine Empire due to the conquest of Constantinople, the powerful Republic of Venice conquered the southern Aegean sea. The Venetian rulers built fortified settlements in Oia, Pyrgos, Emporio, and Akrotiri. The fortified Skaros rock in Imerovigli became their capital and seat of the Roman Catholic Diocese of Santorini.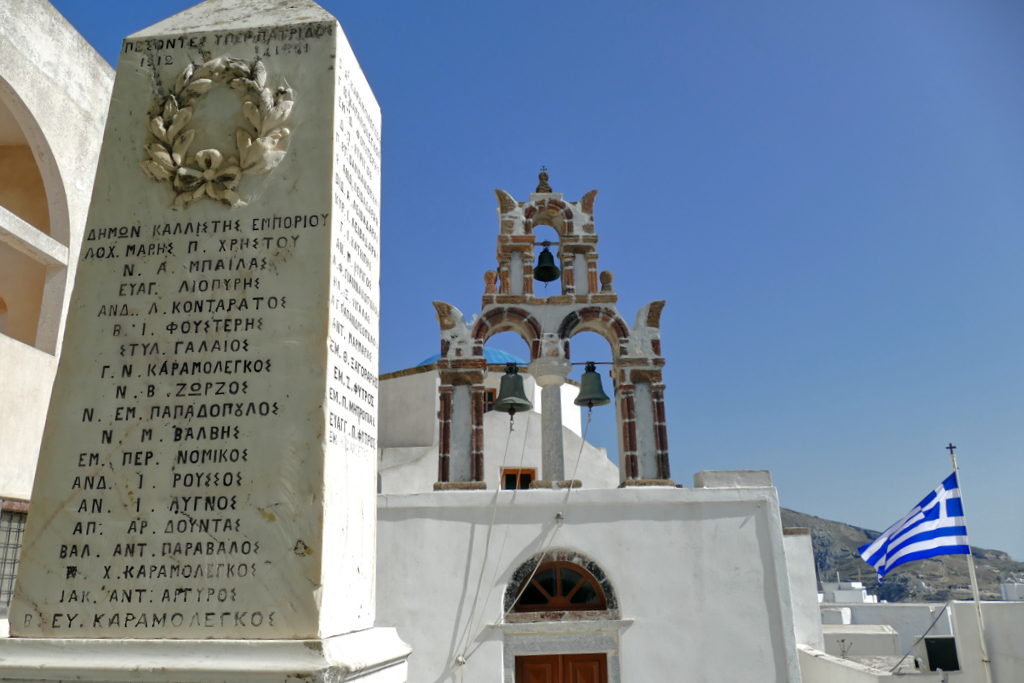 After the conquest of the Aegean islands by Khair ad-Din Barbarossa in 1537, the islands remained under the rule of a Venitian family until 1566 since they were tributaries to Sultan Selim II. Yet, the Ottomans took over the rule of Santorini in 1579. In the early 19th century, the Greeks fought against Ottoman hegemony in the Greek War of Independence. March 25, 1821, marks the beginning of the Greek Revolution and is a national holiday in Greece. Nevertheless, there were further armed conflicts with the Turkish forces during the so-called Balkan Wars.
Practical Information
When to Go And How Long to Stay
The second part of the question is easier to answer than the first. I'd plan about half a day for the bigger villages each. Hence, to explore Fira, Oia, Pyrgos, Emporio, and Akrotiri, you'd need about three days if you don't want just to race through. This will give you enough time to throw also Firostefani and Imerovigli into the mix. However, if you want to go on hikes or do some wine tasting, you'll need at least one more day. Also, the volcanic island cruise including a visit to the hot springs is a full-day tour.
I stayed for three days and got to see all the villages and even spent a couple of hours on the beaches, but I missed out on the cruise. So yes, three to four days should do. For some days on the beach, I would rather go to Ios. A ferry takes you there in under an hour, and the beaches are a whole different story.
It's The Season
Now, when to go is a much harder question. As often in life, it depends. I would opt for the shoulder season, preferably April and October. In summer, it's not only unbearably hot so you won't be very much in the mood to explore Santorini's beauty. Also, it's incredibly packed. Fira and Oia become tourist hell. Because mind you, you have to add ferry loads of day trippers from Crete and the mainland to the already crazy number of visitors. Therefore, also prices are sky-high. It simply isn't fun.
In winter, on the other hand, it's very calm. Some might say too calm as many businesses are closing during the low season. You won't find many restaurants and even hotels open. Tour operators aren't offering trips and public buses are much fewer. If you are going for the experience of how Santorini must have been before the tourist boom, that's the perfect occasion. But if you want at least a little bit of movement, you'll be disappointed. Also, if you do want to come in winter, make sure to plan your trip well ahead and thoroughly since there are only a few flights'n'ferries.
How to Get There
By Plane
Santorini international airport Kratikos Aerolimenas Santorinis is located near the village of Monolithos on the east coast. It has only one terminal and, in general, there are only a few international flights to Santorini during the high season from May to October. Oftentimes you'll have to go via Athens.
To get to your accommodation, you can book a private transfer beforehand if you don't want to fight over the few cabs. If you don't have too much luggage, the public bus is a good and super-cheap alternative: A single trip sets you back 1.80 €uros. Yet, the airport buses are not that crowded. I think that tourists don't trust the bus system enough and therefore opt for the much more expensive means of transportation.
I'd argue they are wrong.
By Ferry
Ferries are going to Santorini from Ios, Naxos, Heraklion on the island of Crete as well as from the port of Piraeus in Athens.
There are different standards of ferries, and prices differ accordingly. You can check prices and book tickets online for instance at ferryscanner.com or directferries.co.uk. I came from Heraklion and had the impression that tickets to Santorini were even pricier than those to the less hyped islands.
Howsoever, on all ferries, you can buy some kinds of snacks and drinks, hence, you do not need to bring that on board if you don't want to.
Since you have to leave larger pieces of luggage in the boarding area and have to climb to the upper decks to find your seat, make sure to pack all your valuables in a smaller piece of hand luggage that you can have on you all the time.
If you have a flight to catch or any other critical connection, always keep in mind that the scheduled times are subject to change at any time. If those are foreseen, the ferry company will inform you. Yet, delays can also occur on short notice.
Therefore, I would avoid booking a flight on the same day.
Moving On
Santorini's ferry port is 8 kilometers of serpentine roads below Fira. Just ignore the few scheduled buses you'll find on the bus company's website. They cleverly plan the bus connections according to the arriving and departing ferries, so don't worry. You can check the departure time of your bus one or two days ahead at the bus station in Fira.
Obviously, taking a cab is faster and more comfortable, however, also much more expensive.
Cruise ships, by the way, anchor in the caldera as they cannot dock at the pier. The passengers are then getting to the port by tender boats.
How To Get Around
Bus
As I mentioned above, the central bus station is located in Fira. From here, all local buses are serving basically all villages on the island. However, there are not many direct connections between the townlets but you have to change buses at the central bus stop. If you plan your trips wisely, you can take advantage of the stopovers in Fira to do your banking, grab a bite, or buy a souvenir.
Although there is an information booth at the bus station, the person in charge rather snaps at people than to inform them. Next to the windows are charts with all timetables, and tickets can be purchased from a conductor on the bus. You have to pay cash.
To get more information on timetables and prices, go to the bus company's website. While the airport buses are actually leaving according to the schedule, there are far more buses to port than listed online. Therefore, if your bus doesn't match the schedule of your ferry, don't panic. According to my experience, the bus company adapts the schedule to the actual arrivals and departures on short-term notice. They announce the hours one or two days ahead in the window at the bus station. So just relax, check the departure time of your bus 24 hours ahead, and you should be fine.
The Big Adventure
Whether the person in the information booth or the drivers or the conductors – everyone speaks at least rudimentary English, however, they are extremely unfriendly and rude. I don't even think that they hate their job. But they most certainly hate their customers.
Bus schedules differ on the weekends and during the winter season. Although there are far more buses during the high season, many bus rides are the survival of the fittest: Since no one gives you a reasonable answer regarding which of the buses waiting is foreseen to leave next, confused people hurry in large flocks behind grouchy drivers as they are mounting their coachman's seat.
"Oia? Oia?"
The driver shakes his head as if dealing with the world's most idiotic bunch.
"No", he snarls at them and pushes a button to close the door.
The lost bunch looks at each other in puzzlement and despair. Then, they quickly step aside so that the departing bus doesn't run them over. As another driver approaches a coach, the flock quickly rushes behind him.
"Oia? Oia?"
At some point, the moment comes when a cranky bus driver nods almost imperceptibly. This causes the flock to push its way onto the bus until every seat is taken and there is no room between the many passengers standing.
Then, the bus starts moving towards Oia.
Rental Car
Although the bus system is really great, I won't argue that the more comfortable means of transport for visitors might still be a rental car. It's the only way to explore the entire island at any time comfortably at a flexible pace.
On the other hand, you might encounter problems parking your car during high season. Also, at the entrance to the most popular villages like Oia, at certain hours, there might be traffic jams.
Organized Trips
Yes, my post is meant as a complete guide on how to visit Santorini's mesmerizing villages self-guided and by public bus. However, if you don't have much time, an organized island tour might be quicker. Also, there are other spots to explore around the caldera. As you cannot get there swimming, obviously, you might want to join one of the many fun cruises.
Either way, here are more ideas on what to do in and around Santorini that will make your trip an unforgettable one*:
Where to Stay
Santorini is one of Greek's most popular and exclusive tourist destinations. Especially on the coast facing the caldera, it's basically impossible to find a bargain when it comes to lodging options. Obviously, during the low season, prices do go a bit down, on the other hand, many hotels simply close down for the winter.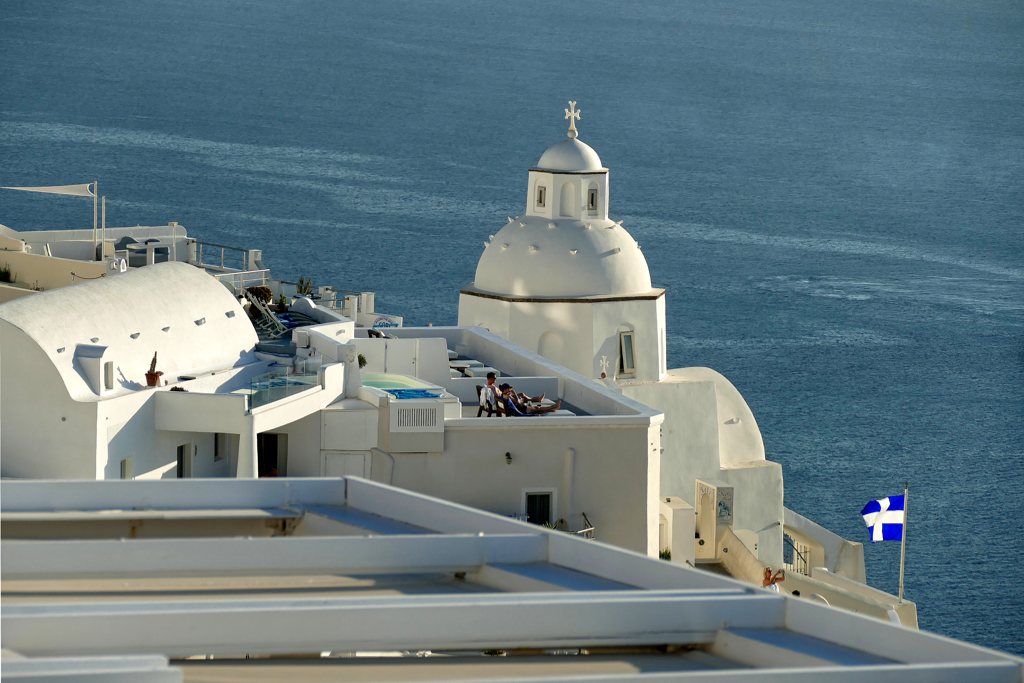 Prices are cheaper in places like Kamari and Perissa. The latter even has the island's only hostel. I don't see big disadvantages to staying there. However, keep in mind that Kamari is quite close to the airstrip so there might be some noise during the high season albeit not at night.
Obviously, the most mesmerizing places are Fira and Oia, but double-check: The price you might think is for an entire week might just be for one night.
Whatever tickles your fancy and your budget allows, you'll find it on this map*:
What to Eat
No offense, but I'd argue that Greece is not a destination for self-proclaimed gourmets. A big exception to the rule is Santorini. Some true first-class gourmet restaurants are facing the caldera and they come with a price tag, obviously. Also, you should make a reservation days if not weeks ahead, especially during the high season.
Since to me as a solo traveller, dining is not a social event but equals filling my stomach, I stuck to the classic local cuisine, intended to fill me up in a totally non-refined way.
In most restaurants that cater to tourists, you'll find all the dishes you know from your Greek restaurant back home: Gyros, Souvlaki, Bifteki, and the like. All very much on the meaty side. A restaurant serving exactly these Greek classics at a very reasonable price is for instance Gyros Place on the northern tip of Perissa. If you want to grab a quick bite, there are snack bars selling pita with gyros close to the bus station in Fira. Either way, it's not easy to find varied vegetarian let alone vegan food. The best alternative is probably Greek salads.
Also, bakeries are selling all kinds of sandwiches as well as sweet'n'hearty-filled pastries. Definitely recommended for breakfast, but also great as a quick snack while waiting for your next bus.
Cash And Cards
Until now, 20 European countries replaced their former local currency with the €uro starting in 2002. Greece is one of them, obviously. The exchange rate is 1 US$ = 0,92 EUR as of April 2023, but you can check the conversion on this page.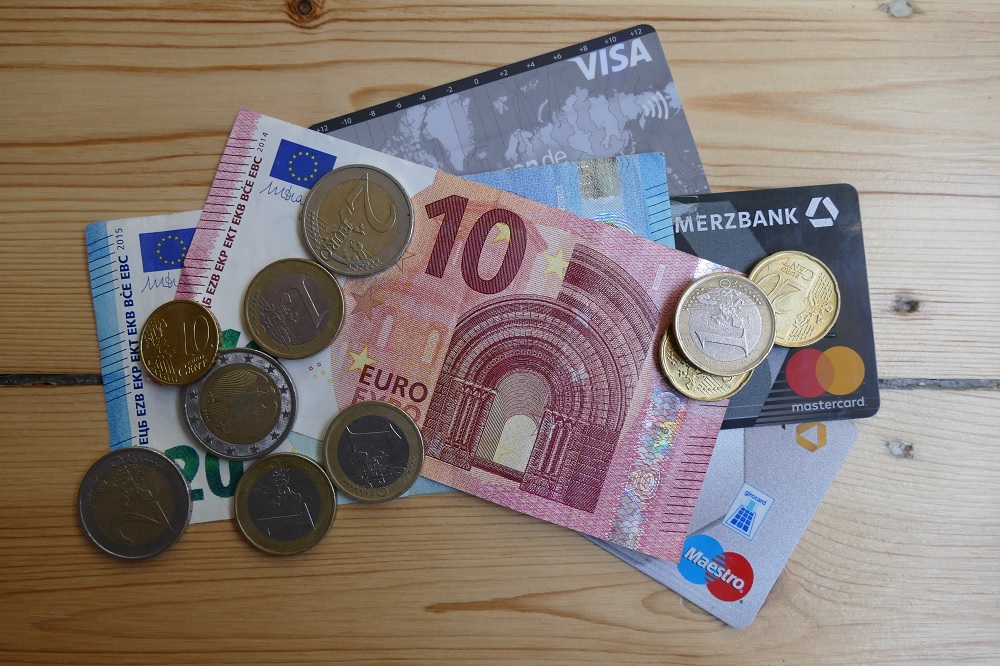 Especially since the Covid pandemic, even small businesses prefer that you pay by credit card.
However, people on the island live on tourism, hence, ATMs can often be found even in the most remote places.
Language
The Greek language had an immense impact on the development of Europe: Both the Latin and the Cyrillic alphabets were developed on the basis of the Greek alphabet. Also, the New Testament was written in classic Greek and is still read in the original version during Greek church services. Only the fall of the Byzantine Empire in 1453 marks the end of the Medieval Greek period.
This is when the era of today's version of the Greek began.
To this date, scientific terms stem directly from classic Greek – and Latin, obviously.
Although Greek is such a significant language, not many foreigners speak it. But basically all Greeks working in tourism and gastronomy speak quite decent English. However, it's always nice to be able to say at least some pleasantries in the local language so you might want to pick up some words for instance on Lingohut. This online program offers an amazing choice of more than 45 languages!
By the way, in general, menus, timetables, street signs, and other important information are written in both Greek and Latin letters. Nevertheless, to make things easier for you, below is a list of Greek letters and their respective translation.
Greek Alphabet
| Upper Case Letter | Lower Case Letter | Greek Name | English Name |
| --- | --- | --- | --- |
| Α | α | Alpha | a |
| Β | β | Beta | b |
| Γ | γ | Gamma | g |
| Δ | δ | Delta | d |
| Ε | ε | Epsilon | e |
| Ζ | ζ | Zeta | z |
| Η | η | Eta | h |
| Θ | θ | Theta | th |
| Ι | ι | Iota | i |
| Κ | κ | Kappa | k |
| Λ | λ | Lambda | l |
| Μ | μ | Mu | m |
| Ν | ν | Nu | n |
| Ξ | ξ | Xi | x |
| Ο | ο | Omicron | o |
| Π | π | Pi | p |
| Ρ | ρ | Rho | r |
| Σ | σ,ς | Sigma | s |
| Τ | τ | Tau | t |
| Υ | υ | Upsilon | u |
| Φ | φ | Phi | ph |
| Χ | χ | Chi | ch |
| Ψ | ψ | Psi | ps |
| Ω | ω | Omega | o |
Connection and Communication
Since June 2017, no roaming charges apply within the EU with a European mobile phone contract. This applies to all 27 countries of the European Union as well as to Great Britain, Iceland, Liechtenstein, and Norway. It pertains to all contracts.
When roaming is unavailable, you can connect to the internet at basically every museum, eatery, and hotel.
You can get a SIM card if you insist on being online 24/7. The most popular ones are from COSMOTE, Vodafone, and WIND. You can get them for 5 €uros in their respective stores.
In Greece, they use plug types C and F. Their voltage is 230 V, and the frequency is 50 Hz. Whereby, as nowadays all these chargers have integrated adapters, in general, the voltage and frequency don't really matter.
By the way, you'll find comprehensive travel info in my post World's Most Complete Travel Information – an indispensable globetrotter-classic.
Map
On this map, you can see where all the wonderful places that I'm introducing in this post are located. This way, you can put together your itinerary accordingly. To make things easier for you, each townlet has its color and the spots are on an individual layer. For instance, if you want to see exclusively Fira, you just deactivate all the other layers.
Clicking on the slider symbol at the top left or the full-screen icon at the top right will display the whole map including the legend:
Pinnable Pictures
If you choose to pin this post for later, please use one of these pictures:
Did You Enjoy This Post? Then You Might Like Also These:
* This is an affiliate link. If you book through this page, not only do you get the best deal. I also get a small commission that helps me run this blog. Thank you so much for supporting me!
** This is just a service to my readers and not an affiliate link