The secluded cape of Alyko in the southwest of Naxos island is surrounded by the most beautiful coves and beaches. But Alyko is not only famous for its idyllic secluded bays. It has actually a real landmark. Pretty much in the center of the peninsula is a long-abandoned and uncompleted resort. Today, these hotel ruins of Alyko are decorated with murals by street artists from all over the world.
Naxos
Exceptional beaches, picturesque mountain villages, hikes between sheep and olive trees, Byzantine churches and antique temples – Naxos is not only the largest of the Cyclades, but it is also the most varied one.
I'd argue that every visitor to the island finds at least one thing he or she is passionate about: Are you searching for the great Greek history, basically the cradle of European culture? Then Naxos' archeological sites will amaze you. Do you want to hang out on a secluded beach? No problem, you'll find more hidden bays than you have ever expected. Immersing yourself in Greek everyday life? Hop on a public bus and visit the picturesque townlets and villages in Naxos' hinterland. 
You see, Naxos has it all.
Alyko Beach
Yes, the island is incredibly varied, however, I'd argue that Naxos' strongest suits are its amazing long golden beaches hemming turquoise crystal clear waters. And the beach of Alyko in the southwest of Naxos is the best of the best.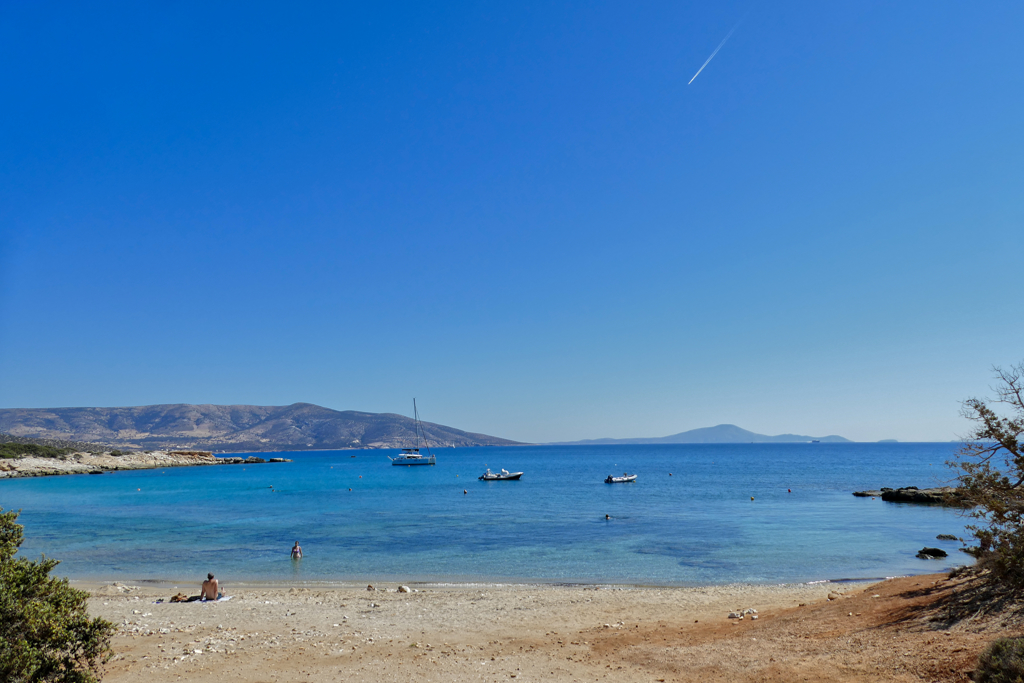 Located on a headland projecting out into the sea, it consists of various cozy bays, secluded coves, and dreamy stretches of sand. Alyko caters to every need and taste.
The Abandoned Hotel
However, Alyko Beach is not only famous for its many idyllic secluded bays. It has actually a real landmark.
Pretty much in the center of the peninsula is a long-abandoned and uncompleted hotel complex. Supposedly, it stems back from the days of the military Junta in Greece. It is believed that as the government changed, this construction was considered illegal. Even as you look at the ruins today, you'll realize that this was a completely disproportionate project. Believe it or not, the hotel was planned to have 1,000 rooms! A chunk like this would have totally destroyed the beauty of Alyko and the peninsula's distinctive biotope. Fortunately, after decades of disputes, this crazy project was simply abandoned.
Today, those decaying buildings provide amazing opportunities for street artists mainly from Greece but also from other parts of the world. As a matter of fact, the Hotel Ruins of Alyko became one of the top attractions on the island.
You know that I'm a street art buff, hence, there was no question if I would write a special post about this quirky open-air gallery. So instead of taking a nap on my beach towel or enjoying a refreshing dip in the crystal clear Aegean sea, I was walking around in the dust and rubble, the sun beaming on my head. As I felt the ground literally cracking under my feet, I wondered how safe mural hunting on this deteriorating site actually is.
The Artists
Howsoever, I'm not just a street art fan, I'm actually a street art trooper. And in Alyko, I was on a mission.
In contrast to my other posts on street art, in this one, I'm introducing only four artists for the sole reason that the major part of the elaborated murals are by WD Wild Drawing from Bali. Then, the amazing Greek artist Skitsofrenis contributed some of his female portraits and that's basically it.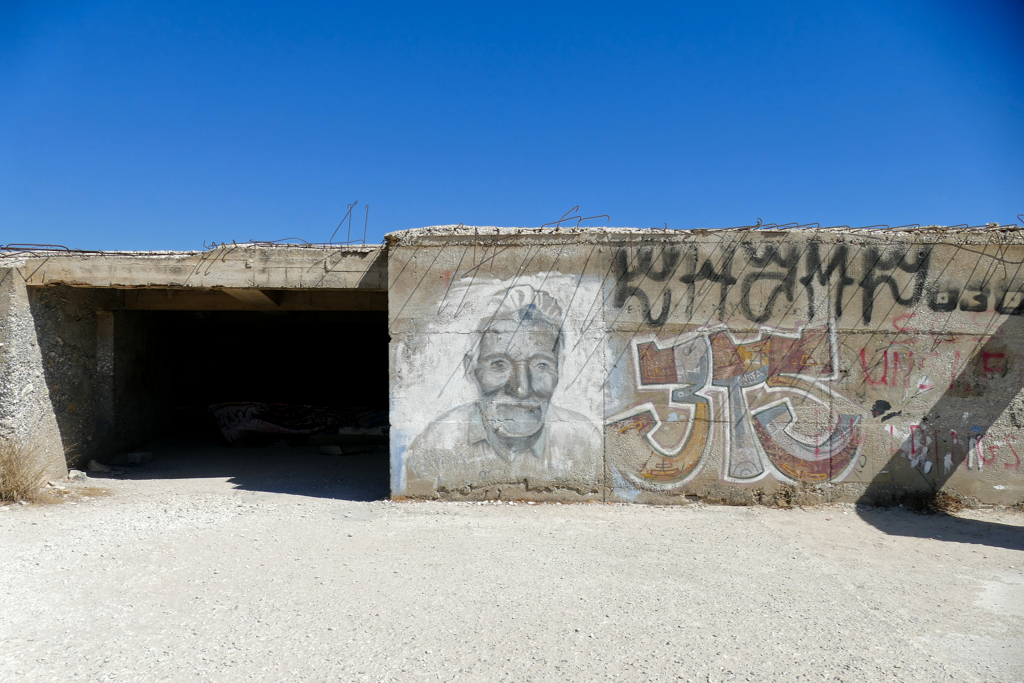 Also, I saw two pieces that were not signed so unfortunately, I cannot introduce the artist. And finally, I did not include graffiti sprayers who just left their tag in Alyko.
But hey, it's the quality that counts, not quantity, am I right?
Lia Koutelieri
Lia Koutelieri is an artist and teacher. She graduated from the School of Fine Arts in Athens.
Since 2006, she participated in major group and solo exhibitions not only as an artist but also as a curator.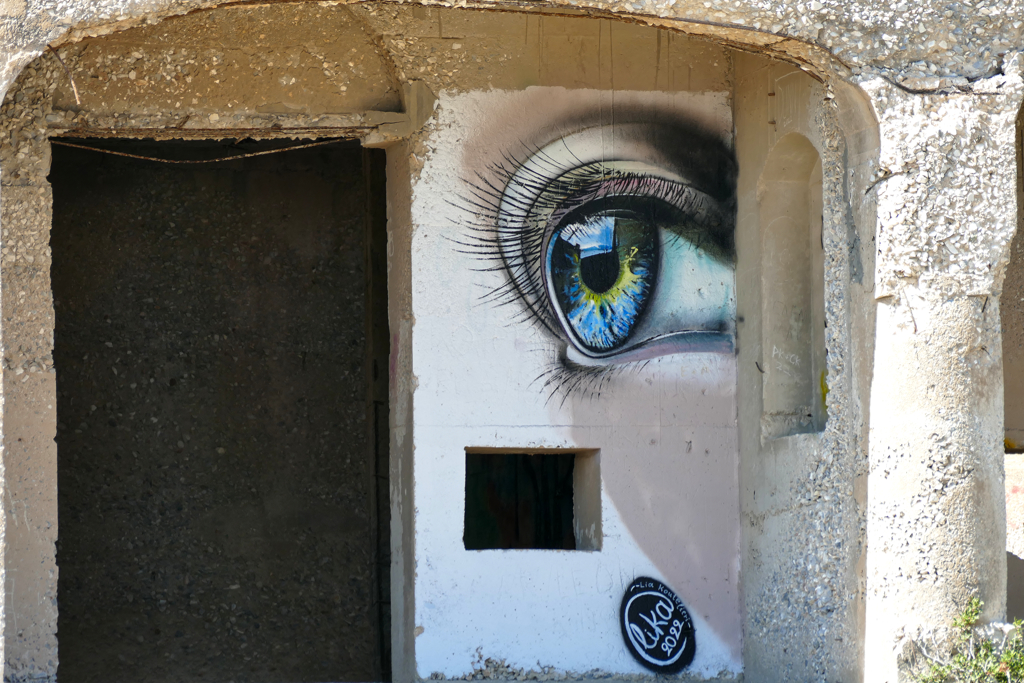 She paints and sculpts and has contributed also installations and performances. Obviously, urban art is one of the genres she's just killing.
LUD Artwork
Ludovic Olivo who goes by the nom de plume spray can LUD is based in the French part of Switzerland where he's creating all kinds of murals. Being part of an art collective, he embellishes homes and walls according to the commissioners' wishes.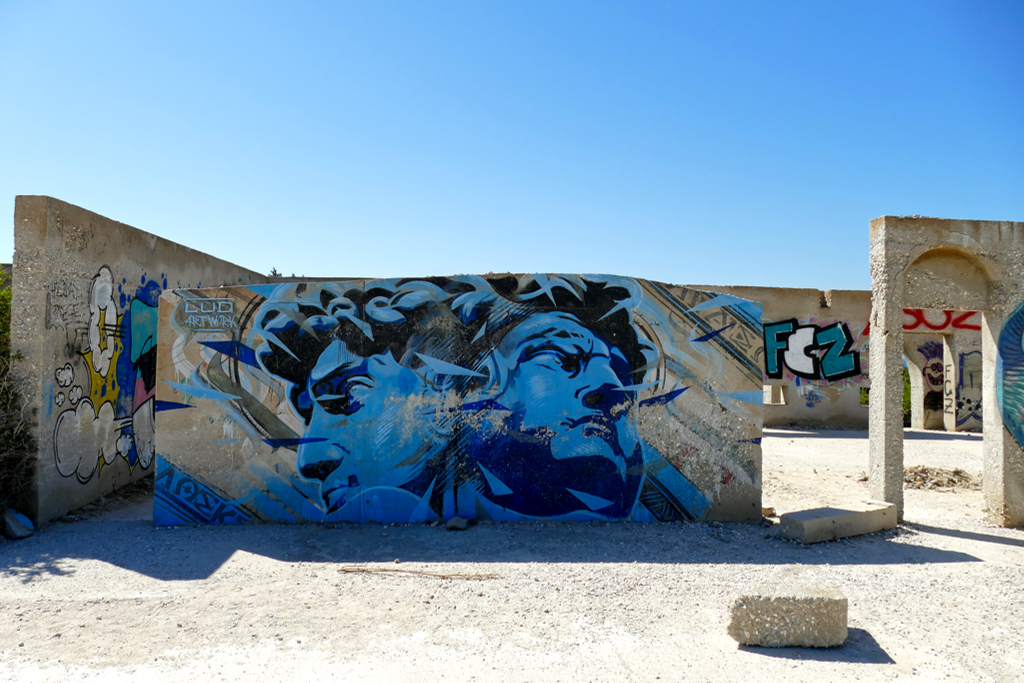 He participated in street art festivals all over Europe and parts of South America. He creates graphic tags, portraits, landscapes, and amazing Trompe-l'œils.
Skitsofrenis
Kostas Louzis was born and raised in a small village in the southwest of Greece. He had a passion for art already as a child, and in 2008, the self-taught artist began to spray on walls.
Interestingly, he draws a line – in this case, metaphorically – between graffiti and murals. While graffiti artists put themselves out there by leaving a tag of their own name, for a muralist, the motif bears a message. His name is a small tag in the corner of their work.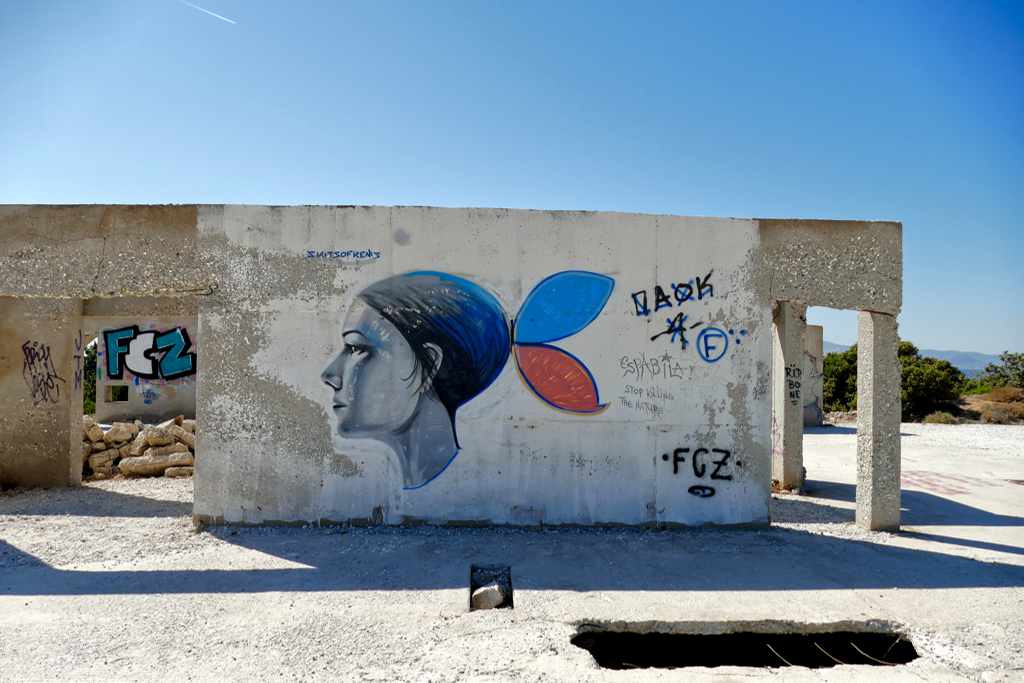 Skitsofrenis is definitely a proud member of the second group.
After having seen his tender and meaningful portraits on the walls of the hotel ruin in Alyko, I was delighted to stop two more of his works at the village of Filoti. You can read more about this beautiful mountain village in my post A Self-Guided Bus Tour to Naxos' 5 Most Beautiful Mountain Villages.
WD Wild Drawing
WD aka Wild Drawing was born on the Indonesian island of Bali. He currently resides in Athens, and I've recently introduced him in my post on Murals in San Nicolas on the Caribbean island of Aruba.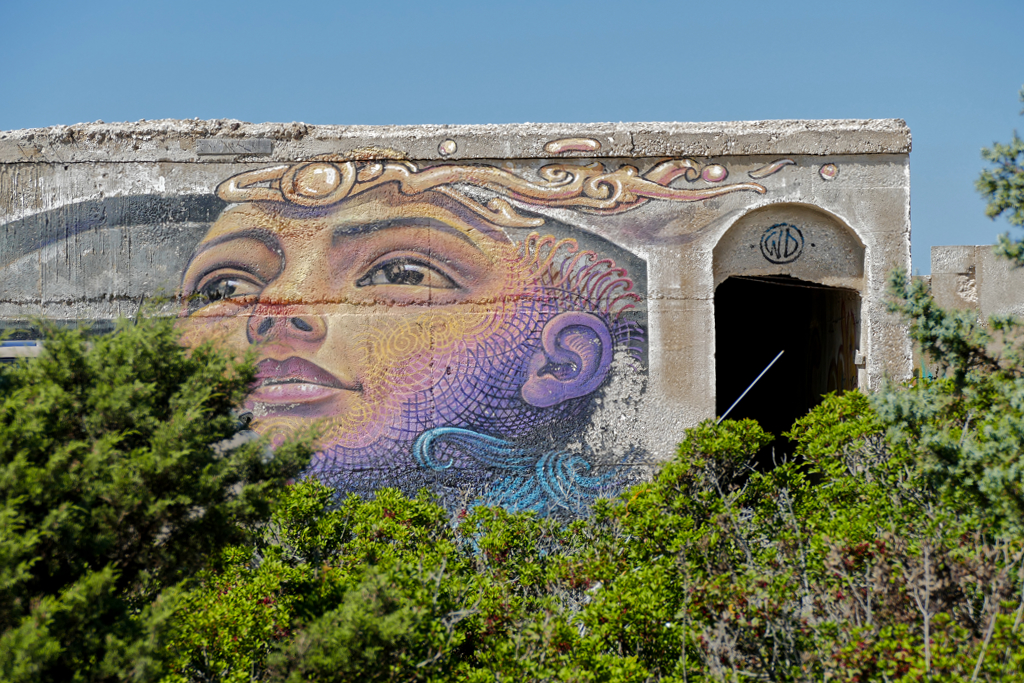 WD has degrees in Fine and Applied Arts and began to create murals in the year 2000. Since then, he's mainly painting outdoors, however, he never gave up working in his studio.
Wild Drawing presented his work in solo exhibitions as well as in group shows and festivals in his home country Indonesia as well as in many countries around Europe.
In his masterful murals, he combines the roller technique with spray paint. His way to include elements from the respective surrounding in his painting is pretty ingenious. I mean, look at how that cyclops in the cover picture of this post seems to work his way through two walls. That's what I call a Trompe-l'œil! Also, I'm a big fan of photo-realism, albeit, you'll find that rather in his other works and not so much in Alyko.
WD enjoys expressing his ideas and sharing his thoughts about the big issues of life with people by painting them in urban spaces.
On Instagram
Like in all my posts on urban art, I'm linking the artists' Instagram accounts below. This way, you can check out the other murals they created around the globe.
Lia Koutelieri aka lika
LUD Artwork
Skitsofrenis
WD Wild Drawing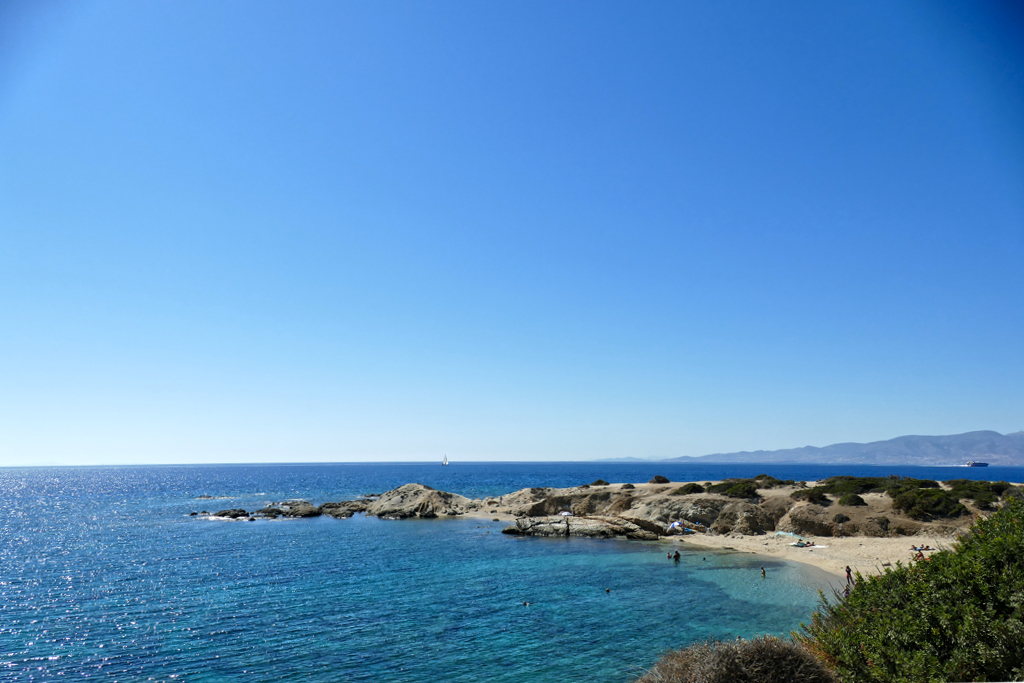 Although Alyko Beach and the murals decorating the abandoned hotel are excellent, they are not the only attraction Naxos has to offer. I wrote a post about the island's best and most beautiful beaches, and in another post, I'm introducing five picturesque mountain villages that you can easily visit by public bus. Finally, to read about other great activities, go to my post on what to do in five days on Naxos and take your pick!
Pinnable Pictures
If you choose to pin this post for later, please use one of these pictures: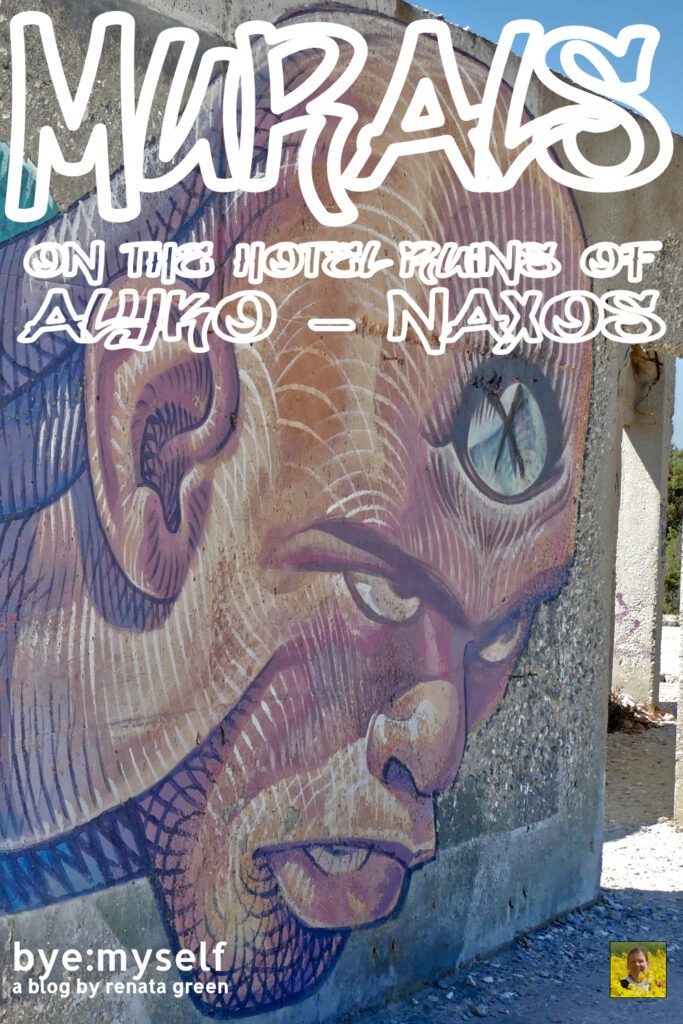 Did You Enjoy This Post? Then You Might Like Also These:
* This is an affiliate link. Hence, If you book through this page, not only do you get the best deal. I also get a small commission that helps me run this blog. Thank you so much for supporting me!