Padang Bai is not only the harbor to the Gilis between Bali and Lombok, but it is also the closest gateway to some of Bali's greatest treasures.
Padang Bai
Padang Bai is a small fishing town that is getting quite popular with the diving crowd. Located on Bali's east coast, it is the gateway to the Gilis and the island of Lombok.
Most of the Padang Bai's inhabitants are Hindus. Nevertheless, due to the busy ferry traffic with the neighboring island of Lombok, the proportion of Muslims is around ten percent. Hence, a mosque is right in front of the ferry terminal.
In contrast to some places in the south and on Bali's west coast, there are no large hotel complexes. Mostly backpackers and divers are staying at the small hostels and cozy guesthouses. Mind you, there are about a dozen diving schools offering their services across the village. Also, many travellers stay only one night before catching the ferry or speedboat to the Gilis.
On a headland, east of Padang Bai is the Hindu temple Pura Silayukti. It is one of the oldest temples in all Bali. Then, on a rocky promontory above the sea are Pura Tanjung Sari and Pura Tirta Segara Muncar. From here, you have grand views of the cliffs and the sea.
Next to the pier is Padang Bai's village beach. But please don't expect some kind of Copacabana – it's a slightly messy stretch of sand and also the waters right next to the pier are not exactly crystal-clear.
For some relaxed tanning and refreshing swimming, you need to go to the Blue Lagoon just minutes from the village. You need to cross a small hill up north.
Not only is the Blue Lagoon beautiful, but it's also very convenient with a dive shop, eateries, and other facilities.
Out of Padang Bai
I came to Padang Bai because it's the port from where you can go to the Gilis and to Lombok. And since I'm a nervous person, I squeezed an extra day into my itinerary. This allowed me to visit some amazing sights during my 24 hours wait.
Still, Bali isn't that large. From east to west, it's approximately 153 kilometers wide and only approximately 112 kilometers from north to south. Consequently, you can visit all landmarks on day tours, no matter where you are based. But all the famous temples and other landmarks I've seen on my tour starting in Padang Bai I could have as well visited straight from Ubud, Legian Beach, or even Lovina, for that matter.
For this day tour, I chartered a private car and hired a driver. I would have preferred going on a tour with a small group – but there was no bunch I could have joined. Further below in the How to Visit section, you'll find some group tours you might like to book in case you don't want to visit these sights on your own.
Candi Dasa
Our first stop was the seaside resort of Candi Dasa, 11 kilometers east of Padang Bai. Candi Dasa is located on the edge of a freshwater lagoon.
In the 1970s, an effort was made to establish Candi Dasa as a diving and snorkeling resort. Hence, hotels, restaurants, and shops popped up along the main strip. Apart from the underwater activities, the town grants easy access to places of interest in eastern Bali.
Taking advantage of this tourist boom, the offshore reef was mined for lime. This was used for construction material. But guess what – nature sought revenge. The coastal barrier had protected the beach which now was undermined and washed away.
Sorry, this puts a dirty smirk on my face. Hope that all you greedy nature distractors have learned your lesson.
However, a large lotus lagoon on the main road in Candi Dasa is truly spectacular and worth a short photo stop.
By the way, in the Indonesian language, C is not pronounced hard as K in candy, but soft as in changing. Obviously, this goes for Candi Dasa, too. Why this name – and some others, too, by the way – is sometimes written in two words and sometimes in one is beyond me. Especially since Indonesian is written in Latin letters. Consequently, there cannot be variations due to the transcript.
Ujung Water Palace
The Ujung Water Palace was one of the two big stops on my half-day trip. It is a former palace in Bali's eastern Karangasem Regency.
King of Karangasem I Gusti Bagus Jelantik commissioned the palace in 1909.
The architects were the Dutchman van den Hentz, Chinese Loto Ang, and a Balinese builder. As they started the building project, there was only the Dirah Pool which had been dug in 1901.
Finally, the Taman Ujung Karangasem was inaugurated in 1937. There is a marble stele inscribed in Latin scrips as well as Balinese.
Yes, apart from Bahasa Indonesia, Indonesia's official language, there is a local language, written in the Balinese script. Being a derivative of the Brahmi script, it thusly belongs to the Indian scripts. Not only is it used to write in Balinese, but also for Kawi, an ancient Javanese language, and Sasak, a regional language on the island of Lombok.
During the colonial Dutch East Indies era, this place went by the name Waterpaleis. Actually, there are three large pools on the premises. In the center of the main pool stands the Gili Bale, the principal building. It is accessible over bridges.
View From Above
As you visit, don't miss out on climbing up the stairs to the Balai Kapal. From up there, you will have a grand panoramic view of the palace complex.
The surrounding sceneries – the Lombok strait on one side and the mountains on the opposite side – will just blow you away.
In the past, the Balai Kapal was used as the main gate to the premises and to monitor the estate. Today, it is a great outlook and the best spot for taking your pictures for instagram.
Foreigners have to pay 35,000 IDR to visit the Ujung Water Palace which is open every day from 7 a. m. to 7 p. m.
Taman Tirta Gangga
After having admired the Ujung Water Palace, I thought it might not get any better. But as we reached the Taman Tirta Gangga, I stood so corrected!
Tirta Gangga, which translates to the Holy Water of the Ganges, is another water palace at Karangasem. It is a labyrinth of pools and fountains set in a lush garden.
The last Raja of Karangasem, whose acquaintance you've already made at the Ujung Water Palace, commissioned this second palace in 1946. However, the complex was destroyed in the eruption of the Agung volcano in 1963, but eventually rebuilt.
Tirta Gangga spreads over 1.2 hectares. Constructed on three levels, it consists of many water basins, ponds with lotus flowers, and fish such as koi carp. Those who don't fall into one of the ponds by accident can get wet on purpose at the swimming pool.
The waters filling the ponds'n'pools are coming from sacred springs above the former palace.
Foreigners have to pay 40,000 IDR to visit the Taman Tirta Gangga which is open every day from 7 a. m. to 6 p. m. If you want to swim in the pool, you have to pay another 20,000 IDR.
Before You Leave
The area around Tirta Gangga is known for its picturesque rice terraces.
You can also add the Penataran Lempuyang Lofty Hindu site to your itinerary. It is best known for its much-photographed Gates of Heaven – just check out the quantity of pix on Instagram.
Talking 'bout Instagram…
Along with Pura Tanah Lot north of Legian Beach, the rice terraces around Ubud, and the very Gate of Heaven, the jungle swing in Bongkasa is the most popular photo spot in Bali. Hence, due to Instagram and all those wannabe-influencers, all these magic places degenerate into overused backdrops and photosets. I've written about this terrible phenomenon in my post titled Most Instagrammable – Till Death Do Us Part.
And guess what – death did people part: In 2018, a French tourist fell from a swing 15 meters into Tegallalang Valley and died. The swings got famous through…yes, Instagram and have multiplied mainly in the valley ever since. There are no size or safety standards for those swings.
But hey, no price is too high for many likes on Instagram, right?!
Practical Information
How to Get There
Its port makes Padang Bai one of the gateways to Bali. Nevertheless, most visitors get to the island through the Ngurah Rai International Airport.
The easiest way to continue from the airport to Padang Bai is by cab, obviously. The ride takes about 90 minutes and costs 365,000 IDR if you obtain a taxi coupon on arrival
The private tourist company Perama has a minivan service for up to four passengers for 600,000 IDR. They also have a shuttle bus between Kuta and Padang Bai for 150,000 IDR. However, it only goes if there are at least two passengers. Also, the frequency is very limited.
Some hotels offer a shuttle which is very convenient, yet you pay much more than if you arrange your transport yourself. This being said, it's wiser to overpay for a safe trip than to risk your well-being on arrival. You'll find more on this important topic in my post Keep Calm and Travel Solo.
However, for your comfort and safety, here you can pre-book a reliable and reasonably priced airport shuttle.
The above-quoted travel options then also apply to travel on the island. You can always hire a driver at a comparatively low price which still remains the most costly option. Perama has buses going from Padang Bai for instance to Lovina via Ubud for 174,000 IDR and straight to Legian Beach for 150,000 IDR.
Getting Around
To me as a solo traveller, this was Bali's weakest point. Public transportation is really incredibly limited.
While hiring a car with a driver is comparatively cheap if you share it between two or three people, it's obviously not that cheap anymore if you pay for the whole thing yourself. Of course, you can try to share with fellow travellers. However, it's not guaranteed that you'll find someone according to your interests and itinerary.
Also, there are only a few organized group trips that you might join. I achieved that twice during my entire trip. Other than that, I involuntarily lived like a queen and had cars to myself.
This being said, you can always try to join an organized tour with Perama. They have offices all over Bali and also in Lombok. Nevertheless, they don't stick to scheduled tours no matter what. If they don't have at least two passengers, they simply don't go.
To help you find the best option even if you travel to Bali solo, I'm including some tour offers in the How to Visit section below.
Where to Stay
Padang Bai is by far not as packed with tourist facilities as the west coast, still, you won't have trouble finding a suitable lodging option. Since to me, Padang Bai was mainly a gateway to the islands and I needed to catch the early speedboat, I opted for the very comfortable Padang Bai Beach Resort right across from the pier. With a pool and a nice restaurant and bar, it's good, but nothing to write home about.
However, on this map, you can check out other convenient lodging options at Padang Bai*:
What to Eat
Not only is Balinese food simply delicious, but for international visitors, it is also pretty cheap.
And while it can get a bit more expensive for instance at hotels or fancy restaurants, this would be the average price at the Warungs, Bali's lovely local eateries.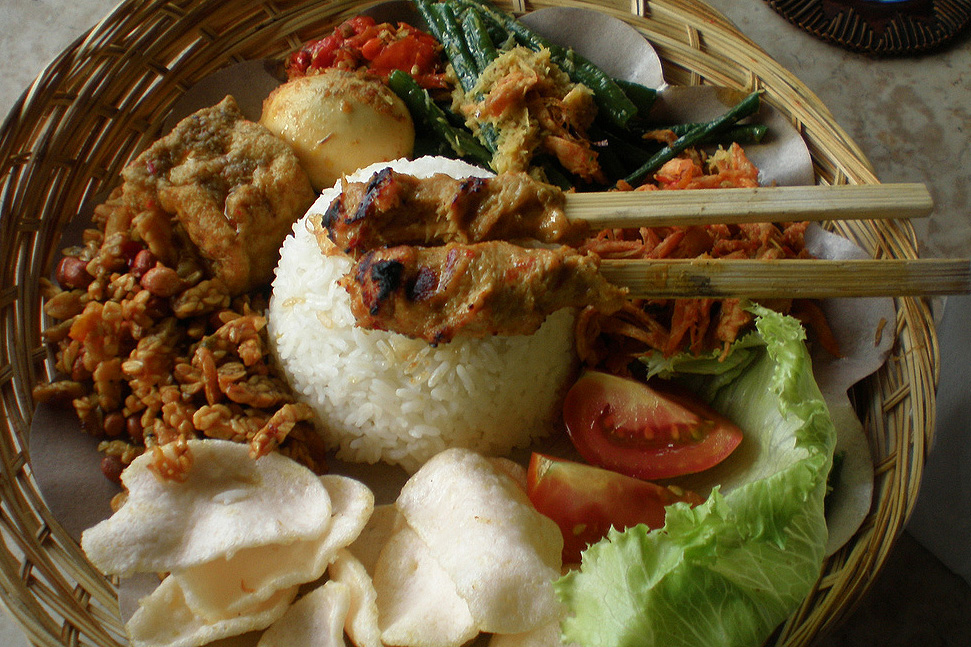 However, to make things easy, I simply ate at my hotel.
How to Visit
I'm an avid solo-travelling woman. Since solo travel doesn't equal solitude, I love to join organized tours here and there. Since this is not that easy in Lovina, here are some valid options for how to get to see what this magical island has to offer in a safe and easy way*:
What to Bring
Be a scout and remember the motto Be prepared.
As you leave in the morning to explore, make sure to not only have your money and your sunshades on you.
Good to Know
Don't let the half-naked tourist hordes in some beach resorts fool you: Balinese dress very modestly. This goes particularly as you leave the beach area to explore remote villages and, most of all, sacred complexes.
It is always a good idea to carry at least one light, large scarf with you to cover up in case you decide to visit a sacred place. And I'm not talking only to the ladies, men have to cover, too.
You always have to wrap a sarong around your hips – even if you are wearing long pants. Locals also wear a temple scarf around their waist. Foreigners don't need necessarily to do so.
Remember that you're neither supposed to expose your shoulders nor your arms. So if you are wearing a sleeveless top, you also need a scarf to cover your shoulders.
Often, you can rent sarongs at the entrance to temples. Or they will be someone selling them. Since these vendors cater mostly to desperate people who need a piece of fabric right away, their prices are ridiculously high.
It might also be a good idea to have a pair of old socks with you that you can wear in the noonish heat when walking on the hot stones around the temples as you have to take your shoes off.
You'll find more tips on Bali's DOs and DONTs in my post on How (not) to behave in BALI.
Good to Have
Especially when you are walking a lot or cycling, you will appreciate a catlick using some wet wipes on your hands, face, and neck. Also, the last resort in case some bathroom along the way has no toilet tissue. Remember to freshen up your sun protection especially after wiping your face – so make sure to have a travel-size bottle of sun protection with you. Especially if you are planning to visit forests or gardens, you might want to bring some insect repellent so that mosquitos don't eat you alive.
I have all these things in an extra pouch that I just stuff in my daypack in the morning without having to remember every single piece.
Of course, you shouldn't forget to take a hat, good sunshades, and a large bottle of water with you, too.
Cash And Cards
Padang Bai is a place where people buy ferry tickets and pay for diving tours, hence, credit cards are accepted at most businesses. Nevertheless, you have to pay for some services in cash. Obviously, you can get money at one of the ATMs.
One US-Dollar equals 15.67 Rupiahs (IDR) and one €uro equals 15.68 Rupiahs (IDR) as of November 2022. You can check the current rate on this page.
Language
The official language on the island of Bali is Indonesian.
Amazingly, Indonesian is one of the languages offered on babbel. As usual, the first lesson is free. There you learn the most important words and polite expressions to interact with people.
I gained some basic knowledge for my trip to Bali. It's amazing how easy bahasa was to learn. Especially since it's written in Latin letters.
Since Bali is so over-touristy, everyone in the tourist industry has at least a rudimentary command of the language. However, sometimes the accent is so peculiar that you won't understand it right away. Also, locals might not really understand what you are saying but just grasp the supposed meaning from one or two words they got from your sentence. Hence, prepare for some hopeless explaining, quirky conversations – and many bright smiles.
Communication and Connection
Like during most of my trips where European roaming is not available, I did not get a national SIM card. I rather used free WiFi. There was a connection to the internet without any issue at basically every eatery or café and, of course, hotel. Worked like a charm.
But if you insist on being online 24/7, you can get a national SIM card right at the airport.
In Indonesia, plug types C and F are the official standard. The standard voltage is 230 V and the frequency is 50 Hz.
But as you know, nowadays, all these chargers for phones and readers and computers have integrated adapters. Therefore, different voltages and frequencies don't really matter.
By the way, you'll find this kind of practical travel info in my post World's Most Complete Travel Information. Actually, it's an indispensable globetrotter classic.
Padang Bai was just one of the most amazing places I've seen on my trip to Bali. Go to the main post to check out all the other destinations.
Pinnable Pictures
If you choose to pin this post for later, please use one of these pictures:
Note: I'm completing, editing, and updating this post regularly – last in November 2022.
Did You Enjoy This Post? Then You Might Like Also These:
* This is an affiliate link. If you book through this page, not only do you get the best deal. I also get a small commission that helps me run this blog. Thank you so much for supporting me!