Mui Ne – this fishing village a bit over 200 kilometers north of Ho Chi Minh City stands for sea and sand. And talking 'bout sand, I'm not referring to just a dreamy beach but to amazing sand dunes on the outskirts of Mui Ne.
Whether you prefer them in yellow or in red – you need to get up at the break of the day to enjoy them most.
After two days of surviving Ho Chi Minh City basically without any oxygen, I was so ready for a remote place. Mui Ne promised to be a hippie village along a deserted, white beach.
Spoiler alert – it's not like that.
Travelling in a Tin Can
I went to Mui Ne by bus from Ho Chi Minh City. Actually, the hotel had arranged the trip for me and screwed me over big time. As a matter of fact, I paid like triple the regular fare – which was just the beginning of a multitude of scams.
Also, I wasn't familiar with Vietnamese buses yet so that I thought an upper seat would be better. The view and all – you know.
Getting on the bus, I stood corrected. In most overland buses in Vietnam, you are basically climbing on a sort of a stretcher. Then, you have to put your legs in kind of a metal box.
I assume if you happen to have a Vietnamese butt and Vietnamese legs, it's quite comfortable. I can only assume since I don't know – after all, I do not have Vietnamese legs, and my butt is definitely European.
Sitting on a narrow stretcher with your legs stuffed in a metal box, you are definitely more comfortable and far less shaky if you sit in one of the lower seats.
Next time I know better.
I had looked up Mui Ne and the location of my guest house on the map, but funny enough, in real life, places still look different. Therefore, I had told the driver about a dozen times the name and the Herbal Hotel's* approximate location, asking him politely to drop me off anywhere close.
That was such a smart plan – and worked out….not so well.
As we reached Mui Ne, the driver stopped in the middle of some endless road, opened the door, and ordered me to get out.
So yes, I was standing there, holding me luggage, looking up and down an endless road – no idea of which direction to go.
Mui Ne
Mui Ne is a fishing village about 220 kilometers north of Ho Chi Minh City. Like in uncounted fishing villages around the globe, tourism has become an important source of income – understandably more important than the fish.
There are long beaches winding along the South China Sea. Thanks to the strong winds at Cape Mui Ne, these beaches are ideal for kite and windsurfing.
The village became famous for its sand dunes. International tourists discovered these dunes on the occasion of the solar eclipse on October 24, 1995. That's when the first beach hotel opened.
Since then, numerous hotels, guest houses, restaurants, and surf schools have settled on the long sandy beaches. Restaurants, tour offices, and souvenir shops line the above mentioned endless road.
Still, fishing remains a source of income. It is carried out from fishing trawlers, but also from the iconic round basket boats, the so-called thung chai. Cleverly, the Vietnamese invented these round boats to avoid the taxation of ships by the French colonial rulers.
The Dunes
Seeing the dunes at sunrise means rising before the sun.
I had booked a tour the day before, and they picked me up at 4 a. m.
In a group of five or six, we were heading for the dunes. You might imagine peace and quiet at this time of day – maybe a light breeze blowing from the sea, whispering a tender Good morning, Vietnam.
Nope, it's nothing like that. As we arrived, there were already many other groups of five or six marching up the sand. It baffles me how people can be so cheery and noisy at 4:30 a. m.
Maybe it was due to the helter-skelter from the other early risers that the dunes really didn't impress me that much. Not only have I been to deserts before, but I have also seen far more overwhelming heaps of sand – for instance on Cape Verde's island of Boa Vista. Even Huacachina in Perú was more captivating. Nevertheless, Southeast Asia isn't exactly famous for deserts, so maybe they are a bigger deal than they seemed.
Anyway, apart from the yellos sand dunes that are around 30 kilometers from the Village, there are also the red dunes. Those are far smaller, closer to Mui Ne, about 17 kilometers, and the sand is – you probably guessed so – reddish.
Sand-sledding is a popular activity – that's what makes people shrieking already in the early morning. Or they are yelling at the sled-guys for trying to rip them off.
Take Me to The River
One of the standard destinations of this morning trip is a visit of the so-called fairy stream. This creek is about ankle deep and flows through bamboo forests and amazingly colored boulders. Geologists might be blown away, I just found it very pretty and totally worth the visit.
Some visitors wade through the fairy stream's red waters. Since during my visit, I saw also cows wading in the water, I rather refrained from joining them. It's also possible to walk on the side and keep your feet dry.
I See the Harbor Lights
My personal and unforgettable highlight were neither the dunes nor the stream. I was mesmerized by the sight of Mui Ne's morning fish market.
The sight of the fishermen coming in from the sea left me speechless and the beauty of the scene almost moved me to tears.
The atmosphere of the bustle on the wide stretch of tideland is so special. There are hundreds of boats. Men are carrying huge baskets of mussels and conchs. Women under their conic hats haggling determinedly over fish prices.
This perfect scenario at the break of day was just too beautiful and made the whole trip to otherwise a bit pointless beach resort of Mui Ne worth the trip.
Beware of False Economies
After that early morning tour, I spent the rest of the day on the beach – where I got duped by some hotel watchman who illegally rented out one of the exclusively for hotel guests reserved beach beds for a neck-cutting price. But what the heck.
My next destination was Da Lat, called The City of Eternal Spring, a cool yet sumptuous scenic little town up in Vietnam's Central Highlands.
After my early rising, I didn't feel like searching for the best fare. My landlady was nice enough to arrange a ride for an acceptable price.
About 5.30 a. m. a – let's call it vehicle – honked the horn in front of the guesthouse – bye, thanks for everything, see you…probably never again.
Munching on my breakfast sandwich, I eyed the passengers who were joining this ride one by one.
A couple of quiet Scandinavian guys, two bitchy German girls, an American jock who funnily asked if this bus would take us to the coach heading for Da Lat. Nope, my American optimist, this is your coach to Da Lat.
At the next guesthouse, the vehicle filled up to the top with an Indian family of nine, tourists from Malaysia. Off we went – quite jolly.
After an hour, there was a short stop at a motorway roadhouse – and I noticed that our bus was the rattliest and funkiest of all the vehicles on that parking lot.
Who cares, we'll get there just like everybody else.
Geez, was I wrong! Twenty minutes after we left the roadhouse and began our ascent towards the highlands, the vehicle started to make a very loud, very hoarse, very disturbing noise. As the noise rose, the speed sank.
And then both – noise and speed – stopped at once.
On the Road Again – Literally
Here we were, in the middle of nowhere, it was almost noon, no shade, just the black tar. The driver shooed us off the bus – it was too dangerous to stay there.
Only the American guy insisted on staying on the bus – for what reason ever.
The rest of us was hanging around in the frying heat.
The driver was laying under the vehicle and while he was…checking, parts of the engine kept dropping.
I was just hoping that he wouldn't achieve to get the bloody thing going.
I didn't want to go up the mountains in a provisionally 'repaired' vehicle. But we weren't even close to this scenario: the driver – between chain-smoking his cigarettes – laid under the vehicle that kept dropping pieces.
After two hours – and during this time not one other car passed us by – finally came another bus the driver had called for between cigarettes and dropping parts.
We shifted our luggage over – and even the American guy gave up his seat in the vehicles without parts and moved to the new bus – which by the way was really all new and pretty and clean. An hour later we arrived in Da Lat.
Although we finally arrived safely, this unexpected break robbed me of about three hours. That's actually a shame because Da Lat is really nice and serene and one can stroll up and down beautiful streets and around the idyllic lake and hang out in coffee places and relax.
Make sure to read about it in this post.
Practical Information
How to Get There
There are a couple of buses going from Ho Chi Minh City to Mui Ne. The ride takes about four hours.
Although there are modern, airconditioned coaches with comfortable seats, you might also end up in one of those typical Vietnamese sleeper-buses where you basically lay down in a weird position. Inquire which kind of bus will take you there as you are purchasing your ticket.
Make sure to have a map of Mui Ne. Although there is basically one coastal road, it's nice to see where on this long stretch you actually are and in which direction lies your accommodation.
How to Get Around
Mui Ne is a small village, hence, walkable. You can walk either on the coastal road or on the beach. There are bike rentals, however, since the surroundings are not that alluring, this might not make any sense.
To book a trip to the dunes, you have to inquire and haggle like crazy. If you don't, they will probably dupe you. Actually, they will you'll presumably cheat you here and there, anyway, but inquiring and haggling reduces your personal fool-score.
Where to Stay
Mui Ne has developed into a popular beach resort for locals and international visitors alike. Therefore, you'll find all kinds of accommodation here – from a bunkbed in a hostel to a standard all inclusive tourist hotel.
I stayed at the Herbal Hotel and Spa* – whereby I'm still brooding what makes it a SPA. Howsoever, it's across the road from the beach – which makes it a bit cheaper. Still, you reach the beach within three minutes – which makes it a good option.
Yet, if you want to check out other convenient lodging options, you can do so on this map*:
What to Eat
Along the entire coastal road are restaurants for all tastes and all budgets. The menus written in Russian show you which nationality predominantly occupies the uncountable hotels.
Anyway, after having visited the wonderful fish market in the early morning, I was ready to sample some of the catch.
At the Seahorse Bistro, you choose which fish and shellfish you want on your barbecue and they grill it before your eyes in a very pleasant garden setting. Wonderful seafood dinner at a reasonable price.
Another great dining option is their dipping hotpot where you stew ingredients to your liking right on your table. This option, however, is not for the solo-traveller since at least two eaters are required.
What to See
I'm an avid solo-travelling woman. Since solo-travel doesn't equal solitude, I love to join organized tours here and there. They allow me to meet fellow travellers – for just a short moment or a lifelong friendship.
Therefore, here are some great ideas of what to do during your stay in Mui Ne. Especially if you have only a short time to stay, they'll enable you to make the best of it*:
Cash And Cards
Vietnam is getting more and more touristy, hence, credit cards are widely accepted. In Mui Ne, you can get cash at ATMs which are in the village east of the tourist area.
One US-Dollar equals 23,024 Dong (VND) and one €uro 28,021 Dong (VND) as per January 2021. However, here you can check the current rate.
Mui Ne was just one stop on my exciting visit to Vietnam. Go to the main post to check out all the other destinations.
Pinnable Pictures
If you choose to pin this post for later, please use one of these pictures: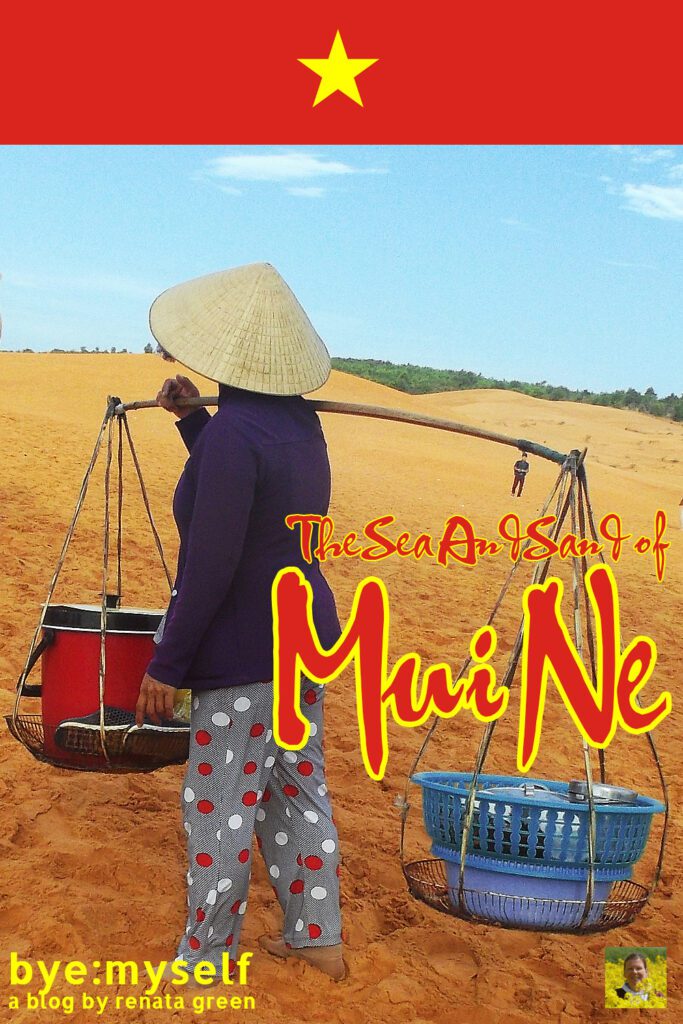 Note: This post is being regularly completed, edited, and updated – last in March 2023.
Did You Enjoy This Post? Then You Might Like Also These:
* This is an affiliate link. If you book through this page, not only do you get the best deal. I also get a small commission that helps me run this blog. Thank you so much for supporting me!