Come, let me guide you to Bogotá, Colombia's hip 'n' artsy capital.
It's the most energetic and vibrant Latin American city I've ever visited, indeed.
I'm still overwhelmed by the charm and the beauty of many neighborhoods. I'm also impressed by the environmental awareness, by the countless delightful little shops and vegetarian and vegan snack bars. The most amazing suit, however, is the eclectic, outstanding, creative art that can be found at every corner.
Totally unexpectedly, Bogotá took me by storm.
High Life in Bogotá
You would expect this sultry hot metropolis. However, Bogotá is located 2,600 meters above sea level. Every day, you can enjoy the sight of the forested Andes mountains rising east of the city.
This uplifted location is the reason that the weather here is quite temperate. Usually, the temperature is between 8 and 20ºC.
So, autumn clothes are perfect. However, don't forget your umbrella as it rains a lot in the capital.
I didn't expect Bogotá to be so cool – and I didn't expect Bogotá to be so cold, either. Since I packed for hot South American weather, I had to spend the four days in Bogotá in the same worn and torn pair of jeans and a faded blue Old Navy hoodie.
Next to all these beautiful, hip youngsters, this made me feel like a poor peasant coming to town. Next time, Bogotá, I promise to dress up for you. You definitely deserve it.
2,600 meters – Bogotá's altitude is normally not a problem for visitors. However, try to adapt your body by drinking plenty of water, eating well, and resting properly.
Thanks to this fusion of past and present, an ideal destination full of history, entertainment, gastronomy, culture, economy, and much more await you in the capital.
How to Visit And What to See
Yes, Bogotá, being home to about 8 million people, is a big, intimidating metropolis. But there are only certain districts really interesting for the common visitor. No offense, I know you are very special and I am, too. However, as long as we're not looking for a job and intend to settle down, we are common visitors and might want to stick to certain areas.
It was the more alternative neighborhood around the historic Candelaria district with many small specialty shops, cafés, restaurants, and bars serving a wide variety of organic food and drinks that took me by storm. All these places are decorated with such impressive creativity – which seems to be Bogotá's strongest suit, anyway.
Candelaria
La Candelaria is Bogotá's historic part of the city's downtown area. It's worth visiting for the colonial architecture of the old houses and churches, but mainly for the cool, vibrant, artistic atmosphere.
The most impressive murals by the best artists can be obviously found here. They are painted on buildings that are housing shops selling original, fun handicrafts and bars serving organic food and juices from fresh fruits.
There are many hostels and boutique-style hotels on the partly pretty steep alleys. Although everything looks very cozy'n'cute, they say that at night, you shouldn't venture around by yourself. If you have to go out after dark, you should take a cab and ask the driver to wait till your host lets you in.
However, during the daytime, it's certainly one of the best neighborhoods to explore.
The Center
Technically, the part west of Carrera 2 is still the Candelaria, but from here it gets less vibrant and trendy. However, we are approaching important, more classic-touristy landmarks.
Museum-goers are risking losing complete track of time on Calle 10 and Calle 11: Here, practically every building is a museum such as the Natural Science Museum De La Salle, the city museum Museo de Bogotá, the Museo Literario – Archivo Histórico del Instituto Caro y Cuervo, and many more.
Colección de Arte Banco de la República Bogotá
My favorite museum is the complex at Carrera 4 with Calle 11, the Museo del Banco de la Republica, actually housing various venues.
The most charming one is the Museo Botero showing many of his masterpieces, paintings as well as sculptures.
Another part houses the Miguel Urrutia Art Museum MAMU where colonial art, as well as modern and contemporary Colombian and international art, can be admired.
The third part pays tribute to the investors, the Banco de la Republica, hence it's called Museo Casa de Moneda, and deals with means of payment such as coins.
Although you'll probably spend a couple of hours at this venue, I cannot recommend it enough for those who enjoy grand art.
Colección de Arte Banco de la República Bogotá
Calle 11 #4-93
Bogotá
Phone: + 57 – 1 – 343 13 16
The museum is open from Wednesday to Monday from 9 a. m. to 7 p. m. (Sundays 10 a. m. to 5 p. m.) and entrance is free.
Around the Plaza de Bolívar
After visiting the museum, you can walk down Calle 11 to Bogotá's main square which, of course, is named after Simon Bolíver like basically every main square in Latin America.
Here are all the major buildings such as the National Capitol, the Town Hall, and the Cathedral.
Walking one block South on Carrera 8, you'll get to the Museo Santa Clara.
Santa Clara, built between 1629 and 1674, was Bogotá's oldest church. Today, the richly decorated, entirely covered by paintings and sculptures building is a museum.
Museo Santa Clara
Carrera 8 No. 8 – 91
Bogotá
Phone: + 57 – 1 – 337 67 62
Email: museocolonial@mincultura.gov.co
Walking further towards Calle 7, you can visit more old colonial sites such as the San Agustín Cloister. Next to it is the Casa de Nariño complex, the Colombian president's official home, and the principal workplace.
Next to it is the Archaeological Museum Arqueológico Casa del Marqués de San Jorge and the Santuario Nuestra Señora del Carmen, a funnily striped church from 1938.
However, if you walk back to the Plaza de Bolívar and keep on walking, you'll get to another old, baroque house of worship, the Iglesia de San Francisco, located across from Bogotá's – and maybe even the country's – most famous museum, the gold museum Museo del Oro.
Museo de Oro
In an austere building, probably the world's best collection of pre-Columbian gold, ceramics, and stones can be admired.
Besides their permanent collection, they also present temporary exhibitions of Latin American traditional art.
Of course, you can buy some replicas of the jewelry collection at the gift store along with some other high-class Colombian handicrafts. However, you'll get very good quality at far better prices at the covered market across from the museum on Calle 16.
Museo del Oro
Carrera 6 #15-88
Bogotá
Phone: + 57 – 1 – 343 22 22
The museum is open from Tuesday to Saturday from 9 a. m. to 6 p. m. and Sundays from 10 a. m. to 4 p. m.
At the end of La Septima, right in front of the Parque de la Independencia, you can turn right into Calle 24 and pay a venue introducing contemporary art a visit: The Museo de Arte Moderno de Bogotá MAMBO.
However, I recommend that you check what's on before you go since they don't have a permanent collection on display.
Museo de Arte Moderno de Bogotá MAMBO
Calle 24 #6-00
Bogotá
Phone: + 57 – 1 – 286 04 66
The museum is open from Tuesday to Saturday from 10 a. m. to 6 p. m. and Sundays from noon to 5 p. m.
Graffiti Tour
What really impressed me the most in Bogotá was the people's creativity. This love for designing and decorating by using all sorts of usual and unusual materials, very often recycled in a highly ingenious and innovative way.
Bogotá has a very active street art scene of many tremendously talented artists. Therefore, to get a good insight into the history, development, philosophy, and political background, the free graffiti tour is highly recommendable. It's free, but of course, based on tips.
"J", born in Colombia, raised in New York City and Miami, now back to his roots – good for him! – guides tourist groups through the barrio and points out every detail in a very knowledgeable and passionate way.
You don't want to leave without your own piece of art? Great souvenirs from Bogotá are T-Shirts designed by local artists such as Carlos Trilleras that are sold for instance at the shop decorated by his Wayuu Indio in the callejón del Embudo or on Sundays at his stand #302 at Mercado de Pulgas San Alejos next to Torre Colpatria at the end of La Septima around the corner from the MAMBO.
Zona Rosa
The Zona Rosa and all the other northern neighborhoods stretching all the way up to Parque 93 are a good place in case you are longing for a more global feel. So in case you want the standard store chains and restaurants you know from home – here they are in abundance.
I don't say that it's a bad thing, but admittedly, it doesn't really make sense to me to fly for about 12 hours to buy a T-shirt at Mango and have coffee at Starbucks; nota bene in Colombia.
Anyway, there is a vivid, modern, up-scale scene around here.
Usaquén
Even further north – a bit more towards the east – is Usaquén, a municipality that became a suburb of Bogotá in 1954.
Today, it is an upper-middle-class neighborhood. However, the main square, Parque de Usaquén, and the adjacent streets and alleys form a popular neighborhood for trendy pub crawls.
The weekly Mercado de Las Pulgas, the flea market, is equally popular with locals and visitors.
Practical Information
How to Get There
By Plane
Coming to Colombia, you don't have to land at El Dorado Airport. There are also flights from Europe going to Cartagena on the Caribbean coast. However, chances are, that you land at the Aeropuerto Internacional El Dorado Luis Carlos Galán Sarmiento, which is El Dorado's official name.
El Dorado is the third largest airport in Latin America – behind São Paulo and Mexico City. In 2018, Skytrax voted El Dorado as Latin America's best airport.
How to Go Downtown
So if you don't continue right away to another Colombian destination and, thusly, need to go to the city center, obviously, taking a cab is the best option.
If you have a long flight behind you, and possibly came from a different time zone, you are probably exhausted. This is not a good condition to venture into foreign surroundings. Therefore, I strongly recommend you make a hotel reservation beforehand – in this post, you'll find a great suggestion and many more for instance on booking.com*. Also, letting your hotel arrange a pickup is the safest way to get there. Yes, you probably will overpay a bit. Nevertheless, your security and comfort should be worth it.
Later, when you adapted and feel more relaxed and secure, you can always arrange cheaper transport for getting back to the airport. If you have a lot of time and a little luggage, you can even go by public transport. Albeit, there is no stop right at the airport. You have to get by bus to Portal El Dorado and take it from there by feeder bus 16-14.
My trip was a mix of flights and bus rides. I had only three weeks. Although I fell in deep love with Colombia and its people, I still wanted to avoid overnight bus travel. Hence, for long trips, I opted for flights. So I took an afternoon flight from Bogotá to Cali. This way, I still had almost the whole day in Bogotá and didn't get to Cali too late.
By Bus
If the routes aren't too long, I like to travel by bus.
In Bogotá, there are two bus terminals. In the south, there is – who would have guessed – the Terminal De Transportes Del Sur. Coaches from here go…correct: south.
Relevant for road trippers: At their bathrooms, they have also showers at your disposal. Also, you can leave your luggage if you want to go downtown while waiting for your connecting bus.
Then, there is Terminal Salitre located at the Fontibón in Salitre town. From here, there are an incredible 86 bus companies serving the entire country as well as many other Latin American countries. They are even going all the way down to Buenos Aires!
Here is a complete list of places you can reach from Terminal Salitre – it surely triggers wanderlust!
How to Get Around
To get around, the TransMilenio, Bogotá's rapid bus system, is a great option.
For about 70 cents, it takes you to almost every point of interest. Here is a system map, that, quite honestly, is rather designed to confuse than to inform. The best way is simply to stick to the stops you're looking for and not pay attention to the direction on the map – it's not to scale or even cardinal directions and therefore very confusing.
When you are travelling on route A or B, you're actually not going west as the map indicates, you are going north.
It's idiotic.
Besides the modern TransMilenio, there are, obviously, also regular buses. You can plan your trip in advance through the TransMilenio website and the Moovit application, available for iOS and Android.
Nonetheless, if you're not sure, just ask local people, they are very friendly and helpful.
If you want to take cabs, it's best to do so using phone numbers and mobile applications from recognized companies like Taxis Libres. Applications such as Uber and Cabify are also quite common.
Where to Sleep
I was in Bogotá twice. The first time, I stayed in Chapinero, a neighborhood that a hundred years ago still was a remote suburb. Although by now it's pretty incorporated, it's still about half an hour from the historic center. Also, the Casa del Patio was average, at most.
Albeit, if you stay at the Candelaria, you are close to all the places of interest. The hotels and hostels here are smaller, very familial, and cozy.
Also, the people at Hotel Casa Guadalupe* are very friendly and get out of their way to make you feel comfortable. They also arrange an airport shuttle for you at a great price.
If you still want to check out other lodging options, you can do so on this map*:
What to Eat
Centrally located just two blocks down from the Museo del Banco de la Republica is a beautiful, rustic restaurant serving excellent hearty Colombian cuisine, accompanied by fresh natural fruit juices.
You're seated in a very pleasant atmosphere – and the staff is very nice and helpful, too.
Mama Lupe
Calle 11 #6-14
Bogotá
As I wrote in the general post on Colombia, like in any other Latin American country, food is rather on the meaty side.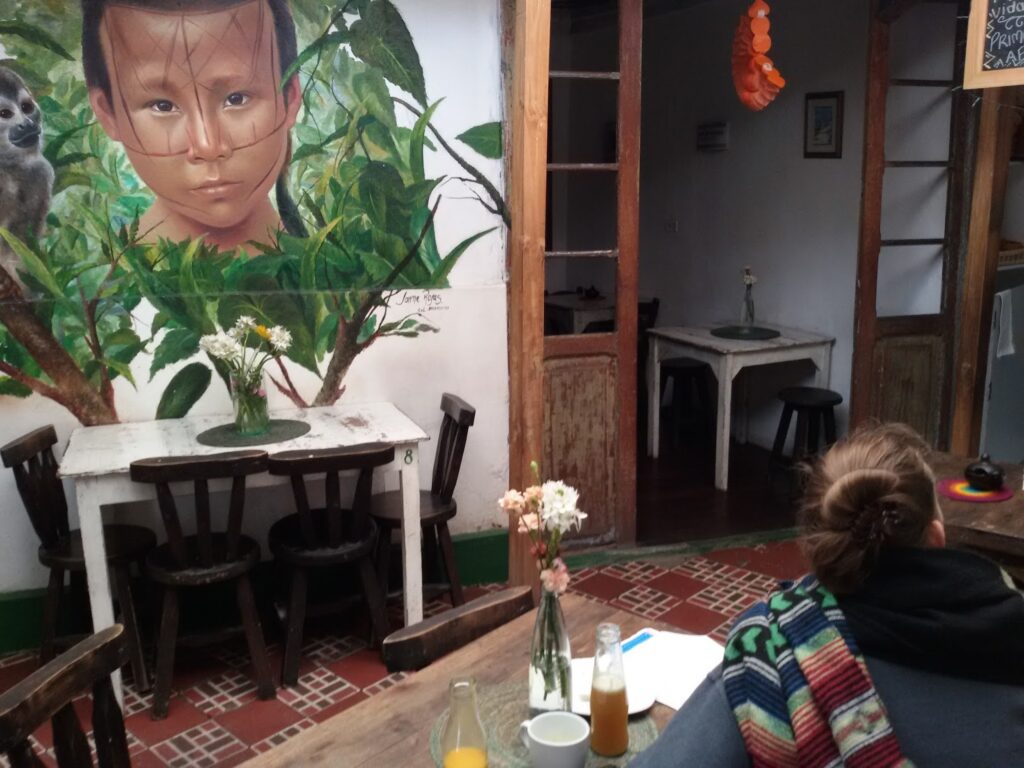 Nevertheless, particularly around the Candelaria district, you'll find a wide range of small alternative businesses serving healthy cuisine and organic juices. And they are incredibly tasty, too.
Nativo Arte Natural
Carrera 2 # 12-52
11171 Bogotá
Where to Shop
Across the street from the Gold Museum is a covered market. Whatever you want to bring back from Colombia, you'll find it here. Whether Colombian treats, replicas from the Gold Museum, garments, pottery, and leather goods. Everything is of good quality and at a reasonable price.
Galeria Artesanal de Colombia
Calle 16 #5-60/70
Bogotá
Phone: + 57 – 1 – 342 76 23
The market is open every day from 9 a. m. to 7 p. m.
If you can't get enough bling-bling: Next to the market is the Emerald Museum.
On the whole, the Carrera 7, called La Septima, is Bogotá's main shopping street. In fact, not only do you find all sorts of stores and stands and stalls where you can buy literally everything. Also, small, unpretentious restaurants and cafés that are serving good local food.
You don't want to leave without your own piece of art? Great souvenirs from Bogotá are T-Shirts designed by local artists such as Carlos Trilleras that are sold for instance at the shop decorated by his Wayuu Indio in the callejón del Embudo or on Sundays at his stand #302 at Mercado de Pulgas San Alejos.
Obviously, a good place for purchasing some very original pieces are also the small specialty shops scattered at the Candelaria.
What to Do
I'm an avid solo-travelling woman. Since solo travel doesn't equal solitude, I love to join organized tours here and there. They allow me to meet fellow travellers – for just a short moment or a lifelong friendship.
Therefore, here are some great ideas of what to do during your stay in Bogotá. Especially if you have only a short time to stay, they'll enable you to make the best of it*:
Map
Here you find all the places mentioned above:
Bogotá was only the first of many beautiful places I've visited in Colombia. So, to read about the others, go to the main post and take your pick! There you'll also find valuable general information that will make your trip smoother.
Pinnable Pictures
If you choose to pin this post for later, please use one of these pictures:
Note: This post is being regularly completed, edited, and updated – last in November 2022.
Did You Enjoy This Post? Then You Might Like Also These:
*Obviously, this is an affiliate link. If you book through this page, not only do you get the best deal. I also get a small commission that helps me run this blog. Thank you so much for supporting me!