Bright lights, big city: Although Crete's capital Heraklion has only 200,000 inhabitants – which still makes it the island's largest city – it surely has some swag and its rough vitality can definitely compete with the fierce energy of Athens. Now, add some amazing history, the proximity of some beautiful beaches and major hubs like an international airport, a busy seaport, and a bus station from where you can get to all of Crete's most captivating spots – and there you have it: Heraklion, your perfect base in the East of Crete.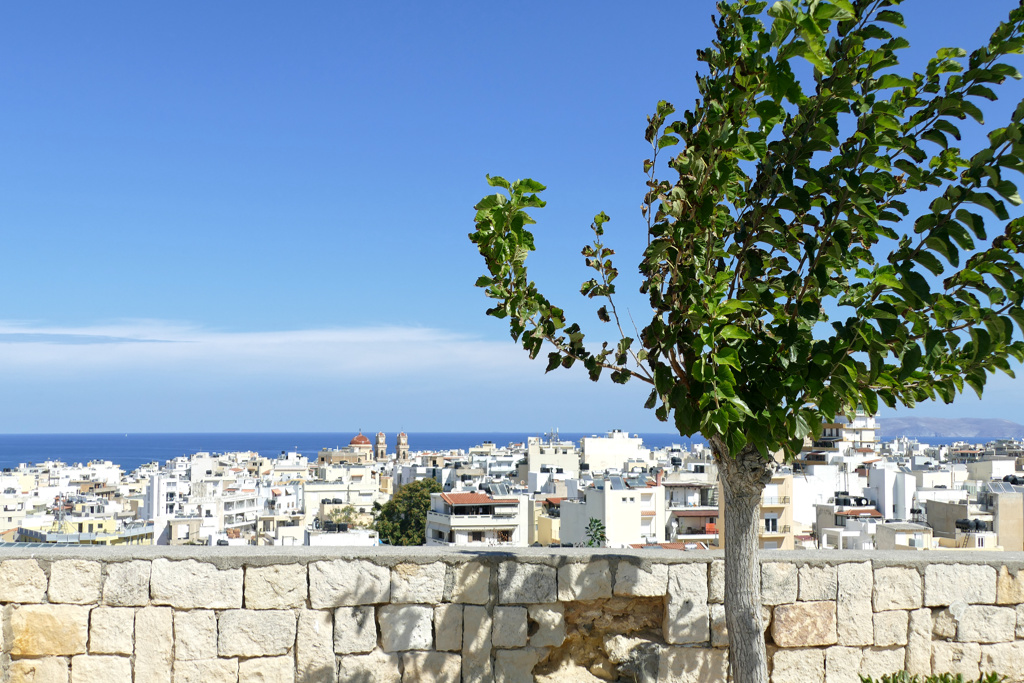 Heraklion
There is this lovely fountain right in the heart of Heraklion's old town. It's called Eleftheriou Venizelou Square after the Cretan statesman Eleftherios Venizelos whom I already introduced in my post on Chania. People also call it the Lions Square referring to the beautiful Morosini Fountain from Crete's Venetian era. It stands in the middle and gives the square some historic grandezza.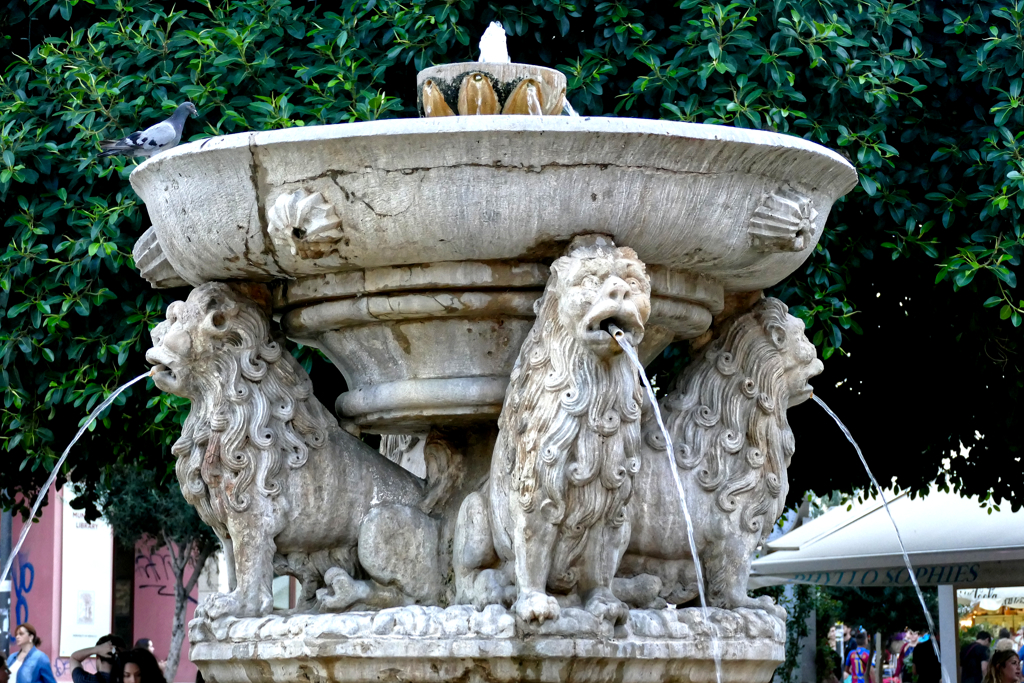 I'm trying to take a good picture of the fountain. It's not that easy since the surroundings are not so beautiful. Plus, while I'm testing out different angles, there are two kids running in circles around the basin. Round and round. As if they were wound up. Suddenly, I hear a loud splash followed by a short pause – and then a piercing scream. An alert father comes running from one of the tables outside a tavern and picks up his completely soaked offspring. Guess their dinner reservation is void now.
So yes, that was my comical first encounter with one of Heraklion's most famous landmarks. Obviously, there are many more historic structures as the city is characterized by its long and ever-changing days of yore. Therefore, before I take you on a tour through the city's contrasting neighborhoods, let's take a quick look back in time.
History in a Nutshell
Crete's capital city Heraklion is located rather to the east side of the island's northern coast on a plain adjacent to a fertile hilly area.
According to legend, Heracles landed here to catch the Cretan bull, hence the city's name. To this date, Heraklion's indisputably most legendary landmark is the Minoan Palace of Knossos, stemming from about 1900 – BC, that is.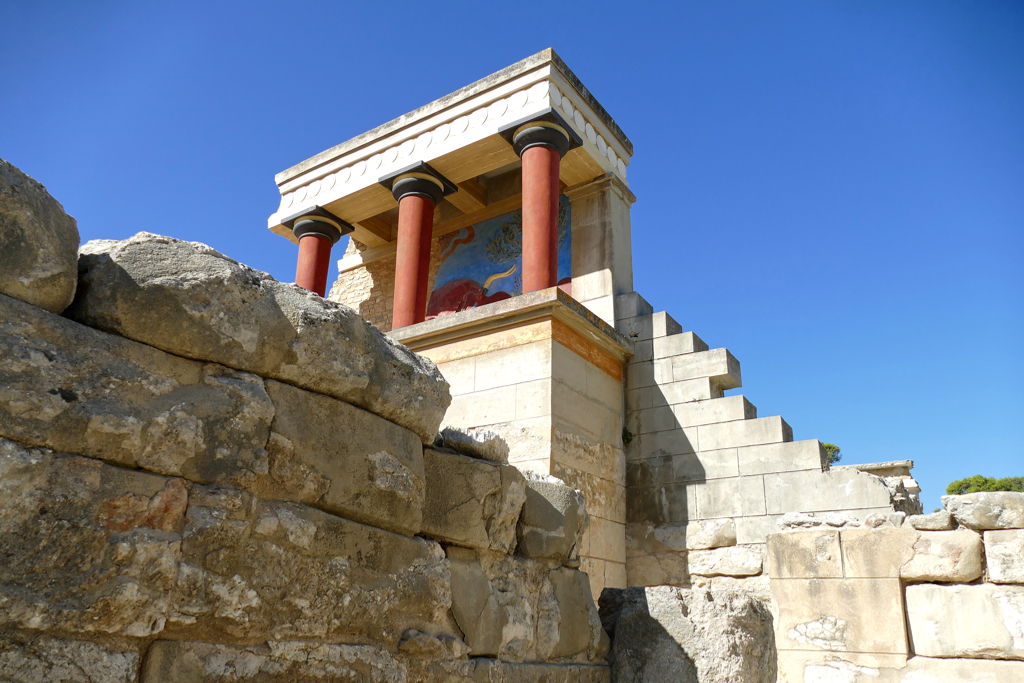 After the fall of the Byzantine Empire, the then-so-called city of Candia, just like the rest of Crete, became part of the Republic of Venice. Over the years, its port evolved into the most important trading point in the Aegean. Nevertheless, drastic tax increases and restrictions on Cretan trade in favor of the Venetian merchant families led to uprisings on the island in the years from 1363 to 1366.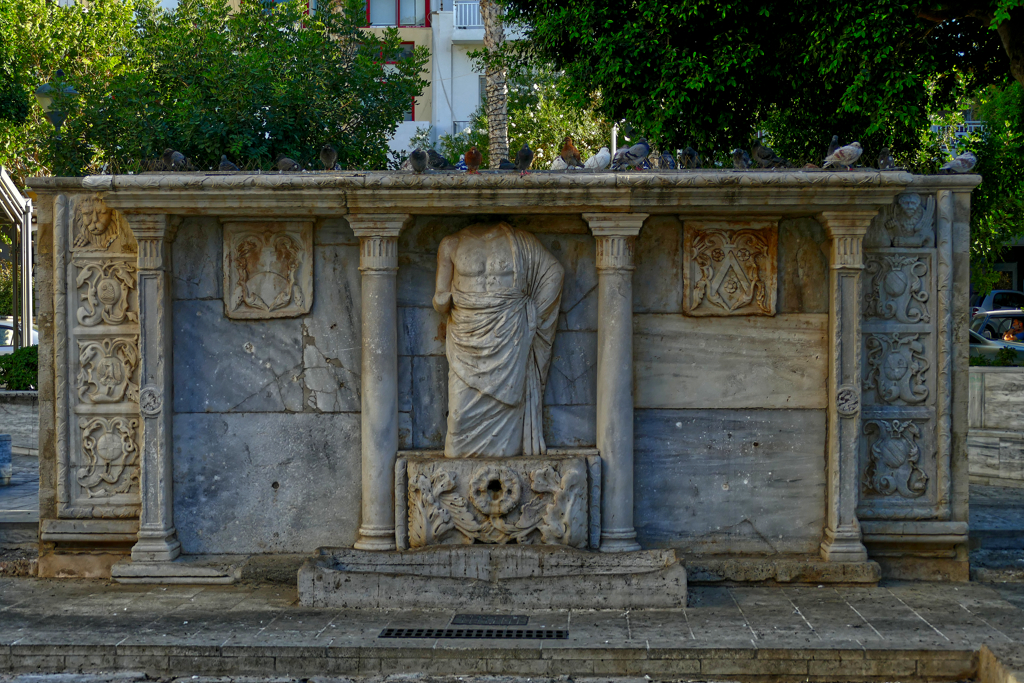 After the fall of Constantinople in 1453, Candia became the spiritual and cultural center of the eastern Mediterranean. A fine example is the Cretan school of painting with its most important representative Domenikos Theotokopoulos, better known as El Greco.
From 1648 the Ottomans besieged the city for 21 long years, which went down in history as the second-longest siege of all time after the siege of Ceuta. After bloody battles, the Ottomans conquered the city with the rest of the island. Under Turkish rule, the city lost its significance to today's Chania.
Becoming Greece
The island of Crete finally became part of the Greek state through the Treaty of London in 1913. In 1923, during the so-called Asia Minor catastrophe, 20,000 Greeks left Turkey and came to Heraklion within just a couple of days.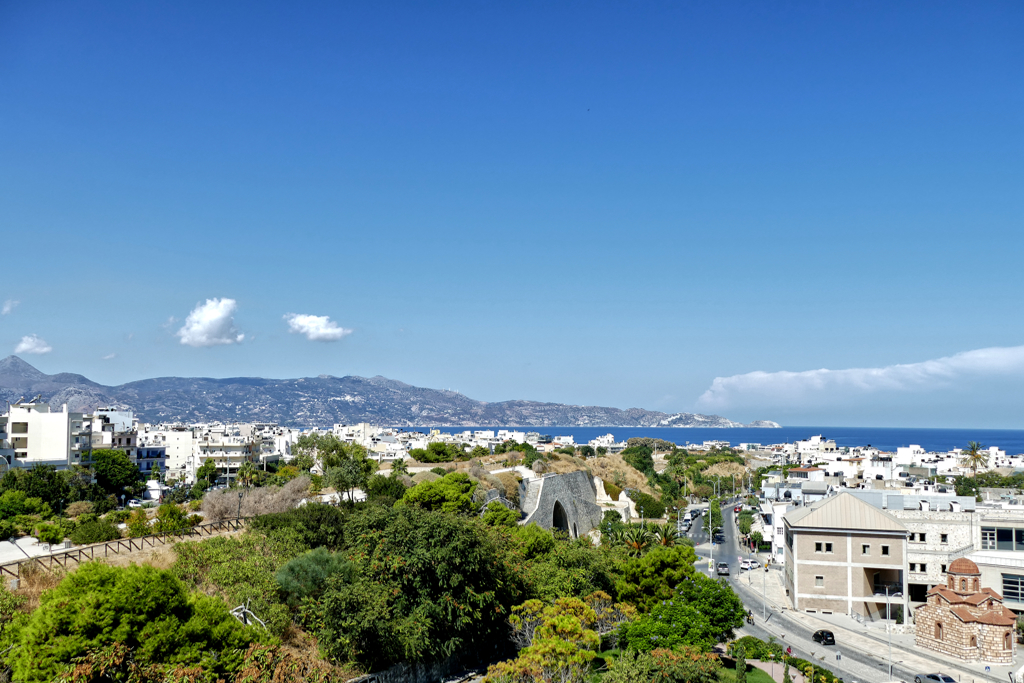 In WWII, the Nazi military bombed Heraklion and damaged it badly. The reconstruction of the city as well as the surrounding areas was carried out basically without a plan. It was impacted by an enormous increase in the number of inhabitants, land speculation, and anarchistic construction.
In 1972, Heraklion became Crete's capital. With a population of about 200,000, it is also the island's largest city. As a matter of fact, it's one of the largest cities in all of Greece which only shows how small cities in the country actually are.
What to See in Heraklion
I'm a big city gal – what can I say – I have it in my genes. Therefore, I immediately felt comfortable in Heraklion although the city does have some rough corners. But as I pointed out above, it reminded me of Athens, hence I got into the groove quite smoothly and really enjoyed my days there. As a matter of fact, I could even imagine making Heraklion my base when going back to Crete one day since it not only has it great history and cool big city life. There are even lovely beaches in the vicinity that can easily be reached by bus.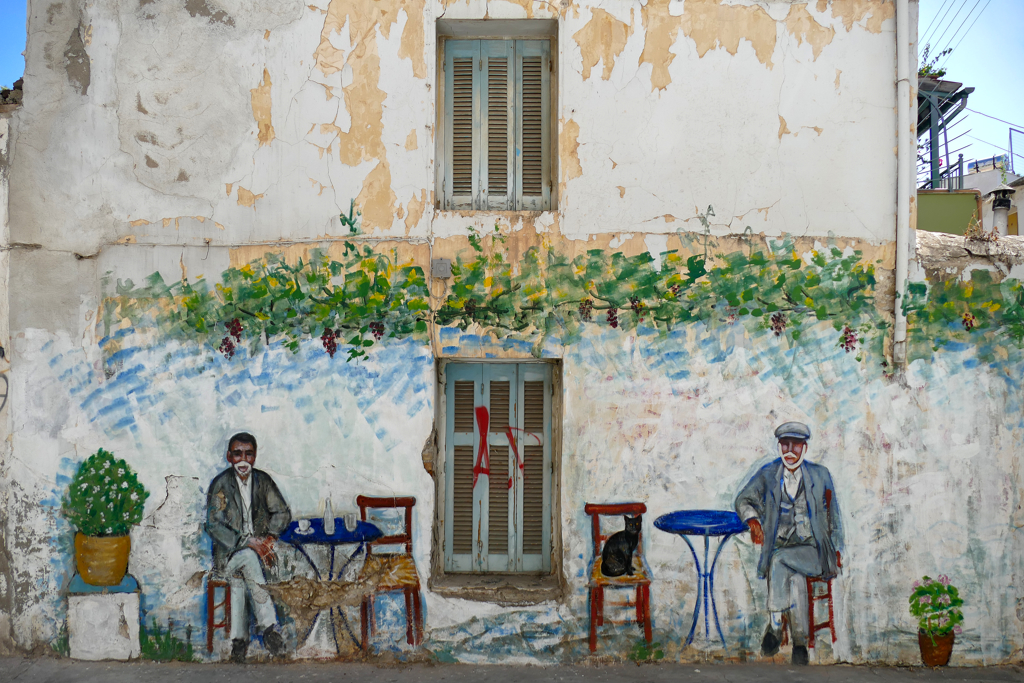 Now, whether you are a history buff or not, a visit to the ruins of the Minoan Palace of Knossos should definitely be on your itinerary. After all, excavations have indicated that the area was continuously inhabited from the Neolithic period starting in 7,000 BC until the Roman times.
Knossos
The particularly large and magnificent Palace of Knossos was built between 2100 and 1800 BC.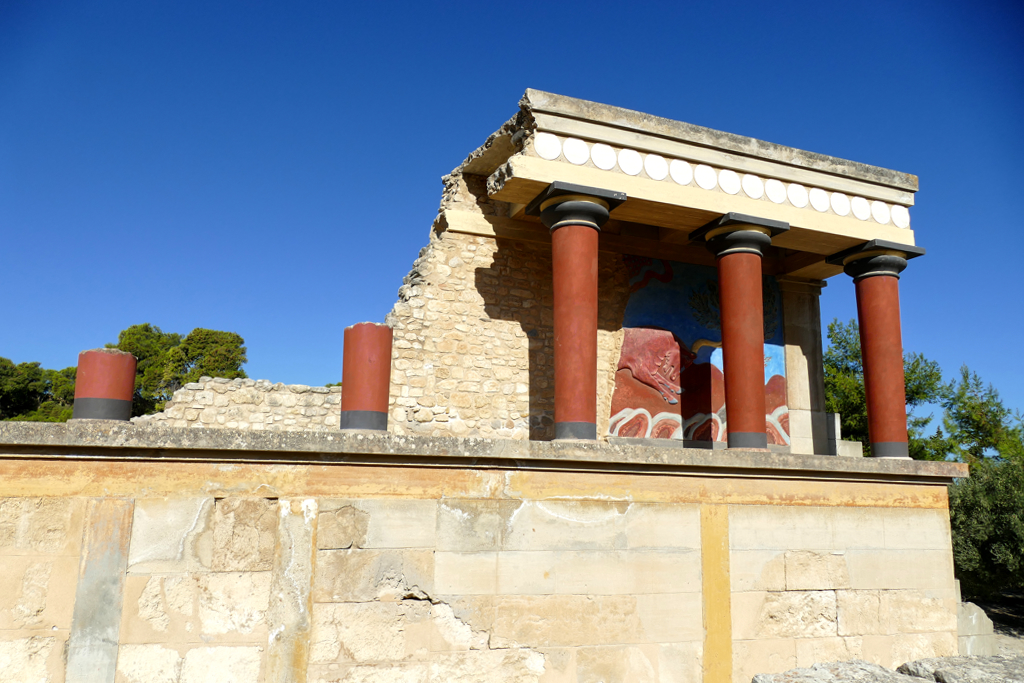 It was designed as a complex of buildings with up to five floors. While there is proof of about 800 rooms, the palace may have had far more, possibly up to 1300. Like all Minoan palaces, it was built around a rectangular central courtyard. Narrow, richly decorated corridors and staircases, columned galleries, and painted halls were arranged around the court.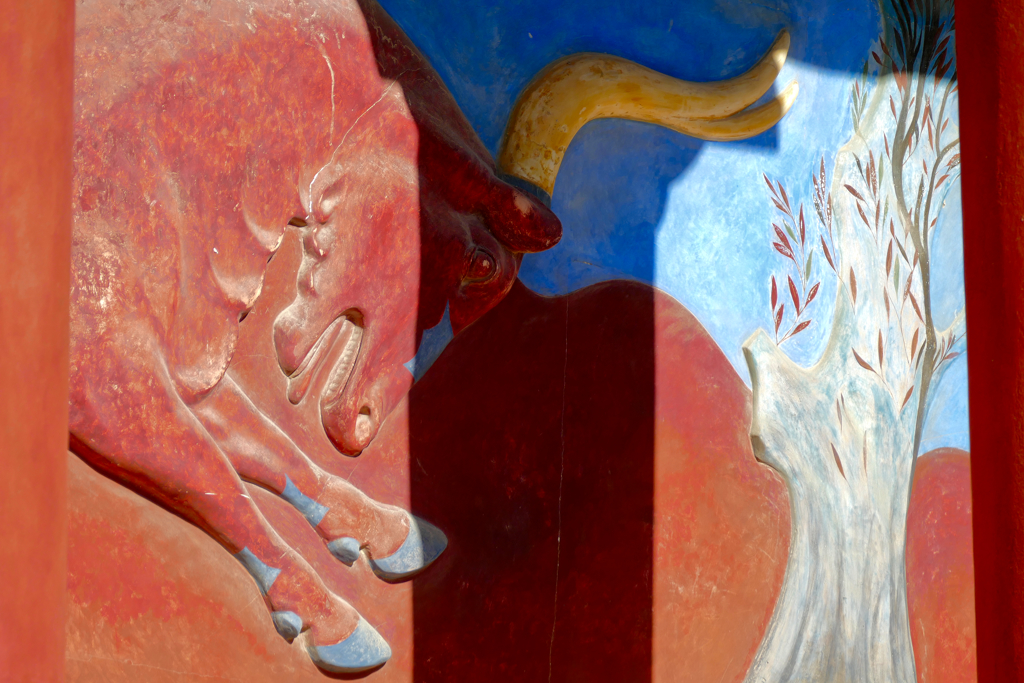 In 1894, British museum director, ethnologist, and correspondent Arthur Evans became very passionate about the newly discovered pre-Greek Minoan culture on his first visit to Crete. Hence, in 1900, he acquired the site and commissioned excavations which took place until 1914.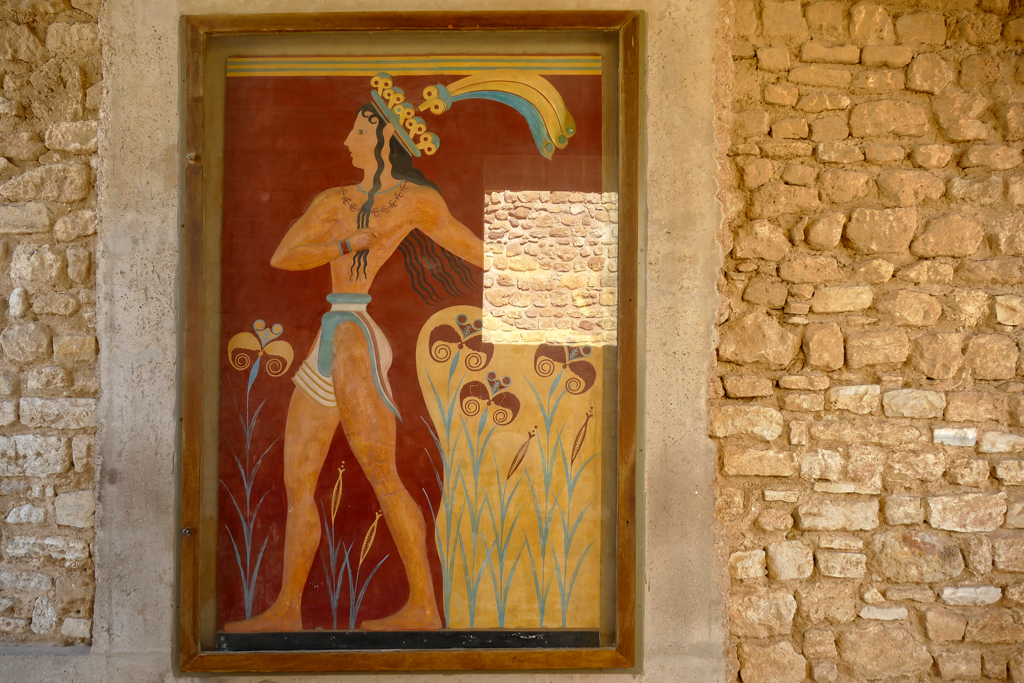 In his records, Evans described and named individual rooms such as the throne room, the queen's bathroom, the customs house, and others in a rather random and peculiar way. Therefore, many archaeologists are suspicious of his thorough and sound research and the following reconstructions. There is little scientific proof and lots of individual interpretations, let's put it that way. The same goes for the frescoes and other finds that Swiss artist Emile Gilliéron restored in an artistically very free and individual way. Therefore, some experts even regard them as forgeries.
Rumour Has It
According to legend, Knossos was the seat of the Cretan King Minos, and there are some famous legends spun with regard to the site. The most famous one is probably the myth of the Minotaur in the Labyrinth: King Minos commissioned the skillful architect and craftsman Daedalus to construct a complex maze in which he retained the Minotaur who was an unnatural offspring of his wife Pasiphaë and a bull. Yes, the old Greeks were quite a kinky bunch.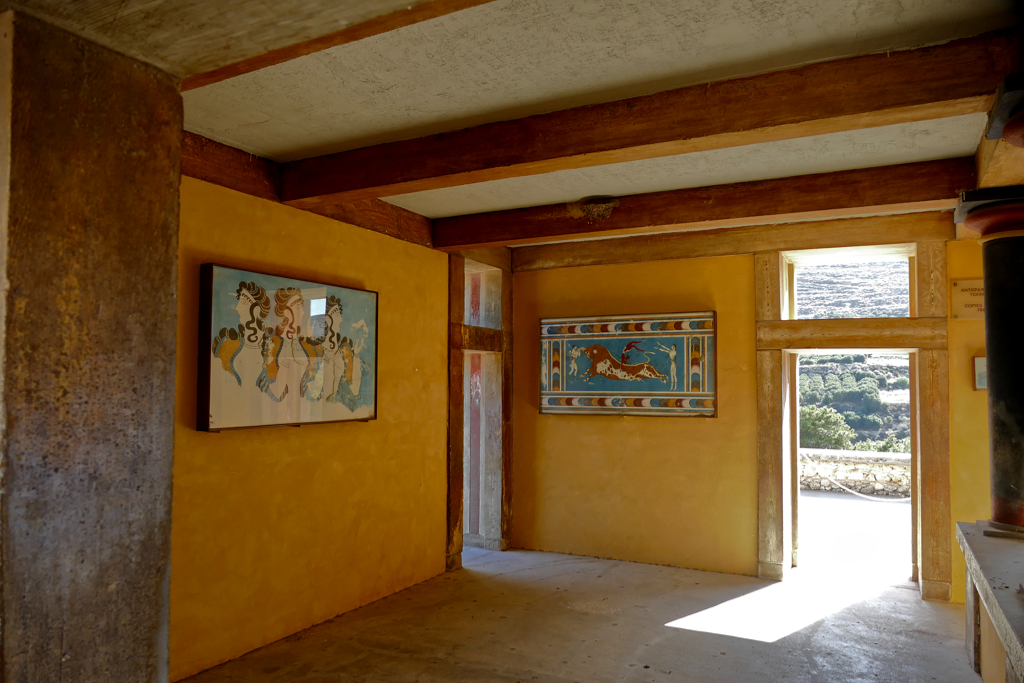 According to another tale from Greek mythology, said Daedalus created wings from feathers and wax. Together with his son Icarus, we intended to escape Crete and his master, King Minos. Although Daedalus had warned Icarus, the renitent offspring ignored his father's warnings and flew too close to the sun. His wings melted and he fell into the sea and drowned. There is no proof of Daedalus saying I told you so, but I strongly believe he did.
Plan Your Visit
Knossos can be easily and comfortably visited by public bus. Line #2 leaves Heraklion every 20 minutes and takes you there in less than one hour for as little as 1.70 €uros.
The archeological site opens at 8 in the morning, and you shouldn't get there much later. Firstly, it gets really hot – and not exclusively during the summer months. It's a large site with little shade, hence, you should avoid the noonish heat. Plus, as I got there in the early morning, there were a handful of fellow early birds roaming the area. Yet, only about half an hour later, buses full of daytrippers arrived and the place became a zoo with large groups standing around, blocking ways and forming long lines. So yes, do yourself a favor and get up early to beat the heat and the crowds.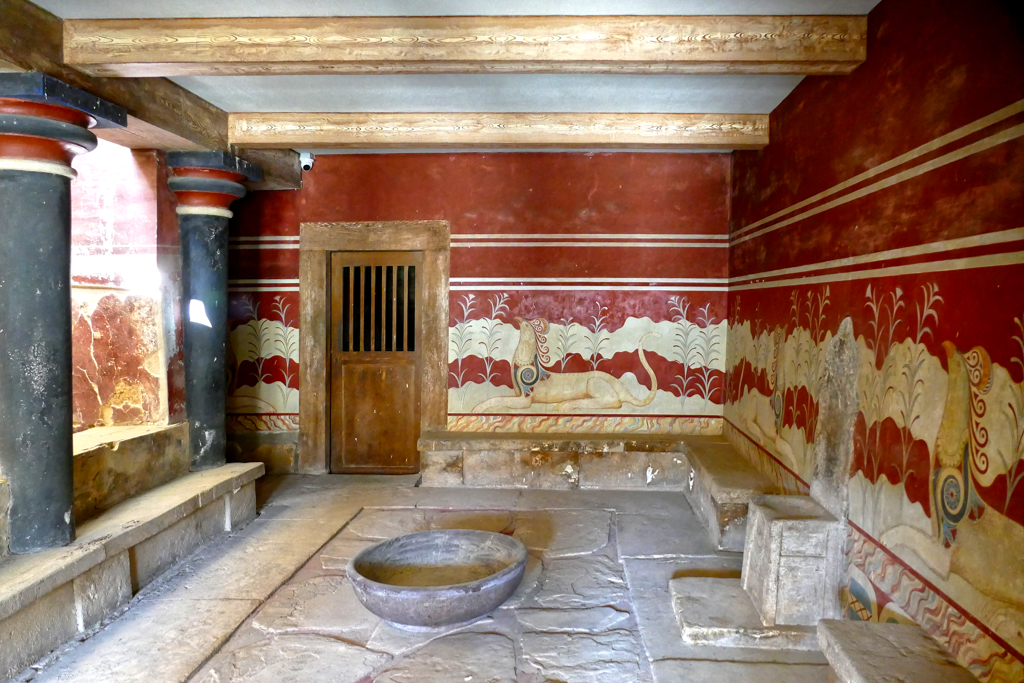 Knossos is located about 5 kilometers south of Heraklion. Although it's open from 8 a. m. to 8 p. m., especially during the high season, tickets tend to sell out. Therefore, I highly recommend pre-booking your ticket. Apart from a single ticket, there are as well combi-tickets that include also a visit to the Archeological Museum of Heraklion which is definitely also worth a visit.
Archaeological Museum
Heraklion's Archaeological Museum houses the most important and valuable finds from Minoan times.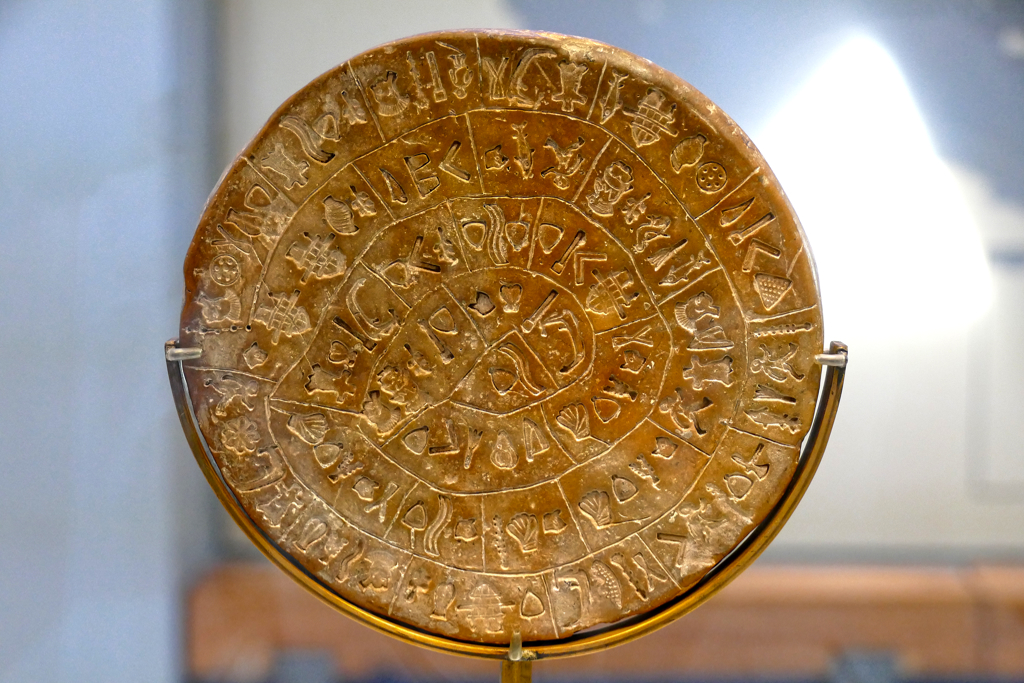 Some of the highlights are the statues of the Snake Goddess, the famous Bull-Leaping Fresco, and the enigmatic Phaistos Disk. However, there are also artifacts from the Classical Hellenistic and Roman periods.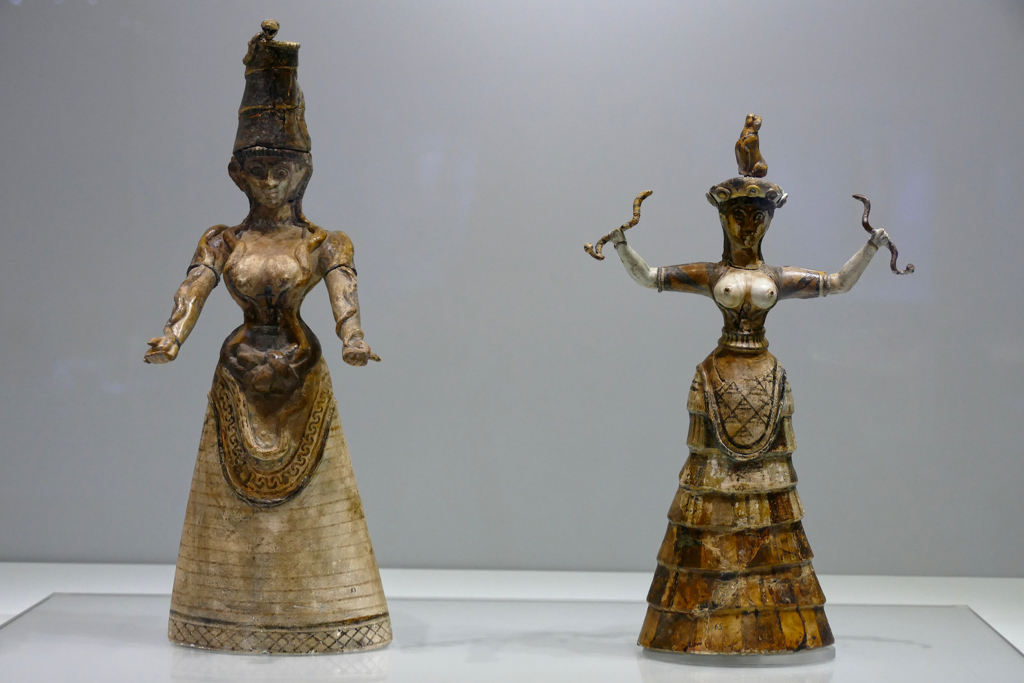 In combination with the archaeological site of Knossos, the museum is an unmissable complement. For those seriously interested in this part of history and culture, it might even be advisable to visit the museum before as well as after seeing Knossos.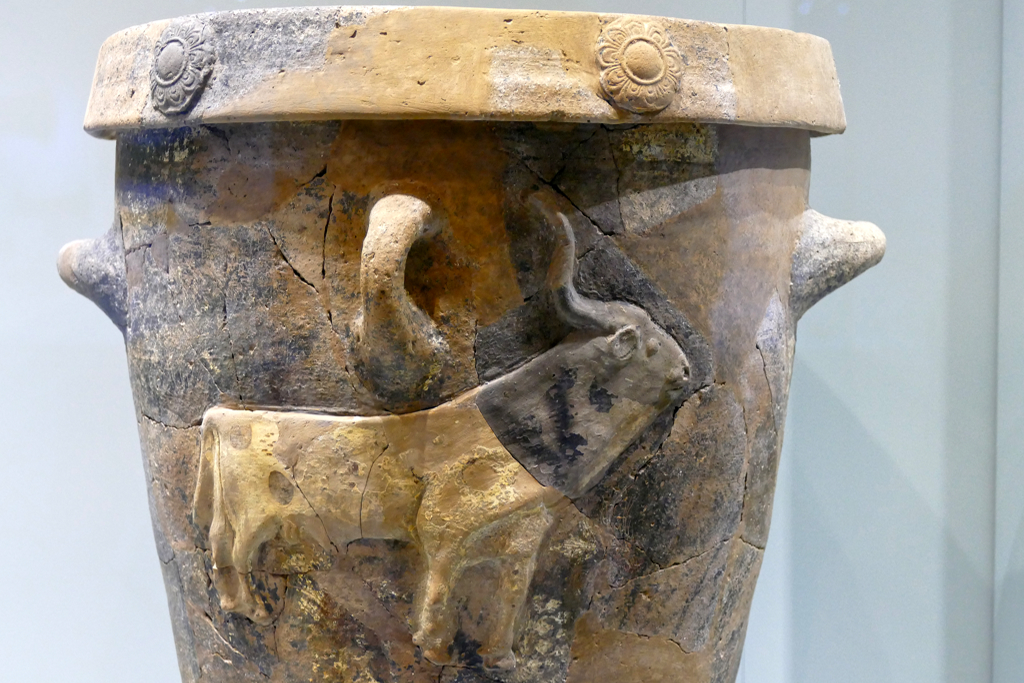 The Archaeological Museum is open every day from 8 a. m. to 10 p. m. except on Tuesdays when it opens only at 10 a. m. You can book a skip-the-line e-ticket including an audio guide or – highly recommend – a combi-ticket that include also a visit to the archeological site of Knossos.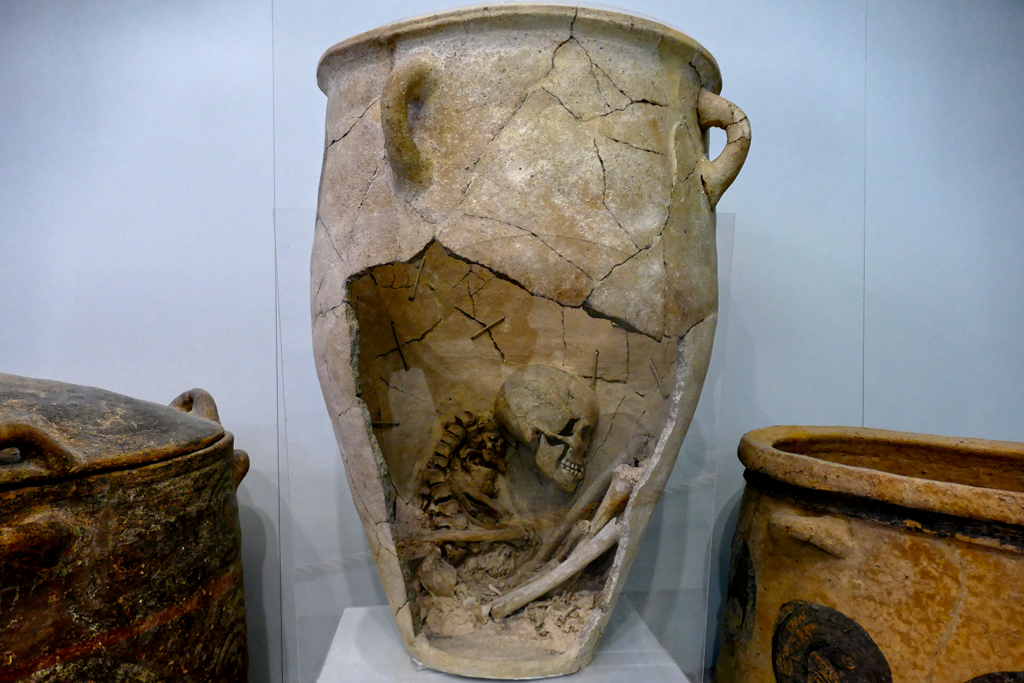 Koules and the Venetian Walls
The so-called Koules is Heraklion's fortress and is located at the entrance of the old port. It was built during the Venetian era in the early 16th century. To this date, it is very well-preserved and one of the city's most popular landmarks. No wonder since from the Koules and the Venetian Walls, you have a marvelous view of the city, its surroundings, and the open waters.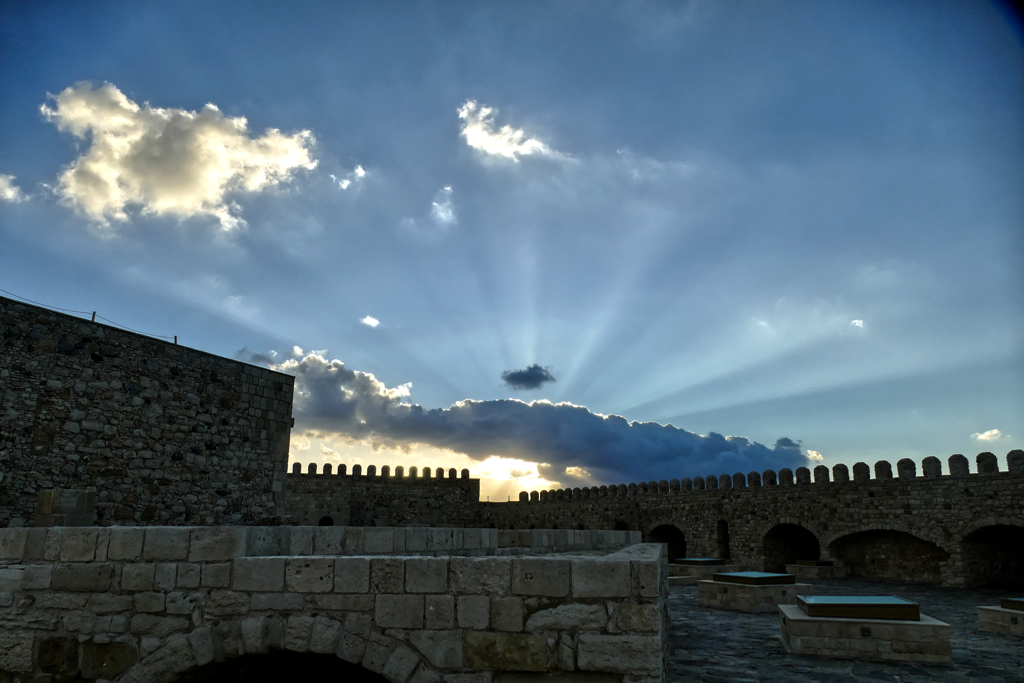 Arabs constructed a first bastion in the spot already in the 9th century. In 1462, the then-ruling Venetians improved the fortifications. Old ships were filled with stones and sunk to form a breakwater. This way, they increased the basement on which the fortress was built. The fortress was completed in 1540.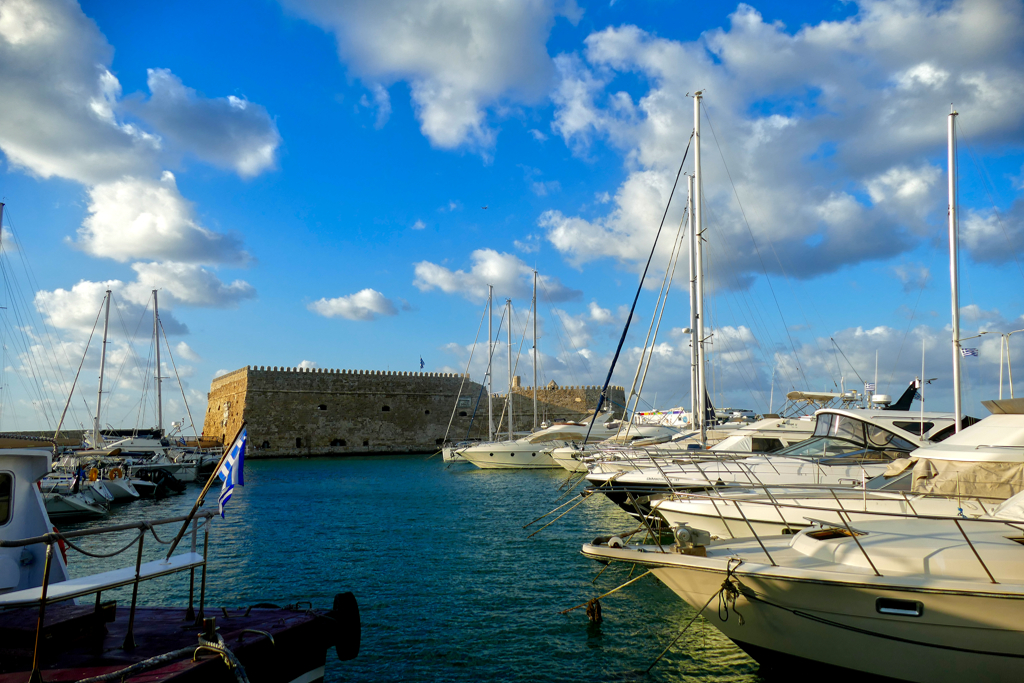 After the 21-year-long siege of Candia, the Ottomans took the fort in 1669. They did not make any major alterations to the fort, except for the additions of some battlements and embrasures.
Plan Your Visit
Today, the restored fortress is open to the public. It houses exhibitions and cultural activities are occasionally held there, too. The fortress has two stories, with a total of 26 rooms. Those were originally used as a prison, a church, barracks and storage rooms, a mill, and a bakery as well as a water reservoir. Also, a lighthouse tower is located in the northern part.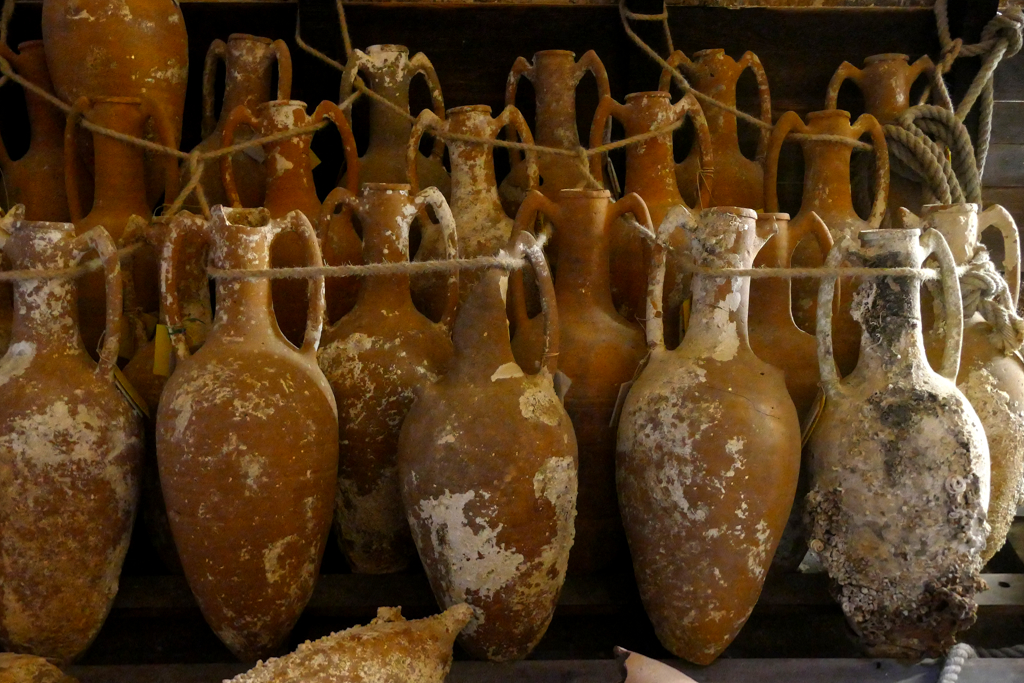 During the high season from April to August, the fort can be visited from Wednesday to Monday between 8 a. m. and 8 p. m. If you are visiting during the shoulder or low season, make sure to check out the opening times on their website. Either way, the entrance fee is as little as 4 €uros.
Loggia
No matter which street you walk uphill from the fortress to the city center, it will be just lined with stores and businesses and there won't be much beauty. There are those places that intrigue you rather with their atmosphere than with their picturesque appearance. Heraklion definitely is one of them.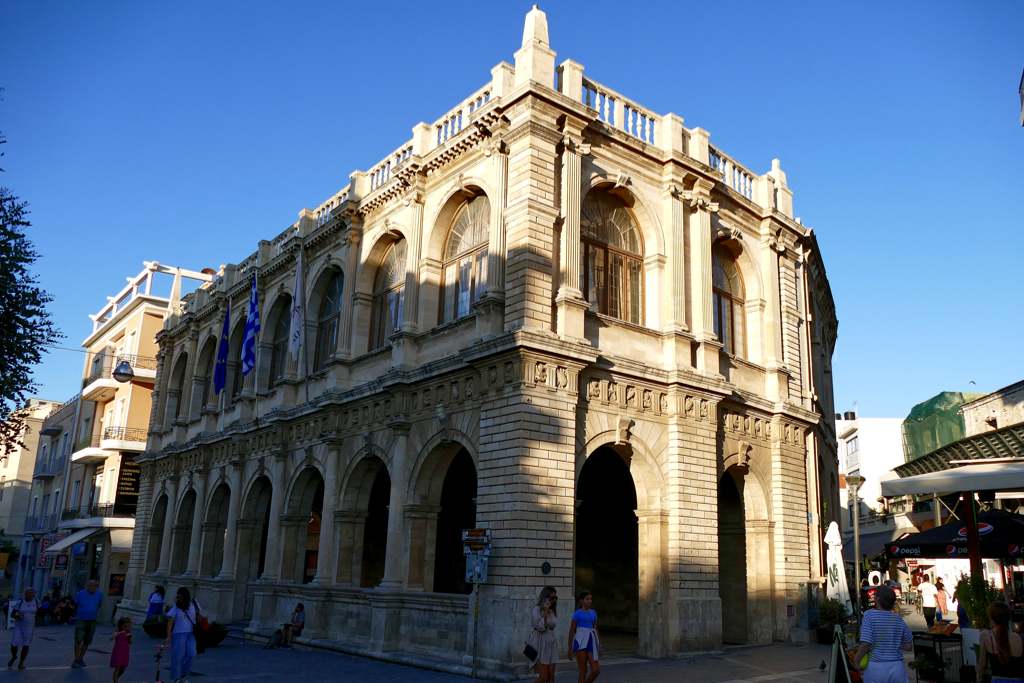 Yet, there are some ancient structures that are interesting and beautiful and the so-called Loggia is definitely one of them. As a matter of fact, it is one of the most noteworthy buildings from Crete's Venetian era. Built around 1541, it actually served as a kind of gentleman's club for the rich and nobles. However, its current appearance was designed by Francisco Morosini around 1628. Yes, the very Morosini who also designed the Lion Fountain and Heraklion's aqueduct.
Today, the Loggia serves as Heraklion's city hall. You can visit the court and also exhibitions that take place in the public spaces on the ground floor.
Saint Titus Church
In a small square right behind the Loggia is another iconic building, namely the Cathedral of Saint Titus. While today it is an Orthodox church, it has an ever-changing past.
In 1446, the church was constructed as a three-aisled basilica. It was then only slightly damaged by the earthquake in 1508 but completely destroyed by a fire in 1544. Fortunately, the precious relics could be saved.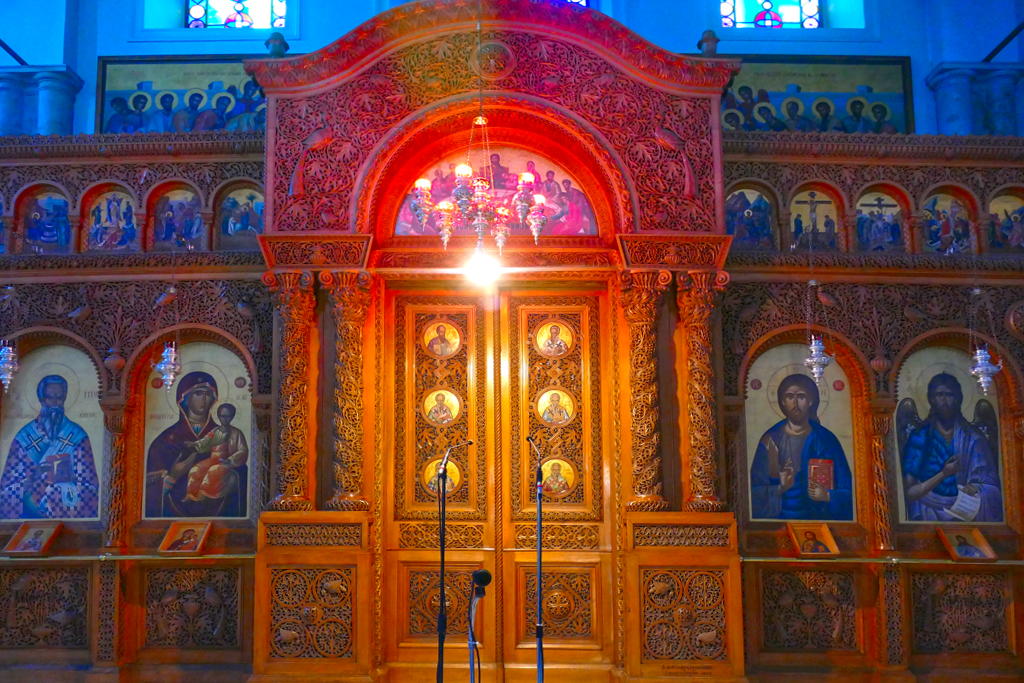 The church was rebuilt in the same style in 1557. After the Ottoman conquest of Crete, the church was converted into a Muslim Mosque. All ancient relics were moved to Venice. Saint Titus' skull was the only piece returned to Crete in 1966. It is kept in a small chapel inside the church.
In 1856, the Mosque was destroyed by an earthquake and reconstructed as the so-called Yeni Cami, hence, the New Mosque. Finally, it was converted into an Orthodox house of worship in 1925.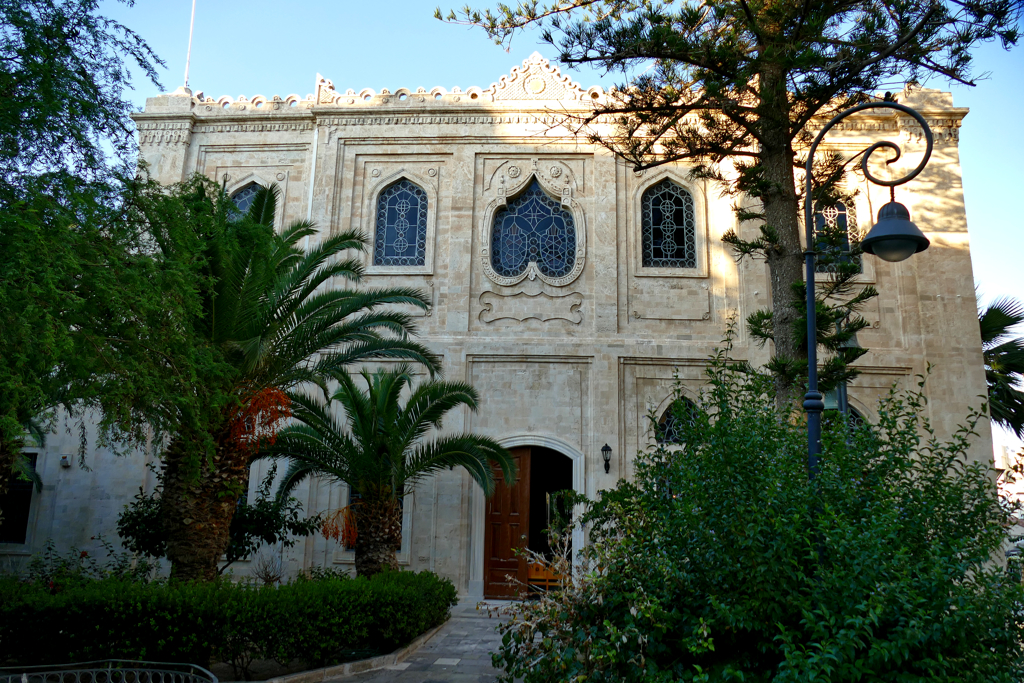 My Tip: If you need a short break from Heraklion's hustle and bustle, make your way to the backside of the building. There is a serene garden with a small fountain surrounded by trees. A perfect place to relax.
Saint Mark's Basilica
Just a few steps in the opposite direction from the Loggia is the Basilica of Saint Mark. This Roman Catholic church was built during Venetian rule in 1239. It was predominantly used by the rich and the nobles.
After the Ottoman conquest, it was converted into a Mosque and remained so until 1915. Then, the building was restored in 1956. Since then, it as an art gallery.
Cathedral of Saint Menas
The Orthodox Cathedral of Saint Menas is the seat of the Archbishopric of Crete. Saint Minas is the patron saint of Heraklion. The cross-domed church offers room for incredible 8000 devotees.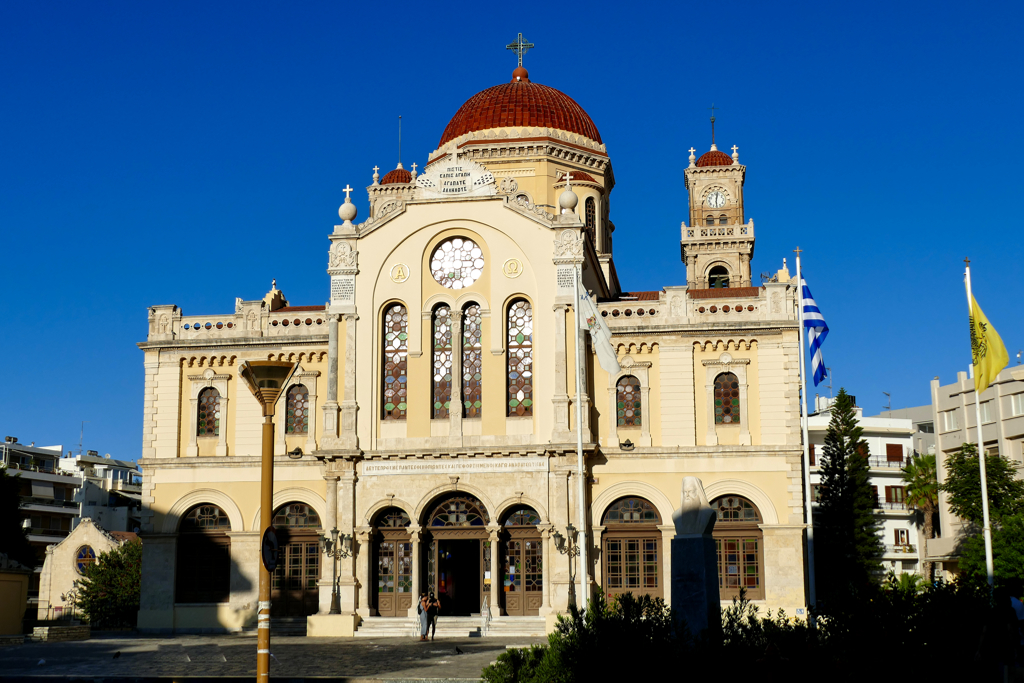 When the Venetians conquered Crete in 1204, they prohibited the Orthodox clergy from their work and transformed the Orthodox Cathedral of Agios Titos into a Roman Catholic church. This left the Orthodox Church without a house of worship, obviously. Following the Ottoman conquest, the church building was converted into a Mosque. However, the Sultan allowed the Orthodox Greeks the construction of a church building.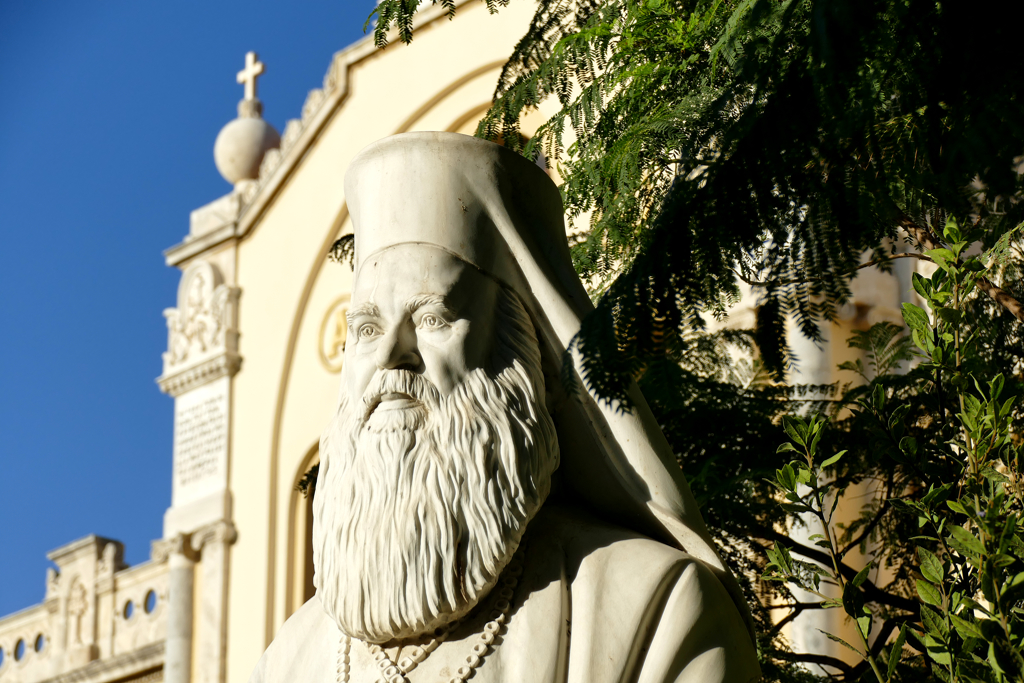 The construction of the cathedral was completed in 1735. Yet, quickly it became too small for the fast-growing Orthodox community which made a larger cathedral necessary. Today's Cathedral of Saint Menas was solemnly inaugurated in 1895.
Nikos Kazantzakis Museum
Cretan novelist Nikos Kazantzakis was nine times a nominee for the Nobel Prize in Literature. His books Zorba the Greek and The Last Temptation of Christ are world-renowned.
Kazantzakis was born in Heraklion in 1882. Today, a museum in the village of Myrtia honors his life. The village which is located about 20 kilometers south of Heraklion was chosen since it is the birthplace of Kazantzakis' father.
During the high season from April to October, it is open between 9 a. m. and 5 p. m., otherwise only from 10 a. m. to 3 p. m. Visitors learn about Kazantzakis through letters and diaries. They get to see photographs, personal items, and souvenirs from his travels. Also, there is a short documentary about the life and work of Nikos Kazantzakis.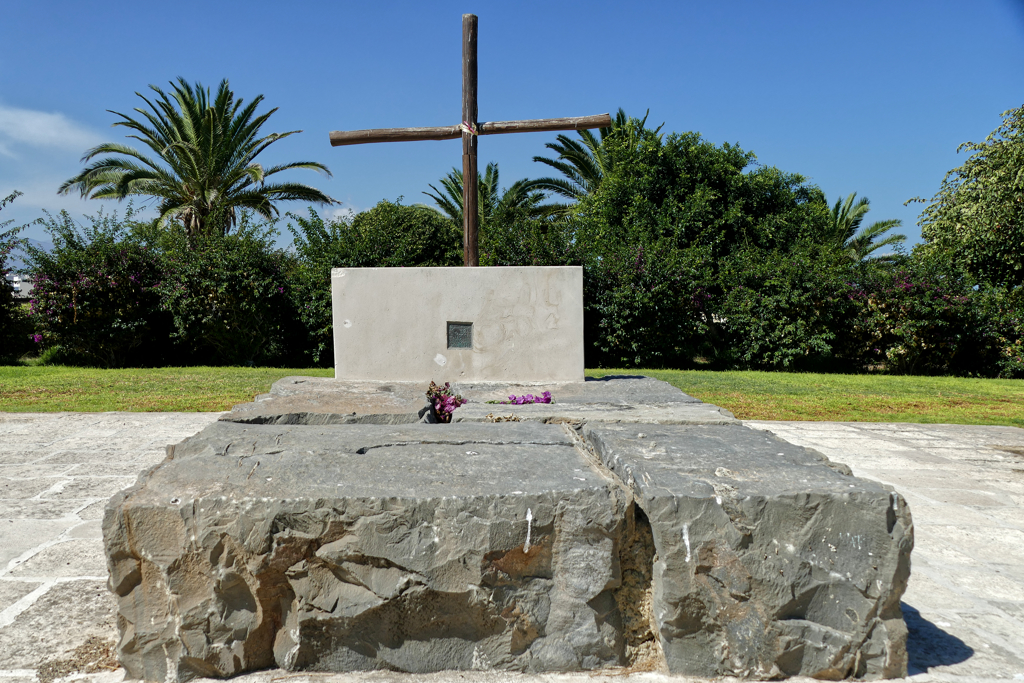 Unfortunately, it's kind of a challenge to reach Myrtia by public bus: Every Monday and then again Friday, there is a bus leaving Heraklion at 1 p. m. You can then return to the city on the bus that leaves Kastelli at 3 p. m. and passes through the village of Myrtia.
On other days, the closest bus stop is in the village of Kellia, about 2.5 kilometers south of Myrtia. Therefore, you should consider taking a cab. From Heraklion, it will cost about 20 €uros one way.
If you like, you can also visit Kazantzakis' grave which is located in a prime spot on top of the southern Martinengo bastion of the old Venetian city walls. The epitaph which he chose for his last resting place reads I hope nothing. I fear nothing. I am free.
Street Art
The contemporary graffiti movement started in the 1960s as a claim of urban territory by gangs in the USA as well as a response to the political and social injustice going on around the world. Over the years, graffiti developed from the so-called tagging, hence writing names'n'slogans in a more or less artsy way. This did not necessarily impact a political message. Actually, you can often spot a rebellious undertone in urban art. That's probably due to the fact that you find murals on abandoned buildings, hence, objects of capitalist speculation in urban areas.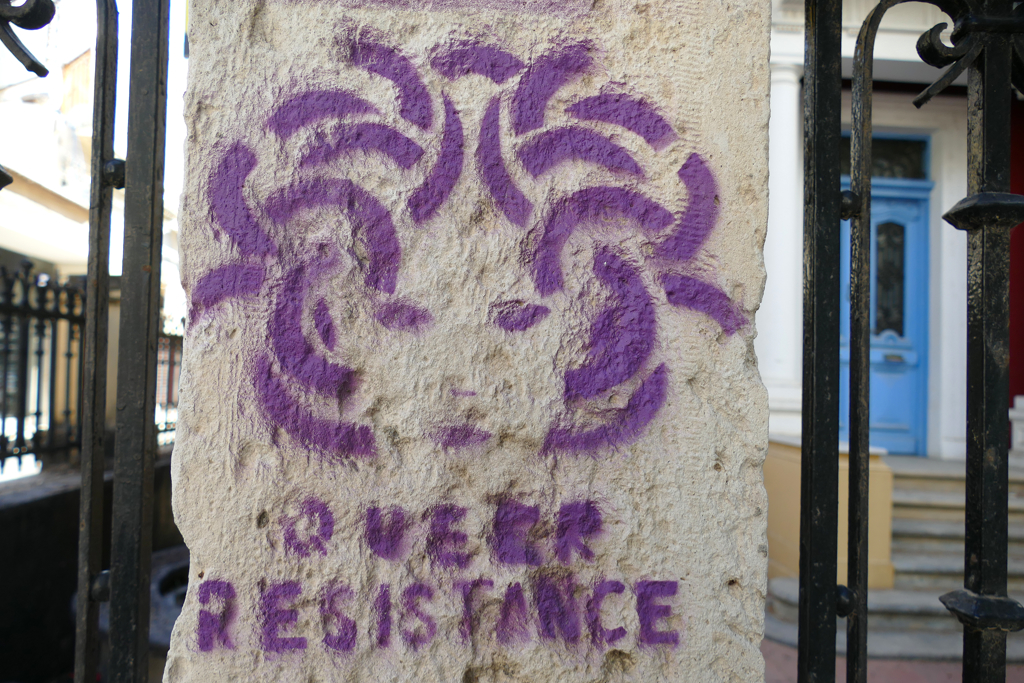 Since urban art is often created to upgrade dull or even run-down neighborhoods, in the hunt for street art, you have to make your way to some rather sketchy areas. While for instance in Málaga, the street art project MAUS actually contributed to the gentrification of the SOHO part of town, in cities like Seville or Rabat, I got to know the darndest outskirts where murals embellished some fairly sketchy housing projects.
Now, in Heraklion, you'll spot slogans'n'stencils basically everywhere. Greeks tend to be a determined and fierce bunch when it comes to social and political issues. Yet, there is actually an area in the southwest of the city center where you'll find a number of vibrant murals on crumbling walls.
Lakkos
Traditionally, Heraklion's Lakkos neighborhood used to be the city's skid row. It was home to social outcasts with prostitution and drug trafficking all around. Then, in the 1920s, Greek refugees from Asia Minor made their home in the impoverished district. In addition, the area was heavily bombed during WWII which led to further decay.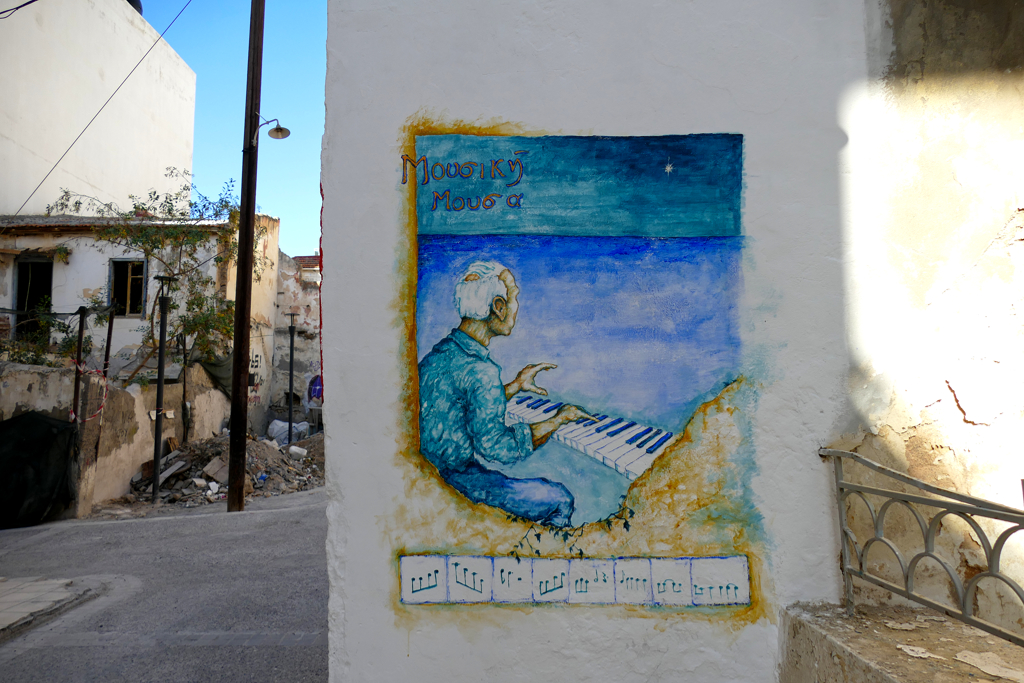 A couple of years ago, Australian artist Mathew Halpin began to transform the district by painting abandoned houses and public spaces. With his so-called Lakkos Project, Halpin brings creativity and beauty into this on different levels already quite colorful neighborhood. Apart from murals, the project introduces also music performances and film festivals to the area. It's a non-profit organization that depends on volunteer work and donations.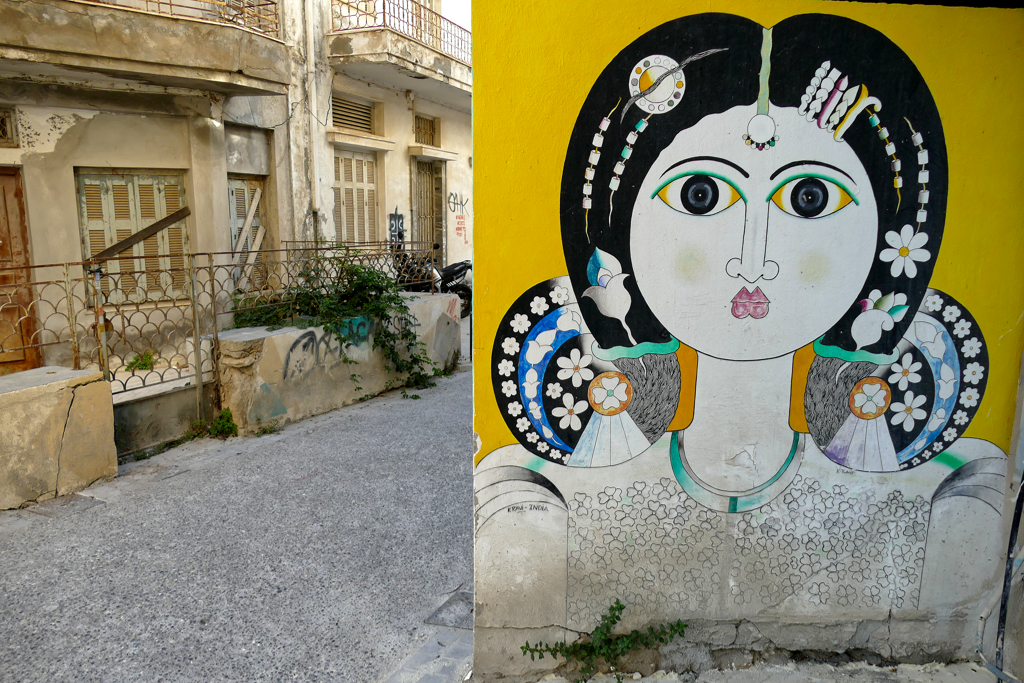 Thanks to the Lakkos Project, the neighborhood has changed dramatically. Although it's still a bit hidden, it's transforming into a gentrified district with lots of subcultures. I only hope that it won't go down the nasty road of gentrification where it becomes home to all kinds of hipsters which then forces the long-established folks to migrate.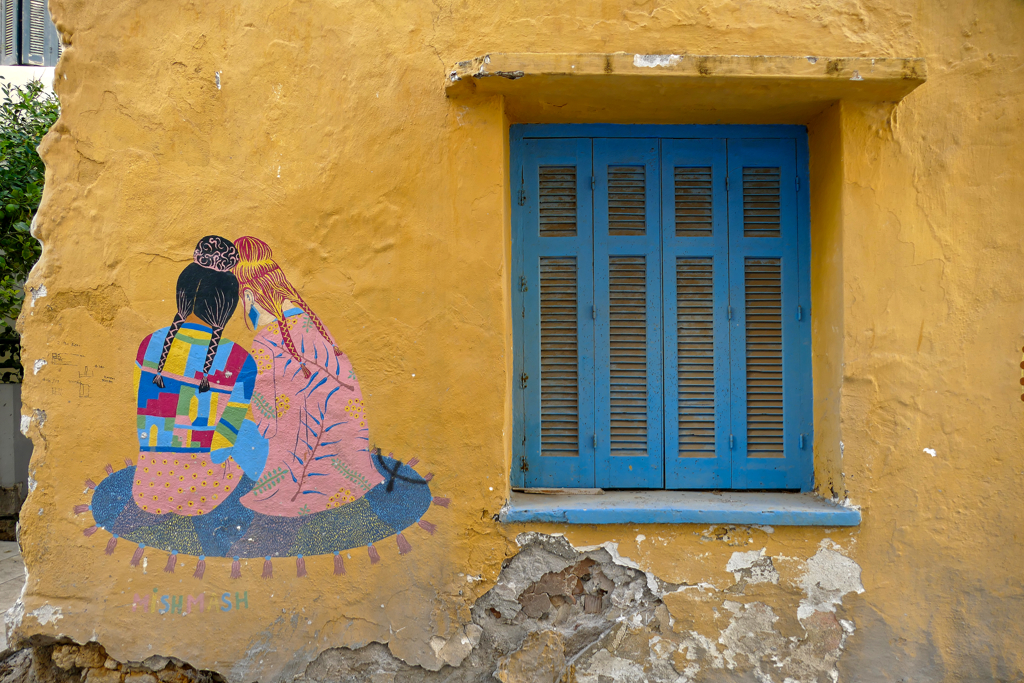 At this time, Lakkos still mostly consists of narrow, badly paved streets, low houses, abandoned yards, and crumbling walls – and lots of colorful murals.
I've traced the area where you'll find the best murals on the map below.
Practical Information
How to Get There
By Plane
The international airport named after Nikos Kazantzakis, whom I introduced above, is located about 3 kilometers east of the city center. For the longest time, it was the island's main hub, however, Chania's Ioannis Daskalogiannis airport is catching up.
If you haven't booked a package where the travel company arranges the shuttle from the airport to your hotel, you have different options for how to get to your final destination. The most comfortable option is taking a cab, obviously. To the city center of Heraklion, there is a fixed fare of 16 €uros. However, you might have to pay a bit more if you have an excessive amount of luggage, if your party is very large and the like.
Obviously, you save lots of money by taking the public bus. For as little as 2 €uros, the coach takes you comfortably to the main bus station in only 15 minutes. From there, you can continue by city bus to your final destination. Keep in mind, that these buses are not specifically for tourists, hence, during rush hour, they tend to be very crowded. So if you have large luggage, this might be quite uncomfortable.
The Heraklion airport bus runs approximately every 15 minutes from 6 a. m. until midnight.
By Ferry
Ferries run daily between Crete and the Piraeus port in Athens. The ferries arrive in either the port of Souda in the vicinity of Chania or at the port of Heraklion.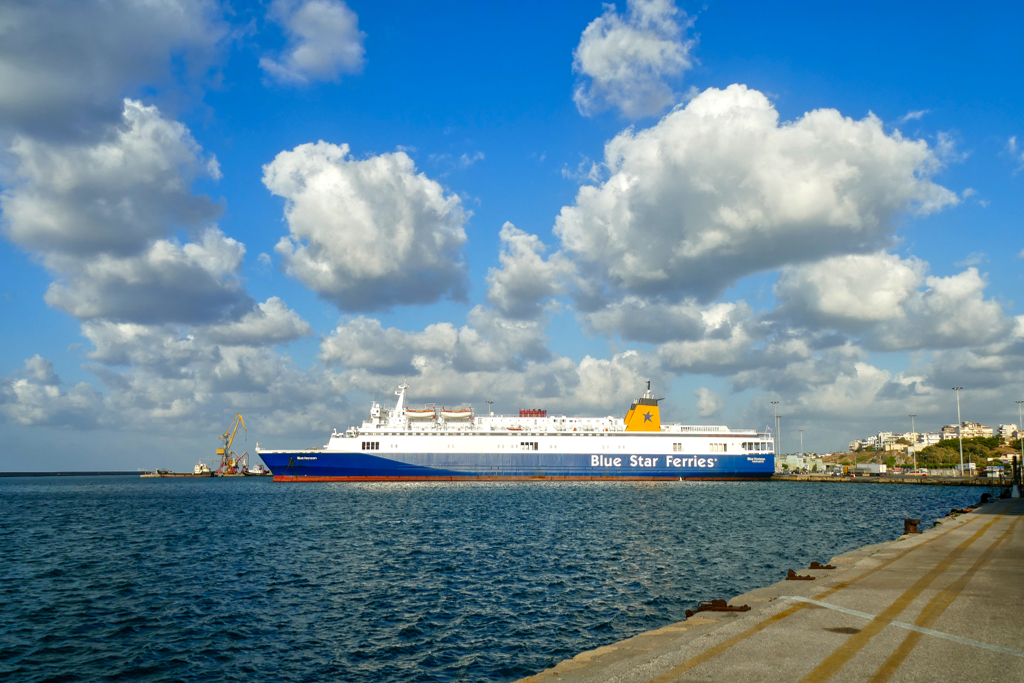 Depending on which company and type of ferry you choose, the trip takes between 6.5 to 8.5 hours and costs around 50 €uros one way. Keep in mind that the trips are always night cruises: You leave around 9 or 10 p. m. and get to your final destination in the wee hours.
Yes, the trip is quite cheap but it can also be a real drag.
From Heraklion, there are also regular trips to Santorini as well as many of the other Cycladic islands like Ios, Mykonos, or Naxos.
Land Transport
There is a comprehensive bus system in Crete. Nevertheless, coaches are operated by two individual companies. This might make the planning of your trip unnecessarily complex as you have to check different timetables on separate websites. Yet, both are subsidiaries of the Greek bus company KTEL. On this website, you'll find the schedules for the destinations in Crete's west like for instance Rethymno and Chania. If you're going eastwards for instance to Agios Nikolaos, you need to check the timetables on this website. However, all these buses are leaving from the main bus station close to the harbor.
There is another less frequented bus station at the Chanioporta at the west border of the old town. From here, buses are going inland towards the south.
Obviously, there are only a few – sometimes even only one – connections to more secluded destinations. However, if you are halfway organized, you can still easily explore major parts of the island by bus. Nevertheless, in the off-season during the winter months, some connections to remote places might be suspended. Therefore, always check out the bus companies' websites before planning your day.
According to my experience, bus connections in Crete are very punctual. However, a minor accident or a breakdown can always occur, hence, I wouldn't travel on a tight schedule. For instance, if you have a flight or a ferry to catch, add an additional two to three hours to your itinerary. If you get there too early, who cares? In Crete, you'll always find something to do to fill those extra hours with joy. On the other hand, what's definitely not enjoyable is watching your flight taking off without you.
How to Get Around
The very center of Heraklion is easily walkable. However, there is a dense network of public buses if you need to go to a more distant location. The Heraklion Urban Bus company has a fantastic website with tons of info including timetables for all lines.
Tickets can be bought from kiosks, certain shops, and at some bus stops also from machines. If you buy tickets from the driver, you pay a significantly higher price. There are two zones: Zone A includes the center, the port, and the airport. Zone B includes Knossos and Amoudara. Tickets for zone A 1.20 €uros and 2 €uros on the bus. Zone B tickets cost 1.70 €uros respectively 2.50 €uros on the bus. A great deal is a day pass for 5 €uros. When you see the bus approach, make sure to raise your arm to signal the driver to stop. Otherwise, he might think you're not waiting for his bus and will just pass you by.
To check your next connection, you can simply go on google maps and type in your starting point and your final destination. This also works like a charm for interurban rides.
Where to Stay
Well, I wasn't on a honeymoon, hence I chose accommodation solely according to its location. And whether you need to go to the airport, seaport, or central bus station, nothing beats the Hotel Poseidon*. It's ten walking minutes from the KTEL bus hub, basically across the street from the harbor, and just a couple of bus stops from the international airport. But also all of Heraklion's significant spots and landmarks are within walking distance – apart from Knossos, obviously, since that's on the city's outskirts.
No, the Hotel Poseidon* is certainly not the most luxurious place you'll have ever stayed at. The rooms are simply furnished but squeaky clean. The staff is super friendly and welcoming – and since it's not an overly fancy place, the price is more than reasonable.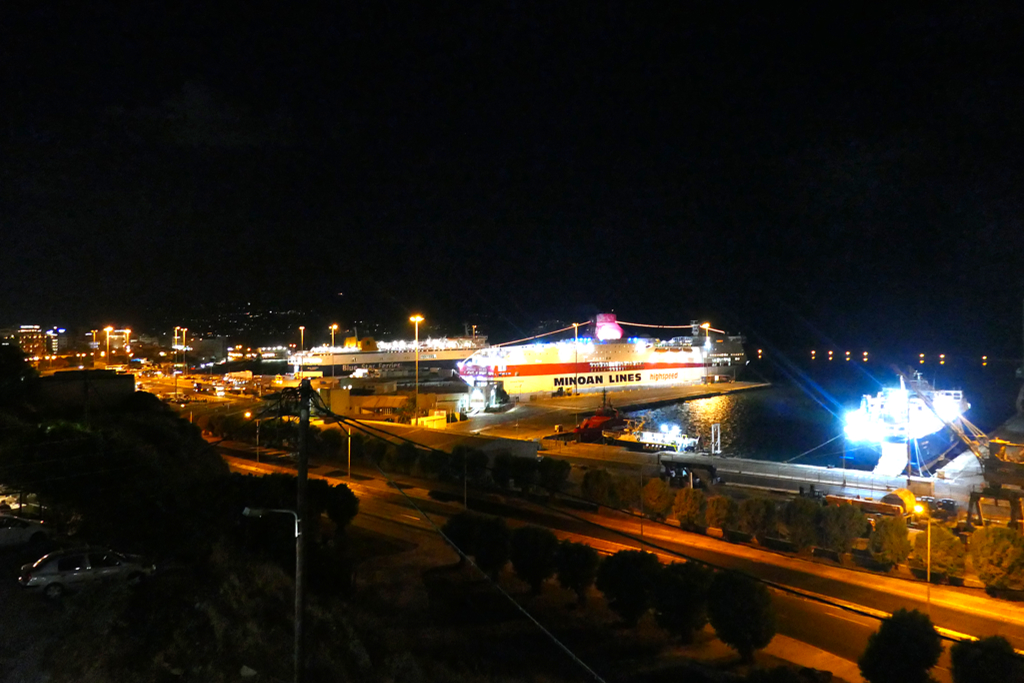 Nevertheless, I totally understand if you are looking for something more upscale. Therefore, you can check out the availability and prices of other great lodging options on this map*:
Where to Eat
After a couple of weeks in Greece, I'd argue that the country is not a destination for self-proclaimed gourmets. In most restaurants that cater to tourists, you'll find all the dishes you know from your Greek restaurant back home: Gyros, Souvlaki, Bifteki, and the like. All very much on the meaty side. As a vegetarian, you'll probably stick to salad day in and day out.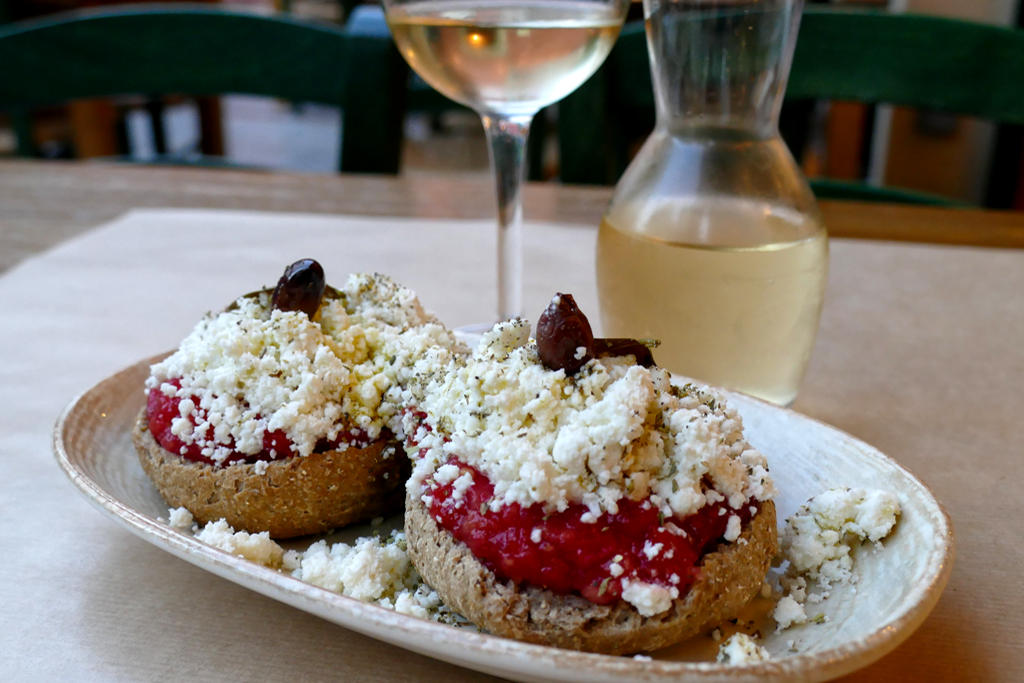 However, I need to point out that being based in Germany, Greek food is by no means special to me as every forlorn hamlet has an authentic Greek restaurant run by real Greeks. Therefore, I don't associate all those aforementioned dishes with vacations in Greece. But if for you that's the case, I'm happy for you and please forget all my critique and immerse yourself in heaps of grilled meat.
This being said, I must point out that the food I had in Heraklion was among the best during my recent visit to Greece. I can particularly recommend some of the restaurants alongside Milatou Street. Especially the taverns Tempelis and O Magos towards the western end of the street are amazing: Truly Cretan food, huge portions, and absolutely reasonable prices. I simply loved it there.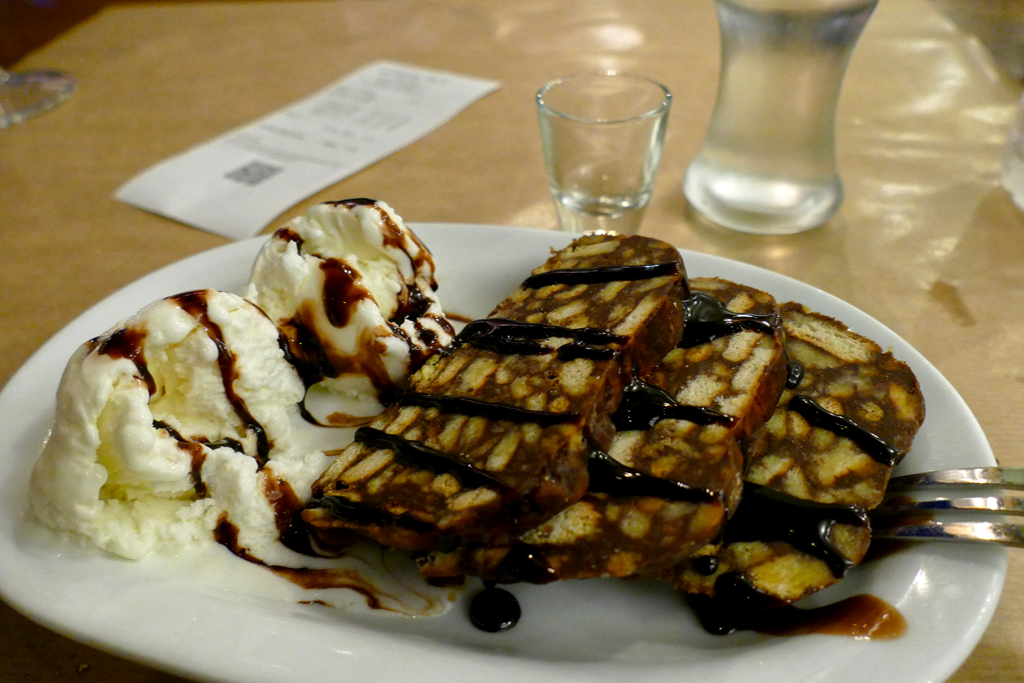 Especially nice is the Greek tradition of serving a small bottle of spirits and a dessert with your bill. At Tempelis, I got a huge dessert of cake with two scoops of ice cream – on the house. I don't suggest eateries that often, but in this case, I really urge you to try out at least one of these restaurants.
Organized Trips
Yes, you can get to most of the major day trip destinations like the Samaria Gorge, and the ferry port for Gramvousa Island by public buses. Howsoever, since it's not always that easy to organize your day trip in a foreign country in a language that you cannot even read properly, I highly recommend going on these trips organized. As a matter of fact, Heraklion is much farther away from those amazing places than for instance Chania. Therefore, it makes much more sense to get there on an organized tour. Also, exploring Crete from the water is a very special experience that you can book only organized, obviously.
Here you can check out some of the best tours to join during your trip to Crete*:
Cash And Cards
Since 2001, 20 European countries are paying with €uros, and Greece is, obviously, one of them. The exchange rate is 1 US$ = 0,92 EUR (May 2023), but you can check the conversion on this page.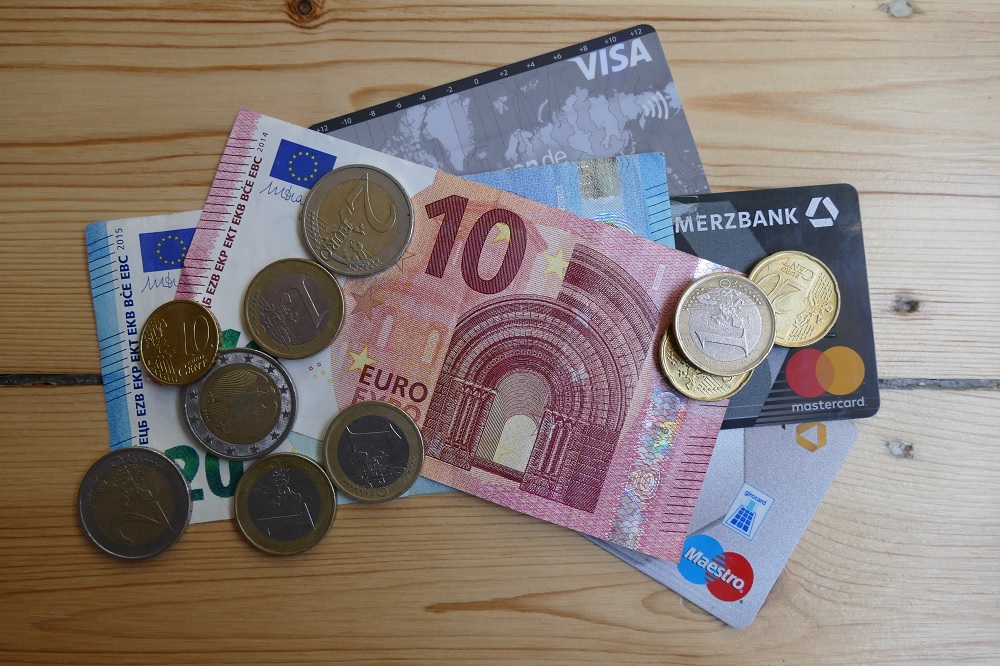 Especially due to the Covid pandemic, even small businesses prefer that you pay by credit card, and preferably contactless.
However, I was also asked if I could pay cash – even for hotel rooms. Obviously, this makes business for locals more profitable, if you know what I mean. In return, they made me a slightly better price.
Language
The Greek language had an immense impact on the development of Europe. Both the Latin and the Cyrillic alphabets were developed on the basis of the Greek alphabet. Also, the New Testament was written in classic Greek and is still read in the original version during Greek church services. Only the fall of the Byzantine Empire in 1453 marks the end of the Medieval Greek period.
This is when the era of today's version of the Greek began.
To this date, scientific terms stem directly from classic Greek – and Latin, obviously.
Although Greek is such a significant language, not many foreigners speak it. But basically, all Greeks working in tourism and gastronomy speak quite decent English. However, it's always nice to be able to say at least some pleasantries in the local language so you might want to pick up some words for instance on Lingohut. This online program offers an amazing choice of more than 45 languages!
By the way, in general, menus, timetables, street signs, and other important information are written in both Greek and Latin letters. Nevertheless, to make things easier for you, below is a list of Greek letters and their respective translation.
Greek Alphabet
| Upper Case Letter | Lower Case Letter | Greek Name | English Name |
| --- | --- | --- | --- |
| Α | α | Alpha | a |
| Β | β | Beta | b |
| Γ | γ | Gamma | g |
| Δ | δ | Delta | d |
| Ε | ε | Epsilon | e |
| Ζ | ζ | Zeta | z |
| Η | η | Eta | h |
| Θ | θ | Theta | th |
| Ι | ι | Iota | i |
| Κ | κ | Kappa | k |
| Λ | λ | Lambda | l |
| Μ | μ | Mu | m |
| Ν | ν | Nu | n |
| Ξ | ξ | Xi | x |
| Ο | ο | Omicron | o |
| Π | π | Pi | p |
| Ρ | ρ | Rho | r |
| Σ | σ,ς | Sigma | s |
| Τ | τ | Tau | t |
| Υ | υ | Upsilon | u |
| Φ | φ | Phi | ph |
| Χ | χ | Chi | ch |
| Ψ | ψ | Psi | ps |
| Ω | ω | Omega | o |
Connection And Communication
Since June 2017, no roaming charges apply within the EU with a European mobile phone contract. This applies to all 27 countries of the European Union as well as Great Britain, Iceland, Liechtenstein, and Norway. It pertains to all contracts.
When roaming is unavailable, you can connect to the internet at basically every museum, eatery, and hotel.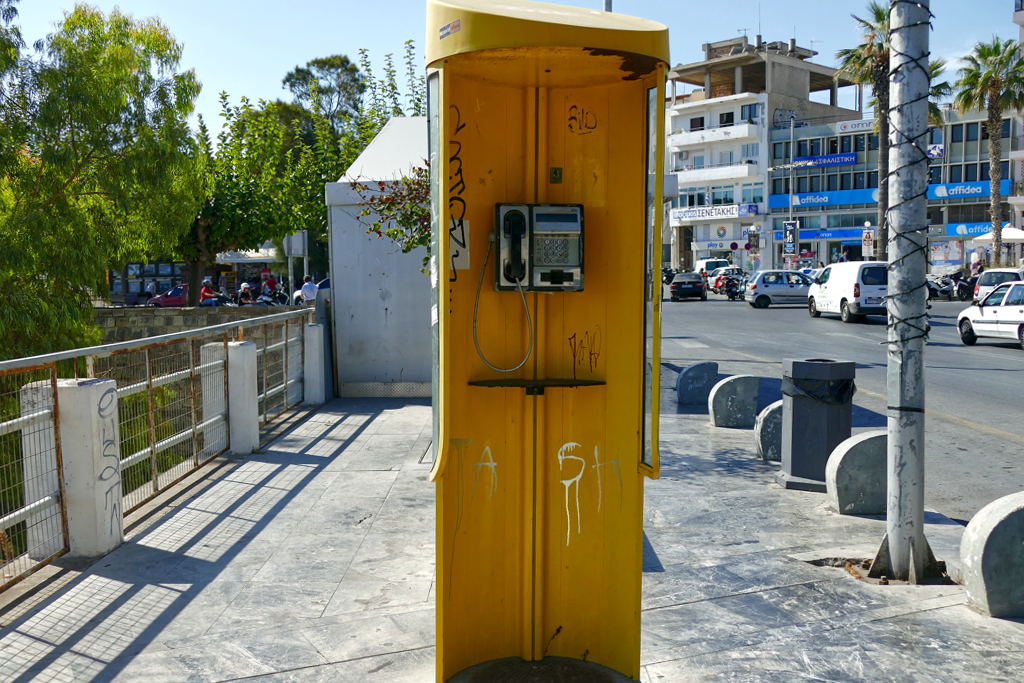 You can get a SIM card if you insist on being online 24/7. The most popular ones are from COSMOTE, Vodafone, and WIND. You can get them for 5 €uros in their respective stores.
In Greece, they use plug types C and F. Their voltage is 230 V, and the frequency is 50 Hz. Whereby, as nowadays all these chargers have integrated adapters, in general, the voltage and frequency don't really matter.
By the way, you'll find comprehensive travel info in my post World's Most Complete Travel Information – an indispensable globetrotter-classic.
Heraklion was only one of several amazing places I visited during my stay on the island of Crete. To read about the others, go to this post and take your pick!
Map
On this map, you can see where all the wonderful places I'm introducing in this post are located. This way, you can plan your itinerary accordingly.
Clicking on the slider symbol at the top left or the full-screen icon at the top right will display the whole map including the legend.
Pinnable Pictures
If you choose to pin this post for later, please use one of these pictures:
Did You Enjoy This Post? Then You Might Like Also These:
* This is an affiliate link. If you book through this page, not only do you get the best deal. I also get a small commission that helps me run this blog. Thank you so much for supporting me!