My three-week visit to the Island of Sri Lanka was a mesmerizing experience. The historic remains, the preserved natural richness, the white beaches, and colorful traditional attires were pleasing to the eye and soothing to the soul.
Let this guide take you to some of the most amazing places this beautiful country has to offer.
Exceptionally Rich in Nature, Culture, and Spirit
Sri Lanka is an island in the Indian Ocean south of India. It is absolutely amazing how diverse the landscape is and how much it has to offer. Humid rainforest, cool highlands, beautiful sandy beaches, and turquoise waters with waves that make every surfer's heart – and board – jump. The variety of – partly endemic – flora and fauna is just incredible.
The small island prides itself to be recorded with eight sites on the UNESCO World Heritage List.
Wherever you go, you can be sure that your smile is answered by a warm beam. It was also the kindness of people that made my trip to Sri Lanka so very special.
However, I will not withhold that the nation has a difficult and even gruesome past.
A Little Bit of History
Colonial Period
Over 2000 years, Sri Lanka had been by various local kingdoms. Like most parts of Asia, eventually, the country had to endure centuries of colonialism.
In 1505, the Portuguese were the first European conquerors to arrive in Ceylon. This used to be the country's name till 1972. The Sinhalese tried to ward off the intruders by moving their capital to the inland city of Kandy in 1592. Still, they were not able to repulse the intruders. Those did not only exploit the people, but also tried to force them to convert to Christianity.
At that point, the mainly Buddhist Ceylonese were basically willing to welcome anyone who promised them to fight the Portuguese. Hence, in 1602 came the Dutch.
The Ceylonese basically replaced one evil with the other, and the Dutch made themselves comfortable until 1796.
Then, in 1802 by the Treaty of Amiens, Ceylon was ceded to Britain. Until the country achieved independence in 1948, it was a British crown colony .
The Civil War
Unfortunately, with the independence did not come peace and freedom for every Ceylonese. Like in many other countries, the colonial power messed things up big time by intermeddling and increasing tensions and conflicts.
There had been mainly two ethnicities living in Sri Lanka, the Sinhalese and the Tamils. Both had migrated from different regions in India. The Tamils were – and are – living mainly on the northern and eastern coast, they speak Tamil whereas the Sinhalese speak….yes, Sinhalese.
The British had appointed mainly Tamils as civil servants and political representatives. This, of course, was not well received by the Sinhalese majority. Obviously, they felt disadvantaged. Another issue was the replacement of English as the official language by Sinhala as well as Tamil.
Sinhalese against Tamils
Immediately after independence in 1948, a law called the Ceylon Citizenship Act was passed. Overnight, more than 700,000 Indian Tamils were stateless. These people could have been deported to India at any time; and many actually were.
So the Sinhalese practically now reversed the injustice they had to endure during the British against the Tamil. Sinhalese became the official language which made it difficult for Tamils to get decent employment.
Tamils against Sinhalese
Fighting fire with fire, beginning in 1983, a paramilitary group, the Liberation Tigers of Tamil Eelam, began their fight against the government. They were fighting for an independent Tamil state in the north and east of Sri Lanka.
For 26 years, the Tamil Tigers and the Sri Lankan military fought each other with atrocious brutality and both sides committed terrible war crimes against civilians especially during the last years of the war. I spare you the details but if you'd like to dig deeper into these horrific stories, there is an award-winning documentary called Killing Fields of Sri Lanka, produced by British TV station Channel 4. Before I opened this link on YouTube, I was asked twice if I wanted to continue due to the more than disturbing images this documentary contains. Just to give you a warning.
Anyway, when after 26 long years of bloodshed, the Tamil Tigers were defeated in May 2009, there had been more than 100,000 killed and over 800,000 displaced. A very good book that explains the historical and political coherencies and sketches the most relevant events during the civil war – without being too graphic – is the award-winning non-fiction This Divided Island by England-based Tamil journalist Samanth Subramanian.
Sri Lanka Today
Today, Sri Lanka has a population of over 21,5 million people – 75 percent Sinhalese and a bit over 11 percent Tamils. The remaining 14 percent are the so-called Moors, Sri Lankan Muslims, Burghers, descendants from the Dutch, Malay, Chinese, and others.
I haven't been to the north that's still mainly inhabited by Tamils. However, after long years of seclusion, Jaffna is now promoted as an upcoming tourist destination. Other travellers told me that it is very nice.
I didn't make it all the way up there since it was my first trip to Sri Lanka. Therefore, I preferred to check off the most popular places and landmarks first.
After all, eight sites are on the UNESCO World Heritage List. I actually managed to visit seven.
Note: If you happen to be a history teacher, please be aware that I know that my historical and political roundup is far from being detailed. Like always, history and politics are very complex and complicated – far too complex and complicated for a touristy post. However, besides talking about landmarks and beaches, I wanted to mention relatively recent events when people literally slaughtered each other. To give you the chance to dig deeper, I'm recommending above mentioned documentaries.
Practical Information
Money
Sri Lanka's currency is called rupee, generally called Rs., but LKR is the official abbreviation. The rate is 1 US$ = 191 LKR current rate resp. 1 €UR = 208 LKR current rate (as per May 2020).
Credit cards are not as widely accepted as in other countries. However, there are ATMs from different banks practically in every little village and many banks in case you prefer to change cash.
Language
Today, Sinhalese and Tamil are Sri Lanka's official languages. Not only are these different tongues, they also have different letters. But don't worry, all the relevant indications are always also written in Latin letters.
There are some people who speak excellent English, but many people speak it rather rudimentary. But they are extremely friendly and helpful and if both parties make an effort, communication is a charm.
On Arrival
You'll probably need a visa to travel Sri Lanka. In my World's Most Complete Traveller Information you'll find a link in the section Before you go that takes you to a page Visa and Embassy Information for all Countries on Planet Earth. There you can easily check what applies to you.
You can get your visa online – that's what I did with any further ado. Make sure you use the official website https://www.eta.gov.lk/slvisa/ and not some eta.org.lk or other fishy pages.
However, you can also get your visa on arrival. But it costs more and I think it's better not to deal with authorities after a long, tiring flight.
Once you have your passport stamped and collected your luggage, you get into a big, busy hall where drivers will be offering their service, guys from banking stands and mobile service booths will be waving at you – it's a bit overwhelming.
Welcome to Sri Lanka
You can change cash at any of the stands, they are just fine and change at the official currency rate. I would try to get some rupees right away. For instance, I had to pay my first night at a guest house close to the airport in cash – which is not unusual at all.
Also, the guys selling SIM cards are friendly, knowledgable, and helpful. I bought a card from mobitel, paid 10 bucks, and it lasted all my stay; especially since all the guesthouses, restaurants, etc. had free Wifi.
Depending on what time of the day – or night – you arrive, take it easy and give yourself time to rest and acclimatize. My flight arrived at 1.30 a.m. I still took my time to change money and buy a SIM card. Nonetheless, then I met with the guy the guest house had sent to pick me up and ten minutes later, I was in a comfy and clean room.
The next morning, after a small breakfast, the driver took me for 300 LKR to the bus station, sat me on the right bus and off I went to Colombo.
Getting There and Around
Yes, off I went to Colombo. Forget about doing research on connections online. That's something I learned right away. And yes, this is coming from me, world's most obsessed trip planner and organizer, a person that sticks post-its on excel sheets before travelling.
For Sri Lanka, this just doesn't make sense. You'll spend a lot of time on little result. Just ask your host, at the reception of your hotel, hostel, or guesthouse. Or at the train station or bus stop. They know and will guide you.
According to Lonely Planet, Sri Lanka was the best country in the world to visit in 2019. Nevertheless, it is far less globalized and organized than other Asian countries I've visited. Which to me is a good thing. So I just recommend that you relax and ask your host for assistance and you'll be fine.
Buzz by Bus
Besides two train rides, between cities, I travelled exclusively by bus. I know that taxis are very cheap, but I was travelling by myself, and the buses are still cheaper. And I liked the proximity to truly Sri Lankan life.
There were buses going everywhere – either the red governmental ones or the blindingly colorful private ones. I think the most expensive trip was about 100 LKR – which is about 50 cents – for a three-hour ride. But yes, they can be a tad dirty, the drivers tend to be a bit hazardous, they can be pretty full. If you're not into this kind of folksy charm, they might not be for you; but don't judge before trying – I had a great time.
Taking Tuk-Tuks
For shorter distances, you will always find a tuk-tuk. Be prepared to haggle a bit. If you're not sure, just ask a local how much he thinks the trip should be. And don't insist if the driver still wants 50 or 100 LKR more – don't forget, at home, you wouldn't even get a chewing gum for this amount.
In some places, especially those with archeological parks, it's great to cycle. But don't forget that you are in a tropical country so make sure to take a cap or a hat with you and stock up on water. Also, put a generous dab of sun protection on your arms and most importantly the back of your hands! And don't forget that you have to ride on the left side of the road.
Bikes'n'Scooters
Especially in beach destinations, people like to rent scooters. This seems to be a good idea since you are totally independent and get to see many different places in a comfortable way. However, I'd be extra-careful riding – or driving – on Sri Lankan roads. The pavement is mostly in an okay condition, but Sri Lankan drivers – particularly bus drivers – are ruthless.
Oh, and last not least, there are, of course, the trains. Everybody knows this iconic sight of an old, weathered train crossing the nine arch bridge close to the town of Ella. Problem is, there are only a few of these old trains. As I intended to book a seat beginning of January, everything was booked out till mid of February.
Train Rides
So you cannot make reservation, however, you can always go to the station and they will sell you a ticket. Considering this ticketing policy, you can certainly imagine how packed the trains are.
If you take one of the more modern, climatized trains, you won't be able to open the windows. However, you can always take pictures at the open train doors – these doors stay open during the entire trip.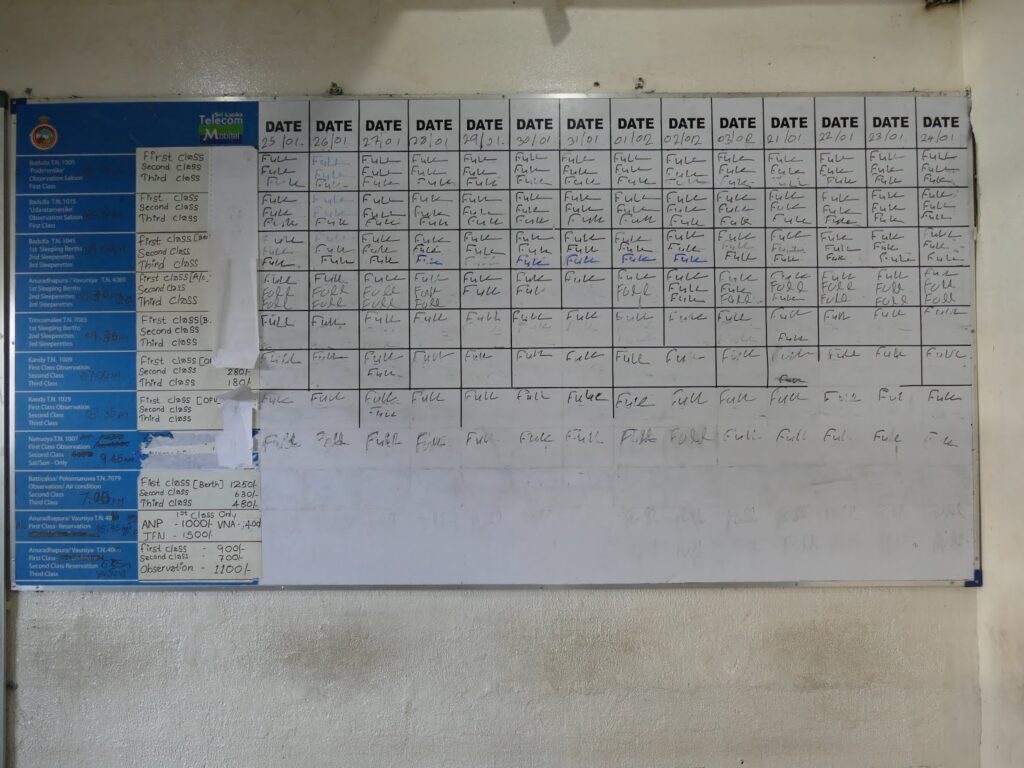 This board looks like great fun – the trip won't be: If you get to the train late – and late was half an hour before departure – every seat might be taken. A ticket does not equal a seat reservation; unless you buy your ticket at least one day before your trip.
Although the train was full when I got on it, I found a seat on a bench in third class which was totally fine. Nonetheless, many people did not find a seat and had to stand for quite a long time.
In general, I would recommend you rather take the bus if you cannot make a reservation for a train in advance.
Going Places
Be a scout and remember the motto Be prepared.
As you leave in the morning to explore, make sure to not only have your money and your sunshades on you.
Good to Know
It is always a good idea to carry at least one light, large scarf with you to cover up in case you decide to visit a sacred place. And I'm not talking only to the ladies, men have to cover, too.
Remember that you're not supposed to expose either your shoulders or your knees, so when you are wearing shorts and a sleeveless top, you need two scarves. They are really strict. I got frowned at since my skirt was only about one inch below my knees, which was considered barely acceptable.
It might also be a good idea to have a pair of old socks with you that you can wear in the noonish heat when walking on the hot stones around the temples.
Good to Have
Especially when you are walking a lot or cycling, you will appreciate a catlick using some wet wipes on your hands, face, and neck. Also, the last resort in case some bathroom along the way has no toilet tissue. Remember to freshen up your sun protection especially after wiping your face – so make sure to have a travel size bottle of sun protection with you.
I have all these things in an extra-pouch that I just stuff in my daypack in the morning without having to remember every single piece.
Of course, you shouldn't forget to take a hat, good sunshades, and a large bottle of water with you, too.
One last tip: It might not be the When in Rome-spirit, but I do not like to eat mushy food with my fingers, i. e. I don't like putting rice and curry between my fingertips. Therefore, I'm actually carrying a plastic thing with me that has a spoon on one end and a fork on the other. Another excellent tool, that unfolds to complete cutlery, is a gadget that I introduce in my post Indispensable Travel Tools and Gadgets.
Where to Sleep
I have to admit that I'm a bit cheap when it comes to accommodation: While I don't like to spend too much money on a place where I lay my hat and head for a couple of hours, I really like clean and comfortable. In Sri Lanka, there is a large number of small guesthouses and homestays.
The difference is basically the number of rooms. Two rooms would rather be considered a homestay, four rooms are a guesthouse. Both options are generally great. The best part is that the host usually lives in the same building so that you get a glimpse of Sri Lankan life. As a solo traveller, this was the perfect option. I had total privacy when I needed it and a pleasant chat as I felt like it.
Here are some good options where to sleep when travelling Sri Lanka*
What to Eat
Usually, this lodging option comes with a generous breakfast and if you ask for it, often the hosts are willing to make dinner for you, too. Actually, these were the best meals I had in Sri Lanka.
In touristy places, there are many small mom and pop restaurants and stands with street food. These are much less in not so touristy places.
If you are very hungry, a good option are hotel buffets: For less than ten bucks you can eat as much as you like – there is at least one soup, there are different salads, wonderful Sri Lankan curries, and cakes and fruits for dessert. Often, tea and coffee are included.
Oh dear, talking 'bout coffee: That's really bad in Sri Lanka. Sometimes it's Nescafé, sometimes it's from coffee powder – but thinner than tea. Often the tea isn't great, either, which is ironic since Sri Lanka is the world's third-largest tea exporter; following Kenia and China. But this seems to be the problem: The good tea is for export, in Sri Lanka, you'll get some shabby tea bags.
Map
This is the route I've travelled
Amazing Places I've Visited
Pinnable Pictures
If you choose to pin this post for later, please use one of these pictures: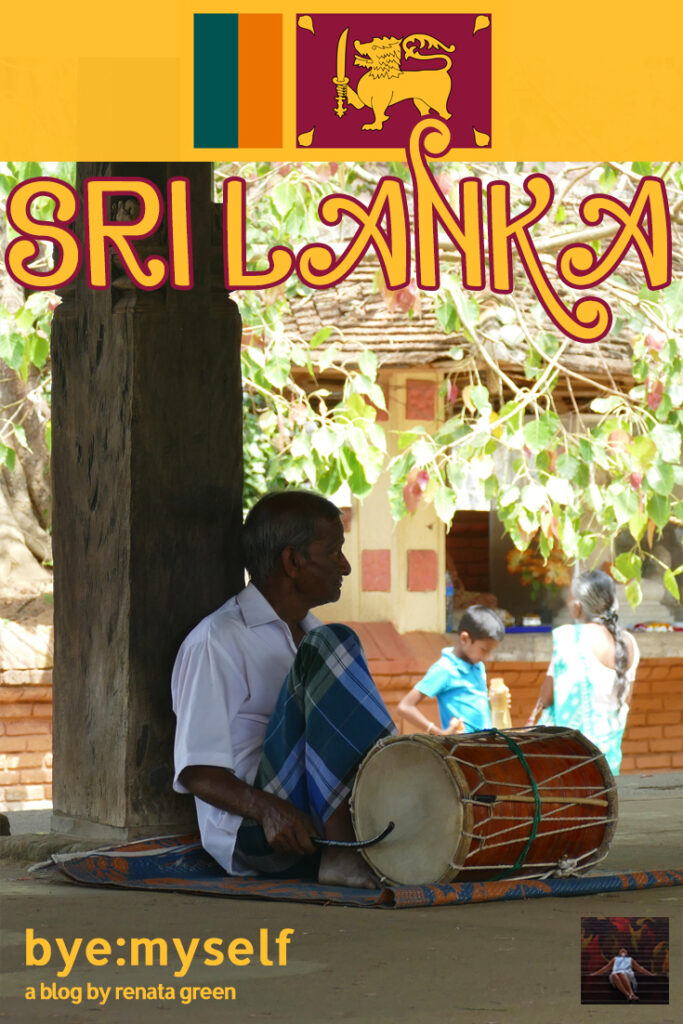 Did You Enjoy This Post? Then You Might Like Also These:
* This is an affiliate link. If you buy something through this page, not only do you get the best deal. I also get a small commission that helps me running this blog. Thank you so much for supporting me!