There are many intriguing settlements on the island of Mallorca, however, Fornalutx is definitely the most delightful village – located in the heart of the Tramuntana ridge close to the Puig Mayor, the island's highest mountain.
With its winding streets, narrow stairs, and picturesque stone houses, the village is an architectural gem. The moment you get there, you'll understand why Fornalutx has already been named Spain's most beautiful village twice!
Fornalutx
Fornalutx is a mountain village nestles against the flanks of the Puig Major, which at 1,445 m is the highest mountain on the Balearic island. The village is surrounded by vineyards and orchards packed with lemon and orange trees, olives and almonds. At the door of basically every house, there are buckets with flowering oleander and humongeous hibiscus bushes.
As various other settlements in Mallorca, also the village of Fornalutx was founded in the Middle Ages by the Moors. Since then, however, time seems to have stood still. Still the old slanted stone houses line the well-worn stone steps. Yes, already a stroll through the village center is kind of an exercise for your legs'n'butt.
Also, the wooden balconies and the green shutters are reminiscent of the time of the Moorish hegemony. To this date, Fornalutx has preserved its man-mad beauty amidst the lush'n'lovely sceneries.
Beauty All Around
No exception to the rule, the center of the mountain village is yet another Plaça d'Espanya. The houses around the market square, there are tapas bars, restaurants, and shops.
In the middle of the center is a fountain. The water is said to have magical powers. According to ancient traditions, anyone who drinks it should return to Fornalutx. I rather recommend the orange juice at the Bar Depor. It's freshly made from the many oranges growing in the valley. And don't you worry, you can return to Fornalutx just the same.
One of the most visited sights in the mountain village is the parish church Navidad de Nostra Senyora. The foundation walls date from the 13th century. Note the artfully crafted sundial on the western wall. Inside, the organ dates from 1584.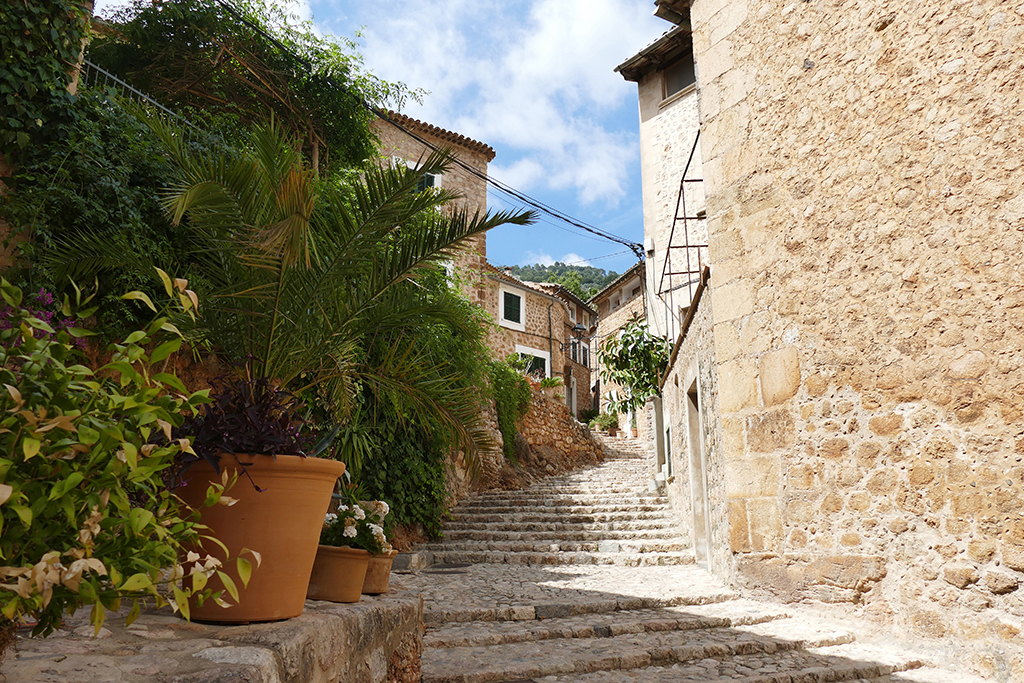 On the church's westside is the – literally – picturesque Carrer Església. Here, you might have to wait a while that all those so-called influencers are gone to get a good shot.
In 1983, Fornalutx received the Premio Nacional de Pueblos Embellecidos y Mantenidos de España, hence, it was elected Spain's most beautiful village. Almost more importantly, 12 years later, the village was awarded for exemplary environmental commitment.
Circular Hike
Although Fornalutx is breathtakingly beautiful and you won't be keen to leave, you shouldn't miss out on a hike through the adjacent part of the Tramuntana Mountains. Also, since it's a circular hike of about 8 kilometers, you should be back to beautiful Fornalutx within three hours, I promise.
The hike starts basically right at Plaça d 'Espanya from where you walk up the staircase on the west side of the parish church. This leads into a long, narrow street to the left called Carrer Tramuntana. Keep going until you'll get to a sign Camí de s' Alzina Fumadora, Sa Comuna.
The Camí de s' Alzina Fumadora now meanders steeply upwards along terrace walls, citrus trees, grapevines, carob, and olive trees.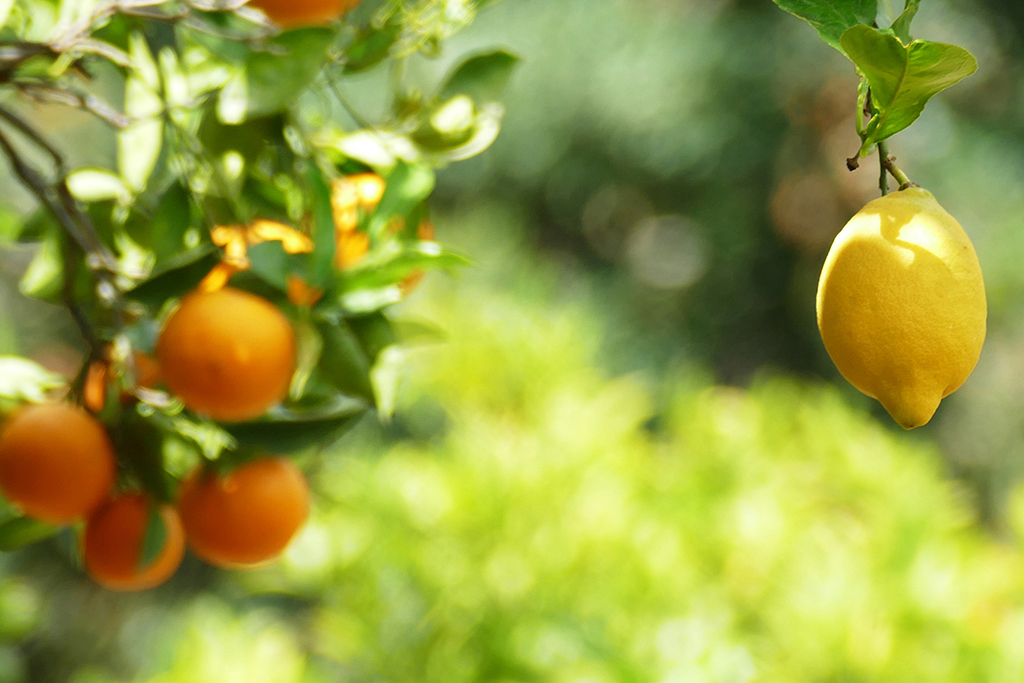 After another five minutes, you will reach the freeway Ma-2120.
Out of Fornalutx
As you cross the freeway, a stepped path continues very steeply upwards in tight bends. To the north, there is a magnificent view of the colossal south face of the almost 1,400-meter high Penyal des Migdia, the Coma de n'Arbona valley, as well as the Serra de Son Torrella mountain range. You can even make out the Serra d 'Alfàbia and the Teix massif near Deià.
At a green iron gate, you reach a wide path from where a stepped path continues to the right. After a steep ascent, you reach a bifurcation. From here you continue straight ahead in very steep serpentines – just mind the wooden post arrow. To your left, you will notice a group of holm oaks overlooked by a 20-meter high tree. This magnificent example of a holm oak is the Alzina Fumadora.
The slope continues up in steep curves. Eventually, you'll reach the freeway Ma-10 at kilometer 43. Turn right and walk alongside the road before you short turn left at the sign Pla de sa Bassa, 25 min.
A path now leads left after to a small square with a stone cairn and from there again left onto a wide path.
A moderate ascent leads to a picnic area with holm oaks and pines and from there straight on to a green water reservoir. After a few meters, you will reach a bifurcation with a wooden post arrow pointing right.
This route leads in the direction of the mountain Puig de sa Comuna and the plain of Pla de sa Bassa. To continue on the circular route, however, you turn left. After a few minutes, you get to a saddle. From here the trail meanders down into the valley in a few bends. You stay on the main path so that you get to an open gate and the Ma-10. Unfortunately, from here you have to walk about one kilometer alongside the road to the Mirador de ses Barques. Be careful as there might be some traffic.
From the Mirador de ses Barques you have a wonderful panoramic view of the valley of Sóller, the harbor bay with its two lighthouses, the beach of Platja d'en Repic, and the Mediterranean sea.
Right of the Mirador's parking lot begins the descent to Fornalutx. Posts and cairns will guide you along the trails and wide slopes. Therefore, you cannot get lost, nevertheless, you'll have to cross the Ma-10 three times. Finally, you turn into the Ma-2120 road. At the first bifurcation, you turn right into the Camí de Balix which leads you all the way to the old town of Fornalutx.
How to Get There
A Refreshing Detour to Port de Sóller
If you plan on going to Fornalutx by public bus, you'll have a connection at the bus stop of the charming town of Sollér. This way, you can easily combine your visit with a couple of hours on the beach at nearby Port de Sóller.
Port de Sóller, or Puerto de Sóller in Spanish, is a district of the municipality of Sóller, located about three kilometers from the main town. It is located in the Badia de Sóller, hence, the Bay of Sóller, and is actually the only protected port on Mallorca's north-west coast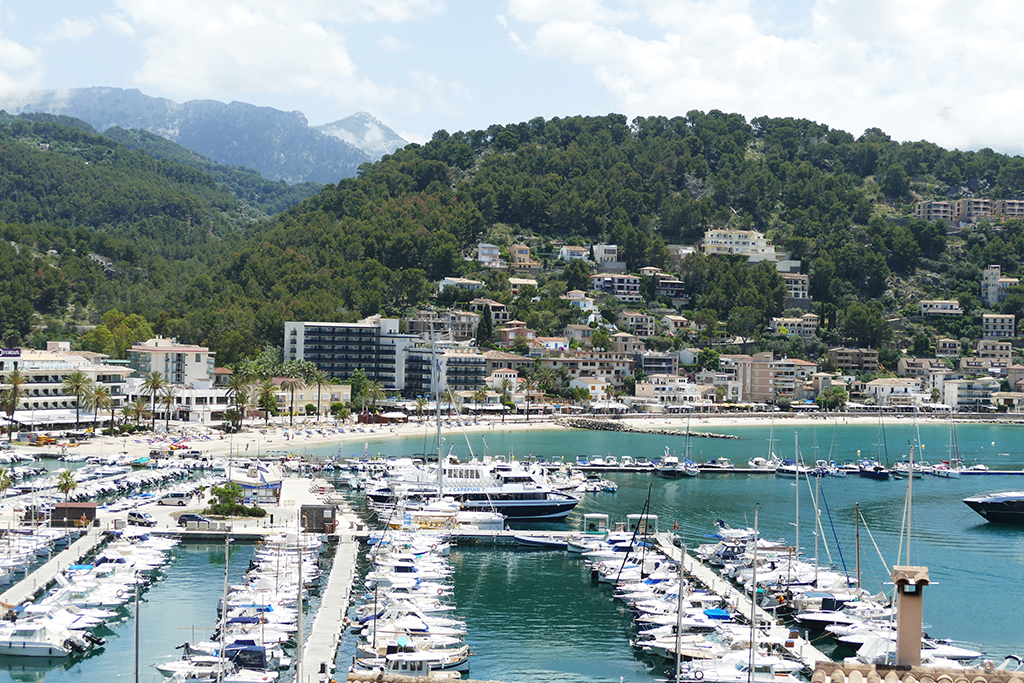 You'll find hotels, restaurants, and bars as well as almost 500 boat berths. And there are the two beaches Platja des Través and Platja den Repic where you can spend a couple of hours sunbathing and enjoying refreshing dips before heading to the rugged mountains of Fornalutx.
Your Choice of Transportation
If you like my suggestion, simply take bus #204 from Palma's Estació Intermodal straight to Port de Sóller. From there, bus #232 goes by the hour to Fornalutx between 8 a. m. and 7 p. m. However, both lines are also stopping at the main bus station in Sóller where you have to change in case you don't want to go to the beach.
Obviously, you can also go from Palma to Sóller taking the vintage train. To be honest, I think it's a waste of money and time – and an unnervingly touristy thing. If you absolutely want to do something a bit on the tardy side, better take the tram that takes you from Sóller's train station to the Port's beachfront. From the open wagons, you can literally touch the citrus trees at the orchards along the way – and it's only 7 €uros each way. However, check the timetable on their website.
To Fornalutx And Back
There is no direct bus between Palma and Fornalutx. Nevertheless, the connection is easy and reliable at Sóller respectively Port de Sóller. On weekdays, the first bus #204 leaves Palma at 6.30 a. m. and reaches Sóller in less than an hour. Until 9 p. m., buses are going every half an hour respectively after 6 p. m. by the hour.
You have to take the significantly smaller bus #232 from either Sóller or Port de Sóller and once you're on the winding hill roads, you'll understand why bigger buses had no chance.
It is also possible – and quite popular – to hike the 3.5 kilometers to Fornalutx which should take less than an hour and is actually easier the other way around since you are rather descending.
A single ride from Palma to Sóller costs 7.50 €uro if you pay cash on the bus. As you pay with your credit or debit card, you get a discount – in this case, you pay 40% less. The ride from Sóller to Fornalutx is 3 €uro, therefore, you'll get just a small discount of 10%.
Saving Big Bucks
As a matter of fact, if you are planning on taking the bus more often, paying by card will save you a lot of money since discounts go up to 60% depending on your route.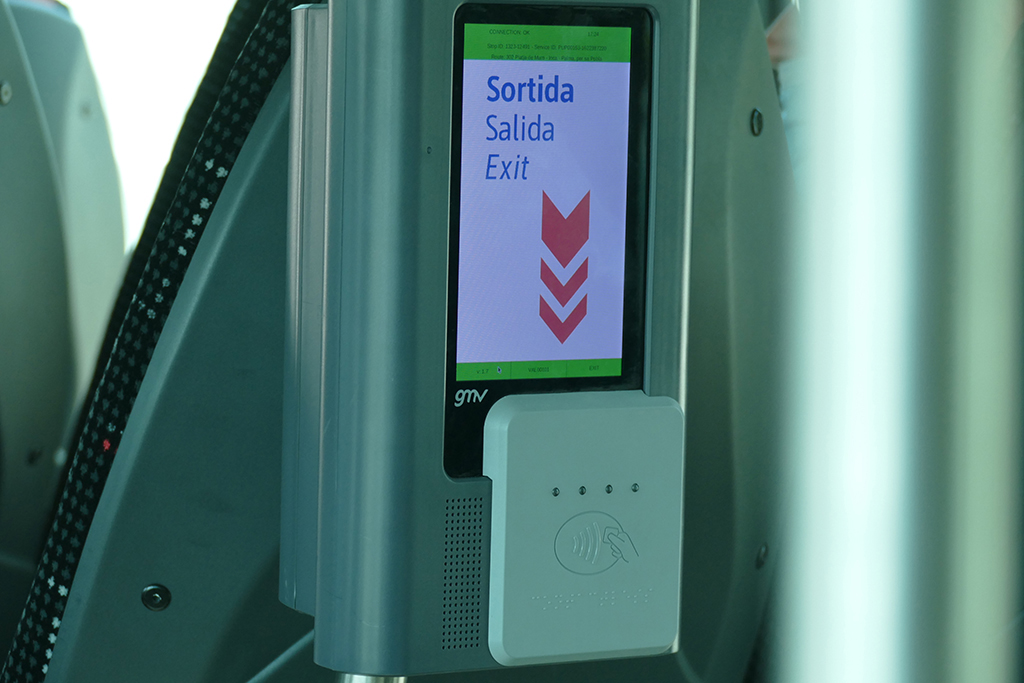 In case your card is not equipped with Near Field Communication – short NFC – you can simply obtain a so-called intermodal card for instance at the Estació Intermodal in Palma and just charge and recharge it as needed. This way, you'll get the same discounts.
Not only is the network of public transportation comprehensive, comfortable, and reliable, the CTM company also has a very informative website in five languages.
Well-Organized Activities
Although I'm an avid solo-travelling woman, I sometimes like to join organized tours. Not only are they a valid option to go to remote places since I'm not driving. They also allow me to meet fellow travellers – for just a short moment or a lifelong friendship.
Therefore, here are some great ideas of what to do when visiting Mallorca. Especially during high season, pre-booking online will guarantee your place at the activity of your choice*:
My afternoon in Fornalutx after a morning on the beach of Port de Sóller was only one of many amazing visits during my nine days on the island of Mallorca. To read about the others, go to the main post and take your pick!
For general information on Spain, go to the main post. There, you'll find hacks and tips that will make your trip much smoother and more enjoyable.
So you are a passionate hiker and wonder which other trails there are to explore on the island of Mallorca? Good since in my post MALLORCA – the best easy hikes, I've put together…well, the island's best easy hikes.
Maps
This map should help you to find your way between Port de Sóller and Fornalutx respectively around the village…
…and on this one you can trace the circle hike to the Mirador de Ses Barques:
Pinnable Pictures
If you choose to pin this post for later, please use one of these pictures:
So did You Enjoy This Post? Then You Might Like Also These:
* This is an affiliate link. If you book through this page, not only do you get the best deal. I also get a small commission that helps me run this blog. Thank you so much for supporting me!