This is a guide to Nagoya, the perfect place to enjoy an ordinary day in an ordinary city in Japan.
Brands like Mitsubishi, Toyota, and even Shinkansen are settled in Nagoya. I assume they sound more familiar than the city's own name.
This might be the reason why most foreign visitors just skip Japan's fourth-largest city located on the Pacific coast in favor of the more glamorous metropoles.
Honestly, I don't even remember why I squeezed a day in Nogaya into my bursting itinerary.
However, I appreciated Nagoya as a relaxing break from the pressure to see and visit as much as possible in one day. As a matter of fact, it was a nice opportunity to devour all those overwhelming new impressions and just enjoyed an ordinary day in an ordinary city in Japan.
I couldn't even put my finger on what it was that made me feel so comfortable at Nagoya from the moment I step out of the Sakae subway station at the Kibo no Hiroba, the so-called Hope Plaza.
It was evening, but the area was full of lights and trees. There were people and there was music. Friendliness was in the air.
It didn't even take me very long to find my hotel with a little help from the rather useless screenshot on my phone and far more help from some guys who seemed to be Russian ex-pats.
Tokyo Girl in Nagoya
Actually, I think my enthusiasm had also to do with the fact that I had started to watch Tokyo Girl.
Tokyo Girl is a Japanese series about a young girl from a small place who goes to Tokyo to make it there.
I had to watch the show in Japanese with English captions, and I usually hate to read captions when I'm watching a movie. Nonetheless, I was completely absorbed right from the start of episode one.
There is nothing really exciting happening. Nevertheless, I felt like peeping through the keyhole into my Japanese neighbor's living room….and life.
I was with Tokyo Girl Aya at her graduation in a small, unimportant town when she decided to become someone who'll make others jealous.
I sat next to her at her job interview and eventually when she went on meticulously organized dates with her workmates. Dating was not fun, dating was a strategy.
I was at her side when she was strategically picking the most promising guys. It was matchmaking according to social background and status.
Which finally got her stuck in the middle-class.
By Your Side
Finally, I followed stunningly beautiful Aya over eleven episodes through about twenty years of her life. I went with her from job to job while she was juggling her career and her love life. Twitching her own wishes and society's expectations.
Watching this series gave me an idea of what life and career and peer pressure and all that comes with it must be like in Japan.
Definitely brutal.
Yes, these rules and values are present in almost every country in a way. But in Japan, achieving them is not a choice, it's vital.
Anyone who travels around Japan and wants to get an idea of what's going on behind the smiles'n'bows and underneath the starched crisp white business shirts should absolutely watch this series. It will enrich your trip on so many levels and inform you better than any guidebook can do.
Museums and Malls
But you don't need to turn Nagoya into your personal Japanese movie show to enjoy the city's attractions. Especially if you are into science and engineering, you'll love all these museums dealing with these matters.
The Electricity Museum, the Toyota Automobile Museum, the SCMAGLEV and Railway Park with an exhibition of over three dozen full-size vehicles and simulators. However, most importantly, there is the Nagoya City Science Museum. It does not only impress with a vast educational exhibition, but already from the outside with its really outstanding architecture.
I had little time – actually exactly 24 hours – and I was looking for real life.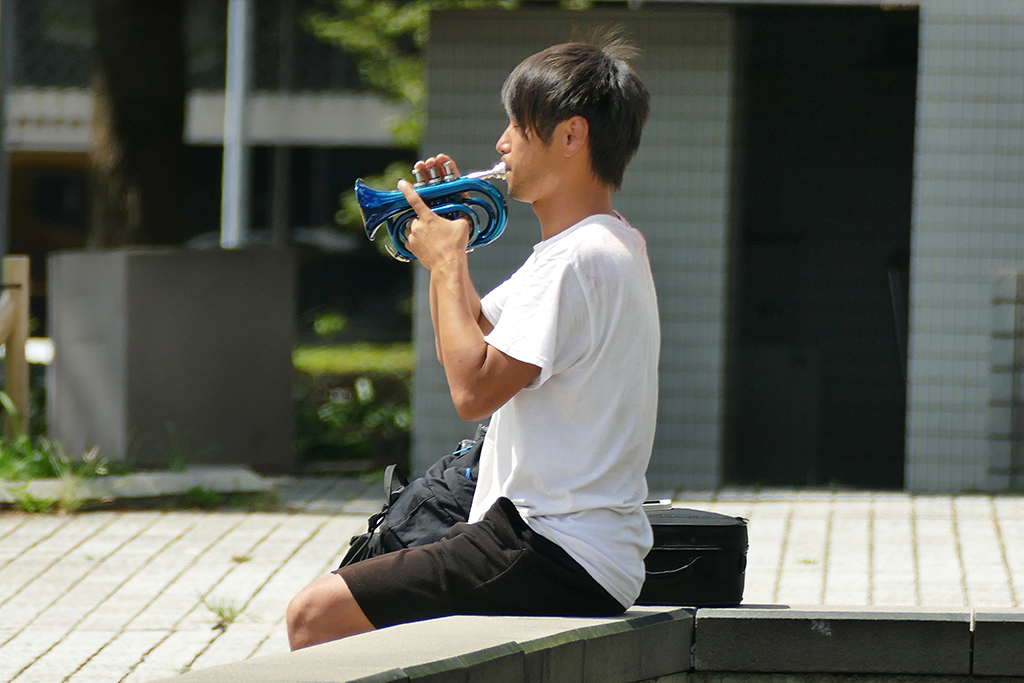 Walking down the busy streets between sky-high buildings housing stores and offices, I turned my head left and right and all the way up. Wait a minute, was that a small Ferris wheel on the roof of the Mitsukoshi department store? Crazy!
But not as crazy as the huge one sticking to the facade of the Sunshine Sakae mall. That one covers the entire wall and is decorated with portraits of the members of SKE48, a J-pop group consisting of – you guessed so – 48 singing and giggling girls.
You can not only see them spinning around on the big wheel, but also watch them performing at the theater located on the mall's second floor.
Just on the opposite corner of Nishiki-Dori street is another quirky shopping complex, the futuristic-looking Oasis 21 which opened in 2002. It has the shape of a giant flying saucer and houses not only stores and restaurants but also Nagoya's bus terminal. Its most impressive feature is the accessible roof with a large pool of water.
Shopping Temple…literally
300 Yen. 300 Yen? That's less than three €uros – or Dollars!
I'm standing in front of a garment store selling what to me looks like festive attire. I can spot some robes and kimonos, shoes and accessories from the covered shopping street I somehow got to.
I was walking around downtown, passed the iconic Science Museum, crossed a park and some four-lane road, and found myself at the Osu Kannon, a temple built originally in the 14th century, then moved to its current site in 1612 – however, the current buildings are another reconstruction from the 20th century.
That's something that really irritated me in Japan. So many supposedly historic buildings are not really old, but reconstructed. We don't do have that much in Europe, do we?
The only rebuilt historic sites I can think of are the Frauenkirche in Dresden and the castle in Potsdam; other than that, not much comes to mind. In Japan, however, so many castles and temples were rebuilt quite recently. Strange.
The greatest treasure, by the way, lies underneath Osu Kannon's main hall. The Shinpukuji Library houses over 15,000 classic Japanese and Chinese texts, among those various national treasures and important cultural properties.
On the 18th and 28th of every month, a flea market is held on the temple grounds. I'm here on the 7th, hence I continue to the adjacent Osu shopping arcade, a network of streets with big stores and small shops, cute cafés, and good restaurants. It reminds me of Tokyo's Akihabara as well as Asakusa districts – only it's calmer….and far cheaper.
Shopping for Kimonos
Which brings me back to the 300 Yen tag. It's hanging from a beautifully designed Haori, a short kimono jacket that used to be worn exclusively by men. It actually seems to be silk. I gently touch the fabric – it is silk. 300 Yen.
This piece is one of the few that fits my big and tall European figure – and 300 Yen, come on, that's less than a cup of coffee.
I enter the store.
A light carpet covers the main sales area. I take my shoes off, walk around check out all those treasures – none of which is as cheap as the Haoris hanging on the rack next to the entrance, luring customers in.
I want it.
As I head for the cash, I see that there are stairs leading to a second floor.
I quickly look around if I'm allowed to put my shoes back on or if I'm supposed to climb the stairs barefoot. Since the old sales lady points at my shoes and says something in Japanese, I'm pretty sure that I can slip my Birkenstocks back on.
Upstairs are more Haoris and loads of Kimonos and Obis, the traditional sash belts, and Geta clogs, and the cutest adorned handbags and sachets and dark blue shawls. I'm getting all dizzy from this beauty. But maybe it's also the strong smell of moth powder lingering in the air.
Slowly I get it: The upper floor is the vintage department – the most expensive pieces I spot are about 60 €uro. Now the 300 Yen for the Haori that I'm still carrying over my right arm makes total sense: Second hand.
In one corner, they have Kimonos tightly hanging on three racks. So tightly that it's difficult to pull the individual pieces from the racks. Next to the racks is a small table with a scale and a sign: 1 gram 1 Yen. The silken Kimono made from teal-colored raw silk, modestly adorned with little squares and some lines in red and golden yellow weighs 800 grams. Wow – this piece of original Japanese couture will set me back less than 8 €uro? I don't know about you, I call this a bargain.
I browse the Obis and find one in almost exactly the same yellow tone as the little squares on my silken treasure. Once I'm on it, I also take one of the very long shawls in the darkest blue – I can wear it with basically everything – and it costs 500 Yen.
In the end, I pay something like 20 bucks for a gorgeous Kimono, the matching Obi, and a superb shawl. Oh, and a Haori that lured me into this textile Cockaigne.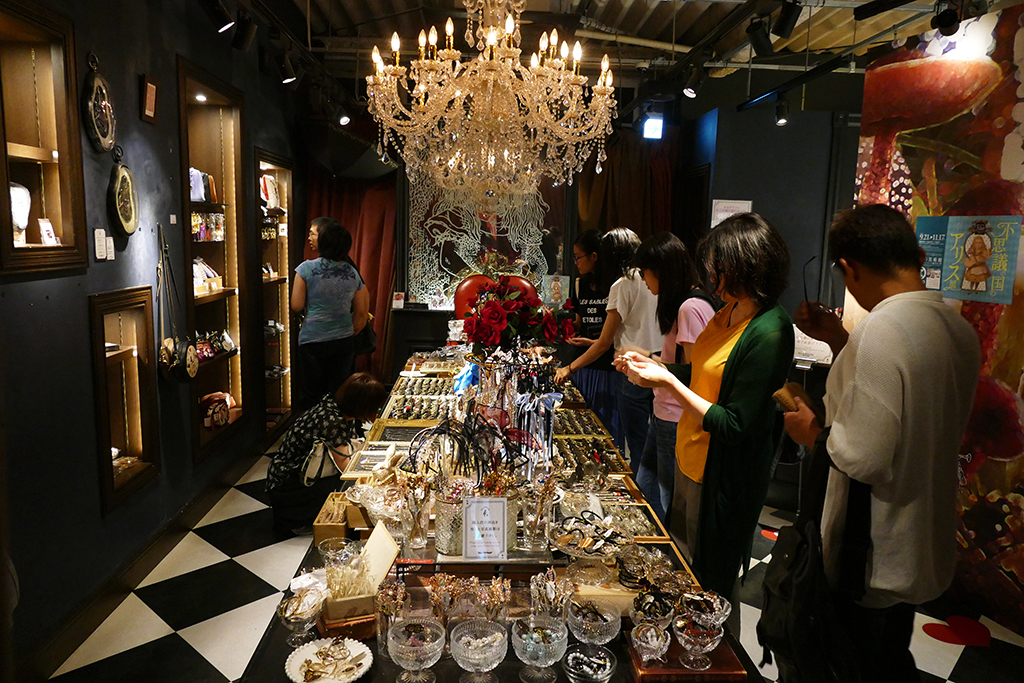 Nagoya Castle
I was sweating like a pig. It was so hot. In addition, I was now carrying not only my pretty full fanny bag and my quite heavy camera. I was also schlepping a big silver-colored plastic bag containing about 2 kilograms of Kimonos and silken accessories.
I felt somewhere between a lucky bastard carrying around truly amazing bargains – and a pathetic bag lady logging around a shabby bag with old rags.
Einstein was right – everything is relative.
In my above-quoted list of landmarks, I forgot to mention that Nagoya is not only famous for Toyota, but also for Godzilla. The city – and especially the castle – have been featured in the movies where Godzilla fights against King Kong and against Mothra – and then Mothra also fights against Godzilla; man, these guys really don't get along.
Anyway, Nagoya Castle is probably the most long-established landmark. It was built at the beginning of the Edo Period in the 16th century.
Since many castle buildings were destroyed in the air raids of 1945, it was reconstructed between 1957 and 1959. Be aware that the castle's main keep is scheduled to be reconstructed by late 2022.
However, the main palace was recently rebuilt and can be accessed – as well as some of the towers.
While at the main palace, the shogun's reception halls decorated with replicated paintings, furniture, and the classic sliding doors can be admired, the towers grant a panoramic view of the surroundings.
Besides the fact that many of the structures are not original but were rebuilt relatively recently, there's another thing about Japanese castles that's quite unique. They try to entertain you – by fake shoguns standing around or Ninjas appearing unexpectedly, posing with or without you for souvenir pix. It adds a bit of an amusement park to culture and history.
I've never seen this kind of masquerade in historic places before.  It proves this Japanese thirst for entertainment and amusement.
In Europe, historic places are educational sites. There is no Louis XIV shaking hands with visitors from out of town at Versaille, no Sissi caressing your little ones for the home video. The fake Romans in front of the Colosseum in Rome or the dressed-up Mozarts in Vienna are there to screw tourists over, not to entertain them.
I found Japan being unexpectedly Asian on the one side – and quite Americanized on the other; the desire for diversion is what they have definitely in common.
Practical Information
Before I give you some useful info, let me tell you that one day in Nagoya was too short. I don't know why this city is so under most traveller's radar since there are so many great spots to see and the city is so agreeable. So if you have the chance to squeeze at least two days into your itinerary, do it.
How to Get There
Nagoya is Japan's fourth-largest city. Therefore, getting there is a piece of cake from practically everywhere – whether quickly by Shinkansen or more laid-back by express trains. Of course, there is also a large number of long-distance buses serving Nagoya.
The Chubu Centrair International Airport is located on an artificial island in Ise Bay 35 kilometers south of the city center.
Since I was coming from Kawaguchiko, I had to take a local train to Hachiōji Station – which is not included in the JR pass and set me back about 1,800 Yen.
From Hachiōji, I took a rapid train – which to my surprise was like a subway wagon, hence not very comfortable with few seats – to Shin-Yokohama and from there the Shinkansen Hikari to Nagoya.
Sounds a bit of a drag, but it's Japan, so everything went very smoothly.
How to Get Around
Nagoya has subways and tramways and busses – yet I was walking.
If you are there for longer or want to explore more than just the city center – which is very pleasantly walkable – you might want to opt for a day pass; and guess what – there are six of them: one valid on weekends, one only for the subway, one only for the bus, one for subway and bus, one for some sightseeing route and another one for subway and busses and the sightseeing route.
Phew – exhausted yet?!
Obviously, the last-mentioned ticket is the most complete one and can only be purchased by foreigners. Therefore, be sure to have your passport on you if you intend to get one.
Best Place to Stay
I stayed a stone-throw away from Sakae station and that's actually the place to be. Not only is the neighborhood as such a super-animated place with tons of stores, restaurants, and bars. Everything else is also easily and quickly accessible since Sakae is the most important hub besides Nagoya's main station.
The Best Western Hotel Nagoya is a three minutes walk from the station. Of course, their rooms are clean with everything you need – from a long nightshirt to slippers and toiletries. Obviously, they serve breakfast, but there is also a Starbucks on the building's first floor. Then, Komeda's Coffee, as well as a Caffé Veloce, is on the next block.
I grabbed two coffees and two sandwiches there, got back to my room, and had breakfast in bed.
If you're not pampering yourself, nobody else will.
Here you can check Best Western's rates and availability.*
Yet, if you'd like to check out other suitable lodging options, you can do so on this map*:
Best Place to Eat
Every region in Japan has its own specialties and delicacies to be very proud of. Nagoya is one of them. Besides other treats, a famous local dish is Misokatsu, a breaded deep-fried pork cutlet with a special sauce.
Probably the most popular restaurant to enjoy this delicacy is the Misokatsu Yabaton chain. It was founded in Nagoya, but you'll also find it in – very few – other Japanese cities.
Their logo is a very content, relaxed pig wearing a fancy apron.
Hard to believe that this pig is so happy with Misokatsu Yabaton's trade – but you as a guest certainly will be.
What to Do
I'm an avid solo-travelling woman. Since solo travel doesn't equal solitude, I love to join organized tours here and there. They allow me to meet fellow travellers for a short moment or a lifelong friendship.
Therefore, here are some great ideas of what to do during your stay in Nagoya. Especially if you have only a short time to stay, they'll enable you to make the best of it*:
Map
Here you find all the spots of interest mentioned in this post
Do you want to read about all the other beautiful places I've visited in Japan? Then go to the main post and take your pick!
Before you go, you might want to check out my post on What (not) to pack for JAPAN. This will make your packing – and consequently your luggage – so much easier.
Also, there is a post on How (not) to behave in JAPAN. It deals with some of the most important rules so you won't stand out like an ignorant tourist.
Pinnable Pictures
If you choose to pin this post for later, please use one of these pictures:
Note: I'm completing, editing, and updating this post regularly – last in November 2022.
Did You Enjoy This Post? Then You Might Like Also These:
* This is an affiliate link. If you book through this page, not only do you get the best deal, I also get a small commission that helps me run this blog. Thank you so much for supporting me!