Are you planning on going to Japan for the first time?
Being all excited?
Wondering what to expect?
Having a million questions?
Well, I recently came back from my first big Japan adventure, and let me tell you: It was just overwhelming; in a good way! I had the chance to travel for three weeks. However, I know that not everybody has the opportunity to leave for so long. Therefore, based on my itinerary, I put together a travel guide – not only – for other first-timers to Japan. You can adjust it individually to your personal trip – for one, two, or three weeks in the Land of the Rising Sun.
日本へようこそ – Nihon e yōkoso – Welcome to Japan!
Things Are Never As Bad As They Seem
Since I was travelling to Japan for the first time – and as almost always exclusively in the company of myself – I was super-nervous and totally hyper:
How will I adapt?
How will I get along?
Will anyone understand what I wanted or even needed?
Will I be able to find my way?
Will children point at me laughing and villagers chase me?
Should I have rather ordered Sushi from the local supermarket and made myself comfortable in front of my TV, watching anime?
Spoiler: No! Way!
With a tiny bit of an adventurous spirit, a couple of helpful apps, and a big, big love for travel, Japan is one of the countries that are easiest to travel – also as a female soloist.
I've been planning on going to Japan for almost two years. I'd like to emphasize that it took me so long due to personal reasons. My flat was completely remodeled. Understandingly, I didn't want to come back to a construction site after such an epic trip.
So this spring, I decided to bite the bullet – still thinking it would be far too expensive for me.
Hesitantly, I began looking for flights.
Actually, I was more than surprised. Prices were not different from most other flights between Europe and Asian countries. Hm, interesting.
Demystifying
So, right away, I can demystify this myth that travelling Japan breaks the bank. You can actually travel on a budget, especially since there are a number of special offers exclusively for foreigners.
I've heard and read a million times that Japan's most fascinating aspect is the balance between traditionality and modernity.
I promise you one thing: On my blog, you won't find this stale enlightenment.
Firstly, because it's an over-used bromide and most importantly because I disagree. Japan consists of 6852 islands – whereby this figure includes islands Japan only claims to be theirs. Only 425 of these islands are inhabited. Actually, 98 of the population is living on the five main islands Hokkaido, Honshu, Kyushu, Shikoku, and Okinawa.
Not having borders with other countries, being so far from other nations, and experiencing practically no immigration does not make an opening to new ideas and influences necessary.
I found Japan to be rather conservative than traditionalistic.
98 percent of the population is Japanese. For centuries, isolation and closure were imposed. To this date, there is very little foreign influence.
Japan first is not a political slogan, it's a mindset.
All these are factors that impair cultural opening to foreign influence.
Whereby, the maintenance of folklore and traditions can be a wonderful thing. Albeit, only as long as other peoples and their individual cultures and traditions are not considered inferior.
Adjustable Guides
I spent almost three weeks in Japan. I've seen 11 places in 20 days. In some spots, I spent only one night. It's actually a bit ironic since we Europeans used to make fun of Japanese tourist groups who visited ten European cities in seven days. And here I was, racing through Nippon to make the most of it.
You can follow my example or take it much slower. No matter which way of travelling you choose, you'll love the country and its culture and its people. The following itineraries will take you to places that I liked best. Reading the guides to the individual destinations, you might want to add or replace some of my suggestions. It's your choice if you stay longer or skip or replace one place altogether. That's totally fine.
That's why I'm calling this an adjustable itinerary – have a great trip, in the end, that's all that matters!
This is how it works: Below, I'm making suggestions for how many days you should stay in one place. Also, what you might want to see there.
By clicking on the pictures, you'll get to the comprehensive post on that particular destination. There, you can learn more about the places and choose from further points of interest. Finally, you put together your very personal itinerary.
Guide for First-Timers to Japan in One Week
Cost Report
Following this itinerary and travelling by train will cost you more or less the same whether you use the JR pass for one week or if you don't. The round trip Tokyo to Kyoto and back is about 28,000 Yen. A round trip from Kyoto to Nara around 1,400 Yen. Then, you can use it at least on one trip from or to the Narita Airport by the JR Narita Express (NEX). If you are travelling back to Narita within 7 days, you can even use it both ways. The JR pass costs 29,650 Yen for one week – so you might save a tiny bit.
Guide for First-Timers to Japan in Two Weeks
Cost Report
Following this itinerary and travelling by train, you'll save at least 6,000 to 7,000 Yen on long-distance trains. If you are travelling back to the airport within 14 days, you can add another 6,000 Yen for the JR Narita Express (NEX). Of course, there is local and regional JR transportation, which is not that much but adds up, too.
Guide for First-Timers to Japan in Three Weeks
First Week
Second Week
Third Week
Cost Report
Following my itinerary, you would save money even if you actually bought the 21 days version. However, I opted for the 14 days version and adjusted my itinerary accordingly. This meant that I paid for the trip from and to Narita Airport extra. I also paid for the tickets to Hakone separately. Nonetheless, my trip would have been 70,780 Yen. Also, this amount does not include local and regional transport like the loop bus in Hiroshima or the ferry to Miyajima. For my JR pass for 14 days, I paid 47,250 Yen. This means that I've saved more than 23,530 Yen….or 195 €uro…..or 215 US$!
Preparation
Of course, you can buy a ticket and off you go to Japan. Well, it must be nice to call a diamond mine your own. I don't have one. Therefore, I depended on a little bit of preparation in order to save lots of money.
It's the Season
Like everywhere else, there are high seasons and low seasons. If you go in April, you get to see the cherry trees in full bloom. However, you pay probably three times as much as I paid.
Another popular season is autumn when the leaves change color. And then there are a couple of Japanese holidays when it's definitely not recommendable to visit. This would be the Golden Week which is at the end of April through the beginning of May. Then, the summer holidays in July and August – when it's, by the way, far too hot for city tours, anyways. Another high season would be the New Year holidays and, of course, your country of origin's peak seasons.
I myself went in September. This way, I did not see all these glories of nature. Nonetheless, I've seen many breathtaking sceneries. Also, it was not so crazy packed with people. Flights as well as accommodation were pretty reasonably priced.
Booking Your Flight
As I said, the first time my image of Japan being unaffordable was shattered when I was looking for flights. Maybe I'd picked the right season: In September, there are no blossoms and no colorful leaves, summer school holidays are over and Christmas is still a couple of months away. A bit over 600 €uro for a round trip with the Japanese airline ANA via Dusseldorf respectively back with SwissAir via Zurich wasn't too bad. Japan's most important international airport is Tokyo's Narita Airport, followed by Osaka's Kansai Airport, and Tokyo's Haneda Airport.
Many other Japanese airports for instance the one in Hiroshima might have some international flights, mainly to Korea and China. You can also save on domestic flights since some Japanese airlines offer discount fares if you came with them to Japan. These would be for instance the Japan Explorer Pass by JAL or the Experience Japan Fare respectively the Discover Japan Fare granted by ANA.
Also, there is a range of low-budget airlines like Air Asia Japan, Air Do, Jetstar Japan, Peach Aviation, Skymark Airlines, Solaseed Air, and Starflyer. Note that early-morning and late-night flights can be significantly cheaper than those departing at more civil hours.
Booking Your Accommodations
What can I say – after the totally okay airfare, price-wise, the room rates were the second nice surprise. I paid an average of about 45 €uros a night for single rooms at hotels that were comfortable and clean and conveniently located in the city centers not far from the train station as well as the attractions.
There are all kinds of toiletries at your disposal including disposable toothbrushes and razors. But please, do the planet a favor and use there only if you really need them – it's such an environmental sin using these disposable things. Below there is a whole section dealing with the different types of accommodations and what to consider. it surprised me how easy it had been to find extremely reasonably priced rooms. I booked about six to eight weeks before my trips, albeit, most of these bookings had a free cancellation policy. Therefore, I can only recommend booking well ahead. You'll find a booking mask below, and I'm describing all the hotels I stayed at in the individual posts.
Making Reservation
What you definitely should book before going to Japan is the JR pass if you intend to buy one. Purchase used to be possible only for international visitors from foreign. They changed it so that – still only foreign tourists – can obtain the pass now in Japan, too, however, it is more expensive. Also, you can purchase some of the regional day passes only while you are still outside Japan – like e.g. the Osaka 1 day pass or 2 day pass.
Not least because everybody drove me nuts with this no-credit-card business, I ordered a Keisei Skyliner & Tokyo Subway Ticket package from home and picked it up once I landed at Narita. Since just the single ride from the airport to the center costs 2,520 Yen, this package for 5,480 was a major bargain: A round trip from and back to the airport plus 72 hours of free use of Metro and Subway tickets. And I even made a mistake: The passes actually valid for 24, 48, or 72 hours, not one, two, or three days. So if you play your cards right and plan your trips accordingly, you might need only a 24 hours card for two days.
More Savings
If you are planning on visiting many museums around Tokyo, you might want to get a Grutto Pass that grants reduced or free entrance to 95 museums. However, this past costs 2,200 Yen, so you definitely should do the maths if it really pays out for you.
The equivalent in Kyoto and beyond would be the Kansai Grutto Pass which lets you visit around 100 museums at a discounted price or even free. This pass costs 1,100 Yen.
I'm the most impatient person on earth, I hate waiting, standing in line drives me crazy. Isn't it ironic that this is something you have to do in Japan for each and every little thing.
If you are like me and want to save time, you should check if you cannot make reservations for time slots at museums and other venues. Also, if you want to join the guided tour of the Imperial Palace in Tokyo, an advanced reservation is highly recommended. Albeit, in all honesty, the tour isn't that great.
You'll find all the relevant info and links in the posts on the individual destinations.
Since many saving perks are reserved for foreigners, you have to pre-order or purchase them before your trip to your country of origin. Then, as you pick up vouchers and tickets, you need to show your passport as proof that you are only a visitor and not a resident.
How To Get There And Around
I presume that you come flying and will arrive at one of the three major airports quoted above – either those in Tokyo or the Kansai airport that caters i. a. to Osaka and Kyoto.
All airports are relatively far from the city centers but conveniently connected by buses and trains. You'll find info on those in the posts on the individual destinations.
National Public Transport
Travelling around Japan is as easy as ABC: Public transportation is very reliable, safe, and clean. All relevant signs and announcements are also in English. However, it is not cheap: A one-way trip from Tokyo to Kyoto on a regular Shinkansen is about 13,500 Yen. A bus ride can set you back up to 8,000 Yen – although it can also be a bit cheaper.
This is the reason why practically every foreigner is getting a JR pass – check the above itineraries. Why locals don't? Because they are not allowed. Only non-residents are entitled to get this – by the way, still very expensive – pass for unlimited travel on the national trains.
The JR Pass – A Japanese Travel Legend
However, getting your JR pass will be your first Japanese adventure since the process is more suitable for 1819 than 2019: First, you have to order a voucher – and also pay for it right away. Sadly, you don't get it right away, you are actually getting it by mail. Isn't that exciting – you pay the nuance of 270 to 560 US$ and then you hope and pray that it doesn't get lost in the mail? Yeyi!
Actually, I've never heard that it got lost, but hey, there is still a chance.
What's totally ridiculous is the fact that this is just a voucher, not a ticket. So why don't you get some personalized code by mail? I know why: It wouldn't be as exciting as dreading for a couple of days that your 270 to 560 US$-voucher did get lost in the mail.
So after the excitement is over and you are holding your precious voucher in your hands, you take it with you to Japan where you exchange it for the real JR pass – a piece of pretty cardboard – and you're good to go.
Note: For a limited time, supposedly till March 31, 2022, you can buy a Japan Rail pass at certain train stations and airports in Japan. However, it is more expensive than ordering it online.
What to Consider
However, it's recommendable to make reservation on your chosen Shinkansens – those are free of charge. If for some reason you cannot reserve a seat, you have to go to the last three wagons and look for an available spot.
There are three versions of the general JR pass: one week for 29,650 Yen, two weeks for 47,250 Yen – whereby for some reason mine says only 46,390, and three weeks for 60,450 Yen. During the period of time your pass is valid, you can travel around Japan as much as you like – using exclusively trains and other means of transportation belonging to Japan Railways and with the exception of the Shinkansens Nozomi and Mizuho.
Hyper With HyperDia
To check train schedules and put together your best route using the JR pass, you should go to HyperDia and also download their App. Other than on google maps, here you can search for routes excluding Nozomi and Mizuho trains from the start.
By the way, there is also a first-class version called the Green pass. However, I don't think that you need to travel first class in Japan – the standard is already pretty great.
Only once I took a long-distance bus in Japan – and that distance wasn't really that long. However, travelling by bus is definitely an option if you really don't want to pay for expensive trains. But keep in mind that you'll need more time to go around. If you even take night buses, you also save on accommodations. I must say, I was so pleasantly surprised by Japan not being as expensive as expected, I just didn't feel the urge to save as much money as I could but chose comfort and time saving over a tight budget.
Local Public Transport
Public transportation all over Japan is perfect. However, sometimes the touristy spots of interest are quite apart or on the outskirts, and getting from one to another might take more time than you think. That's the reason why in my posts on individual destinations in Japan, I often divided the guide according to neighborhoods or cardinal directions – it's simply more timesaving.
Buying tickets, however, is a bit tricky: Not only are there local trains, operated by the national company JR and therefore also included in the legendary JR pass if you have one, no, but there are also subways and buses and tickets, in general, are not interchangeable.
Nonetheless, I made an effort to introduce the best day passes in the posts on the individual locations so you should make sure to read them carefully before heading out there.
So not only is there a variety of individual tickets, no, there is also a great choice of different day passes – don't overthink it, otherwise you'll spend your entire trip comparing price differences that at the end of the day are not that important; you had the cash for a plane ticket to Japan, after all, you'll survive not paying the very, very cheapest price for a metro ticket, won't you?!
Where to Stay
The cost of lodging was one aspect I was afraid of. I had read about tiny rooms at sky-high prices, and saw myself snoozing in some sort of capsule-sarcophagi-thingy at the rate of a European 5-star hotel room.
To get these great prices at middle-class hotels I did not use my magic wand, I just checked the common hotel portals.
I booked about two months in advance. In only one case I wasn't able to cancel my reservation, all the others I could have canceled for free up to a couple of days before my stay.
What You Get – And What Not
Only one hotel came with a basic breakfast, most of the others offered a breakfast buffet for 1,200 to 1,600 Yen. Most of the time it's totally worth it since a large coffee and a sandwich at Starbucks cost almost 1,000 Yen.
Practically all hotels have also vending machines with drinks and sundries, ice dispensers, and a laundromat and dryers.
In general Japanese hotels supply you with a nightgown or pajama or a Yukata, a light Japanese cotton robe. You'll find at least a water heater and tea bags in your room, sometimes even coffee – real coffee, not this Nescafé sh** – and bottled water.
Accommodation – Traditional And Globalized
I mostly stayed at middle-class business hotels in really perfect locations. Twice, however, I booked myself in some sort of Ryokan, a traditional Japanese guest house. I say some sort since I've heard that the real Ryokans not only offer a traditionally furnished room but also at least half board – and all this at a quite high price.
Well, at the Ryokans where I stayed, there was no half board – as a matter of fact, there wasn't even breakfast. On the other hand, they weren't expensive at all, also perfectly located – and a truly Japanese experience.
As the rooms were classic Japanese Ryokan rooms, the bathrooms were classic Onsen – Japanese baths. Whereby the Onsen is a bath that you take after you cleaned yourself. Yes, it's a bit like cleaning the house for the cleaning lady to come.
Soaking in an Onsen
An Onsen is a bathtub – huge in a communal place, for one up to four people in a private home or a Ryokan. It is filled with very hot water – preferably from a mineralized spring.
Since this water is not being changed and is being used by every guest, it's crucial that you enter squeaky clean and after a good scrub.
Eventually, you get into the hot tub but naked. You're not supposed to take any kind of rag or towel with you nor should you have soap or shampoo on you.
For this, there are showers – or at least basins – next to the tub.
At the communal Onsen, you actually share your tub with other people – orderly divided by gender.

At the private Onsen of a Ryokan, you get into the bathroom by family or party. Well, I was a party of one, so I just locked the door behind me.
Advanced Booking
Here you'll find a wide range of accommodations including all the places where I stayed.
You'll find those also in the respective posts.
Since pre-booking is highly recommended, use this mask for your convenience when searching for suitable accommodation*:
Infamous Japanese Bathrooms
And yes, all my bathrooms were equipped with the famous Japanese toilets. Hence, another aspect I had been afraid of. I saw myself desperately searching for the right button to flush, activating some sort of waterspout fountain that would soak me through and through and set the bathroom under water within seconds. And then I had to wade through the water to the phone to call maintenance.
Another spoiler alert: Nope, never happened, even not close.
Secured Toilet Usage
Firstly, there are not that many buttons. Usually, there are up to two for flushing, two for cleaning – and some toilet seats even have a sensor so that the fountain stops as soon as you lift your buttocks.
Oh, and the noises: I experienced them maybe three times. Once it was some birds chirping, other than that, it was like a permanent flushing noise. And I must say that in public restrooms, I do appreciate it.
More Detailed Information on Japan
Before you go, you might want to check out my post on What (not) to pack for JAPAN. It will make your packing – and consequently your luggage – so much easier.
Also, there is a post on How (not) to behave in JAPAN. There, I'm introducing the most important rules so you won't stand out like an ignorant tourist.
Where to Eat
In my search for something that explains and justifies Japan's reputation for being expensive, I finally counted on food. I had heard of these refined dishes and honey melons for 60 US$ that people bring as a gift when invited to dinner.
Well, yes, I believe that all this exists – and particularly fruits were really expensive – about three to four times the price you pay in Europe.
However, food in the sense of things you are eating on a daily basis in order not to starve was – again – surprisingly reasonably priced if not cheap.
I should start by saying that firstly, I'm not a picky eater. Secondly, I have no allergies, and thirdly, I wasn't on a gourmet trip.
Surprise Me!
Although most restaurants really try to have an understandable menu, it's not always that evident. Also, the plastic food might help in general but when you see a piece of a brownish….something, you still don't know if it's depicting meat or tofu or something baked. And who tells you what's in the beige-colored plastic sauce and how it tastes in real life? Therefore, despite the sort of English menus and plastic food dummies, there are dregs of try and error. So if you really dislike some tastes or if you're allergic to certain ingredients – may the force be with you.
I'm only emphasizing that I actually wasn't on a gourmet trip. Hence, I wasn't looking for fancy Michelin-star-decorated restaurants. Because taste and quality-wise, each and every food shack in Japan is of prime quality.
Therefore, eating in Japan can be delicious and quite cheap at the same time.
Konbinis Everywhere
Firstly, there are all those konbinis, convenience stores like 7/11 or family mart to be found at basically each corner; and convenient they are.
Obviously, you can buy all sorts of dry snacks like crisps and cookies as well as a great variety of soft drinks but also beer and wine, and even sake.
A small snack normally costs less than 150 Yen and a complete meal not more than 500 to 600 Yen.
In many konbinis you'll find a counter or a small seating area where you can enjoy your food. You should definitely do so since in Japan eating while you are walking on the street is an imperative no-go.
There is also a wide range of convenience foods like Onigiri, plain or filled rice triangles, and Mochi, sweet rice balls, as a quick, light snack.
But they have also entire meals like salads and sushi of all flavors and sizes. In addition, Bento boxes that you can eat cold or heated. Then they have all those hot foods like corndogs and Yakitori, chicken skewers. But before buying those, take a close look since Yakitori can be made from basically every part of the animal. Also parts you might not want to eat.
Oh, and they have the standard, global sandwiches, too – boring!
Getting Money
And finally, once you have spent all your money on sampling all those interesting and tasty
delicacies, you can stock up on the spot: At every konbini there is at least one ATM.
You find all the edibles that you get at a konbini also at supermarkets – and more. Also, in the late afternoon, easily perishable foods are offered 30 to 50 percent off.
Markets
Other good places to snack are, obviously, markets that are daily in every city – at least according to my experience. However, here you often have to eat standing up – and I really dislike that.
To comfortably sit down and stuff face, there is a fantastic number of more or less small restaurants serving all kinds of Ramen, Udon noodles in broth, Gyoza, and Tempura. Depending on the portion and the joint, you'll pay between 500 to 1200 Yen
We Have a Winner
Many of these places have kind of a slot machine. You choose your food – more or less assuming what it is since you cannot always distinguish between the stamp-sized pictures of the meals. Eventually, you insert the amount of money and hand the staff the little slip you get. At these machines, by the way, you mostly have to pay cash, as a matter of fact.
Weird. But Japanese. And that's what I got there for.
In most places, you can also save money on drinks since tap water or green tea is included. However, if you order a soda or a beer, in comparison to the food, it is quite costly.
Although I find this buying food stamps from a machine is a charming quirk, I honestly don't get the sense of it. Still, there is staff involved in the process of ordering. So why don't you just tell the person in charge what you'd like to eat instead of handing her the slip?
Costly Cow
So you see you can do basically nothing but eat in Japan without breaking the bank. Nonetheless, there are fancy restaurants, particularly fancy specialty restaurants where you can spend a fortune.
The Hida beef platters at Takayama, for instance, were at about 7000 Yen. I assume that Kobe beef or this special fish that will kill you if not prepared by a trained cook will be in the same price range – at least.
But it's not necessary at all – you can have delicious food at really excellent prices.
What to See
I'm an avid solo-travelling woman. Although Japan is super-safe, on the downside it's not a country where solo-travellers get easily in touch with other visitors let alone locals. Therefore, it might be nice to join an organized tour here and there. Here are some valid options of how to get to see what this magical country has to offer in a safe and easy way*:
Cash And Cards
The Japanese currency is called Yen and it's the third most traded currency after the US$ and the €uro.
The exchange rate for these currencies is 1 US$ = 147 Yen and 1 €UR = 147 Yen as of November 2022. You can check the conversion on this page.
Contrary to all these legends about how you hardly can pay with a credit card in Japan, you actually can at basically every hotel, most restaurants, many museums and landmarks, and large stores.
There are some small restaurants, shops, and minor train stations that accept only cash. On the other hand, there will be a convenience store like a 7/11 or a Family Mart within a radius of ten feet where you'll find an ATM; and at most of these convenience stores, you can also pay with your credit card.
Suica'n'Pasmo
However, many guides claim that your trip will be much more complicated if you don't get a Suica or Pasmo card. Although I'm a sucker for local cards – I got loyalty cards on many of my travels since it made me feel so….local – I managed to spend three weeks in Japan and never found myself in a situation where I needed one. I either bought a day pass or paid by credit card. Making sure to have enough small change really was no biggie.
Advertising that you get a discount on your tickets is ridiculous. The amount you actually save is between €0.01 to around €0.08 on a trip within Tokyo. So how much do you need to travel to save a significant amount of money?! However, at least they canceled the 500 Yen deposit for tourists.
Since September 2019, there has been a deposit-free Welcome Suica card as well as the Pasmo Passport. They are valid for 28 days. These cards are available with different pre-loaded amounts ranging from 1,000 to 10,000 Yen.
Language
Japanese speak Japanese – fair enough. Since I had heard they speak almost exclusively their mother tongue, I was completely freaked out before going to Japan. I was downloading language apps and trying to memorize some Japanese letters. I was afraid of losing my way and never making it back to Europe.
Just like all the other myths going around about Japan, you have no reason to be scared of the foreign language with these funny letters.
The fact is, most people really have a quite rudimentary knowledge of English. Nonetheless, you can slowly and clearly ask for things or directions. People will probably get what you need and find a way to help – even if they cannot actually answer you.
More complex matters and conversations, however, might be an issue.
Lost In Translation….Not!
But more importantly, most announcements at stations, on trains, etc. are also in English. Signs at airports, stations, trains, subways, hotels, and all touristy places are also in English.
Also, stores and restaurants often have a translation app themselves.
Of course, it is a friendly gesture when you are able to say
good morning – ohayo gozaimasu
hello – konichiwa
good evening – konbanwa
bye bye – sayonara
excuse me – sumimasen
thank you – arigato gozaimasu
you're welcome – ie ie.
However, for the latter, there is the more formal do itashimashite, but actually, this form is rather outdated.
Nevertheless, learning a few words is just a nice and respectful gesture and you won't get lost if your knowledge of the language is next to non-existent.
Connection
You can easily get a SIM card or rent a router. However, I found the prices too high and thought I would have free access at my hotels, anyway.
And I hardly didn't have free internet access anywhere. But I'm also someone who can happily be without the internet – even for a couple of hours.
Then there is maps.me – which I didn't use for data protection reasons.
I solved the problem of orientation by taking screenshots of my searches. Worked sometimes.
And if it didn't help, I asked people. Worked all the time.
The plugs used are A and B – whereby B is more difficult to find.
Just like I happily survived without a Suica or Pasmo card, I comfortably relinquished personal internet access.
Yes, but how about GPS? Well, you can walk to the next family mart and get on the internet.
Don't get me wrong: You don't want to carry cash? Get a Suica card. Do you want to be online all the time? Get a router. All I'm saying is that I happily and successfully travelled around Japan for three weeks without it.
The voltage in Japan is 100 Volt and 50 respectively 60 Hertz. Generally, phone and computer chargers have an integrated adaptor. All other electric appliances purchased in other countries can cause problems or be damaged.
This Is the Route I Have Travelled
These Are the Places I Have Visited
Pinnable Pictures
If you choose to pin this post for later, please use one of these pictures: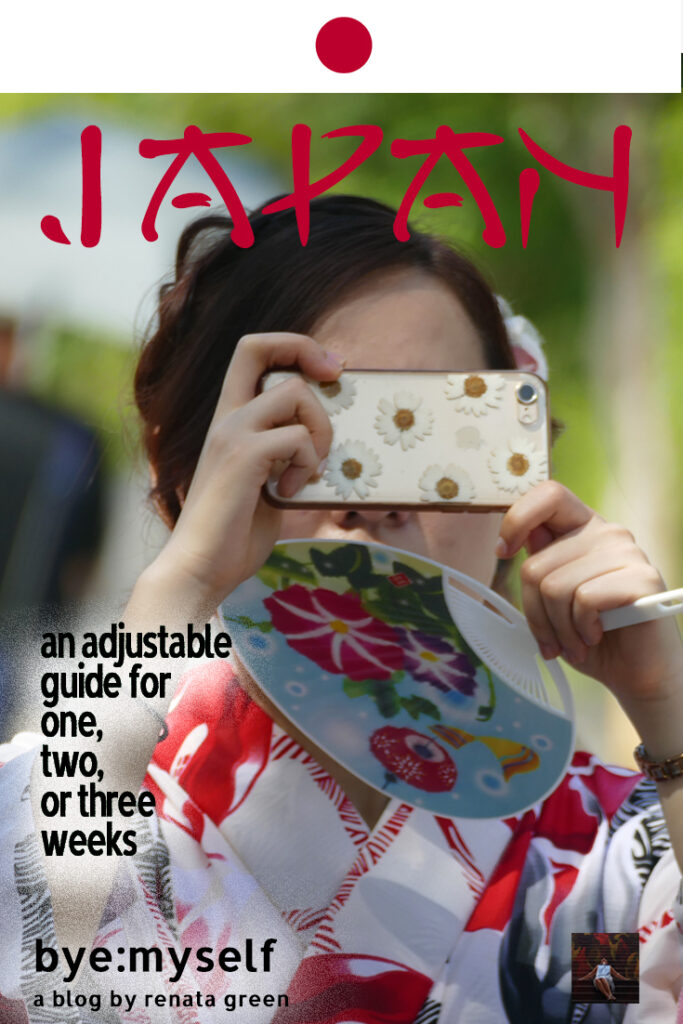 Note: I'm completing, editing, and updating this post regularly – last in November 2022.
Did You Enjoy This Post? Then You Might Like Also These:
* This is an affiliate link. Hence, If you book through this page, not only do you get the best deal. I also get a small commission that helps me run this blog. Thank you so much for supporting me!
Note: I am completing, editing, and updating this post regularly – last in November 2022.