On the way from Santa Clara to the beaches of Isla Santa Lucia, a stopover at Camaguey came in handy, so here I share my little guide with you.
If Viazul's itinerary hadn't forced me to spend the night, I probably wouldn't have visited Camagüey. After all, I had already so many idyllic midsized cities on my list. But actually, I would have missed out on a really pleasant place. Although – one day was sufficient.
Camagüey
First of all, let's clarify the dots on the U. If you see these in a Spanish word, they tell you that the U has to be pronounced. Without the dots, you would pronounce it as gay. With the dots, it's pronounced gway.
As a matter of fact, the city has had this name after an indigenous leader only since 1923.
So now that we've set that clear, let's talk a bit about this very underrated city.
Camagüey was founded in 1514 as Santa María del Puerto Príncipe by Diego Velázquez de Cuéllar on Cuba's north coast. Due to frequent pirate attacks, it was moved inland. In 1668, however, Henry Morgan's men burned it down.
Interestingly, the old town of Camagüey is the largest preserved after that of Havana.
In 2008 the historic center of Camagüey made it to the list of UNESCO World Heritage Sites.
The Historic Old Town
Camagüey has over 320,000 inhabitants which makes it actually Cuba's fourth-largest city. Here, the main square is called after Ignacio Agramonte y Loynáz, a revolutionary in the Ten Years' War. This war took place between 1868 and 1878 as Cuba was seeking independence from the Spanish. Ignacio Agramonte y Loynáz was born in what today is Camagüey and his native house can be visited.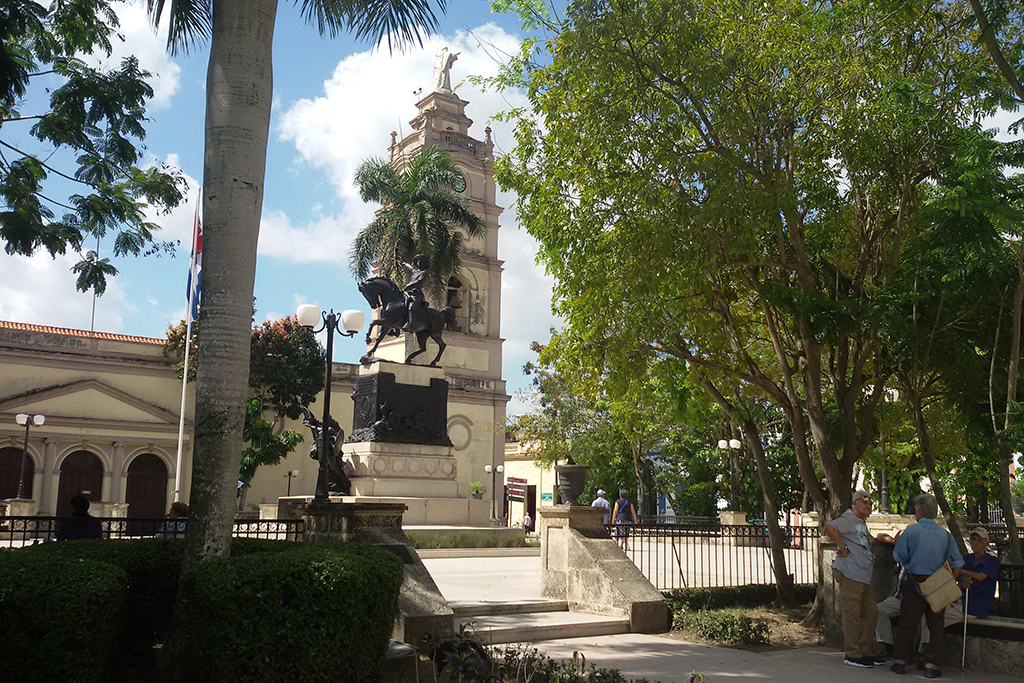 On the southern side of the square is the Iglesia Catedral de Nuestra Señora de la Candelaria which dates from 1748. On the west side, you'll find yet another Casa de la Trova – this one named after Patricio Ballagas. This makes total sense since not only was he born in Camagüey. This composer and guitarist also had an important impact on the trova music.
My favorite part is the northern one since there is the Maqueta de la Ciudad de Camagüey, hence, the city en miniature. Next to it, you'll find the Café Cuidad, one of the nicest cafés I've been to in Cuba. You get excellent coffee in a pretty worldly ambiance – and you get internet access, provided you have your scratch card.
Plaza de San Juan de Dios
To get a bit of a Mexican feel, just walk down two blocks south from the Parque and you'll get to the Plaza San Juan de Dios.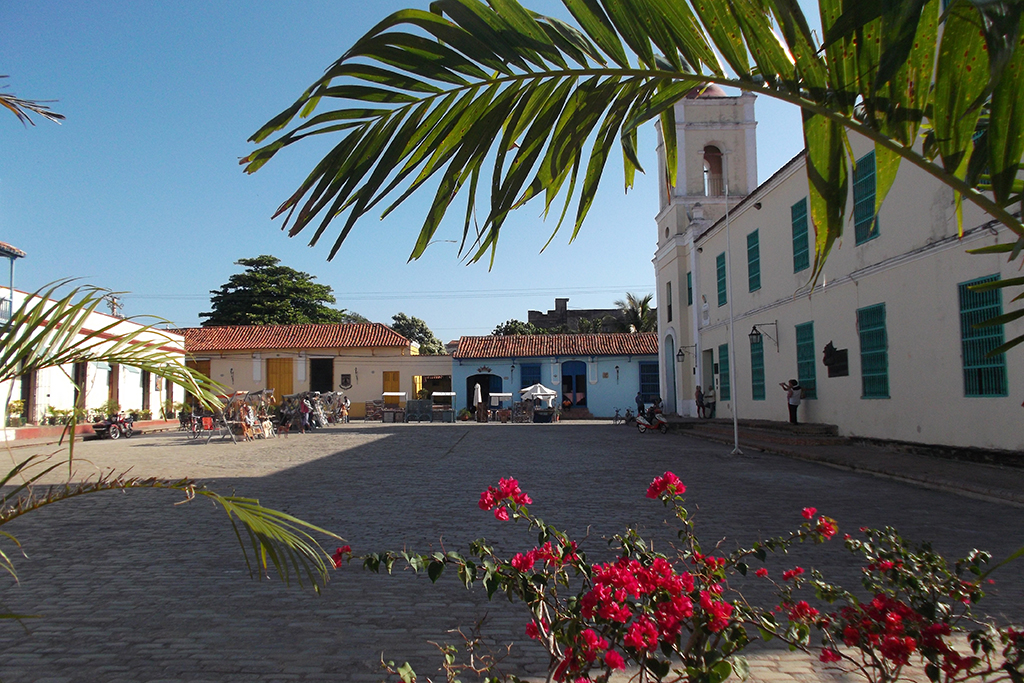 Here you get to see one of the most exquisite ensembles of well-preserved colonial architecture from the 18th century.
A special feature around Camagüey are the very large, bulbous clay jugs called tinajones. To this date, they are standing next to many entrances or in the inner courtyards. In the past, they were used to collect rainwater as the city suffered from a constant lack of water.
Plaza del Carmen
Another famous and very alluring square is the Plaza del Carmen, whereby not only does the plaza itself deserve your attention but also the calle Marín Varona leading there. There are beautiful structures, and lots of small bars, shops, and galleries – all lovingly decorated with lanterns and flowers.
The plaza's strongest suit and a real tourist magnet are the local people you meet here. What's that, they seem a bit stiff? Well, that's because they were cast from bronze by artist Martha Jimenez Perez.
Originally from Holguín, the artist is now living and working in Camagüey. At house number 282 you can visit her studio and store. Maybe you are lucky and run into Ms Martha herself.
As a globetrotter, I thought it might be a good idea to visit the church Santo Cristo del Buen Viaje – which might ensure a happy progression of my coming trips. And what can I say, so far, it's working like a charm.
It's a good thing that the adjacent cemetery is pretty well maintained. Some of the gravestones are so artistic that a visit feels a bit like walking through an open-air museum.
What really amazed me after having been to Cuba for quite a while were the shopping streets and the stores in Camagüey.
Shopping Opportunities
I do not want to assert that they are just like in capitalist countries and what is called 'mall' in Cuba makes us smile. But in Camagüey, the stores are not empty, there are actually goods there – sometimes even in bulk.
People shop. And you can shop, too, since they have some really nice handcraft like little leather pouches for about 1 CUC and ceramic houses for about 3 CUC and they look nice and not like tourist crap.
Map
On this map, you can see where all the places worth visiting mentioned in this post are located:
Practical Information
How to Get There and Around
Camagüey has actually an international airport called Ignacio Agramonte International Airport after the city's most famous son. It is located about eight kilometers east of the city center and serves actually less the city of Camagüey than the resort village of Santa Lucía.
The bus station is located about three kilometers south of the city center. Every day, there are various connections by Viazul for instance to Havana in about 9 hours and Santiago in about 7 hours. Also, there are several connections between Camagüey and the dreamy beach resort of Santa Lucía.
In any case, I'd recommend making a reservation as soon as your route is determined – the sooner the better.
Where to Stay
It was actually in Camagüey where I encountered a quite peculiar practice of dealing with supposedly fixed bookings.
Weeks ahead, I had made a reservation at a nice couple's casa particular. They had arranged pick-up at the Viazul-station for me. Only as we got to their casa, they informed me that for whatever reason I couldn't stay with them. I had to stay at their daughter's casa instead. Since her house was nice and her family lovely, I didn't really care. After all, I spent only one night there, anyway.
This was not the only time that on arrival I was shuffled from the initially reserved casa to someone else's house. Hence, I realized that this seems to be common practice. They accept your pre-booking, nevertheless, as someone else shows up at their doorstep, you are transferred to some relatives or neighbors.
As the legal casas around Cuba are strictly controlled and all the owners get out of their way to make you feel comfortable, it actually isn't a big deal. In any case, you won't end up squatting on the street. Nevertheless, it is an outlandish practice.
Where to Eat
I knew it, I knew it! I knew it, and still, I made the same mistake again – I ate at a restaurant instead of my casa particular. What a deception that was!
Since almost all my hosts were good if not excellent cooks, the reason for the lack of any flavor in the food at governmental restaurants cannot be incompetence. I believe it's simply oblivion. And that's exactly what my meal at the restaurant at the otherwise lovely Plaza de San Juan de Dios tasted of – utter oblivion.
When travelling, you want to eat out, experience flavors, observing people. Dining becomes a kind of event. Sadly, it's not working that well in Cuba. Apart from some nice paladares, hence, privately run eateries, your best meals will happen in the solitude of the dining table at your casa particular.
Cash and Cards and Connection
Camagüey is not that popular among international tourists. Therefore, all the services such as ATMs and Etecsa offices are not as overrun as in Havana or other tourist hotspots. Therefore my tip: If you need to do your banking or intend to buy a scratch card for the internet, do it here.
There is an Etecsa office at Calle Ignacio Agramonte, and on this page, you'll find ETECSA's complete list of hotspots. To narrow it down, you need to choose Camagüey from both dropdown menus Provincia and Municipio. Then, you'll see all the places where you can access the internet.
Until the end of 2020, there were two official currencies: The CUP – Peso Cubano – and the CUC – Peso Convertible. The socialist island state has had this confusing dual currency system since 1994.
However, since the beginning of 2021, only the Peso Cubano keeps circulating. The exchange rate is 24 CUB to one US$. This unification of the currencies is expected to grant Cuba's citizens equal opportunities and social justice.
Already in July 2020, Cuba had abolished the ten percent tax on US$ purchases that had been in force since 2004. Since then, in some shops, certain products can also be paid for by card in US currency.
Since this novelty is still in progress, obviously, some prices in my posts on Cuba still quote the Peso Convertible CUC – as do many Cuban websites. I hope that they'll correct their sites asap so that I can adjust the information on my blog. However, if you don't want to wait: One CUC equals one US$, so that shouldn't be a big problem, after all.
Camagüey was only one of many lovely places I've visited in Cuba. To read about the others, go to the main post and take your pick! There you'll also find valuable general information that will make your trip smoother.
Pinnable Pictures
If you choose to pin this post for later, please use one of these pictures:
Note: I'm completing, editing, and updating this post regularly – last in November 2022.
Did You Enjoy This Post? Then You Might Like Also These:
* This is an affiliate link. If you book through this page, not only do you get the best deal. I also get a small commission that helps me run this blog. Thank you so much for supporting me!