Nha Trang is a well-developed beach resort, but as you leave the coastline, you find also a bustling Vietnamese city and lots of fascinating history.
See For Yourself
I had heard bad things about Nha Trang. Mainly that it's the cradle of nasty mass tourism. But I wanted a couple of beach days on my route up North so I bit the bullet.
And what can I say – it was not bad at all.
Yes, it's very…developed, hence, there are many big all-inclusive hotels, inhabited mainly by many big Russian tourists. They quietly hang out on the beach, so that's fine.
There is the classic touristy infrastructure with cafés and restaurants and souvenir shops. But everything is set up really nicely and it's very well-tended.
Along the fine beach runs a promenade with sculptures on trimmed lawns – if you've ever been to a touristy beach, you get the picture.
Compared to Mui Ne, I liked it much better. It's a standard, developed touristy beach destination. Period.
Mui Ne is a bit of a dump – neither still deserted nor really developed.
So if you just want a couple of days on the beach and for what reason ever cannot go South to the famed island of Phu Quoc, Nha Trang is a good deal.
Nha Trang is a Beach
The city is located at the mouth of the Sông Cái in the South China Sea and has a tropical climate. Already the French colonial rulers appreciated the beautiful beaches and called Nha Trang the 'Nice of the East'.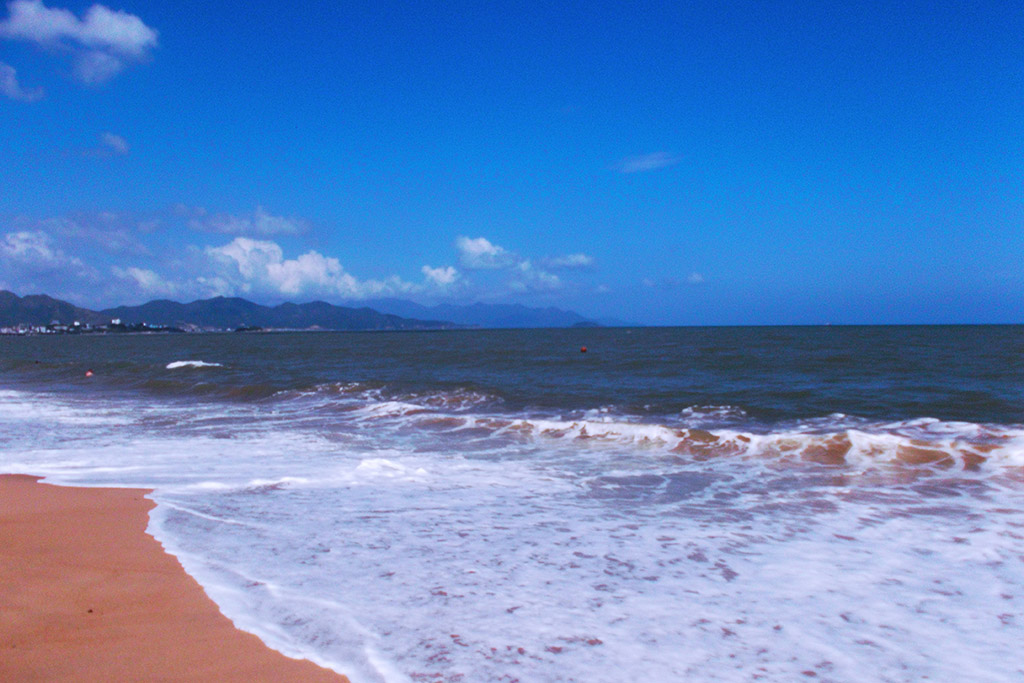 There are miles of sandy beaches, and offshore, you'll find many islands and coral reefs. Along the manicured promenade are numerous restaurants, beach bars, and hotels.
The waters around Nha Trang are good for sailing. Snorkelers and divers get to see an allegedly 350 registered species of fishes. That's more than in the whole Caribbean!
Nevertheless, the fish stocks have been decimated by dynamite fishing.
So nope, I would not spend a three weeks holiday here. But yes, for three days it was absolutely fine.
Nha Trang is a City
The city of Nha Trang is actually quite nice. But since cities were on my agenda everywhere else, I just went there one afternoon.
National Oceanographic Museum and Aquarium
Just a few hundred meters from the port of Nha Trang in the south, at the end of the Nha Trang Bay, are the National Oceanographic Museum, Aquarium of Vietnam, and Institut of Oceanography which was founded in 1923.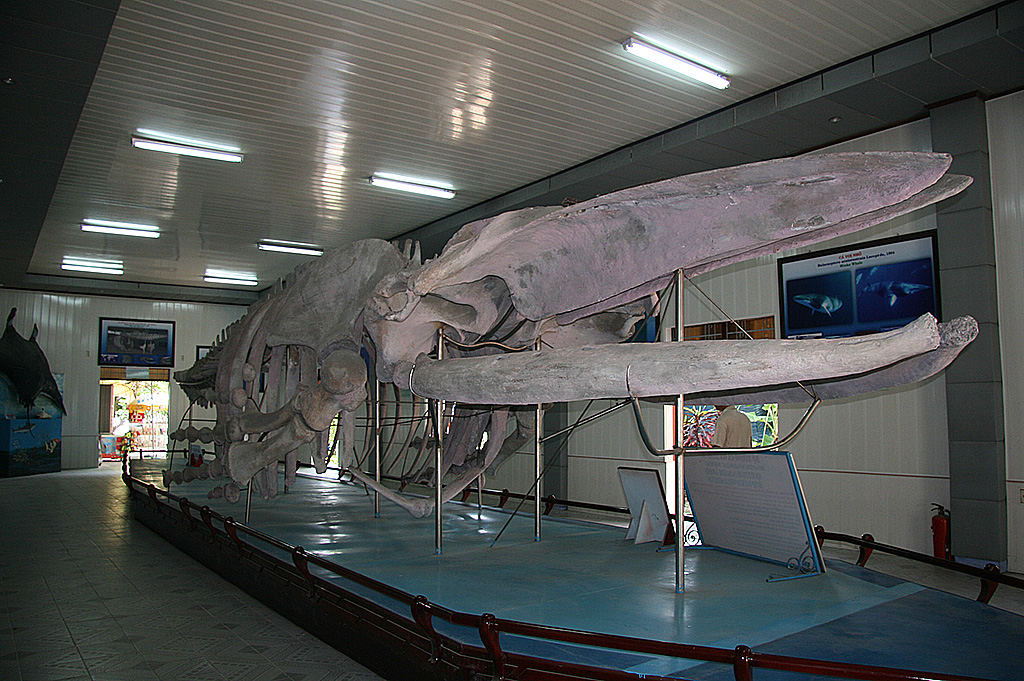 The Institute was one of the first scientific research centers in Vietnam and is an important location for tropical oceanographic research. Ever since its foundation, the center has published around 1,100 scientific studies on marine biodiversity, marine physics, as well as ecology and environment.
The museum houses over 20,000 marine and freshwater creatures.
Khanh Hoa Town Hall
Walking up the beach towards the north, you get to see some of Nha Trang's most important landmarks.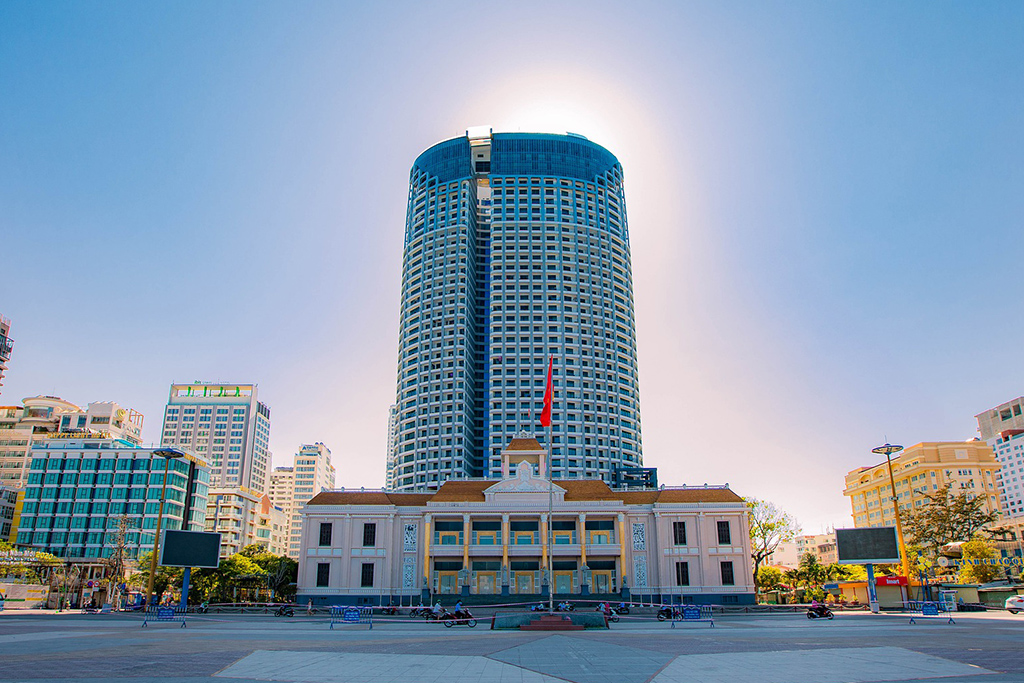 Still in the beach-area, you pass the Khanh Hoa town hall and center of political and cultural events This is a historic, two-storey low-rise building at the Tran Phu Boulevard leading northwards.
Alexandre-Yersin-Museum
Further up, you'll get to the Alexandre-Yersin-Museum, housed in the former home of Yersin on the premises of the Pasteur Institute.
Swiss-born Alexandre Yersin worked in Indochina as a ship's doctor from 1890. In 1902, he became director of the newly established school for medical auxiliaries in Hanoi. From 1904 to 1924, he supervised the Pasteur Institute's branches in Saigon – today's Ho Chi Minh City – and Nha Trang.
Yersin discovered the causative agent of the plague. Consequently, the entire bacterial genus Yersinia was named in his honor.
Yersin's memory is held in high esteem in Nha Trang. The citizens thank him in particular for managing the prediction of typhoons, which saved the lives of many fishermen.
The museum contains a large collection of Yersin's research equipment and documents. Obviously, it explains the scientist's contributions to bacteriology, medicine, and science.
Mind you that it remains closed on weekends.
Po Nagar
After crossing the Tran Phu bridge, you'll get to Nha Trang's main historic attraction.
Po Nagar is an ancient Hindu temple complex from the Cham empire, installed in the 8th century and extended in the 9th. The main temple, the Kalan, from the 11th century, is the last great structure from the Cham architecture.
Po Nagar is one of the most important Cham sites in all of Vietnam. It is historically connected to My Son, a UNESCO World Heritage Site on the outskirts of Hoi An.
The structures have been extensively renewed without destroying their character.
I got to Po Nagar walking. It took me about an hour and was okay. However, you don't miss out on much if you take a cab.
The temple complex itself is nice and uphill so that you have a good view.
Talking about views, obviously, Viet Nam's cities mainly developed after the end of the war in the 70s. Unfortunately, this is reflected in the architecture. There are many huge, monumental, charmless, project-like concrete buildings destroying the panorama on your holiday pics.
Long Son Pagoda
From Po Nagar, I actually walked downtown, crossing the Cai river over bridges and islands.
I'm a walker and I enjoy seeing non-touristy areas. If you're not a walker and don't care about local hoods, you better hire a cab or cyclo since the walk is not exactly scenic.
The Long Son Pagoda is a Buddhist temple at the foot of the Trại Thủy mountain.
In 1886, Thích Ngộ Chí commissioned the Long Son Pagoda originally on a different mountain. Thích Ngộ Chí, by the way, was part of the anti-French forces before he joined the sangha, hence the monastic order. As the French colonial rule was repressive and exploitative, from the beginning of the French occupation, thousands of poorly-armed Vietnamese were rebellious against French colonial rule.
A strong hurricane destroyed the temple in 1900. As it was rebuilt, they moved it from its original mountain to its current location.
In 1936, the temple became the headquarters of the Buddhist Studies Association of Khanh Hoa Province.
Practical Information
How to Get There
Since Nha Trang is not only a tourist hotspot but also located pretty much in the center of Vietnam's southern part, there are numerous overland bus routes connecting the city with the south and north of the country. I got there by bus from Da Lat in a little over three hours.
However, since I had only three weeks for my entire trip, instead of taking the bus, I chose to fly from Nha Trang to Da Nang which is the closest airport to Hoi An, which was my next stop.
But also Nha Trang's Cam Ranh Airport is not very conveniently located but about 35 kilometers south of the city. There are various shuttle buses as well as cabs between the airport and the beach area. While a cab takes only about 45 minutes, going by bus can take over one hour. To the beach are, a cab should charge the fixed rate of 380,000 VND. In this case, do not ask the driver to turn on the meter. The ride will actually cost about 100,000 VND more than the fixed rate.
However, for your safety, here you can pre-book a reliable and reasonably priced airport shuttle.
Since my flight was in the early morning, my host arranged a private car for me which was not more expensive than a regular cab.
Note that the Reunification Express, a long-distance train between Hanoi and Ho Chi Minh City also stops at the Nha Trang's train station. If I had the time, I'd give it a try.
How to Get Around
Nha Trang is not exactly small. The coastline between the harbor and Po Nagar alone is about eight kilometers long. However, you can walk either on the coastal road or on the beach.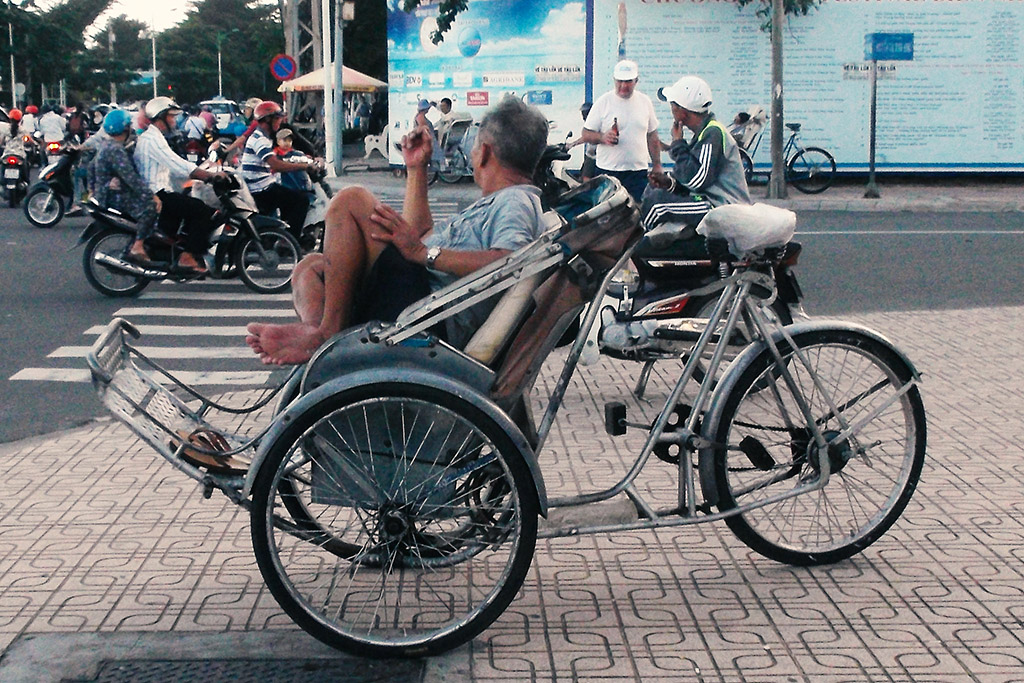 Apart from walking, the cheapest way to get around is by public bus. Nha Trang has a comprehensive and reliable public bus system. Six lines are serving the city in 20-minute intervals between 5.30 a. m. and 6.30 p. m. A ticket is about 9,000 VND.
Cabs are normally metered and charge around 15,000 VND per kilometer. You might actually save some money if the driver sees you following the route on your smartphone.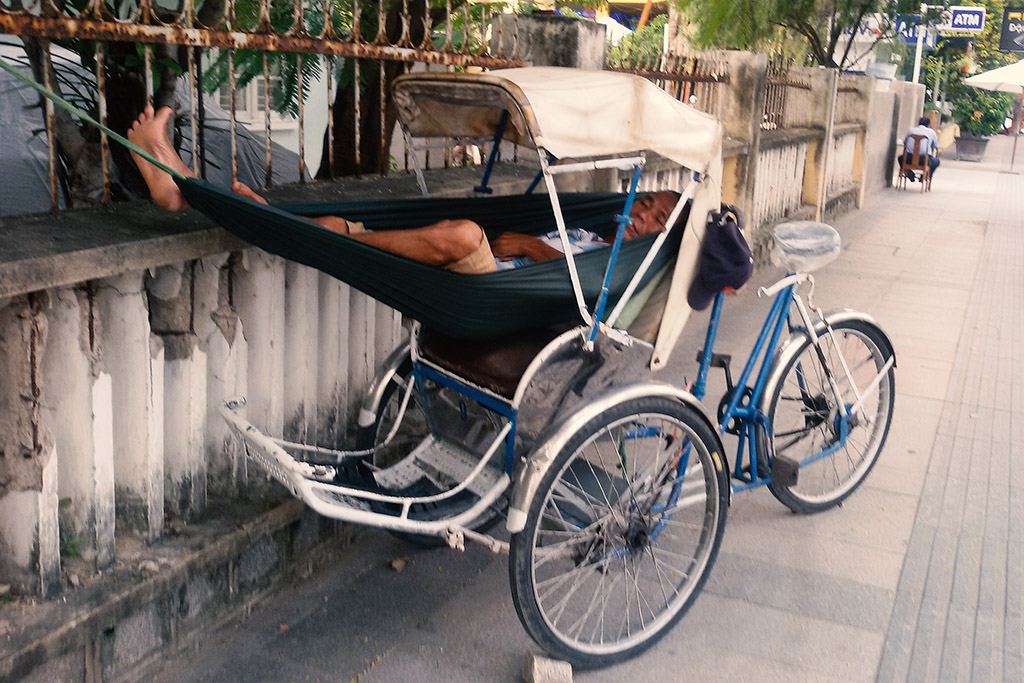 Finally, the most unique travel option is by cyclo. To see the sites, you can hire a cyclo-driver for the day. Be sure to agree on the price beforehand – and make clear that fourteen doesn't equal forty, fifteen is by no means fifty, etc. Also, inform him determinedly that you want to see the landmarks and not some souvenir or handicraft stores.
Where to Stay
Nha Trang is an extremely popular beach resort for local, but mainly international visitors. Therefore, you'll find all kinds of accommodation here – mostly middle-class to high-class all-inclusive tourist hotel.
I personally prefer staying at the smaller, privately-run guesthouses in Nha Trang's back alleys. They are much quieter, yet just five minutes from the beach.
Yet, if you want to check out other convenient lodging options, you can do so on this map*:
What to Eat
Along the entire coastal road are restaurants for all tastes and all budgets. The menus are often written in Russian – which shows you which nationality predominantly occupies the uncountable posh all-inclusive hotels.
A real treat are the shellfish platter that some lovely ladies are selling on the beach. They are basically carrying an entire kitchen and grill the pieces you choose right there before your eyes. Then, they add some sauce, hand you your change and give you a big smile.
Life can be so good!
What to See
I'm an avid solo-travelling woman. Since solo-travel doesn't equal solitude, I love to join organized tours here and there. They allow me to meet fellow travellers – for just a short moment or a lifelong friendship.
Therefore, here are some great ideas of what to do during your stay in Nha Trang. Especially if you don't have your own car, they'll enable you to get to see fantastic places even a bit off the beaten tracks*:
Cash And Cards
Nha Trang is a very touristy place and therefore not exactly cheap. Obviously, credit cards are widely accepted.
Since it's a big city, there are banks and ATMs where you can get cash.
One US-Dollar equals 23,024 Dong (VND) and one €uro 28,021 Dong (VND) as per January 2021. However, here you can check the current rate.
Map
Nha Trang was just one stop of my exciting visit to Vietnam. Go to the main post to check out all the other destinations.
Pinnable Pictures
If you choose to pin this post for later, please use one of these pictures: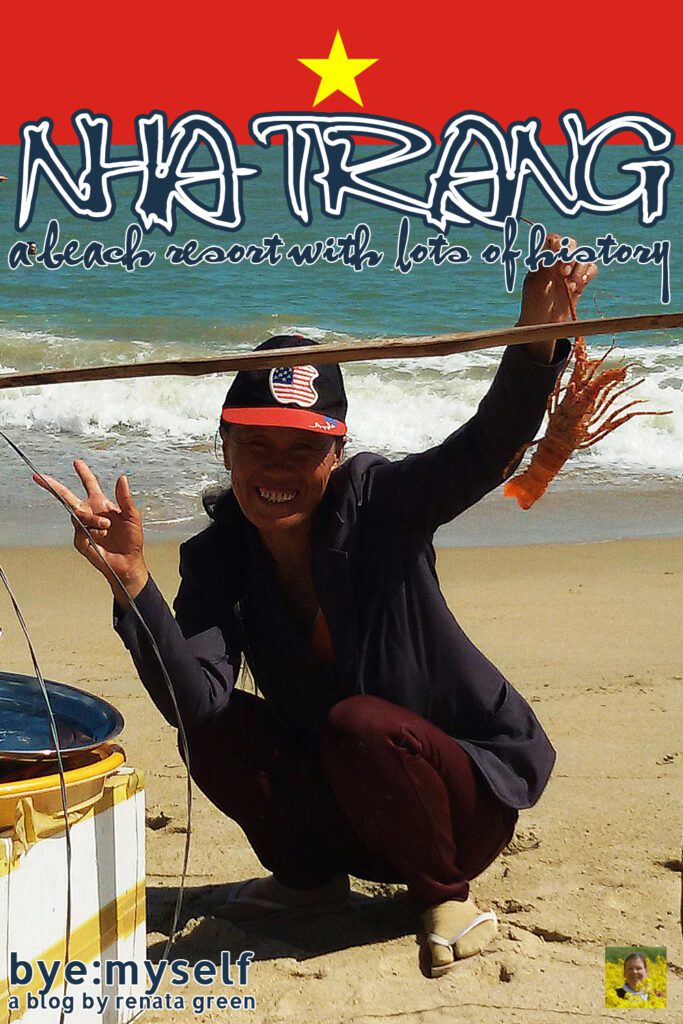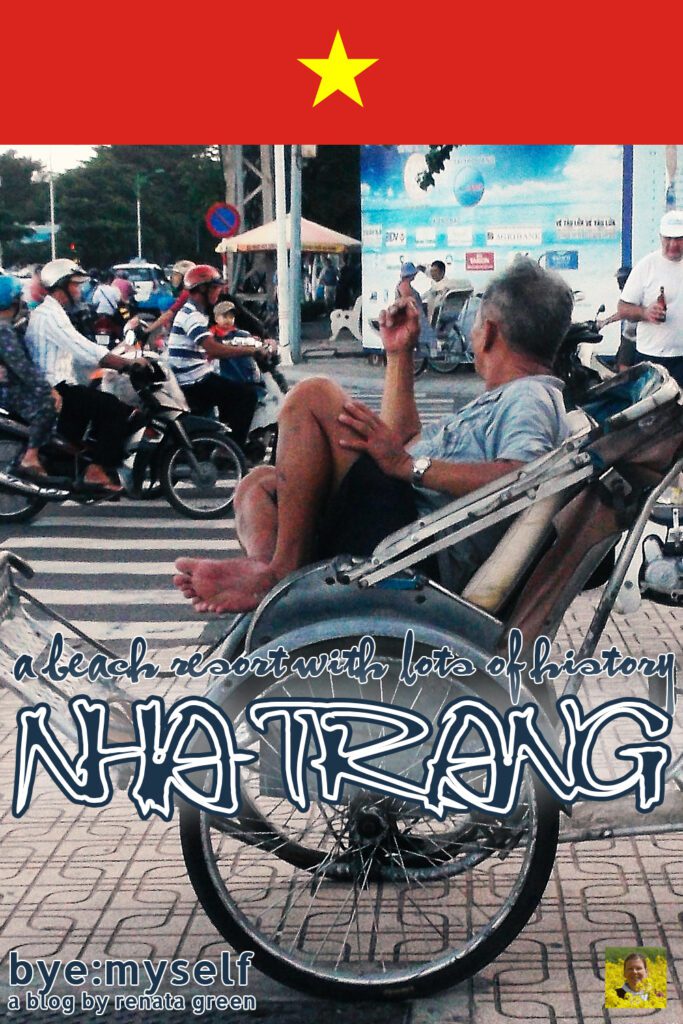 Did You Enjoy This Post? Then You Might Like Also These:
* This is an affiliate link. If you book through this page, not only do you get the best deal. I also get a small commission that helps me run this blog. Thank you so much for supporting me!
Note: This post is being regularly completed, edited, and updated – last in January 2021.