This is a guide to George Town on Pulau Penang, after all, one of my favorite cities in all of Asia.
What makes it so special?
I don't even know where to start.
It was the first British settlement in Southeast Asia and became – together with Singapore and Malacca – a British crown colony in 1867.
George Town, counting about 710,000 inhabitants, is Malaysia's second-largest city and the capital of Penang Island.
Pulau Penang is a very diverse island and has therefore always been one of Malaysia's most popular tourist destinations.
National, as well as international visitors, came here to enjoy unspoiled nature, savor Asian delicacies from different cultures, and admired unique and vibrant street art.
Among them Somerset Maugham, Rudyard Kipling, and Queen Elizabeth II,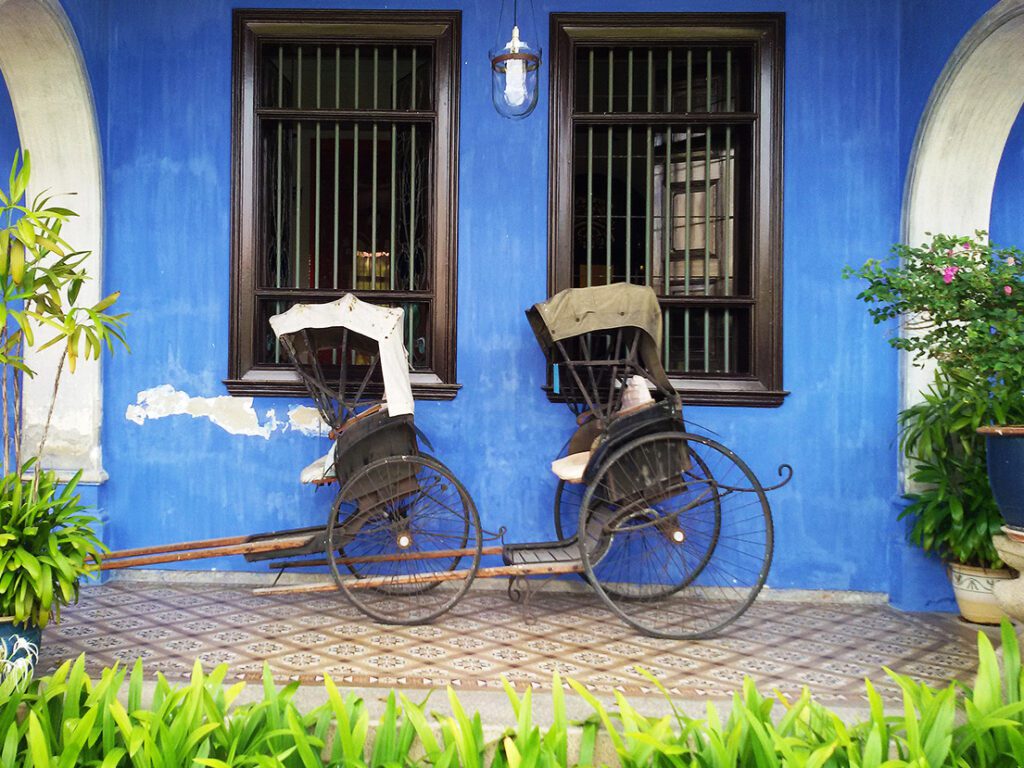 And there definitely is a reason that the historic old town made it onto the list of UNESCO World Heritage Sites in 2008.
Street Art
Obviously, George Town got on the list for its well-preserved colonial architecture. However, this nomination was the initial spark for transforming the city center into an outdoor museum.
The Iron Men of George Town
Finally, in 2009, the Penang State Government commissioned a street art project called Marking George Town.
The Malaysian sculpture studio SCULPTUREATWORK won a competition with their concept of telling George Town's through funny cartoons made from iron rods.
Although the material and make give them a homogeneous appearance, the signature of each of the local cartoonists who invented the motives can be distinguished.
Ernest Zacharevic
Then came 2012 and the George Town Festival took place.
Lithuanian-born, Penang-based artist Ernest Zacharevic was commissioned to paint six murals.
He has not only depicted local culture and customs. He also used given props such as bikes, a chair, or windows. This made his works a mix of murals and installation.
New, ingenious, inspiring.
Naturally, these works inspire many admirers to interact. Obviously, everyone wants their picture taken being part of some genius artwork.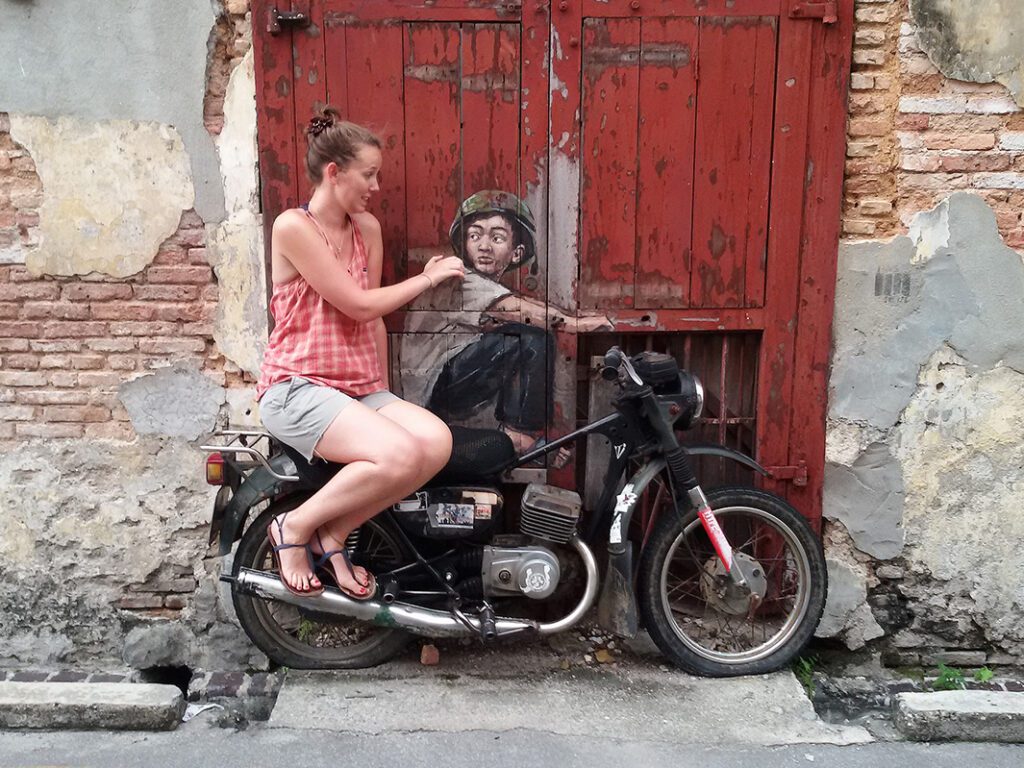 Young Zacharevic, who was born in 1986, has since then been invited to embellish places in Singapore, Barcelona, Lisbon, and the Wynwood Walls in Miami.
Since Zacharevic's interactive murals are such an overwhelming success, other street artists jumped on this particular bandwagon.
Today, many are also creating designs including the givens.
George Town's Lost Kittens
But you will also notice that there is a remarkable number of cat murals – hm, what is that all about?!
In 2013, the group Artists for Stray Animals ASA ran a new project named 101 Lost Kittens. Thai artist Nathhapon Muangkliang created together with local artists Louis Low and Tang Yeok Khang 12 cat murals.
Here are two more examples of what I liked best. But there is so much practically everywhere you look that it can be only the tip of the art mountain.
The George Town Festival is an annual, month-long art festival.
Please, Don't Take A Seat
In 2016, CHAIRS was a community project taking place during this festival.
It was a social experiment. They wanted to find out how people react to scores of individually decorated chairs placed at various points around George Town's heritage district.
By the way, what enthralls me most is with how much respect and care all these projects are treated. Nobody damages or steals the props, and no one smears something stupid on the murals – it's very impressive.
The Temples
There are all these different ethnicities in Malaysia and Penang is no exception to the rule. The reason for being Malaysia's gastronomic capital is buried deep in the pots and pans of Malay, Chinese, and Indian restaurants. Whether at elegant restaurants or rustic booths and carts.
Apart from their culinary temples, these ethnic groups also have their houses of worship. They make a trip to Penang an unforgettable cultural experience.
Kapitan Keling Mosque
The Masjid Kapitan Keling is a mosque built in the 19th century by Indian Muslim traders.
Buit in the early 19th century, it was the first permanent Muslim institution in the area.
Arulmigu Sri Mahamariamman Temple
The Sri Mahamariamman Temple was built in 1801. Like most Indian temples in Penang, it began as a small shrine.
The British gave the Tamil community leader Betty Lingam Chetty the land it stands upon.
The temple is Lebuh Queen while the back entrance is on Jalan Masjid Kapitan Keling.
Located in the Little India neighborhood, the temple is proof of the city's rich cultural heritage.
Visitation to this temple is limited to morning and evening.
Thean Hou Temple
The Thean Hou Temple is a six-tiered structure of the Chinese sea goddess Mazu. It was commissioned by George Town's Hainanese community and is today one of the largest temples in Southeast Asia.
After the temple was completed in 1987, the official opening took then place in 1989.
Kek Lok Si Temple
This temple is a Chinese Buddhist cult site in Air Itam, one of George Town's suburbs. It is one of the largest temples in all of Southeast Asia and the largest Buddhist temple in Malaysia. After all, the name translates to Temple of Supreme Happiness.
Both the architecture and the activities of the faithful merge Buddhist beliefs with Daoist rituals and fortune-telling.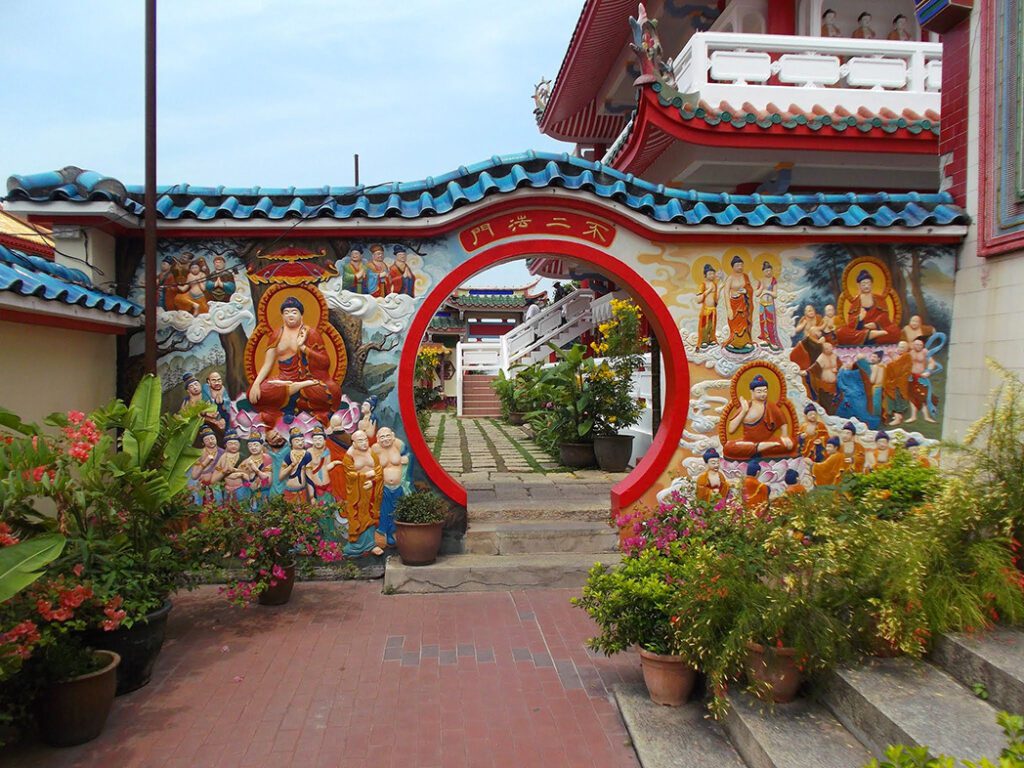 The construction of the temple began in 1890. However, it was inaugurated only more than twenty years later.
In 1930, the pagoda of 10,000 Buddhas was completed. Extensive donations, especially from Malaysia's entrepreneurially successful Chinese population, made it possible to expand the facility further.
To this date, construction is still going on. In 2002, a 30 meters high bronze statue was inaugurated. Together with the pagoda, it is the temple's most iconic feature.
Cheong Fatt Tze Mansion
Finally, great insight into Malaysia's colorful past is granted at former private mansions such as the Cheong Fatt Tze Mansion.
The house is named after Chinese businessman Cheong Fatt Tze. He commissioned this mansion at the end of the 19th century.
It has 38 rooms, five interior courtyards, seven staircases, and 220 windows. Showing several architectural styles, it is mainly built in the Chinese architectural style of the Imperial period. It was Cheong's personal residence as well as a seat of his business.
Today the house has been transformed into a hotel and a museum. Guided tours are carried out several times a day.
In 2016, a restaurant opened on the ground floor.
The house was a filming location for several films including Indochine starring Catherine Deneuve and the American movie Crazy Rich Asians.
The Beaches
Penang is an island, hence there are beaches. However, I would not necessarily recommend planning a beach vacation here. For this purpose, you should rather consider crossing over to Pulau Langkawi.
Nonetheless, it is hot in Malaysia. Hence, stuffing face in restaurants and chasing art in the streets can be exhausting. You might wanna just stretch out on the fine white sand and take a refreshing dip in the ocean.
The most popular beaches like Batu Ferringhi and Tanjung Bungah are located north of George Town and can be quickly reached by bus #101 for instance from the Komtar bus terminal downtown.
Nevertheless, Monkey Beach is said to be the nicest one and while I don't know about that, I can confirm that it's the most secluded – which doesn't make it any cleaner, by the way.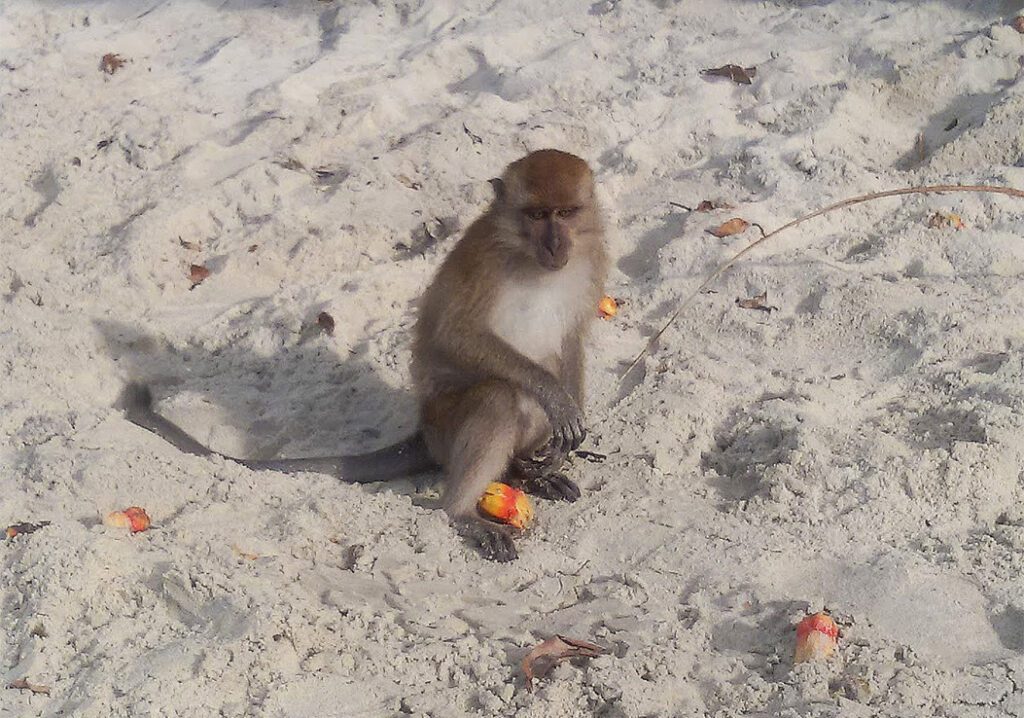 You can reach it either by boat from Teluk Bahang or you hike for about one hour through the Penang National Park which is nice but cannot be compared to other tropical forests in Malaysia.
The Hill
If you are looking for a more genuine hiking experience in sumptuous nature, I recommend you climb up the island's central hills west of George Town.
However, the peak is also accessible by a funicular railway from its base station on Hill Railway Road.
Albeit, I have to warn you – on busy days the wait can be extremely long.
Like many of these more highly situated places in Asia – such as Da Lat in Vietnam or Thansur Bokor in Cambodia – Penang Hill, too, used to be a retreat for British colonials.
Today, it is a popular tourist attraction – mainly for the grand views.
Practical Information
How to Get There…
George Town is a UNESCO World Heritage Site and, henceforth, one of Malaysia's most visited places. Therefore, getting there is really easy.
By Plane
Penang International Airport is actually one of Malaysia's busiest airports. Obviously, international refers to flights from more or less neighboring countries such as Thailand and Singapore, but also China and Taiwan.
There are a couple of low-cost airlines serving Pulau Penang so flying in might be the best option unless you are meandering the country on a road trip.
However, the airport is located about 16 kilometers south of the city center, and taking a cab is the most convenient way to go downtown.
By Train
If you are coming from the peninsula's southern tip and don't want to make too many detours, taking the train is a great option.
Actually, there are two train routes. One – called the jungle railway – is crossing the central inland. The only touristy stop would be at Jerantut from where you can continue to the Taman Negara.
The more important route goes along the West coast and connects Johor Bahru with Padang Besar. The relevant stops for travellers on this route should be Kuala Lumpur, Ipoh, and Butterworth.
Butterworth is the stop on the mainland from where you can take a ferry to George Town on Pulau Penang.
This is very convenient since the train station, the bus station, as well as the jetty, are right next to each other.
By Bus
Last and least, there are tons of buses shuttling people between places in Malaysia – all the way down to Singapore.
Although they are a quite cheap option and also the most flexible one – you are not depending on flight schedules or rails – they are at the same time the least alluring ones.
Believe me, I've been travelling by bus all over the planet and must say that Malaysian long-distance buses are the worst equipped ones and, in addition, the drivers are unbelievably rude.
Need proof? Then read about this little adventure.
Anyway, if you are on a road trip across Malaysia, you probably won't be able to avoid a couple of bus rides.
However, private companies who usually operate mini-buses are slightly better and sometimes even offer a door-to-door service. While the vehicles are better, the drivers aren't, so arm yourself.
Note: There are two major bus stations on Penang Island, one is Sungai Nibong Bus Terminal and the other one is Komtar right off the city center. It happened to me that the bus schedule quoted Komtar as the final destination and the very boorish driver kicked us out at Sungai Nibong Bus Terminal, anyway. So you better inquire very specifically – and don't act too surprised if you still end up at Sungai Nibong.
A cab will charge about 25 to 30 Ringgit to take you downtown.
Also, there is a relatively new and very modern bus station in Butterworth on the mainland, located right next to the train station and the jetty. Hence, this might be a good option, too.
…And How to Get Around
If you are a fit walker, the center of George Town can best be explored on foot. There is so much to see at every corner so you'll constantly stop in your tracks, anyway.
Theoretically, it's possible to cycle. However, the roads are pretty bad, traffic is crazy, there are people everywhere – naw, just walk.
To get further, there is a comprehensive bus network taking you literally everywhere on the island of Penang.
Just like in Kuala Lumpur, there is also a free tourist bus – CAT – that takes you to all the standard points of interest.
And, obviously, you can always hire a cab.
Best Place to Sleep
Talking 'bout views – the best hotel for this is definitely the Gurney Resort*. Actually, there are many great – and taaaall – buildings on Gurney Drive, but this resort has definitely the best service price ratio and is also affordable for Cheap Charlies like me.
However, try to get a room as high as possible, make time for checking out their amazing swimming pool, and check out their availability and rates.*
Still, on this map, you'll find many more great lodging options*:
Best Place to Eat
I think it would be much quicker to tell you about the places where the food is not good. Hence, I honestly suggest you just walk around and keep your eyes and nostrils open and eat your way through this city of milk and honey.
If you insist on a recommendation, then I can tell you that I had the best butter chicken of my entire life at Tandoori chicken and Nan Restaurant across the street from Nagore Dargha Sheriff shrine – and I had my share of butter chicken alright.
Tandoori chicken and Nan Restaurant
93, Lebuh Chulia
10200 George Town
What to See
I'm an avid solo-travelling woman. Since solo travel doesn't equal solitude, I love to join organized tours here and there. They allow me to meet fellow travellers – for just a short moment or a lifelong friendship.
Therefore, here are some great ideas of what to do during your stay in Pulau Penang. Especially if you have only a short time to stay, they'll enable you to make the best of it*:
Pulau Penang was only one of the places I visited on my road trip through Malaysia. Do you want to read about all the other beautiful places I've visited? Then go to the main post and take your pick!
Pinnable Pictures
If you choose to pin this post for later, please use one of these pictures:
Note: I'm completing, editing, and updating this post regularly – last in December 2022.
Did You Enjoy This Post? Then You Might Like Also These:
* This is an affiliate link. If you book through this page, not only do you get the best deal, I also get a small commission that helps me run this blog. Thank you so much for supporting me!
Note: This post is being regularly completed, edited, and updated – last in December 2022.