Vamonos, let me guide you to Lima – beyond Miraflores and off the touristy trails.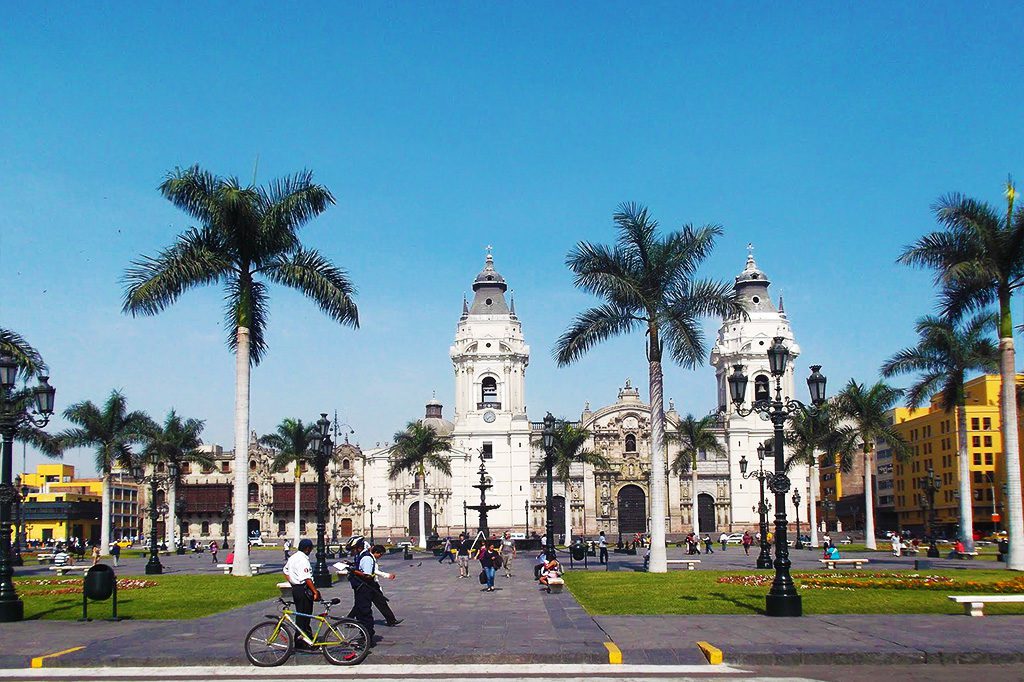 Give Lima a chance to amaze you with beautiful museums, colorful markets, and great food.
Flying into Perú, most first-time visitors perceive Lima as a juggernaut. Therefore, vamonos: Let's explore Lima's less touristy neighborhoods.
Miraflores And Beyond
Most travellers hang out exclusively around the area of Miraflores, which is understandable since it's the most Europeanized part of Lima.
But there are other barrios of the city worth exploring.
Nevertheless, while doing so, you should be a bit prudent – just like in any other Latin American metropolis. It's a big city with the typical economic imbalance, so be a little careful. If you're not sure, better take only pre-ordered cabs, also, ask locals where it's safe to go at night. However, most of the time they are more cautious than we would be.
However, if you stick to the global rules of not flashing your money or other valuables and use common sense, you'll be fine.
Barranco
Right behind Miraflores along the Pacific Ocean leads the way to Barranco, which used to be a suburb and is now one of the most popular areas, especially to the party crowd.
There are cute little alleys leading to small bars and restaurants overlooking the Ocean.
Walking from the must-see Puente de Los Suspiros, the bridge of sighs, further South along the Avenida Pedro de Osma, there are two fantastic museums not to be missed.
Firstly, there is the MATE, showing superstar photographer Mario Testino's work.
My favorites are his ingenious photographs of indigenous costumes, albeit, arranged in high fashion style.
Also, an entire room is dedicated to his 'model' and friend Lady Diana Spencer.
A couple of steps further down you'll get to the Pedro de Osma Museum, the former villa of the Osma family. It was built in 1906.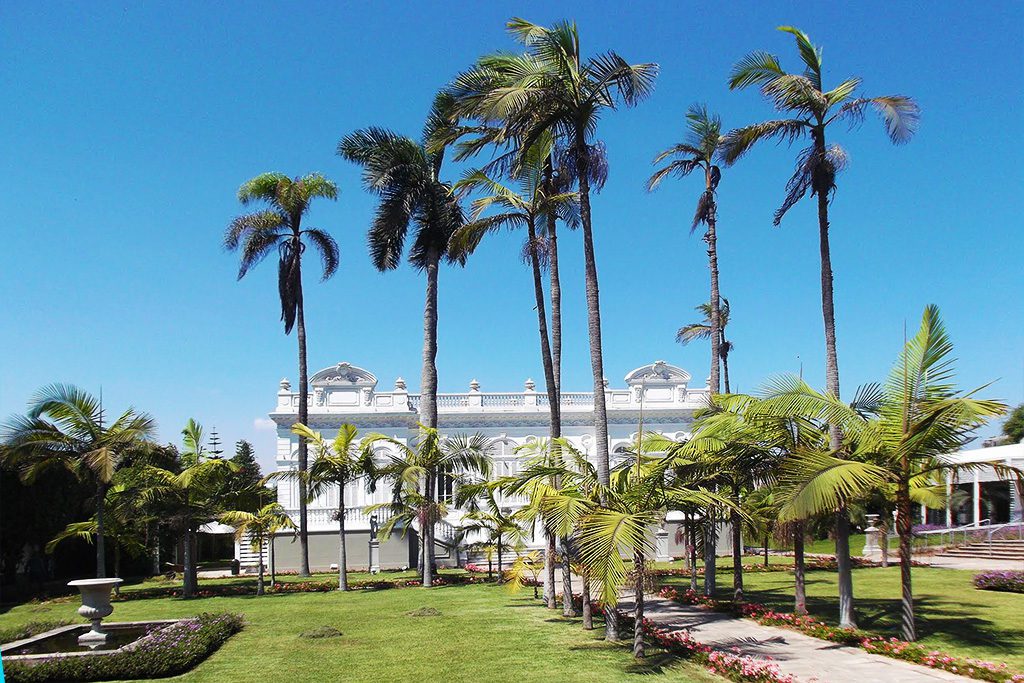 There is ancient Peruvian furniture on display and artifacts such as paintings of the baroque Cuzco school.
The Jumping Friar
About 4 miles South of Barranco, a truly unique spectacle can be witnessed. It's called El Salto del Fraile and takes place near Chorrillos at the Playa La Herradura.
For 24 years no, Fernando Canchari has disguised himself as a "fraile", a friar. He is incarnating the tragic story of a friar – of course, an unfulfilled love – and jumps seven days a week from the cliffs delighting many national and international tourists.
Pueblo Libre And San Miguel
Lima is offering its 9 million inhabitants surprisingly vast green spaces like the Parque de las Leyendas with the adjacent Zoo not far from the Plaza San Miguel. Don't miss the local animals from the three territories Sierra, Jungle, and Coast, and the replica of Machu Picchu.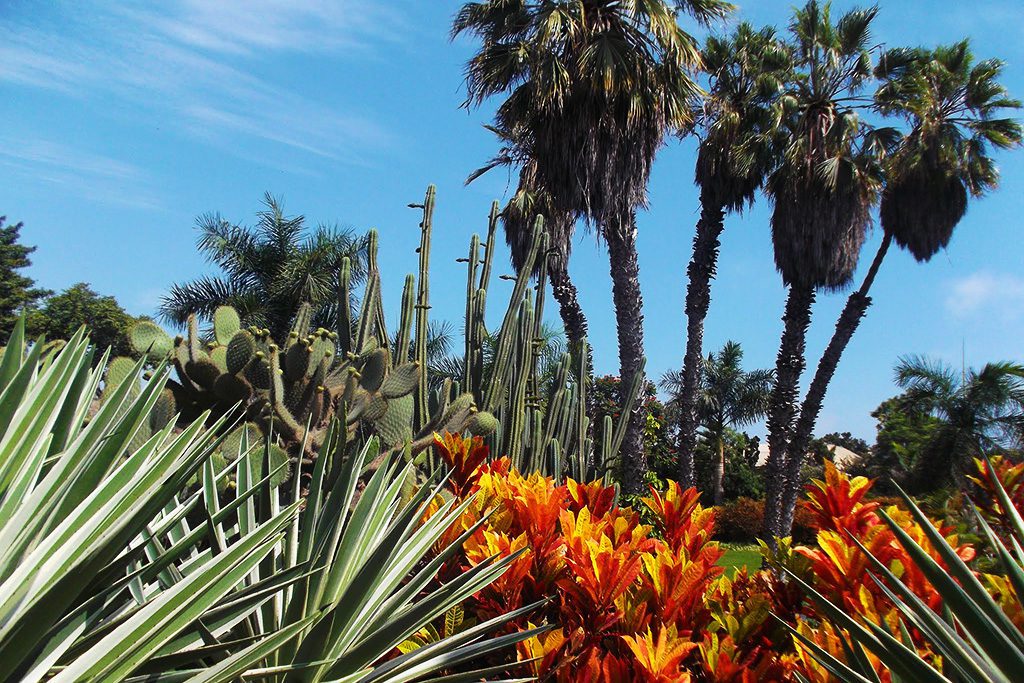 Peru is synonymous with Inka and hence gold. And gold is to be found at the Museo de Oro on the very Western outskirts of Lima. It's only worth the visit if you are either an archeology aficionado or if you have lots of time to waste spend in Lima. From the Miraflores Central Park alone it takes about an hour by bus to the northern part of the Santiago de Surco neighborhood.
Closer to the city center – and housing an even more impressive collection – is the private Museo Larco. Since it's a private collection, the entrance is a bit more pricy, but absolutely worth it.
Just about a mile East of the Larco, the Museo Nacional de Antropología Arqueología e Historia presents a vast collection of Peruvian artifacts. It includes also some wonderful woven wallhangings from the Paracas Necropolis.
If you want to try really good, really cheap Peruvian street food, walk from the museum about one mile down South to the Mercado de Magdalena.
This local market is the perfect spot for a quick lunch.
Jesus Maria
Jesus Maria is not touristy at all, but a centrally located, pleasant, middle-class neighborhood.
You might want to stroll through the Campo del Marte and admire the mosaic mural along the Northern part of Avenida Salaverry.
This beautiful mosaic shows a typical scene from every Peruvian region.
Special tip: After admiring the murals, turn right into Avenida 28 de Julio. On the left side of the street is the Feria Artesanal de Costumbres y Misterios.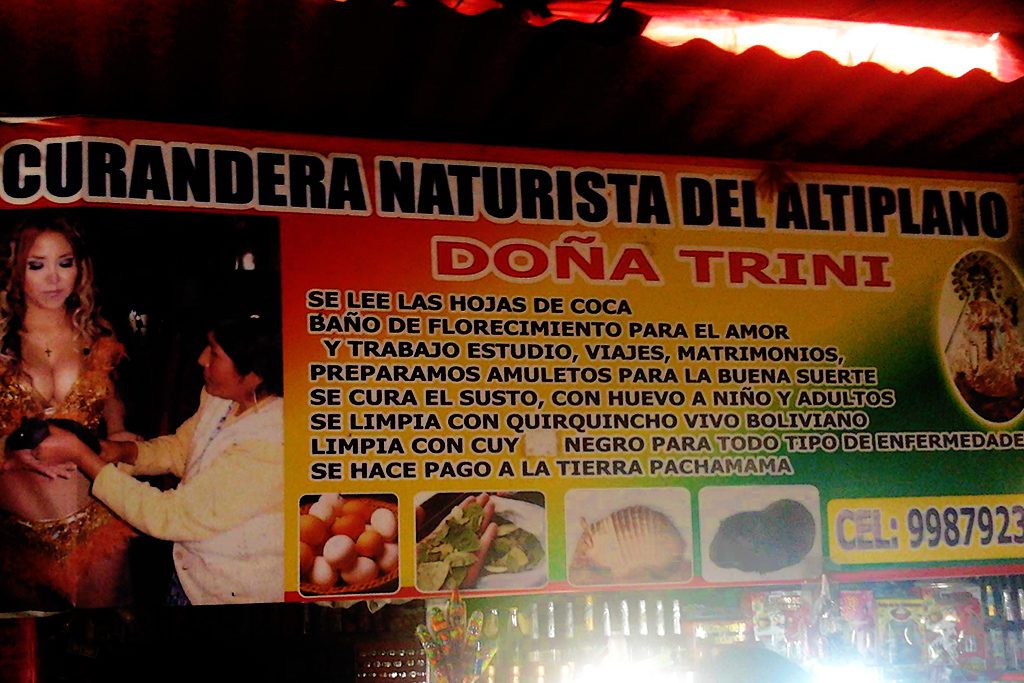 It's a covered market where they sell all sorts of superstitious mumbo jumbo. It's amazing – and a bit creepy.
From here it's just a stone's throw to the historic center.
Centro Historico
Getting to the historic center from the South, you first cross the very nice Parque de la Exposición.
Here you find the Museo Metropolitano de Lima, the museum of the city of Lima, and the MALI – Museo del Arte de Lima. It's the city's best place for contemporary art.
My favorite art museum, however, is the small but very nicely and informatively documented exhibition at the Museo del Arte Italiano, showing mainly classic modernity.
If you are into history and colonial art and artifacts, don't miss the many churches surrounding the Plaza Mayor.
For obvious reasons, since 1991, the Historic Centre of Lima has been listed as a UNESCO World Heritage Site.
Basílica y Convento de San Francisco
The most important of these buildings is undoubtedly the Basílica y Convento de San Francisco, Saint Francis Monastery.
It's famous for the library and, most of all, the catacombs packed with skulls'n'bones. I, however, was very impressed by the refectory where you can admire paintings by the great Spanish Baroque painter Zurbarán. To no surprise, Saint Francis has been
Mind you that the Monastery of San Francisco can only be visited on a guided tour.
Convento Santo Domingo
Nevertheless, my favorite church is the Convento Santo Domingo, though. It focuses on the 'local' saints like Santa Rosa de Lima, but mainly on San Martin de Porres.
The construction of this Dominican monastery began in 1542, hence, with the foundation of Lima. In 1551 Emperor Charles V confirmed the Universidad Nacional Mayor de San Marcos to be the first in the Americas.
The guided tour is very informative. Also, there is a great view of Lima from the bell tower. Actually, today's bell tower was designed in 1766, hence, in a Rococo style. With 46 meters in height and pink color, it forms the entrance area.
It is divided into an octagonal basement and two upper floors with small balconies. All the way on top is the sculpture of an angel announcing the final judgment.
Santuario De Santa Rosa De Lima
The Basilica of Santa Rosa of Lima is a Roman Catholic church. Together with a monastery, it was built in 1728. It was located next to the house where Isabel Flores de Oliva was born. Following her monastic name Rosa de Santa Maria, she is known as Rosa de Lima.
The entire complex consists of the basilica, the monastery, and a garden with a wishing fountain. The church is part of the historic center of Lima, hence, part of the UNESCO World Heritage.
With these houses of worship, I've covered the most important churches of Lima. Of course, there are many, many more since Perú is a catholic country and people are very religious.
Practical Information
How to Get There
By Plane
Basically, all transatlantic flights are going down at the Jorge Chávez International Airport, Peru's main international and domestic airport.
Travelling within Peru, flying is the fastest option, obviously. Flights from Pucallpa in the outskirts of the jungle region, to Arequipa and Cusco in the Andes and many other domestic airports, make it to Lima in one to two hours. However, domestic flights can be really costly.
Lima's airport is on the outskirts of Callao, 11 kilometers from the city center. Especially for first-time visitors, the Airport Express Lima service is highly recommendable – if you are staying in Miraflores or San Isidro. You can buy your ticket online and pay 6 USD to San Isidro and 8 USD to Miraflores. A roundtrip sets you back 11 respectively 15 USD.
To other parts of the city, you can always take a cab. If you're not too tired from the flight, you might want to leave the airport's premises. Outside, the drivers charge a bit less – nevertheless, you might have to pay about 30 to 50 Soles depending on the distance.
Nevertheless, after a long tiring flight, the safest way is to pre-book a car, and you can do so conveniently right here*.
By Bus
Most people, however, are travelling by bus. Long-distance buses in Peru are in general more expensive than for instance in Asia or Africa. On the other hand, they are far more comfortable, almost like airplanes that are not taking off. They are clean, you get refreshments, and there is entertainment on board. If you travel overnight, you can recline your seat as if you travel in business class.
Since Lima is the gateway to many attractive destinations in Peru, there are various hubs from where you can travel on.
If you want to travel for instance by Cruz del Sur southwards, you need to take a bus at the Javier Prado bus stop at Avenida Javier Prado Este 29. Other bus companies leaving from Javier Prado are for instance Andesmar and La Veloz del Norte.
A more touristy bus company would be Perú Bus. These coaches are leaving from different stops like for instance Soyuz on Avenida Mexico 333. Perú Bus caters to touristy places such as Paracas and Ica, the gateway to Huacachina.
How to Get Around
With 9 million inhabitants, almost one-third of 31 million Peruvians are living in a wider area of Lima. Needless to say that the city is packed with private as well as public vehicles. Packed! Jammed! If you're not going too far, during rush hour, it might be faster to walk. No joke!
Another big problem is how those many drivers move through the city. Merciless! Seriously, don't just cross. Don't jaywalk.
Even if the traffic light signals that you are good to go, take a thorough look around. Cars won't stop. They run you over.
Buses
Some of these drivers are chauffeuring buses and minibusses through lima. Especially the minibusses are privately owned. They are very cheap and convenient but also a bit risky.
The large buses are, obviously, not that agile, however, they are keen to catch up. If you've never been to a developing country before, you'll probably be a bit shocked.
Although it's not obvious to the foreigner's eye, there is actually a system. Lima's buses do have numbers and routes.
However, there are also means of transportation that might look more trustworthy to you. For one, there is actually a métro in Lima. However, it currently joins the southern outskirts with the center and the northeast of the city. Additional lines have been planned – forever.
Then, there is the quite good rapid bus system El Metropolitano that operates in independent corridors. It's basically like the TransMilenio in Bogotá and the Rede Integrada de Transporte in Curitiba in Brazil.
Obviously, you can also travel by cab which is ridiculously inexpensive. However, just like the minibusses, this is an unregulated, private sector. Everyone with a car – or a motorbike, for that matter – can become a cab driver. Yes, good people and bad people.
Cabs
Also, cabs are not metered. You must tell the driver where you want to go and agree on a price. Of course, before you board the car. Always.
Obviously, some drivers overcharge inexperienced foreigners. All this is the reason, why many Limeños recommend not hailing a cab on the street but calling one.
TuRuta – An Indispensable App
I don't want your head to explode. Therefore, I recommend downloading the App TuRuta. Their page is only in Spanish. However, they are also on facebook where they communicate with people also in English. The great thing about this App is that it covers official as well as unofficial public transport. They even supply you with a picture of what the respective bus looks like.
Where to Sleep
Obviously, there are all kinds of accommodations ready for travellers all over Lima. If you are on a budget, you find friendly hostels. And if you can splurge, you can spend hundreds of dollars on high-end accommodation.
Most of all, I like to know where I will lay my hat head as I get to a city I haven't been to before. Therefore, I always make a reservation in advance, and booking.com is, obviously, a great platform with lots of choices for every budget*:
What to Eat
You might think that Machu Picchu, the archeological treasures, the mountains, Vargas Llosa's literature, or Mario Testino's photographs are Peru's cultural treasures. While this is true, there is another aspect to it – food!
On my first flight from Amsterdam to Peru, I was sitting between two Peruvian ladies. Obviously, they gave me great tips on what to do when in Peru. Irritatingly, everything they recommended had to do with food – was a regional dish. They did not rave about cultural heritage. They left the geographical wonders aside. All they were talking about were different delicacies'n'dishes.
This gave me an idea of the significance that food has for Peruvians.
As a matter of fact, you find delicious food in generous portions everywhere you go. Whether it stands on local markets or at high-end gourmet restaurants – you certainly won't be starving.
A probably rather unexpected Peruvian cuisine is Chifa. These are Chinese dishes, fused with Peruvian ingredients. Truly cross-over. One of the truly Peruvian supplements to Chifa is Inka Cola. It's a sulfate-yellow drink that Peruvians love and visitors despise.
Peruvian Food You Must Try
Let me introduce my three favorite truly Peruvian dishes that you should try. At least if you're not a vegetarian. In case you are a vegetarian, you won't have it easy – not only in Perú, but all over South America.
First and foremost, there is Ceviche. It's typically an appetizer from very fresh, raw fish marinated and cured in lime juice. The fresh, zingy taste is increased by chopped onions, salt, and coriander.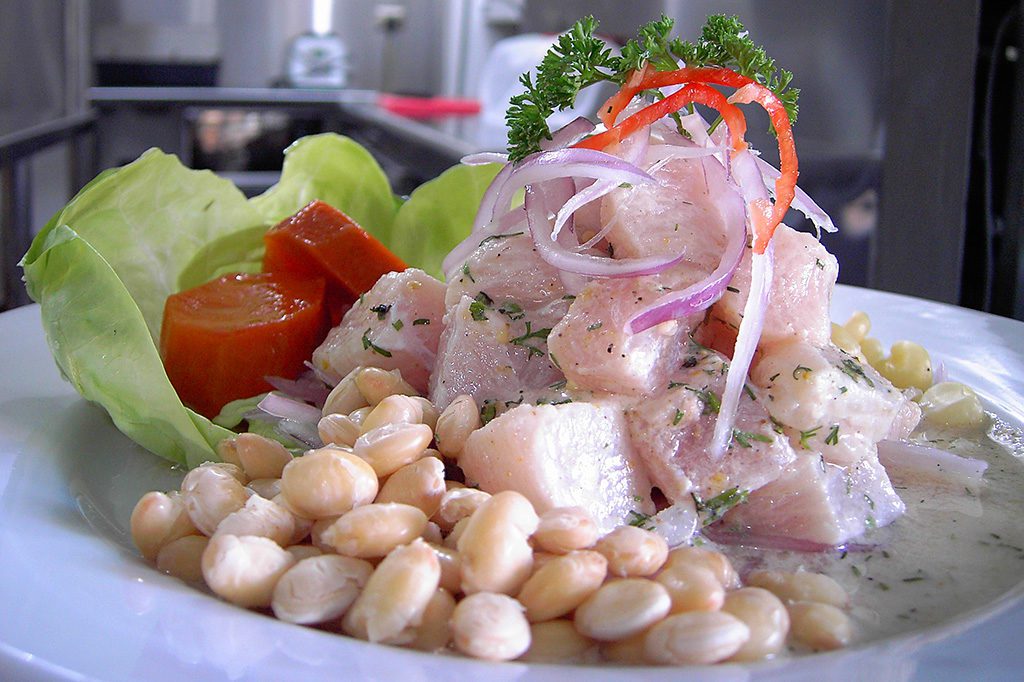 If you aren't that much into raw fish, you might wanna try Jalea. This is a generous order of small pieces of fish, squid, or other seafood, battered and deep-fried.
Tip: If you want to try both – ceviche as a starter, followed by a great jalea, I recommend the food stalls at the Mercado Magdalena. You try these delicacies in incredible quality, and rub shoulders with Limeños. In the end, it sets you back about five bucks.
Another one of my personal favorites is Anticuchos – Anticuchos de Corazón, to be precise, hence, made from beef heart. However, these popular, traditional skewers can be made from any type of meat.
I had the best in Barrancos at El Tío Mario's. You'll find the location on the map below.
Where to Shop
Halfway between the Museo Nacional de Antropología Arqueología e Historia and the Mercado de la Magdalena is the Avenida de la Marina. Here you find an incredible choice of little stands and stores called the Gran Mercado Inka.
They sell leather goods and sweaters and ponchos made of alpaca and baby alpaca. There are also all sorts of knick-knacks you might want to take home. And all that at much better prices than anywhere else in Lima.
I don't see a reason for going to a shopping mall in Lima. However, if you feel the need to explore global chain stores and have coffee at Starbucks, Larcomar just on the cliffs of Miraflores is the nicest one. They even have a small tourist info booth, and the view of the Pacific Ocean is impressive – and even a bit soothing.
What to See
I'm an avid solo-travelling woman. Since solo travel doesn't equal solitude, I love to join organized tours here and there. They allow me to meet fellow travellers – for just a short moment or a lifelong friendship.
Therefore, here are some great ideas of what to do during your stay in Lima especially if you don't have too much time to explore on your own*:
Map
This is an overview of the places I've introduced in this post. Clicking on the slider symbol at the top left or the full-screen icon at the top right will display the whole map including the legend.
Lima was only the start of my tour and the first of many beautiful places I've visited in Perú. To read about the others, go to the main post and take your pick!
In that post, you'll also find further relevant information on money, communication, and more.
Pinnable Pictures
If you choose to pin this post, please use one of these pictures:
Note: This post is being regularly completed, edited, and updated – last in November 2022.
Did You Enjoy This Post? Then You Might Like Also These:
* This is an affiliate link, obviously. So if you book through this page, not only do you get the best deal. I also get a small commission that helps me run this blog. Thank you so much for supporting me!