Cape Verde is often described as Africa light – and its main island Santiago, which I'm introducing in this comprehensive guide, is culturally closest to the African continent.
Nevertheless, many places on the archipelago of Cape Verde will rather remind you of the Canary Islands than of an African country. Hence, although Cape Verde's capital Praia is the most African city of them all, it has a familiar feel to it – with a dash of Caribbean vibes.
Praia
Santiago is the largest yet one of the least touristy ones of the Cape Verde islands. It has a quite fast-growing population of almost 300,000 inhabitants. About half of those people live in the capital city Praia – which, funny enough, translates to beach.
Arriving in Praia, the city should not be that overwhelming. It actually doesn't deem overcrowded and hectic as other capital cities do. Especially the sophisticated Platô allows the first steps into the region and softens the culture shock. It is Praia's historic, administrative, financial, and cultural center, located uphill on a…plateau,
Praia does not have many classic tourist attractions to offer. However, I enjoyed the vibe a lot and felt very comfortable from the moment I set foot on the island.
Markets
There are colorful African markets. A smaller farmers market is right on the Platô. Then, there is the Mercado de Sucupira which is located behind the Platô on the lower level. This market is far bigger and much more vivid.
There is a handful of nice restaurants and bars around the center of the Platô.
It is certainly not recommendable to venture in the dark in the neighborhoods outside the Platô; and, as a matter of fact, they don't have anything really overwhelming to offer to visitors.

Beaches Around a City Called Beach
Praia has a couple of beaches and they are like many city beaches: okay, but not really great. However, if you have only a little time and want to spend a couple of hours on the beach without any further ado, the best option is Praia Quebra Canela west of the lighthouse or the cozy Prainha, which translates to small beach and says it all.
If you want to enjoy nicer beaches, you should rather leave the city and go to the northern shores. Take a minibus at the Mercado de Sucupira that will take you in about two hours to Tarrafal. However, we get to that later.
Actually, this is a trip everyone should take since you are crossing the entire island. This way, you get to see most of the interesting places such as…
Assomada
Assomada has almost 14,000 inhabitants. This makes it – believe it or not – Cape Verde's third-largest city – after Praia and Mindelo.
There is an inevitable market in the center – less bustling than those in Praia – founded in 1931. It is one of the largest on the island of Santiago, with a large variety of agricultural products and crafts.
Boa Entrada – The Gates to Beauty
Leaving the town towards the northern outskirts takes you to Boa Entrada.
Walking down to the settlement, you can admire the Poilón, an old, huge Kapok tree, already from far.
Serra Malagueta
An amazing experience is a hike through the Serra Malagueta. In this mountainous region, the Rebelados, rebels opposing the colonial occupants, used to hide and still live in their traditional way.
Since this hike, which takes an entire day, is not so very easy, you should make sure to go with a local guide.
From Assomada, you can take an Aluguer to the Serra village where the hike begins – or you just tell the minibus driver to drop you off there.
Tarrafal
To continue to Tarrafal, the northernmost city, just take another bus at Assomada, and off you go through the lush landscape of the Serra Malagueta to the left and right of the freeway.
Tarrafal is mainly famous for two things – a nice one and one that's not nice at all:
Museu da Resistência
About 1,5 kilometers resp. 1 mile before you reach Tarrafal's city limits, west of the highway towards the Atlantic ocean is the istência. Shockingly, this former concentration camp was also referred to as Campo da Morte Lenta which translates to Camp of the Slow Death.
This prison camp was established by the Portuguese dictator António de Oliveira Salazar to imprison opponents of Portugal's right-wing totalitarian regime. It actually followed the concept of the concentration camps in WWII.
Due to national and international pressure, the camp was closed in 1954. Sadly, in 1961, Adriano Moreira, the Minister of the Overseas Provinces, ordered to reopen it. It now became a forced labor camp for Africans from Portuguese colonies opposing the country's colonialism.
Luckily, after Cape Verde's independence in 1975, it was definitively closed and is today a memorial and a museum.
The museum does not have a website, but you'll find them on facebook.
Life is a Beach
But I still owe you the nice thing that Tarrafal is known for and that would be the beach.
It is located in the north of the town – a very natural yet clean stretch of sand, overtowered by a couple of nice restaurants.
While I loved the islands a big deal, I was surprised at how boring the food was.
However, one of the best places I ate at during my whole trip was the restaurant Baia Verde above the beach of Tarrafal.
Ribeira Grande de Santiago
A different bus takes you in about half an hour from Praia to Cidade Velha, since 2005 officially called Ribeira Grande de Santiago, where Cape Verde's horrific history can be traced back.
Mind you, the atoll was uninhabited until in 1461 the good people from Portugal came and eventually started the slave trade between 1500 and 1620.
The island – notably Ribeira Grande – functioned as a cruel stopover where the kidnapped Africans were trained: Obviously, this means that those poor people were broken to become compliant slaves. Eventually, they were shipped to the New World.
Since June 2009 Cidade Velha is on the Unesco World Heritage List, thus the terrible Pelourinho – which translates to pillar – is still standing in the village's center – now as a memorial.
It's absolutely not worth it to do any of these trips on an organized tour since the minibusses go permanently and you certainly won't get stuck.
Practical Information
How to Get There
All the international charter flights are going to the island of Sal or at least Boa Vista. However, Santiago is the main island so regular international flights for instance from Lisbon are coming into the Nelson Mandela International Airport in Cape Verde's capital Praia.
From there, you can get uptown by cab. I'm writing it like this since the airport is on the city's lower level while the real city center is on the so-called Platô, the historic, administrative, financial, and cultural center of Praia.
How to Get Around
Once in Cape Verde, the most convenient way to travel from island to island is, obviously, flying. At this moment, the best option seems to be going by Binter, a Spanish airline serving mainly the Canary Islands, but also other destinations in that region, i. e. also North and Northwest Africa.
However, not every island has an airport, hence, there are ferries connecting all the islands.
You can check the ferry schedule on their website, but stay flexible and avoid at any cost tight schedules at the end of your stay when you depend on reliable transport to an international airport.
There is a good system of public transportation in Santiago. Mini-busses cruise around the centers of the cities such as Praia, Assomada, or Tarrafal until they find enough passengers – and then off they race!
During the day, busses are plenty so you shouldn't get stuck if you go on a day trip.
Where to Stay
Since I wanted to stay close to the action – whatever this means in sleepy Praia – I chose to stay on the Platô.
But again: Cape Verde is not a very cheap country to travel – hotel prices are generally about the same as in Southern Europe.
Especially if you arrive late at the airport – or port – of Praia, make sure that your accommodation sends a taxi to pick you up. I don't want to make you paranoid, but better safe than sorry.
You can look for accommodation here*
Where to Eat
Honestly, besides the restaurant in Tarrafal that I'm mentioning above, I cannot really recommend an eatery. However, I recommend being a bit careful of what you are touching and what you are eating.
I was just blown away by the number of flies that are everywhere – and move from anything to everything.
Actually, Cape Verde was the only place of all my trips where I got really, really sick.
What to See
I'm an avid solo-travelling woman. Since solo travel doesn't equal solitude, I love to join organized tours here and there. They allow me to meet fellow travellers – for just a short moment or a lifelong friendship.
Therefore, here are some great ideas of what to do during your stay in Santiago. Exploring the island with a qualified guide will help you make the best of your stay in a safe and efficient way*:
Money
Another remnant from the Portuguese colonial times is the name of the local currency which is called – just like in Portugal until the installment of the €uro – Escudo respectively Escudo de Cabo Verde, abbreviated CVE. For 1 US$ you get 105 CVE, and for a €uro 110 CVE (as of November 2022). You can check the current rate here.
Credit cards are not as widely accepted as e. g. in Europe or Asia, even some small guest houses do take only cash. Some businesses add a small percentage if you pay by credit card – which can become a quite high amount if you pay for instance for a couple of nights at a hotel.
There are ATMs on the Island of Santiago so you won't have a problem getting cash.
Some businesses even accept €uros, however, there usually is a disproportionate surcharge. Pre-payment of hotels, for instance, is therefore advisable.
Language
As Cape Verde used to be a Portuguese colony, the official language is Portuguese, but people speak krioulo. This is a local patois and, like many dialects, differs a tiny bit even from island to island.
People do speak some English and French, but it is certainly helpful to have some basic knowledge of the local language.
Before my trip, I'd practiced using babbel. The first lesson is free and supplies you with the most important words to interact with people.
Do you want to read about all the other beautiful islands I've visited in Cape Verde? Then go to the main post and take your pick.
Pinnable Pictures
If you choose to pin this post for later, please make sure to use one of these pictures: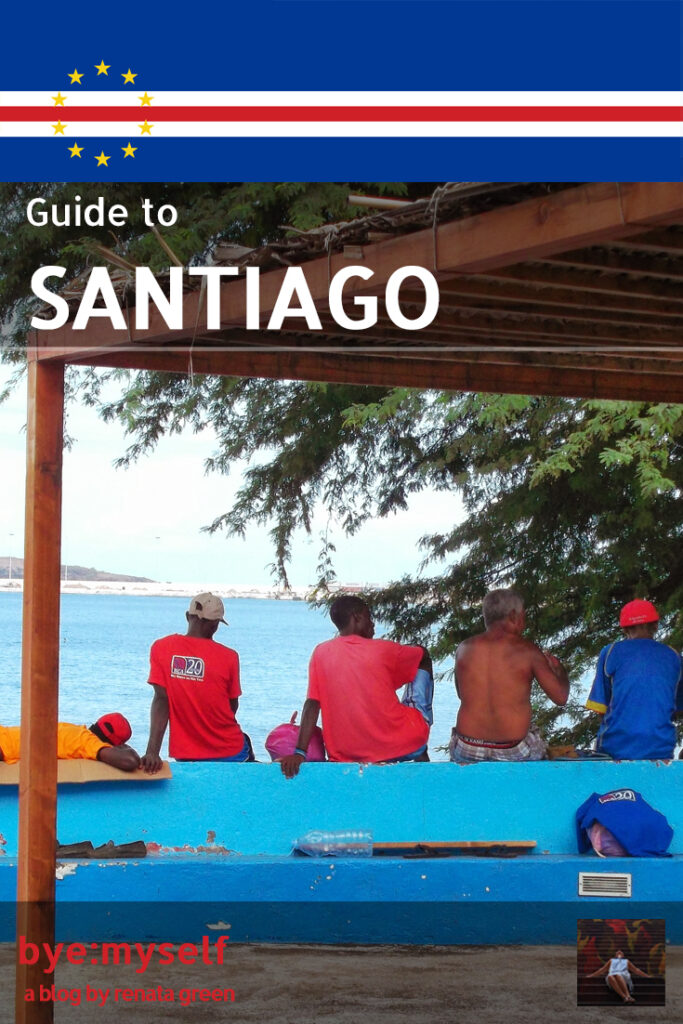 Did You Enjoy This Post? Then You Might Like Also These:
Note: I am completing, editing, and updating this post regularly – last in November 2022.
* This is an affiliate link. By clicking through this page, not only do you get the best rate, I only earn a small commission that helps me run this blog. Thank you so much for supporting me!