I must admit that till the moment I began to plan my trip to Greece, to me, Meteora was not a mesmerizing place packed with monasteries.
It was just the name of my favorite CD by one of my favorite bands, Linkin Park.
Since last Christmas, I know better; much better: Meteora is a rock formation in central Greece, about 350 kilometers north of Athens. It is famous for one of the largest complexes of monasteries.
So my initial rock-band reference was not that mistaken, after all: Meteora is rocking – big time!
Travelling solo to Meteora
I came from Athens, but on my way to Meteora, I wanted to insert a stop at Delphi. Therefore, my trip to Kalambaka, one of the two settlements next to Meteora, started at Delphi's bus stop. It is marked in immaculately painted letters on the wall of a restaurant. Besides Souvlaki and Retsina, they also sell bus tickets.
It was Monday morning, one day before Christmas eve. The bus came a couple of minutes ahead of schedule – and it was completely empty. I mean, obviously, there was a driver. And me. No one else. We took off.
Listening to a Greek radio station winding up and down the curvy road, the friendly driver tried to hold a conversation. This was not easy due to the fact that he seemed to speak exclusively Greek. That's a language that limits me to say about ten set phrases.
Breaking Bread and…
He gave up on the conversation, but not on communication. As he wasn't able to entertain me, he decided to feed me. Opening a big bag of what turned out to be some very dry and hard breadsticks, he forced this baked to wood goods on me and didn't accept any excuse not to take at least two. These breadsticks where huge. And hard. Not bad or completely tasteless. But they didn't tickle my tastebuds, either.
I ate one.
The moment I finished, the good driver forced me to take another one. I didn't want any more wood. He insisted – and since while imposing more breadsticks on me, he didn't look on the road that was winding down in serpentines, I thought it would be better to take one. Quickly.
…Taking a Break
As we got to Lamia, this sweet man pointed at me and asked 'kafés'?
Albeit, if he had written me a note, I'm sure he would have put rather an exclamation mark behind this word.
Actually, I felt like having a coffee-based beverage. Something not too strong with about the same amount of milk as the brew.
There was no way of explaining this to him.
I was afraid if I just said yes, he might bring me some very black and extremely sweet brew. Then, I had to drink it just to be polite although I would hate it.
I politely declined.
He came back from the counter sipping from a small paper cup some very black and probably extremely sweet brew. He handed me a small bottle of water.
Apparently, it was impossible for him to leave me empty-handed.
What a sweet, sweet man.
Also, at Lamia, we were joined by an elderly couple. This was great on so many levels: Firstly, the sweet, sweet man had finally someone to talk to. Secondly, the sweet, sweet man had two other people to feed his woody bread. And thirdly, the elderly gentleman crossed himself at every church we passed. I was sure the blessing would include our entire party of four.
Kalambaka and Kastraki
And it obviously did, since we made it to Kalambaka not only on time, but also just fine.
The city of Kalambaka lies at the foot of the Meteora monasteries. It has a bit over 8,000 inhabitants and shines through its surroundings. There is one main road where almost all the hotels and restaurants and many stores are located and a couple of side streets. Hence, the hidden beauty of Kalambaka will certainly not distract you from visiting the main attractions. Those are clearly the surrounding mountains and most of all the monasteries.
A short walk from Kalambaka lies the village of Kastraki. It is slightly more alluring than its big sister – but this might also be because it's simply much smaller.
Anyway, getting to Meteora by public transport, you'll arrive in Kalambaka since that's where the bus- and train station are located.
Gathering Point of the Faithful
The first hermits are said to have arrived in the region around the 9th century. By the end of the 11th century, they established a small community. Yes, they lived isolated in their caves. Nevertheless, they attended gatherings – for religious but also for security reasons. They even built a small church that they dedicated to the Virgin Mary.
Over the following centuries, those pious men became a tad more sociable and united. Hence, they began to build the first monasteries. Since they didn't want to overdo it with sociability, they chose the tops of the limestone mountains. These places were exposed only to the weather elements but not to the equally rough enemies.
Building Castles in the Sky
There used to be 24 monasteries built on immense natural pillars, purposely difficult to access. The monks wanted to live undisturbed by worldly troubles and most of all retreat from the Ottoman occupation.
Choosing these hardly accessible places for their abodes was certainly a brilliant idea. However, the only way to get building materials to the top of the rocks was by using ladders, ropes, and baskets. The place totally deserved to be added to the UNESCO World Heritage List in 1988.
Today, the six remaining architectural pieces of art can be visited in a much more comfortable way. You should opt for a guided tour where you are taught about all the fascinating details.
According to my amazing guide Vasilis, tourism really got cracking after the James Bond movie For Your Eyes Only was shot here. Since then, more and more people want to witness this natural and cultural wonder themselves.
Even during Christmas time, when I expected Meteora to be kind of deserted, the place was….rocking; yap, pun intended.
Visiting the Monasteries from East to West
Monastery of St. Stephen
The monastery of St. Stephen is located on the southeast side above the city of Kalambaka. Actually, it's easy to get there walking if you prefer to visit it on your own. You hike up the trail that starts behind the old Byzantine church and leads to the Holy Trinity Monastery (see below). Instead of – or after – visiting the Holy Trinity, you walk up the paved street to the road. Five minutes later, you arrive at St. Stephen. Although there is not much traffic on the road, walk carefully.
Once you get to St. Stephen, access over a small stone bridge is easy.
The entrance fee is 3 €uros and ladies in pants have to borrow one of the wrap skirts.
From the lovely courtyard, you have a fantastic panoramic view over all of Kalambaka and the mountain ridge with the snow-covered tops.
There is an old church that opens only twice a year and even then exclusively to monks. However, the adjacent refectory houses a small museum that, of course, can be visited.
The new church from 1798 can – and should – be visited. Mind you, in the 1980th, Vlasios Tsotsonis painted the walls in a beautiful Byzantine style.
Although St. Stephen was inhabited by monks from the late 12th century, since 1961, there is a sisterhood of about two dozen nuns living on the premises.
Holy Trinity Monastery
The monastery of the Holy Trinity is Meteora's poster girl. Its picturesque position on top of a narrow rock is the most photographed of the structures. And it looks alluring, indeed.
This monastery was probably built in the 15th century. As in all the monasteries, the church walls are decorated with frescos. Those at the Holy Trinity were painted by priest Antonios and his brother Nicholas mid of the 18th century.
As I explained, you can relatively easily walk up the hill from Kalambaka. However, to get to the top, another 145 carved steps are waiting to be climbed.
Once you reach the highest point of the rock, you are rewarded with a grand view of the other monasteries and mountains.
There were more than 50 Eastern Orthodox monks living in this mesmerizing place. However, today, it's home to only 5 pious men.
Monastery of Roussanou
The women's Monastery Roussanou – also known as Sta. Barbara Roussanou – does not deem like a building complex spread over a mountaintop. It seems to be the genuine top of a vertical, steep, and quite narrow rock.
This monastery was founded in the late 14th century. In the early 16th century, as the monks brothers Ioasaph and Maximus from Ioannina intended to settle on the Roussanou rock, they found it in ruins. Although at that time, the rock was only accessible by rope ladders and nets, they got to build the monastery.
Today, it can be reached over two bridges.
As at all of the monasteries, women were denied entry for the longest time. Nonetheless, today, Roussanou is home to 14 nuns.
Monastery of Varlaam
Varlaam is named after a hermit who inhabited the rock in the 14th century.
In the 16th century, another couple of brothers from Ioannina, Theophanes and Nektarios Apsaras, renovated the structures. Fun fact: It took them 22 years to get all the building materials to the site. They were using ropes, pulleys, and baskets. Eventually, the actual construction work was done in 20 days!
In the 19th century, steps were first carved into the rock and since then altered several times.
Today's visitors have it easy to visit. There is even a parking lot in front of the complex. It can then be accessed by a narrow bridge from the main road.
Today, the monastery is inhabited by seven monks.
Apart from the church that is lavishly decorated with beautiful – and also some pretty intimidating – frescos, one of the most interesting parts is the museum where you get to see relics, vestments, and paintings.
The Great Meteoron Holy Monastery of the Transfiguration of the Saviour
The Monastery of Great Meteoron is the place of superlatives. It is not only located on the highest rock, but also the largest group of buildings. Also, it occupies a leading position within the monastic system of Meteora.
The Great Meteoron was founded mid of the 14th century by Saint Athanasios the Meteorite. He also installed the local monastic system.
He was followed by Ioasaph, son of the Greek Serbian King of Thessaly. Instead of remaining as his father's successor on the throne, Ioasaph became a monk at the monastery of the Great Meteoron.
Today, Athanasios and Ioasaph are regarded as Saints and are honored on April 20.
I've only heard that the Great Meteoron functioned uninterruptedly as a monastery and houses an important part of valuables cultural and religious treasures. Just like at the smaller monasteries, there are precious churches with remarkable frescos. Also, at the sacristy are the skulls of former monks exhibited on a shelf.
Unfortunately, the Great Meteoron was one of the monasteries that I was not able to visit. If there wasn't any other reason to visit Meteora again, this alone would do.
Holy Monastery of Saint Nicholas Anapafsas
Sadly, I wasn't able to visit the Great Meteoron. However, on my wonderful sunset tour, Saint Nicholas Anapafsas was the first hill we climbed. While the other monasteries have their heads up in the clouds, Saint Nicholas Anapafsas is pretty much down to earth. Although it is on the lowest rock, you have to do some serious climbing – maybe like up to a 6th or 7th floor without an elevator.
Before our group made it there, hermits had already reached the rock in the early 14th century – judging from some frescoes painted in the St. Antony chapel on the first floor.
The monastery was renovated in the very early 16th century. It was also then that the present church was added. Inside is an incredibly beautiful treasure: Lavish frescoes, painted by the famous painter Theophanes Strelitzas, also known as Theophanes the Cretan, being one of the most important representatives of the Cretan school. Another one would be no lesser than Mister Doménikos Theotokópoulos aka El Greco.
Saint Nicholas Anapafsas is also worth the visit for its outstanding design. Since there is very little room on the top of the rock, the monastery was constructed basically wrapped around the rock's upper part in the shape of a rectangular building with various levels.
Practical Information
How to Get There
There is a daily intercity connection to Athens and regional trains to Paleofarsalos on the Piraeus-Thessaloniki line. You can check schedules and prices on TrainOSE's website. The ride takes about 4 to 5 hours from Athens and about 3 hours from Thessaloniki. Tickets start at less than 20 €uro one way.
Since on my way from Athens, I had a stopover at Delphi, I took a bus there. From Monday to Saturday, there's a bus at 9.30 a. m. that gets to Kalambaka at 1.30 p. m. On Sunday, it leaves at 3.15 p. m. and gets there at 9 p. m. To get back to Delphi, during the week, the bus leaves also at 9.30 a. m. On Sundays only at 4 p. m.
The bus company is called KTEL – do not pronounce it kay-tel like the record company from the 1970s, but in one word. You can buy tickets online – as well as train tickets.
How to Get Around
Since Meteora is all about getting to the viewpoints and monasteries, I really recommend joining a tour. Especially if you have a limited amount of time and are not a true-born billygoat.
Even when joining a very comfortable tour by van, you have to do some climbing – and be it only the stairs up to Saint Nicholas Anapafsas – and walking.
If you are halfway fit, a hiking tour, obviously, brings you closer to amazing nature. This is, of course, a more traditional way of visiting these places.
Actually, if you have only one day for Meteora, you can even join both tours. The hike starts at 8.30 a. m. and ends at 1.30 p. m. Then, after a refreshing lunch, you can hop on the van that drives you into the sunset.
For further info on the different tours and to make a reservation, check the website of the very experienced and professional company Visit Meteora.
I was amazed how – besides being highly knowledgeable – my guides Vassilis and Christos were still so passionate about Meteora's history and the beautiful sceneries.
Visit Meteora
Patriarchou Dimitriou2
Kalambaka
Phone: +30 – 24320 – 238 20
Email: info@visitmeteora.travel
As a matter of fact, especially the monasteries of the Holy Trinity and the nunnery of St. Stephens can be easily visited individually by hiking from Kalambaka.
Behind the old Byzantine church leads a relatively easy trail up to the Holy Trinity. From there you can – carefully – walk the road five minutes southeast to St. Stephen.
Where to Stay
Presuming you're not a hermit who will book himself in one of the abandoned caves, you'll find a very convenient tourist structure at Kalambaka as well as at Kastraki. However, mind you that since it's a very touristy spot, prices are a bit higher than in other places. Nevertheless, during high season and public holidays, early reservation is recommended.
I stayed at the Toti Boutique Hotel and, unfortunately, cannot recommend it, mainly for the really negligent service. Therefore, I suggest you check the below rates and the availability of other accommodations like for instance the Divani Meteora*. I met people who stayed there and they were very happy with their choice.*
Where to Eat
Of course, there is a number of restaurants and taverns – with not much variety. The standard souvlaki, gyros, and moussaka are of hardly tolerable quality.
For a tasty snack like stuffed pitas for about 2 €uros a piece, check out Chicken Time. But don't rush since they are open every day from 8 a. m. to 3 a. m.
Another good place for breakfast or a snack is Octo Coffee & Breakfast just one bloc up from Chicken Time. Especially their sandwiches are a great value for money. Make sure to order the one with Greek cheese, olives, and tomatoes for less than 3 €uros, it's big'n'tasty. Octo opens at 7 a. m. respectively at 9 a. m. on weekends and closes at 11.30 p. m.
Money
Until now, 20 European countries replaced their former local currency with the €uro starting in 2002. Obviously, Greece is one of them. The exchange rate is 1 US$ = 0.94 EUR as of January 2023. However, you can check today's conversion rate on this page.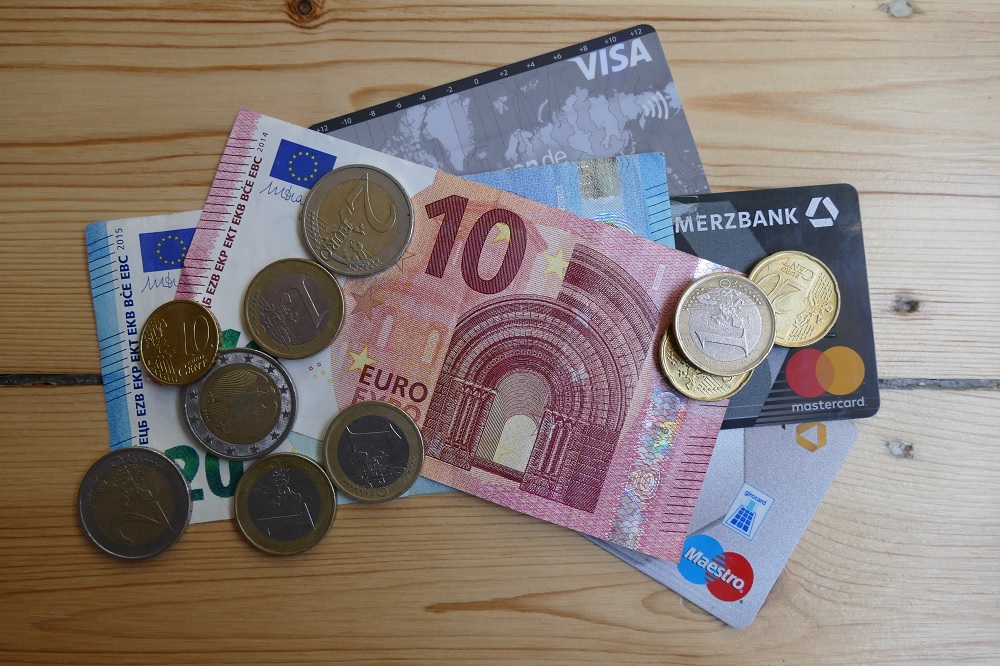 Language
Not all Greek people have a great command of the English language. However, most speak it pretty well, especially the younger folks. The English of both my guides was great.
You know that Greek is written in Greek letters, right? While most relevant signs are also written in Latin letters, I did come across some stuff that was exclusively in Greek. Therefore, it doesn't hurt to familiarize yourself at least with the greek capital letters – and, of course, a translator app will save you.
However, it is a friendly gesture and appreciated by everyone when you are able to say good day – kalimera, good afternoon – kalispera, hello – yassas, thank you – efcharisto, and please respectively you're welcome – parakalo. Fun fact: Ne means yes, although it sounds like a casual no; no would be ochi (pronounced rather like ohi than oshi).
Greek Alphabet
| Upper Case Letter | Lower Case Letter | Greek Name | English Name |
| --- | --- | --- | --- |
| Α | α | Alpha | a |
| Β | β | Beta | b |
| Γ | γ | Gamma | g |
| Δ | δ | Delta | d |
| Ε | ε | Epsilon | e |
| Ζ | ζ | Zeta | z |
| Η | η | Eta | h |
| Θ | θ | Theta | th |
| Ι | ι | Iota | i |
| Κ | κ | Kappa | k |
| Λ | λ | Lambda | l |
| Μ | μ | Mu | m |
| Ν | ν | Nu | n |
| Ξ | ξ | Xi | x |
| Ο | ο | Omicron | o |
| Π | π | Pi | p |
| Ρ | ρ | Rho | r |
| Σ | σ,ς | Sigma | s |
| Τ | τ | Tau | t |
| Υ | υ | Upsilon | u |
| Φ | φ | Phi | ph |
| Χ | χ | Chi | ch |
| Ψ | ψ | Psi | ps |
| Ω | ω | Omega | o |
Map
On this map, you can see where all the wonderful monasteries and other places I'm introducing in this post are located. This way, you can plan your itinerary accordingly.
Clicking on the slider symbol at the top left or the full-screen icon at the top right will display the whole map including the legend.
Pinnable Pictures
If you choose to pin this post for later, please use one of these pictures:
Note: I'm completing, editing, and updating this post regularly – last in January 2023.
Did You Enjoy This Post? Then You Might Like Also These:
Disclaimer: * This is an affiliate link. If you book through this page, not only do you get the best deal. I also get a small commission that helps me run this blog. Thank you so much for supporting me!
I'm very grateful that Visit Meteora made it possible for me to experience their sunset tour as well as the hike. Also – in accordance with my fellow visitors – I must say that both tours were a wonderful experience – mainly due to the knowledgeable, caring, patient, and fun guides Vasilis and Costas. However, all opinions on these services are mine and weren't by any means influenced by my cooperation partner.