Let me guide you to Cienfuegos, a surprisingly French city right in the heart of Cuba. There is good infrastructure, charming places, strong drinks, and cool waters. Basically the fancy side of Cuba.
Also, it's a great gateway for many day trips to the beautiful surroundings.
The Discovery
Christopher Columbus discovered the region around Cienfuegos in 1494. Like everywhere else, the Spaniards began to colonize the area that was inhabited by indigenous people.
Around 1745, the Fort Nuestra Señora de Los Ángeles de Jagua was built to protect against pirate attacks. The settlement was extended and also a port was added. Then, in 1819, 46 families from France and the nearby French colonies settled in the fortress. Nevertheless, the place was still under Spanish rule and named Fernandina de Jagua, honoring Spanish King Ferdinand VII.
French to the Core
After a storm destroyed large parts of the city in 1825, it was reconstructed under the direction of city planner D'Clouet, a French immigrant. He designed the chessboard-like road network that characterizes the city to this date. Only in 1829, the city was renamed honoring the Spanish Governor-General José Cienfuegos.
There are basically two main areas of interest to visitors. Obviously, the Pueblo Nuevo, the city center made it on the UNESCO World Heritage List for a reason.
Further south is the peninsula Punta Gorda. It's a rather posh residential area that, however, has some of the most alluring landmarks, namely the Yacht Club and the Moorish Palacio de Valle.
Not only is the city of Cienfuegos a lovely place. There are also some really nice places that should be visited on day trips. Therefore, you might want to foresee two, better yet three days for Cienfuegos.
Pueblo Nuevo – the Historic Center
To this date, the French influence is visible in the city. Because of this elegance and beauty, the city is also called Pearl of the South. Since 2005, the historic city center has been listed as a UNESCO World Heritage Site.
Sugar, Sugar
French traces there are – for example, at the main square stands Cuba's only triumphal arch. The early settlers erected it in memory of their distant homeland. It stands on the western side of Parque José Martí, Cienfuegos' main square.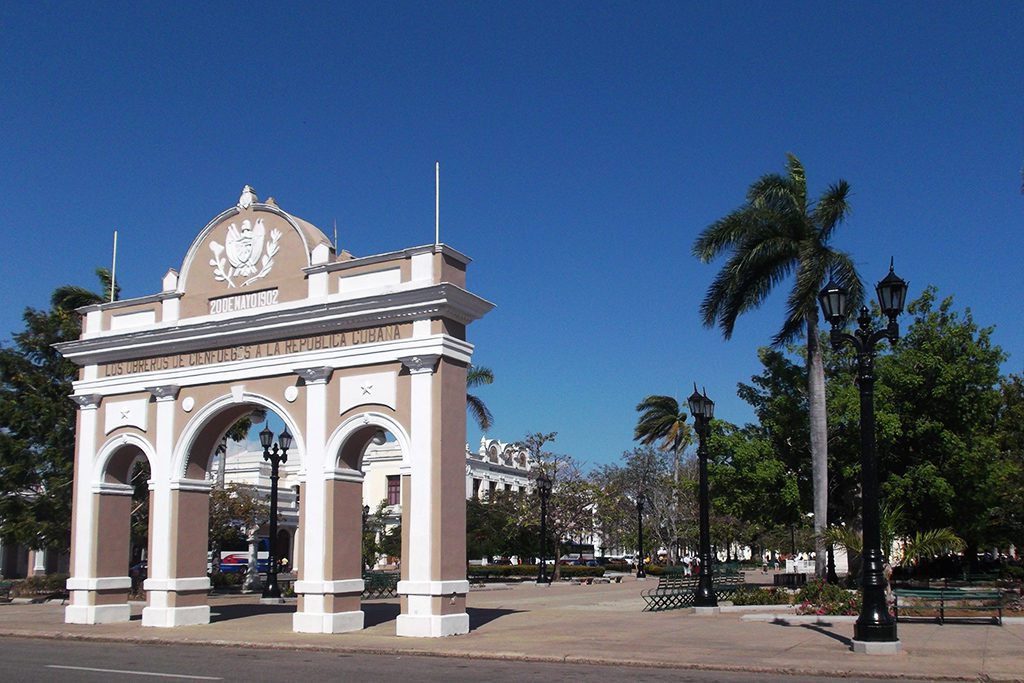 Across the street from the Arco de Trionfo is the Palacio Ferrer which today houses an art museum. The palace was commissioned by sugar baron José Ferrer in 1817. In 1920, the famous tenor Enrico Caruso stayed here when he performed at the Teatro Tomás Terry.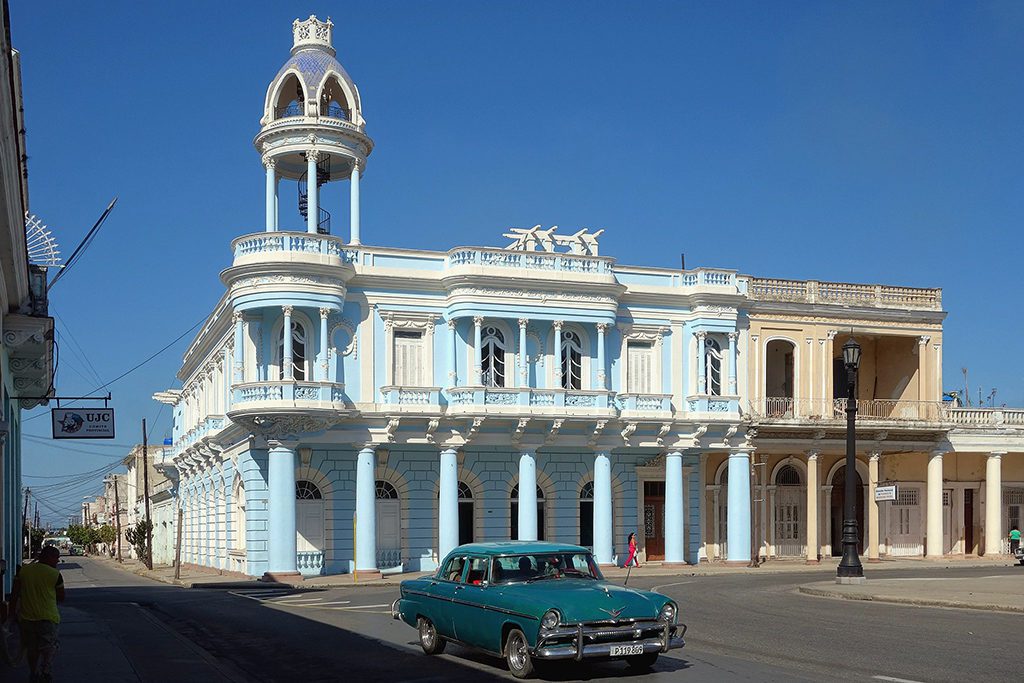 From the tower of the Palacio Ferrer, you have a beautiful panoramic view.
The famous Teatro Tomás Terry, where not only Caruso performed, stands on the northern side of the Parque.
At the end of the 19th century, it was commissioned by Venezuelan sugar baron Tomás Terry. It is shaped like the so-called Italian coliseum. Hence, in a horseshoe-shaped hall, the audience is placed on four levels. However, always faces the stage.
National and international artists such as Sarah Bernhardt, Ana Pávlova, and Jorge Negrete performed here.
On the Other Side
As you continue your walk around the Parque, on the eastern end, you'll get to Cienfuegos' cathedral Nuestra Señora de la Purísima Concepción, hence, Our Lady of the Immaculate Conception.
The original building was inaugurated in 1833 at the time of Spanish colonization. Eventually, various extensions and improvements were made. Finally, it was declared a cathedral in 1903.
Finally, on the southern front of Parque José Martí is the elegant Palacio de Gobierno. This is the city's town hall and cannot be visited, obviously.
As you keep walking east on San Fernando street, you'll be probably surprised to see stores and agencies. Yes, here the scarcity is…scarcer than in many other places. Four blocks and you'll reach the Paseo El Prado, actually Cuba's longest street.
Take a look at Señor Benny Moré – or rather his statue since this great singer died already in 1963 at the young age of 43. All he left was his music sung in his captivating voice.
Punta Gorda
Walking down the Paseo El Prado is just so much fun. There are long lines of shade-giving trees with benches where you could sit for hours and observe the good people of Cienfuegos plying their trades.
The low houses lining this boulevard are very well-maintained and painted in bold tropical colors. At every crossroad is an artistically crafted arch with a lantern – yes, it actually does look like a French boulevard. A Caribbean French boulevard, though.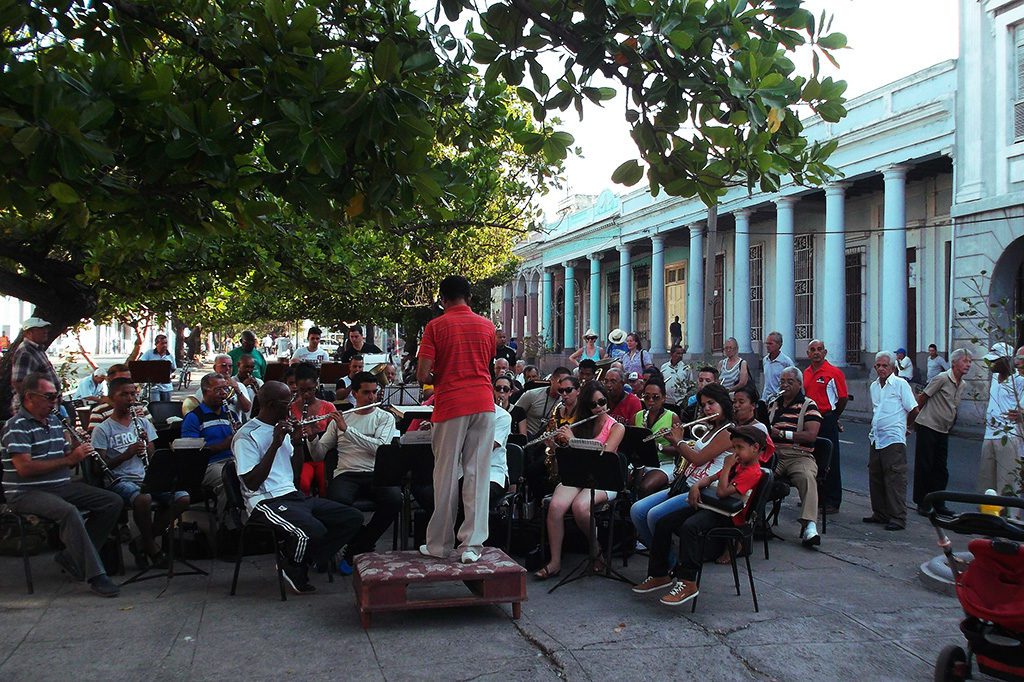 However, the best part of the Prado is yet to come. Namely, as you get to La Mar street when to your rights are no houses, but just the open sea. Strolling along Cienfuegos' Malecón under the swaying palm trees in a refreshing breeze from the ocean – it cannot get more Caribbean.
Luxury Without the Pricetag
What's that? You're thirsty from all that walking? Well, no problem since a couple of minutes further south, you'll reach the posh Yacht Club from 1920. Here, you can order dinner or just enjoy a mojito on their terrace while overlooking the yacht harbor and listening to the Salsa tunes played by a live band.
Will it burn a hole in your wallet? Nope. The reason is simple: The Yacht Club is state-owned. That means that the staff might deem a bit spiritless like most of the state employees. However, the drinks are at governmental prices, too – 3 CUC standard price. Location and view don't count. Definitely the upside of Cuba.
As you can see in my picture, you are already at the best place to enjoy the sunset. However, if you're not too tired, you definitely should make it two blocks down to the famous Palacio del Valle. After all, this historicist splendid villa is one of Cienfuegos' main attractions.
These Moorish-inspired structures are the work of Italian architect Alfredo Colli and were initially commissioned by merchant Celestino Caces. Eventually, Caces sold the palace to land baron Acisclo del Valle who had it completed by 1917.
Just like the Yacht Club, the Palacio del Valle is under governmental management and therefore very affordable despite the luxurious setting.
Out of Cienfuegos
Depending on how long you stay in Cienfuegos – and I find one can stay there pretty long – there are at least two-day trips you should join. I say join since in Cienfuegos it's actually easy to do a tour with a governmental tour agent. Big Plus for us solo-travelling gals.
Havanatur, Cubatur, Cubanacan – they all offer day trips.
One trip will take you to the Botanic Garden that's said to be spectacular. Since I find that a tropical country is a botanic garden in itself, I opted for a trip to the famous El Nicho waterfalls.
I booked a day tour with Cubanacan – the office is at Paseo El Prado. I paid 35 CUC with the entrance fee and a nice lunch included.
The El Nicho waterfalls are inside the Gran Parque Natural Topes de Collantes about 50 kilometers east of Cienfuegos. Actually, it's basically halfway between Cienfuegos and Trinidad.
Already the drive across the Escambray mountains was just breathtakingly beautiful. Once we got to the premises, we had to hike on trails through a dense forest.
There are various waterfalls at El Nicho. The most popular one falls into a big pool where you can splish'n'splash – and you certainly will since the water is actually ice-cold.
While in Cienfuegos a trip with Cubanacan worked out like a charm, in other places it was hopeless. The person in charge of the office came late or didn't show up at all. Or for some reason, they were not able to book a tour or….it's a governmental agency, so nuff said.
Map
This map should give you an idea of where to go once you're in Cienfuegos:
Practical Information
How to Get There
By Plane
I believe that no one will take a domestic flight to Cienfuegos, however, you can do so, but only from Havana. Other than that, there are international flights between Cienfuegos's Jaime González Airport and Montreal as well as Toronto. You can check flights on the website of Cubana airline.
By Bus
The two daily Viazul buses between Havana and Trinidad stop at Cienfuegos, as does the daily bus between Santa Clara and Trinidad.
By Train
There are actually two trains going to Cienfuegos from Havana, Santa Clara, and Sancti Spiritus. However, as I explained in the general post on Cuba, getting train tickets is kind of a lottery. But if you don't need to arrive on a specific day at a certain hour, you can still give it a try. On this page, you can check the connections. However, the timetable is from 2018, so it hence might have changed.
How to Get There and Around
Both the center and Punta Gorda are easy to walk. However, they are about 3 kilometers apart. You can check with the host of your casa particular if they can arrange a bicycle for you.
Obviously, there are also cabs. Like everywhere in Cuba, you have to be a bit careful about not getting duped.
Where to Stay and to Eat
The casa particular Hostal La Verde where I stayed is just a ten minutes walk from either the Yacht Club or the Palacio de Valle. Hence, perfect for dinners in posh settings.
The host is lovely, professional, and very helpful. He picked me up at the bus terminal and even gave me a ride back downtown.
The only flaw is that they are serving only breakfast, no other meals. Also, if you prefer to stay closer to the center, the actually very nice location in a relatively fancy neighborhood might not be ideal.
Communication and Connection
There is an Etecsa Office in Cienfuegos as well as another sales point where you can obtain scratch cards.
On this page you'll find ETECSA's complete list of hotspots. To narrow it down, you need to choose Cienfuegos from both dropdown menus Provincia and Municipio. Then, you'll see all the places where you can access the internet.
Cash and Cards
Cienfuegos is a big city, consequently, there are banks with ATMs. Those are around the streets San Carlos and San Fernando close to the Parque José Martí.
Until the end of 2020, there were two official currencies: The CUP – Peso Cubano – and the CUC – Peso Convertible. The socialist island state has had this confusing dual currency system since 1994.
However, since the beginning of 2021, only the Peso Cubano keeps circulating. The exchange rate is 24 CUB to one US$. This unification of the currencies is expected to grant Cuba's citizens equal opportunities and social justice.
Already in July 2020, Cuba had abolished the ten percent tax on US$ purchases that had been in force since 2004. Since then, in some shops, certain products can also be paid for by card in US currency.
Since this novelty is still in progress, obviously, some prices in my posts on Cuba still quote the Peso Convertible CUC – as do many Cuban websites. I hope that they'll correct their sites asap so that I can adjust the information on my blog. However, if you don't want to wait: One CUC equals one US$, so that shouldn't be a big problem, after all.
Cienfuegos was only one of many beautiful places I've visited in Cuba. To read about the others, go to the main post and take your pick! There you'll also find valuable general information that will make your trip smoother.
Pinnable Pictures
If you choose to pin this post for later, please use one of these pictures:
Did You Enjoy This Post? Then You Might Like Also These:
* This is an affiliate link. If you book through this page, not only do you get the best deal. I also get a small commission that helps me run this blog. Thank you so much for supporting me!