Travelling solo as a woman to Colombia – let me guide you to a country still suffering from the stigma of being a dangerous place torn between drug barons and guerillas. But actually, it is a beautiful and interesting place – with wonderful, honest people.
On just one visit, it became one of my favorite countries on earth. Wanna see for yourself? Then here is my complete guide
My First Encounter with Colombia
Almost three decades ago, I worked in Public Relations. One of my most important customers was the Federación Nacional de Cafeteros de Colombia. An important part of my job was putting together a press map with articles published on Colombia in Germany.
Believe me, besides one or two short notes on Gabriel García Márquez and Fernando Botero, this was not pretty. Whether FARC, whether the cartels, the government, or the paramilitaries – kidnapping and bloodshed were everywhere. And this is the stigma the country is still suffering from.
The Times They Are A-Changin'
Over the years, the country changed for the better a lot. Nevertheless, in our heads, it's still this dark place where you cannot take a bus without ending up in a dark hole somewhere in the jungle while your relatives are collecting money for your ransom.
I don't know whether it's because people are still suffering from the stigma of the past or because they are simply super-friendly by nature. However, I was impressed again and again by how they try to help and support you instead of tricking and cheating, and taking advantage.
This, I experienced a lot in other countries where people are also very pleasant – cheating with a friendly smile.
Colombian people are grateful that you 'dare' to visit their country that has so much to offer. It's very touching when an old lady in the streets of Cali greets you "Bienvenida en Colombia". So if you wanna go, go. And go now, before flocks of travellers' spoil the people's warm and welcoming attitude.
Colombia's Early Years
As you know, this part of the world had been inhabited by various indigenous peoples. Then, the Spanish conquistadores arrived in 1499. They conquered and colonized the region. They oppressed the native population and sucked out as many treasures as they were able to get their hands on,
In 1819, these people achieved independence from Spain and formed together with Panamá the Republic of New Granada. Only in 1886, Colombia was declared a republic – Panama then followed in 1903. Like most South American countries and Caribbean islands, today's population reflects the mix of European, African, indigenous, and Arabic heritage; yes, Arabic: Shakira is Colombian of Lebanese descendants.
Since the 1960s, the country was troubled by terrible violent conflicts. There were left-wing guerillas fighting for more equality. Right-wing paramilitaries tried to hold a grip on some weaker and stronger governments. And as if this didn't have enough potential to make people suffer, drug cartels ruled entire regions.
Things Are Slowly Improving
Beginning of the 21st century, things slowly cooled down. Today, Colombia is recovering and finally has the opportunity to prove to the world its greatest treasures: nature and people.
The country has a population of 49 million.
From the highlands of the Andes mountains to the coasts of the Caribbean as well as the Pacific Ocean. From lush rainforest to sugarcane and coffee growing – this country has so much natural wealth and beauty to offer.
Practical Information
Getting There and Around
Even relatively small towns such as Santa Marta have at least domestic airports. Flights are more frequent than buses in some US areas. When booking through their pages, Avianca and Latam have really good prices. Another site that has great flights within South America is despegar.com.
Travelling by bus in Colombia is easy and fast – whereby the latter is not necessarily a compliment.
If you don't have a very strong nerve, try not to sit close to the driver. Look rather for a seat from where you cannot see what's going on on the road.
Also, some say it is not recommendable to travel overnight.
I avoided it and if the trip was more than six hours, I rather booked a flight since I didn't want to lose too much time.
Besides the national bus companies, there are also private door-to-door shuttle services such as Marsol. These are not much more expensive, however, much more comfortable. Already because they pick you up on time.
Unfortunately, Marsol is only catering to the departamentos Bolívar and Magdalena on the north coast.
Where to Sleep
Obviously, there are all kinds of accommodations to be found all over Colombia. If you are on a budget, you find friendly hostels. And if you can splurge, you can spend hundreds of dollars on high-end accommodation.
I chose middle-range, centrally located hotels, and was mostly very happy with my choices.
You'll find them listed in the respective guides – see below.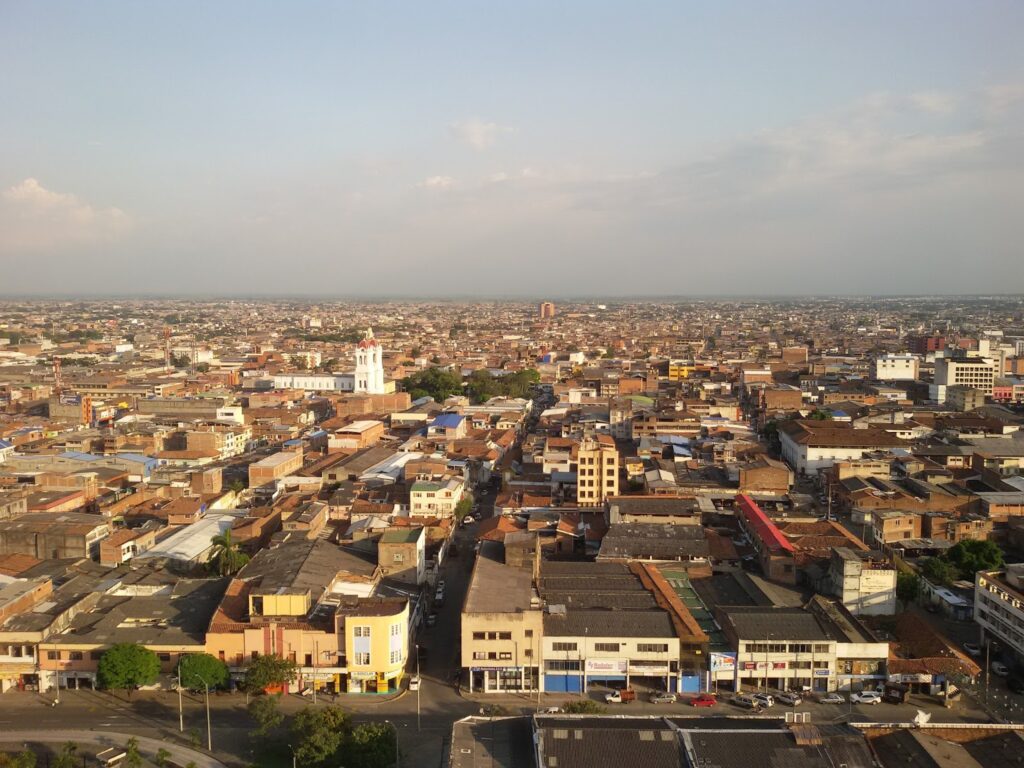 I personally like to know where I will lay my hat head as I get to an unknown city. Therefore, I always make a reservation in advance, and booking.com is, obviously, a great platform with lots of choices for every budget*:
Where to Eat
Like everywhere in Latin America, meat is king.
In this picture, you see the national dish Bandeja Paisa consisting of minced meat and some sort of steak. It's garnished with blood sausage and some other sausage. Then, there is rice, baked beans, cheese, avocado, fried banana, and a fried egg. Phew! I was not able to finish it – and I rather tend to overeat.
However, especially in the more touristy and trendy neighborhoods, there are many small, hip businesses that serve excellent vegetarian or even vegan whole food. I'm supplying you with the addresses in the guides to the individual destinations.
¡ Buon Provecho!
What to See
I'm an avid solo-travelling woman. Since solo travel doesn't equal solitude, I love to join organized tours here and there. They allow me to meet fellow travellers – for just a short moment or a lifelong friendship.
Therefore, here are some great ideas of what to do during your stay in Colombia. Especially if you have only a short time to stay, they'll enable you to make the best of it*:
You'll find more ideas in the post on the individual places.
Money
For a while now, namely since 1810, Colombia's currency has been the Colombian Peso. What might be confusing for the newbies is the official symbol which is $, sometimes COL$. So don't let anybody fool you, this sign in Colombia is not the US$.
The exchange rate is 1 US$ = 5.08 COP current rate respectively 1 €UR = 5.07 COP current rate as of November 2022. Also, credit cards are widely accepted.
Language
Yes, obviously, Colombia is a South American country and was once conquered by the Spanish. Hence, to this date, Castellano is the main official language.
Even if you don't have a great command of Spanish, you shouldn't have trouble understanding Colombians. Apart from Mexicans, they have the most beautiful accent and their pronunciation is very pure. A treat for every learner.
However, if you want to learn some basic Spanish or just brush up your knowledge, there are various apps and online tools. I personally like to practice with babbel.
Communication
Like during most of my trips where European roaming is not available, I did not get a national SIM card. I rather used free WiFi. There was a connection to the internet in many places and, of course, at basically every hostel and hotel.
If you insist on being online 24/7, you can, of course, get a SIM card. There are many different companies such as Tigo Une, Movistar, and Claro. I've heard that Claro now offers plans that cover basically all of South America – wherever you may roam, so to speak. You can get cards at shops located adjacent to major supermarkets and at malls.
Plugs in Colombia are mostly type A and B as they use for instance in the USA.
The standard voltage is 110 V and the frequency is 60 Hz. Whereby, nowadays, all these chargers for phones and readers and computers have integrated adapters. In general, voltage and frequency don't really matter.
Gone are the days when you blew your electric appliances since you forgot to switch them from 110 to 220…good times.
You'll find comprehensive travel info in my post World's Most Complete Travel Information – an indispensable globetrotter-classic.
The Route I Travelled
The Places I Visited
These are the guides to places I visited on my trip through Colombia.
Note: This post is being regularly completed, edited, and updated – last in November 2022.
Pinnable Pictures
If you choose to pin this post for later, please use one of these pictures:
Did You Enjoy This Post? Then You Might Like Also These:
* This is an affiliate link. If you book through this page, not only do you get the best deal. I also get a small commission that helps me run this blog. Thank you so much for supporting me!