An art weekend in Milan? How so?
After all, of all Italian cities, Milan probably deems the least Italian. No jolly groups sipping Aperol Spritz while playing boccia. Instead, executives rush from their stately apartment houses to offices in glittering business centers. Hardly a narrow cobblestone alley. Rather big cars on broad avenues. Few statues around. No renaissance. No baroque.
Nevertheless, if you are prepared for what to expect, Milan will not disappoint you. Therefore, let me guide you to the city's most important art venues – and beyond.
When It Rains, It Pours
Buongiorno, Milano!
We, art addicts, have a huge advantage in comparison with normal, non-obsessed people. When we land in Italy and the cielo is not as azzurro as promised in all those songs, we just pace a little. This way, we make it to the next gallery a bit faster.
No disappointment, no hard feelings.
The last time I landed at Malpensa airport, the cielo was far from being azzurro, it was actually mousy grey. Grigio – you know, as in Pinot.
Milan is actually Italy's second-largest city. It has around 1.4 million inhabitants and is also the country's leading cultural, media, and fashion metropolis. There is a university and, probably most importantly, the seat of the Italian stock exchange.
That's possibly the reason why this laid-back, dolce far niente attitude is missing. The one that even its southern big sister Rome offers. It is a highly efficient, northern Metropole.
Nonetheless, Milan is home to world cultural heritage, historically significant buildings, and art treasures.
Therefore, after a first slight disappointment, I've learned to appreciate Milan during my two weeks of wonderful Italian lessons. So now I do know that there are a couple of highly interesting venues housing highly exquisite exhibitions.
So come on, let's visit the best Milan has to offer in art – and beyond!
Gallerie and Galleries
Depending on how fit you are, you can, obviously, visit most of these venues scattered around the city center walking. Only the three venues listed at the end will probably be too far to reach on foot. Unless, of course, you stay in the respective neighborhood.
I begin with the venues that are closest to the main station Milano Centrale. However, it's about a twenty minutes walk from there to the Galleria D'Arte Moderna. Therefore, you might want to take the M3 subway towards San Donato and get off at the Turati stop. From there it's then just a short five minutes.
A good way of making the most of your stay'n'day,
Galleria D'Arte Moderna di Milano (GAM)
The GAM – short for Galleria D'Arte Moderna, the Gallery of Modern Art, covers approximately the years from 1800 to 1900. It is housed in a neo-classicist villa. This mansion was built in the 18th century as Count Ludovico Barbiano di Belgiojoso's not-so-humble home.
They are celebrating the era of modern art in paintings and sculptures displayed in beautifully decorated rooms.
A visitor commented in the guest book "Arte Moderna – certainly not Toulouse-Lautrec and Renoir". Even though this is a rude comment, every country had its gilded art era. They were defined depending on the country's political, social, and economical situation.
Obviously, Italy's great eras were the renaissance and the baroque.
However, also Italian symbolism is just exquisite.
Therefore, I'd recommend a visit to this venue. Actually, also for the building itself respectively the old decoration of some parts of the galleries.
Galleria D'Arte Moderna di Milano
Via Palestro 16
20121 Milano
Phone: + 39 – 02 – 88 44 59 43
E-mail: c.gam@comune.milano.it
Open from Tuesday to Sunday from 9 a. m. to 5.30 p. m.
Padiglione d'Arte Contemporanea (PAC)
From the GAM, it's about one minute to get to the PAC, the Padiglione d'Arte Contemporanea.
Over the years, I've seen nothing but extraordinary exhibitions there. Interestingly, art from countries that are not that much in the art world's focus. There was a great show on Cuban art. Also, African countries like Cameroon and Congo were presented at the show "Africa. Raccontare un mondo/Africa. Telling a World".
To me, the PAC seems to be a venue one should never skip when in Milan.
Padiglione d'Arte Contemporanea (PAC)
Via Palestro 14
20122 Milano
Phone: + 39 – 02 – 88 44 63 59
Open Tuesday to Sunday from 9.30 a. m. to 7.30 p. m. – however, Tuesday and Thursday to 10.30 p. m.
Pinacoteca di Brera
To get to the Pinacoteca from the Indro Montanelli gardens that are adjacent to the GAM and the PAC, walking is the best option. Going by public transportation would be so complex – it's simply not worth it.
The Pinacoteca di Brera is actually one of Italy's most important art museums. It is housed in the baroque Palazzo di Brera. This palace used to be a Jesuit college until the second half of the 18th century.
The focus of the permanent collection is the northern renaissance and baroque periods. However, you'll also find masterpieces from antiquity and Dutch baroque paintings.
Pinacoteca di Brera
Via Brera, 28
20121 Milano
Phone: + 39 – 02 – 72 26 32 30
Opening hours are Tuesday and Wednesday from 9.30 a. m. to 1.30 p. m. From Thursday to Sunday, from 2 p. m. to 6.30 p. m.
Palazzo della Triennale
Getting from the Pinacoteca to the Palazzo della Triennale, you can actually take subway M2 from Lanza to Cadorna. It's just one stop. As a matter of fact, taking the subway or walking takes more or less the same time.
So if the weather is nice and you're in the mood for walking, walk. If it's raining, take the subway; whereby, it's Milan, you'll still have to walk.
The Palazzo dell'Arte was built between 1931 and 1933. It is located on the western side of Parco Sempione and houses the Milan Triennale.
The Milan Triennale is an international cultural institution. It organizes exhibitions, conferences, and art events including design, architecture, fashion, and cinema. On an international level, however, it is much less famous than the Biennials in Venice,
Since 2007, the Palazzo also hosts the Triennale Design Museum. Then, since 2011, also the Teatro dell'Arte, one of Milan's most significant institutions when it comes to performing arts.
The last time I paid them a visit, it was quite irritating. There was a theater festival, and everybody was all hyper. There were long queues and I felt a tad confused and completely out of place.
Everything For Big And Small
However, they had a quite neat exhibition on design for kids that I've recommended to some other guests at my B&B. She was in Milan with a small child and it was still pouring.
There were many kids, and I'm happy that their parents introduce them to the world of exhibitions. After all, it might hold them back from slapping their flat hand on a Kandinsky painting like a maybe 8 years old girl did at the Museo del Novecento.
Only when her mother saw me hyperventilating, she told her better not to slap Kandinsky.
Palazzo della Triennale
Viale Alemagna 6
20121 Milano
Phone: + 39 – 02 – 72 43 41
Email: info@triennale.org
Open Tuesday to Sunday from 10.30 a. m. to 8.30 p. m.
Castello Sforzesco
You just need to cross the Parco Sempione to get to the Castello Sforzesco, one of Milan's most stately structures.
This castle is a splendid example of Renaissance architecture. It was built in the 15th century under the rule of the Sforza family. It was the seat of the Dukes of Milan.
Today, the castle houses various museums and galleries so that you could spend an entire day there. There is the Archeological Museum, there are instruments, there are paintings – and there are the endless hallways to be explored.
One of the most important pieces, however, is indisputably the Pietà Rondanini, Michelangelo's last and unfinished work. In this work, the aging master renounces the perfection of the body and its heroic beauty. He shows the dead Christ as an emblem of suffering. Therefore, it's amazingly congruent with how they set it up in the ancient Spanish Hospital in the castle's Cortile delle Armi.
Castello Sforzesco
Piazza Castello
20121 Milano
Phone: + 39 – 02 – 88 46 37 00
The castle's premises can be visited for free every day between 7 a. m. and 7.30 p. m.
For the exhibitions, however, you need a ticket. They are open from Tuesday to Sunday between 9 a. m. and 5.30 p. m.
Cenacolo Vinciano
Another ten minutes further west is Milan's greatest treasure, Leonardo da Vinci's Last Supper at the church Santa Maria delle Grazie.
Don't even think about just waltzing in whenever you like. You have to either book online or call a hotline days ahead. You have to pick a precise visiting time – and we're talking minutes here.
On the day of your visit, you have to show up thirty minutes ahead to pick up your ticket.
I've described my visit in a former post – you might wanna check it out to be prepared; or to compare it to your experience.
Cenacolo Vinciano
Santa Maria delle Grazie
Via Giuseppe Antonio Sassi 3
20123 Milano
For your reservation, call + 39 02 92 80 03 60. Note that you can buy a maximum of five tickets at a time.
The Cenacolo can be seen Tuesday to Sunday between 8.15 a. m. and 6. 45 p. m.
Biblioteca Ambrosiana
To admire another outstanding masterpiece, you can either walk one mile east. Or you hop on the M1 at the Conciliazione stop and get off after three stops at Cordusio.
Around the corner is the Biblioteca Ambrosiana.
I will not lie to you, I found the visit rather a waste of time since the paintings exhibited are….let's call it subprime.
However, after wandering through large halls full of second-rate art, I finally go to the very library. And there it was, the reason for my visit: A small still life painted by Caravaggio.
Many art historians see Caravaggio's fruit basket from around 1599 as the first independent Italian still life. In any case, it is considered to be one of the earliest. Moreover, it is Caravaggio's only surviving autonomous still life and the smallest picture he has ever painted.
So if you could care less about these fascinating facts, just skip the Biblioteca since the rest is definitely not worth your time.
Biblioteca Ambrosiana
Piazza Pio XI 2
20123 Milan
Phone: + 39 – 02 – 80 69 21
The Pinacoteca with the bad paintings is open from Tuesday to Sunday from 10 a. m. to 6 p. m. The Biblioteca with Caravaggio's still life, however, from 9 a. m. to 5 p. m.
Duomo
The Duomo, hence, the iconic Milan Cathedral, is a Roman Catholic church and, obviously, the cathedral of the Archdiocese of Milan.
It is one of the largest churches in the world.
Started in a Gothic fashion in 1386, the cathedral was not completed even at the final consecration in 1572. The facade was added only in the Napoleonic period.
A door is not enough. Therefore, there are five portals leading inside the duomo. The most beautiful one is, of course, the central, main portal with bronze doors showing the seven delights of Mariae compared to the visualization of her seven pains.
However, to the visitors, the cathedral's most special feature is the roof that can be walked on. It can be reached either via a staircase or an elevator. From there, you have an excellent view of the details of the stonemasonry of the cathedral.
Furthermore, you can see the panorama of the entire city and on clear days even the Alps.
Once you're back on the ground, don't forget to pay the Duomo Museum a visit. It's located across the street inside the Royal Palace. There, you can take a close look at the sacral treasures.
The Duomo is open every day from 8 a. m. to 7 p. m. The museum can be visited from Thursday to Tuesday between 10 a. m. and 6 p. m.
There are various combi-tickets available – including a fast-track version. Before visiting, you should check out on their website the version that suits you best.
Museo del Novecento
I love the Novecento for its architecture and its location and the views from the 4th and 5th floor.
I'm not so crazy about it for the art: Severini, Balla, Carrà – I'm not that fond of Italian futurism. Albeit, the Novecento surely celebrates its masters, mainly Boccioni whom I particularly dislike.
However, there are some Fontanas, some De Chiricos as well as Pistoletto. Also, they have great temporary shows.
Since you have to go there for the architecture and the views from the 4th and 5th floor, it doesn't hurt to take a look at their events, too.
900 Museo del Novecento
Via Marconi 1
Milano
Phone: +39 – 02 -88 44 40 61
Email: c.museo900@comune.milano.it
Armani Silos
Giorgio Armani installed Armani / Silos in 2015 on the occasion of his 40th anniversary. He chose to present his most memorable works at a former granary built in 1950.
On about 4,500 square meters, a unique selection of creations since the 1980s is arranged on four floors. Giorgia Armani himself designed and commissioned the project.
Armani / Silos
Via Bergognone 40
Mailand
Phone: +39 – 02 – 91 63 00 10
Email: info@armanisilos.com
Usually, the Silos can be visited from Wednesday to Sunday between 11 a. m. and 7 p. m.
Note: At this moment as in June 2020, however, they are open only Saturdays and Sundays between 11 a. m. and 7 p. m. Also, you need a reservation. You can reach their office daily from Monday to Saturday between 9 a. m. and 6.30 p. m.
Giorgio Armani is not the only creative genius who presents beauty in an initially inhospitable place. Ugly can be just gorgeous, every fan of industrial chic knows that. Therefore, numberless art venues are to be found in abandoned industrial sites. These, obviously, have also the advantage to offer enough space even for humongous installations.
Pirelli HangarBicocca
One of those giants is the Pirelli HangarBicocca, located 7 kilometers north of the city center. You can get there by subway M1, getting off at the Sesto Marelli station.
Walking to the Hangar, you will get to know a pretty ugly neighborhood – but that's one side of Milan, too.
The center of this art venue is the so-called Cubo, an exhibition space for temporary shows. In addition, there are smaller halls – which are huge, too, take it from me. One of them houses my very favorite installation by German start-artist Anselm Kiefer.
The Seven Heavenly Palaces
So one of the highlights of the HangarBicocca gallery, established in 2004 on a former industrial site, is the humongous installation The Seven Heavenly Palaces by Anselm Kiefer.
It consists of seven towers made of concrete and other construction material, 14 to 18 meters high. Seriously, at which other venues could he have installed something like that?!
You'll find another amazing installation by Anselm Kiefer in my post on the Biennial of 2022 in Venice.
Efêmero
Even before you reach the site, which by the way covers 15.000 square meters, you can enjoy a great piece of art – namely street art. The Brazilian twins Gustavo and Otávio Pandolfo who adopted – very clever! – the name Osgemeos, meaning twins, decorated one part of the hangar with their graffiti. This is the first of the "Out of the Cube"-project the gallery initiated.
You'll find another great mural by the famous street art twins in my post on São Paulo in southern Brazil.
#arttothepeople is this gallery's motto, hence entrance is free.
I personally find that this for one sounds a bit marieantoinett-ish. Plus, I'm a bit torn when it comes to free entrance.
In London, all public permanent exhibitions are free and I saw people – kids and grownups alike – doing the most incredible things to the exhibits like touching paintings and climbing on statues to take pictures. Museums degenerated into playgrounds and covered markets. If that's the result of free entrance, please triple whatever you're charging now!
Pirelli HangarBicocca
Via Chiese 2
20126 Milano
Phone: +39 – 02 – 66 11 15 73
Email: info@hangarbicocca.org
Fondazione Prada
While the HangarBicocca is in the middle of nowhere all the way North, you have to cross town to the South East to get to another posh venue founded by another stinking rich company: Prada. Here, my appreciation goes out to all those people who shop their stuff and, thusly, finance their foundation.
Fondazione Prada has venues in two Northern Italian cities, Milan and Venice. The Milan branch used to be a distillery and was transformed into an art gallery the size of 19.000 square meters. Also, three new buildings were added to the existing seven.
Most of the space is reserved for temporary exhibitions,
Processo Grottesco
There is a permanent exhibit of Thomas Demand's Processo Grottesco. It's a grotto that Demand built from layers of cardboard. Eventually, he photographed it in a way that you have to look really close to see that it's not real; like he does with all motives of his photographs.
The other permanent exhibition is at the so-called "Haunted House". There are installations by Louise Bourgeois on the two lower floors and by Robert Gober on the three upper.
Since the "Haunted House" is very narrow, it can be visited only in certain time slots.
Fondazione Prada Milano
Largo Isarco 2
20139 Milano
Phone: + 39 – 02 – 56 66 26 11
Email: info@fondazioneprada.org
Open Wednesday to Monday from 10 a. m. to 8 p. m. (Friday, Saturday, and Sunday to 9 p. m.)
Tip: Keep your ticket since it gives you free access to the observatory at the Galleria Vittorio Emanuele II.
Galleria Vittorio Emanuele
From 1865 to 1877, Giuseppe Mengoni built the Galleria Vittorio Emanuele II, the oldest covered shopping arcade in the world.
Cimitero Monumentale
The Cimitero Monumentale is the largest cemetery in the city.
It is located all the way in the north-western area in the Garegnano neighborhood. Taking the old tram #33 is the most alluring way to get there.
The cemetery was inaugurated in 1895 in the once-peripheral district of Gargnano. Today, however, it's just a neighborhood of Milan. It can be reached from the city center within less than half an hour.
The Cimitero Monumentale was built on the grounds of the ancient Bosco della Merlata.
You may ask why, but it's a fact that I've seen many, many cemeteries around the world. Also those superstars among the graveyards like Père Lachaise in Paris, Prazeres in Lisbon, and La Recoleta in Buenos Aires.
The Cimitero Monumentale, however, is the most impressive one due to the amazing statues decorating those last resting places.
Therefore, I highly recommend a visit.
Cimitero Monumentale
Piazzale Cimitero Monumentale
20154 Milano
The cemetery can be visited from Tuesday to Sunday between 8 a. m. and 6 p. m.
At the end of my grand art tour, I had great plans to get a wonderful Aperitivo at my favorite waterhole.
But it was raining so hard and I was soaked. So I just grabbed some grilled chicken and some Gnocchi at the supermarket next door.
Nonetheless, guys, after this weekend I was so ready to write the rain-part of the 24 hours in Milan-post. Which, however, also consists of an inspiring itinerary for a sunny day in beautiful Milan.
Map
On this map, you'll find all the wonderful places I'm introducing in this post.
Clicking on the slider symbol at the top left or the full-screen icon at the top right will display the whole map including the legend.
Practical Information
How to Get There
By Plane
Milan has three airports: Malpensa, Linate, and Bergamo.
Linate mainly serves national and European travel and Bergamo caters mainly to low-cost airlines.
Malpensa, however, is the country's second-largest airport after Rome-Fiumicino.
At each of the airport's terminals is a train station. It connects the airport with the city of Milan and the surrounding region. A one-way ticket sets you back 13 €uros.
There are several bus companies offering shuttles from and to the Milano Centrale train station. They are significantly cheaper than the train: 5 €uro one way, 9 €uro round trip.
Bus service is also offered from and to Linate as well as Bergamo.
It's also possible to go straight from Malpensa to Linate – or vice versa. This is a great option in case you have a tight connection and cannot visit the city.
By Train
I know that Italian trains do not have a great reputation. I cannot subscribe to that. Having taken tons of trains in Italy, I never ever had to face major disruptions or problems.
Compared to other European countries, train travel is very cheap – if you book well ahead, even in first-class coaches.
Also, trenitalia, the national train company, has a very clear, well-functioning website. Here you can make a reservation and, hence, take advantage of great offers.
However, there's one thing you have to be aware of when travelling to or from Milan. They have loads of train stations, whereby the most important are Milano Centrale and Cadorna. So when buying a ticket, always make sure to check the specific station in Milan
Long-distance Bus
Travelling by bus is getting really popular in Europe. Although it's a bit slower than taking a train, it's often even more reliable and certainly much cheaper.
In Milan, there are three terminals: Lampugnano, Farmagosta, and San Donato. Hence, here, too, check the exact destination. For instance, going to Rome by Flixbus, you'll leave from Lampugnano. This trip, by the way, starts at about 15 €uro and takes about nine hours.
How to Get Around
Obviously, there is a comprehensive system of public transportation in Milan. There are buses, trams, and even a subway. And still, there are so many places really badly connected and far from the stops. Therefore, you still have to do a lot of walking.
I personally don't mind walking. For people who aren't that fit or a bit gimpy, however, this might be a small issue.
A single ticket costs 2 €uros and is valid for 90 minutes after stamping. During these 90 minutes, you can travel as much and as often as you like. Hence, if you're fast, you can use your single ticket even for a round trip. This ticket is valid also all the way to Rho Fieramilano although it's located outside the inner city area.
You can buy this ticket via SMS by sending a message to 48444 and typing ATM.
You can save a little money by buying a so-called Carnet of 10 Standard tickets for 18,00 €uros.
For frequent travellers, the One Day or the Three Days Pass might be of interest. For 7 respectively 12 €uros, these passes are valid for 24 respectively 72 hours after validation.
Best Deal for Visitors
Talking 'bout passes: The most convenient one for visitors is definitely the Milan City Pass.
It grants unlimited access to all means of public transport within the Milan urban area. In addition, you get free or discounted access to museums, tours, restaurants, tourist attractions, as well as the airport bus. There are even unusual perks. For instance, it includes 5 €uro-credit on a cab ride and a free drink at a bar.
There are three versions of the MilanoCard. One day costs 11 €uros, two days 17 €uros, and three days 19,50 €uros.
You can purchase the Pass on their website. You then need to download their app and activate it with a code that you'll receive by email.
Where to Stay
Milan is a big city and landmarks and places of interest can be found practically everywhere in the city. My favorite neighborhood is around Porta Venezia south of Milano Centrale, but that's a very personal choice. Basically, every neighborhood has some lovely and alluring corners.
Therefore, here is a big choice of places in every neighborhood and for all budgets*:
Where to Eat
Where to Eat? Everywhere – it's Italy, after all.
Besides the many restaurants, I particularly love to feast on Aperitivi. Aperitivo is a fantastic Italian invention. In the early evening before dinnertime, you go for a drink and feast on some complimentary niblets. What exactly you get depends on the business.
There are places that charge something like five €uros for an Aperol Spritz or any other long drink. You get some peanuts, crisps, or small chunks of focaccia and pizza with your drink.
In other places, you pay seven or eight €uros. But here the niblets are actually an entire dinner with small sandwiches, salads, pasta, you name it. I even had curry at my favorite Aperitivo-place!
Most of the time, if you choose so, an Aperitivo can replace an entire dinner.
You'll find two of my favorite Aperitivo-places on the map above.
The Exquisite Side of Fastfood
Unfortunately, it shows that I'm a sucker for carbohydrates. Therefore, Italy to me is heaven! Not only for the pasta. Mainly for all those snacks to go: Pizza, Focaccia, Pannini – dough everywhere.
As a solo-traveller, I'm not that keen on sitting down for a big lunch. Grabbing a snack to go is just fine. And in Milan, those snacks are offered basically at every corner.
Another thing I love in Italy is the convenience food you get at supermarkets and smaller delis. There are various kinds of pasta, arancini, gnocchi, there are pot roast, and grilled chicken, accompanied by salad and roast potatoes. Everything is very tasty – and very Italian.
So if your accommodation has a microwave, buying food at supermarkets or delis is a great alternative. This way, you'll get a full Italian meal and still save a lot of money.
My favorite deli in Milan is marked on the map above.
Cash And Cards
Until now, 20 European countries replaced their former local currency with the €uro starting in 2002. Obviously, Italy is one of them. The exchange rate is 1 US$ = 0.94 EUR as of January 2023. However, you can check today's conversion rate on this page.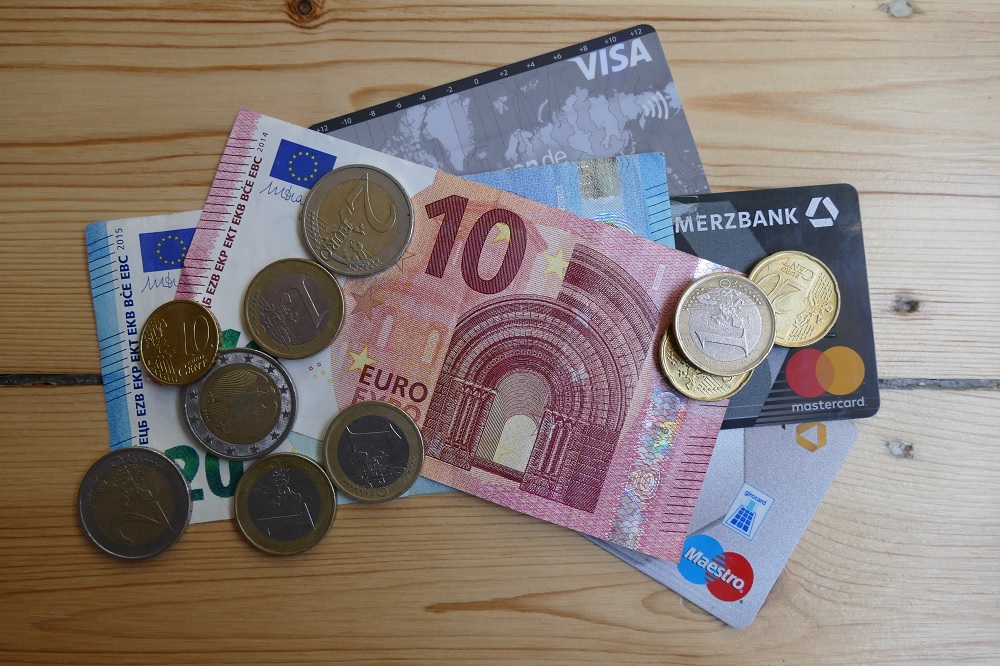 Cards are accepted basically everywhere.
Language
In Milan, many people speak decent English. However, older people don't really like to speak it, even when they are working in the service and tourism sector. As a matter of fact, Italians can deem quite harsh and even unfriendly. If you don't want to spoil your vacation with other people's rude attitudes, just ignore it. You won't be able to change it, anyway.
Anyway, you might want to learn some basic Italian vocabulary on babbel.
Connection and Communication
If you have a European mobile phone contract, no roaming charges apply within the EU. This applies to all 27 countries of the European Union as well as Iceland, Liechtenstein, and Norway.
The EU roaming regulation applies to all contracts.
Andorra, San Marino, Monaco, and Switzerland are excluded because they are not EU members. In the three smallest countries, however, you can log into the mobile network of a neighboring EU state. This way, you can still use the EU conditions.
The standard voltage in Europe is 220 V and the frequency is 50 Hz. In Italy, they use three plug types, namely C, F, and L.
Whereby, since nowadays, all these chargers have integrated adapters, in general, the voltage and frequency don't really matter.
You'll find comprehensive travel info in my post World's Most Complete Travel Information – an indispensable globetrotter-classic.
Pinnable Pictures
If you choose to pin this post for later, please use one of these pictures:
Note: This post is being regularly completed, edited, and updated – last in January 2023.
Did You Enjoy This Post? Then You Might Like Also These:
*Obviously, this is an affiliate link. If you book through this page, not only do you get the best deal. I also get a small commission that helps me run this blog. Thank you so much for supporting me!