Crossing the Tramuntana Mountains from Mallorca's posh yacht harbor Port d'Andratx to the secluded port town of Sant Elm, you'll find yourself surrounded by all those breathtakingly beautiful sceneries – definitely a hike with a view.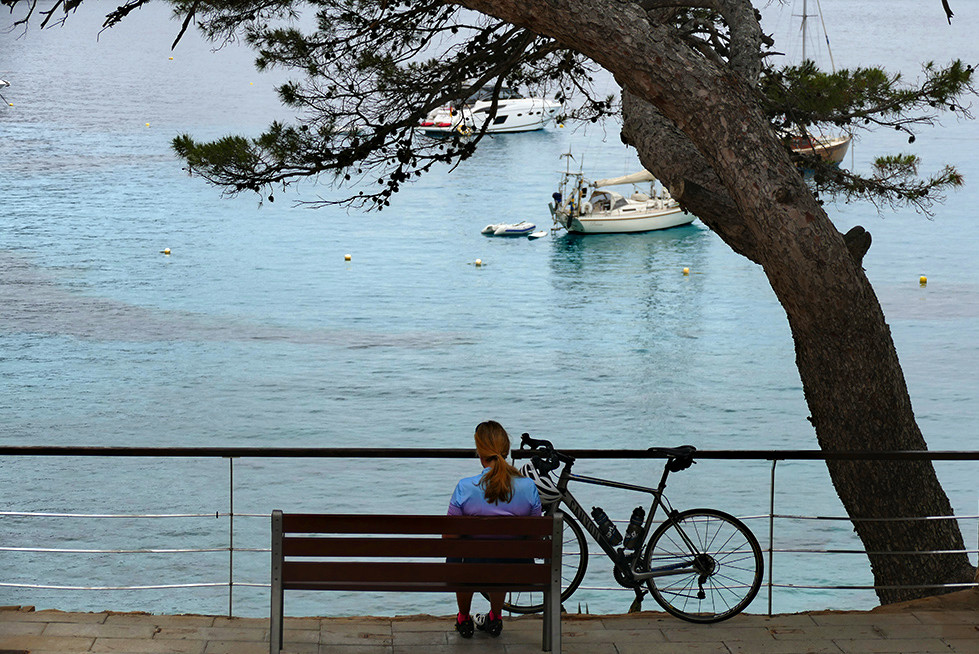 Andratx
Andratx is a municipality in the western part of Mallorca. The name in its current form was first mentioned in a document from 1236. Amazingly, 25 different explanations of the name's origins were recorded between the 13th and 19th centuries, ranging from the Celtic name Andraquis to the Arabic word Indiraq. However, just so you know, the men of the community are called andritxol, the women are called andritxole.
Since the island was ravaged by numerous North African pirates in the Middle Ages, it was inevitable to build a defense system of numerous towers. Of the total of 14 towers in the area, 12 exist to this date.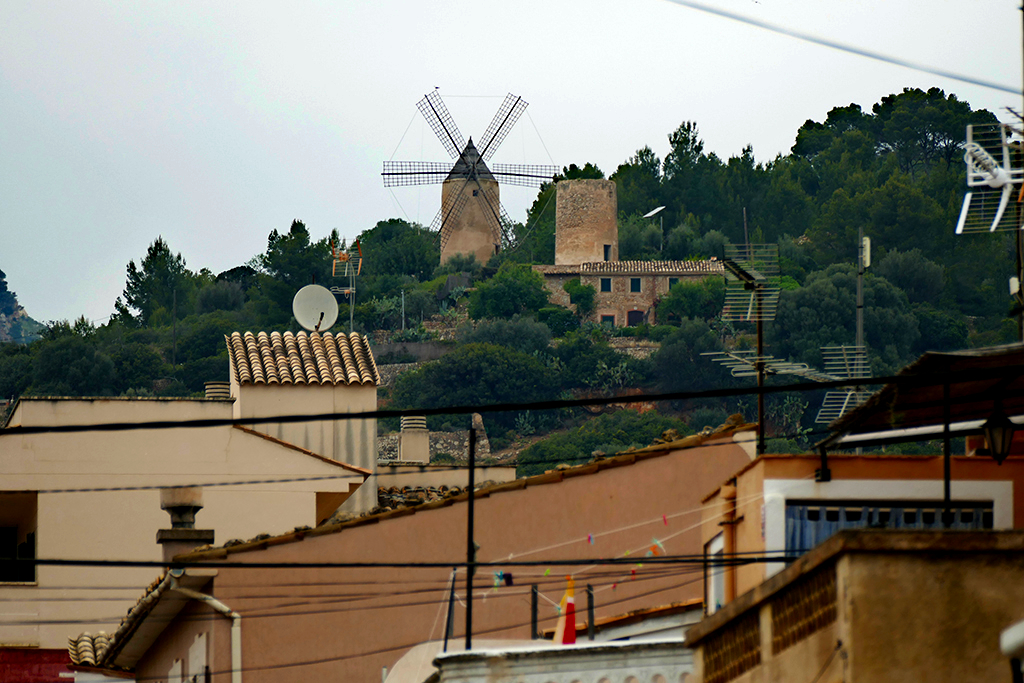 As in many places in Mallorca, Andratx's cityscape is characterized by a mixture of old European and colonial architectural features. Outstanding, however, is the division of the urban area into an upper part, dominated by Baroque and Gothic structures, and a more recent lower part of the city. There, you can linger on narrow streets and check out the local specialty shops as well as a farmer's market that takes place on Wednesdays.
If you have enough time, make sure to visit the Gothic church of Santa Maria, which was built in 1236 and rebuilt in the 18th century. From the forecourt, you have an excellent view over the roofs of Andratx.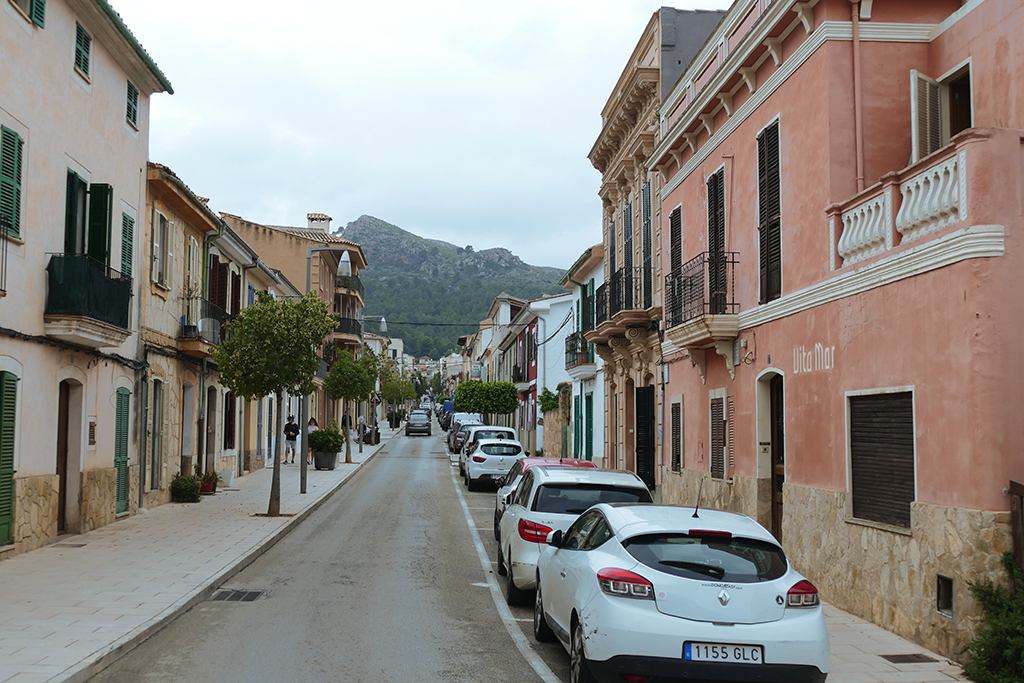 Famous Danish gallery owners and curators Jacob and Patricia Asbeak founded the Centro Cultural Andratx – short CCA – hence, the center for modern art in 2001. The gallery is located about 1.5 kilometers north of the city center. The museum is one of the largest centers of contemporary art in Europe. Every year, there are three to four international exhibitions with artists from all over the world.
Liquid Sunshine
Andratx is surrounded by eight mountain peaks from the lowest being Talaia des Cap des Llamp with a height of 319 meters to the highest Moleta de s'Esclop with 927 meters.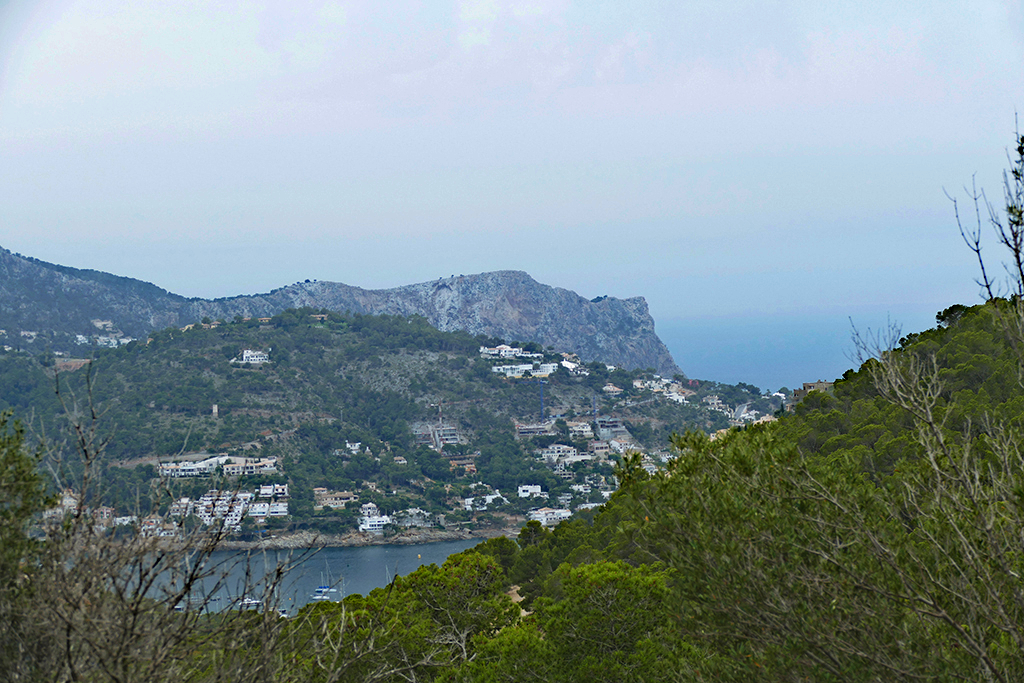 Surrounded by these slopes and olive groves, the valley is like a containment basin for cloud masses advancing from the west. So it's no wonder that Andratx has the island's highest annual average of precipitation. Consequently, packing a rain skin into your day pack is definitely a good idea.
Port d'Andratx
Port d'Andratx is located in a picturesque setting about 5 kilometers southwest of downtown Andratx. Many consider it the prettiest port in the Mediterranean. In any case, it is a stylish port with a well-equipped and well-maintained yacht club that has more than 450 berths.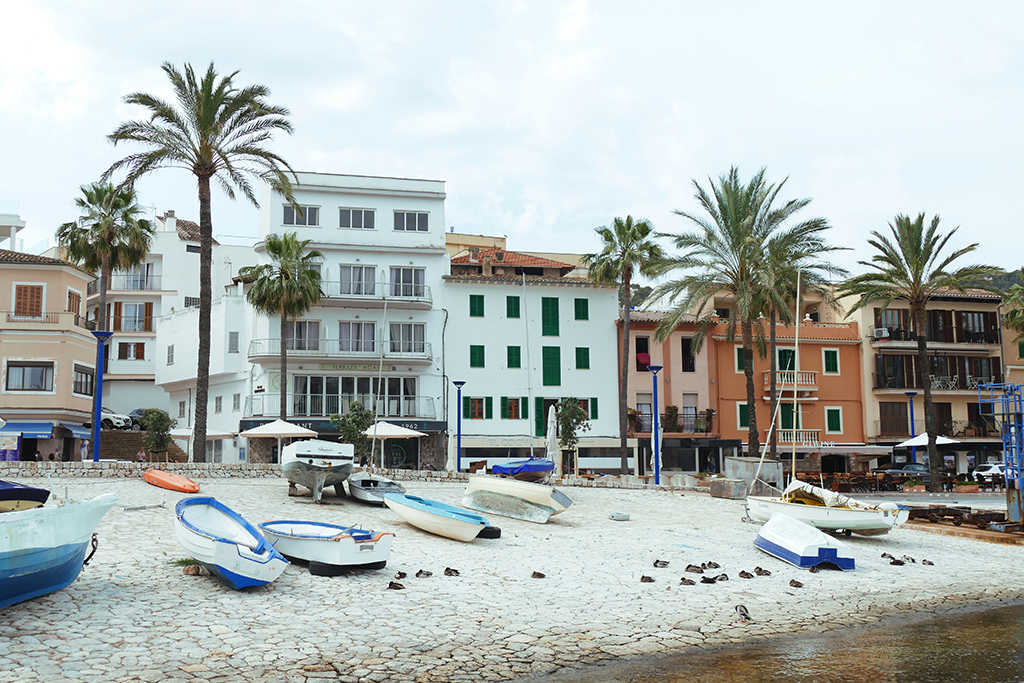 International celebrities from the world of film, television, politics, and the fashion industry can be spotted at the tapas bars and cafes along the waterfront.
The port is located on a fjord-like bay, apparently, one of the most beautiful on the Balearic island. The foothills of the Tramuntana Mountains reach all the way down to the coast.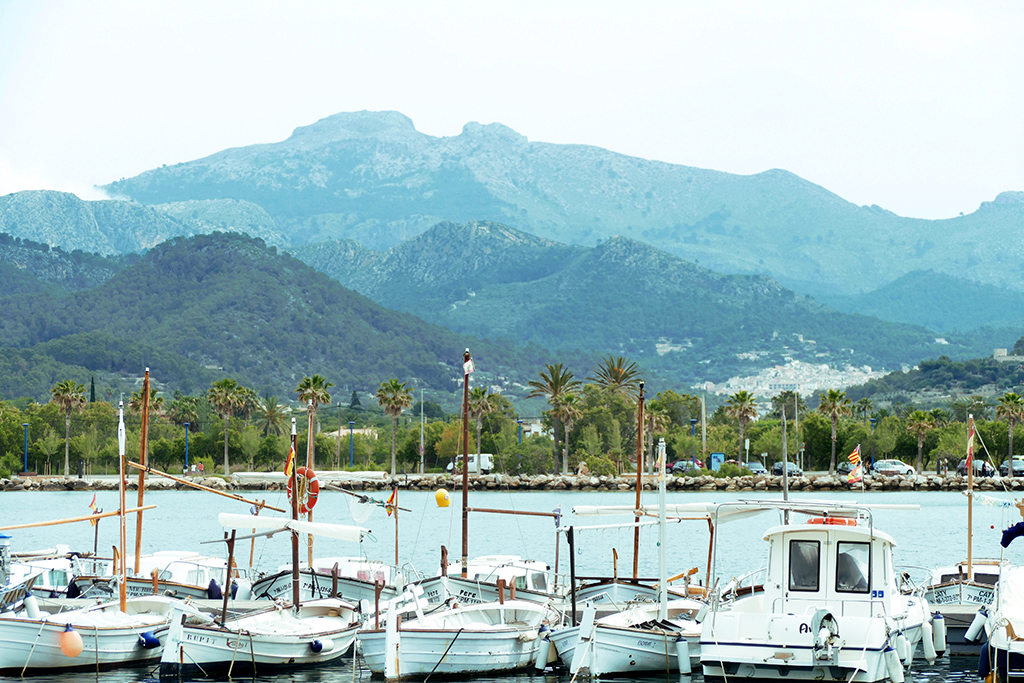 Port d'Andratx only got its current appearance with the advent of tourism in the 1960s. Until then, Port d'Andratx was just a small fishing port. Therefore, there are no historical buildings of great cultural or historical. Port d'Andratx's strongest suit is undoubtedly the surrounding sceneries.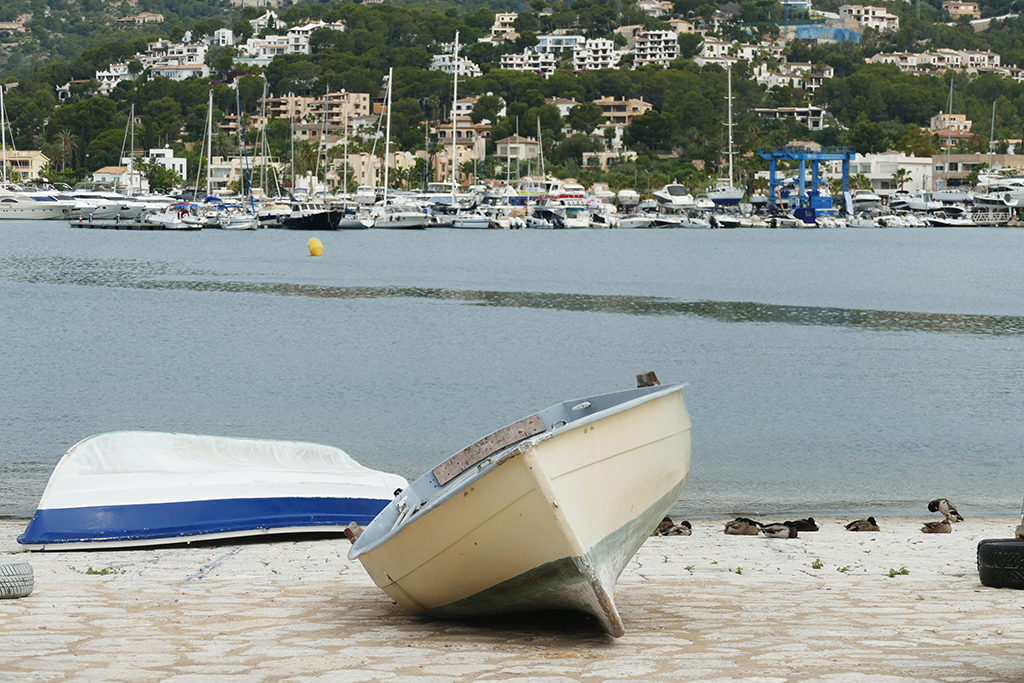 Notwithstanding its numerous high-class restaurants and posh bars catering to the rich and famous, Port d'Andratx is still a full-functioning fishing port. Hence, just like Otis Redding, you can sit on the dock of the bay and watch the time and fishermen passing by.
Sant Elm
Sant Elm is a small town on Mallorca's westernmost land point. There is a 180-meter long sandy beach and some smaller islets off the shore.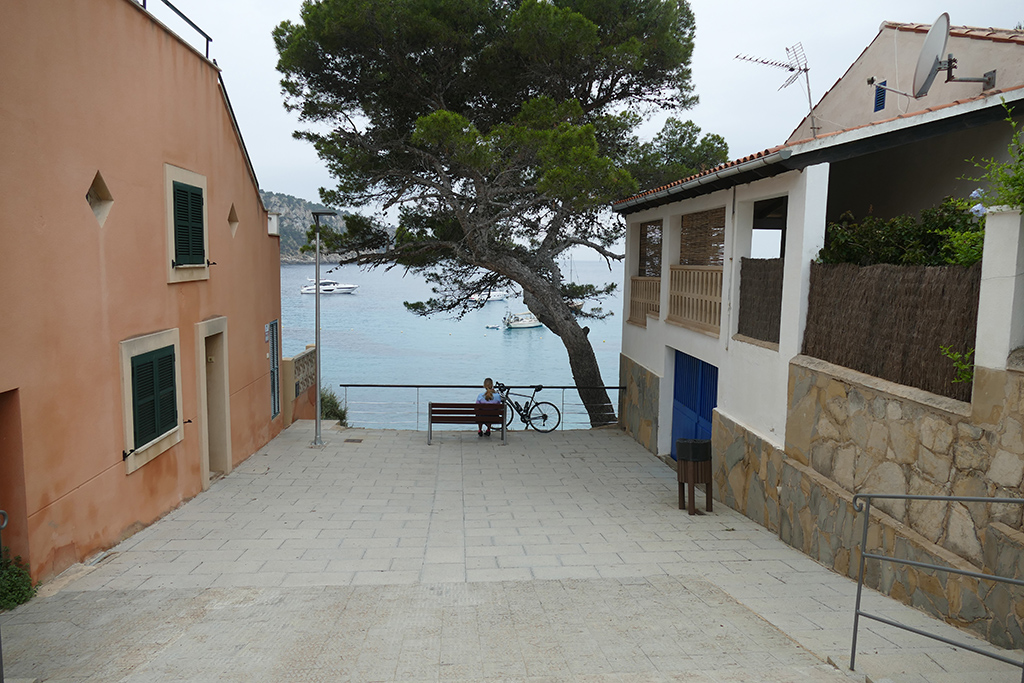 The settlement consists mainly of smaller hotels and summer residences. Actually, there are only few permanent residents or locals living at Sant Elm.
The village can be reached from Andratx via the village of S'Arracó on a winding road through the mountains.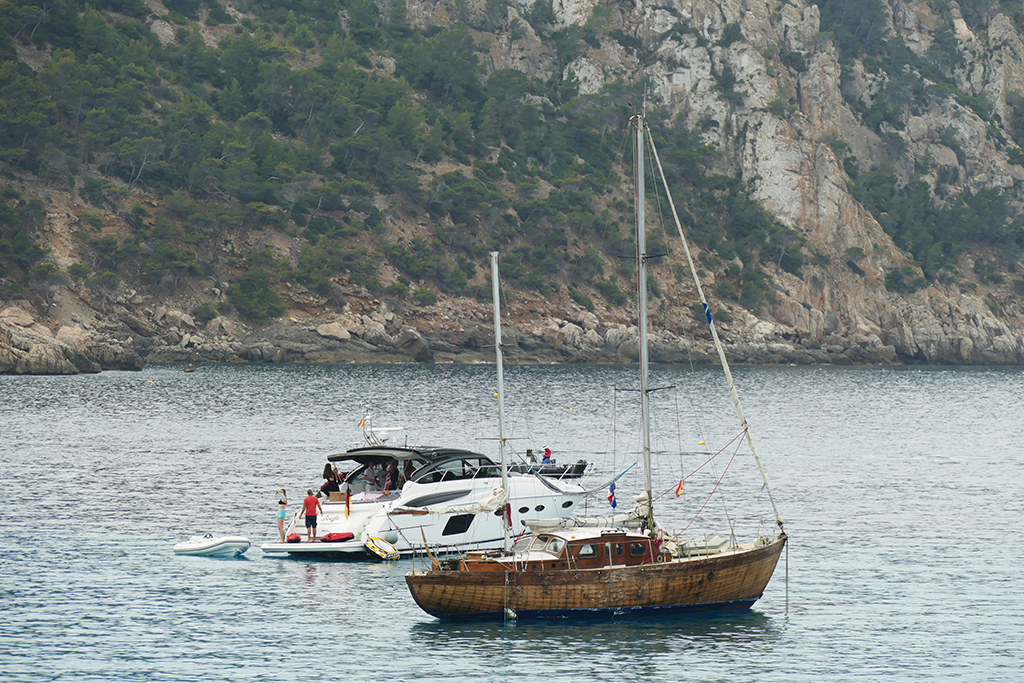 Off the beach of Sant Elm is the small island of Es Pantaleu. However, more famous is the island of Sa Dragonera. It has become an icon of the struggle for the preservation of nature in the Balearic Islands.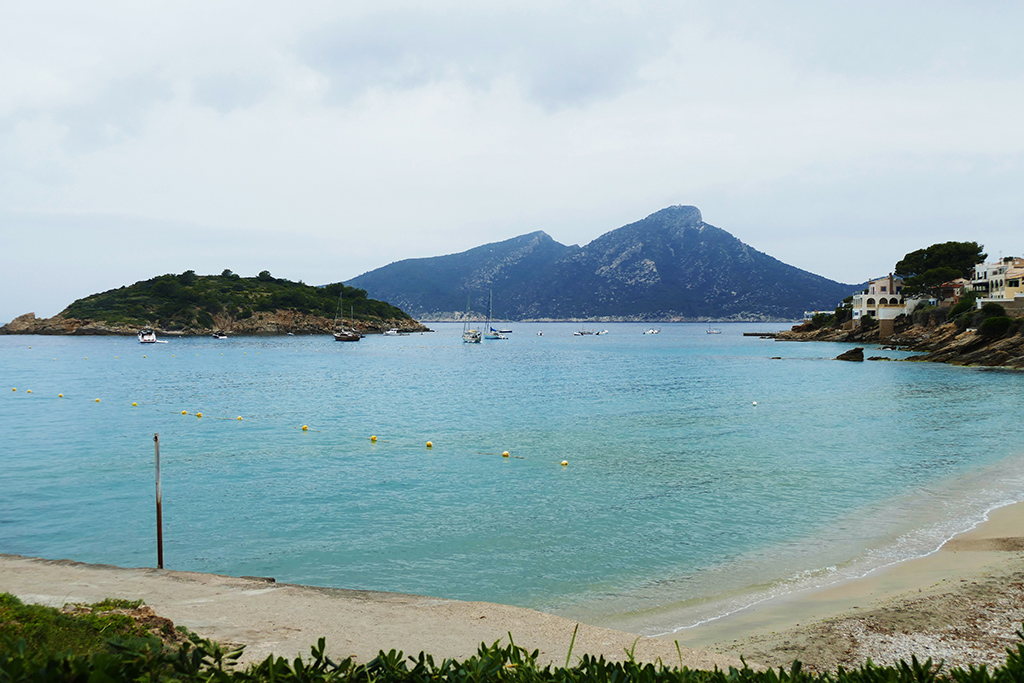 In 1974, the PAMESA banking consortium bought Sa Dragonera and planned on building a holiday village with 1,200 houses, a marina for 600 yachts, helipads, and a casino. Thanks to conservationists and broad support from the Malloquins, the Audiencia Nacional de España, Spain's National Court of Justice, issued a construction ban on the island in 1984. Then, in 1987, the Mallorcan Island Council bought Sa Dragonera to convert the island into a protected area.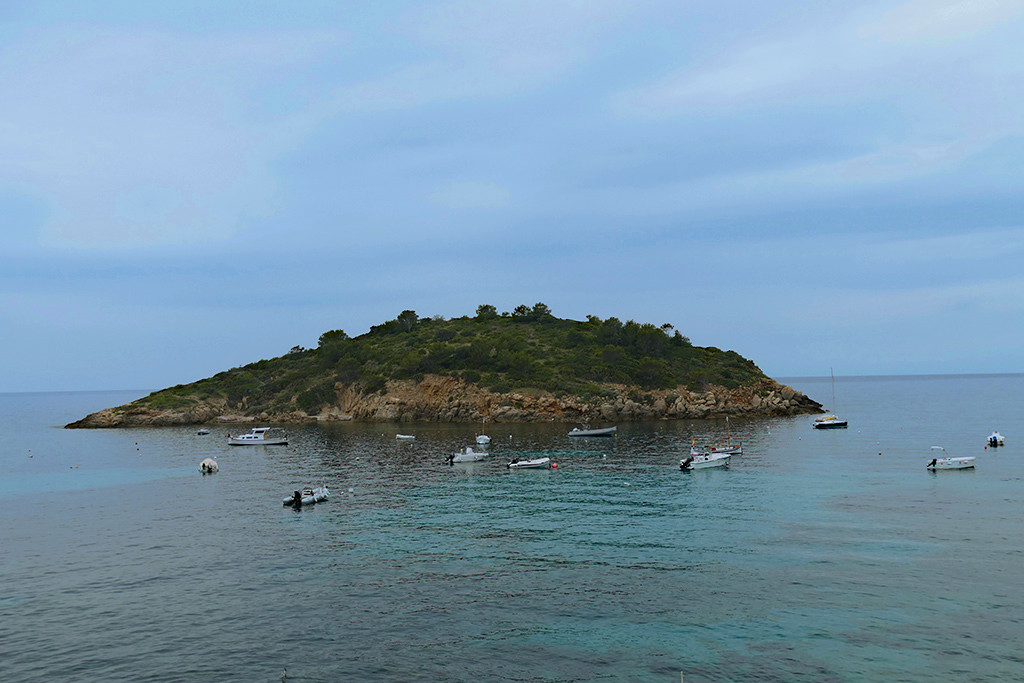 Together with the neighboring islands of Pantaleu and Sa Mitjana, Sa Dragonera has been a protected Parque Natural since 1995.
After all, a quarter of the regional species can be found on the island – about 5% of which are endemic. Yet, most of the island's area is overgrown by Mediterranean maquis, but also rosemary bushes are growing in abundance.
You can reach the island by boat from Sant Elm and then explore it on your own on three different hiking trails.
Sa Trapa
Another very popular tour from Sant Elm is a hike to the Sa Trapa monastery.
As a matter of fact, the village is the starting point of the famous long-distance hiking trail GR221. This so-called Ruta de Pedra en Sec, hence, the route of the dry stone walls, stretches all the way from Port d'Andratx to Pollenca
Trappists expelled from France founded the Sa Trapa monastery in 1810. Trappist is short for a Cistercian order of the Roman Catholic Church.
After fourteen years, the state closed the monastery down so that the Trappists had to abandon it again. Some of the structures are still well-preserved. You can still visit the terraces, gardens, and the remains of the mighty baobab tree, once the largest in Mallorca.
I must admit that I was quite tired after my hike from Port d'Andratx to Sant Elm. Therefore, I just enjoyed some overpriced refreshments at one of the village's many restaurants and did not make it in addition to Sa Trapa. However, I spoke to two French girls who did the opposite, hence, they went to Sant Elm by bus and hiked to the monastery and back. They told me that the tour was not that easy and they even had to pass some parts on their bottom. Hence, if you go, make sure to wear good hiking shoes with a high shaft to protect your ankles.
Hiking From Port d'Andratx to Sant Elm
The hike to Sant Elm starts close to the yacht club. Coming from the village on the Avinguda de Gabriel Roca i Garcías, turn right into Carrer Aldea Blanca Calle and at the next bifurcation left into the Carrer de Cala d'Egos. First, this asphalted road is winding uphill in serpentines. Later, it becomes a well-graded dirt road. This is the least alluring part of the hike.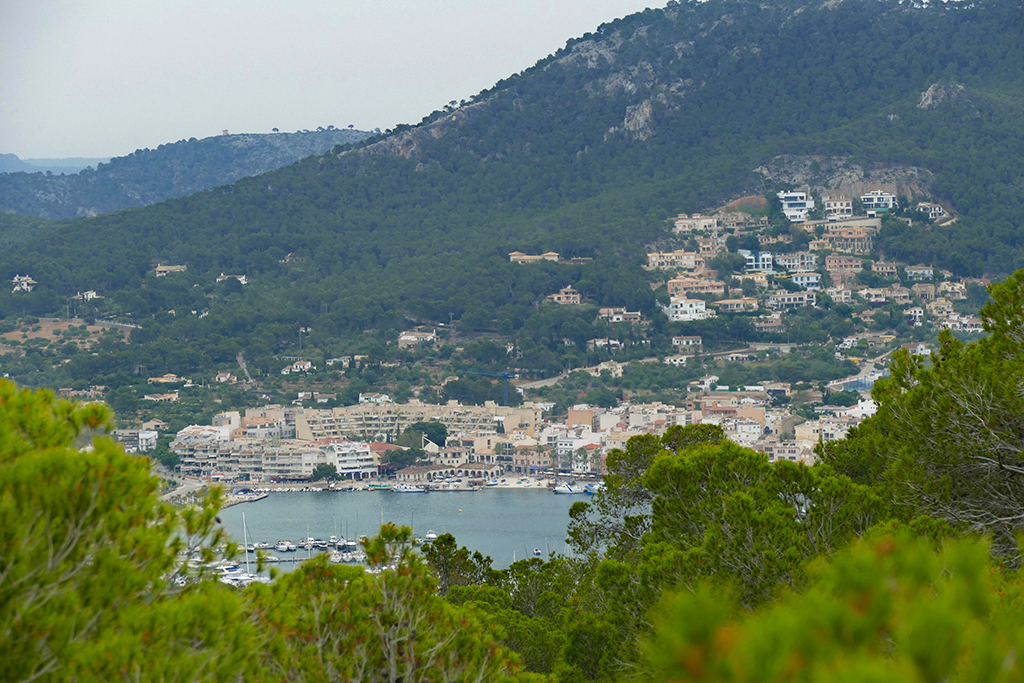 Walkers can follow the marginally more interesting shortcut going straight up the hill.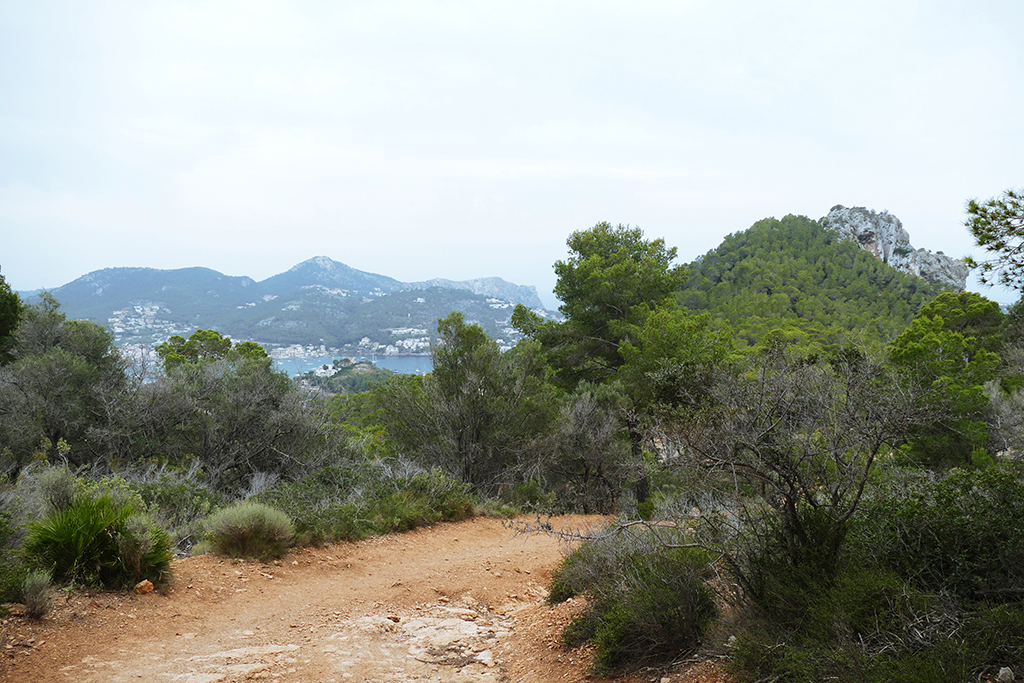 Once you reached the top, turn right and follow a comfortable yet partly rocky wide path. You are now in the countryside from where you can enjoy many mesmerizing views.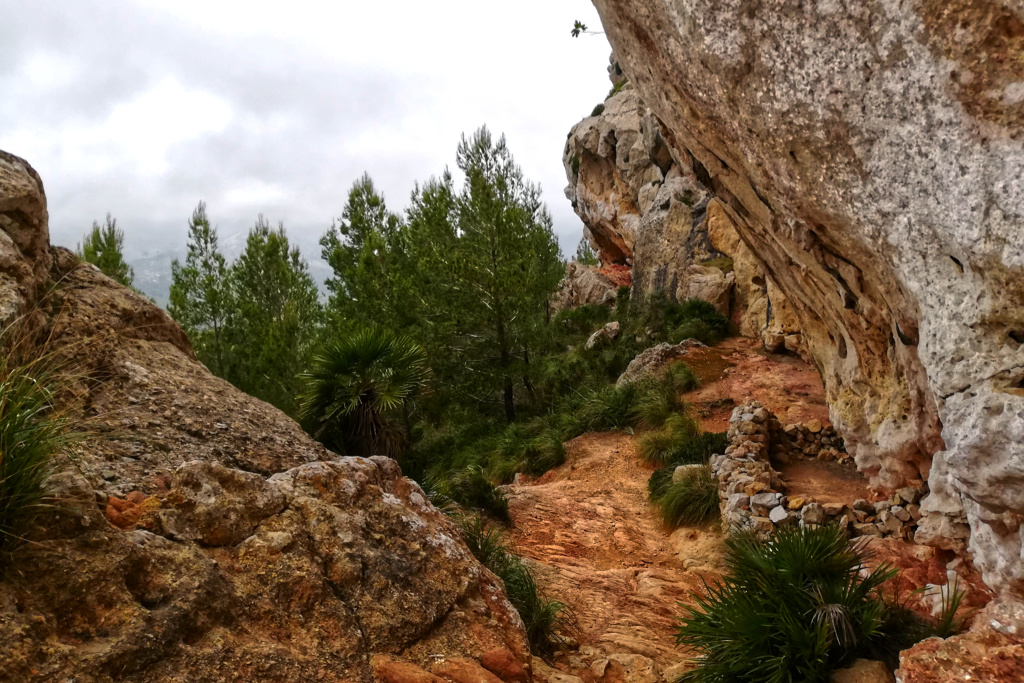 Just continue on the trail. Keep your eye on the high broadcasting tower. Once you reach this mast, it gets a bit tricky since you have to find the right spot in a low stone fence. I was walking up and down like an idiot. One moment, I looked over the fence just to spot two free climbers. Nope, this was not the way I intended to descent.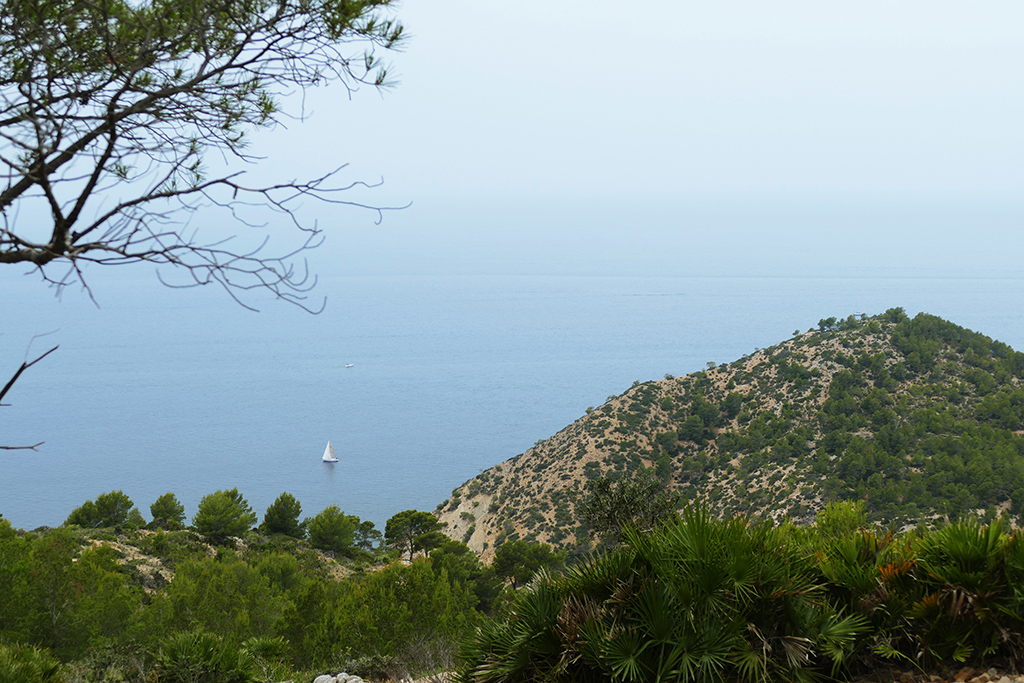 Finally – and with the help of an Austrian hiker – I found the correct spot where I climbed over the knee-high wall to follow the trail over the Pas Vermeil.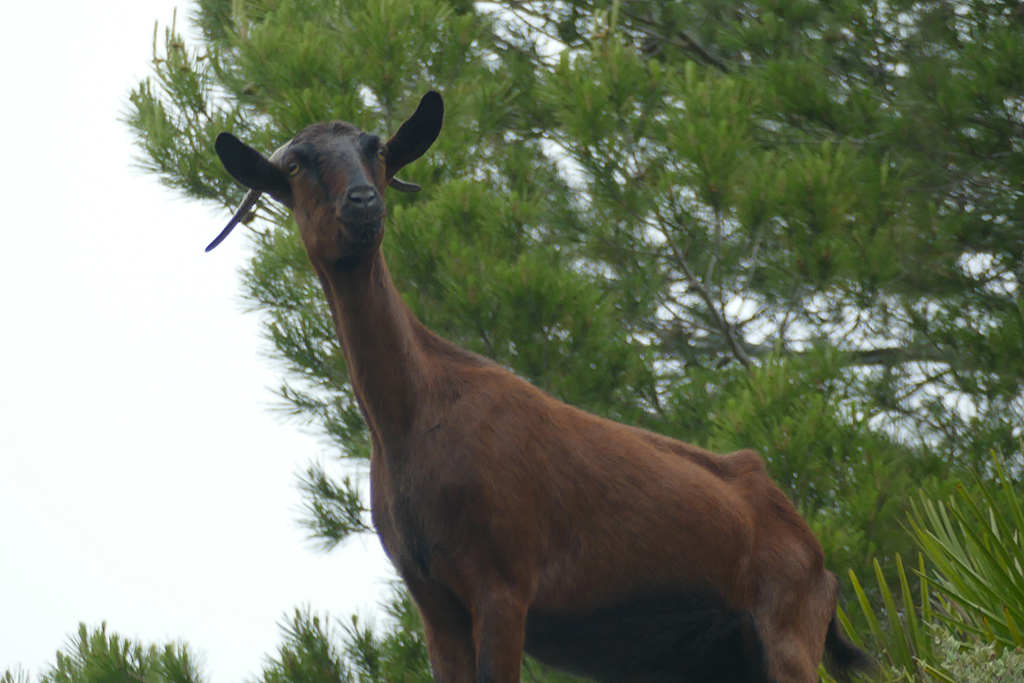 As soon as you reach a dirt double track, you continue left towards Sant Elm. The trail then continues through some forests. There are cairns to guide you, but you really have to pay attention to spot them.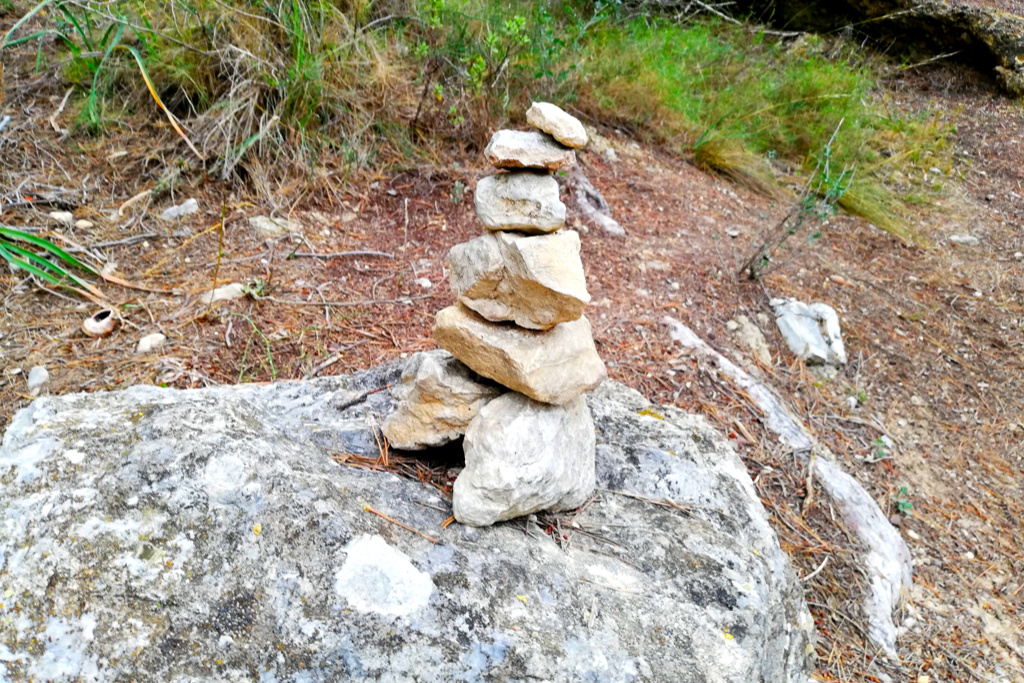 The trail towards St Elm eventually follows the coast and finally, you will reach the village over some long, steep stairs.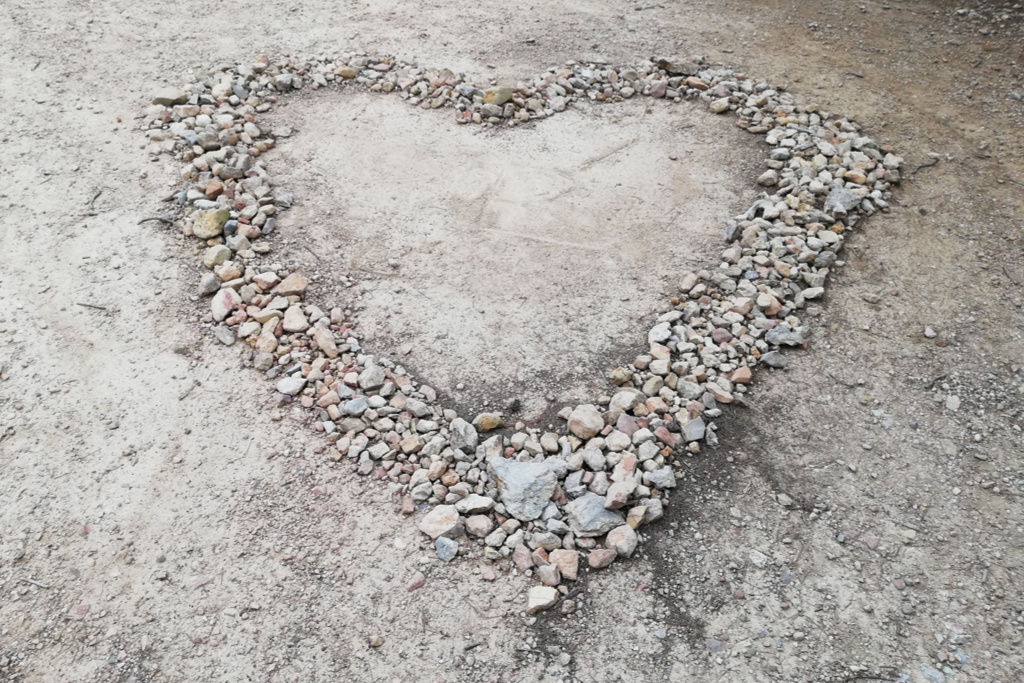 After a break at Sant Elm, you can go back to Andratx by bus – or walking, if you like. Or you continue to the Sa Trappa Monastery.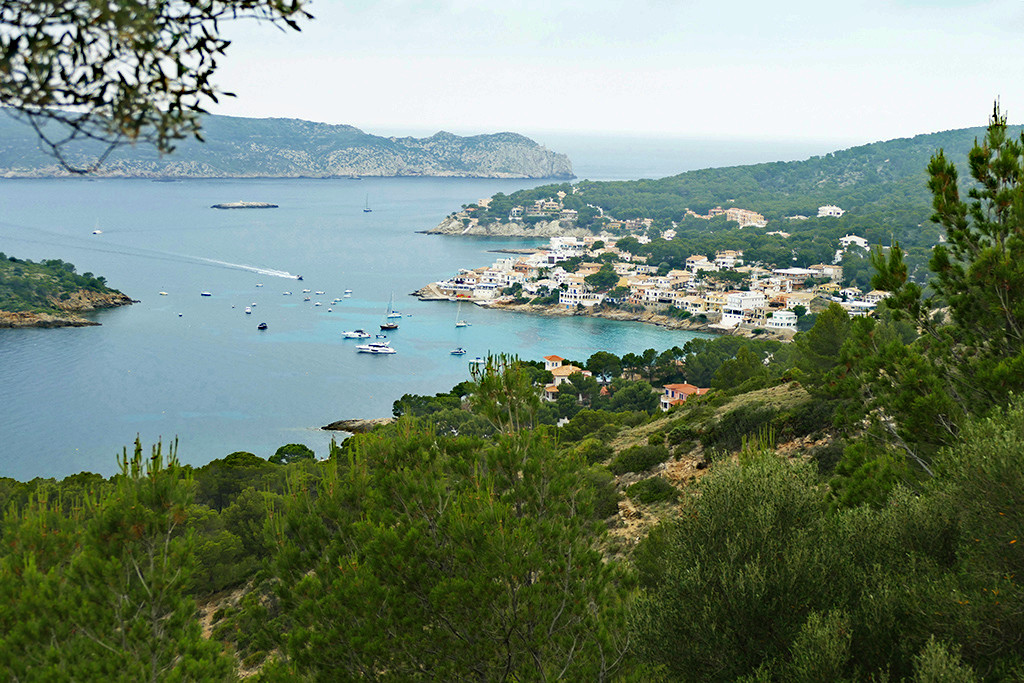 How to Get There
As anywhere on Mallorca, going from Palma's Estació Intermodal to Andratx and then to Port d'Andratx is fairly easy.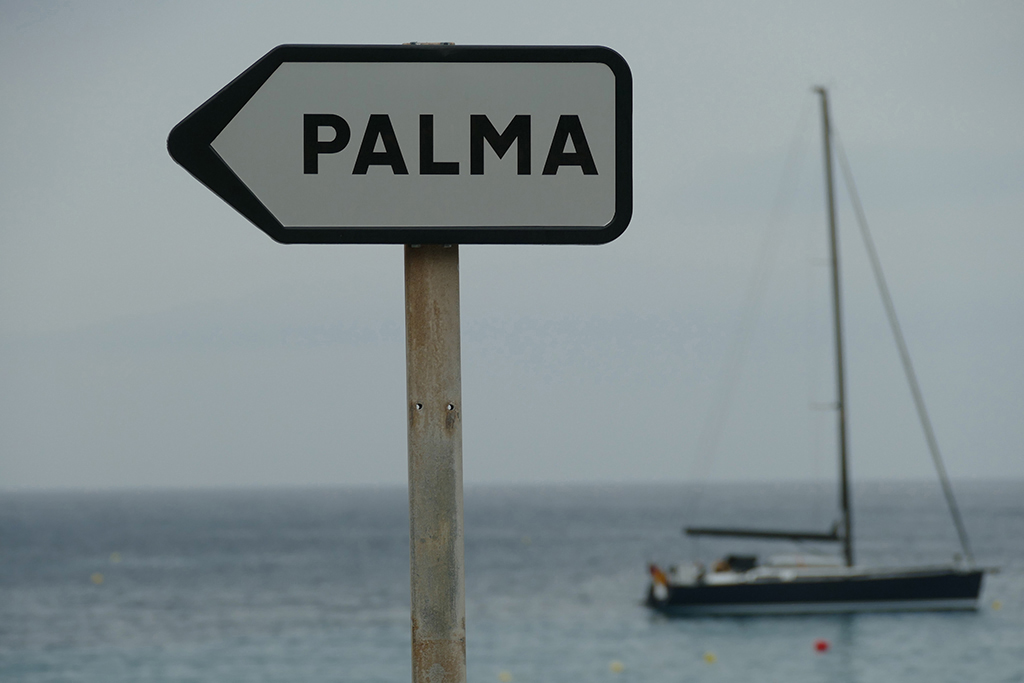 On weekdays, the first bus #101 leaves Palma at 6.45 a. m. and reaches Port d'Andratx in less than an hour. Until 9 p. m., buses are going approximately by the hour.
If after your hike to Sant Elm, you don't want to make it back walking, you can take bus #121 from Sant Elm to Port d'Andratx as well as Andratx. From there you take bus #101 to Palma. However, bus #121 circulates between 7.15 a. m. and 8.25 p. m.
A single ride from Palma to Port d'Andratx costs 7.50 €uro if you pay cash on the bus. As you pay with your credit or debit card, you get a discount – in this case, you pay 40% less. The ride from Sant Elm to Andratx is 3 €uro and you'll get just a small discount of 10%.
Saving Big Bucks
As a matter of fact, if you are planning on taking the bus more often, paying by card will save you a lot of money since discounts go up to 60% depending on your route.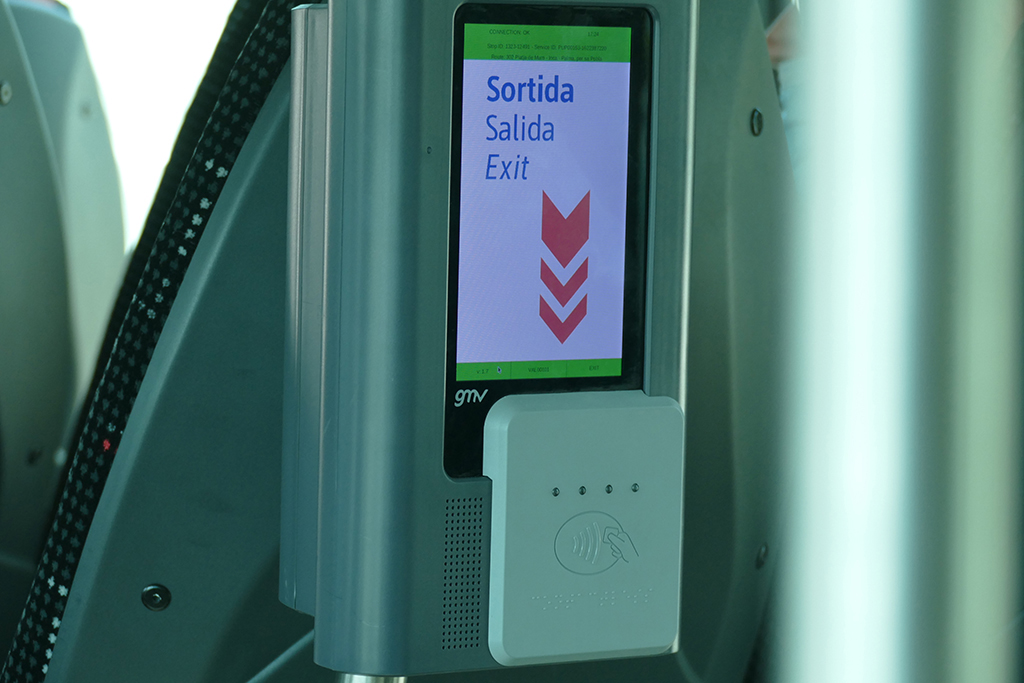 In case your card is not equipped with Near Field Communication – short NFC – you can simply obtain a so-called intermodal card for instance at the Estació Intermodal in Palma and just charge and recharge it as needed. This way, you'll get the same discounts.
The network of public transportation is comprehensive, comfortable, and reliable, the CTM company also has a very informative website in five languages.
Well-Organized Activities
Although I'm an avid solo-travelling woman, I sometimes like to join organized tours. Not only are they a valid option to go to remote places since I'm not driving. They also allow me to meet fellow travellers – for just a short moment or a lifelong friendship.
Therefore, here are some great ideas of what to do when visiting Mallorca. Especially during high season, pre-booking online will guarantee your place at the activity of your choice*:
My hike from Port d'Andratx to Sant Elm was only one of many amazing tours during my nine days on the island of Mallorca. To read about the others, go to the main post and take your pick!
For general information on Spain, go to the main post. There, you'll find information and tips that will make your trip much smoother and more enjoyable.
Are you a passionate hiker and wonder which other trails there are to explore on the island of Mallorca? In my post MALLORCA – the best easy hikes, I've put together…well, the island's best easy hikes.
Map
This map should help you find your way from Port d'Andratx to Sant Elm:
Pinnable Pictures
If you choose to pin this post for later, please use one of these pictures:
Did You Enjoy This Post? Then You Might Like Also These:
* This is an affiliate link. Hence, If you book through this page, not only do you get the best deal. I also get a small commission that helps me run this blog. Thank you so much for supporting me!