Visiting Basel, you're not only seeing Switzerland's third-largest city – after Zurich and Geneva – but you also get to hike the amazing Rehberger Trail. It's a route decorated with sculptures by German artist Tobias Rehberger. On this occasion, you can even cross the border to Germany walking.
That's one of the things I absolutely love about Basel: It is located in the tri-border area of Switzerland, Germany, and France. Three totally different countries getting connected in harmony.
There is an airport which is actually located in Basel, but has exits to Mulhouse in France and Freiburg in Germany, too. So at this connecting point, you just have to pick the correct door to step out into one of three different countries.
And connection is key here: These borders connect, they don't divide. It doesn't matter if you choose the wrong airport exit, you won't get threatened, you won't get harmed. I'm sure this is quite different at the tripoint let's say between Israel, Jordan, and Syria.
The region, by the way, has a quite high number of tripoints: Austria has nine, Germany seven, and Switzerland six.
So I find the beauty of the European idea reflected in this tri-border area.
BASEL
Basel is Swiss, so it's wealthy, mainly known for its chemical and pharmaceutical industry. But it's also famous for its art scene – primarily for the annual art fair Art Basel, organized i. a. by Ernst Beyeler (we'll get to him later) and carried out for the first time in 1970. This event is more about the money and less about the art – that it takes place now in Miami (since 2002) and Hongkong (since 2013) just underlines its commercial value; it's an art shopping spree.
Fortunately, Basel has much more visual treats to offer than this art zoo.
Kunstmuseum Basel
The Kunstmuseum Basel owns an enormous collection of drawings, prints, and paintings from different art epochs – from the Old Masters to modernism and contemporary art.
Finding a New Home
Amazingly they've started their collection in 1661, so no wonder they had to find an annex in 1980 and another one in 2016. This one is architecturally so unusual and fascinating that there are special guided tours only dealing with the building; it was designed by local architects Christ & Gantenbein.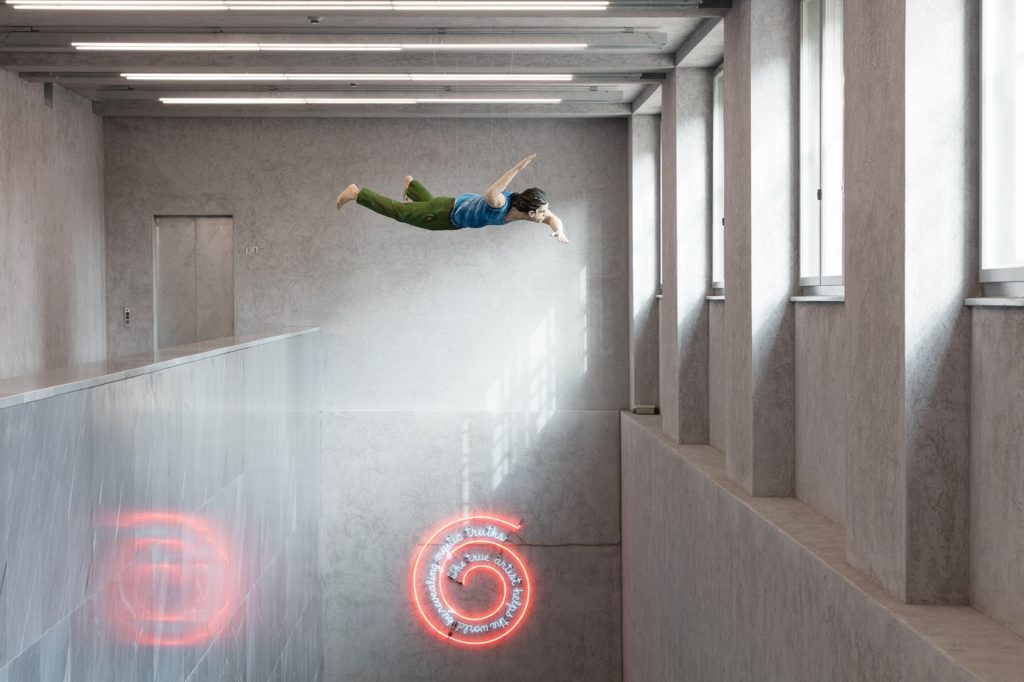 Initially, the collection was housed in the neoclassical building and the contemporary works were outhoused in the modern gallery just about one mile from the museum on the banks of the river Rhine. Since the new museum part was finished in 2016, the contemporary pieces are shared between the two buildings.
The ticket booth on the outside of the main building, however, is a bit…unusual: A hole in the wall, probably cool and modern but not very inviting. But like they say: don't judge a museum by its…ticket booth.
Kunstmuseum Basel (main building)
St. Alban-Graben 16
4010 Basel
Phone: + 41 – 61 – 206 62 62
This museum is open from Tuesday to Sunday from 10 a. m. to 6 p. m. (Thursday 8 p. m.)
Kunstmuseum Basel | Gegenwart
St. Alban-Rheinweg 60
4052 Basel
These galleries are open from Tuesday to Sunday 10 a. m. to 6 p. m.
Museum Tinguely
Once you're at the 'Gegenwart', it's just a very short – and very pleasant – walk getting to the Museum Tinguely on the other bank of the river. Cross the river at the Schwarzwaldbrücke, i. e. "black forest bridge", but despite its name, don't expect it to be very romantic, and you're practically there.
Tinguely was a sculptor of the 'nouveau réalism' and the most important protagonist of kinetic art. You'll find some of his most original and ingenious pieces here at the museum – along with works by his wifes Eva Aeppli and Niki de Saint Phalle.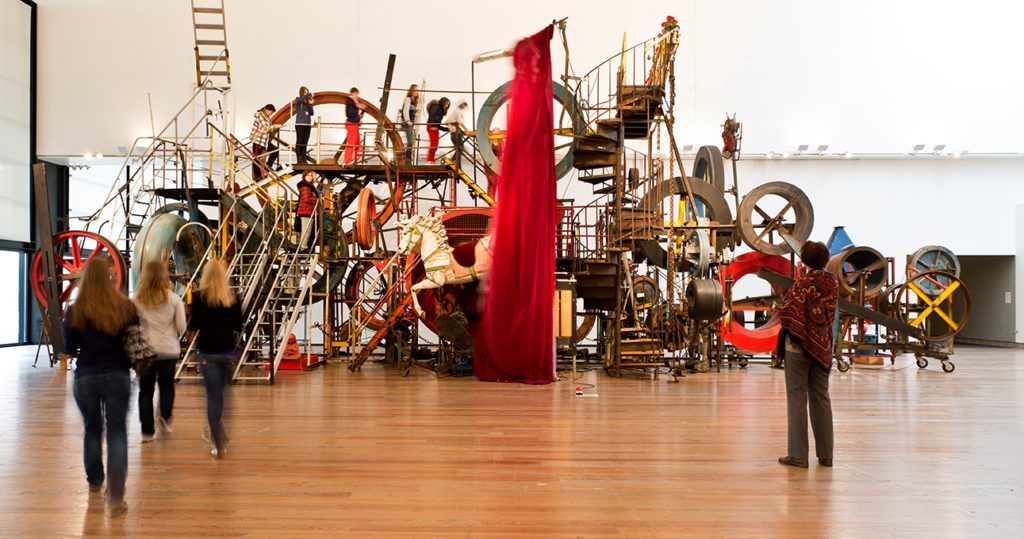 The Tinguely collection is shown in a museum building that is a piece of art in itself; like surprisingly many museums in Switzerland. Since the museum is located in a beautiful park and right on the banks of river Rhine where there's one of the many badis – public swimming spots along the rivers, typical for Switzerland, you can practically spend an entire day in this area.
Museum Tinguely
Paul Sacher-Anlage 1
4002 Basel
Phone: + 41 – 61 – 681 93 20
Opening hours are Tuesday to Sunday 11 a. m. to 6 p. m.
An Outstanding Fountain
You don't need to go to the museum to enjoy Tinguely's art (although it's absolutely worth it), you can see it at the park, but there is also one object at Basel airport, and there is the wonderful "Fastnachtsbrunnen", i. e. the Mardi Gras fountain in the center of Basel next to the theater.
Schaulager
The Schaulager is one of my favorite art venues worldwide; for the breathtaking art collection and its smashing presentation in the stupendous building. Many superlatives in one sentence, yes, but by far not enough to describe this magnificent place.
The only thing that I hate about this place is that it's not open during regular hours: It's open according to its exhibitions, so you have to check their website thoroughly before going or it will be a big disappointment.
Schaulager
Ruchfeldstrasse 19
4142 Münchenstein / Basel
Phone: +41 – 61 – 335 32 32
Email: info@schaulager.org
The venue can be visited on appointed dates, please contact the gallery or check their homepage.
Museum der Kulturen
Before I leave you to explore all the small galleries at this art mecca, I'd like to introduce you to this anthropological museum which is much more than the dusty masks and statues you usually find at this sort of place.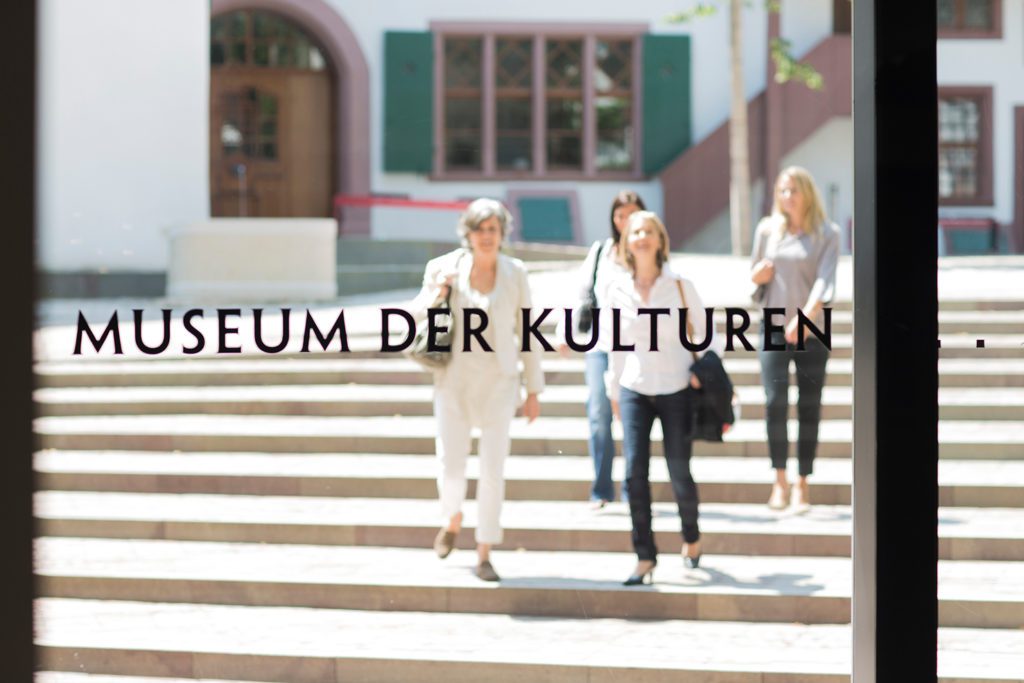 The Museum der Kulturen unites the dusty masks and statues with other anthropological and geographical as well as social and economic aspects. Completed by temporary special exhibitions it's certainly one of the venues that should be on top of your to-visit list.
Museum der Kulturen Basel
Münsterplatz 20
4001 Basel
Phone: +41 – 61 – 266 56 00
Email: info@mkb.ch
Open Tuesday to Sunday 10 a. m. to 5 p. m. (every month's first Wednesday it is open till 8 p. m.)
This Museum is very centrally located just around the corner of the Basel cathedral ("Münster"), the "Pfalz", a gravel square overlooking the river Rhine on one side and the somewhat flashy town hall on the other – so the perfect spot to visit before, after, or during your sightseeing.
RIEHEN
And then you can take tram #S6, which takes you in a little over 20 minutes to the municipality of Riehen which is with 20,000 inhabitants – now hold your hat – the second largest community of Northwest Switzerland.
Riehen would be just another Swiss hicksville if Hildy and Ernst Beyeler – see, I've told you I'll get back to him – haven't installed their wonderful art foundation right here.
Fondation Beyeler
The building was designed by Renzo Piano. If you are a loyal and attentive reader, you'll remember Signore Piano from my pieces on 24 hours in Paris and Athens where I've introduced some of his impressive designs.
Hildy and Ernst Beyeler are sharing their collection of about 250 pieces from classical modernism as well as contemporary artists such as Degas, Cézanne, Monet, Rousseau, van Gogh, Warhol, Lichtenstein, and Bacon, to mention just a few, with the visitors of their magnificent bungalow.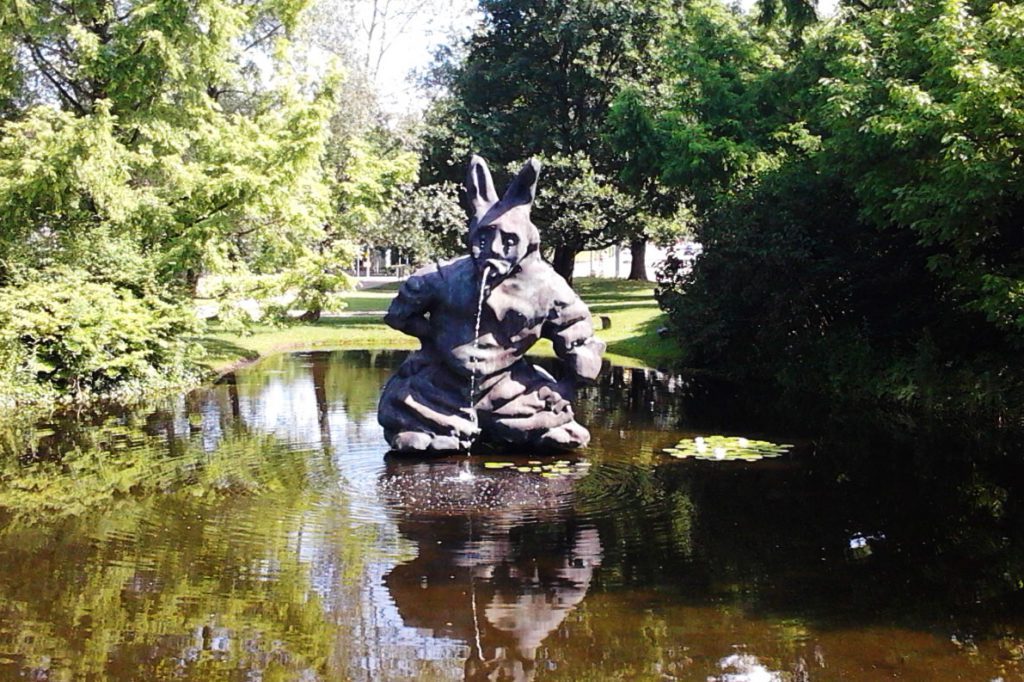 In addition, there are highly interesting temporary exhibitions taking place and the Beyelers are pleasantly open to outstanding performances like in 1998 when Christo and Jeanne-Claude wrapped up the trees in their lush garden.
So when you are already amazed by the Beyeler's venue, you'll be blown away by the Rehbergerweg that begins right in their front yard.
Fondation Beyeler
Baselstrasse 101
4125 Riehen/Basel
Phone: + 41 – 61 – 645 97 00
E-Mail: info@fondationbeyeler.ch
Open 365 days per year – Monday to Sunday from 10 a. m. to 6 p. m. (Wednesday to 8 p. m.)
24 STOPS – the REHBERGERWEG
Tobias Rehberger, born in 1966 in Esslingen, is famous for his objects and installations that often serve a practical purpose. Besides many other acknowledgments, in 2009 he received the 'Golden Lion' for designing the decoration of the central pavilion's cafeteria at the Giardini, one of the main venues of the Biennial in Venice. I wrote a post on how to visit this biennial event.
The trail links two countries – Switzerland and Germany, as well as two of Europe's most innovative cultural institutions – the Fondation Beyeler and the Vitra Campus over a length of around five kilometers which can be easily traversed in 1.5 to 2 hours.
Along this route, Rehberger installed 24 very practical and handy pieces of art such as beehives, streetlamps…and even a rubbish bin.
The first twelve markers were mounted in September 2015, and in June 2016, the 24 stops were completed.
Therefore, as soon as the stops were finished, I took a walk along the Rehbergerweg, and it was just awesome.
The Stops
Yes, it's ironic that Swatch, a watch manufacturing company, supports this project generously. Swiss watches – it's such a cliché! By the way, there, of course, is a (S)watch now, designed by Tobias Rehberger.
WEIL AM RHEIN
I believe that out of 100 Germans 95 have never heard of Weil am Rhein. In fact, this town on the German side of the border has only a little over 30.000 inhabitants and is nothing special, but…an art campus, housing not only the Swiss Vitra furniture and store interior factory, but several great design exhibitions, presented in halls created by some of the world's greatest architects.
The Greatest of the Greatest
Canadian architect Frank Gehry, born in 1929 in Toronto, designed in 1989 the Vitra design museum as well as the smaller annex, the gallery, and the factory building, actually Gehry's first building in Europe.
However, since then, Gehry also decorated the city of Düsseldorf with some of his outstanding buildings – and, of course, I wrote an extended post on this German city on the River Rhine.
Two more factory buildings are created by Englishman Nicholas Grimshaw, born in 1939 in London, and another one by Álvaro Siza, born in 1933 in Portugal. In 2014, Mr. Siza also designed a promenade connecting the older part of the campus with the newer one.
In 2012, there was another factory building added, this time designed by Kazuyo Sejima, born in 1956, and Ryue Nishizawa, born in 1966, who team up by the name SANAA and are from Japan.
Tadao Ando, born in 1941 in Osaka, designed the conference pavilion on the campus which was Ando's first building in Europe in 1993.
My Favorites
The worldwide renowned architect superstars Jacques Herzog and Pierre de Meuron, both born in 1950 in Basel, designed the VitraHaus where Vitra's sales show takes place in 2009, and added in 2016 the Schaudepot.
This depot is now an extremely posh warehouse containing about 7.000 pieces of furniture, more than 1.000 lamps as well as archives and estates of Verner Panton, and Alexander Girard and Charles & Ray Eames.
The American power-designer-couple Charles & Ray Eames was of major importance for the Vitra factory since its success story as a high-class manufacturer of furniture and interior design began in 1957 with the Eames's designs.
Zaha Hadid, born in 1950 in Baghdad, designed the 'station house' in 1993, which was her first building ever.
Work Hard – Play Hard
But besides the more or less useful and 'serious' building, there are also structures like e. g. the 'Dome' built after Richard Buckminster Fuller, now serving the purpose of an assembly and event hall, or the gas station by Jean Prouvé.
Renzo Piano – here he is again! – contributed a stylish little shack, the 'Diogenes-house': on very frugal 6 square meters is everything one does need to live comfortably. Everything but space that is, but this is coming from my malicious tongue. Of course, it's the idea and the design that counts, and both are just wonderful.
You can see all these architectural treasures on this map – many info included.
Carsten Höller, born in 1961 in Brussels to German parents, contributed – as often – a playground piece for adults and kids alike: a 17 meters high slight tower.
Even the bus station next to the Vitra campus is not by the regional bus company, but by the outstanding furniture designer Jasper Morrison, born in 1959 in London.
VitraHaus / Vitra Design Museum
Charles-Eames-Strasse 2
79576 Weil am Rhein
Phone: + 49 – 7621 – 702 35 00
The venue is open daily from 10 a. m. to 6 p. m.
Back to Switzerland
But if you need to get back to Basel, you don't take the bus. Just catch tram #8 at the station Dreiländerbrücke – the tri-country bridge.
Little tip: There's a small shopping mall next to the tram stop so you might wanna stock up on refreshments since Germany is much cheaper than Switzerland.
And then the bell rings, the doors close, and off you go back to Switzerland.
For me, this whole trip is particularly funny since I'm first flying from Germany to Switzerland, then I'm crossing the border and walking back to Germany – and in the end, I have to get back to Switzerland to fly home to…Germany.
Europe is a great place!
PRACTICAL INFORMATION
HOW TO GE THERE
In Europe, Basel is very centrally located. Actually, located at the tri-border between France, Germany, and Switzerland, it's one of the most central spots.
Hence it's, obviously, easily reachable either by train or by long-distance bus. Actually, there is even a tram as well as local buses crossing the border.
The fastest way, however, is getting to the EuroAirport Basel Mulhouse Freiburg. Since it's only 3.5 kilometers northwest of the city center, you'll get there by public bus in no time.
Getting to Basel will probably be the cheapest part of your trip since there are also low-cost airlines such as EasyJet catering to this border town.
GETTING AROUND
Although there is no subway system in Basel, public transportation is great. The entire city and the suburbs are covered by trams and buses, just take a look at the system map.
For a single ticket, you pay at least 2.30 €uros depending on the number of stops. A day ticket costs 9.90 €uros and includes even the ride to the airport. However, if you spend the night, you only need to buy a ticket from the airport to your accommodation. There you'll be supplied with a BaselCard and don't need to pay for public transport any longer.
WHERE TO SLEEP*
I'm a sleepo-cheapo, therefore, looking for accommodation in Switzerland is torture for me. It's quite difficult finding an acceptable price-service-ratio, but here is a map with some acceptable offers*
WHAT TO EAT
I presume you don't want to feast exclusively on Cheese'n'Chocolate. Basel is an internationally oriented city, so you get all sorts of cuisines from around the world.
Very recommendable is the vegetarian restaurant tibits in the city center just around the corner from the Tinguely Fountain.
Here, you can choose delicacies from a huge, varied buffet. But be careful, once your plate is brimming over, they put it on a scale and you are paying according to the weight.
tibits
Stänzlergasse 4
4051 Basel
Phone: + 41 – 61 – 205 39 99
CASH AND CARDS
Coming from neighboring France or Germany, you'll find Basel quite expensive. As a matter of fact, due to the proximity to these countries, compared to other Swiss cities, it isn't even that bad.
However, everything is significantly more expensive. Fortunately, the good people of Basel seem to know it. And since they still want guests to come and have a good time, every visitor who stays overnight is supplied with the BaselCard. This card is issued only at check-in, but is valid for the entire stay. This way, you can use public transport for free and you get discounts at some museums, the zoo, rental city bikes, and more.
Nope, you cannot buy the BaselCard if you are coming just for the day and do not stay overnight.
Although located in the very center of Europe, Switzerland is neither in the European Union nor do they pay with Euros. The conversion rate of the Swiss Franc (CHF) is 1 CHF = 1.07 US$ respectively 1 CHF = 0.98 €uro as of December 2022. Here you can check the current rate.
LANGUAGE
Although little Switzerland has only about 8.5 million inhabitants, there are four official languages. Depending on which region you are visiting, you'll encounter French, Italian, Swiss-German – very hard to impossible to understand for Non-Swiss German speakers, and Rhaeto-Romansh, spoken by about 60,000 people in the region of Grisons.
Being an important international art center, many people in Basel speak pretty decent English. Nevertheless, for some useful words and phrases in the three most-spoken tongues, you might want to practice a little with help from e. g. Babbel.
The first lesson is free and already supplies you with a useful basic vocabulary.
CONNECTION AND COMMUNICATION
The BaselCard also grants access to free Wifi. Hence, you probably do not need a Swiss SIM card.
To charge your electronic devices, you'll need plugs respectively adaptors of the types C and J. Latter is used almost exclusively in Switzerland and neighboring Liechtenstein. Voltage is 230 Volt and Frequency 50 Hz. However, most charging cables adapt automatically.
For more information on this and other travel-related topics, please read my post World's Most Complete Travel Info.
MAP
On this map, you'll find all the wonderful places I'm introducing in this post.
Clicking on the slider symbol at the top left or the full-screen icon at the top right will display the whole map including the legend.
PINNABLE PICTURES
If you choose to pin this post for later, please use one of these pictures: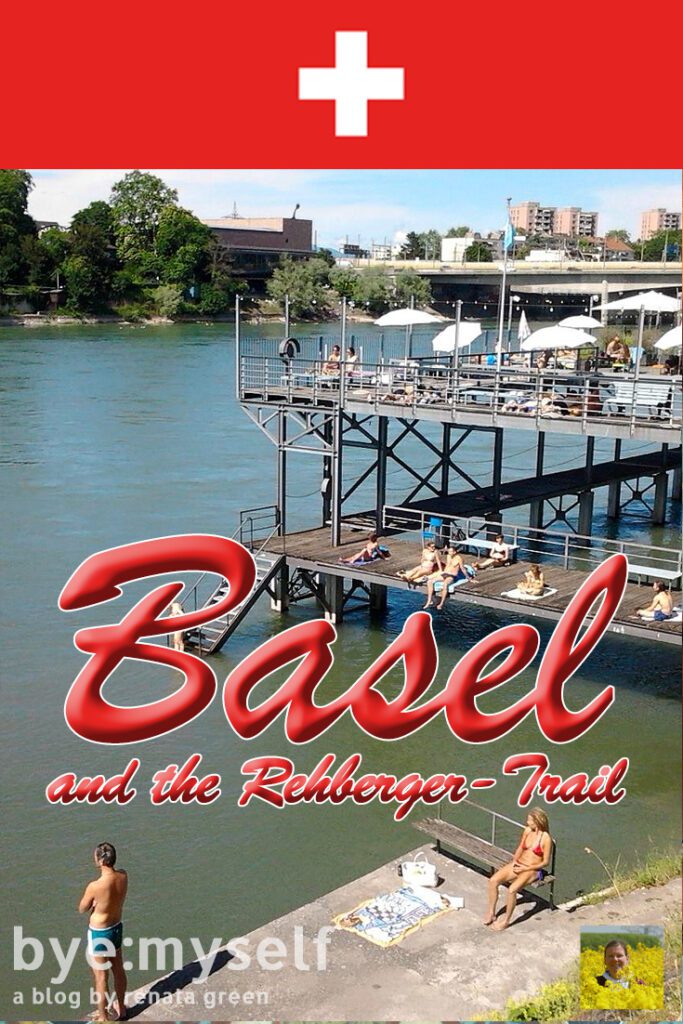 Note: I am completing, editing, and updating this post regularly – last in December 2022.
Did You Enjoy This Post? Then You Might Like Also These:
* This is an affiliate link. If you book through this page, not only do you get the best deal. I also get a small commission that helps me run this blog. Thank you so much for supporting me!