After another stopover in Bangkok on the way back from my travels through Cambodia, I'm now ready to share my best tips in this brand-new 24 hours in…-post.
As usual, it's meant for just a layover or a very short break on a trip through Thailand.
Of course, in 24 hours you'll see just a fraction of all the attractions this bustling mega-city has to offer. So if you're staying longer or want to try out more, check out the Bangkok section in my Thailand post.
Local Currency
Thai Baht (THB) / 1 US$ = 37.38 THB as of November 2022 / current rate
Emergency Contacts
Police 191
Tourist Police 1155
National Airline
Airports
Suvarnabhumi Airport, IATA Code: BKK
Don Mueang, IATA Code: DMK
Tourist Info Online and Onsite
There are many semi-professional websites on Bangkok tourism online. Hence, I'd recommend the official website of the Tourism Authority of Thailand which does not lure you with supposedly 'objective' information just to sell you tours and other services.
Also, every hotel will supply you with a free map and brochures about what to do in 24 hours in Bangkok.
Getting Downtown and Back
One Night Downtown
Most of the hotels in Bangkok offer a more or less costly pickup at the airports. Obviously, this service is totally worth it after a long, tiring flight e. g. from Europe. But if you've been to Thailand – or a neighboring country – for a while and had a short flight with no jet lag, you can save a lot of money by using public transportation – it will add up to about 2 $: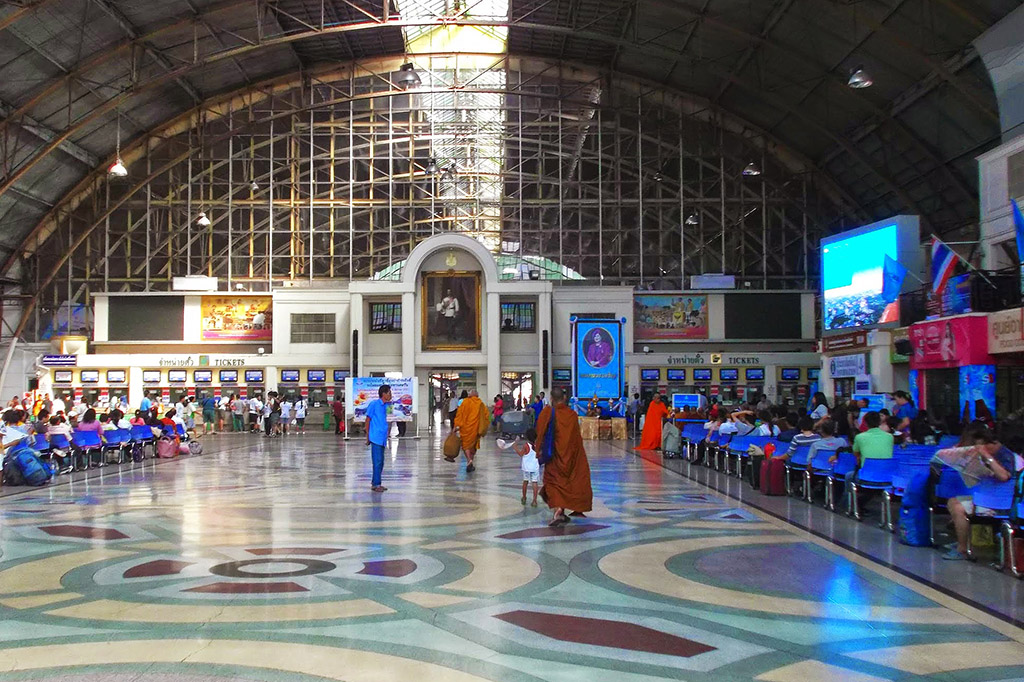 Suvarnabhumi airport: To get to the city center like the Hua Lamphong train and MRT station, take the ARL (Airport Rail Link) at Suvarnabhumi Airport Station to Makkasan Station. The ride takes about 20 minutes and costs 35 THB. Once you arrive, you change to the MRT blue line. Mind you, this station is called Phetchaburi, although it is connected to Makkasan station. From there it takes another 20 minutes to get to the Hua Lamphong station. Finally, walk ten minutes through glittering China Town and you'll get to the charming Shanghai Mansion Hotel*.
One Night at the Suvarnabhumi Airport
If you prefer to stay at the Vismaya, just go to the 2nd floor at 'Arrivals' where you ask for the complimentary shuttle service to the hotel. But note: The shuttle back to the airport is not complimentary anymore – they charge about 100 THM (approx. 3 US $) for it.
Don Mueang airport: To get downtown, the cheapest option is to take bus #6 to Chatuchak Park/Mo Chit station. It takes about 25 minutes and costs 30 THB. Once there, you change to the MRT blue line towards the city center (approx. 40 minutes to Hua Lamphong) or the BTS Sukhumvit line.
However, a cab from this station to Hua Lamphong resp. the Shanghai Mansion Hotel* will charge about 200 THB which might be a better option if it's late, you are tired, or have much luggage to schlepp.
Also, a direct shuttle bus is connecting the two airports.
For further information, you can check their very good and informative Website on all public transportation in Bangkok.
Morning Activities
On a sunny day, the most alluring way of seeing Bangkok is from a ferry on the Chao Phraya river.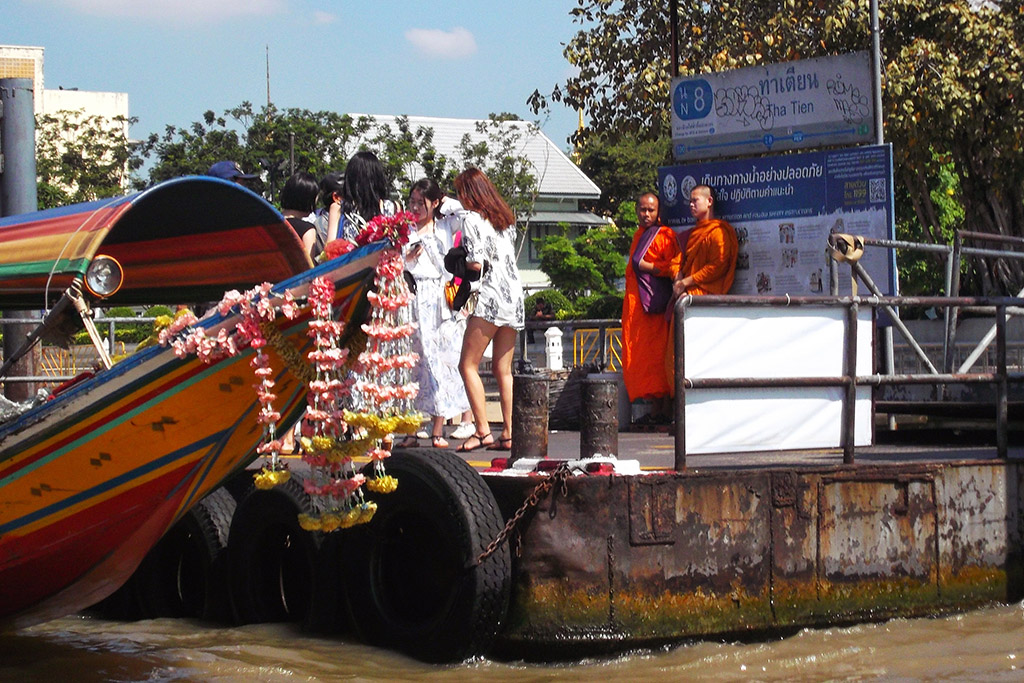 It's only a ten minute walk from the Shanghai Mansion Hotel to the Ratchawong boat pier. Walk the Yaowarat road westward and turn left into Ratchawong road which leads to the pier.
Make sure to take one of the cheap Chao Phraya ferries for about 50 cents instead of a posh, expensive tourist cruise ship!
Oh, What a Wat!
Countless Wats can be admired in Bangkok: beautiful, colorful, gold-plated Buddhist temples.
The biggest and most important one is Wat Phra Keo located right next to the Royal Palace.
To get there, get off the ferry at Tha Tien station. The entrance fee to the Wat and Palace for farangs, i. e. foreigners, is quite high – 500 Bath. With your ticket, you can visit also the textile museum where you can admire Princess Sirikit's lavish wardrobe.
Talking 'bout wardrobe. When visiting the wats, again: the Buddhist temples (!), knees and shoulders should be covered, i. e. classic T-shirts with (short) sleeves and pants or long skirts are required. You can, of course, use a sarong resp. a scarf to cover, but often that's more complicated and hotter than simply dressing appropriately in the first place.
Wat Phra Keo is open from 8.30 a. m. to 3.30 p. m.
As I said, although Wat Phra Keo is the most important complex, there are many more temples worth a visit, however, one of the nicest is right around the corner.
Besides other treasures, Wat Pho is housing an enormous reclining Buddha.
To get there, exit Wat Phra Keo on Na Phra Lan Road and turn right into Sanam Chai road where Wat Pho is located.
Wat Pho is open from 8 a. m. to 5 p. m. and the entrance fee is 100 THB.
Morning Activities
Rainy days in big cities are no fun. Usually, bad weather leads to quick racing through alleys where the dirt is washed into gutters while you are avoiding stepping in something gross.
Therefore, I try to show you how to enjoy Bangkok even on a rainy day – which is rare, anyways.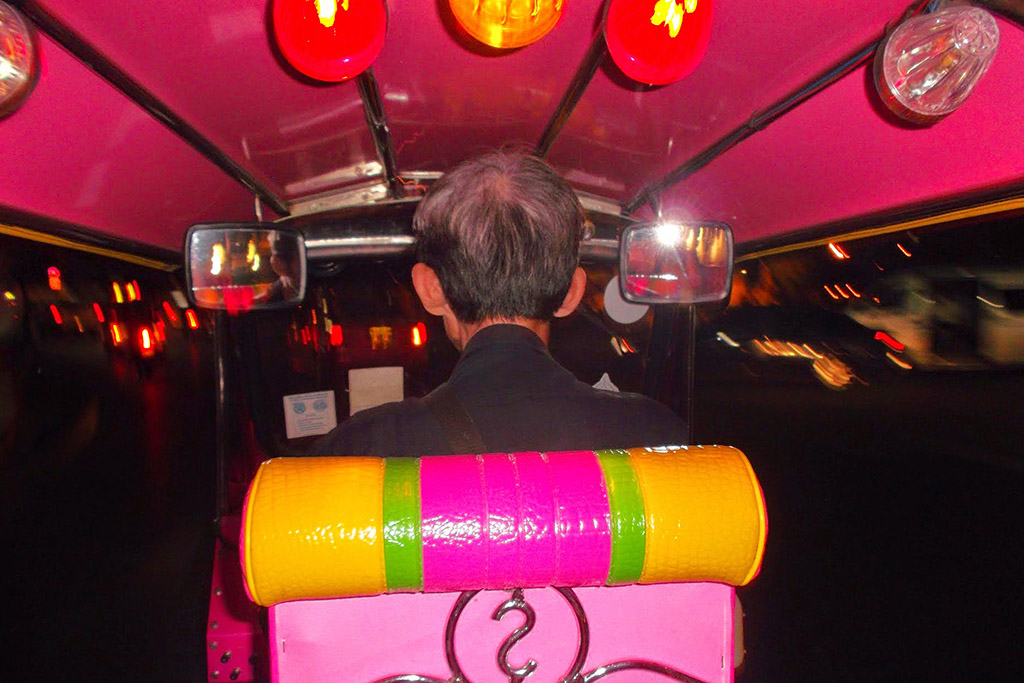 Unless it's pouring cats and dogs, I think that Wat Phra Keo should be visited, but on a rainy day, you might want to skip the short cruise on river Chao Phraya. Just get a tuk-tuk or a cab straight to the palace complex. Nice touch: Taxis are metered in Bangkok – sometimes, especially during rush hour, you have to remind – or even convince – the driver to switch the meter on, but in general there's no problem. Obviously, the tuk-tuks are not metered, so the risk to be cheated is much bigger. Simply ask at the hotel's reception how much you should pay for a ride to the palace complex.
If it's raining, you might visit Wat Phra Keo faster than in the sun since you probably won't spend too much time outside the temples.
Therefore you might have a little extra time before lunch so that you could visit the National Museum and admire Thailand's rich history documented in the many beautiful exhibits.
Bangkok National Museum
4 Na Phra That Alley
Bangkok 10200
Phone: + 66 – 2 – 224 1333
The museum is open from Wednesday to Sunday 9 a. m. to 4 p. m., the entrance fee is 40 THB
Lunch
From simple street food to posh fusion cuisine at one of the high-class restaurants, you can practically eat everywhere and around the clock when in Bangkok.
Therefore I'm recommending this Thai restaurant mainly because of its convenient location for the afternoon activities. A good alternative might be the food court at the Siam Paragon shopping center.
To get here either from Wat Pho or the National Museum, just take a taxi – it should cost you about 100 to 150 THB.
Ban Khun Mae Restaurant
458/6-9 Siam Square Soi 8
Rama 1 Road
Patumwan District, Bangkok 10330
Phone: + 66 – 2 – 250 1952 and + 66 – 2 – 250 1953
Email: contact@bankhunmae.com
Afternoon Activities
The Ban Khun Mae Restaurant is very conveniently located for the afternoon visit to the Jim Thompson house.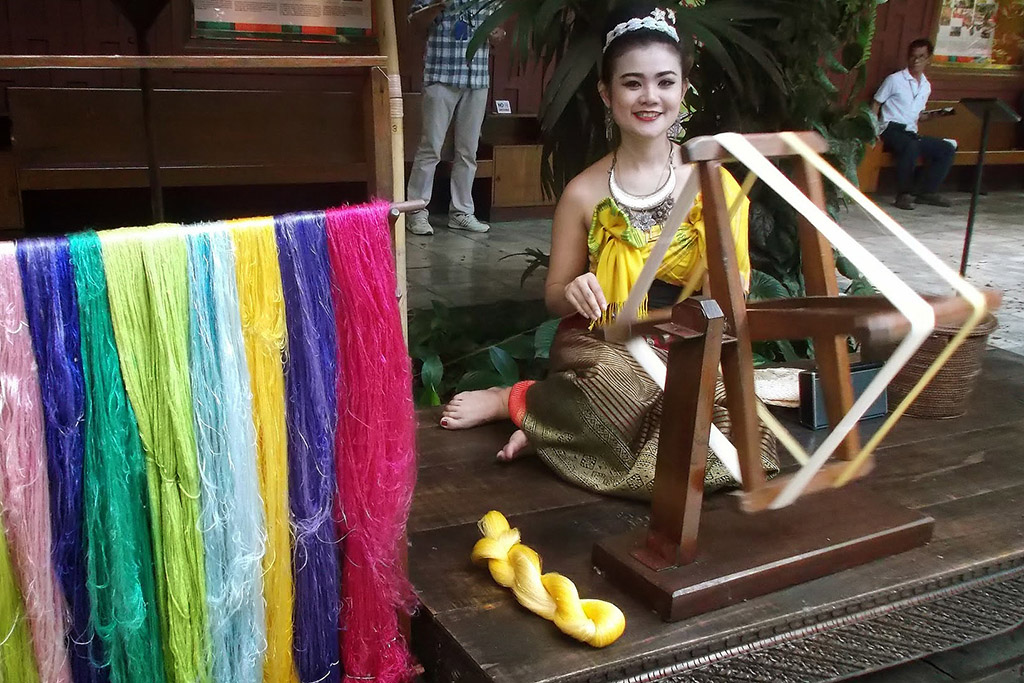 Jim Thompson did not only revolutionize Thailand's silk industry and made Thai silk really popular, he also had a great taste and deep admiration for Thai culture.
While others have a stamp album, he collected six traditional houses all over Thailand, let them demount, and re-assemble in the most eclectic fashion right here in Bangkok. The late Jim Thompson's home is now a museum and can be visited.
Jim Thompson House
6 Soi Kasemsan 2, Rama 1 Road,
Bangkok
Phone: + 66 – 2 – 216 73 68
The House is open daily from 9 a. m. to 6 p. m. and the entrance fee is 150 THB (students under 22 pay 100 THB)
After the visit to a very sophisticated place, I dare you to take one of the small Klon Saen Saep water busses that will take you on the Saen Saep canal to the Golden Mount, another sight not to be missed, especially for the grand view of all Bangkok. The boat ride is a truly Thai experience, though.
Khlong Saen Saep Express Boat
Phone: + 66 – 2 – 375 23 69
Email: info@Khlongsaensaeb.com
View From the Mountain Top
Wat Saket was built on a man-made hill.
This 'Golden Mount' is on the one hand quite fun for tourists – who are climbing the 300 steps to the top (relatively easy, but due to the heat still a challenge; make sure to have enough water on you), at the same time it is a sacred pilgrimage site, so that too much brouhaha should be avoided.
The Golden Mount can be visited from 9 a. m. to 5 p. m. and the entrance fee is 20 THB.
Afternoon Activities
Since Jim Thompson's estate consists of six houses made into one as well as a restaurant and a big gift shop, its visit is suitable even in heavy rains.
Please check the afternoon activities in the sunny day section for the visitors' info.
Is it still raining? Never mind, Bangkok is known for being one of the world's most complete shopping destinations.
Most of the larger-than-life shopping malls are just a stone's throw away from the Jim Thompson House. The three most popular would be the Siam Paragon, the CentralWorld, and the MBK – all open from 10 a. m. to 10 p. m., so knock yourself out!
Dinner
If you're staying at the Shanghai Mansion, you're already in the heart of Bangkok's Chinatown.
So why not have some really good dim sun for dinner – just around the corner from your hotel!? Besides, I think that you'll enjoy the very authentic atmosphere, too.
The Canton House
530 Yaowarat Road
Bangkok 10100
Phone: + 66 – 92 – 249 8299
Open daily from 11 a. m. to 10 p. m.
Nightcap
Of course, you can choose from a variety of cool bars in Bangkok – many of them on the rooftops of luxury hotels.
But especially if you had a long day or will have an early flight, you might be more comfortable enjoying a cocktail right at the Shanghai Mansion's bar "Red Rose". It's not only a pleasant terrace facing the bustling Yaowarat street, but they also have some cool live music on certain evenings.
Accommodation
I recommend two different hotels since it really depends on the departure time of your flight if you can enjoy an evening downtown or should rather choose accommodation next to the airport.
China Town
Shanghai Mansion Hotel Bangkok
479-481 Yaowarat Road
Suvarnabhumi Airport
Vismaya Suvarnabhumi Luxury Resort
98 Moo15 Soi King Kaew 43, King Kaew Rd, Rachateva, Bangpee Samutprakran 10540
Phone: + 66 – 2 – 738 49 88
Email: contact@thevismaya.com
Map – sunny day itinerary
Map – rainy day itinerary
In case you have more time to spend in Bangkok and need more ideas and inspirations, make sure to check my post on Thailand
Pinnable Pictures
If you choose to pin this post for later, please use one of these pictures:
Note: I'm completing, editing, and updating this post regularly – last in November 2022.
Did You Enjoy This Post? Then You Might Like Also These:
* This is an affiliate link. If you book through this page, not only do you get the best deal, I also get a small commission that helps me run this blog. Thank you so much for supporting me!
Icons: money bag by Roundicons from www.flaticon.com, police car, train, sun, glass, and bed by Freepik from www.flaticon.com, takeoff plane and board made by ultimatearm from www.flaticon.com, info made by Roundicons from www.flaticon.com, umbrella made by Kiranshastry from www.flaticon.com, food plate by Vectors Market from www.flaticon.com