This is a guide to the enigmatic and sultry city of Seville where in three days, you'll find out where Andalusia's heart is beating to the rhythm of flamenco.
No wonder that apart from Bizet's Carmen more than 150 operas – like Verdi's Don Carlos and – you probably guessed so – Rossini's Barber of Seville – were set in scenic Seville.
Hellish Heat
Years ago, my daughter had just started elementary school, we spent two summers in Conil de la Frontera. It's a small town and a very popular summer destination with Spaniards and international visitors alike. As I explained in my post on travels with my daughter as a single mother, I wasn't able to sit still on an endless beach despite the almost unbearable Spanish summer heat. Hence, we went on a couple of day trips.
The most memorable of those day trips was the visit to Seville. We took a very early bus to make most of the day. This is something I've learned since then: You won't make most of your day by getting up in the wee hours. Getting up too early will make you feel exhausted and miserable for the rest of the day. Better sleep two or three hours more and enjoy eventually less time – but this fresh and rosy and wide awake.
Anyway, I gained this wisdom over the years, back then I was still an advocate of rising with the sun.
The Early Bird Gets Tired Early
So in the morning, we crawled still half asleep on the first bus bound for Seville.
By the time we got there, it was already very hot – and the temperature kept rising over the day.
We felt tired and exhausted and dragged ourselves through the oven the city of Seville becomes during the summer months.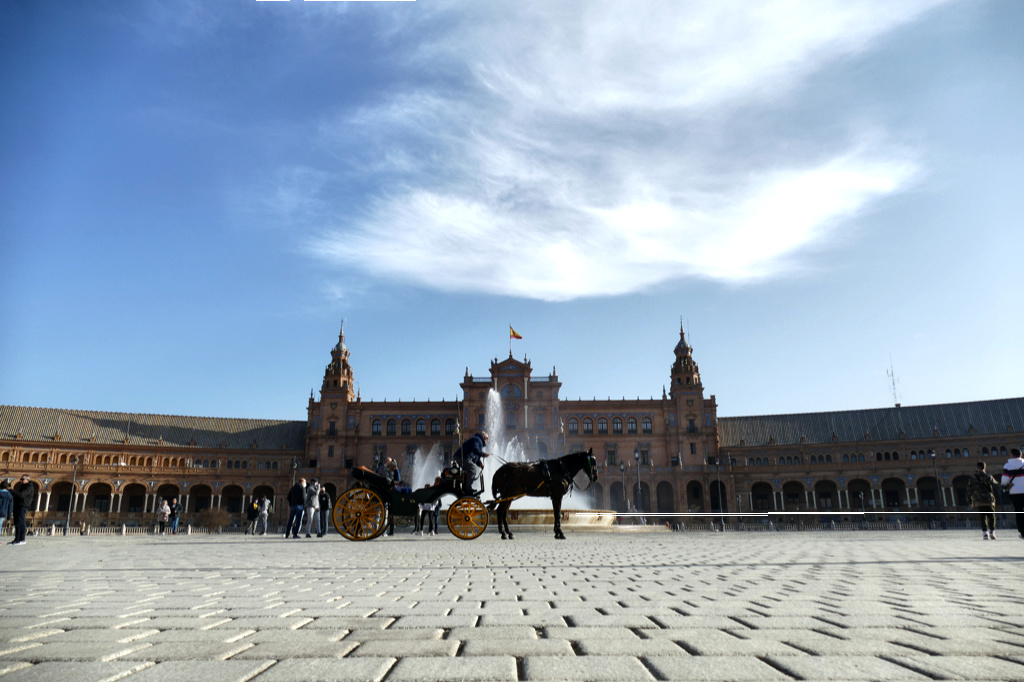 After we had visited the Cathedral, we paced across a huge square under the blazing sun to seek shelter at the Corte Inglés. For those who don't know, the Corte Inglés is Spain's most famous chain store and can be found in basically every city. Most importantly, the Corte Inglés is a department store and therefore climatized.
We strolled through various departments, checked out Spanish summer fashion, browsed through some classic literature, and tried on sandals. In the end, we didn't buy anything. We weren't there to shop, we were there to cool down, after all.
After a couple of hours at the Corte Inglés, we took a much earlier bus back than we had initially planned. We couldn't hold on anymore. We felt just tired and drained.
Seville – Where Andalusia 's Heart is Beating
Despite the exhaustion, I always remembered Seville as a beautiful and majestic city. I knew I had to come back – but maybe not during the summer months.
Then, last fall came the big moment: I planned a circular road trip through Andalusia, and Seville would be the starting and ending point.
How It All Began
Now, I don't want to bore you with lots of history. However, to understand and cherish Seville's heritage, beauty, and pride, I have to dip into her past at least a little bit.
Supposedly, the Greek hero Hercules founded the city that today is Seville. Hence, in ancient times, it was home to the Phoenicians as well as to the Romans. Already then was the city an important trading hub. Gaius Iulius Caesar declared her a Colonia Romulensis or Colonia Iulia Romula in 45 BC. Several emperors visited this important settlement in the Roman Hispania Baetica province.
Moorish Era
In 712, the Moors, hence, Islamized Berbers from North Africa, conquered the city. They then made it the capital of a province.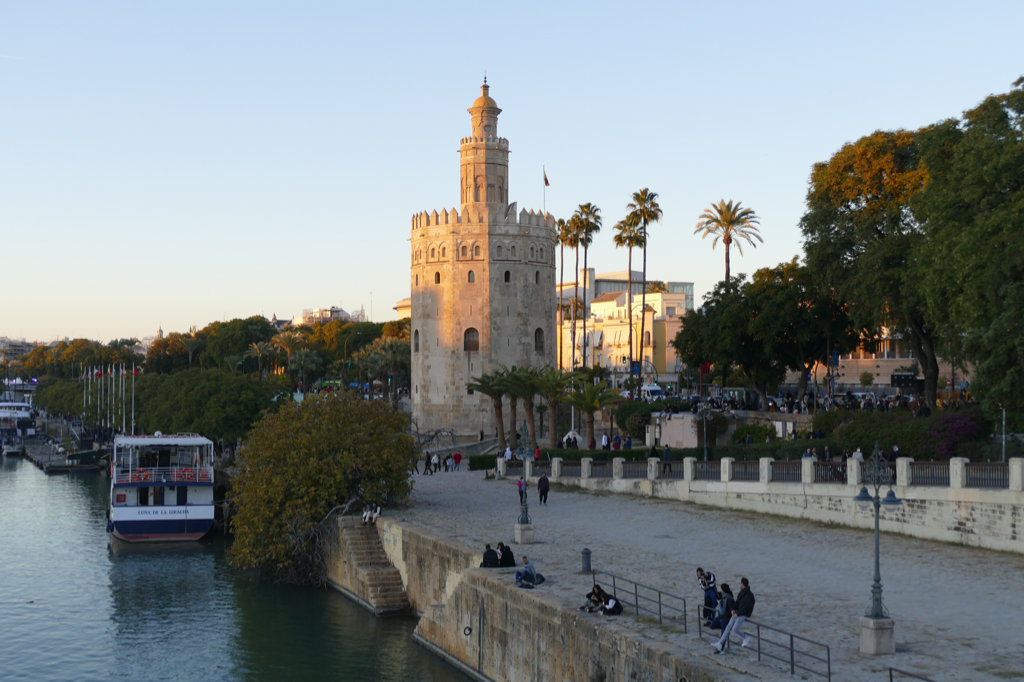 In 1147, the Almohads Caliphate replaced the Almoravid dynasty. They made Seville the most important city in what was then al-Andalus. Obviously, the most prestigious building was the great mosque. To this date, the minaret is preserved in the lower part of the Giralda. Also, the foundation walls of the Torre del Oro date from those glorious times.
Reconquista and Late Middle Ages
After several months of siege, King Ferdinand III's men conquered Seville in 1248 during the Reconquista. It has been part of Castile ever since.
As the economy sank over time, around 300,000 Moors migrated to the Muslim areas of Granada and even all the way to North Africa. Nonetheless, King Pedro I, also called the Cruel, had Moorish craftsmen come from Granada in 1363 to build the Alcázar Palace.
In 1391, a pogrom raged against the Jewish population living under royal protection in the Barrio de Santa Cruz in the Alcázar's vicinity. It was Pedro's half-brother and rival Henry of Trastámara who instigated many of those pogroms against Jews.
From 1479, Isabella I. of Castile ruled Aragón and Castile together with her husband Ferdinand.
In 1488, the couple created the Consejo de la Suprema y General Inquisición. The Inquisition was mainly directed against Jews who had converted to Christianity. They were suspected of still adhering to their former faith. Up to three-quarters of all those accused were sentenced to death.
The conquest of the emirate of Granada in January 1492 marked the end of the Reconquista. In the aftermath, Isabella I and Ferdinand proceeded with merciless brutality against Muslims and Jews. The so-called Alhambra Edict forced all Jews either to convert to Christianity or to leave the country. By 1502, the remaining Muslims were expelled.
Pope Alexander VI awarded the couple in 1494 the title of Reyes Católicos, hence Catholic Kings.
Gateway to the New World
Already Isabella I granted Christopher Columbus great support for his voyages. His discovery of America under the Spanish-Castilian flag in 1492 was the foundation of the Spanish colonial empire. Henceforth, Seville was the gateway to the so-called New World.
Also, Amerigo Vespucci and Ferdinand Magellan planned and started their voyages of discovery in Seville. To this date, the former stock exchange, the Casa Lonja de Mercaderes is housing the archives of the Indies. I'm introducing this institution that's one of Seville's three landmarks on the UNESCO World Heritage List further below.
Hence, from the 16th century, Seville had a monopoly of overseas trade. It became the main hub of Spanish maritime trade. The great wealth also made it the center of Spanish visual art. Nevertheless, eventually, Seville lost its transatlantic trade monopoly to Cádiz. This makes total sense since the latter is actually on the coast.
To this date, cruise ships occasionally call at Cádiz's port so that passengers can spend a wonderful day at Seville. Also, there are ferry connections to North Africa and the Canary Islands.
Today, Seville is the fourth largest city in Spain and has about 700,000 inhabitants. It is still an important industrial and commercial center and one of the most popular tourist destinations when it comes to city breaks. Seville's old town is the largest in Spain and one of the largest ones in all of Europe.
The Grand Tour
Seville – home of libertine Don Juan as well as early feminist Carmen – is certainly one of those many Spanish cities where you can spend days just walking around. Squeezing through picturesque cobblestone alleys, enjoying tapas and wine already at noon, watching time and people passing by.
I kinda envy people who are able to withstand the ticking of the clock and who don't even know what the abbreviation FOMO* stands for. I'm definitely not one of them. I'm putting together lists of what to see. Then, I'm tracing the most convenient routes on maps. My second name is meticulous planner. And after we missed out on so many sights in Seville due to me rising with the early bird and our hiding from the summer's torridity in department stores, I was even more motivated to see it all.
And since I put these gapless lists of beauty together, anyway, I simply share them with you. So charge your camera, put on your most comfortable shoes, and get ready for three complete days of glory.
*In case you are one of the lucky ones who don't know what FOMO is: It's the acronym of Fear Of Missing Out, a terrible disease, often fueled by Social Media.
Day One
On the first day, you might want to see some glorious historic structures that have made it to the UNESCO World Heritage List. You might think that visiting just these places will not fill your day. Well, I'm a trooper when it comes to sightseeing and yet, after a couple of hours, I felt really tired – mentally and physically. You have to do a lot of walking and climbing. Also, you'll have to digest a lot of information and cultural background. Hence, normally, the itinerary for day one should be enough. Nevertheless, if you take a break after those visits, you might be fit enough to visit for instance one of Seville's museums since they are closing really late. Or you just hang out for a while in one of the lush parks – a real treat, especially during Summertime.
This time, I visited Seville in winter so it got dark quite early. Also, I must say that I totally underestimated the time you need to visit the Cathedral as well as the Alcázar. These structures are huge!
Cathedral Santa María de la Sede
As I explained above, the Cathedral Santa María de la Sede was one of the very few sights we got to see on our day trip to Seville. I still remember having been quite impressed.
This Gothic cathedral was built between 1401 and 1519 on the remains of the Arab Mezquita Mayor. It is not only the largest sacred building in Spain, but actually one of the largest cathedrals in the entire world. It has made it to the UNESCO World Heritage Site in 1987.
Even if you are not exactly pious, the Cathedral will leave you speechless since it is full of marvelous masterpieces from many trades and various epochs.
The main altarpiece of the cathedral of Seville is a gigantic work of art. It was sculpted by the Spanish-Flemish artist Pedro Dancart, among others, and completed after more than 80 years in 1564. With almost 28 meters in height and a width of more than 18 meters, it most probably is the largest Christian altarpiece.
But you'll also find wonderful paintings by the great Spanish masters like Seville's celebrated son Bartolomé Esteban Murillo and my personal favorite Francisco de Zurbarán.
In addition to grand grave sculptures from the Middle Ages, the cathedral also houses the tomb for Christopher Columbus.
Sarcophagus of Christopher Columbus
Since 1902, the sarcophagus with Christopher Columbus' remains stands at the Puerta de la Lonja. Four heralds representing the kingdoms of Castile, León, Aragón, and Navarre are carrying the casket.
We all know that Columbus had his fair share of travel while alike and kicking. As a matter of fact, he also travelled quite a bit after his death. After he had died in Valladolid in 1506, he eventually was brought to Seville and then transferred to Santo Domingo in 1596.
As the French came to the Dominican Republic in 1795, they brought Columbus' remains to Havana. From Cuba, the remains were returned to Seville in 1898.
Giralda
The minaret of the old Moorish mosque is Seville's most important landmark. Today, this so-called Giralda is the tower of the cathedral.
The Giralda is actually the Cathedral's part you have to see at the beginning of your visit.
Instead of stairs, there are wide ramps leading up 34 storeys. In the past, these ramps allowed the ascent on horseback. Today, you obviously have to use your own feet. Don't worry, it sounds harder than it actually is. The individual floors are not very high. Also, the amazing views from each and every flight will distract you from your suffering. To encourage you: I saw a woman going up on crutches!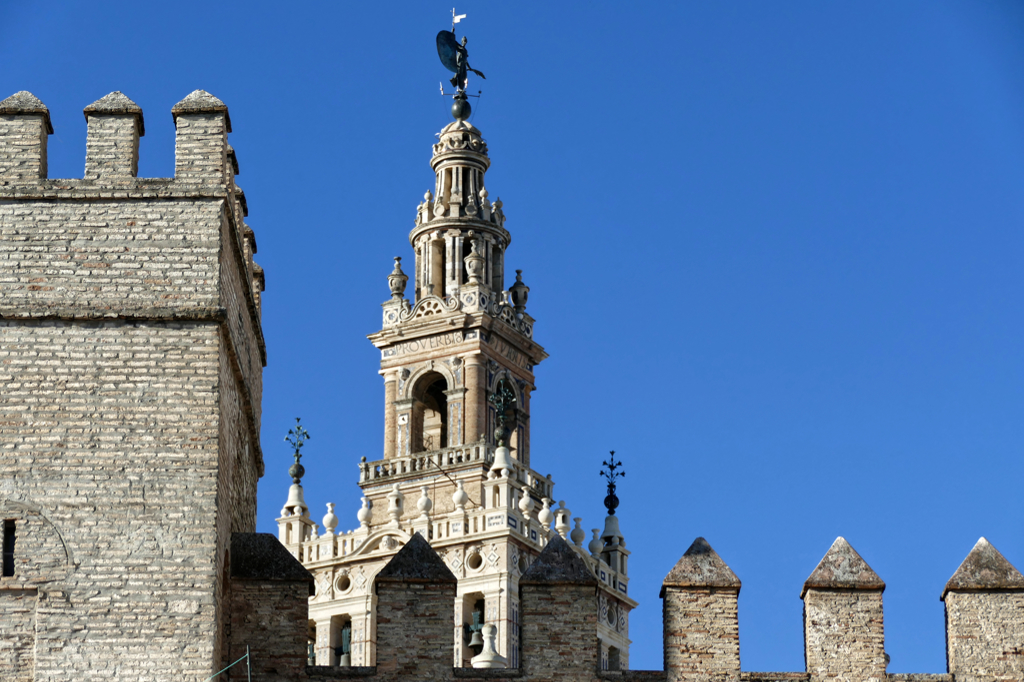 There are 24 bells hanging in the bell house and on top of the tower is the so-called Giraldillo.
This female statue by Bartolomé Morel is the incarnation of the triumphant Christian faith. In front of the Cathedral next to the Puerta de San Cristobal is a replica of the statue so you can admire it from close.
Orange Courtyard
After having visited these majestic structures, you should add a relaxing visit to the lovely Patio de los Naranjos, the Orange Courtyard, at the west portal. Here, Moorish designs as well as Kufic calligraphy clearly differ from the Christian style.
In front of the west façade of the cathedral is the former Mosque's forecourt. The Moors used the well for ritual ablutions. Therefore, the gate is named Puerta del Perdón, the door of forgiveness.
Plan Your Visit
To visit the Cathedral, the Giralda, and the Iglesia Colegial del Divino Salvador, there are different ticket options. The general ticket including all three sites costs 10 €uros.
At this time – i. e. in the aftermath of the Covid restrictions – opening hours for touristy visits are Monday to Saturday from 10.45 a. m. to 5.00 p. m. and Sundays from 2.30 p. m. to 6:00 p. m. In any case, you should book your ticket well ahead online for instance on this page*.
If you've bought your ticket online, you should go to the Puerta del Lagarto. If you still need to buy your ticket, make your way to the Puerta del Principe.
There is an option to visit also the Cathedral's roof. To do so, you have to buy a different ticket – also preferably well ahead and online – that sets you back 16 €uros.
Iglesia Colegial del Divino Salvador
About 500 meters north of the Cathedral is Seville's largest church, the Church of the Divine Savior. It is a Catholic church that was completed at the beginning of the 18th century.
First, there was a Roman basilica that was overbuilt with the Ibn Adabbas Mosque in 830. For 350 years, it remained the city's largest mosque.
After the Reconquista in 1248, Ferdinand III of Castile transformed the Mosques into a Christian house of worship using a very simple trick. They turned the orientation from the Mosques' North-South axis to the East-West common in Christian churches.
The Church of the Divine Savior is a baroque church, however, the main façade shows Mannerist influences.
The inside is extravagantly decorated and has 14 unique altarpieces.
Plan Your Visit
For 5 €uros, you can visit the church from Monday to Saturday from 10 a. m. to 5.30 p. m. However, if you are also visiting the Cathedral, your best deal – money- and timewise – is a combined ticket*.
If you want to attend the service, you can do so every day at 8 p. m., Sundays also at 12.20 p. m.
Royal Alcázar of Seville
As I pointed out in the history section above, King Pedro I commissioned the Alcázar Palace of Seville. Moorish craftsmen came from Granada in 1363 to build this medieval royal palace. Today, the Spanish royal family still uses it as their official residence when they are in town.
The Royal Alcázar of Seville made it to the UNESCO World Heritage Site in 1987 – together with the Cathedral and the Archive of the Indies.
Palace
The Almohads were the first to build a castle on the site of today's Alcázar. Eventually, the complex was transformed and extended into a palace.
Today, it is one of the best-preserved examples of Mudejar architecture. Those are edifices designed in an Islamic style, but under Christian rule.
Eventually, various rulers expanded the Alcázar. Therefore, distinct architectural styles were added – like for instance Gothic features under the Catholic Kings Charles V. and Philip II.
Gardens
The beautiful gardens of the Alcázar go back to the era of King Charles V. in the early 16th century. Originally, they were even larger than they are today.
Various buildings and statues adorn the gardens. Not to be missed is a stroll along the Galeria de Grutesco, the grotto gallery. The old Moorish wall was transformed into a long gallery from which you have amazing views of the palace gardens.
Plan Your Visit
Most of the Alcázar and the gardens are accessible to the public. However, a small part is reserved as the Royal family's private residence.
There are different ticket options to choose from. The best way to obtain a ticket is on this site.
Also, you should book your visit as soon as possible to avoid disappointment – especially during the high season. Opening hours from October 29 to March 31 are every day from 9.30 a. m. to 5 p. m. and from April 1 to October 28 to 7 p. m.
The tickets are personal, hence, you need to show your ID or passport at the entrance.
My tip:
Residents can visit the Alcázar for free. However, also other visitors have free access on Mondays after 4 p. m. in Winter and from 6 p. m. between April and October. Nevertheless, you do need a ticket that you can obtain online.
Archivo de Indias
The third landmark that made it onto the List of World Heritage Sites is the Archivo General de Indias, the Archive of the Indies. It is a central archive that collects documents related to the Spanish colonial empire, hence, Spanish America as well as the Philippines.
Since 1785, it has been housed in the former stock exchange, the Casa Lonja de Mercaderes, designed by Juan de Herrera.
The year 1760 was set as the archiving date. The collection is the most comprehensive and important archive of Spain's colonial era.
The archive is not open to touristy visits. Nevertheless, anyone who can prove a legitimate research claim and is in possession of a valid user card is admitted.
Day Two
So while the first day was – to my big surprise – actually dedicated to only three major landmarks, on the second day, I felt to urge to catch up on some more glory.
As in many other Spanish cities, there are some architectonic jewels in Seville. As a matter of fact, many of them can actually be visited. Unfortunately, there is no such thing as a general city pass that grants free or discounted access to various attractions. There are – quite pricy – passes. However, mostly, they include only the Cathedral and the Alcazár and maybe some hop on hop off bus and that's it. Consequently, you have to pay for all other landmarks separately, however, most of them are not very expensive.
Palacio de San Telmo
The first palace that I'm introducing cannot be just accessed as you please. It houses the autonomous government of Seville, after all. Nevertheless, its magnificent baroque façade and most of all the sculptures on the northern side make a visit worth a while.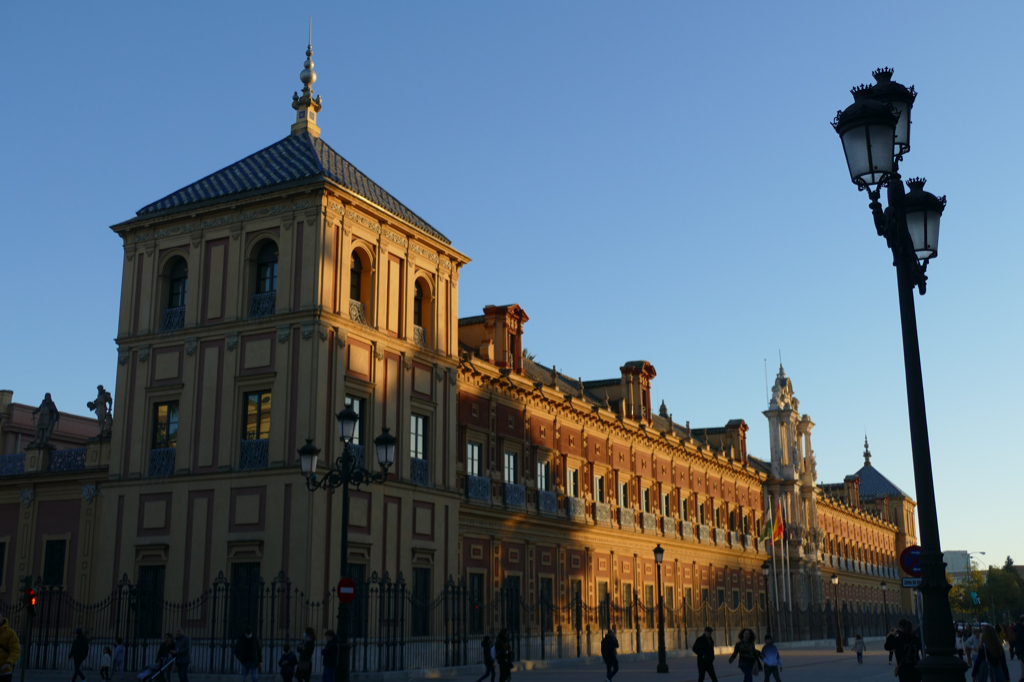 This group of figurines is called galería de los doce sevillanos ilustres, hence, gallery of twelve eminent Sevillians. These life-size statues were created by the sculptor Antonio Susillo in 1895. They portray well-known personalities from Seville's history such as officer Rodrigo Ponce de Léon, the painters Diego Velázquez and Bartolomé Esteban Murillo, as well as priest Bartolomé de Las Casas.
The palace was built outside the former city walls in 1682. In the beginning, it housed a school for orphans from seafaring. Eventually, the palace housed various teaching institutions and academies.
The building has several courtyards. In 1929, the palace gardens became part of today's María Luisa Park and were thusly opened to the public.
Plan Your Visit
Visiting the palace is possible on Thursdays, Saturdays, and Sundays. Those tours are free of charge, however, you need a reservation that you can make on this website, by calling +34 955 001 010, or by sending a mail to visitassantelmo@juntadeandalucia.es.
Palacio de las Dueñas
Full Name: María del Rosario Cayetana Paloma Alfonsa Victoria Eugenia Fernanda Teresa Francisca de Paula Lourdes Antonia Josefa Fausta Rita Castor Dorotea Santa Esperanza Fitz-James Stuart, Silva, Falcó y Gurtubay, 18th Duchess of Alba
Visiting this palace is a bit like visiting the Kardashian's crib.
I don't know how often you are reading tabloids so that you kept up with the Alba's – or more precisely with Cayetana Fitz-James Stuart y Silva – please don't make me write out her full name again as I did so in the header above. Not only was she one of the most senior aristocrats in Spain. Most of all, she was a wild child. Sadly, in 2014, she passed away at the age of 88.
Cayetana Fitz-James Stuart was the only child of the 17th Duke of Alba, a prominent Spanish politician and diplomat. As one of the earliest it-girls, the Duchess mingled with international jet setters like Jackie Kennedy, Grace Kelly, Sophia Loren, and Audrey Hepburn. She also made it to the covers of Time Magazine and Harper's Bazaar.
After a befitting marriage and six children, the Duchess became a widow in 1972. This is when she shocked the world with some truly colorful husband choices.
New Life
In 1978, she married a former Jesuit priest, who turned out to be illegitimate, to top things of. Obviously, in Catholic Spain, this caused a stir, to say the least.
Although her scandalous husband had been eight years younger than the Duchess, she found herself re-widowed in 2001. To no surprise, fun-loving Cayetana intended to re-marry, this time a civil servant, 24 years her junior. As well her six children as King Juan Carlos – beats me why he had a say in this – objected. Nevertheless, the Duchess decided to proceed and gave her children their inheritance.
So then she got married for the last time on October 5, 2011, at the very palace. As she had a great passion for everything Spanish including flamenco, she even performed a few steps of the dance for the crowds that had gathered outside the palace on her wedding day.
That's what I call a celebration – of love and life!
Palace of the Dukes of Alba
The palace was built in the late 15th century in the Renaissance style. However, it flashes also Gothic and Moorish influences. To this date, it is one of the major historic homes in a city of great architectural and artistic heritage that is Seville.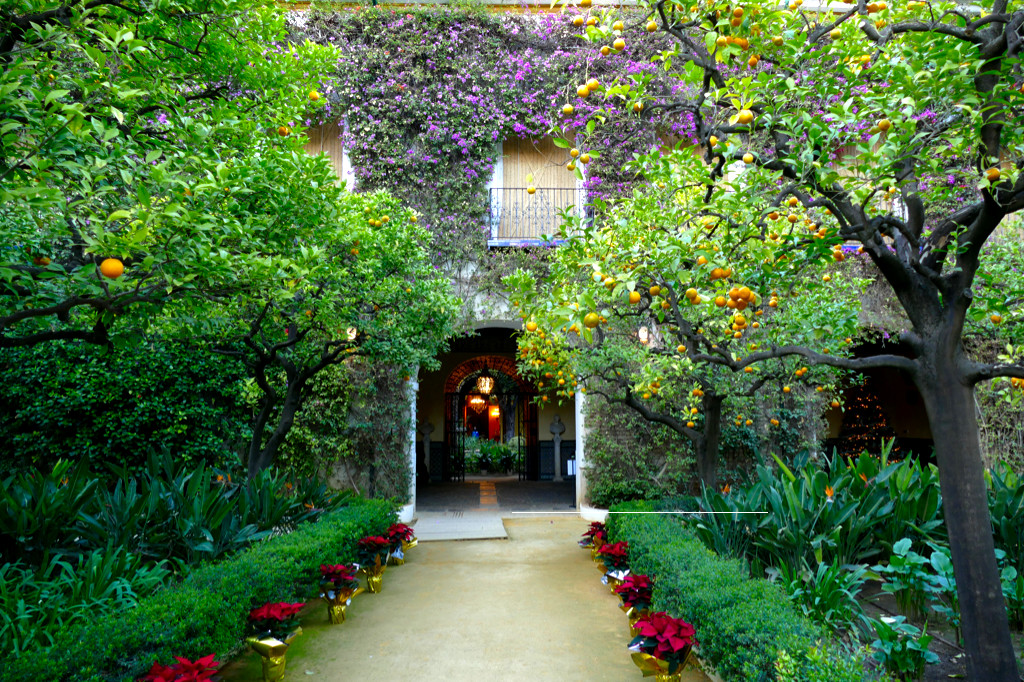 You enter the property through a huge door of Mudéjar style. Then, at the entrance to the palace, there is the coat of arms of the Duchy of Alba in tiles, made probably in the 17th century when the palace came into the Alba's possession.
The complex consisted – apart from the mansion – of eleven patios, nine fountains, and over 100 marble columns. Of those, only one patio remains which is surrounded by a gallery with columns.
The building became the property of the House of Alba through marriage.
Interestingly, the poet Antonio Machado was born here and lived in the palace during his early childhood as his father was the caretaker of Jacobo Fitz-James Stuart, the 15th Duke of Alba.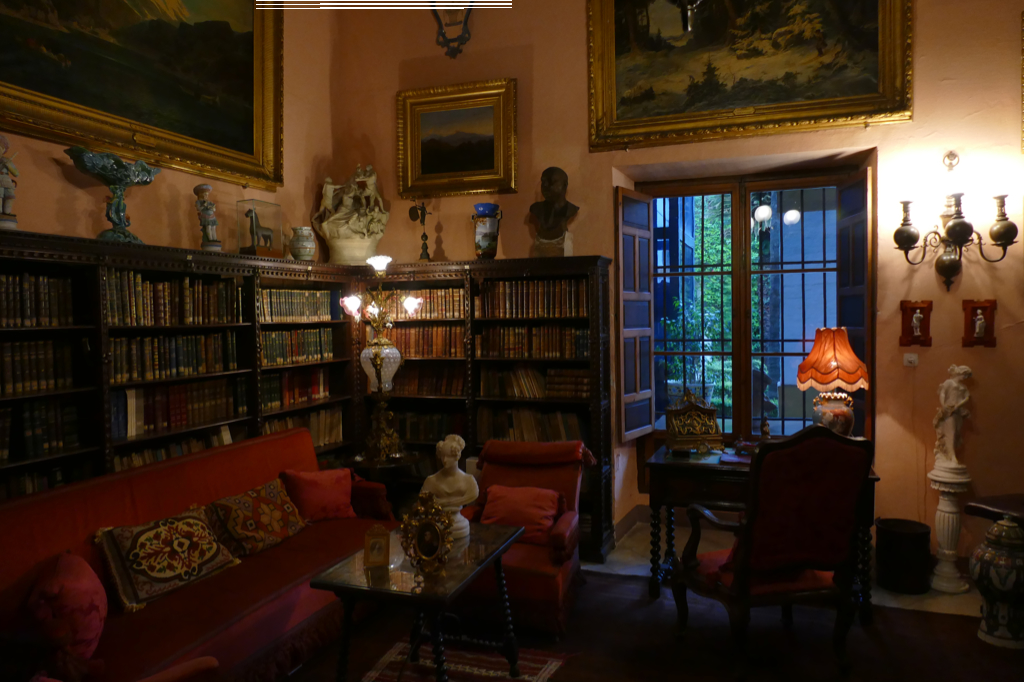 The palace's name, by the way, derives from the monastery of Santa María de las Dueñas. Until it was destroyed in 1868, the monastery stood on the palace's periphery.
Plan Your Visit
You can visit the palace every day between 10 a. m. and 6 p. m. for 10 €uros.
On Mondays, visits are free after 4 p. m. For this purpose, 50 tickets are distributed at 4 p. m. and another 50 tickets at 5 p. m. the same day at the box office. There is a limit to one entry per person and prior reservation is not possible. However, I recommend buying your ticket in advance online* – especially during the high season.
Casa-Palacio de la Condesa de Lebrija
The next palace that you should absolutely visit also commemorates the life of an outstanding woman. Albeit, Regla Manjón Mergelina, the Countess of Lebrija, was much more serious than the above-introduced Duchesse.
Regla Manjón Mergelina, Countess of Lebrija
Regla Manjón was born in the Cádiz area to a landowner family. After she married Federico Sánchez Bedoya, a man of wealth and culture in 1895, she moved to Seville.
Just like her husband, she was cultured and educated – a lover of books with a special interest in history.
During her marriage, she was the strong woman behind a successful man. However, beginning with her widowhood, she turned to her passion for collecting. In 1901, she purchased the palace on Calle Cuna. She started buying Roman mosaics from the antique city of Itálica. By 1914, she completed her house. She generously lent the acquired pieces and collections to researchers. This generosity earned her the honorary membership of the Royal Academy of Fine Arts of Saint Elizabeth of Hungary in 1918. For many years, she remained the only female member of the institution.
In 1920 she was elected an academic at the Royal Academy of Fine Arts of San Fernando in Madrid, and from 1922 she was part of the Commission for Historical and Artistic Monuments of the Province of Seville.
Over time, she converted her charming home into a private collection and archive. Albeit, she donated parts of her precious library to the University of Seville. Often, she frequently convened charity events and attended social and cultural gatherings in the city.
In addition to her activities regarding the artistic heritage of Seville, she was also engaged in charitable work, especially for the benefit of abandoned children.
The Palace
Dating from the 16th century and after being remodeled a couple of times, the façade and layout reflect a typical Andalusian style. The interior of the palace, however, is decorated in a range of styles. There are elements like Moorish arches, tiles retrieved from a demolished convent, Renaissance friezes, and a coffered ceiling from a 16th-century palace.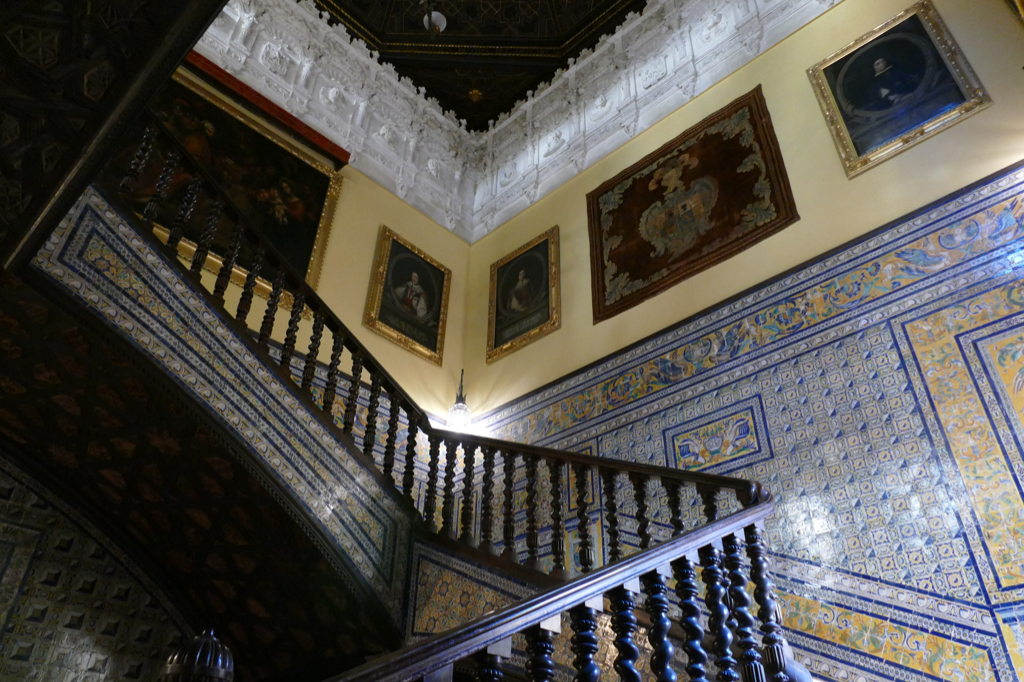 One of the most precious features is a collection of unique Roman mosaics. They pave almost the entire ground floor. On the ground floor, the mosaic's central medallion represents Pan, serenading Galatea on his flute. Another medallion shows the love stories of Zeus. The corner designs represent the four seasons. The Spanish historian Juan de Contreras y López de Ayala was probably right when he referred to the mansion as the best-paved palace in Europe.
The building is also adorned with Greco-Roman busts and pieces from the Moorish era, from China and Persia. Also, there are original paintings by grand masters such as Van Dyke, Brueghel, and a portrait of the Countess by Sorolla.
In 1999, the Countess' heirs opened the house to the public as a museum.
While you can explore the ground floor at your own pace and as long as you please, you'll get to see the upper floor only on a guided tour that lasts 45 minutes. You'll get to see the parlor, a dining room, a library, a private chapel, and even the late Countess' bedroom. Those rooms have been actually left the way the family lived in them.
Plan Your Visit
You can visit the palace every day between 10 a. m. and 6 p. m. for 12 €uros.
On Fridays, visitors can enter the lower floor for free at 10 a. m. Places are limited and prior reservation is not possible.
Find further information and online ticket sale on www.palaciodelebrija.com
Casa de Pilatos
The Casa de Pilatos dates from the early 16th century and is a prototype of an Andalusian aristocratic palace. It is an alluring mix of the Italian Renaissance and the iconic Spanish Mudejar style.
Fadrique Enríquez de Ribera was not only the first Marqués de Tarifa and VI Adelantado Mayor de Andalucía. He was also a worldly traveler – a rather unusual activity in the 16th century, obviously. Hence, he was one of the first visitors to Jerusalem in the so-called Holy Land after the Christian Crusades.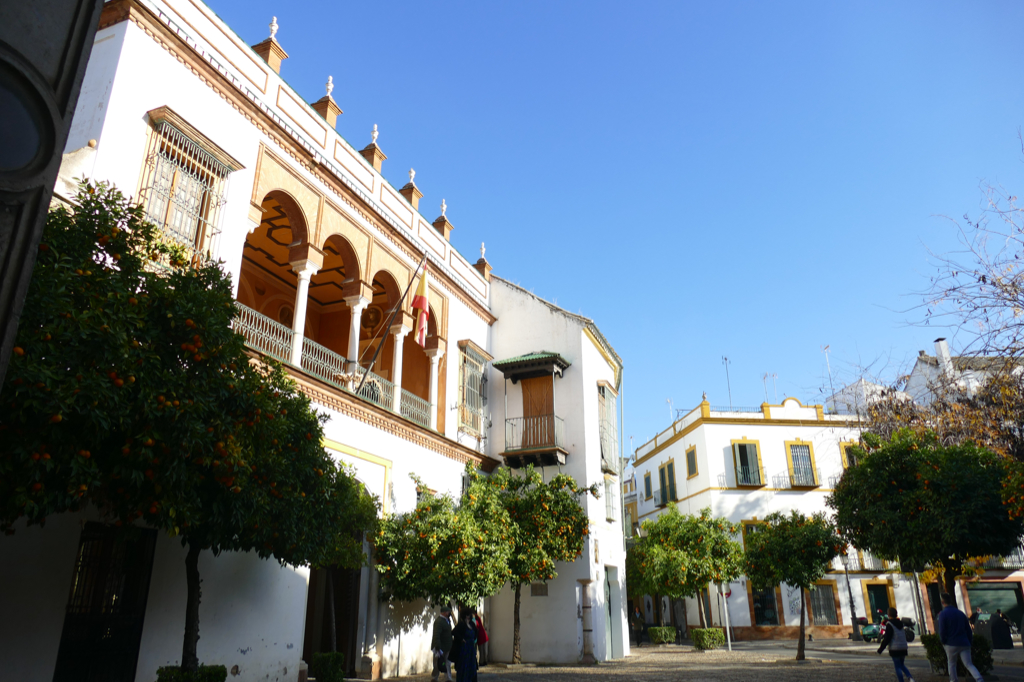 So after that trip, the Marqués had the palace rebuilt. Inspired by his trips to Italy, he also added some Renaissance features. Since that time, the building has been popularly known as the House of Pilate.
Apart from the Reales Alcazares, it´s actually the largest Sevillian palace. Today, it is the permanent residence of the Dukes of Medinaceli as well as a museum.
Even if you miss the opportunity to visit the Casa de Pilatos during your trip to Seville, you can still admire its inside as well as the courtyard in movies such as Lawrence of Arabia, Knight and Day, and Mission Impossible 2.
Plan Your Visit
You can visit the palace every day between 9 a. m. and 6 p. m. for 12 €uros. If you visit only the ground floor, you pay only 10 €uros.
Nevertheless, if you've visited the above-described mansions, you can skip this one.
Edificio Ciudad de Londres
At the beginning of his career, Sevillian architect José Espiau y Muñoz was dedicated to the modernist style which was very popular during that era. However, his work became more regionalist and unfolded by 1917 into a Neo-Mudejar style. This can be clearly seen in his Edificio Ciudad de Londres, hence, City of London building, that he created between 1912 and 1914.
The colors, shapes, and decorations are undoubtedly of Arabic influence. Its unique design makes this building one of the most valued architectonic achievements. No wonder the Edificio Ciudad de Londres was one of the four buildings with which Espiau participated in the Sevillian-style façade competition in 1912.
Unfortunately, this façade cannot be that easily seen at its location in the narrow streets of the commercial center of the city.
The building cannot be visited, however, there is a bridal shop on the ground floor.
Iglesia de Santa María la Blanca
If one of my hotels hadn't been right next door, I actually might have missed this hidden gem. The Church of Santa María la Blanca is located on the same-named street on the southern border of the old city center. It was built in the 17th century and is the headquarters of the Brotherhood of the Rosary of Our Lady of the Snows.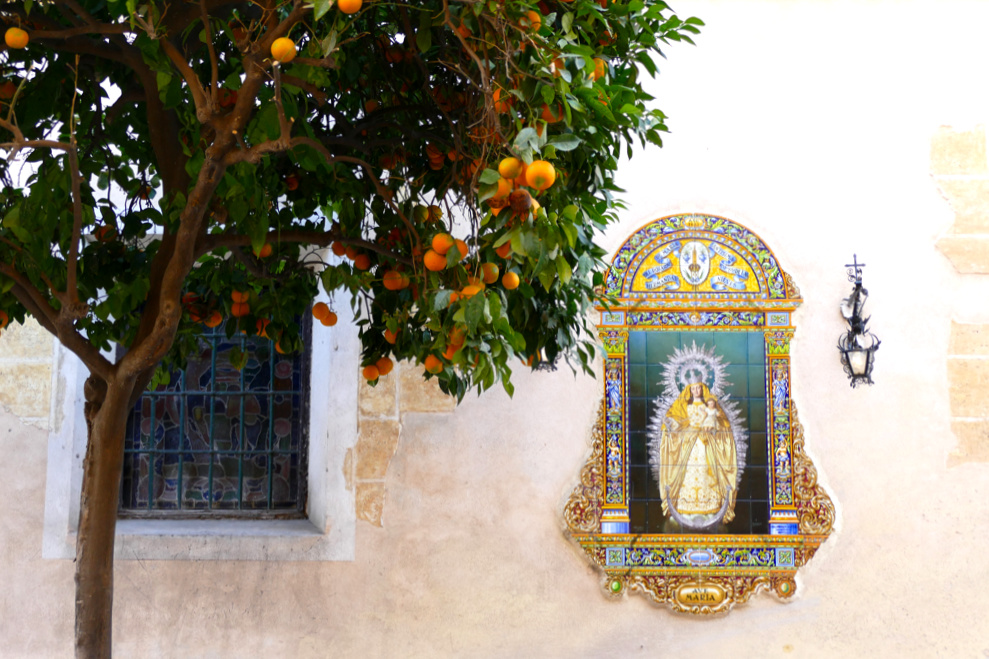 After the Reconquest of Seville in 1248, all the city's mosques were ceded – except for three that were in what then was the Jewish quarter. Those became synagogues. So this site was one of those synagogues. In 1391, after the anti-Jewish riot, however, it was transformed into a Christian church. A new façade was built of which the main portal and the lower part of the belfry are preserved.
The major parts, however, were built in the 17th century.
Inside, there are three naves divided into six sections by ten Tuscan red marble columns. The entire surface of the vaults, cupola, and arches is decorated by profuse and volumetric geometric, floral, and figurative motifs.
In the past, the church featured several paintings by Murillo. Today, only La Cena, the Last Supper, is preserved. Two other of his canvases were damaged when the church was looted during the French invasion of Andalusia in 1810. Eventually, they returned to Spain and are now at the Prado Museum in Madrid.
The Iglesia de Santa María la Blanca stands right in the heart of what used to be the Judería, hence, the Jewish quarter. You'll get many more tips on what to see in the section on the third day below.
Church of the Convento de San José
I mainly love this church built from limestone and pink marble in the 18th century for the beautiful azulejo decoration on the front. It simply reminds me of those wonderful tiles in Portugal.
In 1603, Fray Juan Bautista del Santísimo Sacramento created a reformed Mercedarian order, the Barefoot Mercedarians. This, by the way, was not only a name, but actually a lifestyle. The brothers who kept their footwear on stayed at the Colegio de San Laureano in a neighborhood further north. However, after a dispute, the barefoot bros had to leave in 1609. I don't know if they were given the option to simply put on some shoes.
Iglesia de San Ildefonso
The Church of San Ildefonso was completed in 1841. The building has two very different façades. The main one, where two towers are flanking the entrance door, flashes a baroque style.
In a neoclassical style is the side portal on the wall of the gospel nave facing Calle Rodríguez Marín. It is much smaller and has very elegant and sober lines.
Due to the fact that the streets around the church are so narrow, making out which feature belongs to which part of the building is quite confusing. This makes visiting kind of a fun game.
If you've been to Seville, you might be confused because of my choice of houses of worship. Aren't there others, more important ones? There certainly are – after all, reportedly, there are about 115 functioning churches and 15 active convents in the city. And while the Cathedral Santa María de la Sede is indisputably the most iconic and significant house of worship, I find that the others should be – just like belief as such – a personal choice. So, the best you can do is just wander around Seville and let all those fantastic buildings amaze you at basically every corner.
Enjoy the beauty of faith!

Day Three
Although after these two first days, you check many must-sees off your itinerary for Seville, there remain still a couple of places you absolutely should see. So come on, don't hit the wall as yet – I promise you'll be highly rewarded since we'll see some truly amazing things.
Plaza de España
Actually, there is a Plaza de España in basically every Spanish city. In some places, like for instance in Palma de Mallorca, it's some famous dude on a horse. In Seville, however, the Plaza de España will make your head spin.
When Seville hosted the Ibero-American Exhibition in 1929, Aníbal González Álvarez-Ossorio designed many buildings for this event at the María Luisa Park. Construction began in 1924 and lasted four years.
A semicircle with a diameter of 200 meters is supposed to symbolize an embrace of the South American colonies by Spain. I personally don't subscribe to this form of colonialistic thinking. To me, colonies are too tightly related to oppression and bloodshed, hence, I'm having a hard time celebrating this kind of hegemony. But all supremacist symbolism aside, it's a beautiful square.
Around the square is a canal with a length of 515 meters. This is crossed by 4 bridges, which are supposed to represent the four ancient kingdoms of Spain, namely Castile, León, Aragón, and Navarre.
The building is built and decorated with clinker bricks, marble, and ceramics. Particularly striking are the niches on the lower part of the walls. Here, Spain's 48 provinces are represented in alphabetical order. Adorned with beautifully painted tile ornaments, they show maps of the provinces, mosaics with historical events as well as the coats of arms of the capitals of each province.
Take a Look Around
The beauty and glory of the Plaza de España is not to be missed, consequently, it is always packed with visitors. Therefore, there is a lot going on: Guitarists are singing cheezy love songs while dancers are vigorously stamping the rhythm of flamenco into the ground. While entire families are enjoying a trip in one of the horse carriages, young couples are rowing in small boats on the canal.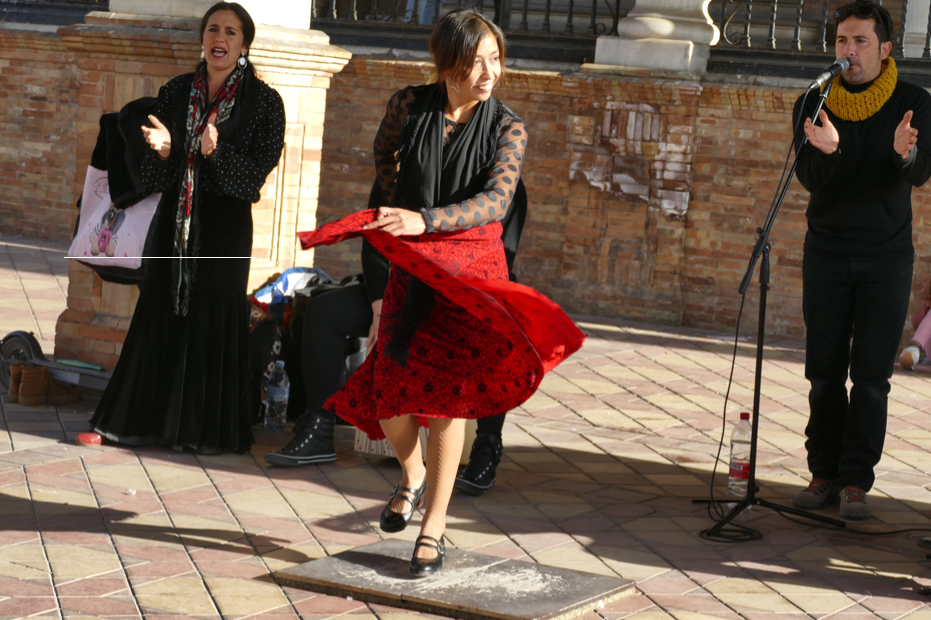 Yes, there is a lot of fun stuff going on, and yet, I'm taking this opportunity to remind you of your valuables. Not only on the Plaza de España but at many places frequented by tourists that tend to awe at attractions. Because while you are not paying that much attention to your belongings, other people might.
Parque de María Luisa
In 1850, the Duke of Montpensier Antonio de Orleans and his wife, the Infanta María Luisa Fernanda de Borbón, resided at the Palace of San Telmo. To establish their park, they bought two farms and commissioned the French gardener André Lecolant to design their palace gardens.
María Luisa Park was Seville's first urban park. These grounds were originally part of the private gardens of the San Telmo Palace and donated by the Infanta María Luisa Fernanda de Borbón, wife of the Duke of Montpensier, to the city in 1893.
As you have learned in the above chapter, for the Ibero-American Exhibition, works were carried out since the 1910s.
Today, the park has an area of ​​34 hectares. With its lush greeneries, recreational areas, and unique species of plants, the Parque de María Luisa is very popular with locals and visitors alike for a refreshing break from the city's hustle and bustle.
Barrio de Santa Cruz and San Bartolomé – La Judería
Santa Cruz and San Bartolomé are actually part of the historic old town of Seville, including the cathedral, the Archivo de Indias, and the Alcázar. In the late Middle Ages, the city's Jewish Quarter was located in these two neighborhoods.
The Jewish quarter was a district in which Jews lived from the reconquest of Seville by Fernando III of Castile until their expulsion by virtue of the Edict of Granada issued by the Catholic Monarchs.
When the city of Seville was conquered by the Christian King Ferdinand III of Castile in 1248, Jews began to populate the city.
King Ferdinand's son, Alfonso X, granted four mosques to be converted into synagogues – I mentioned this above in the section about the Iglesia de Santa María la Blanca.
Some of the inhabitants of the Jewish quarter were very close to the Kings of Castile. For instance, Solomon ibn Zadok of Toledo was directly linked to Alfonso X. Or Yudah Abravanel de Sevilla, founder of the well-known family of the Abravaneles, was one of the most influential personages at the court of King Fernando IV. Seville was the second most important Jewish community in Spain, after Toledo.
Tables Turn
Nevertheless, in 1391, there was a first assault on the Jewish quarter by Christians. Also, in the spring of that year, the Archdeacon began to instigate the Sevillian Christians against the Jews. Eventually, a mob entered the Jewish quarter, attacked the inhabitants, and destroyed their shops. Months later, the hostile crowds re-entered the Jewish quarter. This time, they murdered about 4,000 Jews, hence, almost the city's entire Jewish population.
The King, however, imposed a fine on Seville that was paid for ten years.
Still, the expulsion of the Jews from Spain – or else their conversion to Christianity – was decreed in 1492. In Seville, this did not have such a huge impact since due to the massacre of 1391, there were very few Jews left in the city, anyways.
Visiting the Judería Today
Actually, just wandering aimlessly through the narrow alleys of this neighborhood is the best way to immerse yourself in its charm.
However, make sure to visit iconic spots like the Plaza de Santa Cruz with the iconic Cruz de la Sierpes. Then, you'll certainly enjoy the architecture and abundant vegetation at Calle Verde, a charming alley in the San Bartolomé neighborhood.
Also, you might want to squeeze through the incredibly narrow alleys to Bartolomé Esteban Murillo's home at Calle Santa Teresa since he's one of Seville's most celebrated sons.
Coming from the beautiful Parque Murillo, you'll pass by the Balcón de Rosina, a charming balcony that supposedly inspired Rossini's opera The Barber of Seville.
Finally, you'll get a feel for what the Jewish quarter must have been like if you treat yourself to at least one night at the unique hotel Las Casas de la Judería*.
It consists of 27 traditional Sevillan houses which are subterraneously connected by passages and open courtyards.
Although I found my small, funky-smelling room there pretty overpriced, experiencing the setting was quite intriguing. However, since they have a very cozy bar on the upper floor of the main building, you might opt for experiencing the casa's charm for the price of a drink.
My tip:
Some people really seem to know what it takes to be a traveller – and they do something about it. On Calle San José 15 as well as on Calle Córdoba 12 is the wonderful traveller oasis ThePinkLockers. It's a baggage deposit – and far more.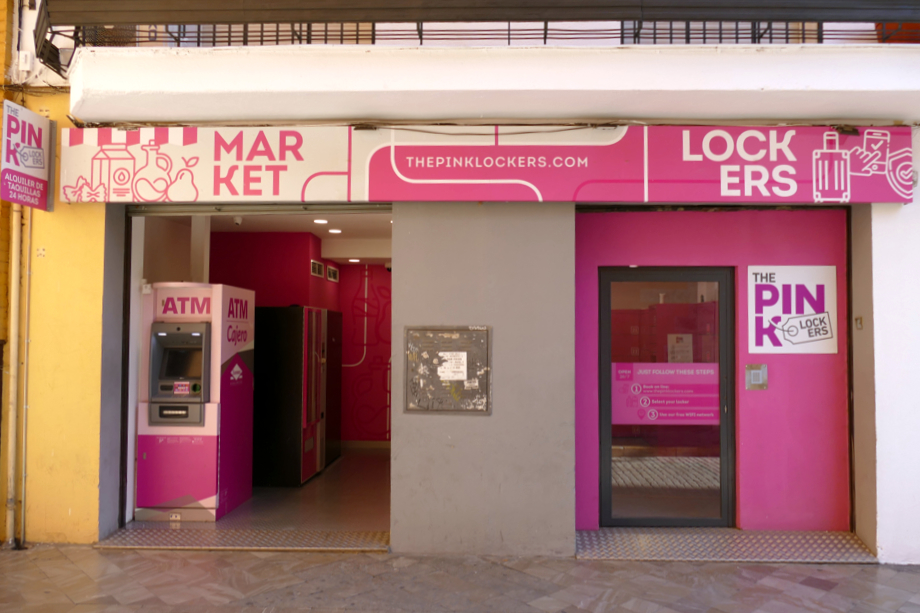 Not only can you rent safety boxes for your luggage in four different sizes starting at as little as 4.90 €uros per day. They also have a mini-market, an ATM, WiFi, and you can charge your appliances. Looking for safety and commodity although you don't have a hotel room? Look no further, ThePinkLockers have you covered.
As an avid traveller, I wish every city had ThePinkLockers.
Plaza de los Toros
Well, just like there is a Plaza de España in every Spanish hamlet, there also is a Plaza de Toros, a square with a bullring. Although there are controversies regarding Spain's traditional sport whose animal cruelty cannot be denied, during the annual Seville Fair, the Plaza de Toros de la Real Maestranza de Caballería is the site of one of the most well-known bullfighting festivals in the world. The Real Maestranza de Caballería de Sevilla has a seating capacity for 12,000 viewers, after all.
The ring itself is one of the city's most popular tourist attractions. It dates back to 1749. The inner façade, the so-called Palco del Príncipe or Prince's Box, was completed in 1765. This box consists of two parts: The access gate through which the bullfighters exit, and the theater box itself, which is reserved for the exclusive use of the Spanish Royal Family.
Plan Your Visit

Guided tours can be booked every day between 9.30 a. m. and 7.30 p.m. For 10 €uros, you get to visit different parts of the bullring, such as the museum, the Bullfighters' Chapel, the Horses' Courtyard, and the Prince's Gate.
However, bullfighting takes place during the Feria de Abril and then until September, usually on Sundays. Ticket prices start from 20 €uros.
You can get further information on the official website where you can also book your tickets.
Museo de Bellas Artes de Sevilla
And now let me guide you to a place that also reflects on Spain's greatness, however, in a far less cruel and bloody way.
The Museum of Fine Arts of Seville was established by Royal Order in 1835. The foundation of today's collection stems from works that were used to decorate convents and monasteries. This explains the large collection of religious paintings, mostly from the Sevillian Baroque. Hence, the collection reflects the evolution of the Sevillian school. It has had a homogeneous, continuous trajectory on a very high level of quality throughout the centuries.
However, the Baroque era stands out notably with a strong presence of great masters such as Francisco de Zurbarán, Bartolomé Esteban Murillo, and Juan de Valdés Leal.
Yet, there are also great works from the 19th century in which the Sevillian school lived up to a new stage of splendor that has begun during Romanticism.
Apart from paintings and sculptures, the museum's collection consists also of ceramics – both decorative tiles as well as tableware. Also, there are wrought works, weapons, furniture, and textiles from the Renaissance, the Baroque, as well as the 19th century.
Therefore, today, the Museo de Bellas Artes de Sevilla is considered one of the most important art galleries in Spain.
Plan Your Visit
The galleries are open to the public Tuesday to Saturday from 9 a. m. to 9 p. m. and Sundays only till 3 p. m. While the citizens of the EU visit for free, all others pay the small amount of 1.50 €uros.
Metropol Parasol
German architect Jürgen Mayer designed the Metropol Parasol. It was then built from wood, concrete, and steel between 2005 and 2011 on the Plaza de la Encarnación. The building has curved, organic shapes. With a length of 150 meters long, a width of 70 meters, and a height of 26 meters, it should be the world's largest wooden structure.
Jürgen Mayer was granted the Best of the Best 2012 award by the Red Dot Design Awards. Also, the building was nominated for the Mies van der Rohe Award in 2013.
The construction consists of six parasol-like structures with a mushroom-like shape. They are joined so that they form a protective shield against the sun.
Due to this mushroom shape, the construction is often referred to as Las Setas which translates to – you probably guessed so – mushrooms.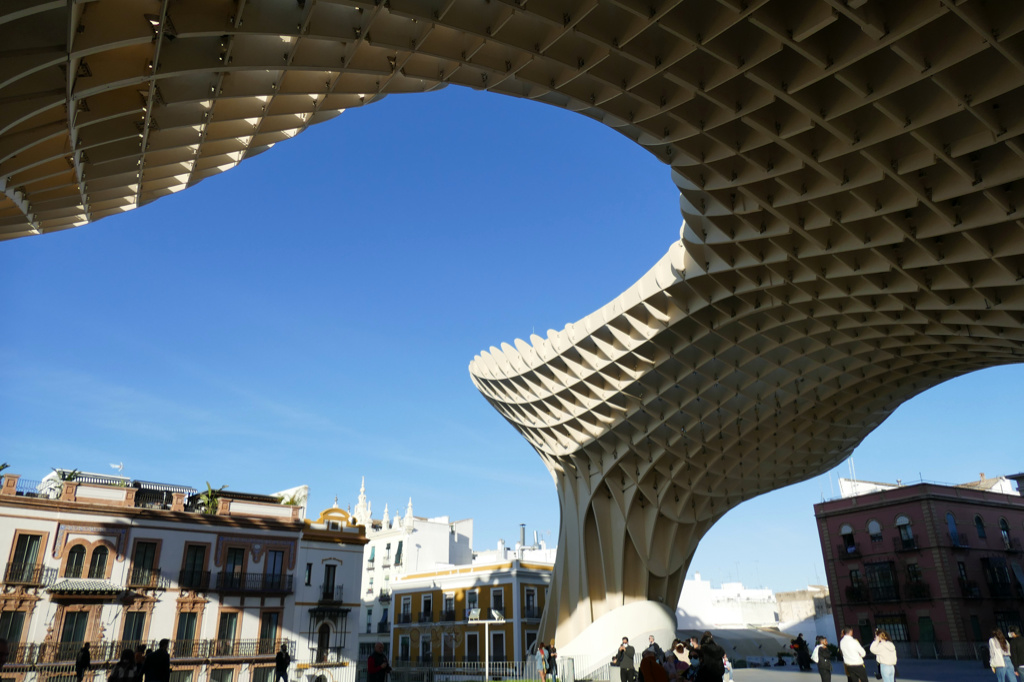 Covered by the Metropol Parasol, you find shops, bars, restaurants, and a market. There is also an archaeological museum showing remains from Roman and Moorish times. Apart from event rooms, there are walkways on the roof granting a fantastic view of the city.
Plan Your Visit
From November to March, the Metropol Parasol can be visited between 9:30 a. m. and midnight, from April to October half an hour longer till 12.30 a. m.
There are various types of tickets to visit the Metropol Parasol. The full entrance fees are 10 €uros by day, 12 €uros at sunset, and 15 €uros at night. This includes a visit to the Feeling Sevilla immersive experience. However, if – like me – can happily do without immersive movies and just want to walk around on the structures, you pay only 5 €uros.
Practical Information
How to Get There
Plane
There are various European airlines flying to Seville. The city's San Pablo Airport is about 13 kilometers northeast of the city center. There is an amazing number of domestic flights. Those operated by the low-cost airline Vueling are often even cheaper than long-distance buses or trains – which is definitely not a good thing when you care about the environment.
If you haven't booked a package where the travel company arranges the shuttle to your hotel, you have three options for transportation from the airport to the city center. The most comfortable option is taking a cab*, obviously.
However, to save lots of money, you can get from the airport to the most important transfer hubs in the city by bus. The EA bus shuttles passengers every day of the year. It leaves the airport towards the center every twenty to thirty minutes between 5.20 a. m. and 1.15 a. m. and returns to the airport between 4.30 a. m. and 12.30 a. m. A one-way trip costs € 4 and a return trip € 6, however, it must be used the same day. You can purchase your ticket on the bus.
The bus stops at various central spots such as the train stations Santa Justa and San Bernardo and the central bus terminal at the Plaza de Armas.
I'm not driving, but if you want to rent a car, you can do so right at the arrival hall. There are five car rental companies to choose from.
My Tip:
Sometimes, it can be cheaper to fly on a low-cost airline to Jerez de la Frontera. From there you can easily reach Seville by bus or train within one hour.
Long-Distance Bus
Travelling by long-distance bus is getting really popular in Europe. The cheap prices make up for the little loss of time compared to trains. And since various companies are competing, the service is usually very reliable.
There are two central bus stations from which intercity buses go not only to the outskirts, but also to various cities in Spain, Portugal, and other European countries.
At the bus station Prado de San Sebastian, buses are leaving for Andalusian cities such as Córdoba, Granada, Cádiz, Málaga, Almería, Jerez de la Frontera, Ronda, and Marbella.
From the bus station at the Plaza de Armas, coaches are leaving for eastern and northern Spanish cities such as Madrid, Valencia, and Barcelona, but also for places in southern Portugal such as Lisbon.
Train
From Madrid's Atocha train station, the high-speed train AVE leaves every hour and reaches Seville in just 2.5 hours. A round trip should set you back around € 60. From Barcelona, there are two daily AVE connections, the ride is about 5.5 hours. Obviously, there are many connections per day to various cities in Andalusia. You can get quickly and comfortably to Cádiz, Jerez de la Frontera, Córdoba, and other places a couple of times per day in just one to two hours.
The main station Santa Justa is just east of Seville's old town. However, note that if you can book a train to San Bernardo, you're much better off since this smaller and unfortunately less frequented station is just south of the historic quarter.
My Tip on Packing:
If you are going to Seville – or to any other Spanish city for that matter – you definitely can leave your kitchen sink at home. You simply should travel light which will make your trip smoother and cheaper – at least when you are opting for one of the low-cost airlines that charge extra for basically everything. Also, it's really annoying dragging bulky, heavy luggage on those uneven, cobblestone-covered streets. I actually broke my suitcase on that bumpy ground. Hence, better keep it light and simple
How to pack light? That's easy: Just read my post on Packing Light – Travelling in Style and you'll be all set. Also, you're not going to the jungle – there are shops'n'stores everywhere, so in the unlikely event that you've forgotten something really important, you'll be certainly able to obtain it right on the spot.
How To Get Around
Walking
Most of the landmarks in the center can be easily reached on foot, and having your own car is more of a hindrance. It is advisable to park the car in one of the underground car parks in the city center.
My Tip:
I wasn't kidding when I told you to put on some comfortable shoes. Not only will you do a lot of walking. Most of Seville's alleys are still romantically paved with cobblestones. Hence, there go your heels. I even managed to ruin my suitcase as I had to drag it over the bumpy streets for weeks. The wheels simply couldn't run smoothly to soften the rattling.
Public Transportation
Like most European metropoles, Seville has a comprehensive, well-functioning network of public transportation consisting of city buses and a tram line called MetroCentro. However, within the historic old town, buses can only run on a few routes. Many of those picturesque alleys are simply too narrow.
Public transportation is quite cheap in Seville. While a normal trip costs 1.40 €uros, you can buy ten trip passes for only 6.90 €uros at kiosks. With a transfer option, they set you back 7.60 €uros.
There is a reimbursable deposit of 1.50 €uros on all passes.
Tourists can obtain day passes for as little as 5 €uros for one day and 10 €uros for 3 days.
Bicycle
A fast way to get around the city center is by cycling. There are rental bikes operated by the bus company SEVici. You can rent them at many stations around the city center.
You need to buy a ticket for a week for 13,33 €uros – or an annual ticket if you plan to stay in Seville for a longer time. In any case, there will be a security deposit of 150 €uros charged to your credit card. Then, you can use the bike for up to 30 minutes at no additional cost. After these 30 minutes are over, you pay 1,03 €uro for the first hour and 2,04 €uros for every additional hour. These fees are cheaper with the annual pass.
Where to Stay
Seville is one of Spain's most touristy cities. Consequently, there is a wide choice of accommodation – however, nice hotels are not exactly cheap.
Since I was in Seville at the beginning as well as at the end of my trip, I stayed at two different hotels.
The first hotel I stayed at – the hotel Las Casas de la Judería* – is far more than just a lodging option. It's actually a landmark in itself. I'm describing it above. Nevertheless, while the public areas are very unusual and charming, the room was tiny, a bit musty, and had therefore a funky smell. Definitely not worth four stars or the amount I had to pay.
Consequently, when I came back, I chose another hotel. The Hotel Sevilla Center* is not very original, but it's elegant, comfortable, well-maintained, and perfectly located. The rooms are spacious, the staff friendly and helpful, and the centrally located San Bernardo station is a three-minute walk away. Since San Bernardo is also on the route of the airport bus, I definitely recommend staying at the Hotel Sevilla Center*.
Nevertheless, on this map, you can choose convenient lodging options according to the price and the location in Seville*.
What to Eat
I must say that although I love to cook and eat, I'm not travelling for food. One of the reasons is that I'm a solo traveller and dining alone is just half of the fun. There is the social aspect missing.
Therefore, usually, you won't find great tips on gourmet restaurants on my pages. I rather supply you with recommendations on where to grab a quick, possibly cheap bite.
If you don't want to waste your time searching for dining options, there are great ways of sampling local delicacies without spending too much time or money.
Tapas and Menú del Día
There is an overwhelming number of bars and restaurants in Seville where you can enjoy a glass of beer or wine with some tapas, varied small snacks.
Tapas can be the Spanish potato omelet tortilla española, slices of serrano ham, diced cheese, olives, small sandwiches, a blob of ensalada rusa, potato salad with mayonnaise – you name it. They are called tapas since they used to cover – tapar – drinks with these snacks. Don't ask me how they did it with olives let alone the ensalada….
Seville is the city of tapas so you can also expect specialties like snails – called caracoles and cabrillas– and fried or marinated fish chunks.
If you're not at the biggest tourist trap, you'll get some small tapas with your drink – at least olives, peanuts, or something else to nibble on. But you can also order a ración, hence, a serving, or also media ración, a half-sized serving.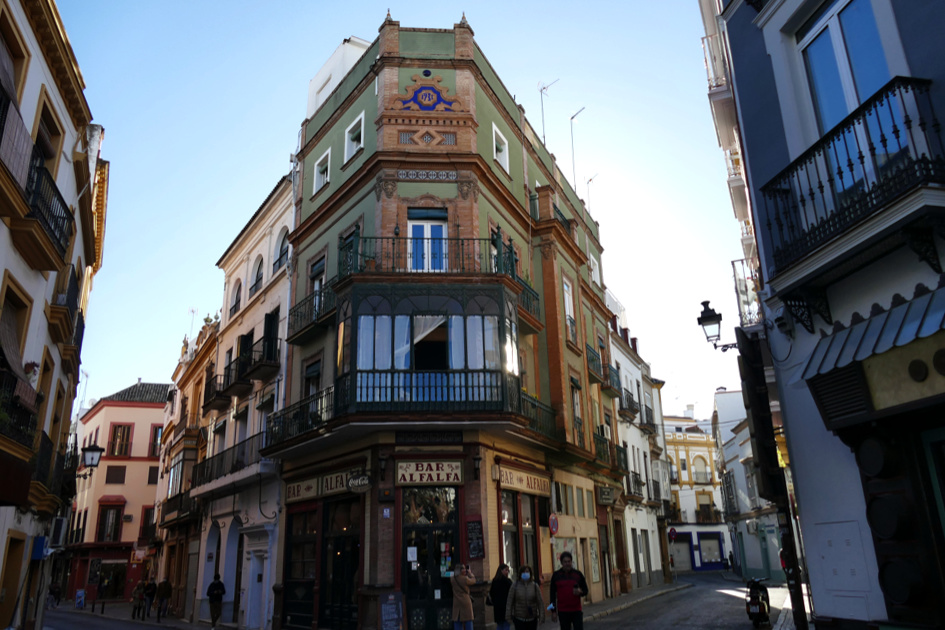 There are great tapas bars on Calle Sierpes and around Plaza Alfalfa.
If you are really hungry, the menú del día might do. It's usually a three-course meal that you can combine to your liking from different starters, main courses, and dessert options. Often, you get a soft drink or even wine with your meal.
Bakeries and Delis
There are many small bakeries and delis selling all kinds of sandwiches and empanadas. If you have a sweet tooth, you'll also find a great variety of delicious pastries.
Therefore, if your hotel does not offer any breakfast – or only very limited breakfast options – enjoying your morning coffee at one of Seville's many bakeries is a valid alternative.
Cash, Cards, and Deals
Until now, 20 European countries replaced their former local currency with the €uro starting in 2002. Obviously, Spain is one of them. The exchange rate is 1 US$ = 0.94 EUR as of January 2023. However, you can check today's conversion rate on this page.
You can pay with credit cards basically everywhere – as a matter of fact, due to the pandemic, most businesses prefer contactless paying by credit card for safety and hygienic reasons.
There is no general city pass that grants free or discounted access to various attractions worth mentioning. There are – quite pricy – passes, but they include only the Cathedral and the Alcazár and maybe some hop-on hop-off bus and that's it. Consequently, you have to pay for all other landmarks separately, however, many of them are not very expensive. Also, I'm revealing how you can visit some of the more costly attractions like the Alcazár for free – so make sure to read my post thoroughly.
Connection and Communication
Since June 2017, no roaming charges apply within the EU with a European mobile phone contract, This applies in all 27 countries of the European Union as well as in Iceland, Liechtenstein, and Norway and to all contracts.
In case European roaming is not available, you can connect to the internet without any issue at basically every museum, eatery, or café, and, of course, hotel.
If you insist on being online 24/7, you can get a SIM card, obviously. The cheapest one would be Lycamobile while Orange Tu Mundo has the widest coverage.
In Spain – especially now with the pandemic – you basically can hardly do a thing without a cell phone. Many landmarks can only be visited on appointments that you have to make online in advance. Some services like for instance city passes grant a small discount if you make a previous reservation. Also, buying train and bus tickets online will save you time and sometimes money. However, make sure to have some sort of ID on you.
They use plug types C and F in Spain. The voltage is 230 V and the frequency is 50 Hz. Whereby, nowadays, all these chargers have integrated adapters, hence, in general, the voltage and frequency don't really matter.
By the way, you'll find this information and many more comprehensive travel tips in my post World's Most Complete Travel Information – an indispensable globetrotter-classic.
Language
Obviously, the official language is Spanish. If you want to learn some basic Spanish or just brush up on your knowledge, there are various apps and online tools. I personally like to practice with babbel. However, due to international tourism, many people speak at least some rudimentary English.
Nevertheless, here are some ground rules for Spanish pronunciation since saying for instance city names wrong can cause some problems.
Say It Right
In general, you read Spanish the way it's written. But you should know that a double L is not pronounced like an L but like a Y in yellow. So it's not Sevi-L-a, but Sevi-Y-a. However, don't overdo it: When a word is written with just one L like Málaga, it's a simple and innocent L.
You also need to know that the letter J is rather breathed than pronounced – a bit like the H in house. If you speak for instance German, Flemish, or Czech, you get even closer by pronouncing it like a CH in echt.
Always, no exception to the rule.
This applies also to the letter G, but only if it stands before an E or an I. If it's followed by A, O, or U, it's pronounced like the G in guitar, hence, hard. This is also the perfect example of how to make a G sound hard before an E or an I: They squeeze in a mute U. Mute is key here.
Another tricky letter for foreigners might be the letter C. However, same rule as above: before an A, O, or U, it's hard and pronounced as K. Followed by E or I, it is pronounced like an English th – at least in Spain, Latinos don't do that, they pronounce it like a sharp S as in case. Now, if you want that th-sound in combination with A, O, or U, the letter Z comes into the picture. So Cádiz is pronounced Kadis, and Zaragoza Tharagotha or Saragosa.
On the other hand, if you want C to sound hard in combination with E or I, you make it a QU – but again, you don't hear the U. Fine example: Tequila, which you pronounce like Tekkila.
Visiting Organized
Although I'm an avid solo-travelling woman, I sometimes like to join organized tours. Not only are they a valid option to go to remote places since I'm not driving. They also allow me to meet fellow travellers – for just a short moment or a lifelong friendship.
Therefore, here are some great ideas of what to do when visiting Seville. Especially during high season, pre-booking online will guarantee your place at the activity of your choice*:
Map
This map should help you to find all the wonderful places I'm introducing in this post. Clicking on the slider symbol at the top left or the full-screen icon at the top right will display the whole map including the legend.
Seville was the starting point of my road trip through Andalusia and only the first of many amazing places I visited. To read about the others, go to the main post and take your pick! There, you'll also find further valuable general information that will make your own trip much smoother and more enjoyable.
Pinnable Pictures
If you choose to pin this post for later, please use one of these pictures:
Note: I'm completing, editing, and updating this post regularly – last in January 2023.
Did You Enjoy This Post? Then You Might Like Also These:
* This is an affiliate link. Hence, If you book through this page, not only do you get the best deal. I also get a small commission that helps me run this blog. Thank you so much for supporting me!