Yin and Yang – let me guide you to Vietnam's bustling capital Hanoi and the mysty'n'mysterious Halong Bay. Those were two highlights towards the end of my trip to Vietnam.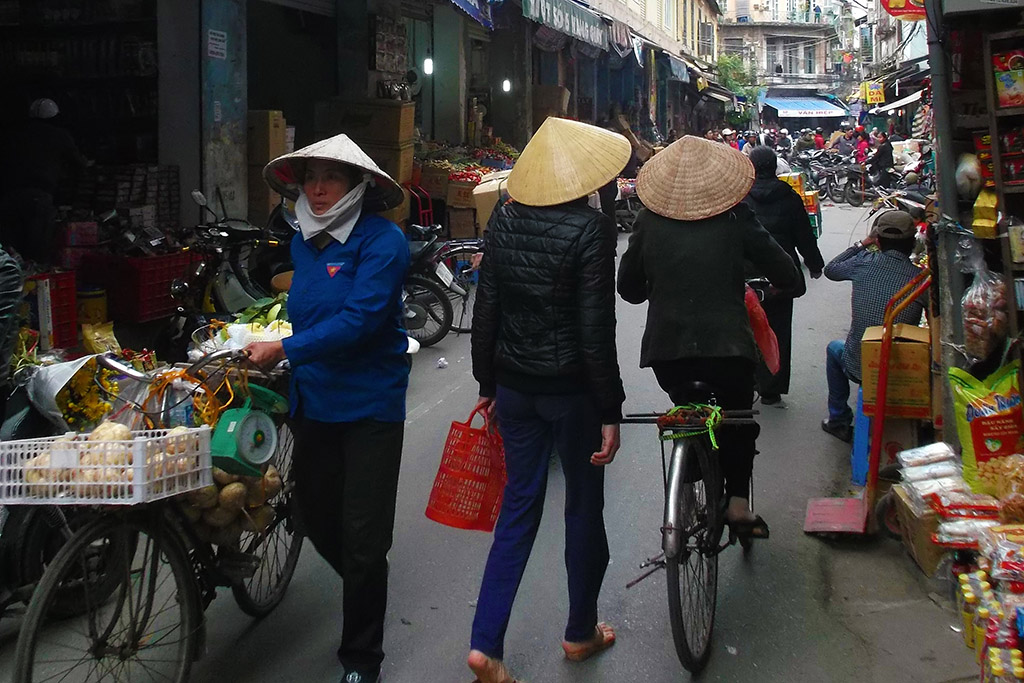 From the moment I set foot on the streets of Hanoi for the first time, I knew I simply loved Vietnam's capital. Its hustle and bustle. All those people rushing somewhere, carrying something in their arms, on their heads, on their bikes. Everywhere you step, you seem to be in somebody's way.
What energy!
Hanoi
Hanoi is Vietnam's capital and with around 8 million inhabitants the second largest city after Hồ Chí Minh City.
In the year 866, the Chinese Tang dynasty built a citadel called Đại La on the west bank of the Red River. King Lý Thái Tổ, the founder of the Lý dynasty, chose this place for his residence in 1010.
Over the centuries, Hanoi was repeatedly conquered by invaders. It has been renamed several times: During the Ho Dynasty at the very beginning of the 15th century, it was named Đông Đô, the eastern capital. During the occupation by the Chinese Ming dynasty, it was called Đông Quan, the eastern gate. From this, we by now have learned that Đông translates to east, I assume. Anyway, as the Dutch East India Company set up a trading post here in the 17th century, the name Tongking found its way into European literature.
During the Nguyễn dynasty, Vietnam's last emperors ruling from 1802 to 1945, Hanoi lost its status as the capital and had to cede it to Huế.
The French Are Coming
In 1873, Hanoi was conquered by the French. It was then the administrative center of the French Indochina colony until the end of WWII in 1945.
While the French built a modern administrative city south of Old Hanoi where they laid out wide, perpendicular, tree-lined avenues with operas, churches, public buildings, and luxury villas, they destroyed large parts of the city. Imperial palaces and citadels had to go, lakes and canals were filled.
From 1940 to 1945, together with most of French Indochina and Southeast Asia, Hanoi was occupied by the Japanese. On September 2, 1945, however, Hồ Chí Minh proclaimed the Democratic Republic of Vietnam in Hanoi. The following year, the Vietnamese National Assembly decided to make Hanoi the capital.
Between 1946 and 1954, fierce fighting between the French and the Việt Minh took place. During the following Vietnam War, US troops bombed Hanoi first in 1966 and last at the end of 1972. At Christmas 1972 alone, 40,000 tons of explosives struck the city and destroyed 25 percent of it.
Since Vietnam's reunification in 1976, Hanoi has been the coutry's capital.
The Grand Tour
Hanoi is basically the only major city in the north of Vietnam.
The Old Quarter near the Hoàn Kiếm Lake is the city's tourist center. Hence, in these alleys where once craftsmen from 36 guilds settled, you can now mainly find cafes, hotels, travel agencies, and souvenir shops. Still, it is great fun to stroll through the small lanes.
Other main attractions are related to the victory of Vietnam and the memory of Uncle Hồ. Consequently, there are the Hồ Chí Minh Mausoleum, the Hồ Chí Minh Museum, as well as Hồ Chí Minh Residence.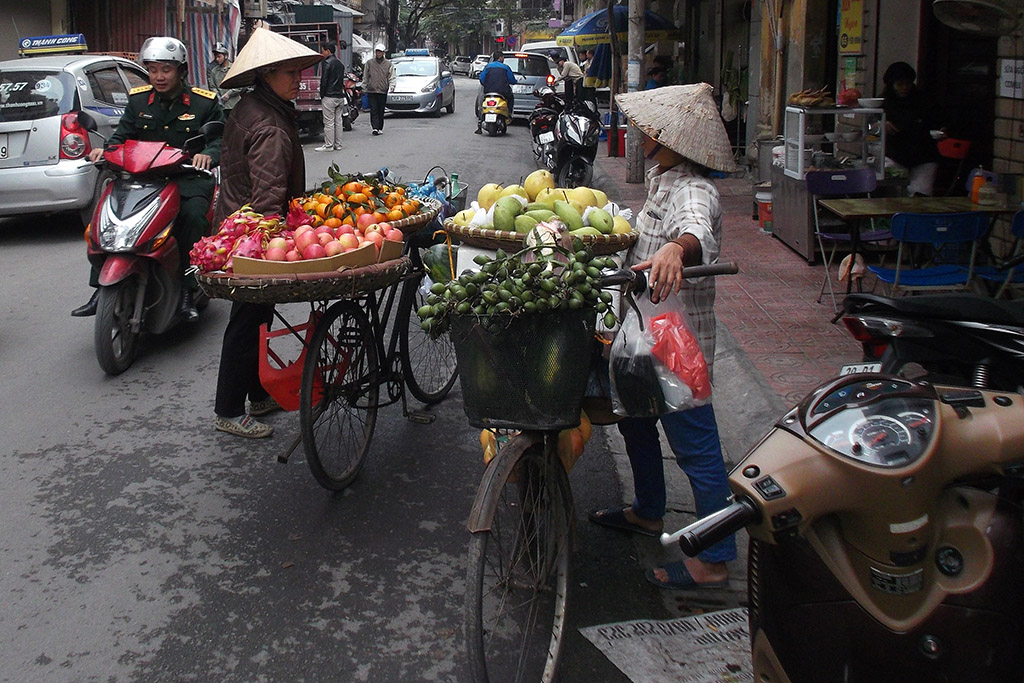 Also, beautiful temples, the One Pillar Pagoda, and the Temple of Literature witness Hanoi's grand cultural and spiritual past.
So put on your comfy walking shoes and let's start our walk.
Hoàn Kiếm Lake
The Hoàn Kiếm Lake is Hanoi's most famous lake and an excellent orientation point. It separates Old Hanoi from the former French colonial quarter in the west.
In the 18th century, the lake was much larger than it is today and had direct access to the Red River. It was used for naval parades and by canals connected to other lakes in the city. At that time, the Trinh princes owned 52 palaces on its banks.
Although at the turn of the 20th century, the lake was partially filled in, it remains one of Hanoi's most important landmarks.
The Old Quarter
The Old Quarter was installed as a residential and commercial area during the Lý and Trần dynasties. It was located east of the imperial citadel of Thăng Long along the banks of the Red River.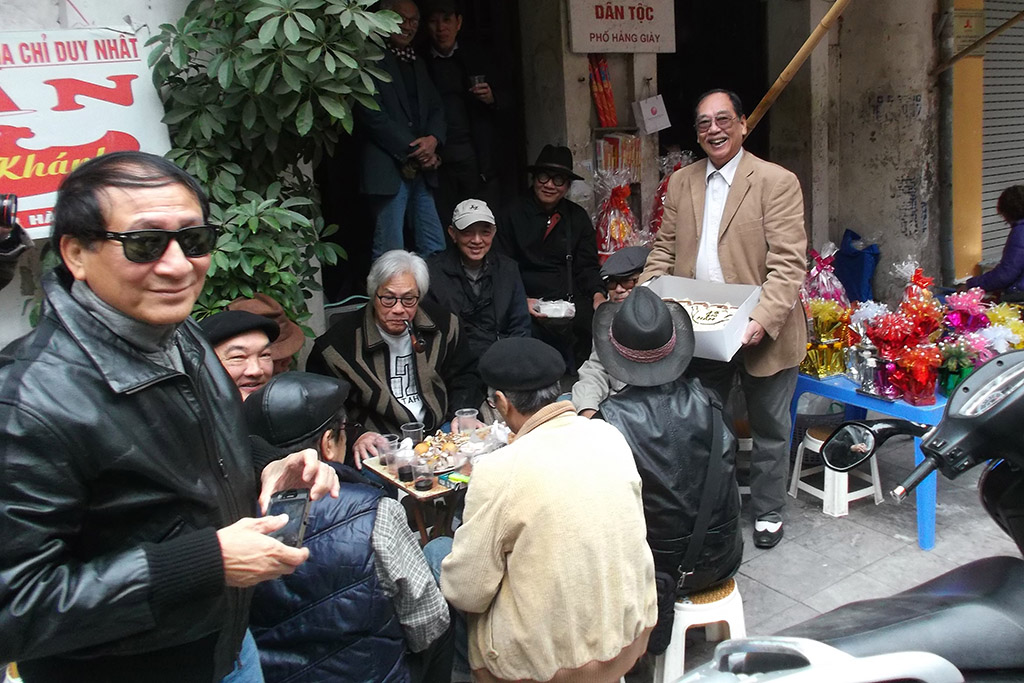 Some roads were dedicated to particular trades already during the Lê dynasty. The area was surrounded by a defensive wall with several gates. There were also various lakes and marshy areas. The largest one was Lake Thái Cực, connected with Lake Hoàn Kiếm and the Red River. At the end of the 19th century, these lakes and rivers were progressively filled in.
During the Lý and Trần periods, the population increased due to the migration of numerous farmers and the arrival of Chinese immigrants.
The 36 streets
The most notable feature of the Old Quarter is the subdivision into commercial areas specializing in one type of product.
Local and regional craftspeople gathered in a specific street to sell their products. In return, this gave the streets their names. Hence, if you speak Vietnamese, you know what to expect. If not, it might be a lovely surprise.
Also, some streets have changed their trade. So today, they are selling confectionery at Hàng Buồm that used to be the Road of Sails. Tricky.
Oh, by the way, Still, most of the street names start with the word hàng which is the Vietnamese for goods.
Museums
There are a couple of interesting museums at the old French quarter east of the Hoàn Kiếm Lake.
However, coming from the old town, there is another super-challenging crossing. So stick to my street-crossing rules that I wrote down in the post on Hồ Chí Minh City: Just walk slowly and steadily into the traffic while hundreds of bikes and cars are coming towards you. Once you have survived, you can walk along the eastern promenade and turn left at the South bank into Trang Thiên Street.
National Museum of History
Now it's about four blocks to get to the Vietnam National Museum of History.
The museum is housed in the former building of the École française d'Extrême-Orient, built by French architect Ernest Hébrard in 1932 during the time of French Indochina. It is a fine example of the eclectic Indochinese style of which Hébrard basically invented.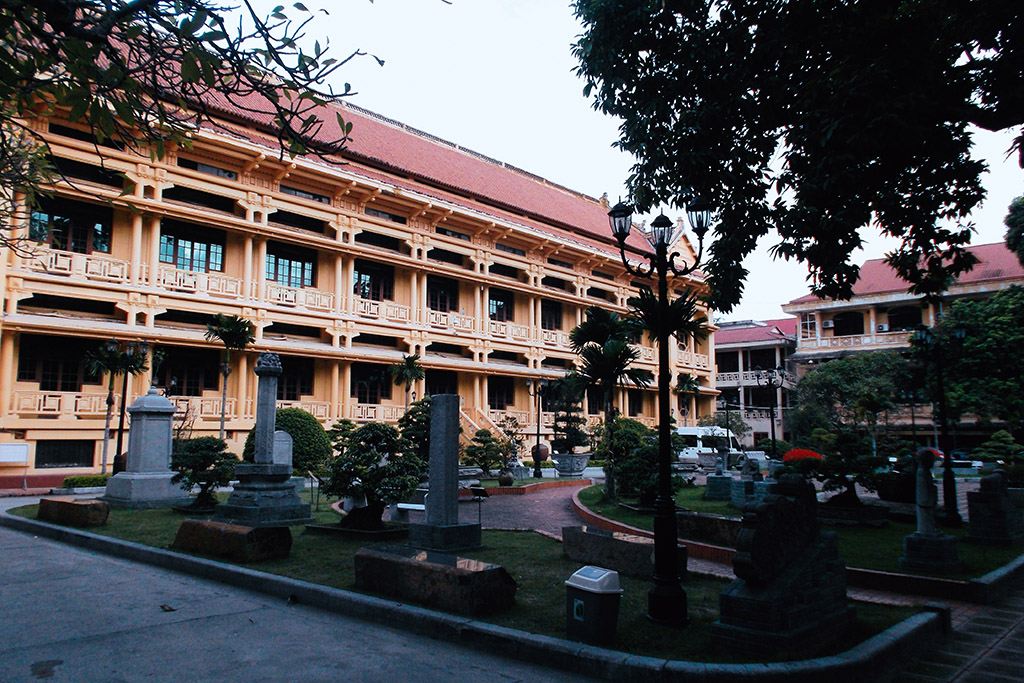 The government of North Vietnam opened the current museum in 1958.
The exhibition starts at the Bronze Age and covers the Cham period as well as all the different dynasties.
Also, don't miss the serene sculpture yard on your visit.
National Museum of History
1, Trang Tien – 25, Tong Dan
Hoan Kiem, Hanoi
Phone: : +84 -4 – 38 25 28 53
Email: banbientap@baotanglichsu.vn
The museum is open from Tuesday to Sunday from 8 a. m. till noon and then in the afternoon from 1.30 p. m. to 5 p. m. The entrance fee is 40,000 VDN.
Museum of the Revolution
Just around the corner on 25, Tong Dan, is The Museum of Revolution. An auxiliary part of the Museum of History, this part of the exhibition deals with the resistance to the French, the struggle against the Japanese occupation during WWII, the fight for independence, and of course the Vietnam war.
You are being introduced to Mr. Hồ Chí Minh, obviously, as well as other leaders. There are the Communist Party's flags and publications, there are uniforms and weapons, and much more – after all, there are over 40 thousand objects displayed in 29 rooms.
The museum was established in 1959 and is housed in a two-storey building, formerly used by the Trade Department of Vietnam.
The hours of the National Museum of History apply as well to the revolutionary wing. Also, the visit is included in the entrance fee.
The West Lake Hồ Tây
The West Lake, in Vietnamese Hồ Tây, is the largest freshwater lake in Hanoi. Its shore is almost 15 kilometers long. It emerged from a former arm of the Red River, which now flows north of the West Lake.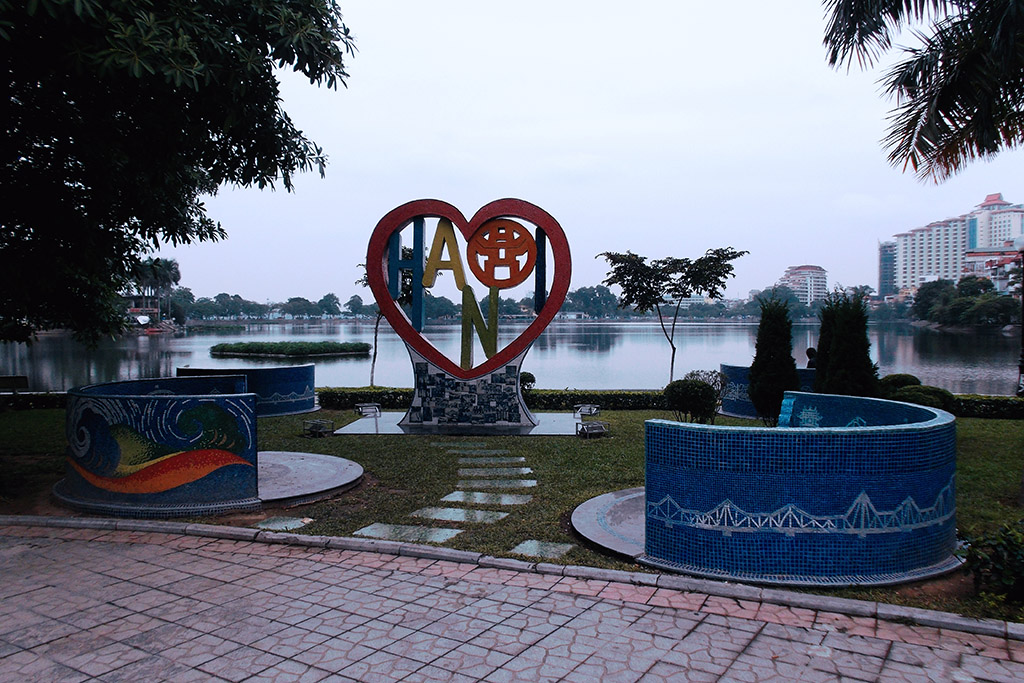 With many parks, hotels, and restaurants on its shores, the West Lake is a popular local recreation destination.
Getting there, however, is not as easy as it seems.
The main reason to make it all the way to the West Lake, however, is Chùa Trấn Quốc, Hanoi's oldest pagoda.
Temples
Chùa Trấn Quốc
The Trấn Quốc was first built on a small peninsula during the reign of Lý Nam Đế in the 6th century.
In 1615, as the banks of the Red River were unstable and posing a danger to the temple and the pilgrims, Lê Hy Tông had it partly remodeled and named Trấn Quốc, hence Defense of the Kingdom, in the 17th century. It was moved to Kim Ngu Island on the West Lake's eastern shore.
Chùa Trấn Quốc was the center of Buddhism under the Lý dynasty and the Trần dynasty. Today, it is sacred to Buddhists.
One of the most impressive features is the Lotus Stupe. It was added only in 1998. It has six arched doorways and is eleven storeys high. There is a Buddha Amitabha made of precious stones in each one of the niches.
Quán Thánh Temple
The Quán Thánh Temple is located at the intersection of Quán Thánh Street and Thanh Niên Street on the southern shore of the West Lake.
Quán Thánh was built during the reign of Lý Thái Tổ in honor of Trấn Vũ, a deity of Taoism, in the early 11th century. It is one of the four sacred temples built in four cardinal directions to protect Hanoi from evil spirits. The Quán Thánh temple faces north and houses a monumental black bronze statue of Trấn Vũ made in 1677.
The other temples are Bạch Mã in the east, Kim Liêm in the south, and Voi Phục in the west.
Ba Đình Square
As you keep on walking south the Nguyễn Tri Phương, you'll get to Hanoi's greatest glory, the Ba Đình Square. It is named after the Ba-Đình uprising, an anti-French rebellion that took place in Vietnam between 1886 and 1887. Also, it was here that Hồ Chí Minh proclaimed the independence of the Democratic Republic of Vietnam in 1945.
After Hồ Chí Minh died, the granite mausoleum was built to show off its embalmed body.
In front of the building is a yellow line that you are not supposed to overstep. Well, I'm not very authoritative, hence I moved a bit closer to take a better picture. Only after the soldiers barked at me for the second time, I came to the conclusion that you better obey authorities in a communist country.
Apart from Hồ Chí Minh's final resting place, there are several governmental buildings around Ba-Đình like the Presidential Palace, the Ministry of Foreign Affairs, the Ministry of Planning and Investment, and the National Assembly.
Thăng Long citadel
On the other side of the Ba Đình Square are the remnants of the former Thăng Long citadel. It was the imperial court for several Vietnamese imperial dynasties ruling over Hanoi between 1010 and 1802.
During the work on the new building of the Hội trường Ba Đình National Assembly opposite the Hồ Chí Minh mausoleum, parts of the historic site on Hoàng Diệu Street have been discovered in 2001. Archaeological excavations have been carried out, and eventually, the central area of ​​the citadel was declared a UNESCO World Heritage Site in 2010.
Hồ Chí Minh Museum
The construction of a commemorative museum dedicated to the memory and teachings of Hồ Chí Minh began in 1985. The museum was inaugurated on May 19, 1990, on the occasion of the 100th anniversary of the birth of the President. The architecture of the building evokes a white lotus.
The exhibition areas of the museum bring Uncle Hồ's life and revolutionary work to life. They commemorate the struggle of the Vietnamese people and historical events that influenced the Vietnamese revolution.
The museum also has a library of 25,000 works on Hồ Chí Minh. Scientific and research tasks are added to the activities of the museum which is also a venue for conferences.
Hồ Chí Minh Museum
19 Ngọc Hà
Normally, the museum is open daily from 8 a. m. till noon and except Mondays and Fridays again from 2 p. m. to 4.30 p. m.
While Vietnamese can visit for free, foreigners pay 40.000 VND
If you are a really big fan of Uncle Hồ and cannot get enough of the historic soil he walked upon, there is apart from the Mausoleum and the Museum also his residence to be visited, a stilt house on the southern shore of the West Lake.
B-52 Victory Museum
About one kilometer west of Ba Đình Square is the B-52 Victory Museum. This museum focuses on the history of the Vietnamese revolution, the First Indochina War, the Vietnam War, and the air defense of Hanoi.
In the yard are various air defense devices like for instance the wreckage of a B-52 Stratofortress shot down during Operation Linebacker II.
The museum is open Tuesday-Thursday and Saturday-Sunday from 8 a.m. to 11.30 a.m. and in the afternoon from 1 to 4.30 p. m. The entrance is free, but you can see the outdoor exhibition at any time, obviously.
One Pillar Pagoda Chùa Một Cột
For more interesting, however, is Chùa Một Cột, the One Pillar Pagoda. It's one of Hanoi's oldest pagodas. Its unique construction makes it one of the city's most famous landmarks.
King Lý Thái Tông commissioned it as a 3 meters long wooden temple. It was placed on a tree trunk.
After it was destroyed several times, most recently by the French in 1954, the tree trunk was replaced by a concrete pillar. The building now stands in the middle of a small lake and can be reached over stairs.
A Coffee Break
Before you continue to the Temple of Literature, I strongly recommend getting a cup – or two – of the excellent coffee at Café de Nam on Doi Can.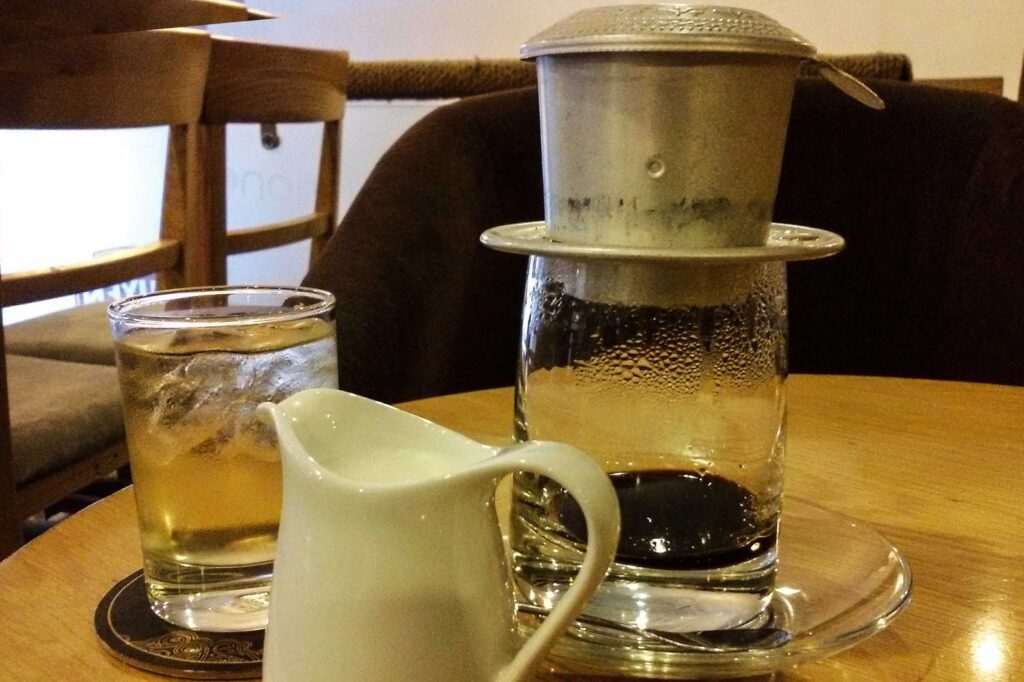 Located about halfway between the B-52 site and the Hồ Chí Minh Museum, it's a very cool yet cozy setting. Also, their coffee makes a great souvenir.
Temple Of Literature Văn Miếu-Quốc Tử Giám
The famous Temple Of Literature is a Confucian facility complex built as a national academy. It is Vietnam's most important temple of literature. As a matter of fact, the term temple does not denote a site of worship.
The temple of literature is located south of the Thăng Long citadel and covers an area of ​​54,000 square meters.
Built in 1070 by the third emperor of the Lý dynasty Thánh Tông, it was the country's first academy in honor of the wise Confucius. Between 1076 and 1915, the sons of the mandarins, aristocrats, and gifted bourgeois studies at this institution.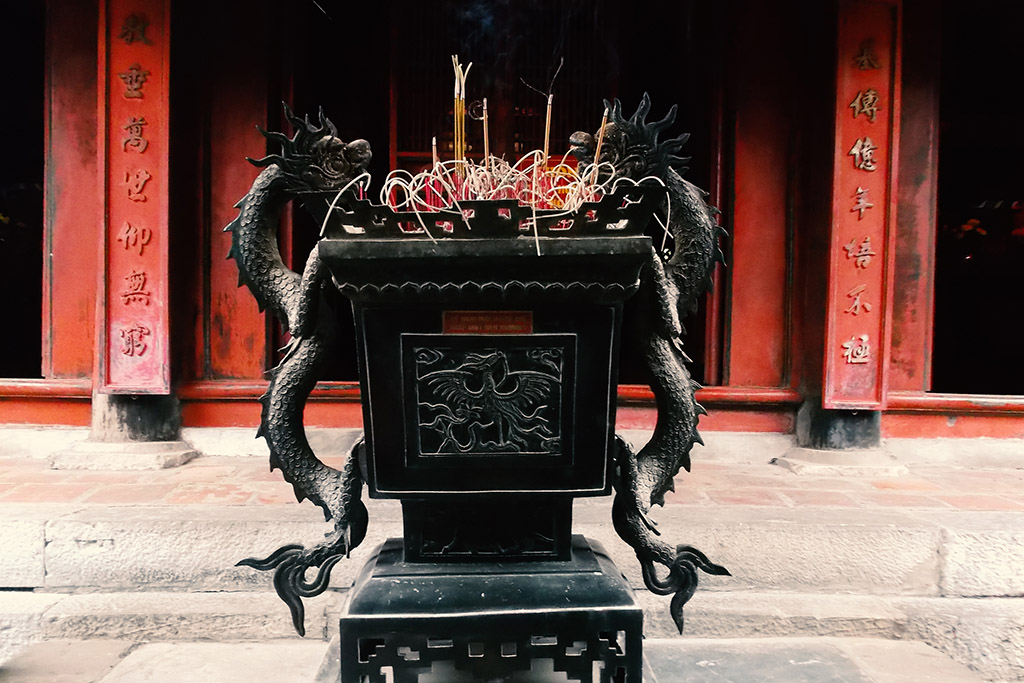 In 1484, King Lê Thánh Tông commissioned stone steles to honor the most outstanding students. Each stele was placed on the back of a stone turtle. In Vietnamese culture, the turtle is one of the four holy animals and stands for wisdom and longevity.
The Temple of Literature is accessible only from Quốc Tử Giám. I'm not mentioning this because I have nothing more interesting to write, but because I was a little tired from walking the whole morning. Therefore, I was quite disappointed when I reached the site at the opposite side and had to walk aaaall the way down to Quốc Tử Giám.
Temple Of Literature Văn Miếu-Quốc Tử Giám
58 Quốc Tử Giám
Văn Miếu-Quốc Tử Giám is open every day, from April to October between 07.30 a. m. and 5.30 p. m. In winter between October and April from 8 a. m. to 5 p. m. The entrance fee is 30,000 VND.
Hỏa Lò Prison
Making your way further east, you'll get to the bustling market area around Ga Ha Noi.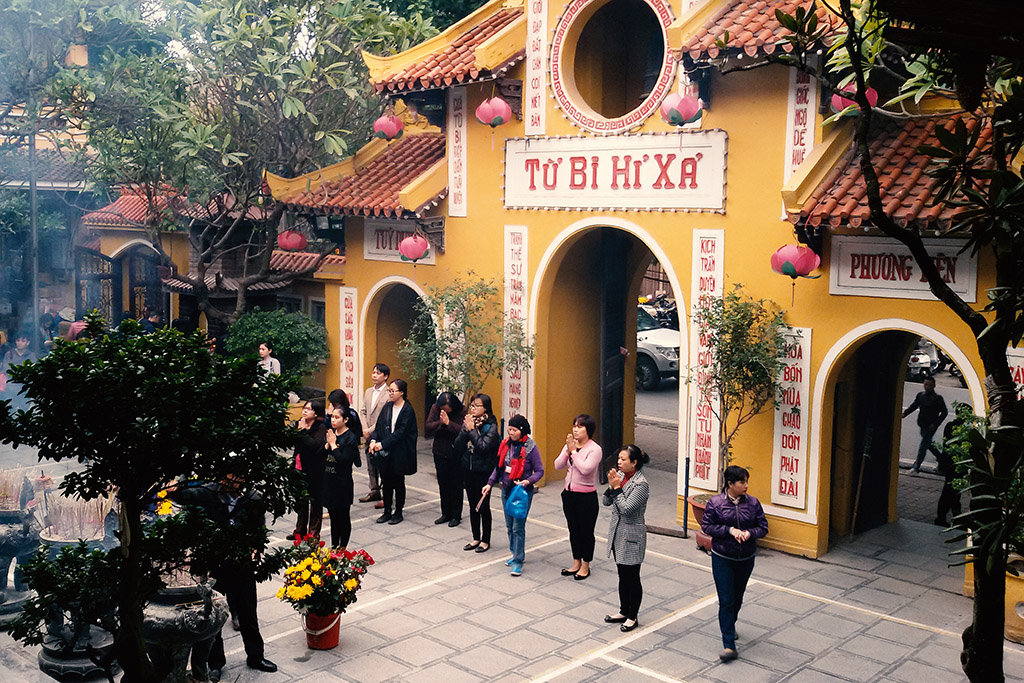 Anyway, behind Ga Ha Noi are more precious temples like for instance Chùa Thiên Phúc on 94 Hai Bà Trưng and Chùa Quán Sứ on 73 Quán Sứ. Since Vietnam's north was not as ruthlessly conquered by the Catholic church as the south, there are far more Buddhist temples and pagodas in Hanoi than in Hồ Chí Minh City.
The Hỏa Lò prison was built by the French to imprison, torture, and execute Vietnamese resistance fighters probably in 1896. During the Vietnam War, the building served the North Vietnamese as a prison for American prisoners of war. They sarcastically named it the Hanoi Hilton.
It is absolutely worth visiting this sinister place. Still, you get the information also elsewhere and as usual, they rearranged the facts a bit.
Hỏa Lò Prison
1 Hoả Lò
The museum is open every day from 8 a. m. to 5 p. m. and the entrance fee is 30,000 VND.
What I skipped in Hanoi was the Women's Museum since I had already seen the one in Hồ Chí Minh City; but I'm pretty sure the northerners were very heroic just the same.
Water Pupett Theater Thăng Long
Apart from Hồ Chí Minh City and Hội An, Hanoi is the only place where you can enjoy the traditional water puppet theater.
The water puppet theater exists exclusively in Vietnam. It was an integral part of the country's cultural life as early as the 11th century. For the longest time, it was almost extinct, but a French organization brought that tradition back to life in the 1980s.
A small orchestra accompanies the entire performance. Also, the musicians lend the puppets their voices. They sit next to the stage which is a pool of water. In the past, this basin was the village pond or a lake.
Behind a curtain, the actors are standing in the basin and handle puppets that are mounted on long sticks. The wooden dolls are up to one meter tall and weigh up to 5 kilograms. A coating of resin and varnish makes them waterproof.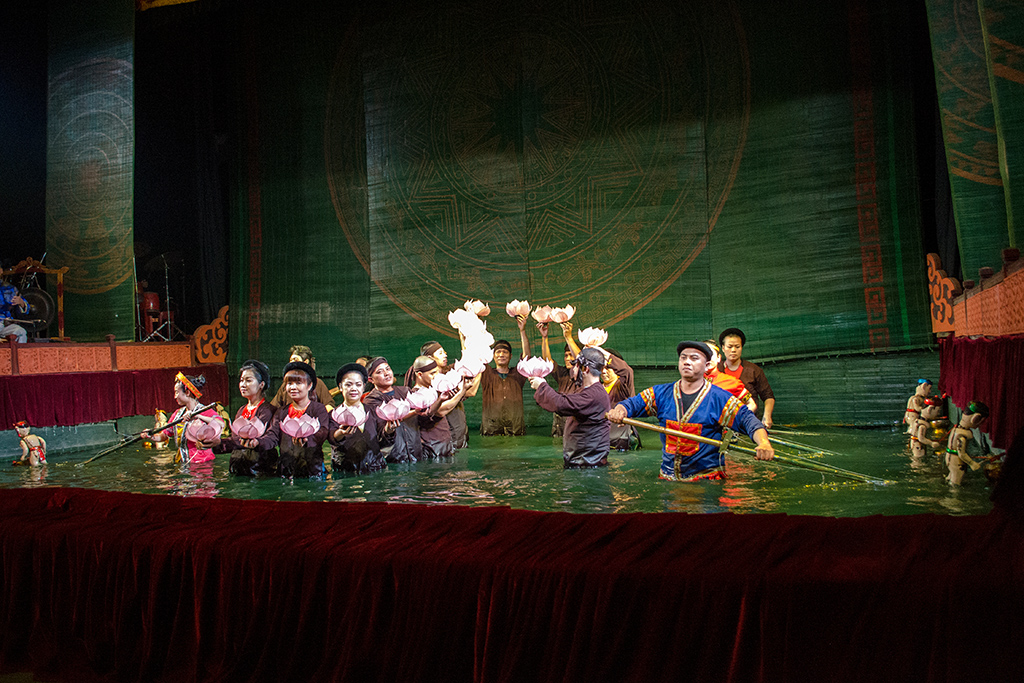 Usually, they perform scenes from traditional rural life including farmers, buffalos, and fishermen. However, there are also mystical dances of lions and fire-breathing dragons as well as sacred animals. It's beautiful and great fun with lots of splashing and pyrotechnics.
How To Visit
Thang Long Water Puppet Theatre is one of the most popular tourist attractions in Hanoi with tickets selling out well in advance. Therefore, it's worth booking yours as soon as you get into town. It is also advisable to pay a bit more for sitting closer to the stage. The theatre seats a few hundred people and the puppets are not that big.
Thang Long Water Puppet Theater
57B, Dinh Tien Hoang Street
Phone: + 84 – 43 – 824 94 94
Email: thanglong.wpt@fpt.vn
Shows are taking place every day at 3 p. m., 4.10 p. m., 5.20 p. m, 6.30 p. m., and 8 p. m. Tickets start at 100,000 VND.
Another venue is the
Lotus Water Puppet Theater
16 Lê Thái Tổ
Phone: + 84 – 97 – 203 04 20
Email: lotuswaterpuppet@gmail.com
At this theater, performances are taking place at 2.45 p. m. 4 p. m., 5.15 p. m., and 6.30 p. m. and cost as well 100,000 VND.
Halong Bay
As important as visiting the city of Hanoi is taking an overnight trip to the famous Halong Bay. And it's not just the myth, it is at least as beautiful as you'd expect it – no matter how many other tourist boats are cruising there with you.
Halong Bay is an area of ​​around 1500 square kilometers in the Gulf of Tonkin. Mostly uninhabited islands and limestone rocks protrude from the water sometimes several hundred meters high. However, the limestone plateau that houses the bay is slowly sinking. 434 square kilometers of the area including 775 islands were designated a UNESCO World Heritage Site in 1994.
The largest island is Cát Bà. Its 12,000 inhabitants live mainly from fishing, oyster farming, and increasing tourism. The island's largest elevation is over 330 meters high.
During the Indochina War and the Vietnam War, some of the islands and caves were converted into shelters for refugees, the sick and injured, as well as into supply depots. At one of the cave hospitals on Cát Bà stayed up to 300 patients at a time.
Later, in the 1970s and 1980s, many so-called boat people fled Vietnam through the.
Visiting Wonderland
There are different trips to the Halong Bay including day trips. However, to enjoy these surreal sceneries, you should give yourself at least two days.
Trips to the bay are offered for two and more nights. Prices differ strongly depending not only on the length of your stay, but also on the type of ship you choose. Since it's not only a matter of comfort but mainly security, I definitely would not go for the cheapest vessel. Mind you, deadly accidents did happen in the past.
Therefore, I'd recommend inquiring, yet not to take the very cheapest offer if you want to enjoy your stay on board and during the additional activities. You won't do this too often in your life, so don't cut corners when not absolutely necessary. Do yourself a favor and book yourself at least on a middle-class ship.
Normally, the prices are per passenger per cabin. Consequently, as a solo traveller, you either have to share a room with another person or pay a much higher price.
You can read about this downside of solo travel in my post Travelling All By Myself – Five PROs and CONs.
Exploring the Bay
Normally, the travel company picks you up at your hotel and takes you to Hon Gai port by bus. Once on board, you get lunch.
Eventually, there are some activities like visiting the Thien Canh Son cave – which would be nice if they didn't feel the urge to illuminate it in terrible colors. By the way, some of the grottos, caves, and beaches can only be accessed at low tide. Bizarre stalactites and stalagmites are forming in some of the caves.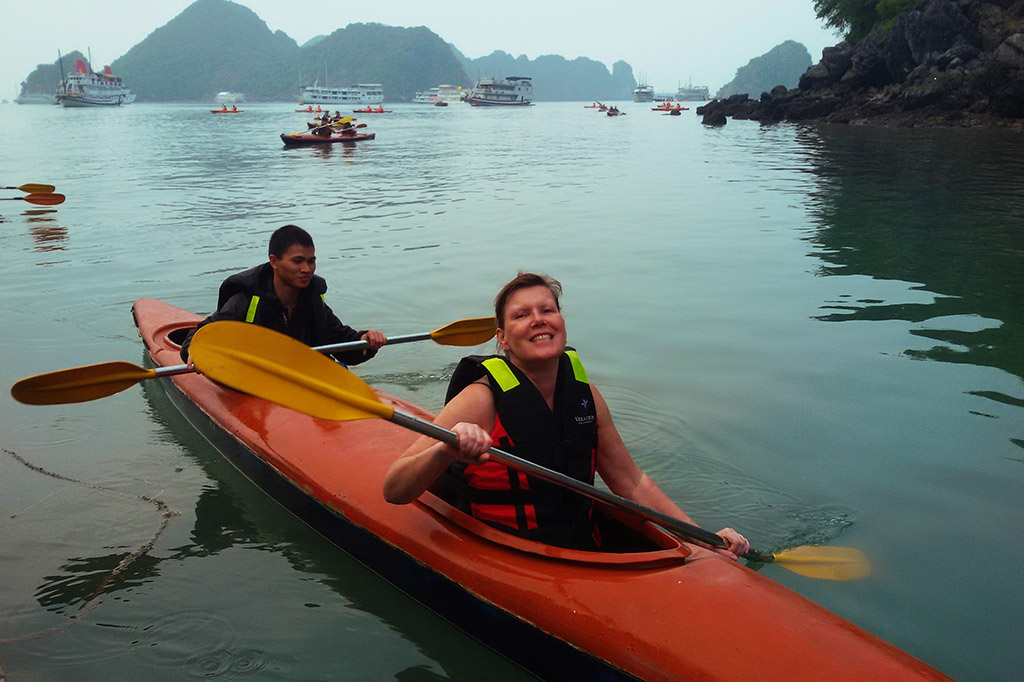 There is also some kayaking and swimming on the quite secluded Ban Chan beach on the program. Finally, you get to climb on an outlook on top of one of the limestone rocks.
After dinner, we did hang out on the deck enjoying the breathtaking views of the bay. There was the option of Karaoke, but…nope, we agreed on not doing it.
Especially if you book a two-day tour, a big part of the 'quality' depends on your guide and the other people you're with. Considering that, it might even be better to take a less expensive cruise since people on the more sophisticated ships might be more difficult to satisfy and tend to complain more.
So Long, Halong
The next morning, we visited a pearl farm and the adjacent gift shop. I guess this is the equivalent of the carpet factories that you visit on day trips in Türkiye. Then, we prepared our own lunch by learning how to make Vietnamese spring rolls.
This is the program basically every company puts together. The difference between the tours is the state of the ship and other equipment and the quality of the food onboard.
Sadly, Hanoi had been my last stop. I missed Sapa, but if I go back to Vietnam, I'll rather stay in the North so that I can still visit that region.
Practical Information
How to Get There
Air Travel
Hanoi's Nội Bài International Airport is the second largest airport in Vietnam and located about 30 kilometers north of the city center.
From the airport, there is a very convenient connection to Hanoi center either by public bus or by a designated airport shuttle bus. With only 10,000 VND, the public bus is significantly cheaper. However, the shuttle bus for 40,000 VND will probably drop you off right at your hotel's door. Either way, the trip takes about 90 minutes.
So while these services are great during daytime – especially if you know exactly where you're going, remember that you shouldn't be cheap when it comes to your personal comfort and safety. If in doubt, rather take a cab. Those cost around 350,000 VND.
However, for your safety, here you can pre-book a reliable and reasonably priced airport shuttle*.
You'll find more on this – and other relevant travel topics – in my post Keep Calm and Travel Solo as well as other articles in the Tips & Hacks section.
I flew from Hanoi to Hồ Chí Min and paid about 100 US$.
By Train
If you already are on the Asian continent, you can travel to Hanoi also by train or long-distance bus, obviously.
From the main train station Ga Hà Nội trains go to north to Lào Cai and Đồng Đăng at the Chinese border and south to Hồ Chí Minh City. Keep in mind that this trip takes up to 35 hours!
By Bus
There is actually no direct bus between Hanoi and Hồ Chí Minh City. Yet, there are coaches departing from the Nuoc Ngam Bus Station. Just like the train, this takes up to 35 hours – including transfers.
There are modern, airconditioned coaches with comfortable seats. And there are those typical Vietnamese sleeper-buses where you basically lay down in a weird position. Also, you have to put your legs into a metal box – it's really not that comfortable, especially not for us big and tall Europeans.
Still, if you have to travel in those exotic vehicles, I have two tips for you: If possible, choose the lower bunk. There's more space, and the ride will be smoother. Also, you might want to bring earplugs. Plugs are on my list of indispensable tools and gadgets, anyway. Let my list of what makes my travel more comfortable inspire you.
Getting Around
There are no trams or subways in Hanoi. Although they are very cheap, bus travel can be a bit confusing and intimidating. Ask for directions at your hotel's front desk – and then keep asking like a moron until you reach your final destination.
Apart from buses, cabs are very cheap to European or American standards. As long as you get a reputable company that is. Hence, look for cabs like Mai Linh or Vinasun and insist that the driver turns on the meter.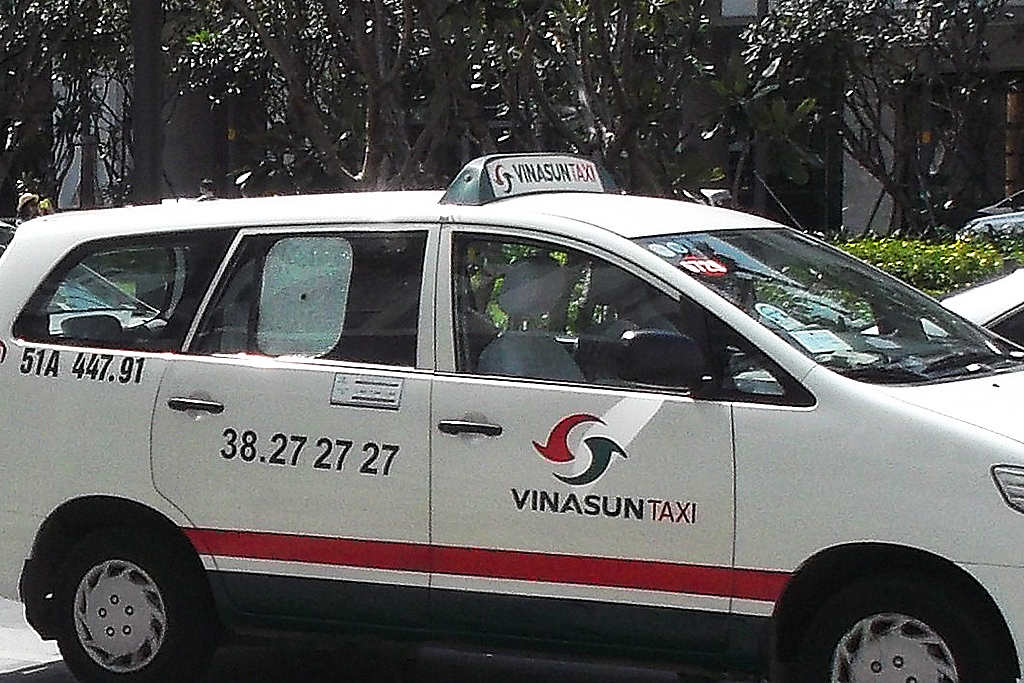 Besides, beware of cabs resembling those of trustworthy companies. Some scammers copy the famous names and just alter them a little bit. Then, they charge ridiculously high fares.
Be particularly cautious when hiring a cab in big cities like Hanoi and Hồ Chí Minh City.
Apart from the trips from and to the airport respectively the Halong Bay, I was walking everywhere. This being said, I must emphasize that I'm a heavy-duty walker. Hence, I would not claim that everybody can do all this sightseeing walking.
C

rossing

Streets in Vietnam

It's absolutely terrifying – even for me, and I do walk criss-cross everywhere in the world.

Don't even think about waiting for a good moment to cross, this good moment will never come, so right now is as good as any.

Just start walking. Yes, I know that there are hundreds of motorcycles and cars approaching. Nevertheless, start walking.

Walk in an even, moderate tempo. Don't run and don't stop, just walk. This way the drivers can estimate your pace and adapt. If you run or stop, you'll confuse them.

Walk a little angular towards the traffic as if you were walking into the traffic – yet please do not actually do so! While observing the traffic, keep walking until you reach the other side of the street.

This is how you'll have to do it for the time being in Vietnam, so good luck.
Where to Stay
I mentioned a couple of times that accommodation in Vietnam is reasonably priced. So if you want to splurge from time to time, it's a good place to do so. Therefore, I treated myself to a stay at the Essence d'Orient Hotel & Spa. They are located right in the heart of the old town.
Yet, if you want to check out other convenient lodging options, you can do so on this map*:
What to Eat
While you'll find restaurants for every taste in Hanoi. Especially on the so-called pub-street Tạ Hiện, you won't stay hungry for long.
Especially in the north, Vietnamese cuisine is historically strongly inspired by Chinese food. Staple foods are rice and rice noodles and a large number of different vegetables.
Also, Vietnam is famous for spring rolls. Those are eaten raw, fried, or deep-fried and sometimes wrapped in lettuce leaves. The fillings vary from region to region and season and range from sweet to spicy and savory.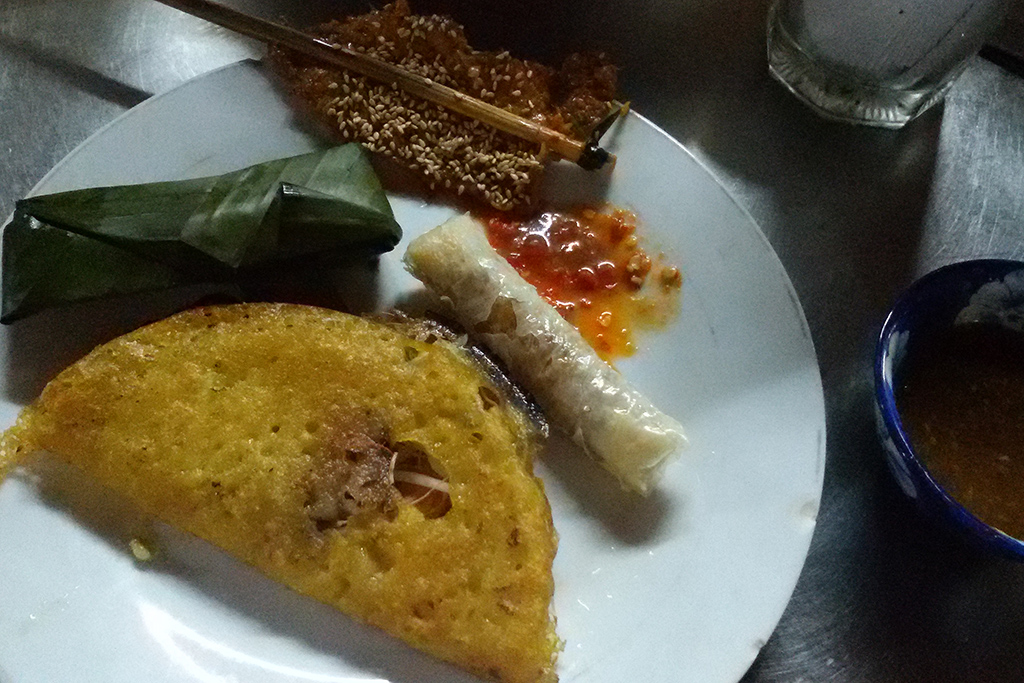 I particularly enjoyed rolling ingredients in rice dough sheets – which is a popular way of eating. There are herbs, lettuce, rice noodles, vegetables, and pieces of fish or meat that you wrap in a crispy, thick pancake. Fun and delicious!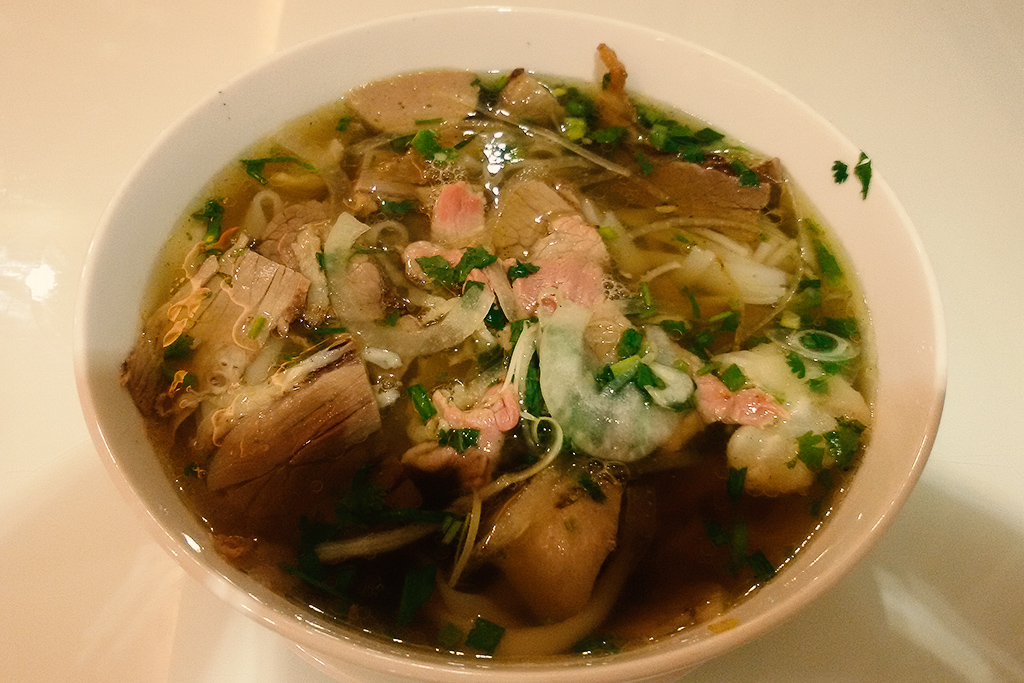 Another iconic specialty of Vietnam is Pho. The basis for this rich dish is beef broth with rice noodles. Then, thin slices of beef or chicken are added. Vietnamese eat Pho as a snack, for breakfast, or even as a whole meal.
What to See
I'm an avid solo-travelling woman. Since solo travel doesn't equal solitude, I love to join organized tours here and there. They allow me to meet fellow travellers – for just a short moment or a lifelong friendship.
Therefore, here are some great ideas of what to do during your stay in Hanoi. Pre-booking online will make your stay safe and comfortable and spare you the unnerving haggle*:
Cash And Cards
In Vietnam, you pay in Dong. It has been the country's currency since 1978.
Vietnam is getting more and more touristy, hence, credit cards are widely accepted. Obviously, you can get cash at ATMs. Beware that not every ATM works with every international card. Don't freak out, just try a teller from a different bank.
One US-Dollar equals 22,89 Dong (VND) and one €uro 24,95 Dong (VND) as per March 2022. However, here you can check the current rate.
Language
You probably guessed so, Vietnamese speak Vietnamese. Although the language is not related to Chinese, the vast majority of its vocabulary consists of words of Chinese origin. This has to do with the political dominance of China over Vietnam, which lasted for 1000 years. At that time, Chinese became the language of the country's ruling class.
After the end of Chinese rule over Vietnam, the Vietnamese tongue became more important again. However, the language was written in Chinese characters.
With the European missionaries, European languages, especially French, were introduced. After Vietnam became a French colony in the late 19th century, French became the official and educational language. Many words from French came into the Vietnamese language as loan words. In 1910, the French colonial administration officially introduced the Latin script.
This being said, I don't presume that you'll learn this complex language just to go on a vacation. However, it's a nice gesture to say at least the greeting xin chào – pronounced sin tchao – as well as cam on – pronounced almost like come on – instead of thank you.
Nevertheless, it's hilarious to recognize terms from languages you know in a Vietnamese context. Just like sing gum derives from Chewing gum and bia from beer, ga is obviously a local variation of the French word gare, hence station.
Talk to Me
Especially young Vietnamese seem to be keen learn the English language. And they also do it by asking westerners to practice with them. I find that actually quite sweet and it's a lovely experience spending an afternoon on a park bench chatting with some giggling Vietnamese students.
Communication and Connection
Like during most of my trips where European roaming is not available, I did not get a national SIM card. I rather used free Wi-Fi. There was a connection to the internet without any issue at basically every eatery or café and, of course, hotel. Worked like a charm.
But if you insist on being online 24/7, you can get a national SIM card. Of the four companies in Vietnam, Viettel has the largest network. It is closely followed by Vinaphone. The other two are not recommendable although Vietnamobile is the cheapest.
In Vietnam, plug types A, B, and C are the official standard.
The standard voltage is 220 V and the frequency 50 Hz.
But as you know, nowadays, all these chargers for phones and readers and computers have integrated adapters so that different voltage and frequencies don't really matter.
Gone are the days when you blew your electric appliances since you forgot to switch them from 110 to 220…good times.
By the way, you'll find this kind of practical travel info in my post World's Most Complete Travel Information – an indispensable globetrotter-classic.
Hanoi and the Halong Bay were just two of the amazing stops of my exciting visit to Vietnam. Go to the main post to check out all the other destinations.
Map
On this map, you can see where all the places described in this post are located:
Pinnable Pictures
If you choose to pin this post for later, please use one of these pictures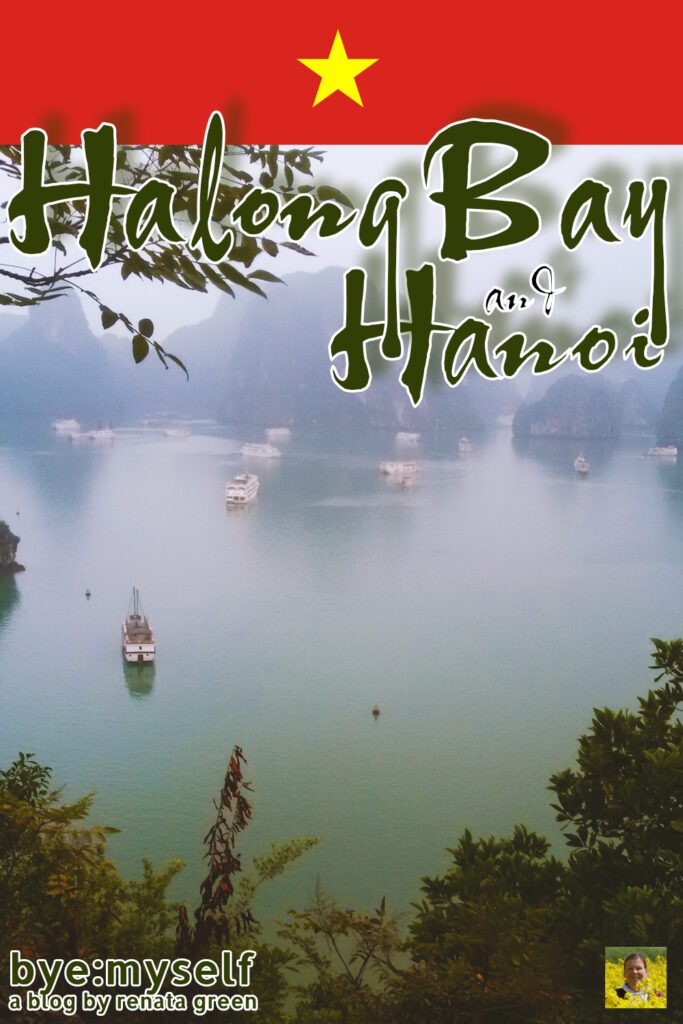 Did You Enjoy This Post? Then You Might Like Also These:
*This is an affiliate link. If you book through this page, not only do you get the best deal. I also get a small commission that helps me run this blog. Thank you so much for supporting me!
Note: I'm completing, editing, and updating this post regularly – last in March 2022.