This is a guide to Taman Negara, Malaysia's Garden Eden.
This National Park is about 130 million years old, hence, one of the world's oldest rainforests.
So let the adventure begin!
In case you're a bit sad about not having enough time to visit also the natural wonders of Malaysian Borneo, a visit to the Taman Negara should make up for it – at least a little bit.
The National Park
The National Park was established in 1939 on an area of 4,343 square kilometers. In this tropical rainforest you, obviously, find trees, bushes, flowers, mosses, and mushrooms in abundance as well as some rare mammals including the Malayan tiger and the Asian elephant. At this point, I need to lower your expectations….or fears: These guys are not exactly waiting for you at the entrance of Kuala Tahan village.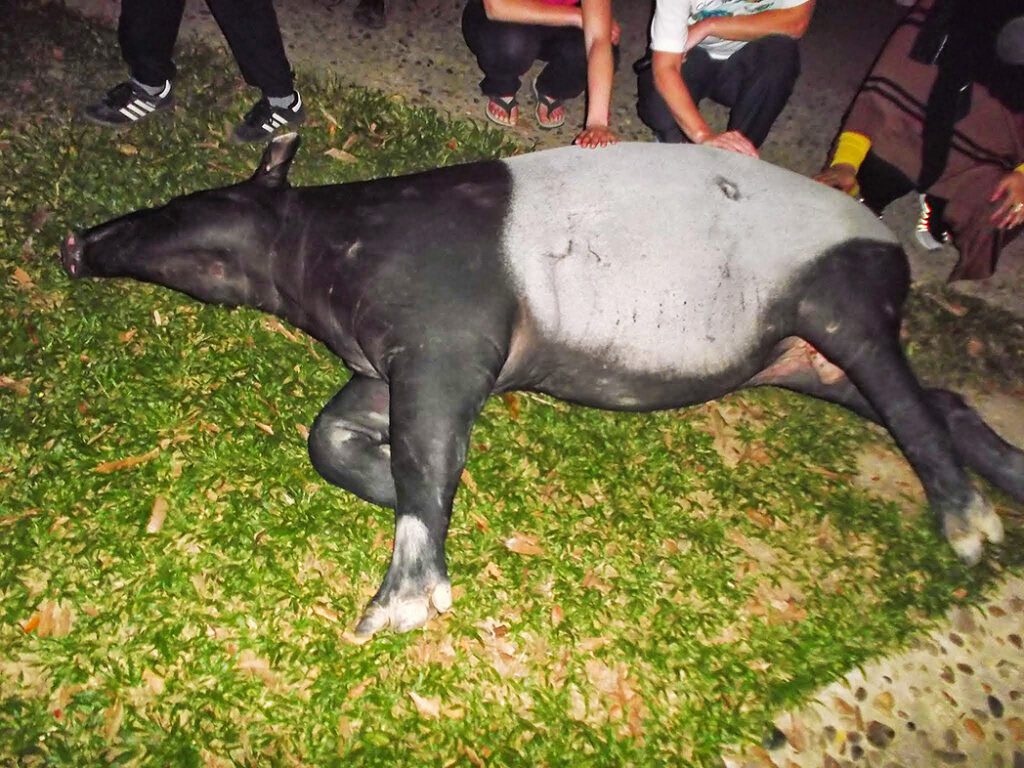 You are more likely to spot some colorful birds above the treetops and fishes in the Tembeling River.
And that brings me to
How to Get There
As I explained before, the Malayan tourist industry makes sure that you don't lose your way but get to the most visited attractions quickly and comfortably.
Besides the regular public transportation, there are shuttle buses taking visitors from other touristy points straight to the Taman Negara, namely to the entrance at Jerantut.
Here you register and can book some activities – if it's not already included in your trip. Because that's how many travellers do it: They book sort of an all-inclusive trip that includes transportation – often one way on the river which takes very long, accommodation, meals, and the most popular activities.
As I said, you can book all that also at the visitors' center in Jerantut – or at the Kuala Tahan village where you might negotiate a better price.
In Kuala Tahan, naturally, everything is about experiencing the Taman Negara, i.e. you'll have no problem finding accommodation, something to eat, an ATM, and shops selling all sorts of gear you might need for a hiking tour or fishing trip.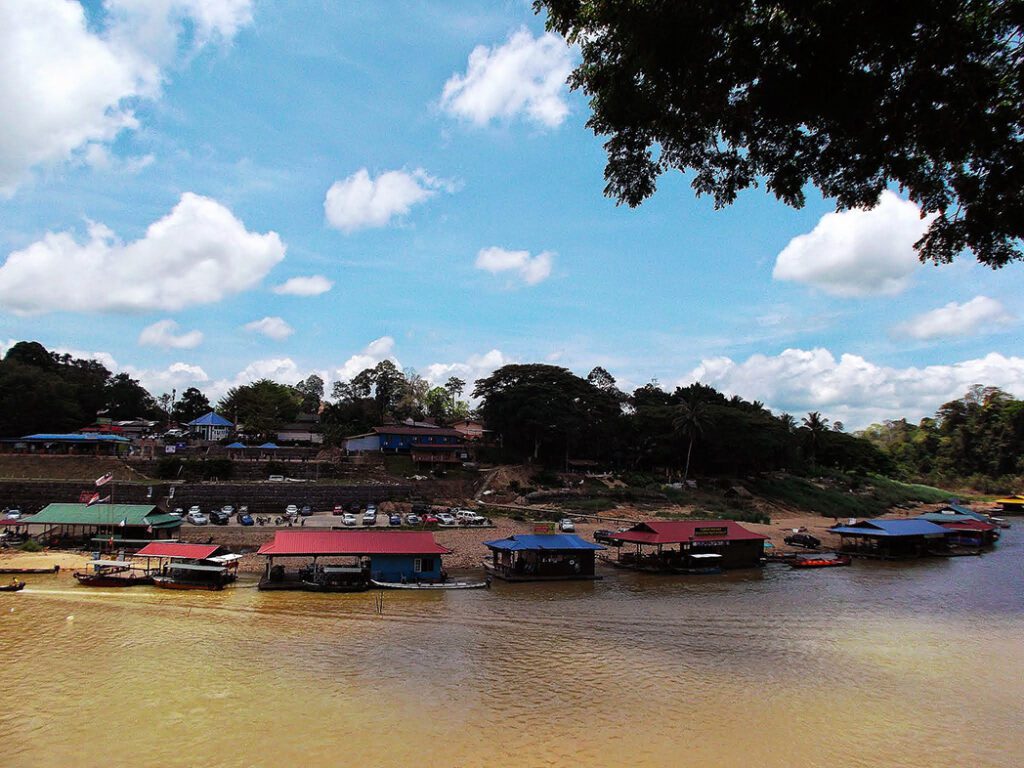 If you don't choose to spend the night in the jungle, you'll be fine with some good trainers, a bottle of water, and maybe some repellent: There are trails made of wooden planks – hiking here is less challenging than on the gravel of your local park. Even climbing up the hills – like for instance Bukit Terisek – is mostly on stairs.
But wait, this is already the chapter about
What to Do…
By Day
As I said, often at least some activities are included in your package. If not, here are the most amazing things to do – in two to three days:
Silently hiking the woods – preferably in the early morning while the others are still having breakfast and therefore don't chase the wildlife away.
Crossing the Canopy Walk stretching along 500 m in the tree crowns. Not for those suffering from acrophobia.
Climbing up hills – like Bukit Terisek in the vicinity of the Canopy Walk – for the views and the cardio training.
Taking a boat trip on the Tembeling River that takes you for instance to an Orang Asli village. The Orang Asli, indigenous people of Malaysia, are living also in the Cameron Highlands.
I'm not fond of visiting people to observe how they are doing things. On the one hand, it reminds me of the infamous Völkerschauen, ethnological expositions that took place i. a. at European Zoos in the 1920s. And to be honest, I don't believe that you get to see how they actually live today, anyway. At least those visits that I couldn't evade didn't feel genuine.
However, if you don't want to visit this sort of Human Zoo on your boat trip, you can just stay on the beach or take a dip in the murky river.
By Night
Going on a guided night walk in the jungle. They take about an hour which is fine. The amazing part is that the insects are masters of camouflage. They look like sticks or leaves – which at the same time is a problem since they are difficult to spot. Our sharp-eyed guide saw much more than I did.
Of course, there is also a night river safari where you have the chance to spot animals in the water and along the riverside.
By Day And Night
And then there are the two-day hikes which, as I've been told, are only for really well-trained people. Not only is the hike rough, but you also have to carry everything you need across the sultry jungle. Even your drinking water for the entire trip.
Then, you are staying overnight at a hide like Bumbun Kumbang or a cave.
I guess this must be an amazing experience. However, I did not join since I already experienced at other places how exhausting hikes in tropical woods can be.
Best Place to Sleep
There are many rooms and guest houses on the eastern shore of the Tembeling River – all of them rather rustic. The most luxurious option would be the Mutiara Taman Negara Lodge*.
This hotel consists of very well-maintained wooden cottages with everything you need – including a generous breakfast buffet. I particularly like how the lodge – despite all the amenities – blends perfectly with nature.
However, on this map, you can check all available lodging options*:
Best Place to Eat
The most popular places with the travellers are the boat restaurants on Tembeling River across from the Mutiara Lodge. But don't expect sophisticated food in an elegant setting. It's very rustic, if the owners aren't in the mood to be friendly, they simply aren't.
I had the impression that these people who were living isolated in a small village in the jungle for generations didn't really understand that these foreigners awing at trees are a source of income that they have to nourish and cherish.
On the other hand, this shows how relatively unspoiled it still is here.
What to See
I'm an avid solo-travelling woman. Since solo-travel doesn't equal solitude, I love to join organized tours here and there. They allow me to meet fellow travellers – for just a short moment or a lifelong friendship.
Especially the Taman Negara should be explored exclusively on guided tours like these*:
Do you want to read about all the other beautiful places I've visited in Malaysia? Then go to the main post and take your pick!
Pinnable Pictures
If you choose to pin this post for later, please use one of these pictures:
Did You Enjoy This Post? Then You Might Like Also These:
Note: This post is being regularly completed, edited, and updated – last in April 2023.
*This is an affiliate link. If you book through this page, not only do you get the best deal, I also get a small commission that helps me run this blog. Thank you so much for supporting me!