There is this grand history. There are those picturesque mountain villages. You can hike for hours alongside those Mediterranean olive groves and climb mountains from where you'll have majestic views of the Aegean sea. All this is fine and dandy. But Naxos' strongest suits are undeniably the beautiful long golden beaches hemming turquoise crystal clear waters. In this guide, I show you how to get to the best beaches of Naxos comfortably by public bus.
Naxos
Naxos is the largest island in the Cyclades and caters to every visitor's needs: There are picturesque settlements like the mountain villages that I'm introducing in an extra post. You can go hiking to literally godly mountain tops. There are ruins of ancient temples, olive trees, flocks of sheep, Greek cuisine, and traditional music. And there is the Aegean sea with the clearest water I've ever seen. Seriously, I still cannot believe how pristine those waters are. Therefore, despite all those amazing spots and fun activities, Naxos is the perfect destination for all you ocean lovers and beach bums.
While the east shores are made up of steep cliffs, to the west, they are flat and pleasantly hem the beautiful waters with stretches of golden sand.
Different Strokes For Different Folks
Now, Naxos is not this untouched rural isle that it might have been decades ago. Although it's by far not as overrun as Mykonos or let alone Santorini, it is touristy, and those visitors are an important source of income for the islanders. Therefore, parts of the beaches are what planners would euphemistically call developed: There are beach beds and umbrellas that come with a price tag, obviously. Oftentimes they are rented out by a bar or restaurant that is more than happy to serve you drinks and snacks. That's not necessarily a bad thing, especially since, contrary to other touristy places, no one forces you to use these services. You can very well spread out your beach towel under one of the trees or bushes, drink from your water bottle, and have a fantastic day.
I personally prefer secluded beaches with as little infrastructure as possible and only a few like-minded fellow swimmers. This being said – and as a solo traveller – I really prefer to have at least one fellow swimmer around just in case.
Going Public
Naxos offers beaches for every taste and I'm listing the most beautiful ones below. Since I'm introducing them starting at the island's Chora, they are automatically also listed from the most to the least crowded ones.
Apart from their beauty and comfortableness, they have in common that they can be conveniently reached by public bus throughout the day. Also, Naxos' bus system is so comprehensive you can even go on some beach hopping and explore three or even four of them in just one day.
In this guide, I've added the best bus connection to the individual beaches below. Nevertheless, as schedules are subject to change, I'd recommend checking the bus company's comprehensive website. Also, the ladies at the KTEL bus station in Naxos' Chora are very helpful. If you have already determined your plans for the day, you can buy all your tickets there in advance. And don't worry about changing your plans: You can still utilize unused tickets for other trips – which have to be at the same price, obviously.
Either way, you have to get your ticket in advance before boarding the bus. Apart from the main bus station, kiosks and mini markets are selling bus tickets, too.
Agios Georgios Beach
If you are staying anywhere in or around the Chora, Naxos' main town, you can get to Agios Georgios Beach just by walking. This sandy beach is located on the southern outskirts of town and is one of the most popular and crowded beaches on the island. Yet, since it's a couple of kilometers long, you'll have no difficulties finding your favorite spot. From here, you also have a lovely view of the island of Paros across the sea.
While the northern part which is closer to town is fully organized with sunbeds and umbrellas for rent, the southern part is ideal for sports facilities. It's there where you'll find businesses renting out water sporting gear. It is one of the most famous spots on the island for windsurfing and is also suited for beginners since the waters are shallow.
You can bring your own drinks and snacks, however, there are several cafes and restaurants alongside the beach road.
All in all, Agios Georgios Beach is a great option if you want to hang out on a beach for just a bit for instance before going on a half-day trip in the afternoon. Hence, it's a quick and dirty clean option.
Agios Prokopios Beach
The most popular beach on Naxos is Agios Prokopios as it offers the perfect surrounding for everyone. You can relax on the sunbeds of one of the many beach clubs. But be aware that here, everything is a bit posher, and two sunbeds with an umbrella can set you back up to 40 €uros during the high season. Also, when it comes to us poor solo travellers, the owners are merciless and not willing to rent the beds out individually. You have to rent the whole set for two people.
If you're not ready to spend this kind of money, you'll certainly find a nice spot to spread out your beach towel as the beach seems endless.
If you are a beach stroller, you can also use one of the sunbeds until the owner asks you to pay. Don't get me wrong, I was willing to pay for my chair. But only for the one I was using, not for a second one I didn't need. Since we couldn't agree, I left after having used his chair for an hour.
Behind the beach is a small settlement consisting of no-frills restaurants and bars, small shops and convenience stores, and affordable accommodation options.
If you are travelling with small kids, you need to be extra careful. Not only because of the water but also because one of Naxos' main roads going south lies right behind the beach.
Obviously, you can also practice your favorite water sport in the amazing waters of the Aegean sea.
Agia Anna Beach
Agia Anna is basically a continuation of Agios Prokopios. The long sandy beach is divided into some smaller bays. Also, there is a small picturesque fishing port.
The small cove next to the port is protected from the winds and normally calm. Therefore, it's great for a nice swim even when the winds are rippling the waves.
From Naxos' Chora, Agia Anna Beach can be quickly and easily reached by bicycle, motorbike, car, or public bus, obviously.
Just like on Agios Prokopios Beach, you can rent sun beds and umbrellas. Since the beach is much shorter, it gets crowded quite quickly.
The main road at Agia Anna Beach is lined with beachfront restaurants, cafés, and bars. From here, you have a grand view of the neighboring island of Paros.
Behind the Greek Orthodox Saint Nicholas church on the headland south of the beach is the very popular nudist part of Agia Anna.
Plaka Beach
What back in the day used to be just a wild nudists' beach developed into one of the most popular beaches of Naxos. Yet, in some places, it kept bits of its original vibe. Although today everyone finds their jam on the long sandy beach, it is still popular with nudists. During the high season, it does get busy, however, it is still much quieter than the beaches further north.
Although there are also parts with sun beds and umbrellas, major parts of the approximately four-kilometer-long Plaka beach are just open to everyone. Although it gets quite busy during the high season, compared to Agios Prokopios or Agios Georgios Beach, Plaka deems almost serene. Everything is much more relaxed here. By the way, here it was no problem to rent just one sun bed. Also, the pack would have cost only ten €uros so I ended up paying five €uros for a sun bed and an umbrella.
Let's hear it for Plaka.
Plaka is totally down my alley already for the fact that one of the most popular activities there is walking. During the high season, the beach looks like people are on a crusade as they are walking up and down this wonderful part of the coast.
In the beach's vicinity, you'll find all kinds of small hotels, studios, and apartments. Many of those are small family-owned units. Also, you'll find a good number of taverns, many of which offer excellent views and great local cuisine.
Kastraki Beach
"The next bus to Alyko comes in two hours", are the last words I hear as the bus doors are closing and the coach unhurriedly rolls along the sand trail towards the main road. I'm on Kastraki beach and what I see is just breathtakingly beautiful: To my feet is the water. It harmoniously changes its color from light transparent turquoise to emerald green and finally to the deep blue of ink. Behind me are the rugged mountains of Naxos, dotted with whitewashed houses. Everything is so beautiful, I simply need to capture this in a thousand pictures. So as I walk alongside the shoreline, I snap away, again and again.
It's noon, and the sand under my feet is hot. I would have come here much earlier but the first public bus towards Kastraki and the famous beach of Alyko leaves Naxos' Chora already at 7.30 and the next one only at 11. Yes, definitely the downside to exploring the world by public transport.
The beautiful beach of Kastraki showers you with everything you'd expect from an Aegean island. There are crystal-clear waters in surreal shades of turquoise and blue. The beach is in some parts divided into small cozy coves. In other parts, it stretches like a long trail of silvery sand before your eyes. Either way, you'll find peace and quietness everywhere.
I walked down the entire beach and have seen only one relatively small spot where they rent out sun beds and umbrellas and serve drinks on the beach. Other than that, you have to take care of your own comfort.
In the hinterland towards the main road, you'll find average-priced taverns, guest houses, and small convenience stores. The Kastraki area is definitely the perfect retreat for those who seek serenity and total relaxation.
Glyfada Beach
Where does Kastraki Beach end and Glyfada Beach begin? Come on, does it really matter? This beautiful sandy beach is among the longest beaches on the island of Naxos. Also, it is nestled between the beaches of Kastraki and Alyko. That's a whole lot of beaches, hence, they never get crowded.
Also, the rolling sand dunes, the unique cedar forest, as well as a pond between the beach and the main road make Glyfada quite unique.
Naxos is an island, hence, when the wind blows, the beach of Glyfada is quite exposed. Therefore, it's also a popular spot among windsurfers and kitesurfers. However, it's also great for swimming just like the entire coast.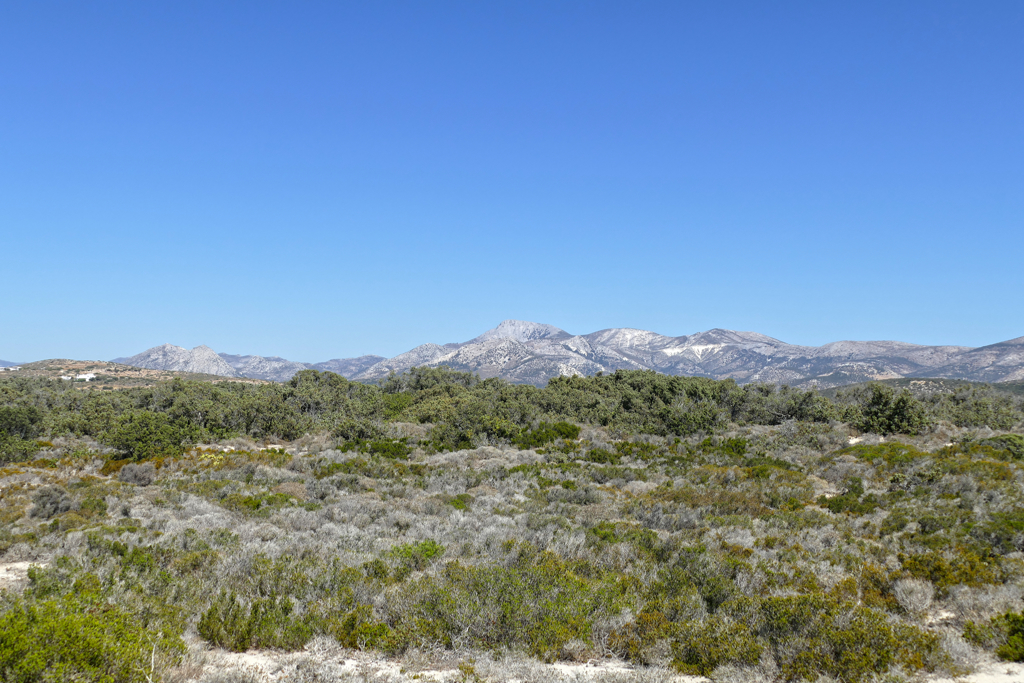 If you are coming by car, you can leave your vehicle next to Faros hotel and restaurant and cross to the beach from there. Getting there by public bus, you have to get off at the Glyfada stop, obviously.
Cedar Grove
This is supposed to be a majestic cedar forest, but what I see are mostly shrubs. Which is good since about five minutes into my walk, I lost my way. It feels pretty ridiculous to be lost amidst a grove of plants that reach my shins. But those suckers are sturdy and thorny I have to look for sandy patches between them since otherwise, they scratch my bare legs.
Usually, I'm fine with losing my way. I don't have much choice anyway since I have no sense of orientation whatsoever. But ever since I broke my leg in a secluded gorge and was found only eight hours later, I've lost a bit of my swag. Therefore, as I'm meandering between these prickly bushes, I'm starting to get a bit nervous. It's good that the forest is not that majestic, after all. From time to time, there is a sad dry cedar obstructing my view'n'way, other than that, only those bundles of thorns.
And then I come to a larger sandy patch with lots of footprints. Prints of sneakers and dog paws and bird feet. I follow those traces and finally I reach a road. Ahead of me, I see the water. And I spot the famous ruins of Alyko.
Alyko Beach
Yes, the incredible beach of Alyko was not only my final destination but also the grand finale of my day trip to the southwest of Naxos. Located on a piece of land projecting out into the sea, it consists of the island's most varied and definitely most beautiful beaches. Since Alyko is actually a small peninsula with various sandy beaches and coves, it caters to every taste. Also, Alyko's greater coastal area includes saltpans from which the cape got its name: Alyki translates to saltpan in English.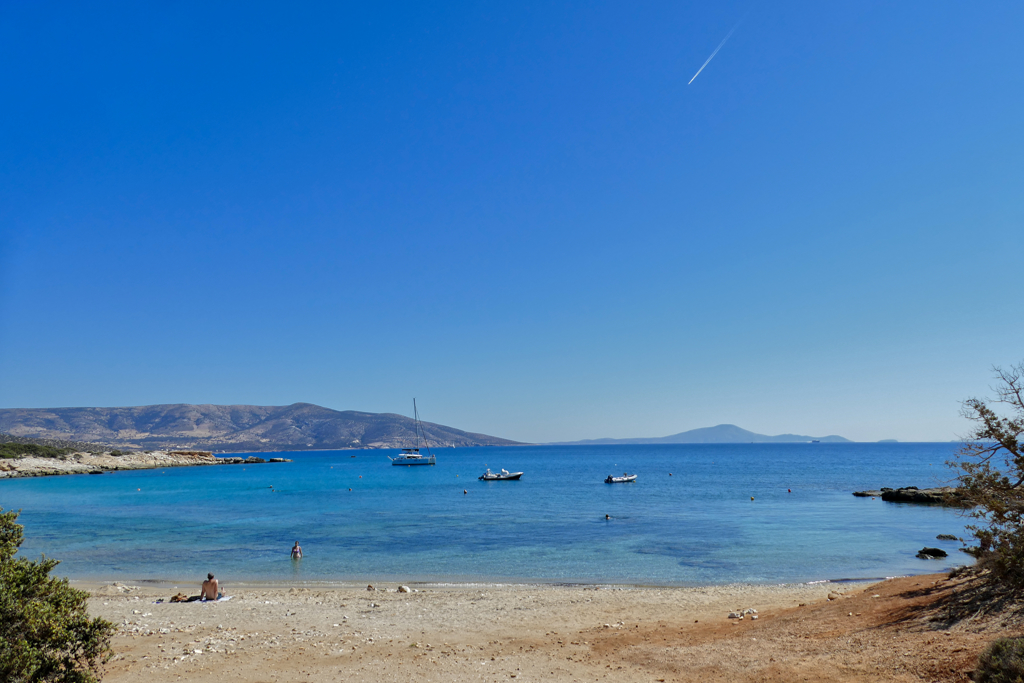 Leaving Glyfada Beach, you'll first get to Kedros Beach on the Alyko peninsula. Here, you still find a dense cedar tree forest stretching down to a fantastic white sand beach which is mainly popular among nudists.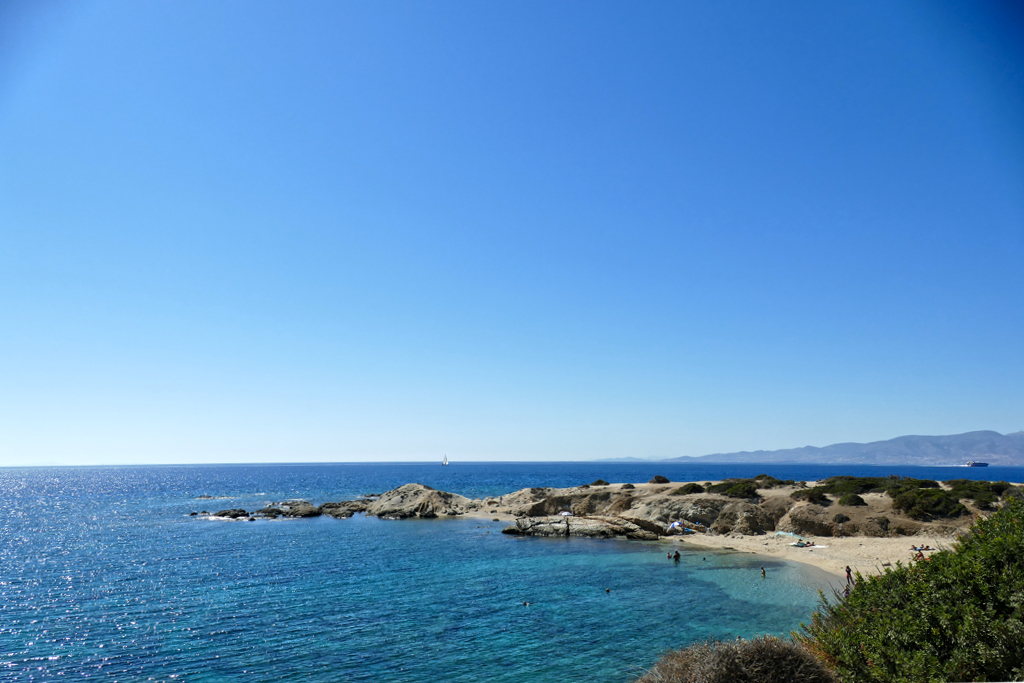 Then comes Hawaii Beach, which I still find quite funny. It is below a 10 meters high cliff. Rock formations separate it from Kedros beach in the north and Mikro Alyko, a small sandy beach in the south. Finally, there is the true and one and only Alyko Beach which is the most popular of them all. Not only is it in a quite spacious bay. Contrary to the other beaches on the peninsula, access is also easiest. Yet, it is an ideal beach for those who seek privacy.
Whether Glyfada or any of the beaches around Alyko offers spots where you can rent sun beds or umbrellas. This is pure nature without any touristy infrastructure whatsoever. All that you need you have to bring with you. Therefore, I put together a pack list for a day on a secluded beach which you find below.
An Unexpected Open-Air Gallery
Alyko Beach is not only famous for its many idyllic secluded bays. It has actually a real landmark.
Pretty much in the center of the peninsula is a long-abandoned and uncompleted hotel complex. Supposedly, it stems back from the days of the military Junta in Greece. It is believed that as the government changed, this construction was considered illegal. Even as you look at the ruins today, you'll realize that this was a completely disproportionate project. Believe it or not, the hotel was planned to have 1,000 rooms! A chunk like this would have totally destroyed the beauty of Alyko and the peninsula's distinctive biotope. Fortunately, after decades of disputes, this crazy project was simply abandoned.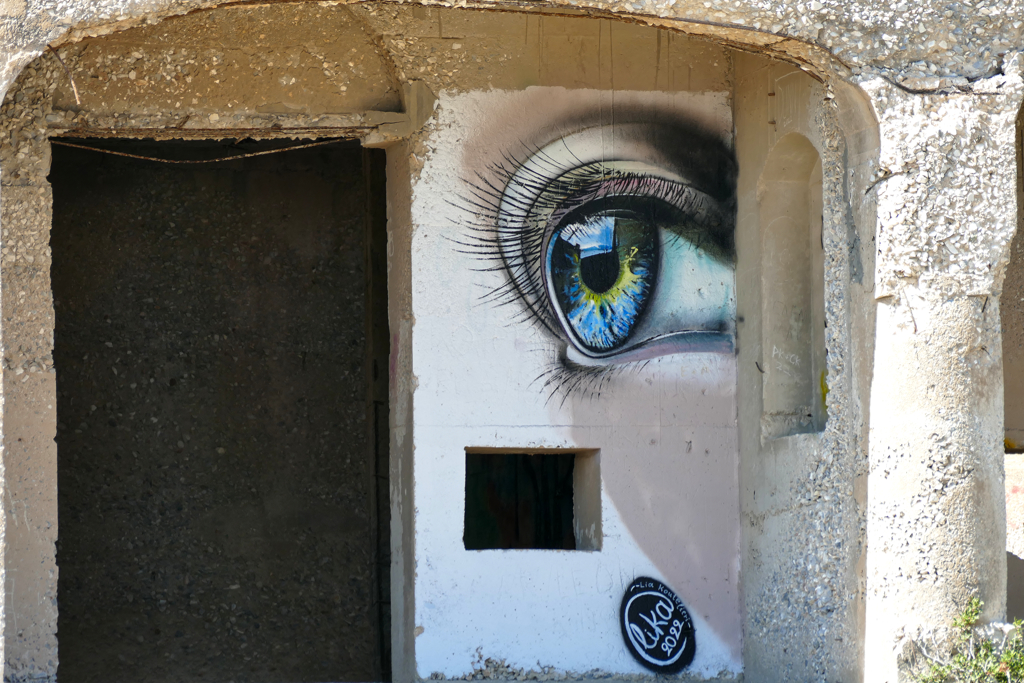 Today, those decaying buildings provide amazing opportunities for street artists mainly from Greece but also from other parts of the world. As a matter of fact, the Hotel Ruins of Alyko became one of the top attractions on the island.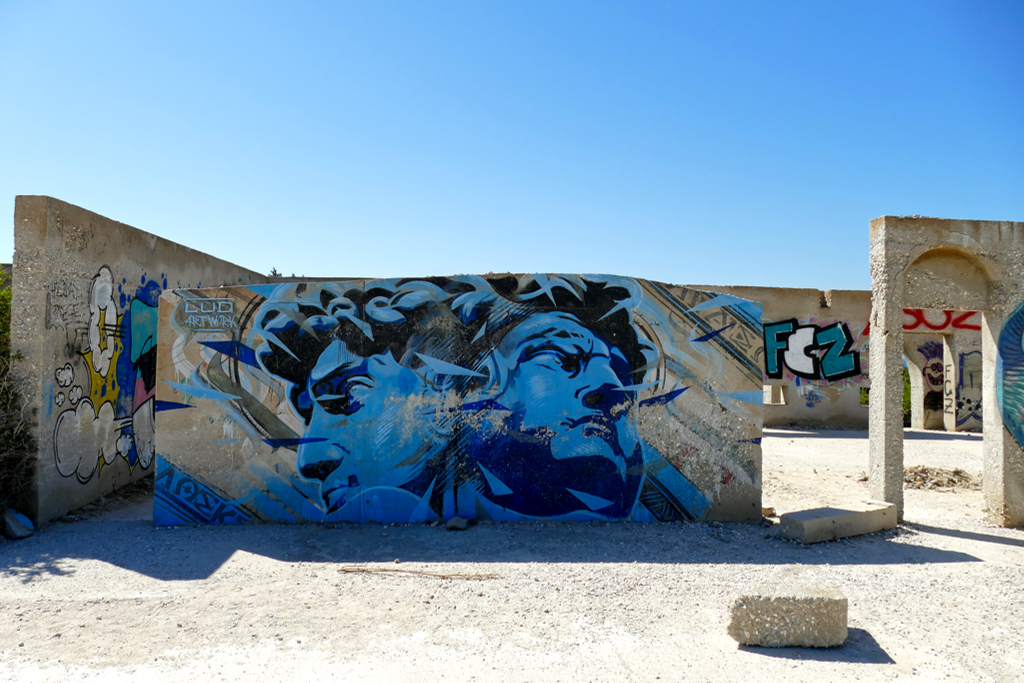 You know that I'm a street art buff. Since this post is designed to provide you with all the info you need when it comes to the natural glories of Naxos' best and most beautiful beaches, I'm not going into detail about the artists that contributed to this quirky open-air gallery. Nevertheless, I wrote another post dealing exclusively with the Amazing Murals of the Hotel Ruins of Alyko.
Pyrgaki Beach
I got to the scenic beach of Pyrgaki by pure accident as I was desperately looking for a place to buy something to drink. Supposedly, there was a food truck next to Alyko Beach but that was just supposedly. In my quest for quenching my thirst, google maps told me there was a supermarket within a walking distance of about ten minutes, and go figure, in front of it was Pyrgaki Beach.
Pyrgaki beach is located in a small cove. This long sandy beach is in most parts not organized, hence, there are only a few spots with parasols and sunbeds for rent. Since this lovely beach is not as famous as Alyko, it is one of the best choices for those who wish for tanning and swimming in a quiet place.
Nevertheless, there are some eateries, and the above-praised supermarket right next to the beach.
What To Pack For a Beach Day
If you stay at a beach hotel, you can simply walk from your room to your sun bed in a swimsuit, a book and a cocktail in hand. In that case, kudos – and you won't need this checklist. If however, you intend to spend the day on a beach from where you cannot just go back to your room in case you forgot something, you should read this list thoroughly.
Putting it together, I had you beach walkers in mind. You folks who leave their accommodation in the morning, taking the bus to some remote place from where they come back only in the late afternoon. If you forget to take certain things with you, you won't have them available during the entire day, it's as simple as that.
Therefore, the below list does not only contain quintessential items like your wallet and your reading glasses but also some gadgets that are not crucial but will make your day on the beach more comfortable and pleasant.
Well-Organized Activities
Obviously, this post is made to show you how easy and comfortable exploring Naxos' beaches by public bus can be. However, if you want to explore the shores from the water, that's a whole different story and you'll need an experienced and reliable tour operator. Also, especially for solo travellers, joining a group on a day trip can be a nice change and a great opportunity to meet like-minded fellow travellers.
Therefore, here are some suggestions for what to do when visiting Naxos. Especially during high season, pre-booking online will guarantee your place at the activity of your choice*:
Although Naxos' beaches are just fantastic, they are not the only attraction the island has to offer. In this post, I'm introducing Naxos' five picturesque mountain villages that you can easily visit by public bus. Then, to read about other great activities, go to this post and take your pick!
Map
This map should help you to find the most beautiful beaches of Naxos that I'm introducing in this post. Clicking on the slider symbol at the top left or the full-screen icon at the top right will display the whole map including the legend.
Pinnable Pictures
If you choose to pin this post for later, please use one of these pictures:
Did You Enjoy This Post? Then You Might Like Also These:
* This is an affiliate link. Hence, If you book through this page, not only do you get the best deal. I also get a small commission that helps me run this blog. Thank you so much for supporting me!