Small but excellent – Sitges, a fancy seaside resort less than an hour south of Barcelona, has enchanted visitors for decades. While bourgeois families spent their summer retreat on the town's fine sand beaches, artists and intellectuals gathered to share inspiration, but also local delicacies and drinks, obviously.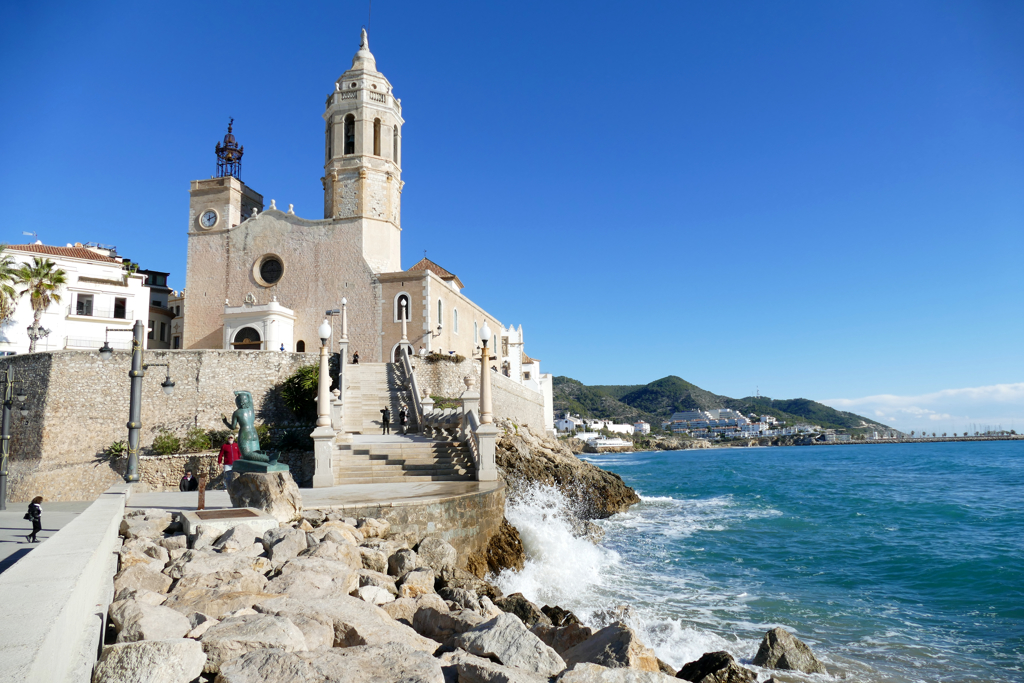 Today, Sitges is still a popular summer escape from Barcelona's hustle and bustle.
Farther Than You Think
What's wrong, why isn't the turnstile turning as its name suggests? We try to slide our cardboard ticket again and again – in vain. A man in uniform comes to our aid, moves the metal barrier to one side, and lets us through. "Why aren't our tickets working?" "Dunno – ask at the ticket office", he orders with a stern look on his face.
The slightly friendlier man behind the glass windows takes a quick look at our perfectly fine Hola Barcelona Travel Cards* and explains that those were only valid till the former stop which was Castelldefels. But we are in Sitges – in a different zone. He doesn't request us to pay but explains that on the way back to Barcelona, we have to buy new tickets.
A different zone – for the town of Sitges, this is true on so many levels. Coming on a day trip from Barcelona, the train ride takes you not only to a different place, but somehow also into a different era. An epoch when families put on their Sunday attire, packed huge picnic baskets, and made it to beaches where the ladies in scrooping crinolines crouched under small, lacy umbrellas while their offsprings were splashing in the Mediterranean sea and chasing after squeaking seagulls.
Sitges is one of those posh seaside resorts – but has far more to offer than just sand'n'sea.
But sea see for yourself.
Note:
As always, you'll find some tips on the local language at the end of this post in the info section – together with other facts'n'details that will make your visit to Sitges smoother and therefore more enjoyable.
But since Catalan is so…let's say: unpredictable – even if you are fluent in Castellano, hence, the standard Spanish, I'd like to let you know right from the start that Sitges is pronounced Sit-jazz instead of Sit-hes as you Spanish learners might think.
Sitges – Come And Go
It started out as a classic fairy tale: Until the early 19th century, the de Sitges family was living in a castle that stood on the site of today's town hall. From there, they ruled over – yes, Sitges, obviously, until 1814. Then, Sitges joined the crown of Aragon. At that time, the town's inhabitants lived mainly in agriculture and fishing. However, according to a decree, Catalonia was allowed to trade directly with the Americas. Therefore, an incredible 27 percent of that trade was processed through the port of Sitges. The merchandise was mainly clothing, wine, and brandy.
Also, in the second half of the 19th century, many former migrants from Sitges returned from the Americas. In Sitges, they commissioned superb villas that you can admire to this day. Also, they built fabric and shoe factories. Consequently, in the 20th century, 80 percent of Sitges' population worked in shoe factories of which only one remains today.
Guests From Out Of Town
Tourism, on the other hand, started only at the end of the 19th century. Therapeutic facilities and the construction of the railway between Sitges and Barcelona in 1888 attracted increasing numbers of summer guests. No wonder, since the seaside resort has a total of 17 sand beaches and excellent water quality.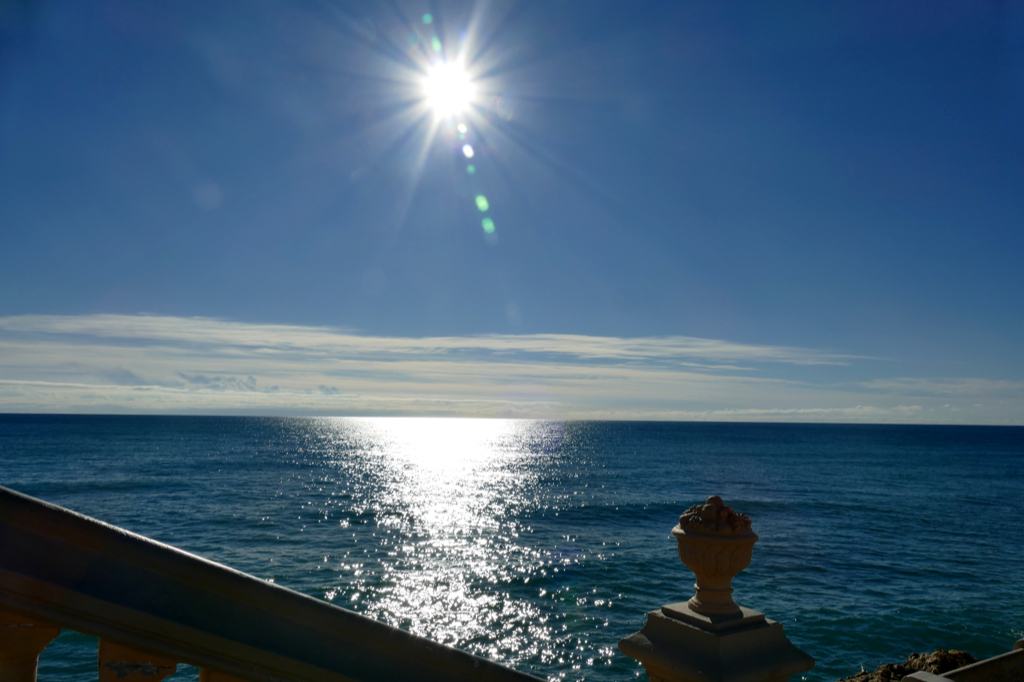 In 1891, Santiago Rusiñol i Prats, a painter, writer, journalist, and playwright, moved from Barcelona to Sitges. This was the initial ignition that transformed the town into a hub of art and culture.
Since then, considerable events have kept Sitges' fame as a cultural hotspot alive. An international tango festival, a film festival, and a vintage car rally are taking place every year. Another major extravaganza is the carnival which attracts a very gay crowd; gay on many levels.
A Stroll Through Sitges
So we had made it to the station, the stationmaster had set us free, and we walked down towards the beach.
Sitges will enchant you with cute narrow alleys and some Modernist architecture.
The most attractive part, however, is in the vicinity of the Plaça de l'Ajuntament, hence, the town hall square. This square is the city's highest point. Where once the de Sitges family had their castle stands today's town hall, built in a neogothic style.
Church of Sant Bartomeu And Santa Tecla
Yes, it's a beautiful church. But what makes the Church of Sant Bartomeu And Santa Tecla truly spectacular is the location. The house of worship stands between the town hall square and the old bulwark and is literally towering over the Mediterranean sea. And as the waves are crashing again the walls below, it's an extraordinary sight.
The church was built in the 17th century on the spot where two previous churches stood before.
Inside, the main feature is the Renaissance altarpiece of Saint Bartholomew and Saint Thecla, Sitges' patron saints. Two other altarpieces are in the Renaissance respectively Baroque styles.
A Gothic tomb under the choir contains the remains of Bernat de Fonollar, the lord of Sitges. As King Jaime II's wingman, he was the most important figure in the history of medieval Sitges.
Plaça del Baluard
On the opposite side of the Church of Sant Bartomeu And Santa Tecla is one of the most beautiful viewpoints of the city.
From this square, popularly known as La Punta, you have a wonderful view of the Mediterranean sea, the marina, and then Sitges' entire shoreline. Apart from being one of the city's most stunning spots, the Plaça del Baluard is also the gateway to the historic old town.
Carrer de Fonollar
The alley that's named after Bernat de Fonollar, the lord of Sitges that I've introduced above. Located in the city's old core, Carrer de Fonollar is basically the cultural lifeline. It leads through the gate connecting the different edifices of the Maricel building complex.
The architectural complex consists of three connected palaces. The North American businessman, art collector, and philanthropist Charles Deering commissioned Miquel Utrillo with the construction in the early 20th century. It represents an extraordinary piece of Modernist architecture.
Palau de Maricel
Once you walk through the small gate, you find yourself at the so-called Racó de la Calma, the quiet corner. And it is a serene nook, indeed. Just take a look around and enjoy the tastefully decorated structures.
As you walk on, you'll get to a small square. To your left is the Palau de Maricel. Together with the Museu de Maricel on the opposite side of the street, it forms an eclectic museum.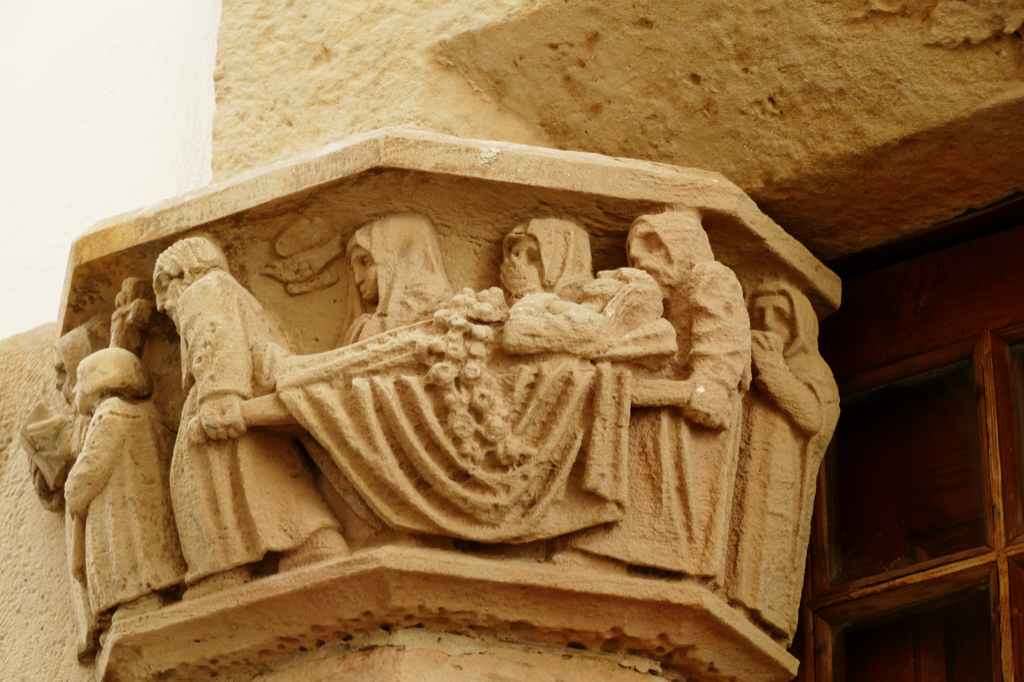 On display are sculptures and paintings from the Romanesque, Gothic, Renaissance, and Baroque periods. But you'll also get to see modern art like Romanticism, Realism, and Modernism, obviously.
The museum is open between November and February from Tuesday to Sunday from 10 a. m. to 5 p. m. From March till June and in October, it closes at 7 p. m. and from July to September at 8 p. m. General admission for the Palau de Maricel is 5 €uros, however, there are combi tickets including also the Museu del Cau Ferrat and the Fundació Stämpfli that I'll introduce below.
Museu del Cau Ferrat
On the other side of the Carrer de Fonollar is the Cau Ferrat Museum. In the late 19th century, it was established by Santiago Rusiñol i Pratsto as his home and workshop and to house his art collection. According to Rusiñol's last will, the building was opened to the public as an art museum in 1933.
Apart from his works, you can admire paintings by El Greco, Zuloaga, and Picasso.
The museum is open between November and February from Tuesday to Sunday from 10 a. m. to 5 p. m. From March till June and in October, it closes at 7 p. m. and from July to September at 8 p. m. There is a combined ticket including the Museu de Maricel for 10 €uros as well as combi tickets including Sitges' other galleries.
Edifici Miramar
As you continue on the Carrer de Fonollar to the east, you'll reach the Passatge la Vall. When it comes to sightseeing, this is a dangerous spot since you'll have to decide to keep on exploring – or just hit the beach. Right next to the Passatge la Vall begins the truly beautiful Platja de Sant Sebastià, one of Sitges' most popular beaches.
Presuming that I have not lost you to the joys of leisure, I'd like to point out the Edifici Miramar, a gorgeous structure built in the mid-19th century in the Neoclassical style. However, it also goes by the name of Can Vidal-Quadras according to the former owners. The Vidal-Quadras family originates from Sitges. Some family members migrated to the Americas and to Cuba. After returning to their motherland in the mid-19th century, they founded an important banking house.
The reason for naming the mansion Edifici Miramar is quite clear. Located in a superb spot, just a stone's throw from the Platja Sant Sebastià, you have spectacular views over the mar; hence, the sea.
Currently, the Edifici Miramar is mainly used as a gallery for temporary exhibitions of local and international artists. Normally it's open from Wednesday to Sunday between 10 a. m. and 2 p. m. and then again in the afternoon from 5 p. m. to 8 p. m.
Palau del Rei Moro
Carrer d'en Bosc and Carrer del Vall are the oldest and most picturesque streets in Sitges. Whereby, just calling these scenic alleys streets is exaggerated.
Here, the medieval roots of the town are evident. There are walls and slopes and two well-preserved buildings. The Palau del Rei Moro, hence the Palace of the Moorish King although no Moor ever lived in it, is arguably the most interesting structure in Sitges.
The Palau del Rei Moro is a Gothic building of medieval origin, probably from the 14th century.
The Palace of the Moorish King and the adjoining Vidal Studio must have been built around 1390, coinciding with an extension of the town's walled enclosure. In fact, its rear parts formed the wall. Also, the Carrer del Vall is basically just the space that used to be the moat at the foot of the wall.
Beginning of the 21st century, the last private owners sold it in excellent condition to Sitges' town hall. Now it houses various local organizations. Also, it hosts different cultural events throughout the year.
Mercat Vell de Sitges
This old market hall is located next to the town hall. It was opened in 1890 as the first iron construction in town. Today, the old market was replaced by a new one across from the train station. Yet, the old structures didn't remain empty as they are housing the Bacardí Museum. This museum is dealing with the history of this world-renowned company and its founder, Facundo Bacardí i Massó.
Bacardi is one of the largest spirits brands in the world. Don Facundo Bacardi i Massó founded it in Santiago de Cuba in 1862. Today, Bacardi owns over 200 brands and labels. Yet, very few people know that Bacardi's history actually began in Spain. In 1814, Facundo Bacardí Massó was born right here in Sitges. As the son of a family of bricklayers, at the age of 16, he followed his brother and migrated to Cuba in 1830.
Passeig de la Ribera And Beaches
Yes, at the end of your visit to Sitges, you should definitely also enjoy the beach – the feature that makes the town a posh seaside resort.
The palm-fringed beach stretches between the Mediterranean sea and an elegant promenade from the rocky cliffs in the east all the way to the golf course in the west.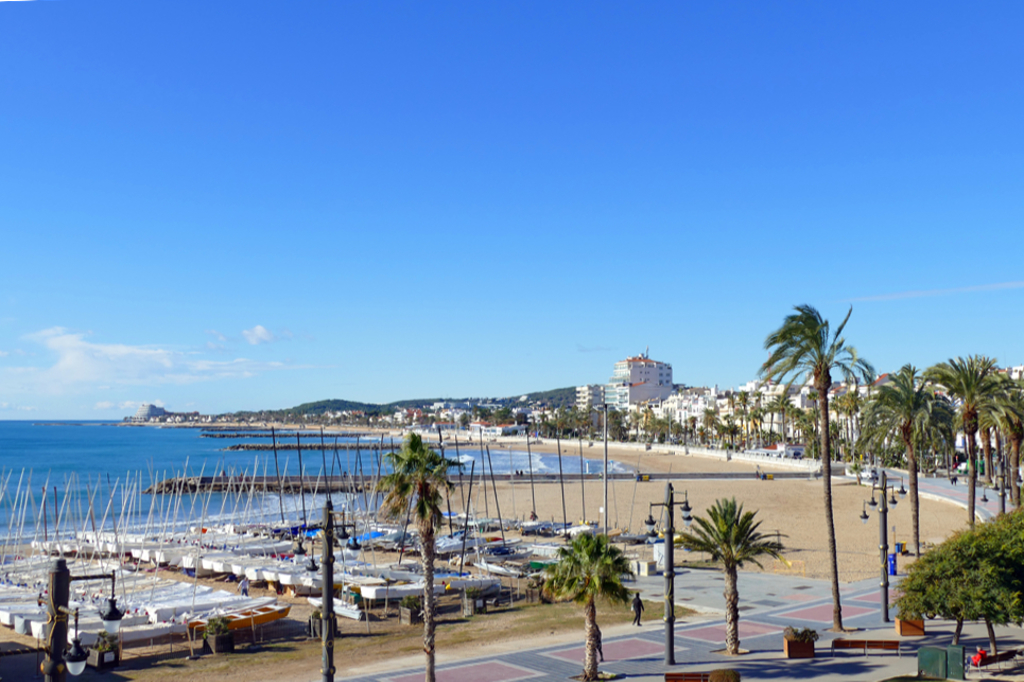 Like basically all Spanish beaches, they are well-maintained and clean with facilities such as bathrooms and showers to make your stay as comfortable as can be. Just crossing the Passeig de la Ribera that then merges into the Passeig Maritim, you'll find many hotels, restaurants, bars, and shops lining the street.
Sweet Souvenir
Before we went back to Barcelona, we stocked up on some local treats to take home. Although Torrons Vicens is not a company from Sitges, their products are as Spanish as can be. Founded as a family business in Agramunt in 1775, they specialize in traditional turrón, white nougat. However, since turrón is getting really popular, they are extending the variety. Today, you can get it with all kinds of different nuts, yogurt, meringue, and many other ingredients.
However, Torrons Vicens are also making excellent chocolates, cookies, spreads, jams, honey, and also liqueurs.
You can get many of their products are already combined in beautiful packages – ready to gift to your loved ones.
In Sitges, you find Torrons Vicens on Carrer Parellades 23. They are open every day from 10 a. m. to 9.30 p. m. On weekends, they open only at 10.30 a. m.
Practical Information
How to Get to Sitges And Around
Sitges can be easily reached by train from Barcelona by suburban train R2 or R25. One way costs around 4 €uros and you can buy your tickets at vending machines. There is also a bus, it doesn't make really sense since it takes much longer and tickets are hardly cheaper.
Organized Trips
Especially as a solo-traveller, sometimes it's more reassuring and enjoyable to join a group on an organized tour – even if it might be a little more costly. If you want to leave all the organizing and hassle to others, you should consider joining one of these tailor-made tours:
Where to Stay
If you plan to spend the night in Sitges, make sure to have your piggybank ready. It's been a posh retreat for centuries, after all, so to this date, prices for halfway decent accommodation are quite high.
However, if you can afford to splurge, here are some ideas of where to say*:
What And Where to Eat
Sitges' most iconic dish is Xató – you have to pronounce it shato. Xató is an unusual combination of classic Mediterranean ingredients. It consists of a sauce made from roasted breadcrumbs, almonds, or hazelnuts, blended with oil, vinegar, garlic, salt, and pepper. This sauce is introduced to a salad made from endive, anchovies, tuna, cod, and olives.
To sample a typical dessert, get a slice of Coca de Llardons. In Catalan, by the way, you have to pronounce double L just like L whereas, in the classic Castellano, it's pronounced like Y. Since Coca de Llardons is a Catalan dish, please say Lardons. Llardons are pork cracklings, one of the cake's a bit unusual ingredients. Try it with a glass of Malvasia, a local dessert liqueur.
Apart from Xató, it is always a good idea to order some local seafood. So, how about some squid in garlic sauce or peppers stuffed with cod?
Cash And Cards
Until now, 20 European countries replaced their former local currency with the €uro starting in 2002. Obviously, Spain is one of them. The exchange rate is 1 US$ = 0.94 EUR as of January 2023. However, you can check today's conversion rate on this page.
You can pay with credit cards basically everywhere – actually, since the outbreak of Covid, businesses prefer that you pay with cards even for the smallest amounts.
Say it Right
You are probably thinking that since Sitges is a Spanish city, the local language will be Spanish. Well, that's not completely wrong, but not correct, either. As I explained above, in Sitges, they speak Catalan and therefore pronounce their hometown sit-jazz.
In general, apart from Castellano, hence, classic Spanish, also Catalan, Galician, and Basque are spoken in Spain. Together with Castellano, Catalan is the second official language in the autonomous communities of Catalonia, Valencia, and the Balearic Islands, hence, also in Mallorca. Basque is a so-called co-official language in the Basque Country and parts of Navarre. Finally, Galician is spoken in Galicia, obviously.
English and French are mostly spoken as foreign languages. Especially young Spaniards tend to have a good command of English.
However, if you want to learn some basic Spanish or just brush up on your knowledge, there are various apps and online tools. I personally like to practice with babbel.
While I wrote down some tips on how to pronounce Castellano, hence, the language most people call Spanish, in my general post on Spain, I'm pretty much lost when it comes to the other languages like Catalan. But don't worry, your knowledge of the classic Castellano will be appreciated and rewarded just the same.
Sitges was only one of many highlights on my road trip through Spain. To read about the others, go to the main post and take your pick! There, you'll also find further valuable general information that will make your own trip much smoother and more enjoyable.
Pinnable Pictures
If you choose to pin this post for later, please use one of these pictures:
Note: I'm completing, editing, and updating this post regularly – last in January 2023.
Did You Enjoy This Post? Then You Might Like Also These:
* This is an affiliate link. If you book through this page, not only do you get the best deal. I also get a small commission that helps me run this blog. Thank you so much for supporting me!