If you are thinking about spending – at least – a weekend in Valencia, this post gives you ten valid reasons why you definitely should carry out your plans as soon as you can.
Why Valencia?
During the travel restrictions due to Covid, I visited a couple of places around Spain. As a matter of fact, more than ever before in my entire life. And every time, I emphasize that the pandemic was the main reason for my visits. However, these affirmations don't do Spain any justice. It sounds as if the country is someplace of atonement and going there is some kind of penance for me.
No! Way!
It's just that I'm based in Europe. Therefore, my personal life plan foresaw visiting all those faraway places asap. I want to visit South America, Asia, and Africa while I can cope with jet lag, bugs, and other travel challenges. Hence, I intended to explore my European backyard when I'm older and weaker and walk with a cane.
This is the only reason why I intended to save undoubtedly beautiful Europe for last.
But for a while, Covid had changed the world and my personal plans drastically. Consequently, over the last couple of months, you found me roaming Spain.
Yet, you might wonder why on my way to Andalusia, I included a pit stop in Valencia. Well, the reason is quickly explained. A couple of months ago, I read about some lady who invited her friends to celebrate her birthday in Valencia.
Valencia?
Why Valencia?
Sometimes, the best answer to the question Why is simply Why not?
And that's exactly what I thought as I booked my flight to this obviously a bit underrated city.
Wild Child
What I didn't know then was that in the 1980s and early 1990s, Valencia used to be Spain's party capital. It was full of well-known clubs hosting famous bands from all over Europe. Supposedly, the action took place not only inside the venues, but also outdoors at car parties. Up to 30,000 people came to the party mile on the weekends.
During exactly these two decades, I had wasted my youth in clubs and at parties. Yet, somehow I had missed out on the alleged hotspot named Valencia.
Anyway, in the late 1990s, Valencia's party activities decreased. That's good for me since meanwhile, I'm too old and tired for fun in the gutter. Hence, I enjoyed Valencia's Gothic and Baroque past, the Modernist architecture, the amazing Arts and Sciences complex, some great art – inside and right on the façades – as well as the beautiful row of beaches alongside the alluring El Cabanyal neighborhood.
By the way, this former fishing village is the reason for one of the longest conflicts about gentrification and preservation of historic buildings. The city government planned on building a large boulevard from the center towards the sea. Therefore, they decided to demolish large parts of the El Cabanyal in 1997. Since then, preservationists and artists from all over the world have been fighting against the wreckage of this unique neighborhood.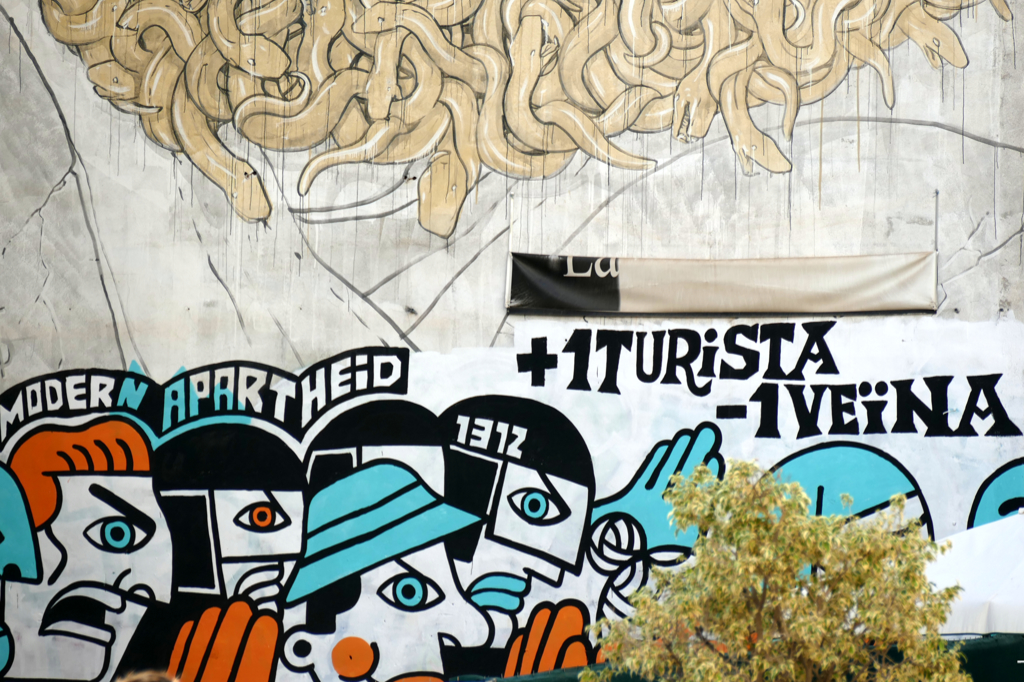 Finally, it was basically Spain's real estate crisis that saved El Cabanyal. The city didn't have enough means to follow through with such a large and costly development project.
Poverty can be bliss.
History in a Nutshell
The Early Age
A couple of decades BC, Valencia was one of the first Hispanic cities to become a Roman military colony. The Romans settled on an island in the river Túria approximately where the cathedral stands today.
The city was conquered by the Visigoths as part of the Great Migration. Yet, the city mainly progressed after the Moorish conquest in 711. At the time of the Caliphate of Córdoba, it had a population of around 15,000.
Rodrigo Díaz de Vivar, aka El Cid, conquered Valencia. He converted mosques into churches and installed a bishop in the city. Yet, Valencia only remained Christian for a couple of years. After a long siege, the Moors seized Valencia again.
In 1238, King Jaime I of Aragon defeated the Almohads. He made it the capital of the Kingdom of Valencia under the rule of the Crown of Aragon.
The Gilded Ages
In the 15th century, Valencia grew rapidly. The city had one of the largest ports in the Mediterranean. This made it an important trading and financial center, obviously. During this gilded period, numerous Gothic structures were constructed. Also, the Lonja de la Seda, hence the Silk Exchange, was built. At that time, silk weaving was a vital part of the local economy.
Furthermore, the first printing press on the Iberian Peninsula stood in Valencia. In 1478, the first Bible in a Romance language, namely in Valencian, was printed in the city.
The city's wealth enabled Queen Isabella I of Castile to finance the journeys of Christopher Columbus. However, Valencia did not participate in trade with the so-called New World. Until the 18th century, this was conducted exclusively via the Andalusian ports of Seville and Cádiz.
The expulsion of the Moorish population from the Crown of Aragon's territories in 1609 caused a deep economic crisis in the Kingdom of Valencia. Over the centuries, the region recovered only slowly from this throwback.
The 20th Century
At the beginning of the 20th century, Modernism developed in Valencia. Just like in Barcelona, iconic architecture blossomed. To this date, numerous bourgeois residences, as well as public edifices, are far more than just some buildings. They are amazing pieces of art.
During the Spanish Civil War, Valencia belonged to the Republican-controlled area. I presume that you know that the Spanish Republicans were rather the opposite of today's Republicans in the US, despite the same name. They actually opposed dictator Franco's fascist troops.
Therefore, Valencia suffered considerably from the bombardments of Franco's air force. Finally, as one of the last cities, she was defeated by Franco's armies in 1939. From then on, the population was politically and culturally oppressed. For instance, the Valencian language was banned during Franco's rule.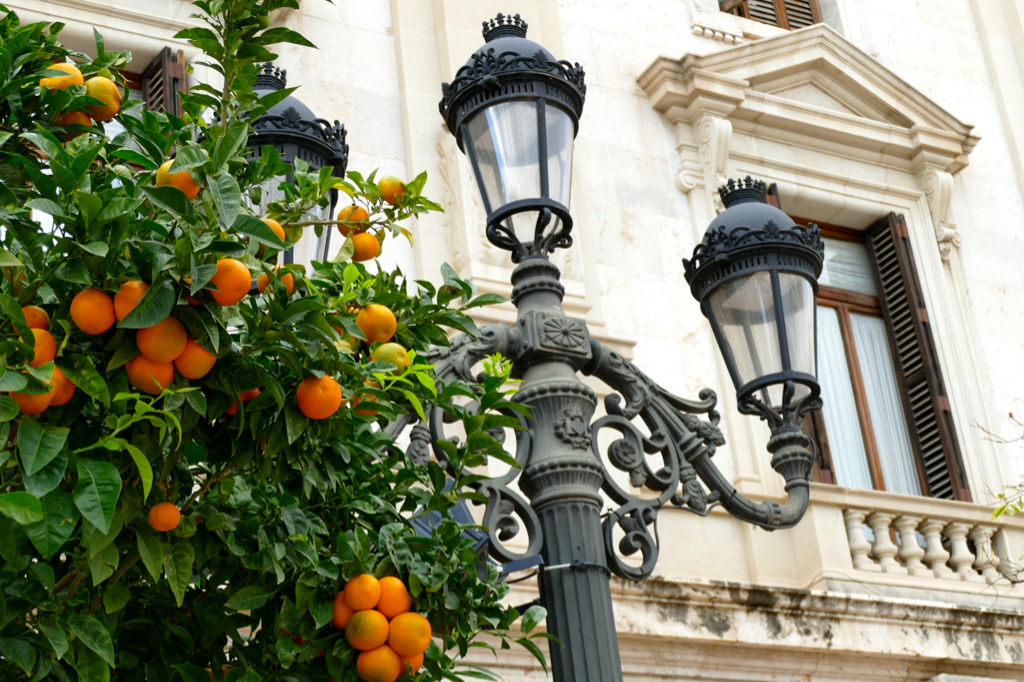 Today, Valencia is Spain's third-largest city and home to almost 800,000 inhabitants. Apart from Barcelona, ​​it is the cultural center on the Spanish Mediterranean coast. However, in its lush rural surroundings, they grow citrus fruits in incredible numbers. As I took the train from Valencia to Barcelona, practically the entire trip took place through a tunnel of citrus orchards. So beautiful!
Ten Reasons Not to Miss Out on a Visit
Historic Center
Although I would argue that Valencia's strong suit is her young, rough, and ingenious side, the historic center is the perfect area for a first visit.
Like many other Spanish cities, Valencia was home to Romans, Visigoths, and Moors. Hence, more than two millenniums of history have left their imprints in the old town.
Full of art and traces from the past, Valencia will quickly wrap you into her rich cultural heritage as you are strolling through her streets, craning your neck to admire all this amazing architecture.
Anyway, in the historic old town, you're not only taking in the rich cultural heritage. At the same time, you get to enjoy some of Europe's most vibrant street art. Also, try some juicy fruits at one of Valencia's covered markets or enjoy a horchata, a drink made from tiger nuts, along with some buñuelos, local pumpkin pastry.
To cut a long story short, Valencia's historic center is a bit of an hors d'oeuvre plate. It offers you a taste of basically everything the city has to offer.
Cathedral–Basilica of the Assumption of Our Lady of Valencia, El Micalet, and the Holy Chalice
On today's site of the cathedral, the earliest conquerors built a Roman temple. Eventually, it became a church and was then converted into a mosque after the Moorish conquest. Following the Reconquista in 1237, it became a church again.
Over the centuries and during some repeated remodeling, the Cathedral flashes a mix of Gothic, Renaissance, and Classicist styles. However, the entire west façade is arguably one of the most important works of Spanish Baroque.
On the Cathedral's southwestern corner stands tall the tower of El Micalet. This octagonal bell tower is 51 meters high which funnily equals its circumference. If you'd like to enjoy a fantastic panoramic view, you shouldn't shy from climbing the 207 steps to the top.
The Holy Chalice
As a matter of fact, like many houses of worship, the Cathedral combines history and art. Interestingly, the Renaissance frescoes on the high altar were rediscovered ten years ago when a baroque vault was removed. Cardinal Rodrigo de Borja, later Pope Alexander V, commissioned these paintings. Later these frescoes were covered during the remodeling of the presbytery. Depicting twelve angels playing instruments, they are one of the most significant sculptures from the early Spanish Renaissance.
The most important treasure, however, is undoubtedly the Holy Chalice. Archaeological evidence and studies suggest that this goblet is in fact the one used by Jesus at the Last Supper. Therefore, Popes John Paul II and Benedict XVI. used it at the Eucharists during their visits to Valencia.
Legend has it that after the Last Supper, Saint Peter brought the agate goblet to Rome. Pope Sixtus II then took the relic to Huesca. During the Moorish rule, the chalice was hidden somewhere in the Pyrenees before Alfonso V of Aragon brought it to his palace in Valencia.
Today, you can admire it in the Capilla del Santo Caliz in the Cathedral's southeast part.
Visiting hours are from Monday to Friday from 10.30 a. m. till 6 p .m., Saturdays to 5 p. m. and Sundays from 2 p. m. to 5 p. m. The general admission is 8 €uros and you'll get a 10 percent discount with a Valencia Tourist Card. I'm introducing this tourist pass in the Cash, Cards, and Deals section below.
La Lonja – The Silk Exchange
Construction of the Lonja began in 1483 adopting the design of the Llotja de Palma in Palma de Mallorca. However, it took until 1533 to complete it.
It served as a silk exchange and is considered one of Europe's most significant secular Gothic structures. It consists of four major parts: The tower, the Columned Room, the Consulate de la Mar, as well as the courtyard. Since 1996, the Lonja de la Seda has been listed as a UNESCO World Heritage Site.
Visiting hours are from Tuesday to Saturday from 10 a. m. till 7 p. m. and Sundays till 2 p. m. General admission is only 2 €uros and free with your Valencia Tourist Card.
Serranos Towers and Quart Towers
The Torres de Serrano are located on the northern edge of the historic old town between the Plaça dels Furs and the Túria park. They were one of the city gates and are now one of the city's most important landmarks.
They were built by Pedro Balaguer – who also participated in the construction of the Cathedral and the Micalet – at the end of the 14th century. At that time, the towers were one of the main gates of the medieval city wall. Two 33-meter-high pentagonal towers are connected by a two-storey central part. In this central structure is the round-arched portico. Due to the demolition of the city wall, the towers lack their southern façade. Therefore, five halls of the building are open to the city side.
Between the 16th and 19th centuries, the structures housed one of the city's prisons. Eventually, during the Spanish Civil War, works from Madrid's Museo del Prado were preserved in the towers.
Of the original twelve gates, only two are still existing. Apart from the Torres de Serrano, only the Torres de Quart are still standing tall. Both are important landmarks and can be climbed. The entrance fees are included in the Valencia Card. I'm introducing it in the chapter on Cash, Cards, and Deals at the end of this post.
You can visit the towers from Monday to Saturday from 10 a. m. till 7 p. m. and Sundays till 2 p. m. General admission is only 2 €uros each and free with your Valencia Tourist Card.
Iglesia de San Nicolás de Bari y San Pedro Mártir
Although I had read about this hidden gem before coming to Valencia, I was simply blown away by its beauty. Rightly so, the church is also known as the Sistine Chapel of Valencia.
Although the church is located right in the historic old town, it's not that easy to find. It is almost completely surrounded by high buildings. Only the wall facing the Plaça de Sant Nicolau and parts of the western façade with the entrance portal are freely accessible.
Originally built as a Christian church, it was replaced by a mosque during the Moorish era. After the Reconquista, it was consecrated as a Christian house of worship in 1238.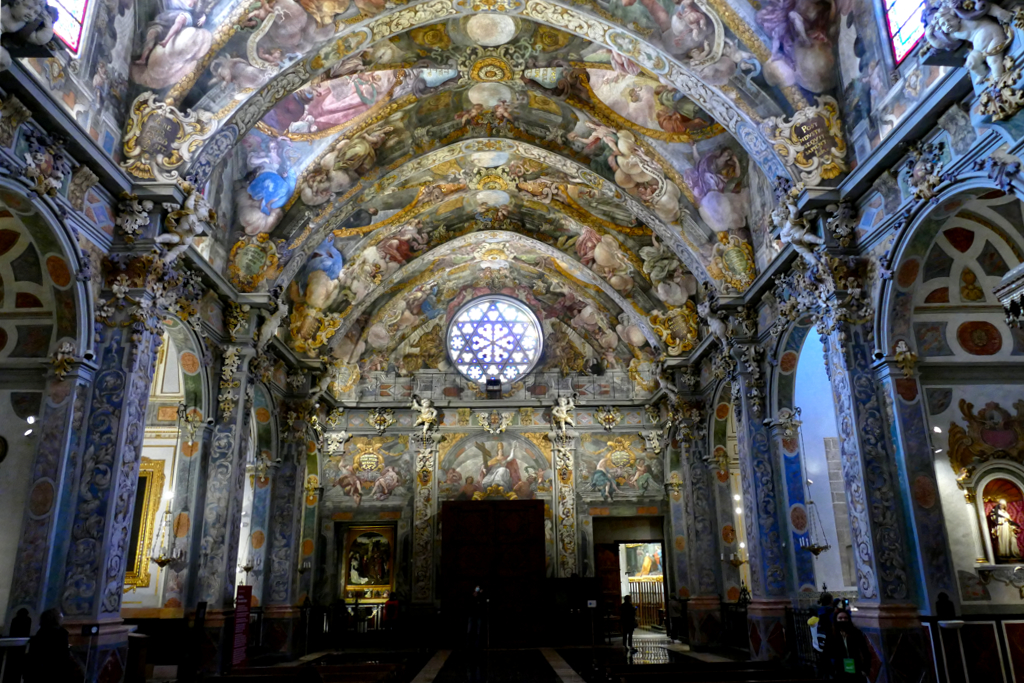 The Dominicans got the church as a donation and sanctified it to Saint Nicholas. A few years later, they added the first Dominican martyr Peter of Verona as another church patron.
In the 15th century, the church was got its appearance in the Valencian Gothic. Later, at the end of the 17th century, the interior was remodeled in the Baroque style.
Decoration
Between 1690 and 1693, the architect Juan Bautista Pérez Castiel decorated the interior with sgraffito, stucco, and reliefs. Antonio Palomino designed the wonderful ceilings that were then painted by his scholar Dionís Vidal between 1697 and 1700.
The paintings are covering a surface of ​​around 2000 square meters. The vault is divided into two parts, each telling the story of the church patrons. Through painted openings, you get glimpses of the heavens.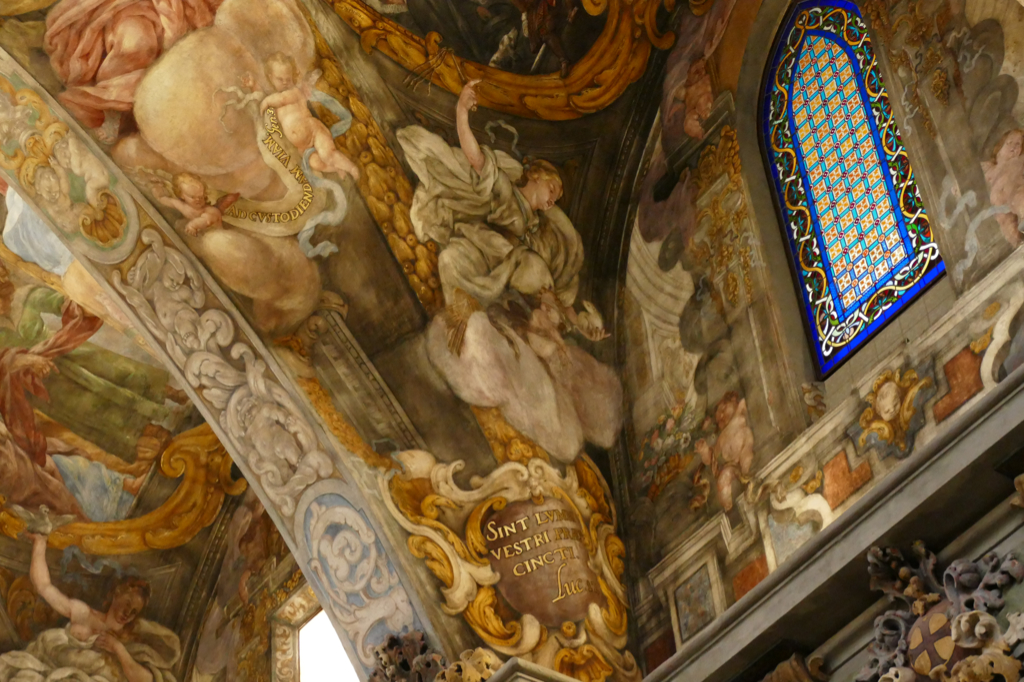 The church has a noteworthy high altar with Solomonic columns and sculptures of the two church patrons. It is crowned by a painting of the Virgin and Child in the upper part.
Visiting hours are from Tuesday to Saturday from 10.30 a. m. to 7 p. m. and Sunday from 1 p. m. till 6 p. m. The general admission is 7 €uros and you'll get a 15 percent discount with a Valencia Tourist Card.
Museo Nacional de Cerámica-González Martí
Apart from Valencia's Sistine Chapel, the building that today houses the National Museum of Ceramics amazed me the most. The façade seems to be covered by masterfully tongued lace full of playful details and allegorical decorations.
Around 1740, Giner Rabassa de Perellós y Lanuza commissioned the remodeling of the initially Gothic palace in a rich and playful Rococo style. During these works, ornamental features were added. The most intriguing highlight is the lavishly decorated alabaster portal. This magnificent entrance made in 1745 is an allegory of the Valencian rivers Túria and Júcar. This explains the manor's name Palacio del Marqués de Dos Aguas – the Palace of the Marquis of Two Waters.
Today, the building belongs to the Spanish government and houses the largest national collection of ceramics.
Visiting hours are from Tuesday to Saturday from 10 a. m. to 2 p. m. and in the afternoon from 4 p. m. to 8 p. m. On Sundays, it's only open in the morning from 10 a. m. to 2 p. m. The general admission is 3 €uros and you'll get a 50 percent discount with a Valencia Tourist Card.
Markets
Honestly, what would a Spanish city be without a covered farmers' market? Probably not a Spanish city. Valencia has not one but two remarkable markets. And not only the variety and quality of the produce at the central market or the trendy shops and bars at the Mercado Colón are noteworthy. The most impressive features are the buildings themselves. Both market halls are remarkable examples of Valencian Modernism.
Mercado Central
Due to its iconic architecture, the Mercado Central is considered one of Valencia's most important landmarks.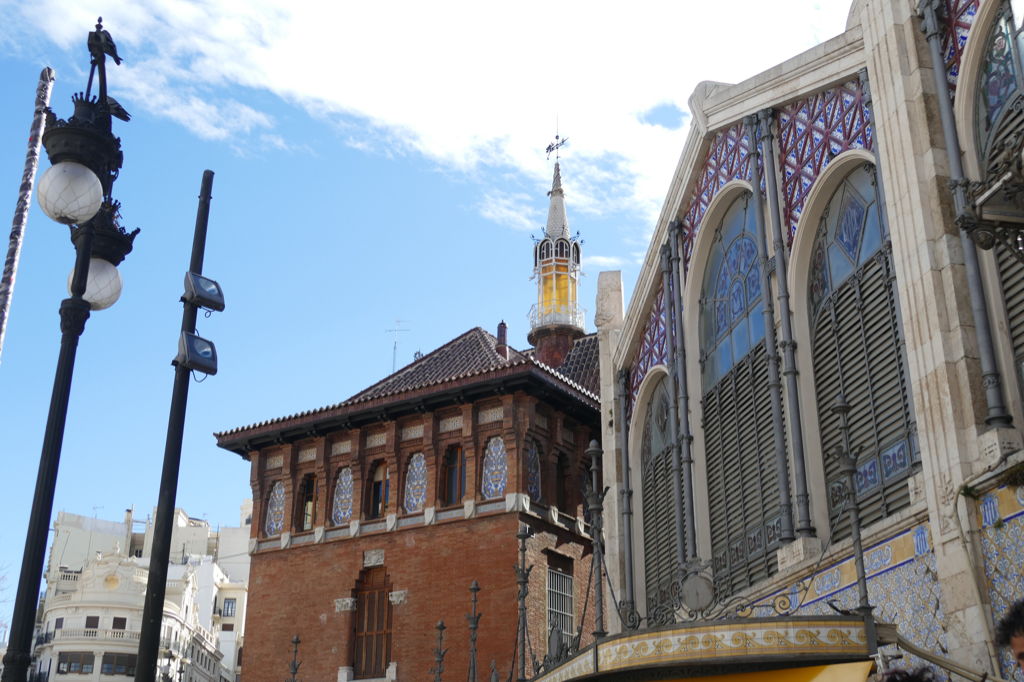 It stands where in 1839, another market hall was inaugurated. However, towards the end of the 20th century, that building became far too small for its purpose. Therefore, in 1914, the construction of a larger building designed by Alejandro Soler March and Francisco Guardia Vial began. It was then completed in 1928 by architects Enrique Viedma and Angel Romani.
The building consists of two halls with space for 274 stalls offering fruits, vegetables, meat, fish, herbs and spices, and much more. Since there are also a couple of bars serving snacks and coffee, beer and wine as well as non-alcoholic beverages, the market is also the perfect spot for breakfast or a light lunch. However, it closes at 3 p. m.
The two main aisles of the larger hall form a Latin cross in the style of a Christian church. Above the crossing of these corridors is a majestic 27 meters high dome with a diameter of 14 meters. The smaller hall houses what is said to be Europe's largest fish market.
Mercat de Colón
Francisco Mora Berenguer designed this market hall which was then built between 1914 and 1916. It is still one of the finest examples of Valencian Modernism. You can clearly see that this architect was strongly influenced by the modernist superstars Antoní Gaudí and Doménech I Montaner
It is currently rehabilitated and equipped with shops and establishments dedicated to the hotel industry.
The Colón market, like any modernist work, has a special emphasis on the applied arts. Therefore, Mora, a stickler for details, composed a decorative structure by using cast-iron columns, bricks, and polychrome ceramic elements.
Today, after extensive restoration, the Mercado Colón houses trendy bars, organic eateries, microbreweries, and fine specialty shops. The open central area houses cultural events.
Plaza Redonda
The Plaça del Clot is also called Plaça Redonda due to its round shape. As the square is surrounded by residential and commercial buildings, it is not viewable from the outside. The space can be accessed from the four cardinal directions.
The Plaza Redonda is one of the smallest yet most intriguing squares in the city.
Modernismo Valenciano
Valencian Modernism is mainly found in regional architecture. Nevertheless, you'll also find it in paintings, sculpture, design, and decorative arts.
At the turn of the 20th century, a new decorative style emerged throughout Europe. Whether it was called Art Nouveau, Jugendstil, Secession, or Modernism, the main features and characteristics were very similar.
In the Valencian area, it developed according to strong industrial, economic, and urban development. Nevertheless, the term Modernism was then rather pejorative and described architectures imported from Brussels and Vienna.
In contrast, Valencian Modernism was first mainly characterized by regional agricultural goods such as grapes, oranges, and rice. At the end of the 19th century, it became more industrial due to the expansion of construction and fabrication plants. The most obvious features of Spanish Modernism are asymmetry and organic shapes. Obviously, you'll find them in abundance in Gaudí's iconic works.
Just Go
To see some truly amazing modernist buildings in Valencia, you just need to walk around with your eyes wide open. Also, don't forget to look up since the most beautiful details are often found on the upper floors or even on the roofs. An architectural treasure box spreads from the Plaza del Ayuntamiento eastwards to the Mercado de Colón. In this neighborhood, practically every building is a piece of art.
If you are interested in this kind of architecture, you certainly will enjoy my posts on Prague and Riga.
Urban Art
Just like the best way of hunting for modernist architecture is just walking around with your eyes open and your camera ready, the best way to find street art is to take a hike. Don't be shy to walk down small back alleys, turn into backyards, and follow the slightest signs of street art.
Valencia is basically an open-air gallery decorated with many amazing murals. Some are tiny and hard to spot, others are larger than life and cover entire buildings. Therefore, I soon will dedicate an entire post to this subject. Meanwhile, in this post, I'd just like to point out the most iconic pieces.
First of all, there is the El Carmen neighborhood. Here you'll find tons of inspiring and ingenious murals around the Plaça del Carme and the side streets.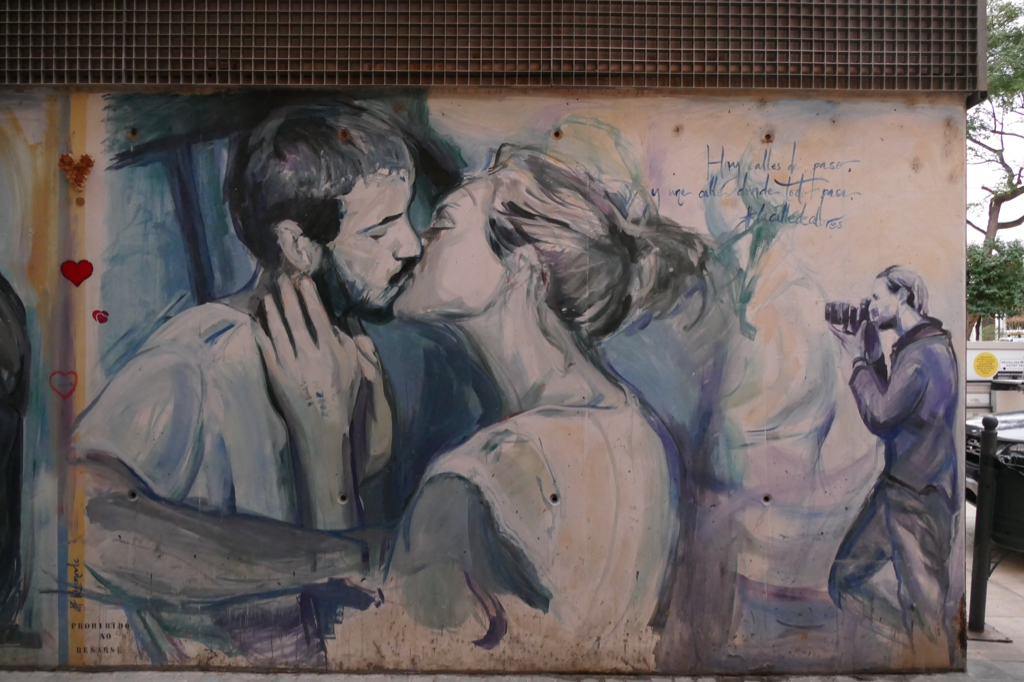 Especially the so-called Calle de los Colores – officially Carrer de Moret – is covered from wall to wall with grand murals. A group of artists got together to revitalize this rundown street by turning this street into a large gallery.
Ninjas and Enigmas
No matter where you go in Valencia, you'll run into David de Limón's iconic ninjas. This illustrator, graphic designer, and street artist was born in the El Carmen neighborhood. He's been painting the streets of his hometown since 1998.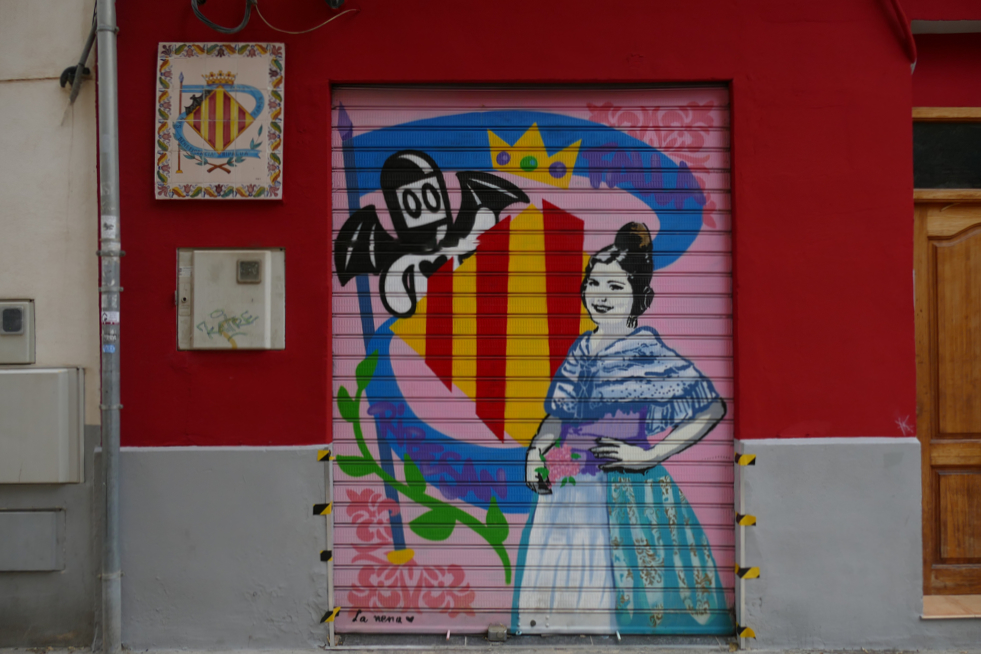 Another of Valencia's legendary murals is at the corner of Plaça del Tossal with Carrer de Sant Miquel. Here, you'll find the larger-than-life portrait of Moses whose beard is made of snakes. And the mural is made by Blu, an Italian artist. Just like his mural neighbor Escif, he conceals his true identity.
Escif is from Valencia and based on his enigmatic appearance, he's often compared with Banksy. The tumbling cars he depicted next to Blu's Moses are rather atypical of his style. Mostly, you'll spot his minimalist motives in black-and-white around the city.
It would be preposterous to claim that this is a good overview of Valencian street art. Imagine if I had shown you four paintings from the Louvre – that wouldn't be a comprehensive representation of the works on display, would it?!
Hence, these are only four of the most prominent examples of Valencia's street art. Now, they should encourage you to go on a peaceful and artistic hunt on your own.
However, there will be an entire post dedicated to the Best Street Art in Valencia on this blog very soon.
Urban Art in 3D
Urban Art – some graffiti and murals come to mind. Protest in bright colors or subversive sticker art. But Urban Art can come in so many different shapes and forms. Hence, I need to show you what I came across on Valencia's street apart from grand paintings.
Below, I'm introducing the contemporary art center CCCC Centre del Carme Cultura Contemporània. It's located around the corner from the Plaça del Carme where there's a lot going on, anyway.
So as I stepped out of the gallery, it was already late evening, I was exhausted from my kind of boot camp sightseeing when something caught my eye. On a rough housewall, all the way down next to the sidewalk, was the facade of a small house, maybe some 40 centimeters high. This miniature was designed in a classic Spanish fashion with balconies and a slightly Moorish entrance door. It had a Spanish tiled roof and next to it was a tiny fountain.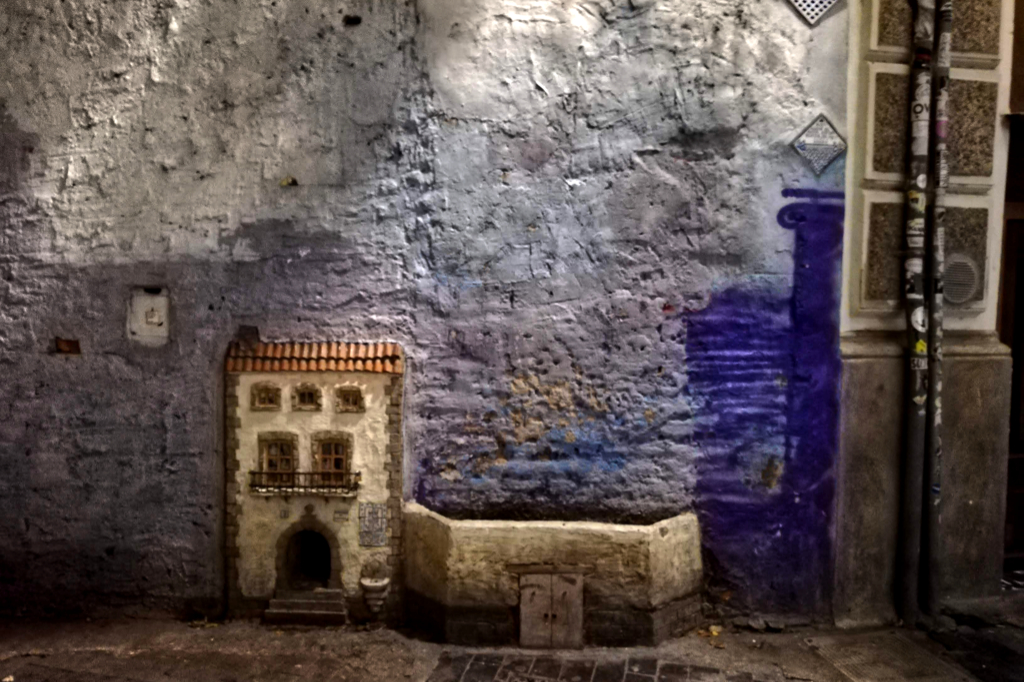 Despite my exhaustion, this ingratiating sight made me smile. There is so much tender beauty in this city.
Later, I learned that an old lady used to own the house behind the rough wall. Supposedly, she left her home to the feral cats of Valencia to squat. Whether or not this is just a legend remains a secret. After all, no human can squeeze through the tiny door to check.
Giant Needlecraft
Another lovely piece of Urban Art I stumbled upon can be found on the Placa de Lope de Vega.
At number 8, there is a branch of Valencia's hip jewelry store anartxy. While the bijouterie inside is indisputably nice, to me, the store's outside is the real gem. Some ingenious artist actually cross-stitched some beautiful orange trees and tender roses on some wire mesh covering the facade. What an original and lovely idea!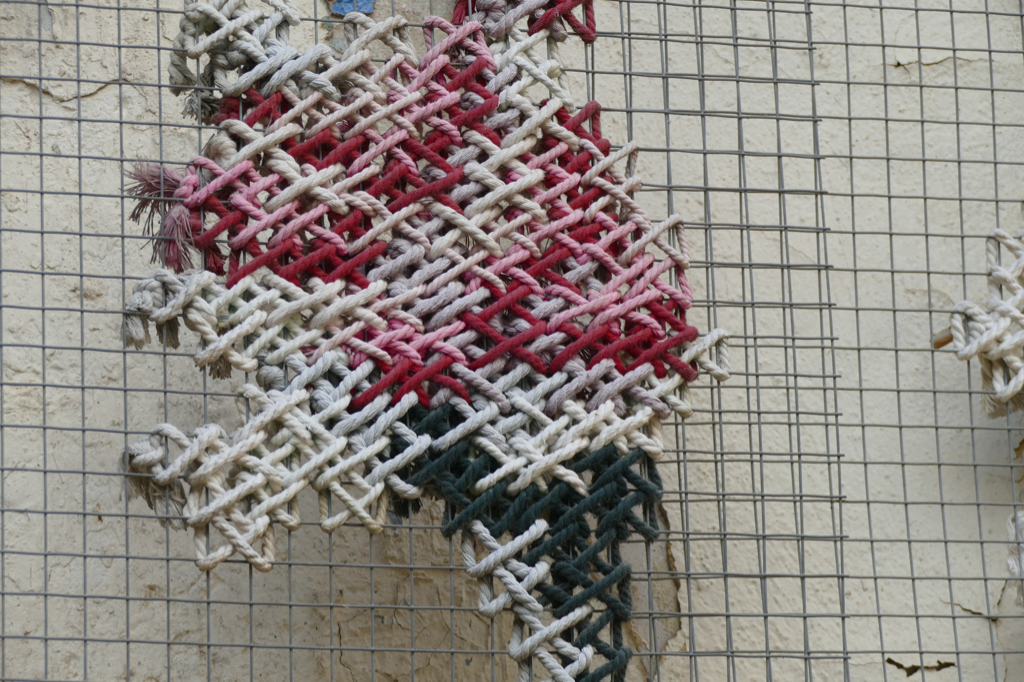 It makes me very happy to live in a world where people come up with such wonderful ideas.
Contemporary Art
Institut Valencià d'Art Modern IVAM
Following the street art trail up north, you'll get to the Museum of Modern and Contemporary Art, short IVAM. Before you get inside, make sure to check out the rear wall. It is decorated with some really cool murals.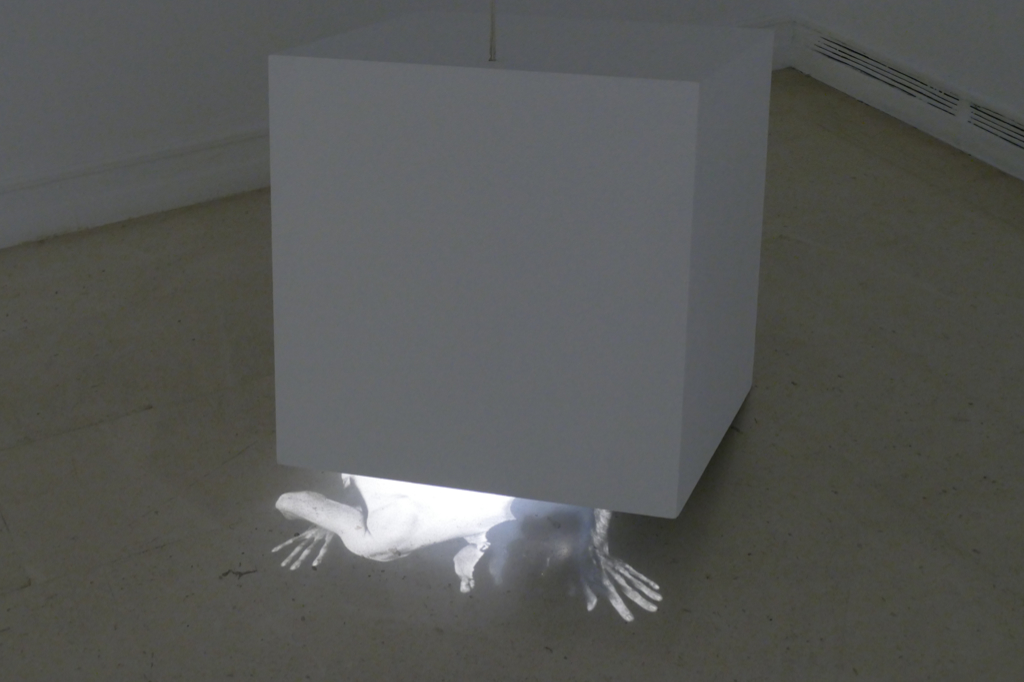 The IVAM owns a permanent collection of almost 12,000 works by renowned Spanish and international artists. However, not all of the Rosenquists, Rauschenbergs, Tàpies', Dubuffets, or Calders are permanently on display, obviously. Yet, the IVAM expands its permanent collection by continually acquiring contemporary art of the highest quality and historical significance.
Obviously, the IVAM organizes also exciting temporary exhibitions. When I visited, I got to see for instance the quirky installation Exercise in Violence by Guillermo Ros.
On two floors, humongous creatures with manic shiny eyes are overtaking and destroying the galleries by gnawing through the concrete pillars. At the same time, they expose the steles' content – some Buixcarró stone, a locally sourced red marble. So, what does this tell you about the art scene?
You can visit the Institut Valencià d'Art Modern from Tuesday to Sunday between 10 a. m. and 7 p. m. On Fridays, it remains open till 9 p. m. The general admission is 6 €uros and you'll get a 35 percent discount with a Valencia Tourist Card.
CCCC Centre del Carme Cultura Contemporània
At least as fascinating as the IVAM is the Center del Carme Cultura Contemporània CCCC, not only for the contemporary art inside. It is an old convent restored for cultural use. Hence, the center does not only host visual arts but also dance, theater, movies, music, and others. There are also events taking sociology, economics, and urban planning into focus.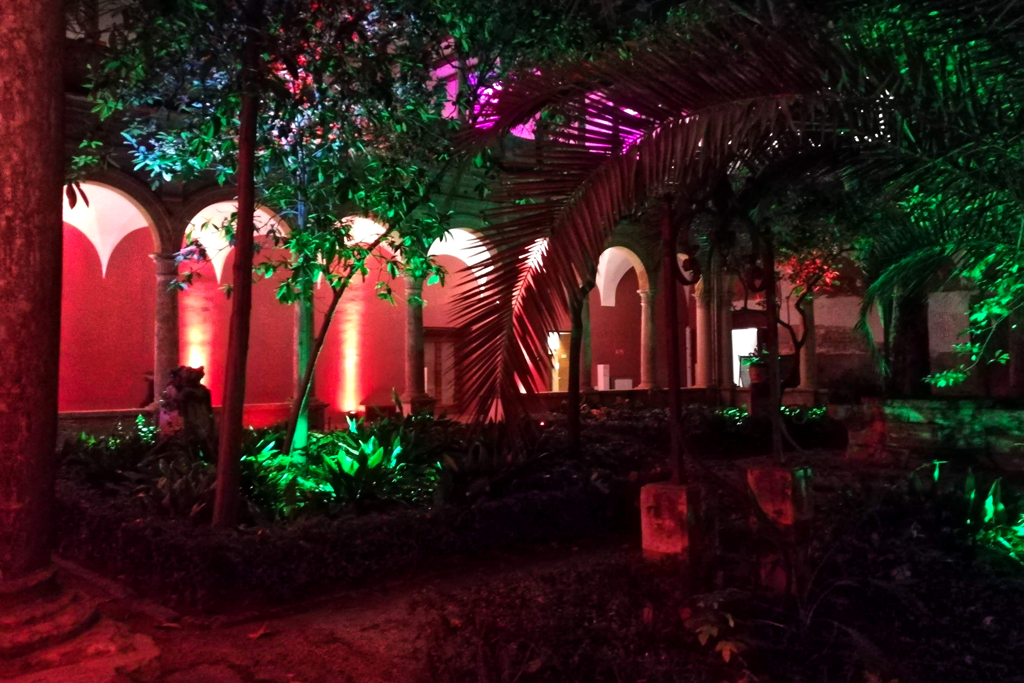 The former convent building consists of various sections such as a medieval chapel, a Gothic cloister, a Renaissance cloister, as well as a Communion chapel, and a bell tower.
However, its use as a cultural center began way back in the 19th century. Then, it became Valencia's Museum of Fine Arts and housed also the Royal Academy of Fine Arts. Actually, some of Valencia's most renowned artists of the 19th and 20th centuries including Joaquín Sorolla were taught here.
As a matter of fact, the CCCC is a meeting place for locals and visitors alike. You can join them between Tuesday and Sunday from 11 a. m. and 9 p. m. The visit is free of charge. Nevertheless, note that the galleries are only open when there are exhibitions or events going on. Better check their website before you plan your visit.
Joaquín Sorolla y Bastida
Joaquín Sorolla y Bastida was born in Valecia in 1863. He was one of Spain's most impressionist painters and printmakers.
Sorolla y Bástida was orphaned at the age of two after he lost his parents to cholera. He grew up with his uncle who was a locksmith, a trade that the young boy was to learn first. Once Sorolla's great artistic talent was recognized, he got to study at the Real Academia de Bellas Artes. In 1881, during a trip to the Prado in Madrid, the works of Velázquez and Ribera inspired Sorolla profoundly.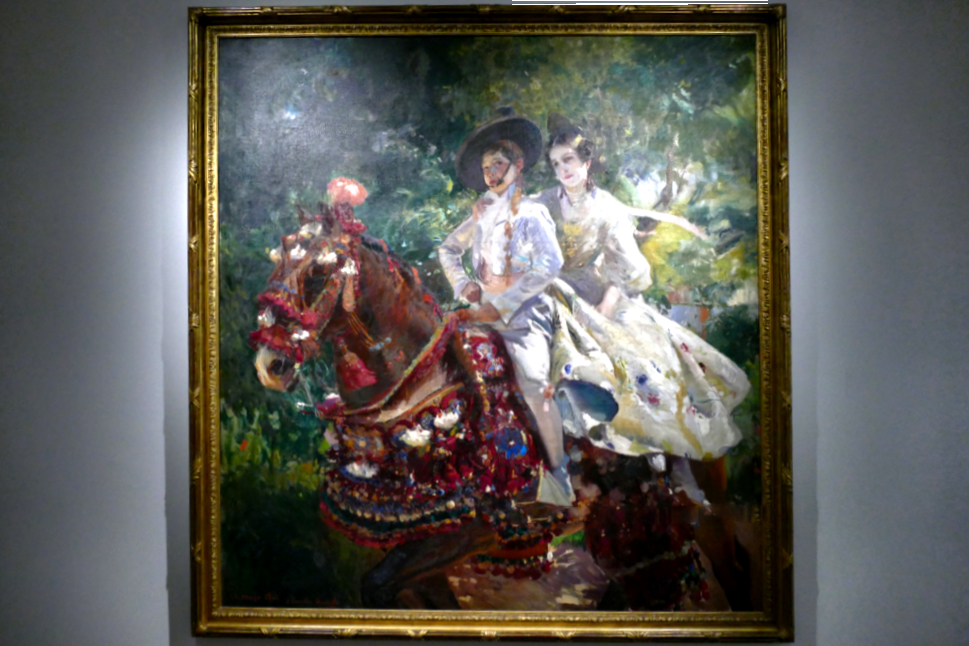 After the first successful exhibitions in Valencia in 1885, Sorolla received a grant. This enabled him to study in Rome. In the same year, Sorolla travelled to Paris. Today it's obvious, what a strong impact the French impressionist paintings had on Sorolla's signature style of painting.
Museo de Bellas Artes de Valencia
The Museum of Fine Arts of Valencia presents a great variety of paintings from the 14th century to the beginning of the 20th century.
And although they show grand works from various centuries and genres, the works of Sorolla and his followers are the most impressive exhibition. Apart from being beautiful pieces of art, these paintings are illustrating Valencia in a very intriguing way.
Currently, the structures of the Colegio de San Pío V are housing the galleries.
In 1683, archbishop Juan Tomás de Rocabertí founded the Colegio. It served as a school as well as a house of worship. It has housed the museum only since the end of Spain's Civil War.
Hence, not only the art inside but also the building itself are worth a closer look.
Especially intriguing is the so-called Patio del Embajador Vich. It is a Renaissance cortile, made with marble from Genoa in 1525. It was constructed in the palace of Jerónimo Vich y Valterra which was one of the first Renaissance buildings on the Iberian Peninsula.
Due to its bad condition, the palace was finally demolished in 1859. The pieces of marble were scattered throughout several buildings in the city. In 2007, the beautiful patio was fully reconstructed between the walls of the Museum of Fine Arts in Valencia.
You can visit the museum free of charge from Tuesday to Sunday between 10 a. m. and 8 p. m.
Túria Park
Today, Túria Park is a wonderful recreational area for locals and visitors alike. What better way to recover from the city's hustle and bustle than strolling between lush bushes and trees or just sitting down on a lawn to enjoy a refreshing snack.
And yet, the origin story of today's greenery is not all that relaxing and serene.
The river Túria did not only supply the city with water. It was also a natural moat to defend the city. Until the Middle Ages, the river was navigable by small boats, for instance, to transport goods.
As it often happens, due to the growth of the city, the Túria carried less and less water. Soon, there was only a small creek within the old riverbed. Yet, in 1957, due to heavy rains, the Túria rose and flooded large parts of the city center. This disaster caused at least 81 fatalities and also considerable material damage.
Consequently, measures were taken to transform the old Túria riverbed into a large park. This long stretch of greenery has been divided into sections for different purposes.
At the very northwest edge of the Jardines del Túria you'll find the so-called Bioparc, Valencia's zoo. From there, a fantastic green belt of trails, lawns, and sports facilities, shielded from the sun by an incredible number of trees stretches westwards. There, the Jardines del Túria merge into the Ciudad de las Artes y las Ciencias, Valencia's most prestigious building project.
Ciudad de las Artes y de las Ciencias – City of Arts and Science
The fantastic cultural complex was designed by Spanish architects Santiago Calatrava and Félix Candela. It was inaugurated with the opening of the central building L'Hemisfèric in 1998.
Today, this prestigious project is probably Valencia's most important landmark and attracts visitors from all over the world.
I'm introducing all the amazing buildings in the order of my visit, starting west when coming from the Túria park:
Palau de les Arts Reina Sofia
The Palau de les Arts Reina Sofía was designed by Spanish architect Santiago Calatrava. Calatrava designed a very similar music venue in Tenerife's capital city Santa Cruz.
In terms of volume, the Palau de les Arts Reina Sofia is the world's largest opera house. It is unusually curved and reaches 75 meters at its highest point.
Yet, this very extravagant opera house has four auditoriums. Opened in 2006, the construction cost around 300 million €uros.
L'Umbracle
My favorite of those amazing buildings was the L'Umbracle, which is Valencian for shade roof. This arcade with a total size of more than 17,500 square meters is meant to be the entrance to the complex.
Its top is an open-air corridor of 55 fixed and 54 floating white arches. The central trail is lined with 99 large and 78 small palm trees, as well as 62 bitter orange trees. Also, you'll find another 42 different types of other regional plants. This so-called Paseo del Arte is decorated with sculptures created by famous contemporary artists.
Underneath is a parking garage as well as a discotheque.
You can enjoy the L'Umbracle every day from 8 a. m. until midnight.
L'Hemisfèric
Just like the two structures above, Santiago Calatrava also designed the L'Hemisfèric. It is the central building of the whole complex and houses a planetarium and movie theater. As a matter of fact, in 1998, it was the first building of the project to be inaugurated.
According to Calatrava, the building is an oversized human eye – the eye of wisdom, so to speak. It insinuates the audiovisual adventure visitors will experience inside.
The building is surrounded by a 24,000 square meters large pool.
In general, the L'Hemisfèric opens every day at 10 a. m. and closes according to the last session. You can check out the program on their website. The general entrance fee is 8 €uros, but you'll get a 15 percent discount with a Valencia Tourist Card.
However, there are different kinds of combi tickets including also visits of the Science Museum and the L'Oceanogràfic*. So before planning your visit, you might want to check them out online.
Museu de les Ciències Príncipe Felipe
The Science Museum was opened to the public in November 2000. On three floors, permanent and temporary hands-on exhibitions can be experienced. In large assembly rooms and on terraces, workshops and various events are organized both indoors and outdoors.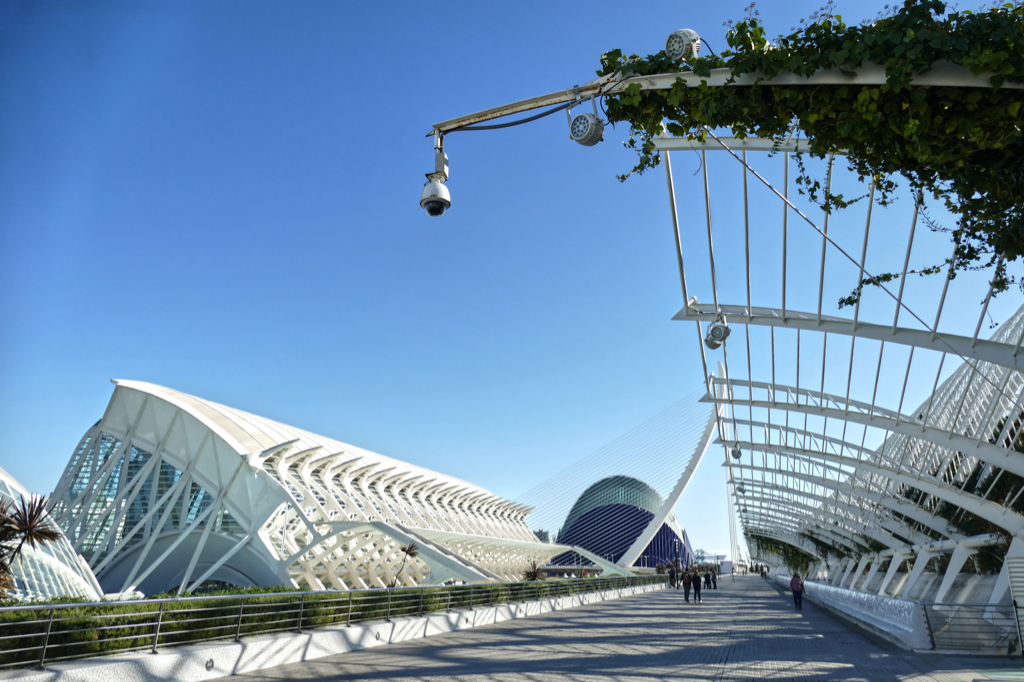 The Museu de les Ciències Príncipe Felipe is open every day from 10 a. m. to 7 p. m. During the summer months from June 24 to September 4, it closes only at 9 p. m. The general entrance fee is 8 €uros, but you'll get a 15 percent discount with a Valencia Tourist Card.
However, there are different kinds of combi tickets including also visits of the L'Hemisfèric and the Oceanografic. So before planning your visit, you might want to check them out online.

With 110,000 square meters,L'Oceanogràfic* is Europe's largest aquarium. Félix Candela designed the building in the shape of a water lily. Sadly, he passed away in 1997, hence, he didn't have the chance to witness the opening of his creation in 2003.
L'Oceanogràfic* is divided into different themed areas according to the world's major climate zones. It is home to around 500 different species of mammals, reptiles, birds, and fishes.
With an entrance fee of 31,90 €uros, L'Oceanogràfic* certainly comes with a price tag. However, there are different kinds of combi tickets including also visits of the Science Museum and the L'Hemisfèric. So before planning your visit, you might want to check them out online.
In general, the L'Oceanogràfic* is open every day from 10 a. m. As closing times differ according to season, please have a look at their timetable before you go.
Pont de l'Assut de l'Or
You'll understand right away why the Assut de l'Or bridge also goes by the nickname harp bridge.
Obviously, this cable-stayed bridge is another work by Santiago Calatrava. Actually, it is a variant of the Alamillo Bridge in Seville that the grandmaster designed in 1992.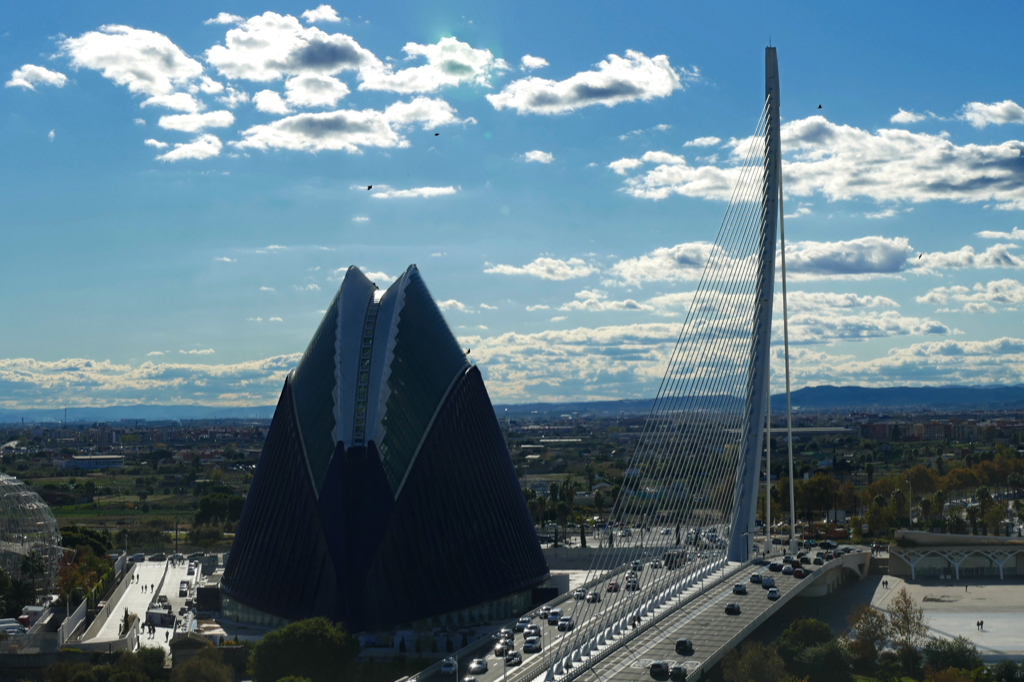 The is 180 meters long and with a height of 125 meters, the mast is not only the highest point of the bridge, but in the entire city.

L'Àgora
Agora – I wonder who came up with this title for a hall that is hosting sporting and cultural events. In ancient Greece, it was a gathering place for political and social assemblies. In Valencia, it is used as an ice skating rink and for tennis tournaments.
Of course, I'm just kidding. Designed by – you probably guessed so – Santiago Calatrava, it was opened in 2009 as the last building of the City of Arts and Sciences. Apart from sports events, is it also used for concerts, conventions, exhibitions, and trade fairs.
In 2014, during Spain's economic crisis, the Àgora was closed for several years.
My Tip: If you want to get such a grand panoramic view of the Pont l'Assut de l'Or and the Àgora, I can tell you a great spot. At the eastern end of the bridge is a branch of El Corte Ingles. That's Spain's signature chain of department stores. On the top floor is a restaurant where you can get a tapa and a glass of wine for free with your
Valencia Tourist Card*. However, once you're up there, don't forget to check out the terrace since from there, you'll have one of the best panoramic views of the city.
Las Fallas
Las Fallas is a Valencian holiday that takes place every year on Saint Joseph's Day in March. The main attraction is sculptures made of paper-mâché and other flammable materials. As a matter of fact, these statues are the Fallas these events were named after.
The origin of the Fallas is not definite. Probably, carpenters burned wooden frames used for lamps and candles at the end of the cold season in the 18th century. Eventually, the date for this cremation was set on the day of Saint Joseph. Since he was a carpenter, he is considered the patron saint of carpenters.
However, what had begun with some disposable lumps developed into a creative and masterful celebration. Over the years, the puppets became three-dimensional pieces of art made from wood, plaster, and cardboard.
Today, some of the sculptures can be as high as a small house. They weigh over ten tons and might cost more than 100,000 €uros. Yes, something that eventually might get up in flames.
Nevertheless, some of them have a chance to survive. Every year, there is a contest in which the people choose the best Fallas as well as the most popular individual figure called Ninot. The three winners are not burned, but find a save hoe at the Museo Fallero.
There, you can pay them a visit between Tuesday to Sunday from 10 a. m. to 7 p. m. General admission is only 2 €uros each and free with your Valencia Tourist Card.
The Beaches
I've been to many cities around the world that claim to have a beach. Unfortunately, often it's a stretch of dirty sand next to an industrial harbor and the water is foamy and mirky so that you don't want to dip even your feet. On my trip through Spain, however, I've been to quite a few cities where the city beach is just wonderful and could easily distract me from some educated sightseeing. Whether Málaga, Cádiz, or Valencia: These city beaches are beautiful and clean and well-equipped with public bathrooms and showers. I can only urge you to check them out.
Playa de las Arenas
Since I intended to squeeze in some sightseeing before hitting the beach, I got off the bus at the marina close to the Tinglat 2. The tinglats are former warehouses, and Tinglat 2 is advertised as a landmark. Well, it's turned into a public space where you can enjoy some rollerblading or skateboarding. It might surprise you that I'm not doing either of these activities, hence visiting the Tinglat was just a detour.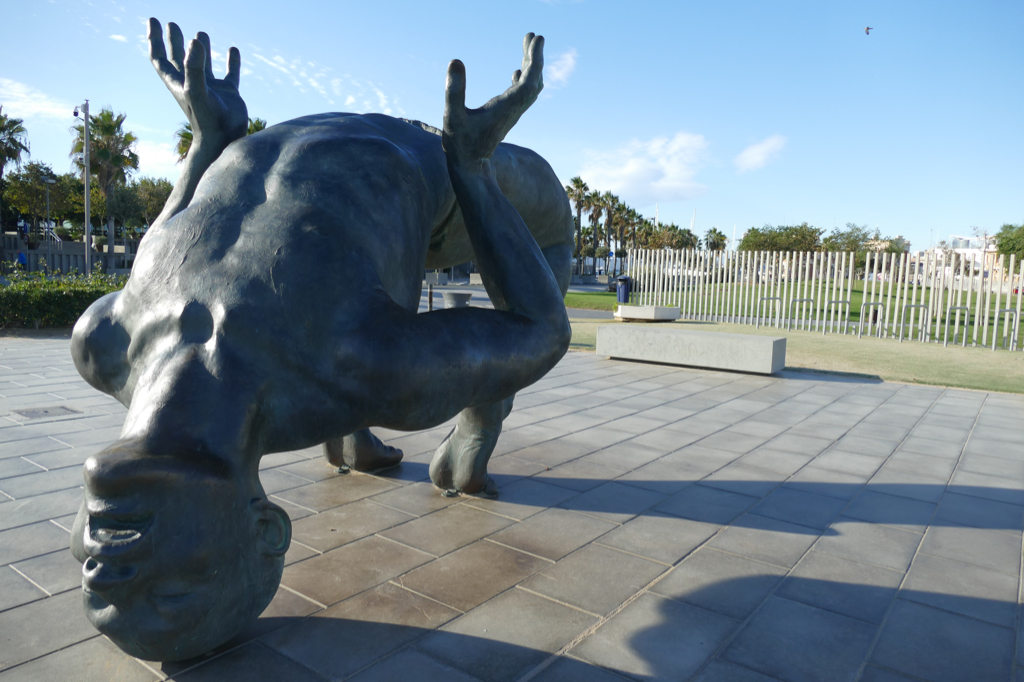 For me, the fun began one kilometer further east where the Parque la Marina merges into the southernmost part of Valencia's beach called Las Arenas.
If you have been to the Museo de Bellas Artes, you'll have seen scenes of the old Las Arenas. None less than Joaquín Sorolla y Bastida immortalized the former fishing village in his light-flooded paintings.
Today, Las Arenas caters to beach bums who are seeking some fun in the sun. Apart from public bathrooms and showers, you can rent sunbeds and sun umbrellas. Alongside the promenade are restaurants and bars and small convenience shops in case you forgot your sun tan lotion.
The sandy beach stretches from the promenade to the waterline over almost 200 meters. You'll most certainly find an empty spot.
Playa de la Malvarrosa
Playa de la Malvarrosa is Valencia's most popular beach.
In the 19th century, the area was converted from a swampy site into a hollyhock flower plantation. That's when it got its beautiful name Malvarrosa – mallow rose.
This beach inspired musicians and made it into romantic novels.
On its fine golden sand, every visitor finds something pleasant to do – and doing nothing is pretty popular around here. But don't let that fool you since the range of outdoor activities is unrivaled: Beach soccer and volleyball as well as jogging and yoga. In the water is a marked section for surfing, standup paddling, and canoeing.
As soon as you're done and ready for grabbing a drink and a bite, you'll find bars and eateries alongside the beautiful promenade.
Paseo de la Mostra – Valencia's Walk of Fame
Actually, the promenade that separates the beach from the hotels, restaurants, and bars is one of the beach's strongest suits. There are rows of palm trees and lots of cool sculptures like the Water Boat Fountain. You'll find a picture of this ingenious piece of art further above.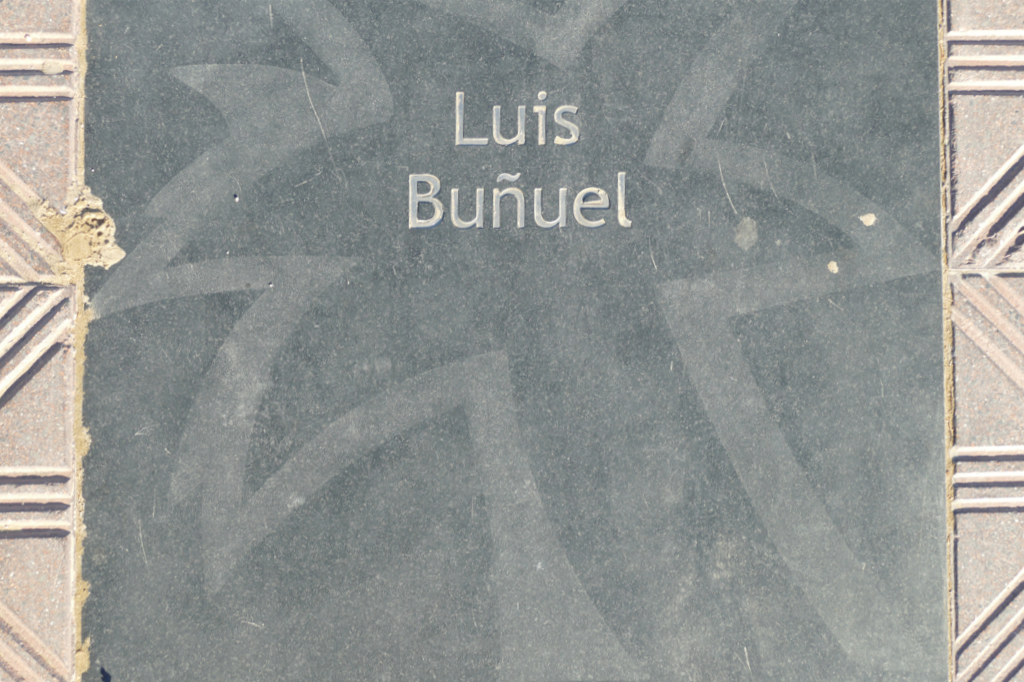 Right behind the Tourist Office starts the Paseo de la Mostra, Valencia's very own Walk of Fame. It was installed on the occasion of the 25th edition of the Mostra de Valencia, the city's annual film festival.
In 2004, each of the actors and directors to whom the festival has paid tribute by then was honored with a commemorative plaque. While they copied the concept of Hollywood's Walk of Fame, the appearance got more Mediterranean. Instead of stars, there is a palm tree on the shiny granite plaque – and the artist's name, obviously.
Playa de la Patacona
La Patacona is the beach north of Malvarrosa. Technically, it belongs to the municipality of Alboraya.
La Patacona is the best option for those who want to go to the beach without leaving Valencia, but still prefer a somewhat more tranquil environment.
Although it is part of the municipality of Alboraya, you can easily get there by public transport or even walking.
Practical Information
How to Get There
By Plane
Valencia's Manises International Airport is only about 10 kilometers west of the city center. Taking subway lines #3 or #5, you'll reach the city center in less than half an hour. The train station is on the airport's lower level and you can buy tickets from vending machines as well as at windows.
An idle alternative is bus #150 bus. It takes a bit longer, however, you'll get to see some nice places on the way like for instance the ceramic city of Manises. The trip can be purchased from the driver for just an incredible 1.50 €uros.
A taxi ride to the city center, on the other hand, costs around 15 €uros, depending on the destination and route, obviously.
My Tip: If you are planning on getting a Valencia Tourist Card*, you should do so in advance and online. This way, not only do you save 10 percent, you also get a voucher with which you can pick up your card at the airport's tourist office. This includes also a ride to the city center. So this way, you don't save only money, you also save lots of time and can start exploring the city right away.
I'm introducing this Tourist Card* in the Cash, Cards, and Deals section below.
By Long-Distance Bus
Travelling by long-distance buses is getting really popular in Europe. The cheap prices make up for the little loss of time compared to trains. And since often various companies are competing, the service is usually very reliable.
Valencia is one of the most popular locations in Spain. Consequently, it has bus connections to more than 20 cities in the country. Also, there are connections to various countries around Europe.
One of the most popular bus companies in Europe is flixbus. They are going to Valencia from many European cities like for instance Berlin, Brussels, Prague, and many others. However, it takes really long, and most of the time, there is a stopover in the French city of Lyon.
Valencia's Estación de Autobuses is on the northern edge of the city center.
By Train
Valencia has two major train stations – of which one is even one of the city's most important landmarks.
This beautiful station Estación de Norte is located just off the historic old town. From here, the national railway company RENFE connects Valencia with the surrounding areas as well as many large cities in Spain. International trips are going via Barcelona. While regional trains are pretty cheap, high-speed trains can be as expensive as flights.
Valencia's other train station is the Estación Valencia Joaquín Sorolla, actually less than a kilometer from the Estación de Norte. From here, high-speed trains run several times a day between Barcelona and Valencia in only about two hours. Also, the AVE goes to Madrid several times a day.
The easiest way to obtain a ticket is online, obviously. Note that you need your ID or passport number when booking – whether online, at a vending machine at the station, or at a counter.
By Sea
Valencia has one of the most important ports in the Mediterranean. Apart from industrial container terminals, there are also ferry connections for instance to the Balearic Islands of Mallorca, Menorca, and Ibiza.
How To Get Around
Public Transport
Valencia is Spain's third-largest city and it shows. Will say, I'm an avid walker, and yet, I opted for taking the bus quite often. There is so much to see and distances can be unexpectedly long.
Fortunately, like all larger cities in Spain, Valencia has a comprehensive and well-functioning bus system and also a metro system. The latter, however, is more interesting for going into the suburbs than for moving around within the city center limits.
A single bus ride costs 1,50 €uros. You can save a lot of money by getting a Bonobús travel card. You need to pay 2 €uros for a rechargeable card and then 8,50 €uros for ten rides.
If you get a Valencia Tourist Card*, unlimited use of public transportation – also from and to the airport – is included. In this case, you should obtain your card already at the airport. If you pre-book it online, you'll save an additional 10 percent.
A single trip on the metro costs between 1,45 and 3,60 €uros.
By Bicycle
While driving in the city center is rather a drag than a convenience, Valencia can easily be explored by cycling. If your hotel doesn't have bikes for rent, you can get them for instance at DOYOUBIKE for 10 €uros per day. However, DOYOUBIKE also offers guided city tours by bike, so make sure to check out their website.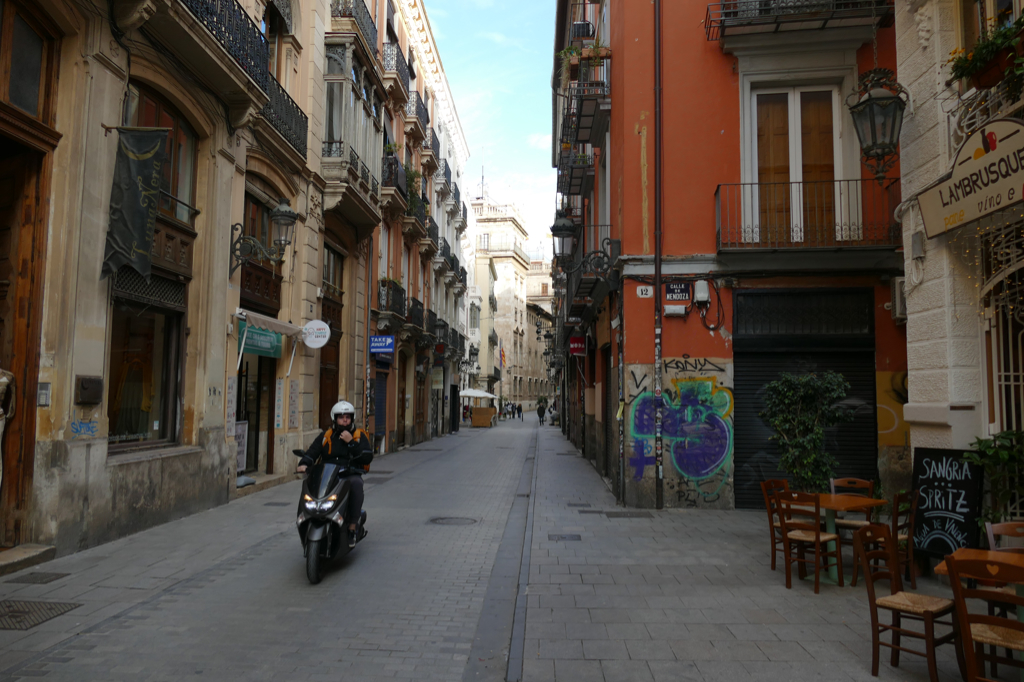 Another great option is Valenbisi, one of these city bike companies that you find practically everywhere in Europe. You can rent their bikes at around 275 stations throughout the city. First, you have to subscribe to a weekly card for 13.30 €uros on their website. With your subscription, you get an unlimited number of rides. The first half-hour of every ride is free. For every additional half-hour, you'll be charged 0.50 €uros.
My Tip: As you return your bike to a station, you can book another one right away. This way, your free half-hour will start from zero.
Where to Stay
Valencia is a touristy city, consequently, there is a wide choice of accommodation.
I stayed at the Senator Parque Central Hotel*. Although it's not in the most idyllic neighborhood, it's centrally located – within walking distance to the historic city center and just minutes from both main train stations. The room had a good side and there was a bathtub in the bathroom so I enjoyed extended, relaxing baths at the end of my long days exploring the city.
Nevertheless, if the Senator Parque Central Hotel* should be booked out, you can choose convenient lodging options in Valencia on this map*:
What to Eat
I must admit that although I love to cook and eat, I'm not travelling for food. One of the reasons is that I'm a solo traveller and dining alone is just half of the fun. There is the social aspect missing. Also, I prefer to race around like a crazy woman, exploring all those amazing landmarks; so, who has time for idle feasting?!
Therefore, usually, you won't find tips on gourmet restaurants on my pages. I rather supply you with tips on where to grab a quick, possibly cheap bite.
If you don't want to waste your time searching for dining options, there are great ways of sampling local delicacies without spending too much time or money.
Bakeries and Delis
There are many small bakeries and delis selling all kinds of sandwiches and empanadas. If you have a sweet tooth, you'll also find a great variety of delicious pastries.
Therefore, if your hotel does not offer any breakfast, just enjoy your morning coffee at one of Valencia's many cafés, rubbing shoulders with the locals.
Markets and Supermarkets
Just like in Italy, many Spanish supermarkets have a food counter where you can buy simple dishes like grilled chicken, meatballs, and fritters as well as sides like potatoes and salads. At some supermarkets, they even sell some really good Paella or Fideuá. The latter is basically Paella made with noodles.
I'm not claiming that this will be the fanciest meal of your life, but if you just need to grab a filling snack, I find it's a valid option. Also, it's a truly Spanish experience since it's definitely not a tourist trap.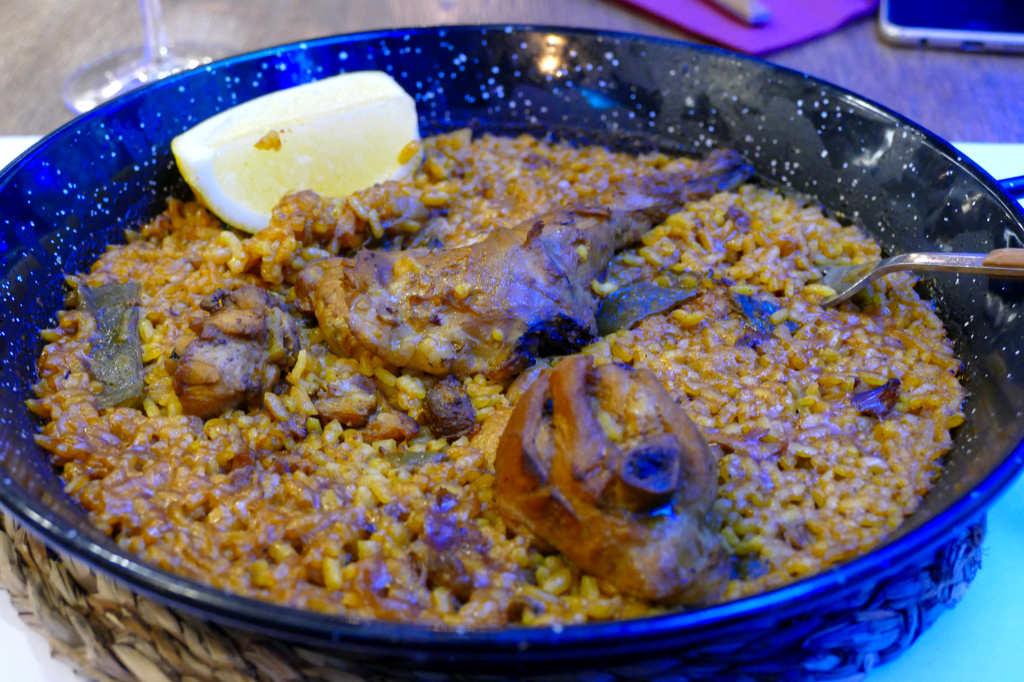 Obviously, you can stock up on baked goods as well as fruits for instance at the beautiful Mercado Central. Later, you can take a picnic break at the Túria park or on the beach.
Tapas and Menú del Día
There is an overwhelming number of bars and restaurants in Spain where you can enjoy a glass of beer or wine with some tapas, varied small snacks. Tapas can be slices of serrano ham, diced cheese, boquerones en vinagre – pickled fish, papas bravas – boiled potatoes with a spicy sauce, a blob of ensalada rusa, potato salad with mayonnaise – you name it. They are called tapas since they used to cover – tapar – drinks with these snacks.
If you're not at the biggest tourist trap, you'll get some small tapas with your drink – at least olives, peanuts, or something else to nibble on. But you can also order a ración, hence, a serving, or also media ración, a half-sized serving.
If you are really hungry, the menú del día might do. It's usually a three-course meal that you can combine to your liking from different starter, main course, and dessert options. Often, water and even wine are included.
Cash, Cards, and Deals
Until now, 20 European countries replaced their former local currency with the €uro starting in 2002. Obviously, Spain is one of them. The exchange rate is 1 US$ = 0.94 EUR as of January 2023. However, you can check today's conversion rate on this page.
You can pay with credit cards basically everywhere.
Valencia Tourist Card
Although Valencia is touristy, it's significantly cheaper than other Spanish metropoles such as Madrid or Barcelona. However, if you want to save some money, you can buy the Valencia Tourist Card*. According to the length of your stay, you can get it for 24 hours for 15 €uros, for 48 hours for 20 €uros, or for 72 hours for 25 €uros. Since the clock starts ticking the moment you activate your card, you might want to do the maths. If you validate your two-day card on the first day let's say only at 1 p. m., you might actually use it on three consecutive days. On the third one only till 1 p. m., obviously.
The card grants free or discounted access to many of the landmarks I'm introducing in this post. Also, it entitles you to free use of public transport. In addition, you get a discount at some shops and tapas and a drink and some eateries.
The card is not expensive, but it doesn't include the costlier landmarks like the Iglesia de San Nicolás de Bari, the Oceanographic* or the Science Museum. Also, if you visit places only because they are included in your card, you technically don't save money. Nevertheless, you always save time, which is an asset, too.
However, if you decide against it, make sure to obtain a Bonobús for public transportation. This way, you pay only 85 cents per ride instead of 1,50 €uro. I'm introducing this travel card in the chapter on How to Get Around above.
Connection and Communication
Since June 2017, no roaming charges apply within the EU with a European mobile phone contract. This applies in all 27 countries of the European Union as well as in Iceland, Liechtenstein, and Norway. It includes all European contracts.
In case European roaming is not available, you can connect to the internet without any issue at basically every museum, eatery, or café, and, of course, hotel.
If you insist on being online 24/7, you can get a SIM card, obviously. The cheapest one would be Lycamobile while Orange Tu Mundo has the widest coverage.
In Spain, they use plug types C and F. Their voltage is 230 V and the frequency 50 Hz. Whereby, since nowadays, all these chargers have integrated adapters, in general, the voltage and frequency don't really matter.
By the way, you'll find this information and many more comprehensive travel tips in my post World's Most Complete Travel Information. Actually, it is an indispensable globetrotter classic.
Language
In Valencia – and here I'm referring to the entire region, not only the homonymous capital city – just like in Catalonia or on the island of Mallorca, there are two official languages. Obviously, there is the so-called Castellano, hence, standard Spanish. However, there is also the Valenciano, a variety of the Catalan language. Given the cultural and political struggles, this is quite a big deal for most Valencians. Keep in mind, that this kind of regional variety was not only despised during the depressing years of Franco's dictatorship. Speaking the local languages was strictly banned.
Since Valencia is a modern and dynamic metropolis, many people speak English quite well.
However, if you want to learn some basic Spanish or just brush up on your knowledge, there are various apps and online tools. I personally like to practice with babbel.
Nevertheless, here are some ground rules for Spanish pronunciation since saying for instance city names wrong can cause some problems.
Say It Right
In general, you read Spanish the way it's written. Although, the letter C is a bit tricky for foreigners. Placed before an A, O, or U, it's hard and pronounced as K. Followed by E or I, it is pronounced like an English the. Now, if you want that th-sound in combination with A, O, or U, the letter Z comes in the picture.
On the other hand, if you want C to sound hard in combination with E or I, you make it a QU. But again, you don't hear the U. Fine example: Tequila, which you pronounce like Tekkila.
This applies also to the letter G. If it's followed by A, O, or U, it's pronounced like the G in guitar, hence, hard. This is also the perfect example of how to make a G sound hard before an E or an I. They squeeze in a mute U. On the other hand, if it stands before an E or an I, it is rather breathed than pronounced – a bit like the H in house.
The same applies to the letter J. You always pronounce it like the H in house. If you speak for instance German, Flemish, or Czech, you get even closer by pronouncing it like a CH in echt.
The last trap is double L which is not pronounced like an L but like a Y in yellow. So Valencia's staple food is not pronounced Pae-la, but Paeya. However, don't overdo it. When a word is written with just one L like Valencia, it's a simple and innocent L.
What to See
I'm an avid solo-travelling woman. Since solo travel doesn't equal solitude, I love to join organized tours here and there. They allow me to explore some of the most beautiful spots in the company of fellow travellers. Hence, a guided tour and the company of fellow travellers make your visit so much more fun.
Therefore, here are some great ideas of which tours to join during your stay in Valencia*:
Map
This map should help you to find all the wonderful places I'm introducing in this post. Clicking on the slider symbol at the top left or the full-screen icon at the top right will display the whole map including the legend.
Valencia was the first stop of my amazing road trip through Southern Spain. To read about some other places in Spain, go to the main post and take your pick! There, you'll also find further valuable general information that will make your own trip much smoother and more enjoyable.
Pinnable Pictures
If you choose to pin this post for later, please use one of these pictures:
Note: I'm completing, editing, and updating this post regularly – last in January 2023.
Did You Enjoy This Post? Then You Might Like Also These:
* This is an affiliate link. Hence, If you book through this page, not only do you get the best deal. I also get a small commission that helps me run this blog. Thank you so much for supporting me!