Turquoise waters and tropical fishes, swaying palm trees, and pink flamingos – this is what you would expect on a Caribbean island. But where do the Flemish gable houses come from? And why are locals speaking Dutch on tropical islands just north of Venezuela?
Well, the history and fusion of different cultures are surely one of a kind on the so-called ABC islands. Hence, put on some sunscreen, grab your snorkel gear, and join me in my island hopping between Aruba, Bonaire, and Curacao.
As Easy As ABC
ABC Islands is the fun collective name for the archipelago Aruba, Bonaire, and Curaçao. They belong to the Leeward Islands. All three ABC Islands lie outside of the hurricane belt. Therefore, they are not as prone to be hit by tropical storms as the Windward Caribbean isles are. Obviously, this makes also your travel planning easier.
While the islands are geographically part of the West Indies, politically they remained part of the Netherlands. Yet, although the nationals hold Dutch passports, the islands are neither part of the European Union nor the Schengen area.
Back In the Days
Native Americans have inhabited the islands for thousands of years. Then, in 1499, the Spanish explorer Alonso de Ojeda discovered the islands that are now called Aruba, Bonaire, and Curaçao. Initially, the Spanish conquerors expected no profit from what they called Islas Inútiles, hence, the useless islands.
In 1633, the Spaniards conquered Sint Maarten from the Dutch. In return, the Dutch West India Company took Curaçao from Spain in 1634. At the same time, they colonized Aruba and Bonaire.
From the 17th century onwards, Great Britain, France, and the Netherlands took turns in ruling over the islands. According to the British-Dutch treaty from 1814, the islands finally came into Dutch possession in 1816. And they remained part of the Netherlands ever since, albeit with different statuses. In 1828, they were merged with the Dutch colonies of Sint Eustatius, Saba, and Sint Maarten.
At the end of 1954, the Dutch Antilles were granted the status of internally autonomous countries within the Kingdom of the Netherlands.
Aruba formed an actually independent country yet still within the Kingdom In 1986.
Finally, in 2010, the Netherlands Antilles as a country was dissolved. The autonomous countries of Curaçao and Sint Maarten were installed, further also the special Dutch communities of Bonaire, Sint Eustatius, and Saba.
Nevertheless, nationals of all these islands still hold Netherlandic passports and the official language remains Dutch.
Going Leeward
Due to their geographic position and their mutual history, one would assume the ABC islands were fairly similar. And in a way, they are: They are popular destinations for diving. The landscape is rather dry with tons of cacti instead of tropically lush like in the Windward islands. The waters on the islands' western shores are calm and the beaches and coves there are inviting. In contrast, the east coasts are inhospitably rough with dangerously high waves. Also, historic colonial houses in the towns have gables just like in Amsterdam, and the official language is still Dutch.
So yes, there are similarities.
However, the islands do differ in many aspects which are mainly relevant for visitors.
Same Same But Different
Aruba is the smallest and yet most touristy one. It has been a very popular holiday destination for decades mainly for tourists from the US. Actually, flights between Aruba and Miami are oftentimes cheaper than fares to the neighboring isles. The island has a designated tourist area with large hotel complexes and highrise buildings. However, it is also famous for the most pristine beaches of all three islands.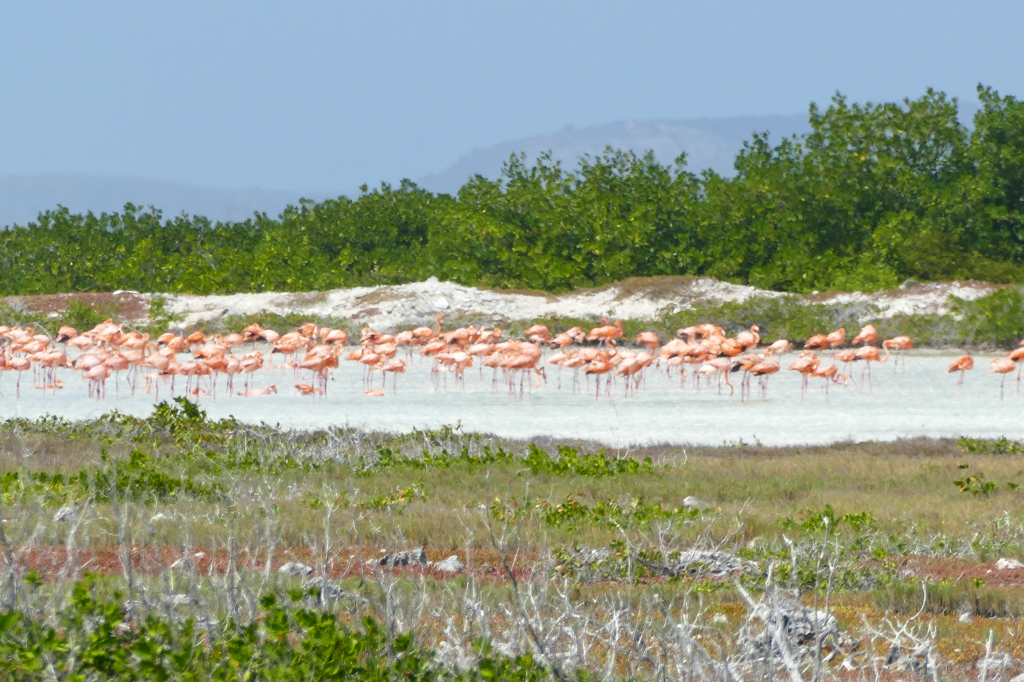 Bonaire is actually larger than Aruba. However, with 20,000 islanders, it has only about a sixth of its little sister's residents. It is famed for its diving grounds. But if you are looking for relaxing hours on a soft sand beach, you'll be very disappointed. There is only a small beach at the Lac Bay lagoon and on the uninhabited isle Klein Bonaire. Other than that, the coasts are rather rocky.
Finally, Curaçao is the largest and most varied of the three islands. It has the perfect mix of snorkeling, diving and watersports, intriguing architecture and amazing art, fascinating history, and one of the world's most famous liqueurs. Although there are lovely small bays and some man-made beach clubs, Curaçao lacks Aruba's endless soft sand beaches.
Aruba was actually one of the first islands in the Caribbean that opened its hearts'n'harbors to international visitors. Today, Aruba is an absolute A-Lister when it comes to a dream vacation in the West Indies.
Most visitors are coming for the dreamy sand beaches. However, missing out on Aruba's beautiful hinterland would be a big loss.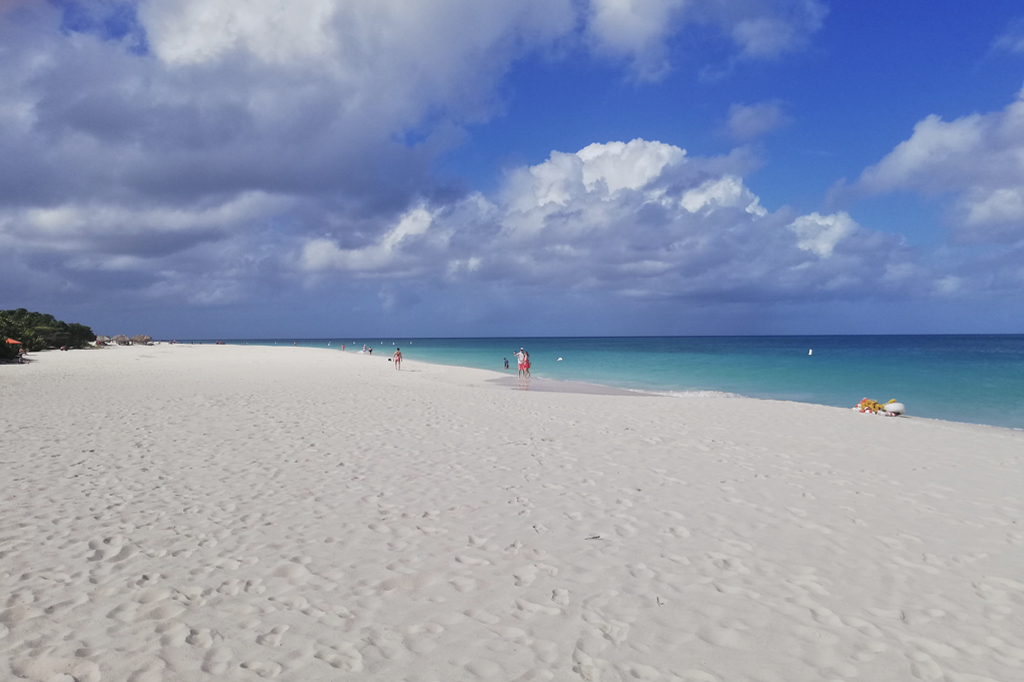 Before I went to Aruba, I heard many warnings about how packed and touristy the island was. So, was it a mistake to book eight nights in this place that was apparently tourist hell?
To get that question out of the way: By no means. I had a good time and I actually liked Aruba.
So was everybody wrong in claiming the island was touristy and Americanized? Not really.
Was everybody right then? Not at all.
Because if you book yourself into a big hotel resort with an affiliate casino next to a private beach, you'll spend your vacation in an Americanized hotel bubble, indeed.
But if you stay for instance at an apartment in a residential part of Oranjestad that lies behind the broad promenade, you'll find the real Aruba.
After eight days on the island, I'd argue Aruba is what you make of it.
Once in Aruba, you need to
✔ relax on Eagle Beach
✔ snorkel at Boca Catalina Beach
✔ explore the Alto Vista Area and Arikok Park on a jeep tour
✔ swim in a lava pool
✔ go on a guided mural tour in San Nicolas
✔ eat lionfish at the LionFish Snack
But there is much more to explore – as you can read in my post.
Bonaire is the easternmost and middle-sized of the three islands. With an area of almost 290 square kilometers, Bonaire has a population of about 20,000 people and 10,000 flamingos.
The island consists almost entirely of coral rock and is surrounded by reefs made up of about 60 different coral species. No wonder Bonaire is particularly famous for its rich underwater world and is therefore popular among divers.
Each of the three ABC islands has a motto and Bonaire's is It's in our nature. I love the relaxed and self-evident mindset and the clever double-meaning. And indeed, apart from the incredibly beautiful waters that surround the island, I was mostly impressed by its natural beauty and its exotic wildlife.
Bonaire is certainly not the right place for you party-seekers. Yet, it's the perfect spot for those who'd like to enjoy serenity and a laid-back Caribbean vibe in a paradisiac setting.
Once in Bonaire, you need to
✔ go snorkeling or diving at one of over 60 designated spots around the island
✔ stroll down the promenade at Kralendijk
✔ see Flamingos at the salt pans
✔ explore the wild nature at the Washington Slaagbai Park
✔ cross the strait to Klein Bonaire for a day on a secluded soft sand beach
✔ go street art hunting by bike
But there is much more to explore – as you can read in my post.
Curaçao is an island in the Caribbean that simply has it all. There are idyllic coves and secluded beaches, a fascinating history, great contemporary art, amazing food, and a capital city that UNESCO put on the list of World Heritage.
But Curaçao has also some well-hidden gems that I'm introducing in my guide that you'll find linked at the end of this post.
Although Curaçao has not those endless sand beaches that you'll find in Aruba, there are tons of small bays and some very cool beach clubs where you can relax and go snorkeling right from the shore. Add an unforgettable experience to your stay and go by ferry to the uninhabited islet of Klein Curaçao.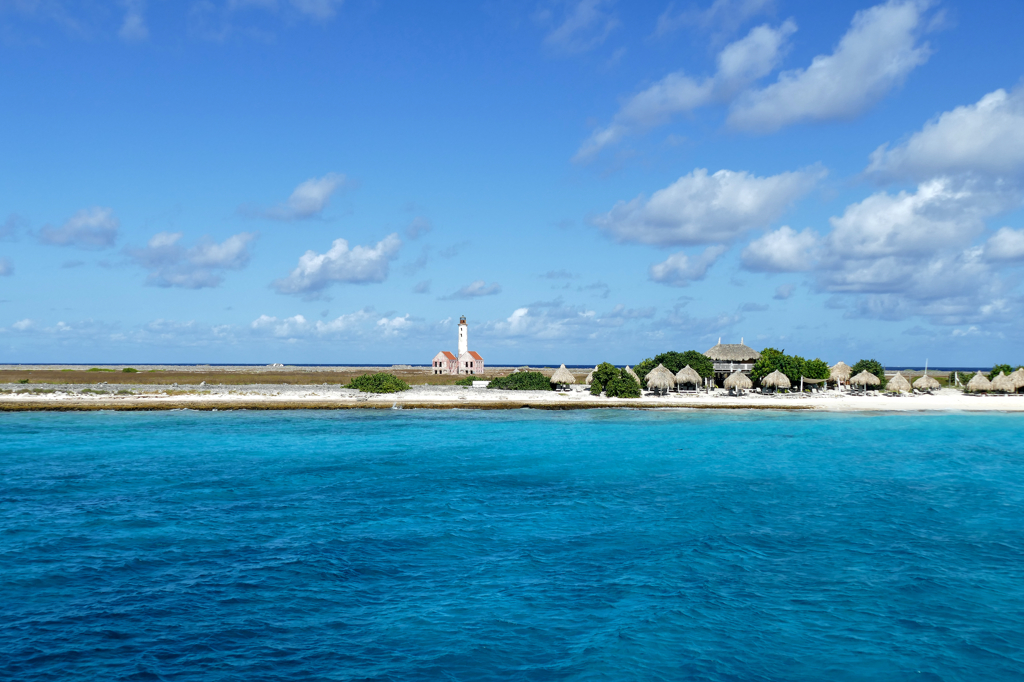 Curaçao's capital Willemstad has a vibrant art scene. By no means should you miss out on the powerful murals on both banks of St. Anna Bay. A truly hidden gem is the Cathedral of Thorns that Dutch artist Herman Van Bergen constructed on the premises of the former plantation house and today's culture center Landhuis Bloemhof.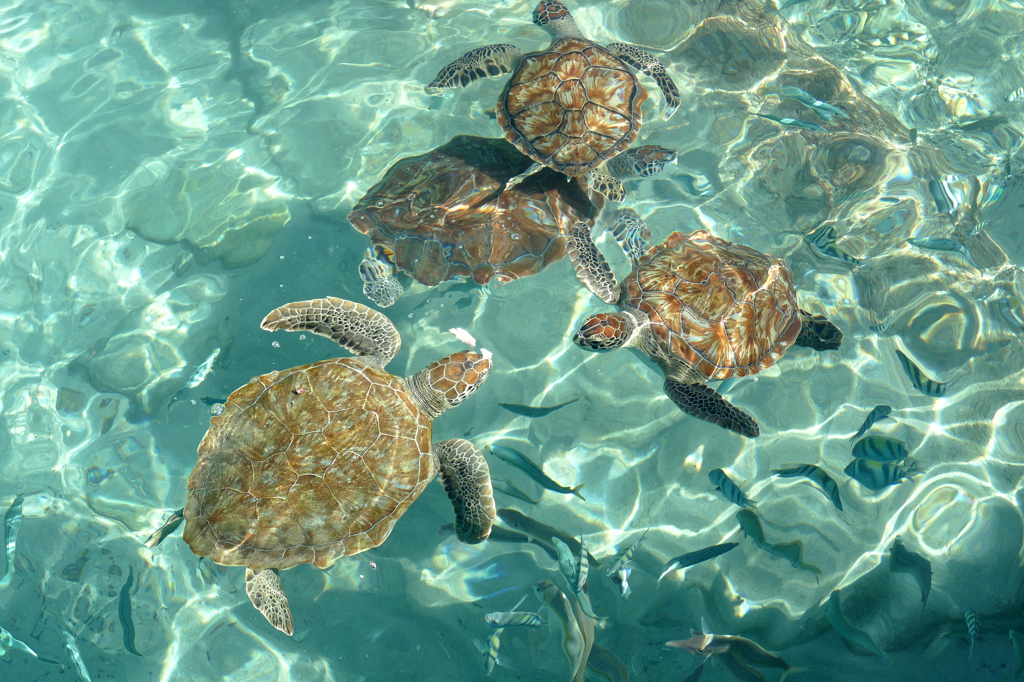 Obviously, Curaçao is also famous for a liqueur that proudly bears the island's beautiful name. You can visit the distillery at the Landouise Chobolobo on a guided tour – tasting included.
Once in Curaçao, you need to
✔ relax on the Kenepa Grandi beach
✔ swim with turtles at Playa Piskadó
✔ awe at the Cathedral of Thorns
✔ explore the urban art at Otrabanda
✔ cherish the colorful buildings at the Handelskate
✔ find out the story behind the famous Blue Curaçao Liqueur at the former plantation house Chobolobo
But there is much more to explore – as you can read in my post.
Which One to Choose?
I'm so glad you asked…not! I don't like to compare, I dislike listing, I do not want to judge.
But if you want my honest answer: All three of them! As I pointed out, the three ABC islands are very different. Each of them has its advantages and also its minor flaws. However, as you cannot travel between the islands by public ferry, you have to fly and that's not only bad for the environment but also very pricey.
A 25-minute long one-way trip starts at about 100 US$. If you fly between Aruba and Bonaire, you inevitably have a stopover in Curaçao which according to the airline makes it two flights and they make you pay for them accordingly; hence, almost 200 US$ for less than one hour in the air.
I knew about these crazy airfares before I went to the ABC islands and they actually made me reconsider. In the end, my healthy YOLO attitude made me bite the bullet and buy the tickets.
Take Your Pick
Nevertheless, if for any reason – be it time or money – you cannot visit all three islands on one single trip, here is a short list that might help you pick the island that's perfect for you as the term best is absolutely subjective.
I'm listing ten valid factors and then I rate them according to my personal experience and taste. Three plusses mean that this facet is absolutely amazing, two mean it's okay, and one tells you that there is a better alternative on the other islands.
If you disagree or if you have something to add, just leave your statement in the comment section at the end of this post!
| | | | |
| --- | --- | --- | --- |
| | Aruba | Bonaire | Curaçao |
| Beaches | +++ | + | ++ |
| Snorkeling | + | +++ | +++ |
| Big Crowds | + | +++ | ++ |
| Landscapes | ++ | +++ | + |
| Wildlife | + | +++ | ++ |
| Cities | ++ | ++ | +++ |
| Art'n'Culture | ++ | ++ | +++ |
| Food | ++ | +++ | +++ |
| Costs | + | + | ++ |
| Public Transport | +++ | + | ++ |
Practical Information
How to Get There
All three islands have international airports, albeit, Bonaire doesn't by far have as many international connections as Aruba and Curaçao.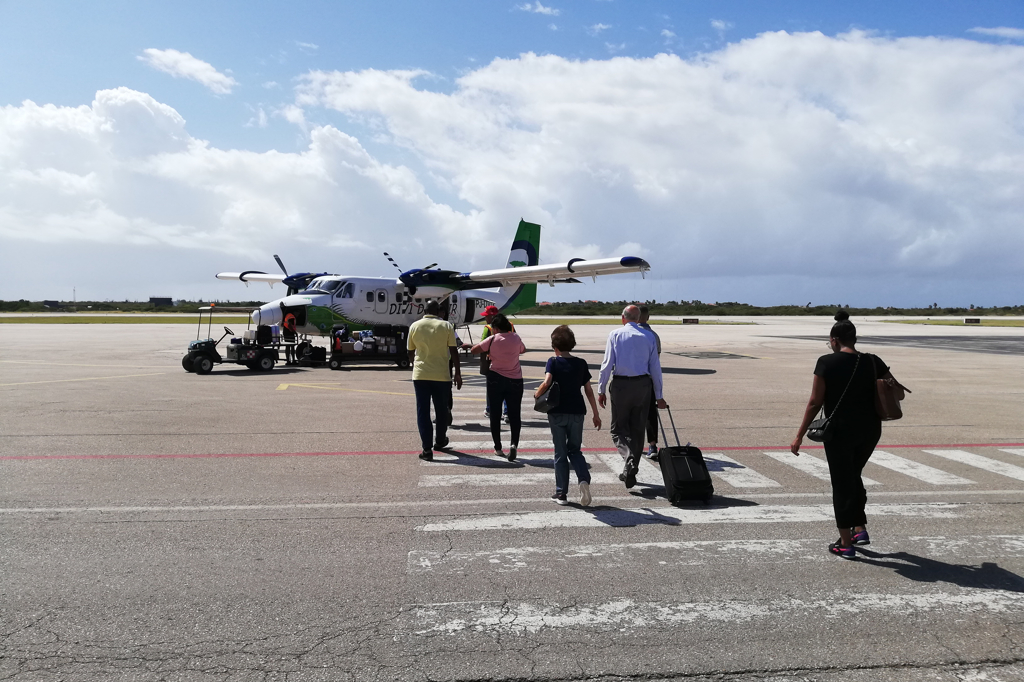 Apart from regular direct flights to and from the Americas and Europe there are air connections between the islands by the local companies Divi Divi Air and EZAir.
Immigration
Although the islands belong in different ways to the Netherlands, they do not belong to the Schengen area. Nevertheless, visitors from many countries do not need a visa. You can check this in the Visa and Embassy Information for all Countries section of my post World's Most Complete Travel Information. Note that a visa for one of the ABC islands is not valid for the European part of the Netherlands.
Albeit, even if you don't need a visa, you'll have to fill out landing cards for Aruba and Curaçao respectively pay an entry tax of 75 US$ per person when visiting Bonaire.
You can fill out the landing card for Aruba on this website, for Curaçao on this one, and get your QR code for Bonaire here .
How to Get Around
When it comes to public transportation, the islands could hardly differ more. While in Bonaire, public transport is practically nil and you definitely need a car to get around, the bus service in Aruba is actually not bad. If you stay around the western side of the island and don't intend to travel to remote settlements, you can easily manage without your own vehicle.
There is a cheap service by official buses which is not always that reliable. However, it is supplemented by privately operated minibusses.
Those buses run on the same routes, however, you can ask the driver for additional stops wherever you need them. Although both kinds of buses cost 4 AWG or 2.50 US$, tickets are not interchangeable, obviously. Therefore, I recommend refraining from buying a slightly cheaper round trip for the official bus. Various times, I ended up paying for the next available minibus on my way back while my return ticket for the big bus went to waste.
Just stay flexible and go with the flow bus that comes next.
On Island Time
Public transport in Curaçao is similar to Aruba, but official buses do not go as often. Some routes are scheduled only a couple of times per day. Also, secluded places like some of the most famous beaches cannot be reached by public bus.
Here too, the official bus system is supplemented by privately operated minibusses but unfortunately only on the most frequented routes. The bus fares in Curaçao vary between 2 and 2.60 ANG depending on the final destination.
On both islands, you can also pay your fare in US$, but you might get the local currency for your change. Also, bus drivers do not accept bills larger than either 25 ANG or AWG respectively 20 US$.
By Cab And Car
Cabs are not metered and they are rather pricey. A trip even within the limits of Willemstad sets you back 20 US$. In any case, make sure to agree on the fare beforehand.
To my greatest chagrin, I must agree that a car is pretty much needed to get around the islands easily. While many places are accessible by bus, you either have to stick to the few official bus connections or be streetsmart enough to travel by minibus. And even then it can be very hard or impossible to get to certain spots, especially to secluded settlements and places on the western side of the islands.
Cars can be rented for about 45 US$ per day. There are rental companies for instance at the airport but also across the islands. According to my experience, locals tend to drive a bit anarchistic when it comes to rules regarding giving way and the like. However, they don't speed like crazy and willingly stop as soon as a pedestrian intends to cross.
Walking and Cycling
Talking 'bout pedestrians: I was aware that some spots on the islands can be reached only by car. As I'm not driving, I planned on walking – as I do everywhere in the world. Well, I quickly stood corrected. Firstly, it's a big difference to walk through a European city in the shade of high buildings and an open country road in the Caribbean. Since hardly anyone does it, roads in Bonaire and Curaçao aren't made for pedestrians, i. e. there aren't sidewalks. That's quite unsettling. Since where there are no sidewalks, drivers don't expect jolly walkers. And that's outright life-threatening.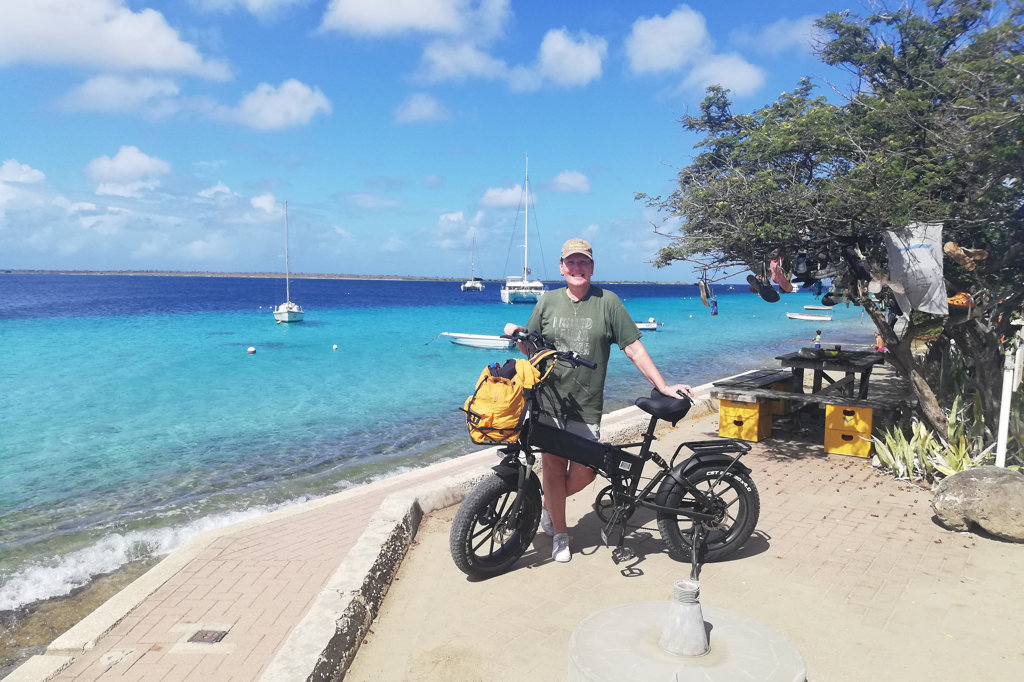 Nevertheless, it's a whole story in Aruba where you have sidewalks and even bike lanes. Also, you can take a long yet very pleasant beach walk from Divi beach up the coast all the way to Arashi beach. This takes about two hours in total, but if you get thirsty or need a short break, you'll find many spots to rest'n'replenish on your way.
10 Things to Bring…
Sun Protection And After-Sun Lotion
Do I really need to explain why you should smother yourself in sun milk with an SPF of at least 30? Do I?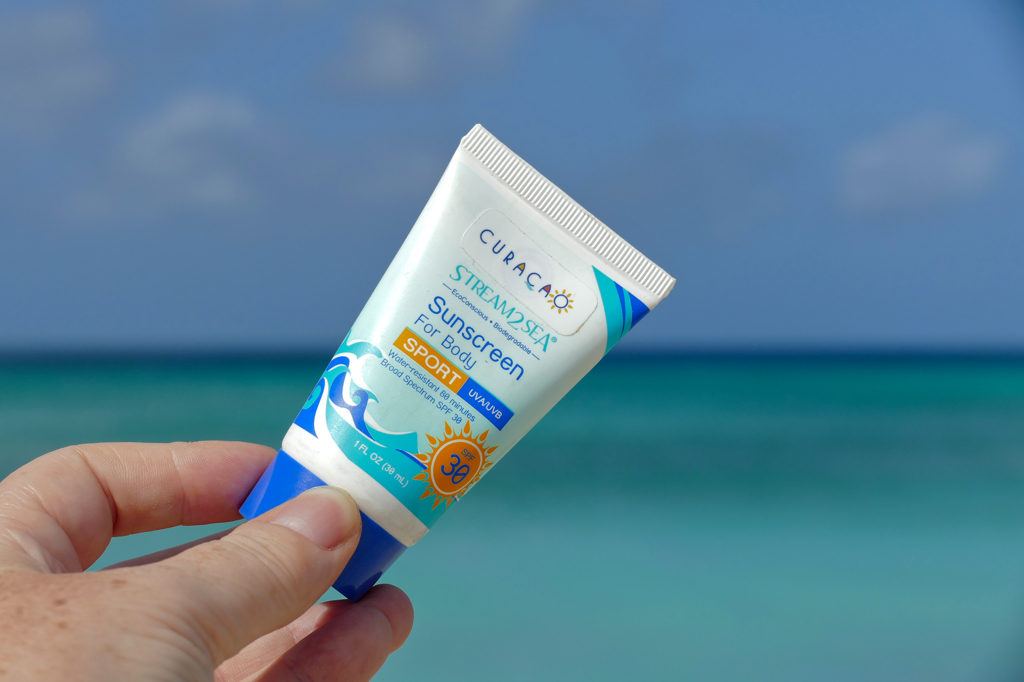 Even in the shade, you need to protect your skin against sun rays. Also, remember what grandma told us: After frolicking in the ocean, wash the salt off with fresh water and then reapply an additional layer of sunscreen.
Grandma was so right!
Please, do us ocean lovers a favor and buy eco-friendly, biodegradable products.
Beach Towel
Apart from Bonaire, you can rent beach beds in the shade of beautiful palapas on practically all beaches in Aruba and Curaçao. But you don't have to. Mind you only have to pay for a beach bed. The use of palapas, hence, thatched umbrellas, is free of charge on all beaches. So whether you want to spread it out on the sand or place it on the chair – for your comfort and for hygienic reasons, obviously, you need to bring your own beach towel. Also, you can use it to change from your wet swimsuit into something dry.
Hat And Sunshades
In the bright sunlight on a white beach, sunshades are not a fashionable accessory but an indispensable necessity.
Just like you don't need shades just to be trendy, a sun hat is not only a fashion statement. Especially if you're planning on walking down a beach for a while, not covering your head can become truly dangerous. To cover also your neck, a light scarf or shawl that you wrap around your head and neck can be a very chic alternative. Either way, make sure to cover your head when you are exposed to the sun.
Swimwear
When I'm planning on spending the day on the beach, I put on my swimsuit underneath my clothes. If you do that, too, don't forget to pack either some underwear or simply a second bikini so you can change and don't have to spend the day in wet swimming clothes after a refreshing dip.
In addition, it might be a good idea to pack a spare T-shirt and even light trunks just in case you spill something.
Remember, you are planning for a long and hopefully a bit adventurous day, hence, expect the unexpected.
Water Shoes
Whether you are snorkeling, swimming, or just frolicking in cool waters: Water shoes should be a must for every beach bum. I bought mine only for my trip to the ABC islands where I was wearing them on basically every beach apart from very few spots in Aruba. The fact is that even some of the sand beaches have nasty rocks in the water that might hurt your feet badly.
Some of the beaches in Curaçao and most of all in Bonaire are practically inaccessible by bare feet. Hence, purchasing a pair of high-quality water shoes was one of my best investments.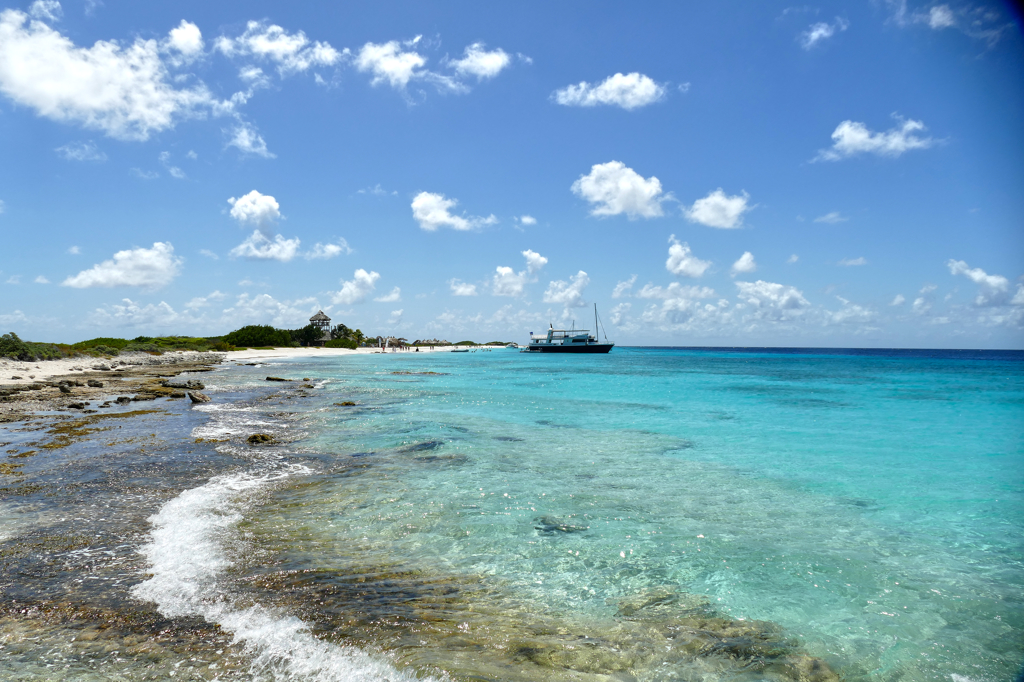 So to go snorkeling, I'd argue you don't need necessarily flippers, but you definitely should bring a pair of high-quality water shoes. Get them at a designated dive store and do not buy the cheap crap at your local drugstore.
Snorkeling Gear
Obviously, you can rent snorkeling gear on many beaches. Nevertheless, since snorkeling with a comfortable mask is not only more fun but also safer, having your own high-quality mask available at any time is certainly a good idea in a place where snorkeling is one of the main activities.
Lock Tote
As you know, I'm a solo traveller. That comes with many advantages – as you can read in my post solo travel – PROs and CONs. But there are also some disadvantages – as you can read in the very same post.
One of the major disadvantages is that you don't have anyone to watch your stuff while you go swimming or snorkeling or just for a short beach walk. While you can still schlepp everything with you on a walk, you are risking that someone pinches your stuff while you are frolicking in the water.
A lock tote is a perfect solution to this problem. You put all your valuables inside and pull the tote close. Then, you can wrap the steel cable around a pole. That can be a wooden parasol that you find on some beaches. Or a fence. Or even a big branch of a tree. Actually, you can also wrap it around your beach chair. It's not very likable that some thief will walk away with an entire beach chair.
By the way, a lock tote is not only great for solo travellers but also for couples as they might want to go swimming, snorkeling, and strolling together.
Dry Bag
Especially if you have an expensive camera or other high-maintenance gadgets, you should invest in a high-quality dry bag. For me, the bag doesn't have to protect my electronics two meters under the sea. I only need protection against splashing for instance during a boat ride. And while protecting against water is crucial, a thoroughly closed dry bag protects my camera also against dust and very fine sand on the beach. Mind you, dust and especially grains of sand can cause as much damage to your camera as water.
Water Bottle
Tap water on all three islands is drinkable. As a matter of fact, it's not only is it drinkable, but also very tasty. And since bottled water is quite expensive, you better bring your drinking bottle and fill it with tap water.
It's free. It's good for you. And it's good for the environment as we save those nasty plastic bottles.
Adapter
The world is so globalized and yet the number of different plugs and voltages around the globe is just amazing. I'm linking to a complete overview in my post World's Most Complete Travel Information.
Usually, adapters are easy to obtain; at least those that enable you to plug your device in. But then there is still the problem with the voltage. While chargers are normally equipped for different voltages, this is not the case with gadgets like hair dryers, electric razors, and the like. For those, you need an adapter that can switch between the different voltages.
Also, if you travel a lot, a versatile adapter that connects to many different plugs and can be adjusted according to the specific voltage is certainly a better option than having loads of those individual plastic thingies.
…And Five Things to Shop
Aloe Vera Products
I don't like to buy what's considered a classic souvenir. No small gondolas from Venice, no miniature Eiffel Tower, and even not an I heart New York T-shirt. Being a nomad by heart, I don't want to stock up on nicknacks and cram more unnecessary garments into my closet.
Therefore, I love to bring consumable souvenirs. Often, I actually just buy some staples at the local supermarket or drugstore.
Skin products made from the miraculous aloe vera plant are just fantastic. And since there are ale vera farms on all three islands, you can combine an educative visit with a shopping spree.
Salt And Salt Products
And yet some more consumer products from a local manufacturer: Especially on Bonaire, salt and salt products are huge. Mind you, Bonaire's most important industry – apart from tourism – is salt production.
While you can see the giant salt pans on the southern part of the island – where you can also observe flamingos from afar – you can purchase all kinds of salt cosmetics and condiments at the cute specialty shops around Kralendijk.
Hot Sauces And Local Condiments
Spicy sauces and aromatic spices are another great souvenir from the Caribbean you can gift to your loved ones and obviously also yourself. Don't you love this flashback you get as soon as you open that container? The smell just hits your senses and carries you back right back to the small restaurant next to the beach where you experienced this special flavor for the first time. Well, memories in a bottle or a spice shaker can be purchased for almost five a penny at many local supermarkets. Obviously, you can also get them at souvenir stores like the gift shop at Chobolobo. But mind you, you'll pay that tourist surcharge. Also, shopping for edible souvenirs at a local supermarket is a far more authentic experience.
Curaçao Liqueur
A visit to the liqueur distillery at Landhuis Chobolobo is one of the most popular touristy activities: It's historic, it's colorful, and it involves day drinking, hence, what's not to like? I joined a tour to learn a bit about the distillation process of his world-famous drink that has been produced since 1896.
Never change a winning team: The distillery produces according to the liqueur recipe from 1896 to this very day. On ten square meters, Senior & Co annually produces about 40,000 to 60,000 liters of Curaçao liqueur per year. This also explains the much higher price for their Curaçao.
To their great chagrin, the Senior family couldn't trademark their product properly since you cannot trademark the name of a place. Therefore, everyone who owns an alcohol distiller can produce this spirit, add some color, and call it Curaçao blue. But theirs is the one and only real thing.
You can join a tour at the Landhuis Chobolobo* from Monday to Friday between 8 a. m. and 5 p. m. for a minimum entrance fee of 15 US$. Obviously, you can buy their booze without taking a tour either at their gift shop or in many souvenir stores and supermarkets on the island.
Original Art
You can shop for some original art by local artists and artisans especially in the center of Curaçao. There are various small galleries lining the alleys of Willemstad's historic district. Check out the Signsandcraftscuracao and the Nena Sanchez Gallery on Windstraat or Jean Girigori's store on Passatstraat. More art and handicraft from local artists can be found at the Landhuis Bloemhof.
However, you'll find lots of colorful keepsakes in many of the souvenir shops on all three islands. Mind you, those are mostly manufactured for instance in Haiti. I don't say they aren't pretty since they are. I'm only pointing out that they are not original art from the islands – even if they should bear the island's name.
Neither is the so-called Chichi sculpture a traditional token from the Dutch Antilles, by the way. This figurine was designed by a German artist and is now being heavily promoted as art from the island, yet, that's only a marketing scheme.
On Aruba, you'll find original local art at the ArtisA Gallery in San Nicolas. Try to combine your shopping spree with a guided tour of the amazing murals around town.
Organized Trips
As I pointed out, there are many many wonderful spots on the islands, bewildering and wild, waiting for you to be explored. However, many of those places cannot be visited by public transport. Hence, you either need to rent a vehicle or join an organized tour.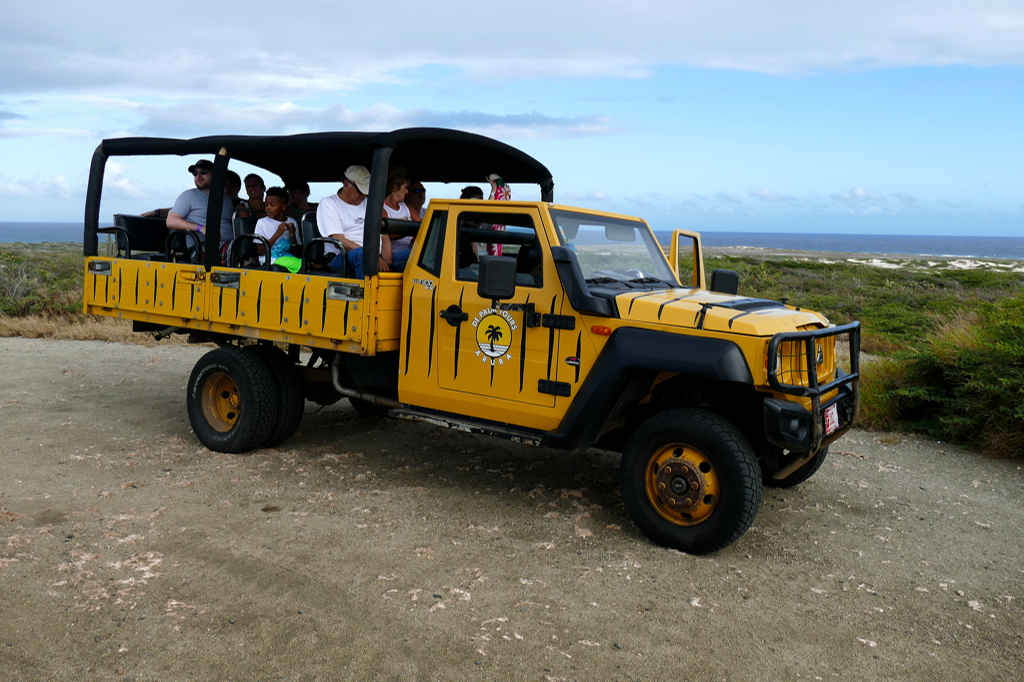 The latter will definitely be the less stressful option especially as you are exploring the National Parks and the rough east coasts. Also, you'll probably need to join an organized tour if you want to engage in activities on the water like sailing or snorkeling from a boat.
Therefore, here are some tours to choose from:
Where to Stay
The ABC islands have been popular tourist destinations for decades. Therefore, you'll find a great choice of different lodging options on every island.
You'll find recommendations on where to stay in my posts on the individual islands. However, click on this link* to find your most convenient lodging options.
What to Eat
Local food on the islands is a broad mix of cuisines. There are all those typical Caribbean dishes, yet here, they are prepared with a dash of European and Indonesian flavors. Hence, you don't find only fried fish and stewed goat, but also chicken saté in peanut sauce and Dutch bitterballen. Also, I believe there is no country around the globe that doesn't have Chinese and Indian eateries.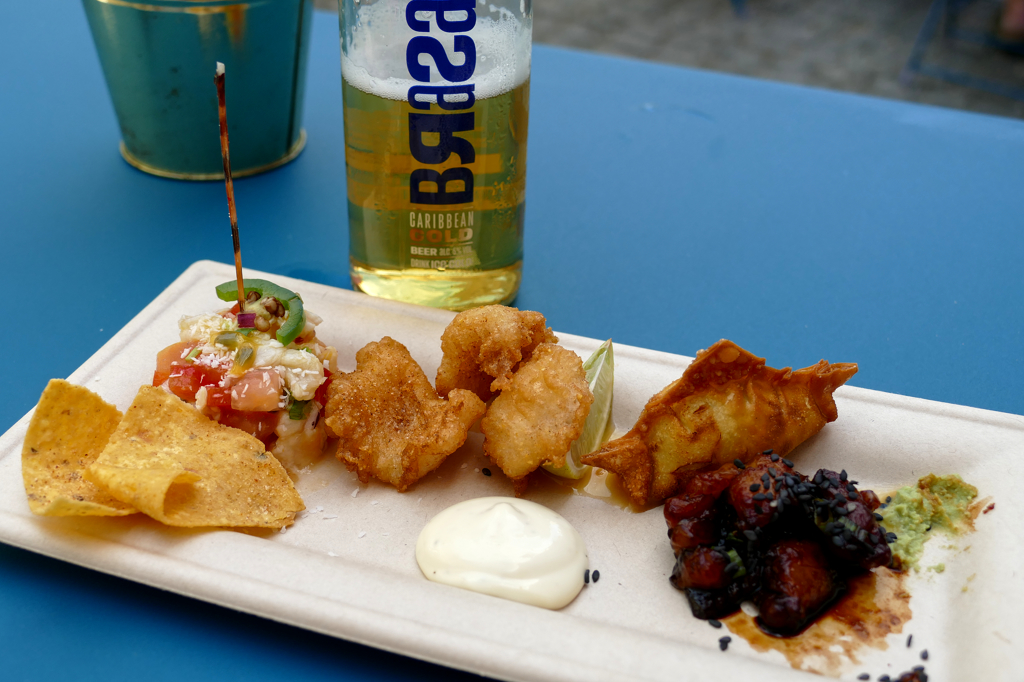 Over the years, as migrants from Latin America made it to the ABC islands, they brought their traditional dishes with them too. And finally, unfortunately, fast food from the US is also available.
The most charming eateries, however, are the high-quality food trucks that you'll find in many places. To my amazement, they don't offer some greasy sausage with a side of soggy fries and a nasty diet coke. Nope, they prepare wraps with the finest fish coming straight from the sea. They make juicy artisan burgers accompanied by crispy potato chips or spicy rice. Need to quench your thirst? Grab a homemade lemonade or a fresh smoothie.
Cash And Cards
Three islands, three currencies: While on Bonaire the official currency is the US Dollar, Aruba and Curaçao have their own money.
In Aruba, the Netherlands Antilles Florin – abbreviated AWG – is the official currency. The current exchange rate is 1 US$ = 1.79 AWG as of March 2023, but you can check the conversion on this page.
In Curaçao, they have the Netherlands Antillean Guilder which is abbreviated ANG. Its current exchange rate is 1 US$ = 1.79 ANG as of March 2023, but you can check the conversion on this page.
Howsoever, you can pay with US Dollars everywhere. There are many ATMs from which you can get the respective local currency as well as Dollars. Also, you can pay even for small amounts by credit or debit card.
Language
The official language on the islands is Dutch. The lingua franca, hence, the most spoken tongue, is Papiamento. Although it's rooted mainly in Portuguese and Spanish, Dutch has a considerable influence. As a matter of fact, Papiamento is a creole language that developed on the West African coasts. It has many similarities with crioulo spoken in Cape Verde. In the 16th and 17th centuries, most of the slaves kidnapped to the Caribbean came from Portuguese trading posts on the African west coast. I wrote about this dark chapter in my post on Cape Verde's main island Santiago.
Howsoever, due to the proximity to the South American continent and many migrant workers from Latin America, most local people speak at least decent Spanish. Obviously, people speak good English, especially if they are working in tourism. You can say that most locals are not only bi-lingual but actually quad-lingual. Pretty impressive.
Connection and Communication
Unlike the French West Indies, the ABC islands are not part of the European Union. Therefore, the wonderful European roaming regulations do not apply. Consequently, a local SIM card is the cheapest way to stay connected.
You can get a SIM card for 15 US$ at Digicel that grants you data for seven days. It offers roaming on all three islands at no extra charge. Don't forget to ensure your phone is unlocked and ready for use with any SIM card.
Usually, you are required to show some form of ID, however, I got my card no questions asked.
Top-up credit can be bought in almost every store or supermarket on each island. Or do it simply online by using a credit or debit card.
Howsoever, if you don't insist on being online 24/7, you'll probably do with the free Wifi offered at every hotel and most restaurants and bars – just sayin'.
In the ABC islands, they use plug types A and B. Their voltage is around 120 V and the frequency 50 Hz, on Aruba 60 Hz. Whereby, as nowadays all these chargers have integrated adapters, in general, the voltage and frequency shouldn't really matter.
However, this is not the case with other small appliances like hair dryers or travel irons.
By the way, you'll find comprehensive travel info in my post World's Most Complete Travel Information – an indispensable globetrotter-classic.
Map And Places to See
While this post is just a general roundup of the thress island, below are links to posts on the three islands Aruba, Bonaire, and Curaçao. In each of those posts, you'll read inspiring stories and get more valuable information that will make your own trip smoother and more enjoyable: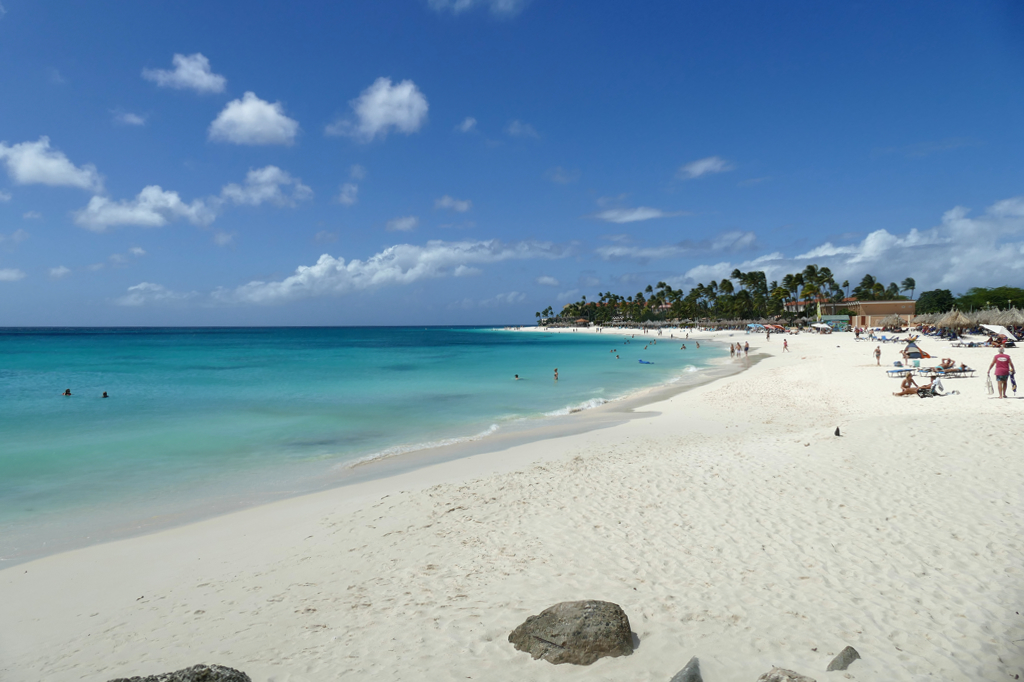 This map gives you a general idea of where the ABC islands are located:
Pinnable Pictures
If you choose to pin this post for later, please use one of these pictures: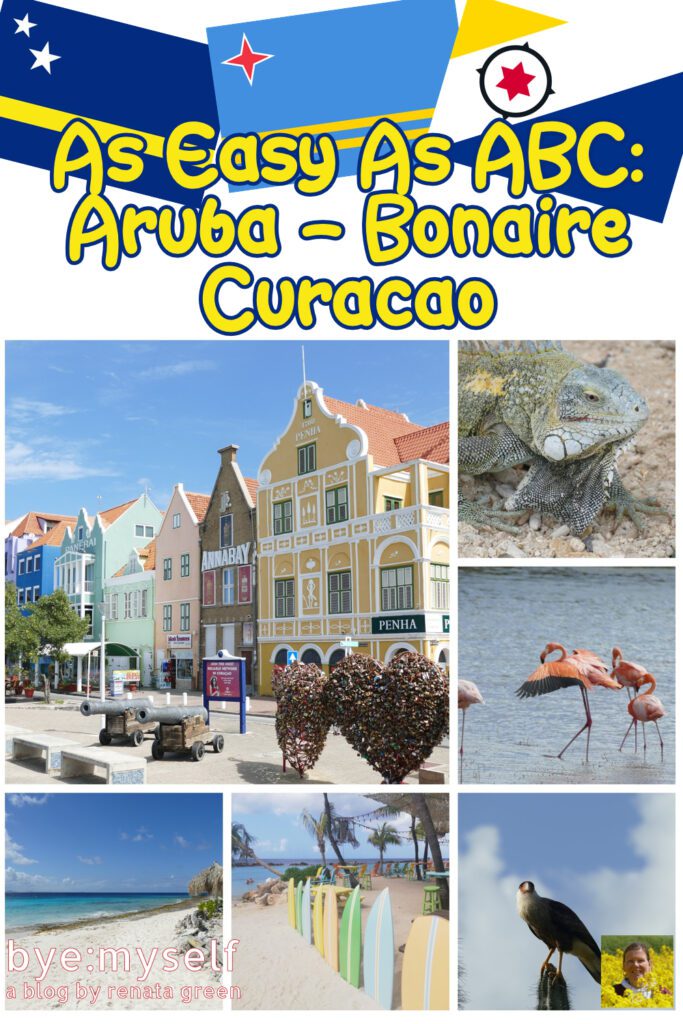 I am very appreciative that GlobActive Travel Marketing together with De Palm Tours Aruba let me participate in a tour of the northeastern part of Aruba. Also, Aruba Mural Tours invited me to join one of their Street Art Tours. Diamond Public Relations together with Tourism Corporation Bonaire organized wonderful tours around Bonaire for me and covered the visitor entry tax as well as the STINAPA Nature Fee. They also initiated the street art and street food tour in cooperation with Greenbikes Bonaire. Bright8 PR together with Curaçao Tourist Board organized a guided walking tour for me and let me participate in a day trip to Klein Curaçao with Miss Ann Boat Trips. Also, I was invited to join complimentary tours of the Landhuis Bloemhof and Chobolobo.
Nevertheless, the descriptions of all these activities as well as all opinions on their services are mine and were in no way influenced by my cooperation partners.
* This is an affiliate link. If you book through this page, not only do you get the best deal. I also get a small commission that helps me run this blog. Thank you so much for supporting me!