To get away from the weekend's hustle and bustle, a day trip from Venice to Padua is just perfect.
There's a lot to see – and the train takes you there in only 14 minutes.
Although Padua is an orphan compared to glamorous, mysterious Venezia, it's absolutely underrated. Of course there aren't these fantastic palazzi at every corner, hello?! this is the real world.
But there are a couple of nice spots and buildings absolutely worth the visit once you're tired of this constant pushing and shoving of masses of tourists.
Sorry, Wrong Funeral
Coming from the main station, my first steps led me to the Scrovegni Chapel to see the famous Giotto frescos.
As I got there, a funeral service just had ended. There was the family and other mourners standing in small groups in front of the church, whispering and sobbing into embroidered handkerchiefs. Next to them stood the undertaker's car, the coffin halfway in.
Amazing that this world-famous landmark was still used for services, I though to myself. However, I was a bit irritated as inside, I couldn't make out any Giotto frescos. Actually, there were hardly any decorations at this house of worship.
Then it dawned on me: I was in the wrong church. Although I had a map that clearly showed the location of the Scrovegni Chapel, as soon as I had spotted a church, I was convinced I had arrived.
So I lingered for a couple more minutes. Somehow, this made me feel less a fool – as if I really had a personal matter to tend to at that very church. Then I left – trying to maintain a very low profile.

Fortunately, the mourners were busy mourning. Those who had seen me might have thought I was the deceased's secret mistress.
Museo Archeologico
Museo d'Arte Mediovale e Moderna
I found my way to the real chapel after all, but you need a reservation and I got a time slot for 6.15 p. m. so I had all day to explore the city.
Since I already was on the spot, I visited the adjacent museums. The Museo Archeologico has some vessels and coins and statues and all the stuff that every archeological museum houses; it's not mind blowing. The art museum houses an unimpressive collection of many Gothic and some Renaissance.
It's funny, after all the modern, crazy art I've seen over the past week, visiting the old masters was sort of refreshing. I've known this phenomenon the other way around: Years ago when I did Venice, Florence, and Rome for the Gothic, Renaissance, and Baroque art, it was such a pleasure visiting the Ca' Pissaro at the end of the trip and looking at the classic moderns.
Musei Civici agli Eremitani
Piazza Eremitani 8
Padua
Phone: + 39 – 49 – 820 45 51
The museum complex is open from Tuesday to Sunday from 9 a. m. to 7 p. m., for the chapel the reservation of a time slot is needed.
Center of Padua
Crossing town along Corso Garibaldi and Via Cavour to the city center which looks pretty like every Italian city center with the usual collection of Spanish and Swedish chains of clothing – but after five days of Venetian masks and poorly manufactured bags and tacky glass figurines I actually sort of enjoyed the fact that planet earth had me back.
But some of the stuff from Venice, like the low-quality leather goods, were also to find at the huge markets around the Palazzo della Ragione, but here at accordingly low prices. I even shopped for a leather wallet and a pair of shoes.
Still in my old shoes, on my way to the famous Prato della Valle, I stopped at the Piazza del Duomo to visit the cathedral
Duomo
The Padua cathedral was build during different art epochs, actually, it is the third building on this site. The building began in 1551 and was completed only in 1754.
Museo Diocesano
Palazzo Vescovile
The Palazzo Vescovile, the Bishop's palace, houses the diocesan museum and can thusly be visited, although the Bishop lives on the second floor.
On the first floor precious handwritten books from the different centuries can be admired and on the upper floor, some fine art and especially the beautifully painted lounge are worth a visit.
Museo Diocesano di Padova
Palazzo Vescovile
Piazza Duomo 12
35141 Padova
Phone: +39 – 49 – 876 19 24
Email: info@museodiocesanopadova.it
Prato della Valle
I'm sure it must be awe-inspiring seeing this 90.000 square meters elliptical square in Padua. It is the largest square in Italy and one of the largest in Europe, decorated with 78 statues – 38 in the inner ring and 40 in the outer ring. Also, it is surrounded by a canal, so you reach the center over bridges.
Unfortunately, there was a huge market taking place so I saw the statues lurking between market stands and could not admire the certainly beautiful layout of the un-square square.
Abbazia di Santa Giustina
I find that all the church buildings in Padua look pretty monumental – already due to the fact that they have these brick facades and not one high tower but a couple of bulky ones. Hence, they remind me a bit of the Hagia Sofia in Istanbul – very predominant architecture. The Abbey of Santa Giustina, dating back to the 10th century is no exception – and said to be regarding its architecture the most important building of Padua.
Abbazia di Santa Giustina
Via G. Ferrari 2/A
35123 Padua
Phone: +39 – 49 822 04 11
Email: info@abbaziasantagiustina.org
Walking from the Abbey up North towards the center, there is a botanic garden ('Orto Botanico') East of the Prato della Valle, but I didn't go there.
My next stop was another church building, namely the
Basilica di Sant'Antonio
After all the churches I've seen today, I'm considering myself an expert and can tell you that this is the most beautiful one. The building ended in 1310, and it shows a Byzantine style with Gothic elements.
There's not only Antonio's tomb at one of the chapels, but there is also his tongue on display between the relicts as well as his vocal cords – and I saw some denture; at least for non-Catholics, this is creepy. However, this was the most impressive of today's churches.
Basilica di Sant'Antonio
Piazza del Santo 11
35123 Padova
Phone: + 39 – 49 – 822 56 52
Email: infobasilica@santantonio.org
Back to the main square – which in this case is actually square – the Piazza delle Erbe, it's a must to see the Palazzo della Ragione.
Palazzo della Ragione
This palazzo used to be the city's town hall. It's more than 80 meters long and 27 meters wide. It was built between 1172 and 1219 and is covered in beautiful allegoric frescos.
At one end of the hall is a black wooden horse, that Giorgio Vasari attributed to Donatello because of its resemblance to the horse of the statue del Gattamelata at the Piazza del Santo, and at the other end a big Faucault pendulum.
Chiesa degli Eremitani
I didn't miss a church, did I?! This church is one of the oldest churches in Padua, built in 1276, and famous for its chapel, one of Andrea Mantegna's masterpieces.
Actually I went in there since it is right next to the Scrovegni chapel site, which was my last – and best! – stop.
Scrovegni Chapel
6.15 p. m. – here I finally was at the breathtaking masterpiece by Giotto, a chapel entirely decorated by frescos of the most famous Gothic master.
After an informative movie on the chapel, they let the small group of fewer than 20 people in. Which is a very wise thing since the chapel is really small and just mesmerizing. Therefore, lots of people at the same time would not only harm this masterpiece but also spoil the special atmosphere for the visitors.
Giotto depicted scenes from the life of Mary, the life of Jesus, and the history of mankind.
After all, I was very happy to have had such a late time slot since the visit was so impressive, I wouldn't have liked to visit other sights after this, which I've found much more touching than for instance the Cenacolo by da Vinci in Milan.
Information
If you need more information, Turismo Padua has a really good website and three conveniently located offices:
Stazione FS
Piazzale Stazione Ferroviaria
Padua
Phone: +39 – 49 – 201 00 80
E-Mail: infostazione@turismopadova.it
Open from Monday to Saturday 9 a. m. to 1 p. m. and 2 p. m. to 6 p. m.
Galleria Pedrocchi
Vicolo Pedrocchi
Padua
Phone: + 39 – 49 – 201 00 80
E-Mail: infopedrocchi@turismopadova.it
Open from Monday to Saturday 9 a. m. to 7 p. m. -19.
Piazza del Santo
Padua
Phone: + 39 – 49 – 201 00 80
E-Mail: info@turismopadova.it
Open from Monday to Sunday 9 a. m. to 1 p. m. and 2 p. m. to 6 p. m.,
but only from April to October.
Just so you know, there is the Padova Card, a tourist card that grants you free entry to various sites, but check whether it's worth it for you since it costs 16 €uro for 48 hours and 21 €uro for 72 hours. You can get it at one of the tourist information places or online or at a call center where you can at the same time make a reservation for your Scrovegni Chapel visit.
Phone: +39 – 49 – 201 00 20
It would make pretty happy when fewer people would believe that Giotto is not – only – a globular cookie, Carpaccio not – only – wafer-thin sliced meat, and Bellini not – only – a far too sweet drink.
Viva Arte Viva!
Special Treat: To Padua along the summer villas on the river Brenta
By the way, you can also get to Padua from Venice in stages. Along the river Brenta are some of the fines summer villas of the Venetian nobles. Yes, these good people needed a break from all the wealth and beauty in Venice from time to time, so they escaped – to the wealth and beauty along the Brenta.
To meander on the river, you can book a tour that runs between March and October. However, you can go by bus all year round. However, this needs a bit of planning, since the busses don't go that often.
When I did it, I made a list of the villas I wanted to see and then bought all my bus tickets accordingly beforehand at the bus terminal in Venice.
My last stop then was Padua.
Pinnable Pictures
If you choose to pin this post for later, please use one of these pictures: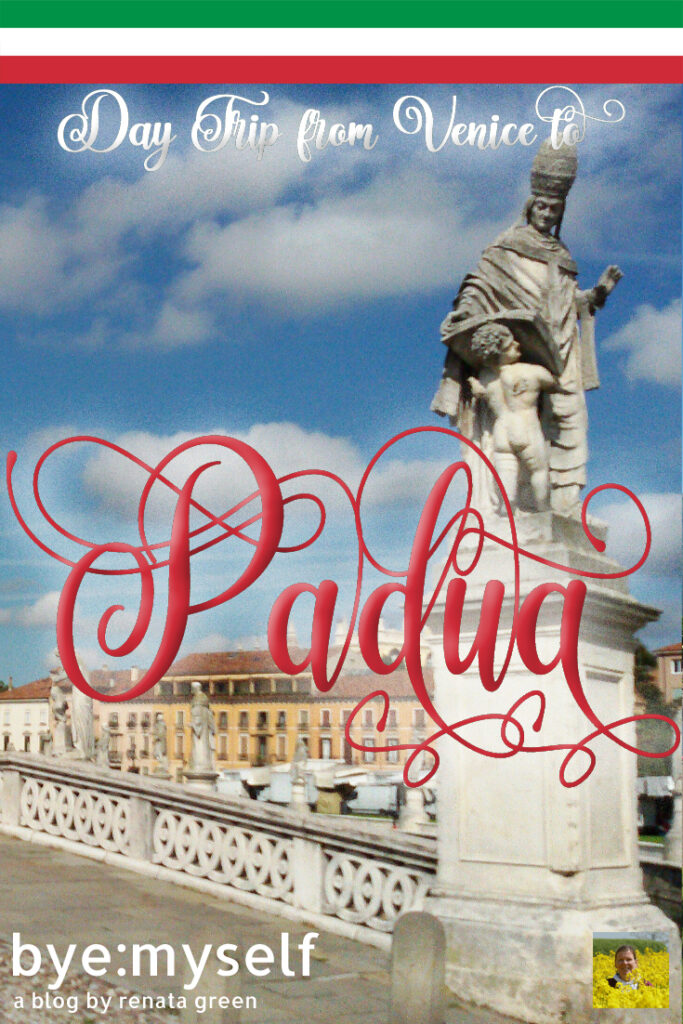 * This is an affiliate link. If you book through this page, not only do you get the best deal. I also get a small commission that helps me run this blog. Thank you so much for supporting me!
Did You Enjoy This Post? Then You Might Like Also These: