Hoi An is definitely one of Vietnam's most fabulous places, famous for its rich cultural heritage, uncountable lanterns, and luxurious tailor-made attires.
I think the reason that I was a bit disappointed by Vietnam at first was the relative absence of this Asian sweetness and the abundance of luxuriously decorated temples and mysterious tales. For instance, compared to Thailand, it felt so austere or even mundane. It was more about everyday life than about mystery.
On the one hand, I liked it, on the other, I missed a little enchantment.
Yet, enchantment I've found – in the old town of Hội An. Here you get an idea of how Vietnamese small-town life must have been many decades ago.
How Hội An Got Fabulous
Hội An is located on the ancient Silk Road and was, therefore, the largest port in Southeast Asia many years ago.
The city was founded in the 4th century by the Cham.
At the turn of the 16th century, under the rule of Nguyễn Hoảng and his son Nguyễn Phúc Nguyễn, the port opened to the outside world. This was the reason for numerous merchant families from China and Japan to settle here.
Beginning of the 17th century, Europeans founded trading branches in Hội An. In 1613, the English East India Company got there, the Dutch Vereenigde Oostindische Compagnie in 1636, and the French Compagnie des Indes Orientales in 1644. Since their commercial success was not as expected, they soon withdrew.
As the Manchurian Qing overthrew the Ming dynasty in Beijing in 1644, also countless Chinese migrated to Hội An.
In the 18th century, the ever-larger merchant ships had to move to the port of Đà Nẵng due to the increasing siltation of the port of Hội An. Obviously, the city then lost more and more importance.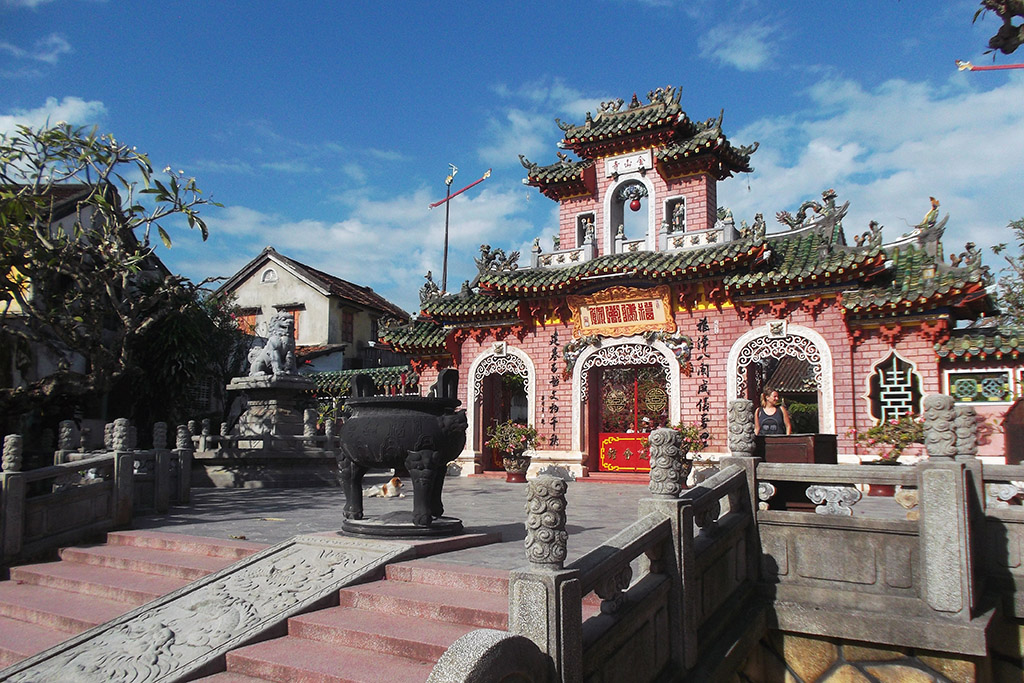 During the Tây-Sơn rebellion, the city was largely destroyed in 1780. Although it was rebuilt, the French colonialists declared Đà Nẵng the capital of Annam in 1888.
Therefore, also the railway was built past Hội An in 1930.
The Grand Tour
Amazingly, the old town is Vietnam's only historic district that remained intact during the Vietnam War. It was declared a UNESCO World Heritage Site in 1999. It is highly cherished as a well-preserved example of a Southeast Asian trading port from the time between the 15th and 19th centuries.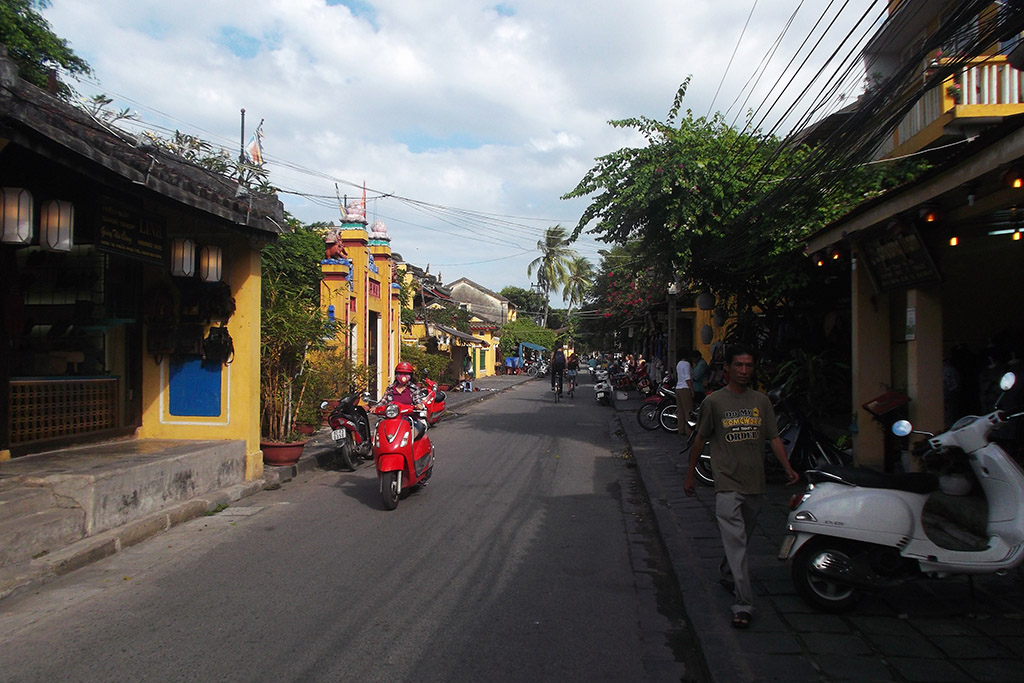 However, it deems a bit like an ethnological open-air museum. Streets and alleys lined with beautiful ancient houses, one cuter than the other. Actually, there are still about 1,000 of the old houses, albeit, not all of them had historic importance. However, while many of them are inhabited and not accessible, some are housing stores – hence you'll be more than welcome to visit – and others are like small museums.
In addition, visiting the old temples and clans' assembly halls will take you back to a fascinating social system.
I recommend you get a combi ticket for 120,000 VDN. It includes admission to five attractions. You can choose from three Chinese assembly halls, some of the old houses, the Japanese bridge, and the Quan Công Temple. In addition, you can visit one of Hội An's three museums as well as a concert with traditional music or a handicraft workshop.
You can buy the ticket at the tourist center:
The Center for Culture, Sports, Radio & Television of Hội An City
Cao Hồng Lãnh 1
Phone: +84-235-3861327
E-Mail: ttvhtt@dng.vnn.vn
Note: There are many businesses at Hội An claiming to be a tourist information office. Although they technically are, they are private businesses and will try to sell you their services and goods. Therefore, you might want to stick to the office above.
Ancient Houses
Quan Thang
Quan Thang, a Chinese captain and merchant, commissioned this house in the 18th century. Like many of those mansions, the building was a trading place as well as an accommodation. The front served trading purposes while the back leading to the river was convenient for shipping goods. 
This tube-shaped house that connects the Nguyen Thai Hoc with the Tran Phu Street is a great example of this style of building. It also preserves several features typical for those houses in Hội An. It has a crab-shell roof, and the walls surrounding the sky yard are decorated with exquisite Chinese porcelain pieces.
Duc An
The Duc An House is furnished and lavishly decorated. The owner not only preserves the house architecture but also many objects to show devotion to their ancestors. They are the 8th generation living in this house, and you might be lucky and run into Mr. Phan Ngoc Tram, today's owner.
Duc An shows Vietnamese, Chinese, and Japanese architectural styles. Just like the Quan Thang, it is a tube house, so the front and back of the house open to parallel running streets.
The façade is made of wood. The main door is comparatively low, and the two flanking windows are horizontal boards.
Diep Dong Nguyen
This house was built in the late 19th century. On the ground floor are showcases containing china and figurines from China and Vietnam made of porcelain.
Ngo Xuan Diep was supposedly the first family member who came to Hội An from Guangdong in China in the middle of the 19th century. Here, he installed a pharmacy based on Chinese medicine. The medicaments were stored in the above-mentioned glass cases lining the walls.
Later, Diep's children continued his trade and enlarged the store. Interestingly, they were also agents of the Shell oil company.
Five generations of the Diep family have lived in the building. A collection of photographs as well as various personal items mainly from the era between 1920 and 1960 allows you to get a glimpse of the family's life. Also, there is an impressive coin collection. 
Tan Ky
This house, built in 1741, is called Tan Ky after its second owner Le Tan Ky. By now, 7 generations of the Le family have lived here.
In the past, the house was used to trade agricultural products. It connects the Nguyen Thai Hoc Street with the Bach Dang Street on Hội An's riverfront.
Just like most of these ancient houses, Tan Ky is a mix of Chinese, Japanese, and Vietnamese architectural styles.
Its interesting architectural style consists of two overlapping columns, symbolizing the relationship between men and the heavens. Another 5 vertical columns symbolize 5 fingers and stand for the five elements.
Supposedly, this house was built without using any nails at all.
Phung Hung
The first owner of the Phung Hung Ancient House was a Vietnamese merchant. This two-storey mansion stems from 1780 and was also designed by combining Chinese, Vietnamese, and Japanese styles. Latter is for instance reflected in the four-sided roof.
The building is a typical commercial house. In the past, it was a store selling goods like cinnamon, pepper, salt, silk, chinaware, and glass.
A brief guided tour with some explanations is a lovely welcome as you visit. Then, you have time to explore the building on your own.
The present owners are the 8th generation inhabiting this ancient treasure. On the upper floor is a shop selling fine embroidery.
Assembly Halls
Hainan Assembly Hall
Hainan Assembly Hall, aka Quynh Phu, was a reunion place for Chinese migrants from Hainan and Hakka. It was built in 1875 to commemorate the 108 Chinese who were executed under the Nguyễn dynasty. Tragically, they had been mistaken for pirates.
Located between Tran Phu Street and Phan Chu Trinh Street, the lavishly embellished temple has tall marble columns and an extraordinary wooden altar.
Trung Hoa Assembly Hall
The Trung Hoa Assembly Hall was constructed in 1741 and is consequently the oldest of the meetinghouses. Merchants from Fujian, Chaozhou, Guangzhou, Hainan, and Hakka built it collectively.
Here, they worshipped their Goddess Thien Hau, but also the genies Thien Ly Nhan and Thuan Phong Nhi.
That the hall catered to all Chinese regardless of their ethnicity makes this hall unique.
Even after three centuries, its original architecture is preserved in a captivating combination of typical Chinese and traditional local elements. At Trung Hoa, visitors can also admire models of old Chinese boats.
Assembly Hall of the Fujian Chinese
Phuc Kien or the Fujian Assembly Hall is probably Hội An's most photographed sight. In 1690, it was commissioned as a gathering place for residents from Fujian, obviously. However, the main gate was added much later.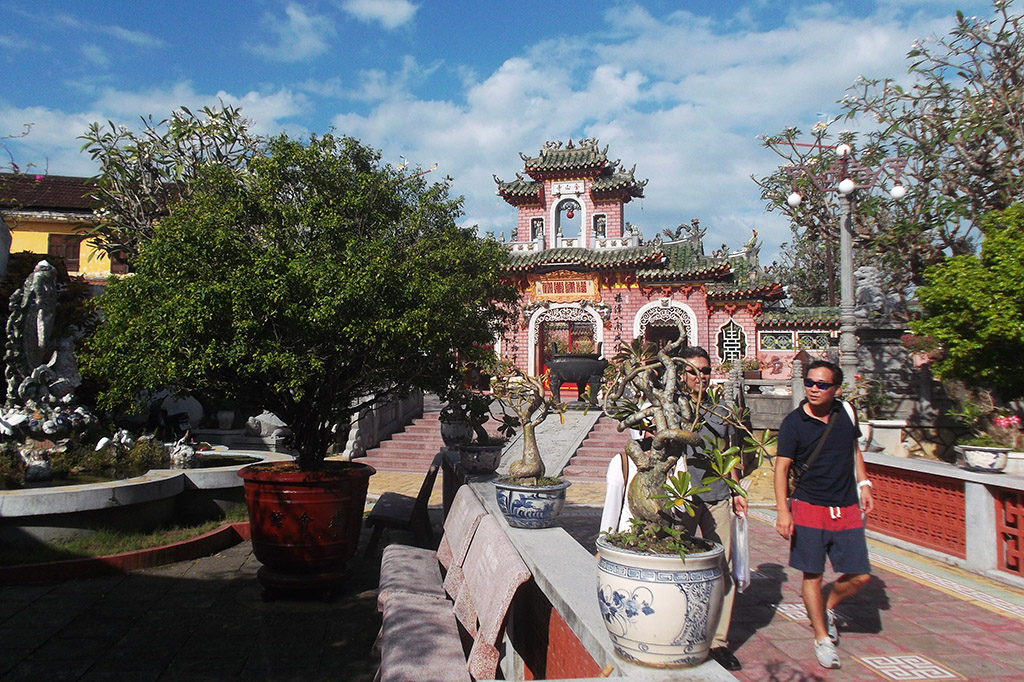 Inside is the Jinshang Golden Mountain temple dedicated to Thien Hau, the Goddess of the sea and patron of mariners. However, there is also a fertility shrine for couples to pray for conception.
Cantonese Assembly Hall
The precise construction date of the Cantonese Assembly Hall, aka Quang Trieu, cannot be determined. However, it probably dates back to 1885.
It shows beautiful wood carvings and finely decorated columns, made from a single block of granite.
Initially, it was dedicated to the worship of the Sea Goddess Thien Hau and Confucius. In 1911, it became a place to worship General Quan Cong as well as deceased ancestors.
Bridges
Japanese Bridge
This covered bridge Chùa Cầu connects the historical Chinese with the Japanese district. Commissioned by a wealthy Japanese trade guild, it was first completed in 1595 and stretched 18 meters long across a tributary of the Thu Bồn River.
Portal figures at the two entrances indicate that construction began in the year of the monkey and finished in the year of the dog according to Chinese astrology.
After the bridge was destroyed and rebuilt various times, the current design dates back to 1763. At that time, also the small bridge pagoda was added.
Bridge of Lights
The An Hội Bridge crosses the Thu Bồn River. It is decorated with images of a unique carp.
From the bridge, you can watch boats gliding on the water and the bustling ado on both banks of the river.
The best time is at dusk or even at night when the city is beautifully brightened by Hội An's iconic lanterns and the windows of the houses along the river promenade are illuminated.
Then, this sometimes underrated bridge lives up to its name.
Temples
Chùa Bảo Thắng
Chùa Bảo Thắng is probably Hội An's oldest temple – and normally overlooked by foreign visitors.
Nevertheless, a quick visit to this beautiful monastery is worth the time. At this peaceful place, nuns produced all kinds of incense sticks for the temple, but also for individual purchase.
Chùa Pháp Bảo Pagoda
From the least visited to the most famous place of worship in Hội An, the Chùa Pháp Bảo Pagoda.
Pháp Bảo was one of the first Chinese Zen teachers to bring Lam Te Zen to Hội An at the turn of the 17th century. First, he only set up a small workshop to practice spiritually. Then, a few years later, he opened a school and the community kept growing. Today, the Buddhist Committee of Hội An has its seat at the Chùa Pháp Bảo.
When visiting, please remember that this is not just some tourist attraction but an active Buddhist temple with monks. Therefore, you should act prudently, dress modestly, and take off your shoes inside the temple.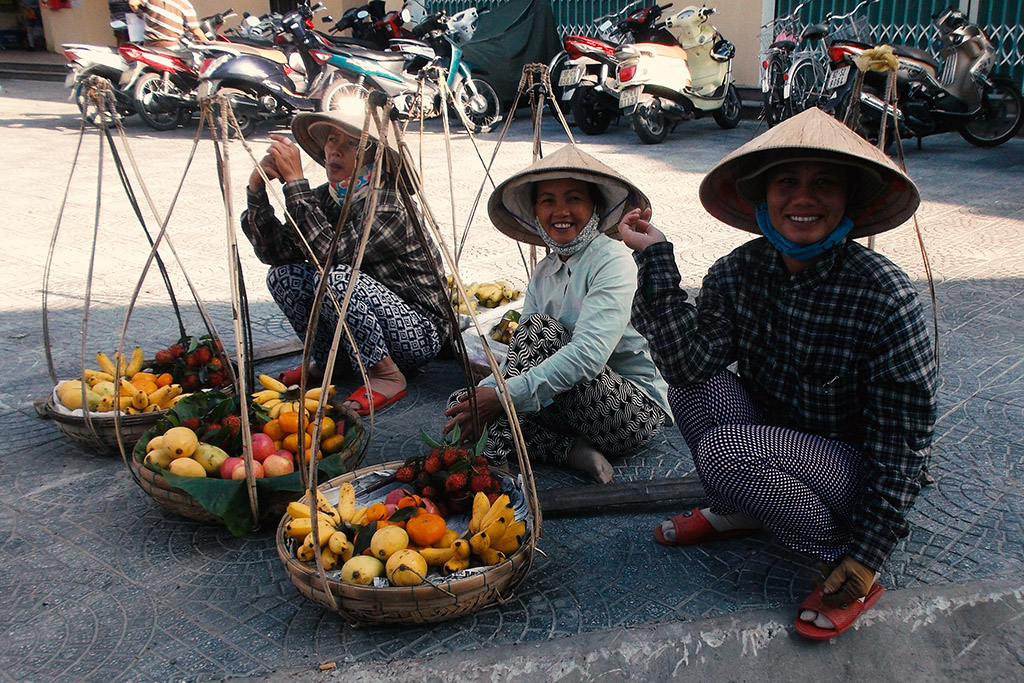 On the eighth day of the fourth month of the Chinese lunar calendar, Buddha's birthday is celebrated throughout Vietnam. In Hội An, the main festivities are taking place at the Chùa Pháp Bảo Pagoda. On this occasion, the temple is lavishly decorated and the monks walk in several processions through the city.
So, what's the deal with these fruit vendors in Hội An? Well, these ladies are very friendly. Smiling and laughing, they willingly pose for pictures. Also, some visitors put their hats on and carry their yokes.
Eventually, they expect you to buy some of their fruits. This would be fine and dandy if they would not charge 250,000 VDN for a couple of mandarins and rambutans. At the market, you'd actually pay a fraction. Just sayin'.
Đình Cẩm Phô
Đình Cẩm Phô is a communal house installed in 1817 on Nguyễn Thị Minh Khai Road west of the Japanese bridge. Since then, it has been restored and embellished various times.
Many Vietnamese villages have a communal temple. Here, Thành Hoàng is being worshipped. He's a deity that guards the village against disasters and brings it fortune.
Today, the communal temples also play the role of a gathering place, akin to modern civic centers.
At the Đình Cẩm Phô, you can learn about Hội An's history and development at an exhibition of Vietnamese-Chinese and Japanese imprints. Also, a Japanese Tea Ceremony takes place here.
Water Puppet Theater
Apart from Hanoi, and Ho Chi Minh City, Hội An is one of the very few places where you can enjoy the traditional water puppet theater.
The water puppet theater exists exclusively in Vietnam. It was an integral part of the country's cultural life as early as the 11th century. For the longest time, it was almost extinct, but a French organization brought that tradition back to life in the 1980s.
A small orchestra accompanies the entire performance. Also, the musicians lend the puppets their voices. They sit next to the stage which is a pool of water. In the past, this basin was the village pond or a lake.
Behind a curtain, the actors are standing in the basin and handling puppets that are mounted on long sticks. The wooden dolls are up to one meter tall and weigh up to 5 kilograms. A coating of resin and varnish makes them waterproof.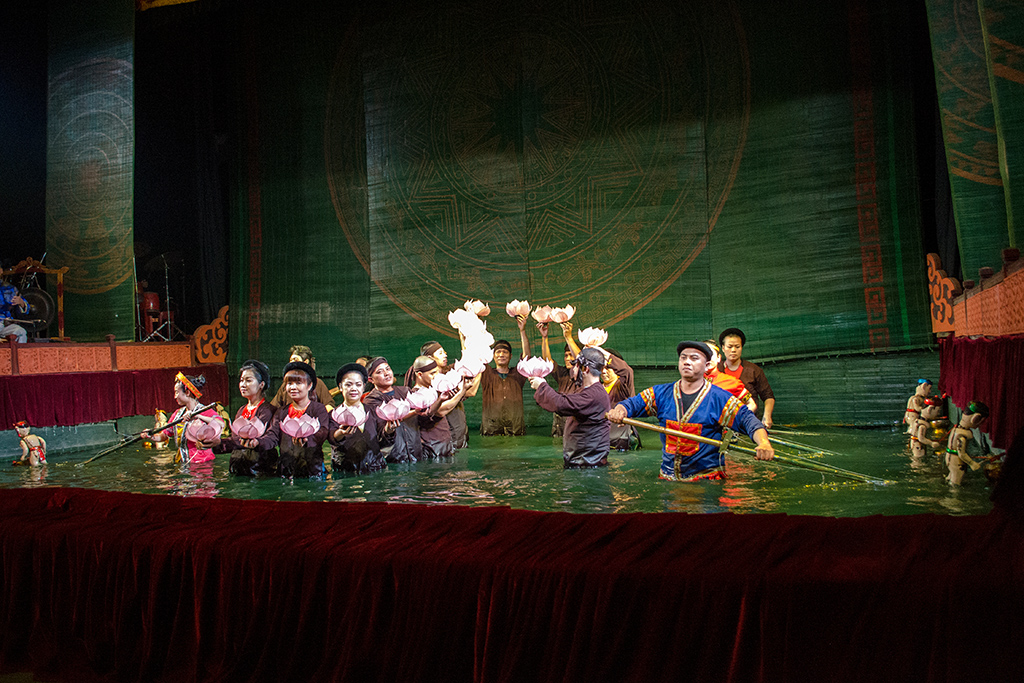 Usually, they perform scenes from traditional rural life including farmers, buffalos, and fishermen. However, there are also mystical dances of lions and fire-breathing dragons as well as sacred animals. It's beautiful and great fun with lots of splashing and pyrotechnics.
Hội An Water Puppet Show
548 Hai BàTrưng
Phone: + 84 – 941 37 89 79 (hotline)
Email: hoianwaterpuppetshow@gmail.com
The show takes place every day except Wednesday and Sunday. It starts at 6.30 p. m. and finishes at 7.15 p. m. Adults pay 80,000 VDN and kids 40,000 VDN.
Mỹ Sơn
Hội An is also the starting point for trips to the remnants of Mỹ Sơn. They are about 50 kilometers west of the city and made it to the list of UNESCO World Heritage Sites in 1999.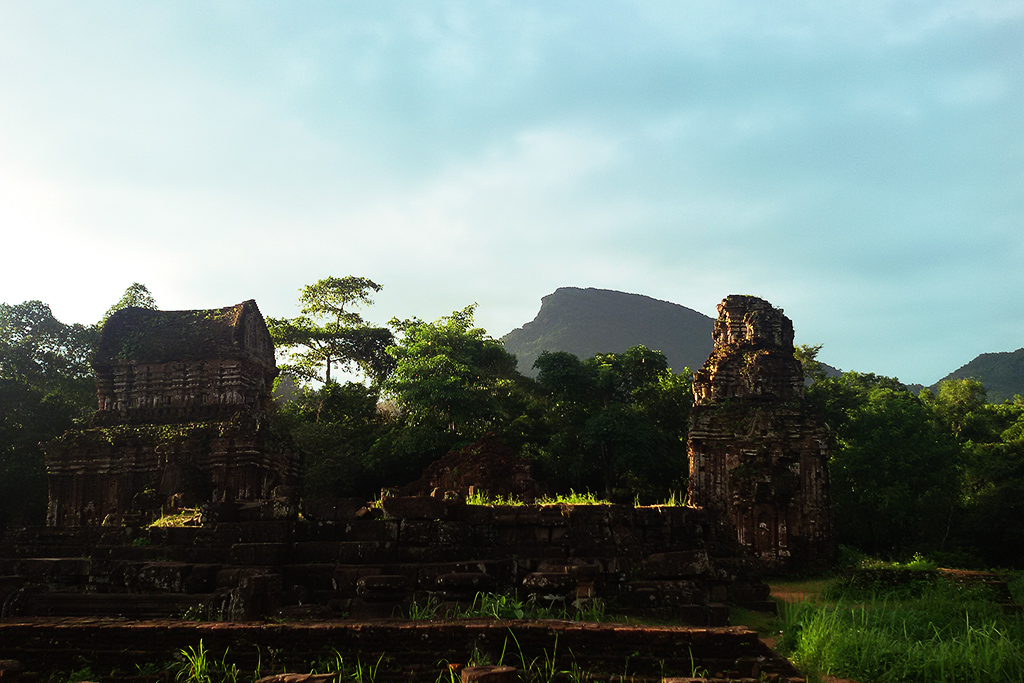 Over the 2nd or 3rd century, the Cham culture developed in Cambodia as well as in Vietnam's coastal region. The strong influence of Indian culture on the Cham shows particularly in the adoption of Hinduism and in the arts.
From the realm of the Cham, more than 70 temples have been preserved in Mỹ Sơn.
The most famous tower was 24 meters high and decorated with sculptures of lions and elephants. During the Vietnam War, US soldiers bombed and destroyed it in 1969. During these bombardments, they actually damaged respectively destroyed a total of 50 of the 70 temples.
Unfortunately, the reconstruction work turns out to be extremely difficult. The seamless construction of the Cham has not yet been reproducible. Also, the use of mortar leads to the unsightly growth of moss.
Mỹ Sơn is related to the Cham temple tower Po Nagar that I'm describing in my post on Nha Trang.
A Memorable Encounter
I went with a small group to the ruins of Mỹ Sơn, guided by a very sweet young tour guide. Very fit, very smart kid, great command of English.
During the Vietnam War, Private Ryan and his fellow occupiers thought it a good idea to also destroy part of the ancient temples. Consequently, the topic of the Vietnam War came up. The smart kid told us about his father who fought in the war. Not only did that man fight with the Vietnam National Liberation Front, aka Viet Cong. He also lost his six brothers in that war.
So from then on, he has hated Americans. All Americans.
But since he cannot distinguish Americans from other Caucasians, he simply hates Westerners. All westerners.
"If he knew what I'm doing for a living, that I am working with foreign tourists, he would kill me", laughed the smart kid. "He knows that I'm a tour guide. But he believes I'm working exclusively with Vietnamese."
Once he took some Dutch friends to his father's house. The father obviously freaked out and swore at them. The smart kid made a great deal of what the man said to disappear in translation. Then, he modified the rest to "My father welcomes you to Vietnam; and now we have to go".
I told you he's a smart kid.
Behind Closed Doors
Yes, this story is funny. But it reminded me of the tour guide that yelled at me because I'm calling Hồ Chí Minh City by its post-war name instead of Saigon. That one was clearly not okay with communism. I wrote about this more than unpleasant encounter in my post on Hồ Chí Minh City.
Therefore, I ask myself how people who understandably feel that strongly about this topic manage to live side by side without going at each other's throats.
Is it the aftermath of the war trauma?
Is it Buddhism?
Do Vietnamese live and hate each other on a daily basis living side by side as neighbors?
Or does the old division between the North and the South still exist so that they can hate each other from afar?
I'm really curious.
Cửa Đại Beach
If you can spend more time in Hội An and need a break from all that manmade beauty, there is some natural beauty just around the corner.
The beautiful Cửa Đại Beach, a long stretch of white powdery sands is just 6 kilometers northeast of the city center. The water here is very clear and quite calm.
Since many parts of the beach are private property, you will be expected to purchase a drink or a snack from one of the local hawkers, especially if you are not renting a sun lounger.
Cửa Đại Beach is obviously far more enjoyable during the week as on weekends, it tends to get busy.
There are also plenty of good seafood restaurants along the coast so it's definitely worth staying for dinner.
Obviously, visiting Cửa Đại is a good plan as long as the sun is out. After I had spent one day in Hội An, there was nothing but pouring rain for three days straight.
Wish you better luck!
Practical Information
How to Get There
Vietnam's coast stretches on the north-south axis of about 1,650 kilometers. This makes land travel quite time-consuming. Nevertheless, there are daily direct buses to Hội An for instance from the beach resort Nha Trang. This journey takes approximately 11 hours.
If you go up north to Huế, there are two daily buses from Hội An. This trip takes only about four hours.
However, you can make the latter transfer a comfortable day trip including a couple of stops.
You get to see Lăng Cô Beach – which is only nice if the weather is good enough to take a dip. A breathtakingly beautiful part of the trip is crossing the 21 kilometers of the Hải Vân Pass to the Bach Ma National Park.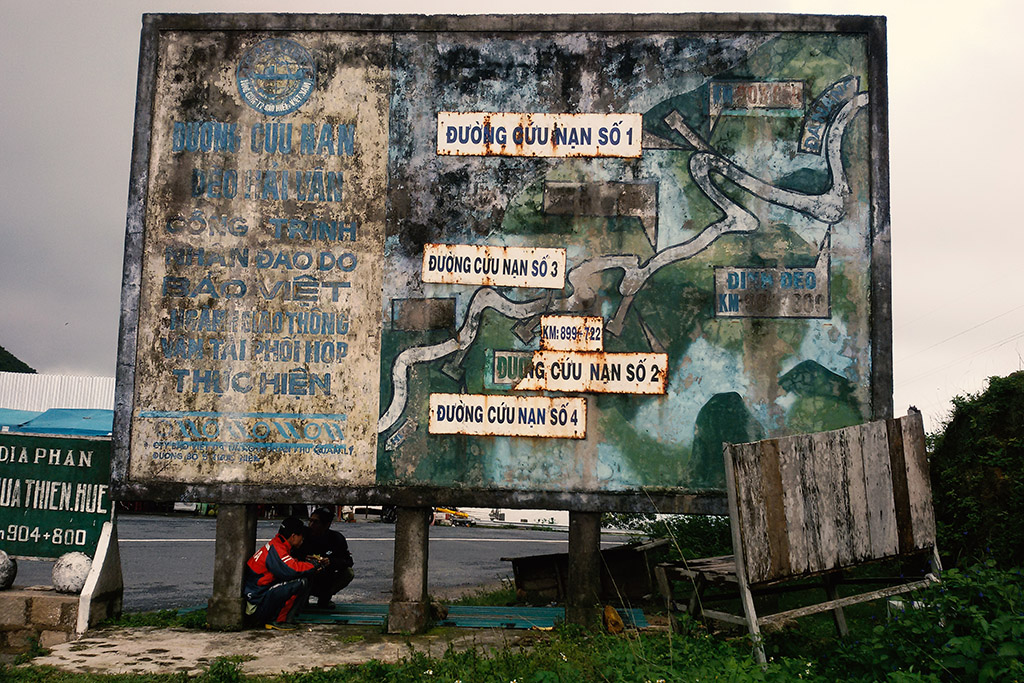 Shortly before you arrive at Hội An, you have enough time to visit the so-called Marble Mountain. It is a spiritual pilgrimage site, consisting of several Buddhist pagodas and caves. This group of five mountains from marble and limestone represents the five elements.
You can book this spectacular transfer right on this page. This is a door-to-door service, obviously.
Flying to Da Nang
Hội An is pretty much halfway between Hồ Chí Minh City and Hanoi. So if you aren't meandering from spot to spot by bus, you'll probably fly in. Direct trips take really long.
Since the city does not have an airport, visitors have to fly into Da Nang International Airport.
Depending on the mode of transportation, you'll need for the 30 kilometers to Hội An between 45 to 90 minutes.
The cheapest option is a minibus that will pick you up at the airport and bring you to your accommodation in Hội An. A representative will meet you on arrival and accompany you to the bus. The shuttle runs every hour between 5 a. m. and 11 p. m. and the trips cost 110,000 VND per person one way.
Obviously, you can also take a cab. In this case, you should opt for either Mai Linh or Vinasun. The ride will cost about 500,000 VND. So if you can share the ride with two other people, you pay hardly more than for the minibus, but you are far more flexible.
How to Get Around
Considering the Vietnamese way of driving, it's quite relaxing that the historic district is mostly reserved for pedestrians. Other than that, only cycling is allowed.
Hence, renting a bicycle is the best way to explore the inner city as well as the outskirts. You can get a bike at most of the guesthouses.
For longer trips or if the weather is bad, you can always take a cab. Those are very cheap to European or American standards as long as you get a reputable company. Hence, look for cabs like Mai Linh or Vinasun and insist that the driver turns on the meter.
Where to Stay
Even in rather touristy places like Hội An, you can find reasonably priced accommodation. Since I was initially planning my stay between the cultural treasures of Hội An's old town center and some relaxing hours on the beach, I treated myself to a stay at the Ylang Garden Villa* in the periphery.
From here, I cycled just minutes to the center – and had cycled maybe half an hour to the beach. Sadly, it was raining most of the time during my stay.
Yet, if you want to check out other convenient lodging options, you can do so on this map*:
Where to Eat
Of course, you can feast on any kind of Vietnamese delicacies in Hội An. My favorite is Bale Well on Trần Hưng Đạo, an unspectacular back alley.
They have basically one or two dishes, but they are sooo good and plenty. The waitress prepares your first two or three Vietnamese rolls including chicken, kimchi, peanut sauce, and some other yummy stuff. Then, you're on your own.
Good luck with it.
However, if it doesn't work out that beautifully, the ingredients taste deliciously also separately.
Another unspectacular yet great place to eat is the market right in the center of Hội An's old town.
At different stands, you can sample a great variety of delicious snacks.
What to Visit
I'm an avid solo-travelling woman. Since solo travel doesn't equal solitude, I love to join organized tours here and there. They allow me to meet fellow travellers – for just a short moment or a lifelong friendship. The ride from Hội An to Huế was the perfect example of how this can work out.
Therefore, here are some great ideas of what to do during your stay in Hội An. Especially if you have only a short time to stay, they'll enable you to make the best of it*:
What to Shop
There is no better place to shop than Hội An. You might even pay a bit more than at the markets in Hồ Chí Minh City. On the other hand, the style and quality here are far better.
Many buildings along Hội An's main streets offer a wide range of high-quality handcrafted souvenirs from leather, silk, or wood. The bags, wallets, and belts are made from robust buffalo leather. Therefore, they look rather cool and rustic than fine and elegant. I simply love this style!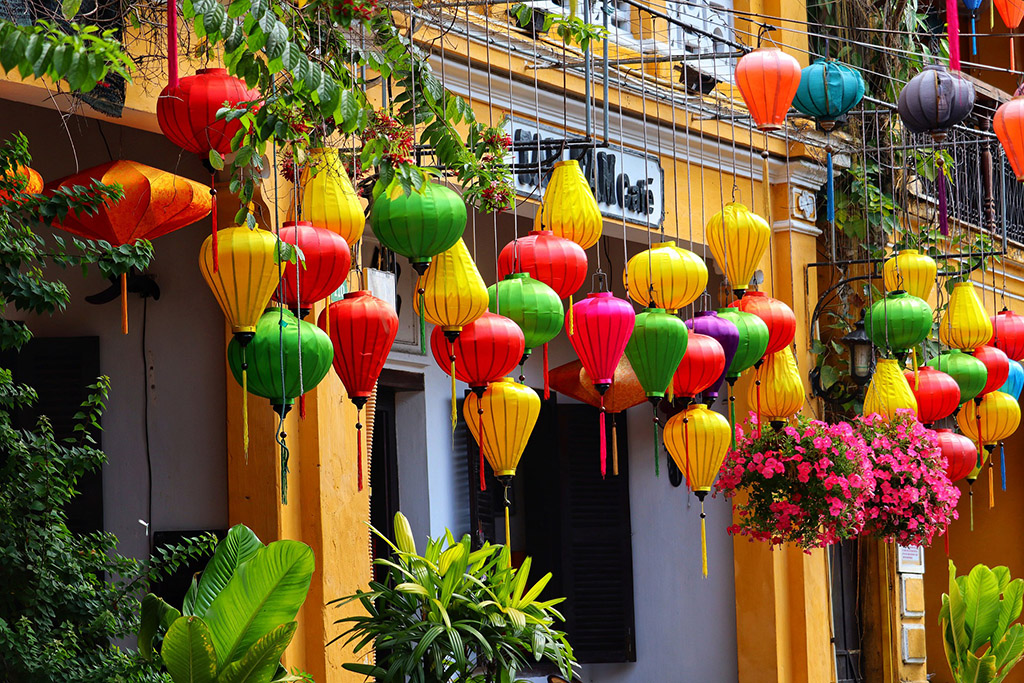 Colorful lanterns made from leftover silk are another tourists' favorite.
Especially the tailors along Nguyễn Thái Học Street know exactly what they are doing, and they do it at an incredible price – mostly overnight!
Yes, I actually got myself an Ao Dai, the traditional female attire.
I was very grateful as the lady measuring me mumbled I had to pay more since they will have to use so much fabric on me while she was checking the length and not the width…
Yes, compared to Vietnamese women, I'm an ogre.
Silk Road Tailor Hoi An
91 Nguyen Thai Hoc
Phone: +84 – 90 535 71 73
Email: silkroadvn@hotmail.com
Quirky Souvenirs
Coming from Europe and remembering how things were back in the socialist days, the way the Vietnamese are dealing with history and politics baffled me more than once.
Behind Eastern Europe's iron curtain, politics were a serious, serious thing. No cracks about the government, no doubts, and certainly no marketing schemes with the emblems. One wrong remark and you were in big trouble.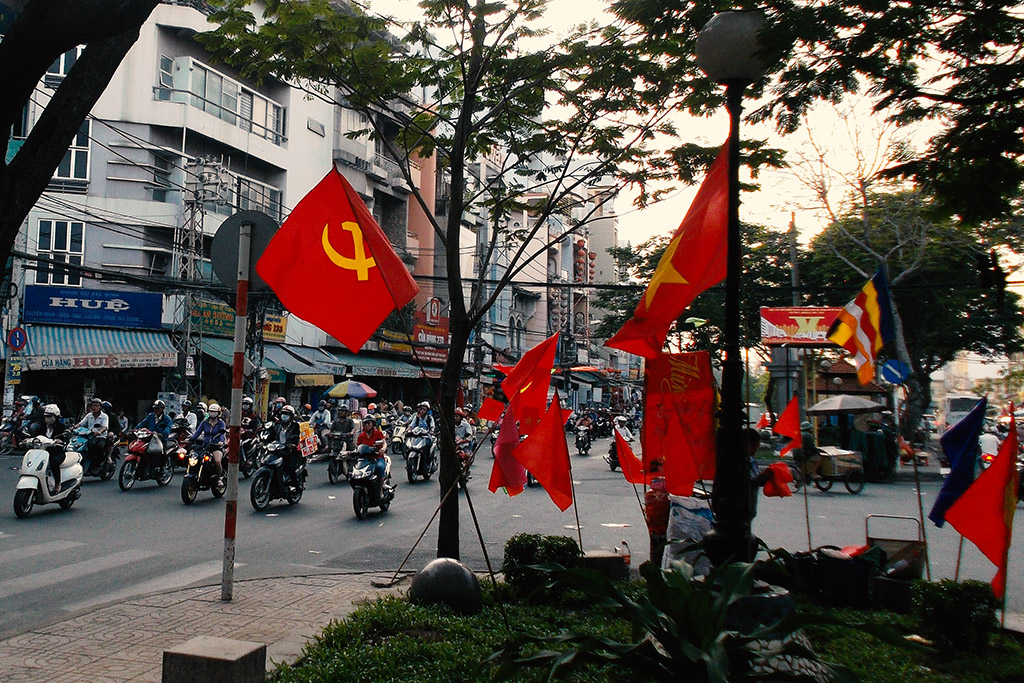 This seems not to be the case in communist Vietnam. On the one hand, there is pure and utter pride and propaganda everywhere you look. Red flags with the five-pointed star are flapping as super-animated young pioneers cheer into some glorious future. On the other hand, memories and symbols are not treated with much respect.
In Hội An's Nguyễn Thị Minh Khai street, they are selling communist propaganda posters from the 1970s. Apart from the years printed on them, they do not differ a bit from today's propaganda.
Tell Me Why
Selling the ideology at a souvenir store is clearly mocking. Nobody will buy these posters thinking "Oh, young pioneers should follow the lead of Hồ Chí Minh – that's an interesting thought. I think I want to hang this next to the TV set to not forget about it." People are buying it because they find it hysterical.
I know this phenomenon for instance from Berlin. Having their picture taken with a communist soldier's hat is the most hilarious thing among tourists. It seems to be something between the forbidden fruit – the demon's hat on my head, hahaha – and a caricature. Still while in Berlin, they are mocking the past, in Vietnam, real communist propaganda is still everywhere.
How do they manage to indoctrinate with something that at the same time is being mocked?
Cash And Cards
Hội An is not only touristy, but it is also a great place for shopping. Consequently, they make paying easy. There are banks and you can get cash from ATMs. Also, credit cards are widely accepted.
One US-Dollar equals 23 Dong (VND) and one €uro 24 Dong (VND) as of May 2022. However, here you can check the current rate.
Map
On this map, you'll find Hội An's most important landmarks that I'm introducing in this post:
Hoi An was just one stop on my exciting visit to Vietnam. Go to the main post to check out all the other destinations.
Pinnable Pictures
If you choose to pin this post for later, please use one of these pictures:
Note: I'm completing, editing, and updating his post regularly – last in March 2023.
Did You Enjoy This Post? Then You Might Like Also These:
* This is an affiliate link. If you book through this page, not only do you get the best deal. I also get a small commission that helps me run this blog. Thank you so much for supporting me!