Open Sesame: My two days in Fez, the oldest imperial city in Morocco with one of the most exciting historic old towns, were an absolutely magical introduction to a place from 1001 nights.
Ahlan Wa Sahlan
Ahlan Wa Sahlan – welcome to Morocco.
There are times I really need to stick to my own advice. For instance, how to surpass pre-travel anxiety. As a matter of fact, I'm nervous before each and every trip. Actually, that's why it was so easy for me to put together my post on Keep Calm and Travel Solo. I didn't have to put myself into someone else's shoes, I am wearing a nice pair of panic-slippers myself – before each trip. And going to Morocco by myself wasn't any different. There was a buttload of what if's. What if I lose my way in the Medina? Will some guy show me the way out only if I hand him a small fortune? What if cab drivers keep scamming me? What if someone keeps following me? Or harassing me to buy cheezy souvenirs?
Or…yes, there was a buttload of what if's.
I was terrified.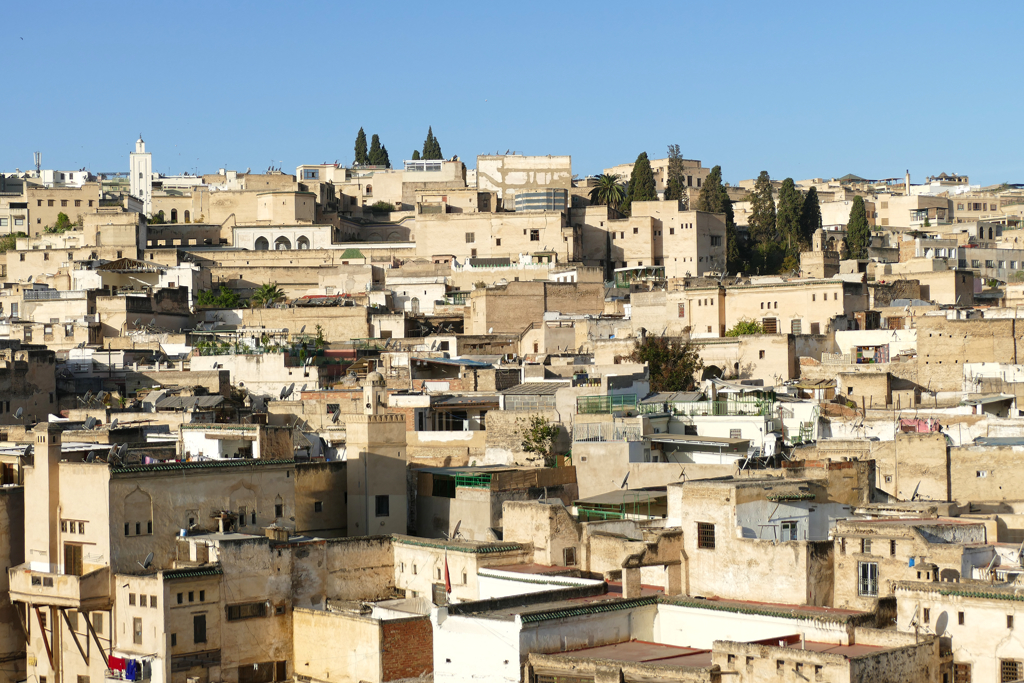 And as it always goes, as soon as I landed at the airport of Rabat-Salé, I was totally on top of my game. I got Dirham from an ATM, asked at the airport information how much a cab to the train station of Salé should be, and stepped into Morocco's noonish heat, ready to face the world.
Nobody's Fool
Or the first cab drivers. And as expected, the first one quoted triple what the gentleman at the information had told me. Nope, I'm not going with you.
And neither did I go with the second one who also wanted triple nor with the third one who asked for the same.
You know what, forget it, I'm taking the bus to the train station in Rabat.
That very moment, out of the blue, appeared a fourth cab driver asking for the 50 Dirham that should be the correct fare. I was so perplexed that I confirmed this modest amount in French as well as in Arabic before heaving my suitcase into the trunk.
I had won the first battle against the cab mob.
Is it Fes El Bali or Fez Al Bali?
Great question, I'm so glad you asked.
Well, obviously, this is a transcript from Arabic where it's clearly written with an S. Yet, I prefer the alternative spelling with a Z since it's the English way and my blog is written in English.
Regarding El or Al, in Arabic, there is only one vowel for both, the letter A as well as the letter E, hence, it's totally up to you which one you use for your transcription. I personally prefer Al.
Howsoever, none of these versions are wrong.
Pick Your Battles
After a three-hour train ride from Salé to Fez, however, I was not such a trooper anymore. I was tired, it was after dark, I didn't see a point in haggling over the equivalent of two or three Euros – just take me to my Riad and we both call it a day.
That's, by the way, one of my most valuable tips: If your safety, your well-being, and peace of mind are at stake, it shouldn't matter that your mean of transportation comes with a price tag! Or any other service, for that matter.
Walking Tour Through Fez Al Bali
My first morning in Fez proved that there was nothing to be nervous about. I did not get lost in the Medina, people did not take advantage of my disorientation, they didn't follow me, nor did they insist on selling me cheezy souvenirs. They were helpful and friendly and made it possible to find my way to the post office where I was supposed to meet Abderrahim.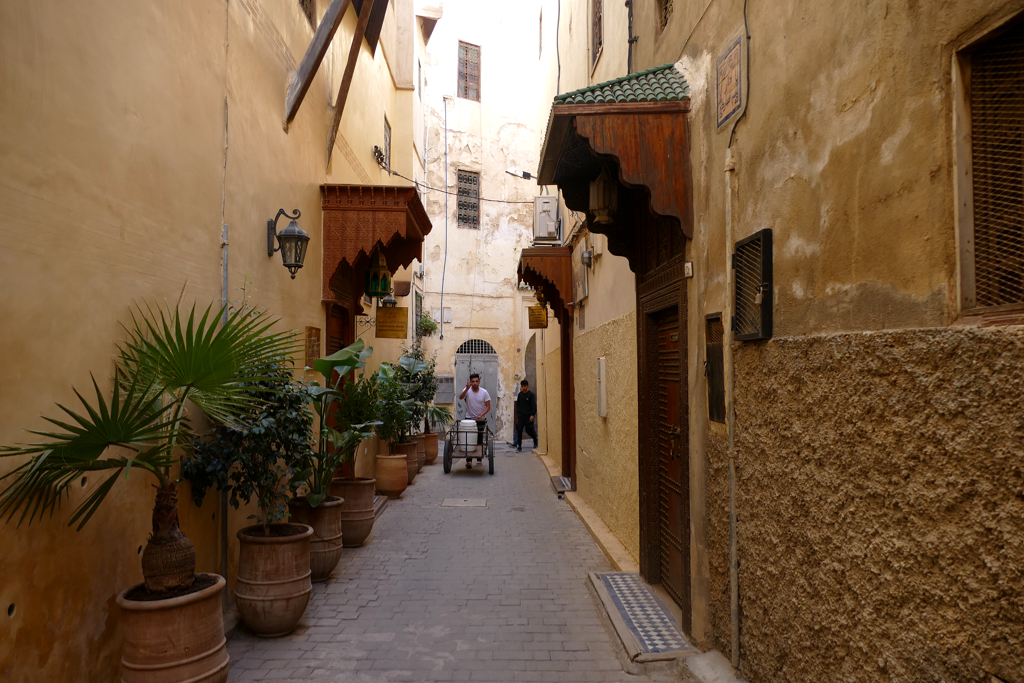 Who's Abderrahim? I'm so glad you asked. Abderrahim is a guidebook on two legs and he's generous enough to share his knowledge with visitors to his hometown Fez. Most importantly, he is a pleasure and great fun to be around.
A Guiding Star
As soon as our group is complete – there is Elena from Spain with her Italian boyfriend, Davide from Milan, a sweet couple from Kuala Lumpur whose names I sadly cannot remember, and me – Abderrahim navigates us through some of the thousands and thousands of alleys that make up this crazy maze which is the Medina of Fez. Actually, UNESCO couldn't resist putting this oriental wonderland on its list of World Heritage in 1981. Since then, there is money floating in to save those wonderful architectural masterpieces lining those alleys and transforming them into a maze.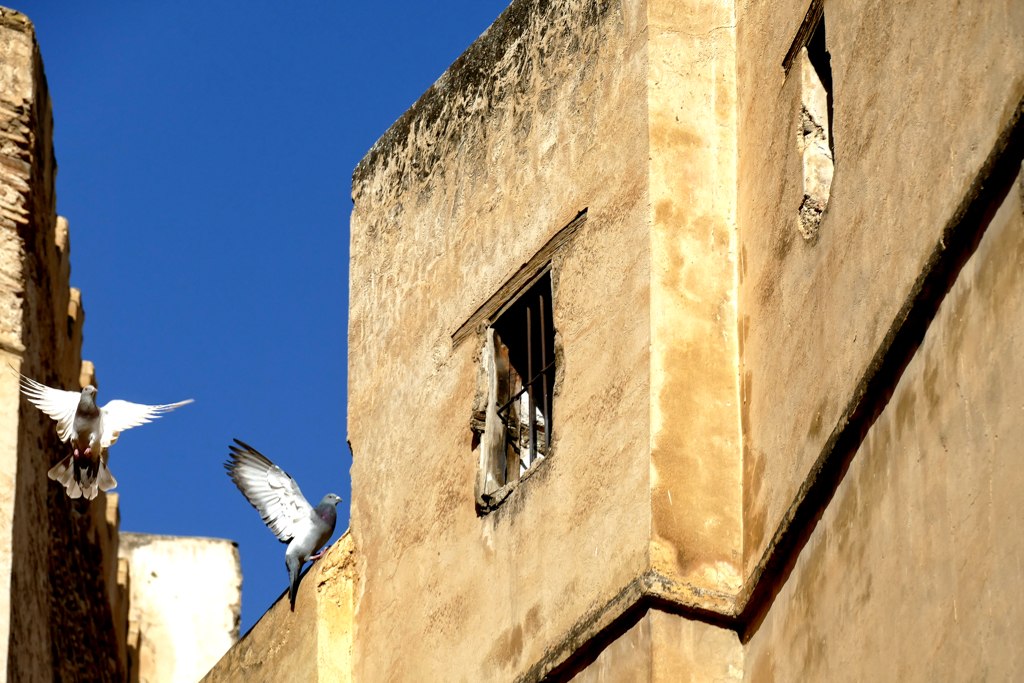 As Abderrahim is guiding us through this world-famous labyrinth, he sharpens our eyes for details and hints. At the end of this wonderful tour, I actually feel ready to explore more all by myself.
With an unspoken Open Sesame, Abderrahim opened the gates to many wonders in Fez's medina and braced me for two truly amazing days.
Below, you'll find the spots'n'landmarks I believe you should definitely see on your visit to Fez.
16 Must-Sees in Fez
Bab R'cif and Place R'cif
Since my Riad was on the eastern side of the Medina, close to the R'cif square, I start my guide there.
The Fez river is dividing the city into two major parts, namely the Andalusian neighborhood in the east and the Tunisian part. This distinction goes way back to two waves of migration, I'm explaining them below. Today, the Andalusian part of town is a rather poor district where there actually isn't much to see.
An exception is the Place R'cif with the imposing Bab – whereby Bab translates to gate. Since the Riad where I stayed was just a stone's throw south of the square, Place R'cif became quickly kind of my hood.
There's a lot going on around the large square, and fortunately, there are some eateries from where you have a great view of all the hustle and bustle.
The adjacent Terrafina bridge is one of the entrances into the Medina. But before you dive head over heels into the craziness, take a quick look at the R'cif mosque with its elegant minaret. The Alawid Sultan Moulay Slimane commissioned it in the 18th century.
Around the western part of the square runs a narrow covered gallery where fruits, vegetables, fish, and meat are sold.
Souks of Fez Al Bali
As I said, as soon as you cross the Fez river over the Terrafina bridge, you lose yourself in the thousands of small alleys of Fez el Bali, the oldest walled part of the city of Fez.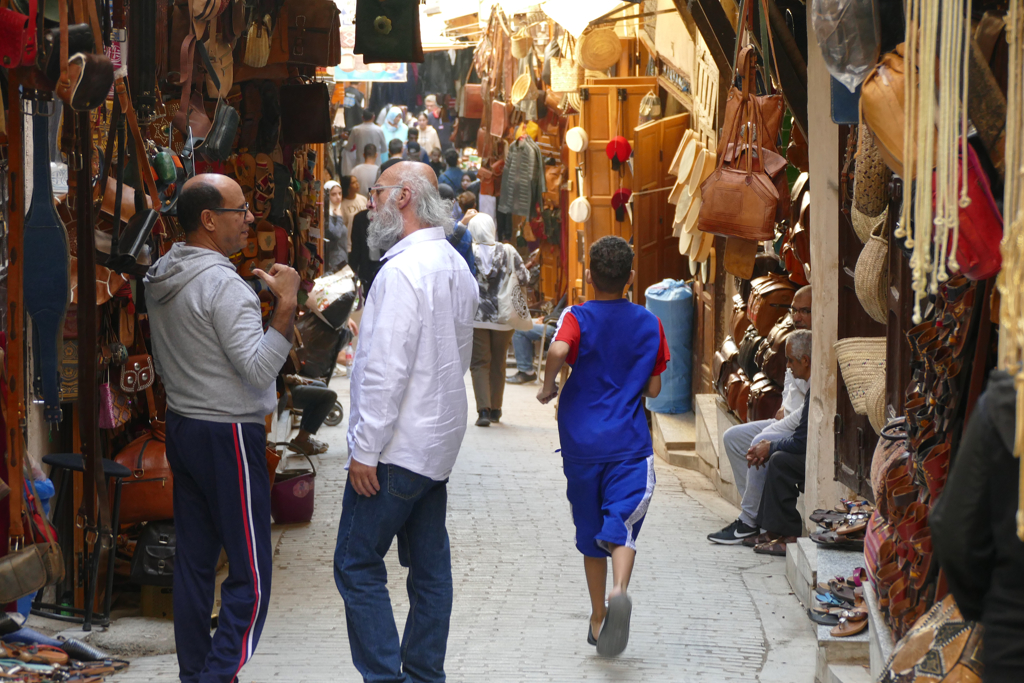 However, today, Fez Al Bali is mainly famous for various souks, hence, markets and shops where tourists tend to lose their way and spend lots of money on colorful oriental merchandise. Nevertheless, over 150,000 people live in Fez Al Bali. It is a strictly pedestrian area. As a matter of fact, it is the largest car-free area in the world based on the number of residents.
I have no sense of orientation whatsoever, therefore, I was petrified before my first visit to Fez Al Bali. But there is a trick: If you are like me and hate to get lost, you can simply stick to two main arteries, namely the Tala'a Kebira and the Tala'a Saghira. These two streets connect the western entrance of the city with the Al-Qarawiyyin area just around the corner from the famous Place Saffarine. As you then decide to turn into one of the narrow alleys, you can always come back to these two main roads so that you shouldn't get lost.
Howsoever, you cannot claim having been to Fez without an extended walk through the narrow alleys which in some spots are incredible 50 centimeters wide. You have to meander between the countless shops and stalls selling the best in leather, woodcarving, copper, spices'n'sweets and many other high-quality products.
Place Saffarine
I've already mentioned this square above because it's bordering the world-famous university Al-Qarawiyyin from where you enter the Tala'a Kebira road.
The Place Saffarine dates back all the way to the Middle Ages. It is framed by the Qarawiyyin's library to the northwest and the Saffarin Madrasa to the east. It was founded by the Marinid Sultan Abu Yaqub Yusuf Al Nasr in 1271 and is considered the first madrasa built during the Marinid era.
Also, there is the Saffarin Hammam which dates to the 14th century.
The square is named after the Saffarin which translates to coppersmiths. These craftsmen have had their workshops here for centuries. Today, they also hammer those metal plates for tourists, yet, there is a great variety of all kinds of handmade pots'n'pans, lampshades, and many decoration items.
University Al Qarawiyyin
The university was founded as a madrasa, hence, a school where Islamic studies are taught, respectively as a mosque by Fatima Al Fihri in 859. The founder was the daughter of the wealthy merchant Mohammed Al Fihri. She had vowed to use all of her inheritance to build a mosque for her community which had immigrated from the Tunisian city of Kairouan in the early 9th century. Hence, the name of the university translates to University of the People of Kairouan.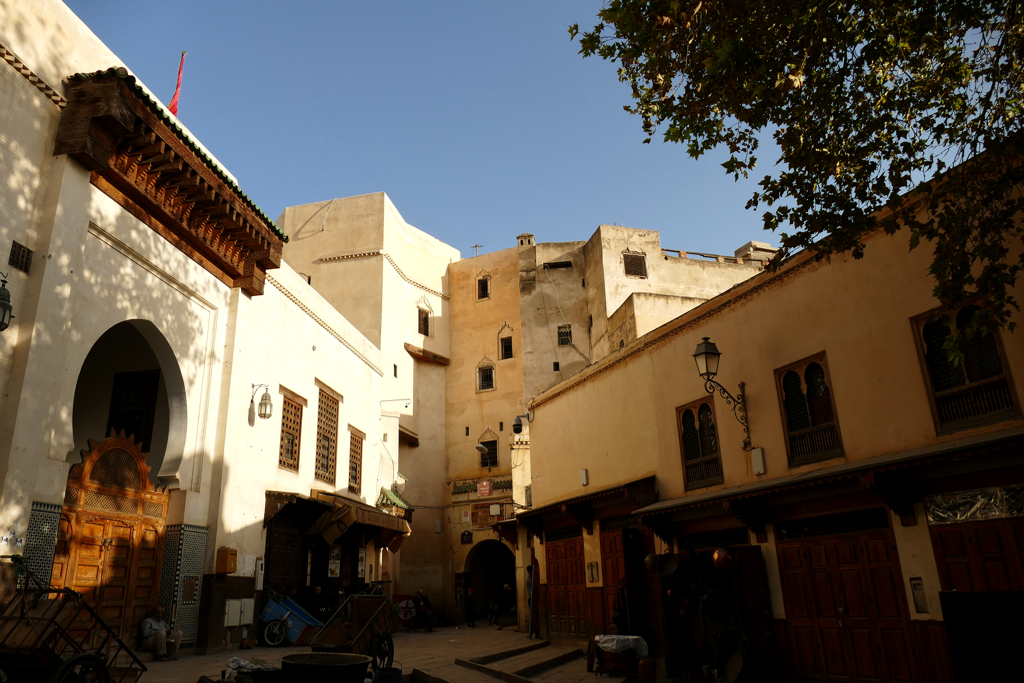 The Koran school came under the patronage of the powerful sultans. A large selection of manuscripts was collected and preserved in a library donated by the Marinid Sultan Abu Inan Faris in 1349.
In 1957, King Mohammed V added mathematics, physics, chemistry, and foreign languages to the curriculum. In 1963, the institution was incorporated into Morocco's state university system.
According to the Guinness Book of World Records, the University Al Qarawiyyin is the oldest educational institution in the world.
Since it is a sacred building, non-Muslims are not allowed to enter.
Why Don't You Introduce Mosques?
Great question, I'm so glad you asked.
As a matter of fact, unlike in other Muslim countries, in Morocco, non-Muslims are not allowed to enter Mosques and some other sacred places like for instance the Al Qarawiyyin University.
Theoretically, I could have taken pictures of Mosques from the outside. But many Mosques in Morocco are not freestanding on some square but part of the tight complex of buildings within the Medina so it's practically impossible to take a picture from a convenient angle.
Al Attarine Madrasa
Since the Al Attarine Madrasa is a former Koranic school and isn't operated anymore, you can visit it. This way, you'll get an idea of what all the other Madrasas and mosques are like.
The Al Attarine Madrasa is right next to the Qarawiyyin and borders the spice and perfume souk. It was commissioned by order of the Marinid sultan Abu Said Uthman and built between 1323 and 1325. Then, it was actually used until the early 20th century.
The building consists of various parts: There is a small antechamber and a large courtyard with a bordering prayer room with a mihrab niche facing Mecca. The tiny living and sleeping quarters of the students are in another annex.
A multicolored tile mosaic covers the floor of the main courtyard. In the center is a fountain bowl made from marble. Above a plinth is an inscription with quotations from the Koran written on black-glazed tiles. The upper part of the walls is made of carved cedar beams that were brought to Fez from the Atlas mountains.
It's amazing how the different materials and various designs form a harmonic result.
However, you will notice that the ornamental decoration shows almost exclusively abstract and geometric motifs. Floral shapes are sparse. Most importantly, there is no figurative decoration depicting people or animals whatsoever.
In my chapter on the Bou Inania Madrasa, you'll find an info box explaining ornamentation in the Islamic context.
Why Are Non-Muslims Not Allowed to Visit Mosques in Morocco?
Great question, I'm so glad you asked.
In Morocco, non-Muslims are not allowed to enter any of the sacred buildings. The only exception is the Hassan II Mosque in Casablanca.
Many people mistakenly believe this is due to the Koran. But according to Islamic law, non-Muslims are allowed to visit mosques as long as it's not during prayer time. Also, they have to stick to the proper decorum, obviously. Enforcement of this law varies greatly from country to country: While for instance, in Egypt and Turkey, anyone can enter a mosque, it is strictly forbidden in Saudi Arabia.
In the special case of Morocco, it was the French occupying forces who prohibited Europeans from entering mosques to create a respectful climate during the French protectorate. Although Morocco is no longer a French colony, this law is still in force.
Chouara Tanneries
Moroccan tanneries were already famous in the Middle Ages. According to old tales, in ye olden days, Morocco exported leather products all the way to Baghdad which is about 4000 kilometers further east.
While over the past centuries, European countries banned most tanneries from their cities, numerous businesses remained in North Africa. Apart from the most famous ones in Fez, there are tanneries also in the Moroccan cities of Tetouan and Marrakech.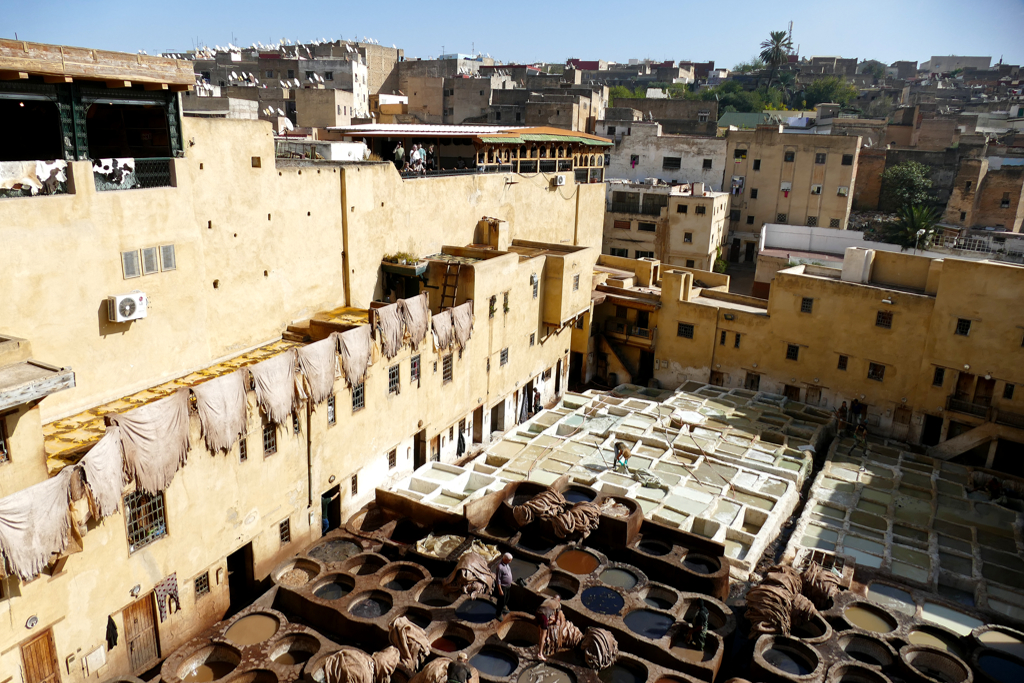 However, the Chouara Tanneries are the most famous ones. They consist of large stone pools which are surrounded by building complexes.
The leather is then colored in the basins in the humongous courtyard. It is emphasized time and again that only traditional methods are used in the tanning district of Fez instead of chemicals like in the rest of the world. The tannins are said to come from tree bark, the color is extracted from plants and minerals. But the smell around the basins is not exactly flowery: Tanning has always been an odoriferous trade and Fez's traditional methods of tanning involved animal urine and feces. They are softening the skins, and the remains of hair can be removed more easily. Shockingly, the tanners are standing in this abominably stinking swill.
First, the skins have to be tanned, then dried, and finally dyed. Some of the men work in gloves and rubber boots. Others, however, use their bare hands and trample on the leather with their bare feet.
A Disturbing Tourist Attraction
Almost every leather shop in the area has a terrace from which you get a bird's eye view of the tanneries. You don't pay admission. Instead, the shopowners hope that you will buy a bag or a jacket.
Before we got to the balcony, we were handed sprigs of peppermint to shelter our noses from the stench. But I must say that I thought it would be far worse. Maybe it depends on the day or the temperature but the day we were there, the smell was not that bad.
Nevertheless, loads of animal skins lie next to the basins. They come from sheep, goats, donkeys, camels, and cattle from the region. Later, they are made into shoes, cushions, belts, and handbags. Most shops lining Rue Chouara sell leather accessories and clothing and while the wallets and purses are nice, most of the jackets are simply not fashionable and cool enough.
Howsoever, if you want to buy leather accessories, do it in Fez. Since it was the first stop of my tour of Morocco's Imperial Cities, I refrained from shopping. Later, I regretted that I didn't pick up a couple of small things as gifts for my friends and family since the assortment in the other cities was by far not as great as in Fez.
My Two Cents
Now that you know how hard the trade of a tanner is, you'll understand that I had mixed feelings about visiting these hellish working places. Whereby admittedly, a visit to Chouara was very high on my list since this is such a unique experience. But once I was standing on the balcony, watching those men wading in the sludge, I thought once again what a bizarre thing modern tourism is.
I mean, we were standing there, observing and photographing how people are doing their job. A literally very shitty job. A terribly underpaid job. I was in Morocco in November, hence, the temperatures were pleasant. But those poor laborers work there also in summer when temperatures are reaching easily 40 degrees Celsius – which is 104 Fahrenheit in case you wonder.
This is agony.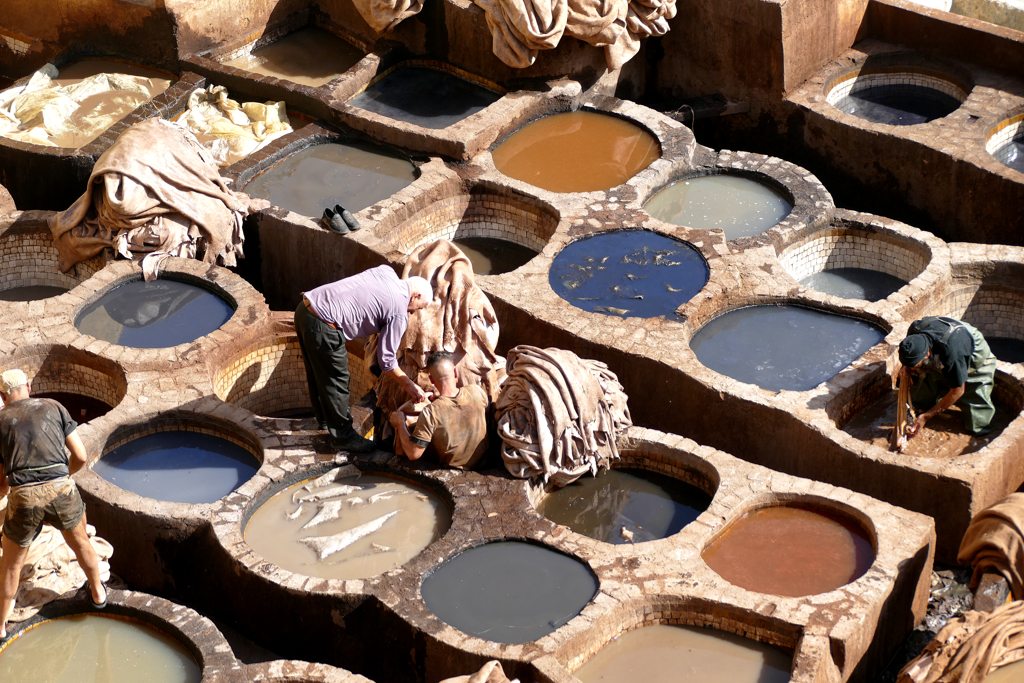 Actually, I personally would be quite annoyed if suddenly a group of tourists showed up at my office and watched me working and took pictures of me. And my workplace isn't even dirty and smelly.
How about you? Are tourists coming to your office to observe what you are doing?
Does this notion make you laugh? Or are you indignant at this idea?
But why don't we feel like insensitive morons doing exactly this thing in another country? Because there, poverty is so picturesque?
The world is a bizarre place.
By the way, if you're working at Disney World so that you are watched and photographed by tourists, that doesn't debunk my point as those guys are not standing in feces to entertain travellers.
Mausoleum of Moulay Idriss II
The so-called Zawiya of Moulay Idris II is a mausoleum that houses the emperor's tomb. He is the main founder of the city of Fez and ruled Morocco from 807 to 828. His mausoleum is considered one of the holiest shrines in all of Morocco.
The current building was vastly remodeled under Moulay Ismail in the early 18th century. This was also when the iconic minaret and the mausoleum chamber with the large green-tiled pyramidal roof were added.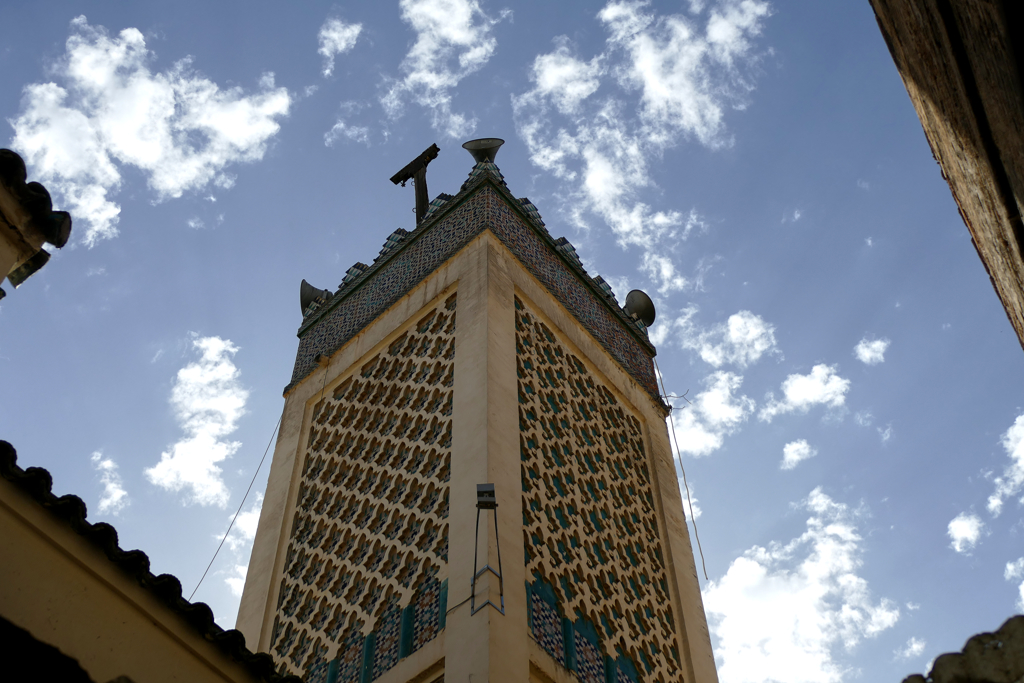 As a matter of fact, the minaret is the tallest one in the old city of Fez.
Funduq Al Nejjarin And Museum of Wooden Arts And Crafts
The Funduq Al Nejjarin is one of the few surviving buildings of its kind in all of Morocco. It was built during the reign of Alawid sultan Mulai Ismail at the beginning of the 18th century. For a long time, it served as a warehouse and trading center for valuable goods like fabrics, carpets, and other products.
On the upper floors were some workshops.
Apart from its truly majestic façade, the Funduq Al Nejjarin is constructed according to the residential and commercial buildings of Fez's urban architecture: Two- or three-storey buildings are surrounding a courtyard. The rooms are only lit and ventilated through the roofless inner courtyard. Artfully carved wood from Atlas cedars was used as architrave and for the balcony parapets.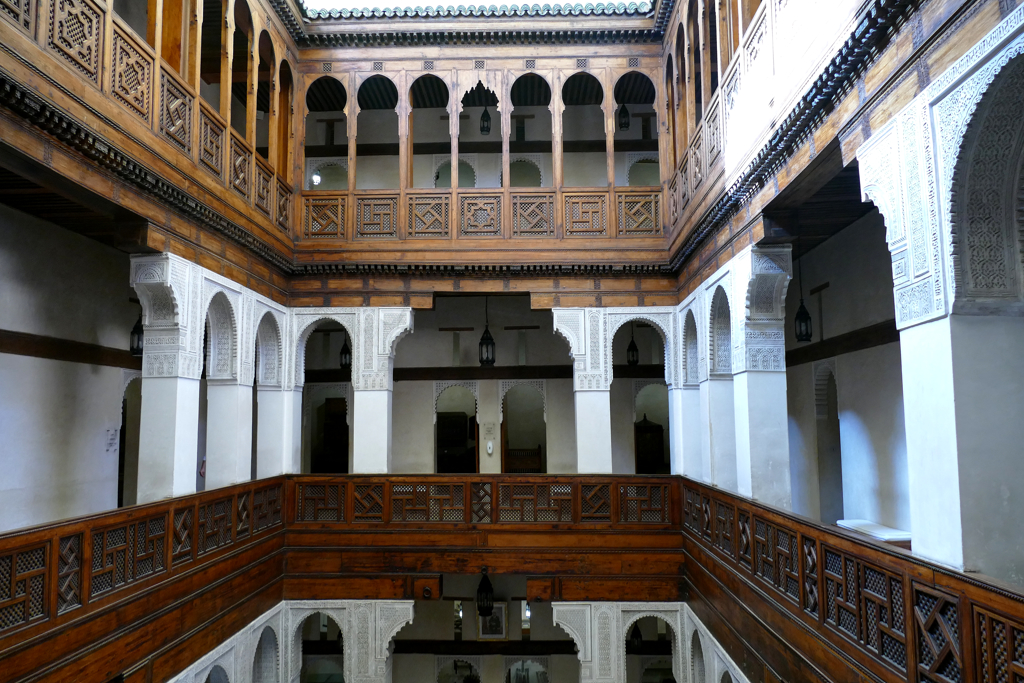 Today, the Funduq Al Nejjarin houses a museum presenting various traditional ways of woodworking. For a terrace on the roof, you have a panoramic view of Fez. Also, there is a tea room where you can enjoy some refreshments.
The museum is open daily from 10 a. m. to 5 p. m.
Bou Inania Madrasa
The Bou Inania Madrasa is another former Islamic school in the old town of Fez. Marinid Sultan Abu Inan Faris commissioned this institution which was then constructed between 1350 and 1357. Today, it is considered one of the most precious structures of the Moroccan dynasty of the Marinids who ruled over Morocco in the 13th to 15th centuries.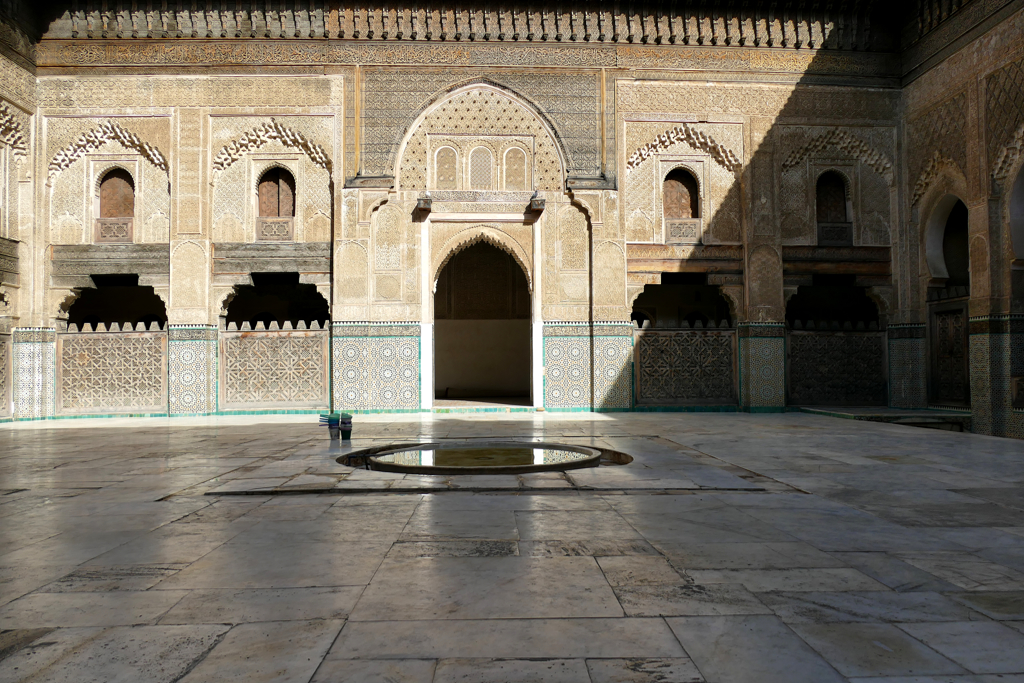 The building emulates the materials and techniques which were used for the Nasrid palace at the Alhambra of Córdoba and adapts them to its religious use.
The rectangular courtyard is surrounded on three sides by two-storey galleries. The entire interior façade is decorated with glazed tiles in the lower part. Finely worked stucco and fantastic wood carvings decorate the upper part. Obviously, there is a water basin in the center of the marble-paved courtyard which was used for ritual washing.
Wooden lattices separate the courtyard and the corridors leading to the students' quarters. The stark contrast between the lavishly ornamented courtyard and the humble rooms is easily explained: The madrasa was more than just a school. It also served as a mosque and served as an important assembly place for community life.
Why Are Neither Humans Nor Animals Depicted in Islamic Ornamentation?
Great question, I'm so glad you asked.
Actually, the Koran does not forbid portraits of humans. In fact, the oldest surviving portrait of Mohammed dates from 1250.
Yet, a ban on images especially in Sunni Islam is the result of a controversial discussion in traditional Islamic literature and law. Islamic legal scholars have three partly controversial views on this topic:
1. Depictions are not forbidden as long as they are not worshiped. Depiction of God is taboo, however, his attributes and his nature are not affected by this ban.
2. Representation of objects that cast shadows, hence, sculptures, is forbidden while drawings on paper, walls, in textiles are not forbidden, but objectionable. As long as humans or animals are headless or otherwise incomplete while they cast shadows, they are permitted. The shadow theater that is widespread in the Orient and in North Africa is thus legalized under Islamic law, since the puppets are perforated and therefore cannot have a soul.
3. The depiction of living beings, humans and animals alike, is forbidden in every respect.
This controversy is one of the reasons why many pious Moslems do not want to have their picture taken. The other one might be that the world is not Disney land and locals no tourist attractions. It should go without saying to ask people before you take their picture and respect it if they deny it.
Dar Al Magana Water Clock
Opposite the Bou Inania Madrasa is the Dar Al Magana which translates to House of the Clock. The Marinid Sultan Abu Inan Faris commissioned the building in the 14th century. It is still famous for its weight-powered water clock.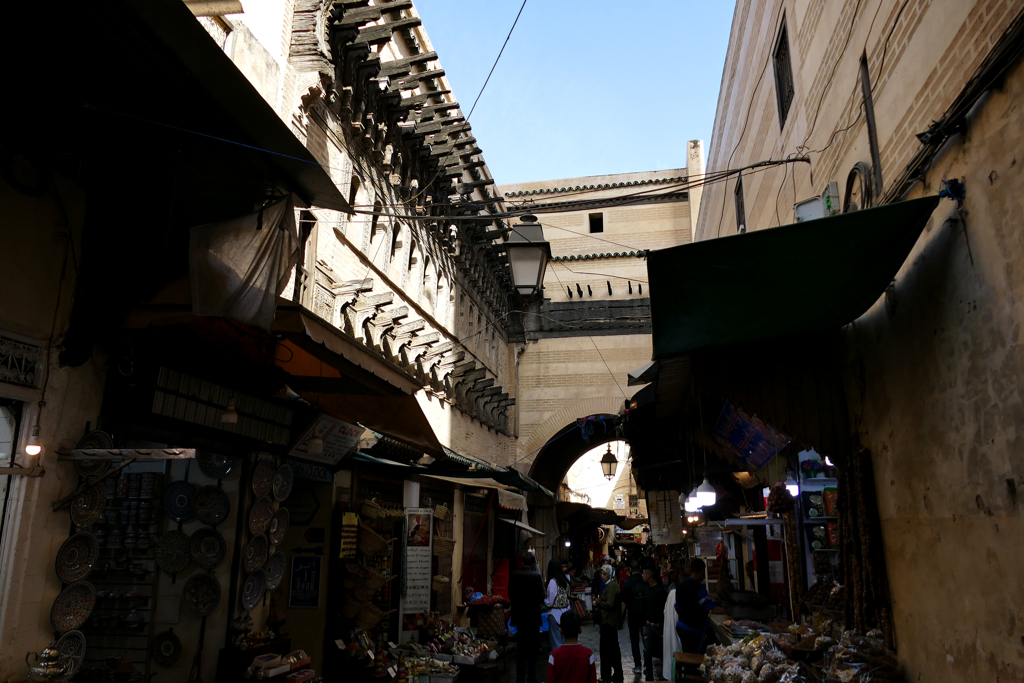 This unusual clock consists of 12 windows and platforms carrying brass bowls. Behind the twelve doors, a small cart ran from left to right. The cart was attached to a rope with a hanging weight. On the other end of the rope, a weight floated on the surface of a water reservoir which was drained at a regular pace. One of the doors opened by the hour and a metal ball dropped into one of the twelve brass bowls. A small roof shielded the doors and bowls.
In 2004, the bowls have been removed with the aim of repairing or reconstructing the clock's machinery. However, its exact mechanism is not handed down which impeded the efforts to repair it. Therefore, the clock has been defunct for ages. Yet, the structures and façade of the house itself were restored in the early 2000s.
Bab Boujeloud
The Bab Boujeloud in the west of the Medina is one of the city's most celebrated landmarks. Nevertheless, today's gate was built at the beginning of the French protectorate in 1913.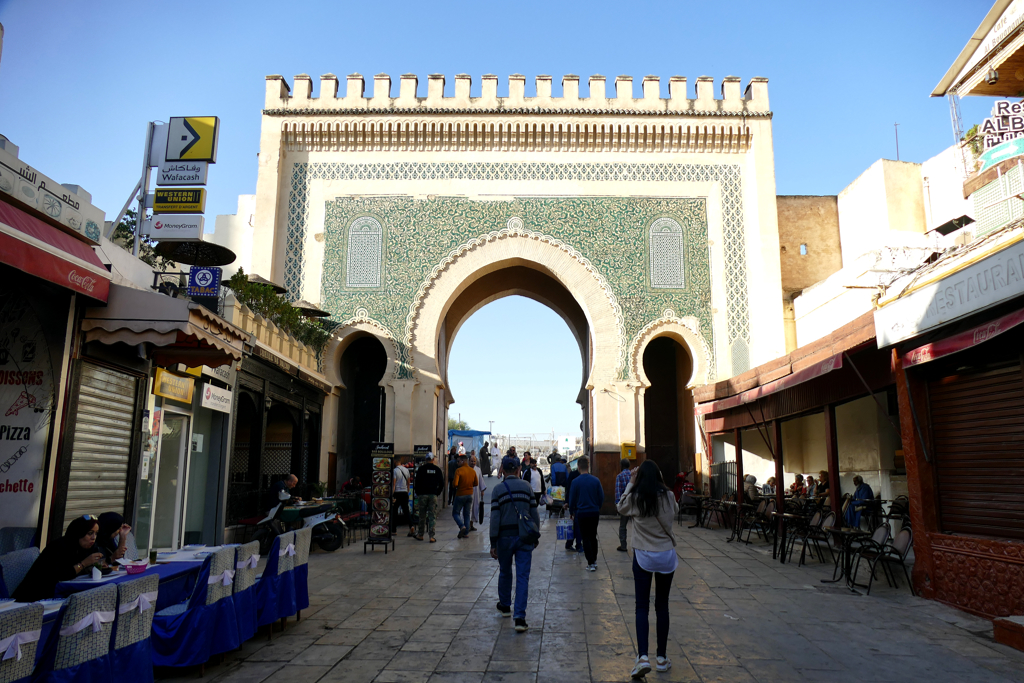 The gate is built like a triumphal arch. However, the portal is made up of horseshoe arches. This way, the Bab Boujeloud combines ancient European with Islamic-Moorish traditions and links the two worlds.
The green azulejos on the inner façade refer to Islam while those on the outer façade are blue like the traditional ceramic products from Fez.
Bou Jeloud Gardens
The Bou Jeloud Gardens are a public greenery located between Fez Al Bali and the younger part of the old Median Fez Al Jadid. Sultan Moulay Hassan I commissioned the gardens in the 19th century. The gardens were placed inside the corridor between walls that connected Fez Al Bali with Fez Al Jadid, where the sultan also erected new summer palaces.
The gardens were originally exclusive to royal elites and were connected to the Royal Palace by an underground passage. In 1917, they were opened to the public. After they were neglected for decades, King Mohammed VI got them renovated between 2006 and 2010 and finally reopened in 2011.
Bab Semmarine
The Marinid sultan Abu Yusuf Yaqub built that part of the city as a new royal capital in 1276. This settlement was fortified by two double sets of walls on its eastern side facing Fez Al Bali. Bab Semmarine is the monumental southern gate of Fez Al Jadid, this newer part of Fez's old city.
The gate is opening to the main shopping street which is now called the Grande Rue. It leads towards the entrance of the Royal Palace or Dar Al Makhzen which literally translates to House of the Government. Grain silos and warehouses were in the district east of the Grande Rue. Eventually, they were replaced by residential buildings.
Mellah of Fez
A Mellah is a traditional Jewish quarter in Moroccan cities, comparable to a European ghetto. It is always in the vicinity of the old town called medina.
The oldest Mellah is the one in Fez. The last Merinid sultan Abdalhaqq II established it in 1438. In that era, rumors spread that wine was found in the mosques of Fez. This was blamed on the Jews. Large-scale pogroms began. To protect them, the sultan moved them from the Kairouan neighborhood in the medina to the fortified new town. This district was named Mellah due to the salt fields in the vicinity. Milh translates to salt in Arabic.
Today, Mellah is the generic name for Jewish neighborhoods in Morocco.
Jewish quarters were established for the same reason as in medieval Europe: The government wanted to keep the economic power of the Jewish population and protect the families from attacks. Therefore, the Mellah was usually installed in the vicinity of royal palaces or the governor's kasbahs.
After the foundation of Israel, most of Morocco's Jewish population emigrated. Today, most of the Mellahs are largely inhabited by Muslims. However, never have I met so many large tourist groups from Israel as in Morocco. Many of these visitors are descendants of former Moroccan Jews and want to visit their ancestors' lands.
At Fez's Mellah, you can still visit two synagogues as well as a Jewish cemetery.
What Should I Do When a Man Escorts Me Without Being Asked to Do So?
Great question, I'm so glad you asked.
Ever since I ran into this trap in Tunesia many years ago, I'm very much on the alert when friendly men are offering to show me around or just guide my way to a specific spot.
In fact, as soon as I got to the Mellah, a young man approached me and engaged in friendly conversation. I conversed and then I took off into the maze of the Mellah's alleys. All of a sudden, the young man walked next to me, conversing and offering to escort me. "I don't need a guide, thank you", I informed him. His answer: "Open your heart". I laughed. "My heart is wide open, yet, I really don't want a guide". We parted friendly.
Just a couple of minutes later, I had basically the same conversation with another young man. Honestly, I still don't get what the open-heart thing is all about, but somehow it seems to be a standard part of the sales pitch.
However, both encounters began and ended friendly – no hard feelings on either side.
So, what to do?
Well, firstly, you have to realize in time that you are about to get a private guide.
Rule of thumb: As long as you talk to a man standing in one spot, you're safe. As soon as you guys are walking, he's your guide – unless you very clearly tell him that you don't want a guide. To do so, stop in your tracks. Don't keep walking while he's explaining things. Tell him you don't need a guide and then walk away. If he follows, stop and insist that you still don't want a guide.
At this point, don't bother too much with sounding friendly.
Royal Palace
The Dar Al Makhzen, which literally translates to House of the Government, is the Royal Palace of the King of Morocco. It dates back to the foundation of Fez Al Jadid by the Marinid dynasty, in 1276. However, most of the court dates from the Alawid era from the 17th to the 20th centuries. Today, the extensive grounds are home to multiple private structures, patios, and gardens. However, they also house offices and administrations.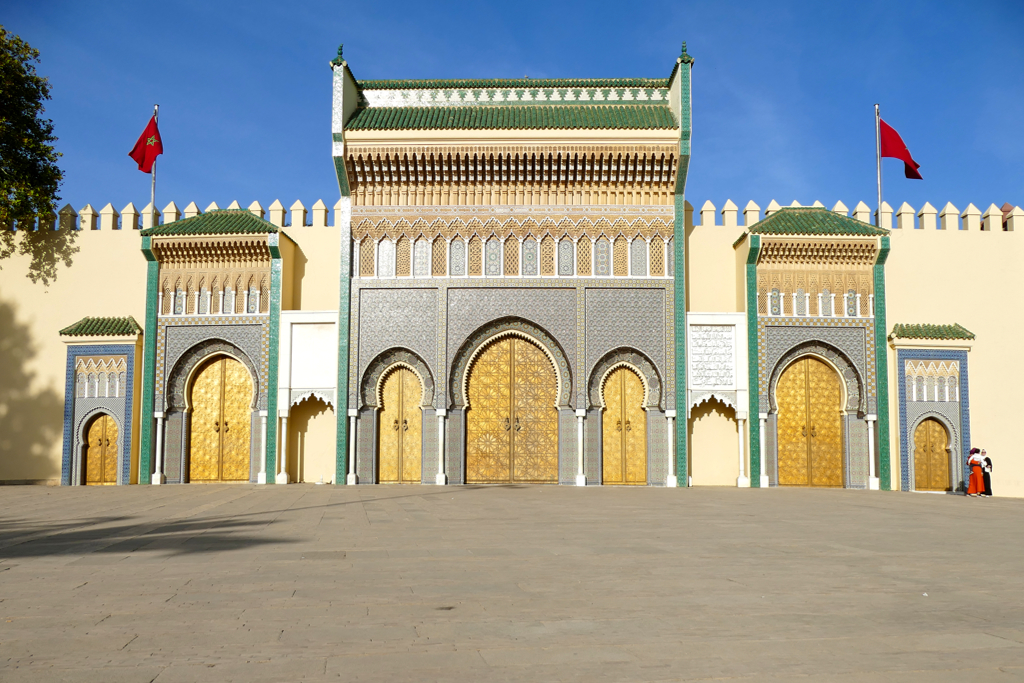 The most publicly accessible parts of the palace are its main entrances at the Old Mechouar in the northeast and the lavishly ornate 20th-century gates at Place des Alaouites on the outskirts of the Mellah in the southwest.
Although the main royal palace is located in Morocco's capital Rabat, the King of Morocco inhabits the palace complex in Fez to this date. Thusly, the palace is not open to the public.
Marinid Tombs And Viewpoints
The Marinid Tombs are ruins on a hill north and above Fez Al Bali. They were a necropolis for the Marinid dynasty. The remnants of two tall rectangular-based mausoleums with large horseshoe-arch entrances are still standing. Some fragments of carved stucco decoration and an Arabic inscription are still visible on the walls of the mausoleums.
To be honest, I found the ruins the least interesting part of this spot. There is the sprawling Bab Guissa Cemetery around the tombs, and there are all those intriguing views of the city and the hills around it.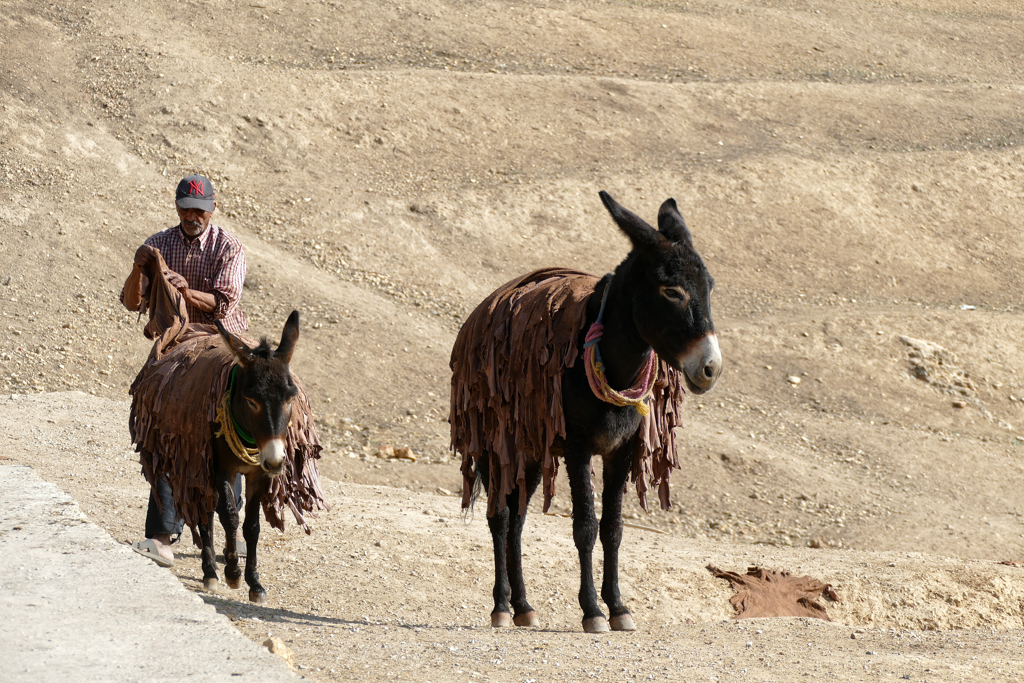 On my way down, those gentlemen came up the hill. Their mules were carrying what must have been many dozens of wet animal skins on their backs. Then, the men spread those skins out on the ground of the southern hillside to dry in the sun. This definitely was no mimicry for tourists, this was utterly nothing but hard labor.
I must say, that my walk uphill to the Marinid tombs felt like an authentic yet quite relaxed experience that even brought me a bit closer to the real Fez beyond the hustle and bustle of the famous old town. Definitely recommend.
A Little Bit of History
No, I most definitely do not write down the entire history of the oldest of Morocco's imperial cities – we're talking more than a thousand years here. But to appreciate this amazing place even more, a couple of milestones might be helpful.
Fez is the third-largest city in Morocco with around one million inhabitants. It is the oldest of the country's four royal cities. The other three are Marrakech, Meknes, and Rabat.
Idris ibn Abdallah founded the town on the right bank of the Fez river in 789. The water sources in this area were certainly a decisive criterion in the choice of the location. Then, in 809 his son Idris II decided to found a capital of his own on the opposite bank. Although these cities were only separated by a small river, they developed individually.
Early Migration
8,000 Moorish families who were expelled from Spain by the Umayyads of Córdoba settled in the area on the right bank. Shortly thereafter, 2,000 exiled families from the Tunisian city of Kairouan came and settled on the left bank. Eventually, the Almoravids unified them in the 11th century.
However, all those people came from an urban background and had great manual skills. Therefore, they transformed Fez into the cultural center and religious heart of Morocco.
Truly unique is the foundation of the university mosque Al Qarawiyyin in 859. Installed by the wealthy merchant's daughter Fatima Al Fihrya, this university became one of the most important centers of spirituality and culture in Islam. As a matter of fact, the Al Qarawiyyin is the oldest existing, continually operating university in the world. Obviously, the institution was incorporated into Morocco's state university system in 1963. Its focus lies on the Islamic religious and legal sciences as well as classical Arabic linguistics.
The Power Is Shifting
In 1276, the then-ruling Marinids founded the new city Fez Al Jadid. They commissioned palaces and gardens which they enclosed with a high wall.
Beginning with the rule of the Alawid dynasty in the late 17th century, Mulai Ismail established his capital at Meknes around 50 kilometers west of Fez. However, he settled a part of the Udaya clan in Fez since they had helped him gain power. As the Udaya revolted after his death in 1727, Abd er Rahman expelled them from Fez in 1833.
Fez remained the capital of Morocco until the beginning of the French protectorate in 1912. Then, a French general designated Rabat as the administrative seat of French Morocco. Nevertheless, the King kept his main residence in Fez. To this date, he often stays in this palace. Even with Rabat being the official capital of Morocco, Fez remains an important imperial residence and a center of culture, crafts, and commerce.
Practical Information
How to Get There
By Plane
Moroccan airlines such as Air Arabia and Royal Air Maroc as well as a few European airlines like Iberia and Ryan Air serve Fez's international airport Fez-Saiss. It is located about 13 kilometers south of the city center. Cabs can be hired at the exit of the passenger terminal. Prices vary and have to be negotiated. The usual fair is 120 Dirhams, hence, it shouldn't be higher than 150 Dirhams.
Bus #16 travels between the airport and the city's bus and train stations and costs as little as 4 Dirhams. The trip takes about 40 minutes. There are no timetables, but the bus goes about every hour between 6 a. m. and 11 p. m.
If you go from Fez to the airport, the bus stop is on the left of the entrance to the train station. It isn't clearly marked, however, there are always people with suitcases. You can buy a ticket in advance at the cash desk at the bus stop. Since things can get a bit chaotic, always allow plenty of time. If you have a tight schedule, take a cab and don't risk missing your flight because you wanted to save 10 bucks.
What Are Your Tips On Packing?
Great question, I'm so glad you asked.
If you are going to Morocco, you definitely can leave your kitchen sink at home. You simply should travel light which will make your trip smoother and cheaper – at least when you are opting for one of the low-cost airlines that charge extra for basically everything.
How to pack light? That's easy: Just read my post on Packing Light – Travelling in Style and you'll be all set. Also, Morocco is a shoppers' paradise. And I'm not talking exclusively about djellabas and babouches. You'll find all kinds of international brands in the modern parts of Morocco's cities. Hence, in the unlikely event that you've forgotten something really important, you'll be certainly able to obtain it right on the spot.
Land Routes
Train
Fez can be reached by train from Morocco's larger cities. From Marrakech, it takes a bit over seven hours, and tickets start at around 200 Dirhams. Casablanca is around four hours away and Rabat approximately three. Tickets to these cities start at about 100 Dirhams. From Meknes, it's only one hour for as little as 30 Dirhams.
The fares quoted are for seats in the 2nd class compartments. Fares in 1st class are about a third higher than in the 2nd which is not a lot of money given how cheap tickets are.
I took the train a couple of times. The difference between 1st and 2nd classes is the size of the seats: In 1st class, three people sit in one row and have a bit more space since, in 2nd class, it's four. Also, 1st class is more climatized which in November was not really an advantage. In summer, however, this might make a truly dramatic difference.
During my trip, I did not experience even the slightest delay. Although the trains are not squeaky clean, they are okay. There is a guy selling refreshments, and assigned numbered seats in 1st, as well as 2nd class, are another convenience. All in all, travelling by train was very reliable and comfortable.
Travelling On
Getting from the train station to the Medina by cab should cost about 10 Dirhams. Cabs are metered, but many drivers refuse to turn the meter on. If you are in the mood to haggle and argue – good luck. I arrived in the evening after dark after a long day of travel, hence, I agreed to pay 40 Dirhams. Yes, that's four times the regular price. On the other hand, it equals 4 €uros respectively US$ – a cheap price for getting quickly and safely to my Riad on the very first evening in a city I've never been to before.
Bus
There are two long-distance bus stations in Fez: Gare CTM and the old Gare Routière.
The CTM terminal is in Place Allal Al Fassi in the so-called Ville Nouvelle while the old bus terminal Gare Routière is right outside Bab Mahrouk north of the Medina.
The Gare Routière covers more routes and trips are cheaper. Yet, most travellers prefer CTM for its reliability and cleanliness. Nevertheless, many CTM buses leave Fez from the Gare Routière and make then a stop at the gare CTM. Yet, inquire where you can get on respectively off each time you buy a ticket since things may change without further notice.
Since the CTM buses are much nicer and cleaner than the others, they actually cost double the fare of a standard local overland bus. Passengers usually come to the station in the morning to book their tickets for the afternoon or the next day after and collect stickers for their luggage. Hence, don't just show up at the last minute, they might leave you behind.
As a matter of fact, you can check out CTM's itineraries and prices online where you can also book your trip right away.
Shared Cabs
Travelling by so-called Grands Taxis is very popular among Moroccans and a viable alternative to trains and buses also for visitors. Spots in the taxis are sold individually. Mind you they usually carry four passengers in the rear and two in the front. To have more space, you can purchase more than one seat. This being pointed out, I personally find it underlines the economic and social differences, but that's a very subjective view.
A ride from Fez to Casablanca shouldn't cost more than 180 Dirhams per seat. Note that these fares are regulated, hence, it's worth checking the official rates with the tourist board or another reliable source.
Grand Taxi stations are for instance next to the train station as well as next to the CTM bus station.
How to Get Around
Within the city of Fez, taking the local Petits Taxis shouldn't cost more than 15 to 20 Dirhams.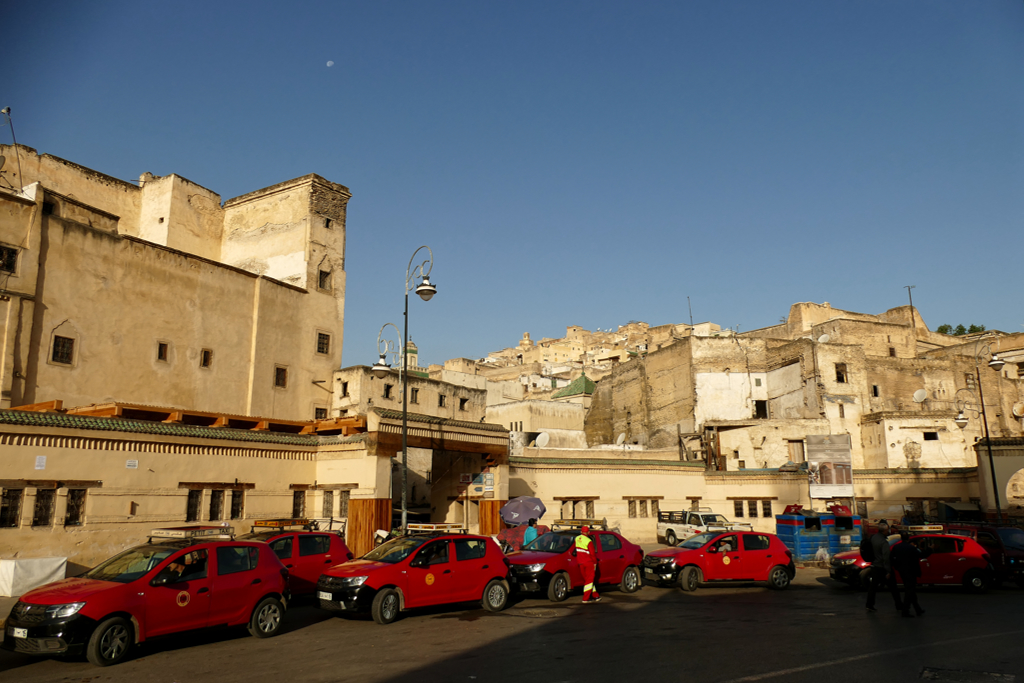 But keep in mind that the Medina of Fez Al Bali is almost exclusively a pedestrian zone. Place R'cif in the east and Bab Boujeloud in the west are popular drop-off spots. From there, you can lose yourself in the fantastic maze of streets'n'alleys.
How Safe is the City of Fez?
Great question, I'm so glad you asked.
I would argue that visitors to Fez tend to encounter rather annoying than dangerous forms of "crime".
You're rather prone to be charmed into being guided and misguided. Self-proclaimed guides will try to take you places, cab drivers will try to take advantage of you, shop owners will sell you merchandise of questionable quality at a ridiculous price, and restaurants will show you menus with prices designed especially for tourists. Many people will try to milk that foreign cow. Hence, it mostly depends on your instincts, your guts, and your brains.
So while Fez is rather safe, it's very crowded, hence, pickpockets are a thing. Therefore, you should take standard precautions regarding your valuables. Take as little cash as possible with you and only one credit card in case you need more money than expected. If you don't need your passport, leave it at your accommodation. I even re-activated my old phone that I equipped with a Moroccan SIM card and used my actual smartphone only at the Riad.
Unfortunately, it can be very hard to differentiate between genuine friendliness and hospitality and professional scams. Also, sometimes there is just an extremely thin line. I was very friendly to everyone, however, I kept my distance and made it unmistakably clear when I wasn't interested in goods or services.
Organized Trips
Fez is said to have the craziest Medina layout. After having been to all of the Moroccan Royal cities, I agree. Actually, before getting to Fez, I was petrified that I might get lost forever in the Medina.
Yet, orientation is not the only reason why at least one tour in the company of a knowledgeable and trustworthy guide is highly recommended. You'll miss out on so much if you don't have that local person that brings you into the loop of 1001 stories'n'secrets that hide behind those high walls of Fez Al Bali.
Hence, for me as a slightly nervous solo traveller, the walk through Fez Al Bali in the company of an experienced guide took my visit to the next level. Actually, I profited from the information he poured over me during our walk even after the tour was over. He braced me so well for this city, I simply cannot thank him enough.
Also, especially as a solo traveller, it's sometimes nice to join activities and get to meet other visitors. Therefore, I recommend joining one of these tours preferably at the beginning of your stay – I promise, you won't regret it*:
Where to Stay
When it comes to accommodation, I recommend considering two aspects: I would always stay right in the Medina or at least on the very outskirts. I stayed at the Riad Ibn Khaldoun* in the vicinity of the Place R'cif which was perfect: It was not too close to the craziness around the souks, yet within walking distance. Riad – that's the other thing I'd suggest: Don't stay at a regular hotel but enjoy the mesmerizing atmosphere and personal service of a so-called Riad.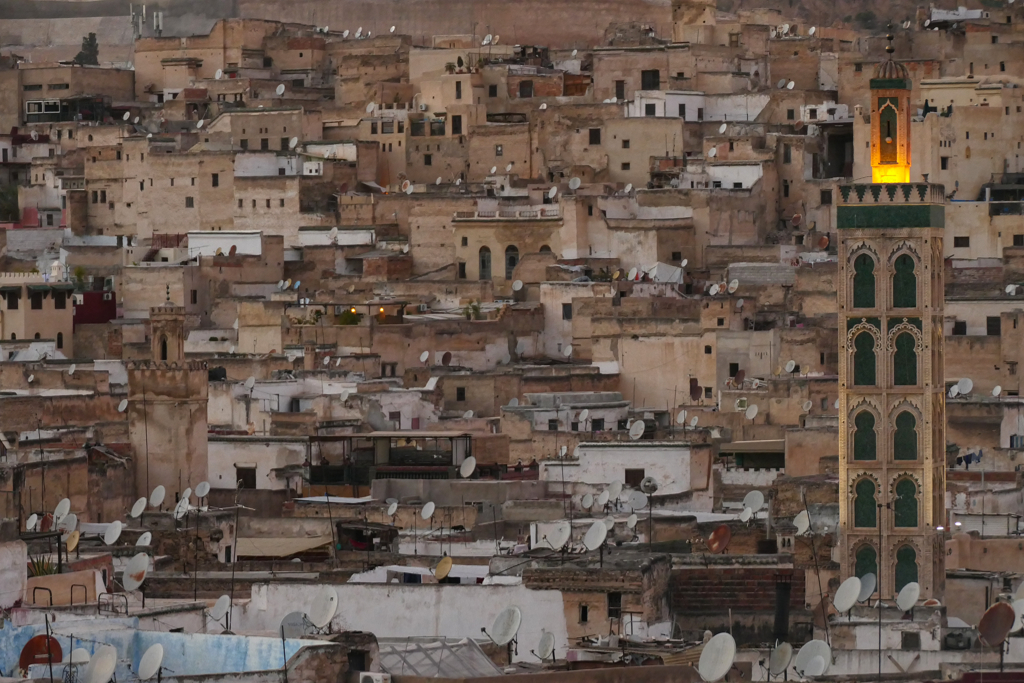 Yes, Riad is also the capital of the Kingdom of Saudi Arabia. But more importantly, in Morocco, Riad is a traditional house or palace with an inner courtyard. You wouldn't expect the austere, windowless outer walls hiding lavishly decorated rooms around a courtyard. The internal space is lit and ventilated through the roofless yard. This architecture offers the inhabitants protection and privacy.
Today, many owners transform their Riads into guesthouses, conserving the original style and creating a very personal atmosphere. Staying at a Riad takes you closer to the Moroccan way of life.
On this map, you can check out the availability and prices of some suitable lodging*:
What to Eat
Moroccan cooking is influenced by various cultures. Usually, it's a mix of Arabic, Berber, Andalusian, and Mediterranean cuisines with a dash of French and Spanish food.
A big meal starts with a series of hot and cold salads, the so-called Mezze. The main course is often Tagine – whereby Tagine is the name of a clay cooking tool as well as of the dish you prepare in it. In a Tagine clay dish, couscous, potatoes, vegetables, and meat are stewed in their own juices. For the delicious oriental taste, caramelized onions, raisins, plums, almonds, boiled eggs, and pickled lemons are added.
Obviously, pork and alcoholic beverages are banned due to religious restrictions. Nevertheless, beer and wine are produced in Morocco but only enjoyed in certain bars and big international hotels. The most popular drink is mint tea.
Traditionally, Moroccans eat with their hands and use bread to get the food into their mouth.
What Are Good Eating Manners in Morocco?
Great question, I'm so glad you asked.
No matter where you eat or drink, you should avoid using your left hand. Many Muslims actually keep their left hand under the table. This applies particularly if you eat with your hands which can easily be the case in the Medina at some of the smaller eateries. In these places, you'll always find a sink where you should wash your hands before eating – and your greasy fingers after you're done.
When eating with your right hand, lift the food gently to your mouth using preferably only your thumb, index finger, and middle finger. If there is bread on the table, you tear it into little pieces which you use as an edible spoon.
Howsoever, even if you eat at a restaurant, avoid using your left hand as much as you can.
When eating at a table with Moroccans, say "Bismillah" before starting to eat and "Alhamdulillah" after you're done.
If you happen to eat at a very low table or even on the floor, make sure that the soles of your feet never point towards anyone. This is easily avoided by sitting cross-legged.
You'll find tons of great street food in the vicinity of Bab Boujeloud. Street food is very cheap and I would argue it's as safe to eat as food in any other restaurant.
Can a Female Traveller Visit Restaurants And Bars by Herself?
Great question, I'm so glad you asked.
As a female traveller, you won't be able to avoid attention from men. It mostly lies in your own hands how far this gets. I'd recommend you dress modestly by covering your shoulders, cleavage, and knees. Wearing a headscarf is not necessary.
If men greeted me, I answered friendly, non-lewdly greetings in a friendly manner and kept walking.
So there was no problem there. What can be challenging is that as a woman, you cannot just barge into any café or tea room. There are many cafés frequented exclusively by men. I don't think that you'd get openly abused there, but you would most definitely feel very much out of place.
This might be annoying when you are thirsty and searching for a place to grab a soda. Howsoever, mostly, these men-only places aren't what we would consider cozy and cushy, anyway. And since there are many truly comfortable tea rooms where you can enjoy a snack and a refreshment even as a solo-travelling woman, why bother? For instance, many museums and galleries have amazing rooftop cafés where you get a complimentary panoramic view with your drink.
However, going to restaurants by yourself should be totally fine. A reliable "gauge" is local couples and women: If they are eating and drinking there, you can sit down with confidence, too.
By the way, in contrast to other countries like Spain or Greece, not once did I feel unwelcomed for being a solo traveller eater.
When it comes to alcoholic beverages, basically all places to grab a drink are hotel bars. You must decide for yourself how confident and comfortable you feel going there by yourself.
In any case, Fez is a much more traditional town than Rabat, Casablanca, or even Marrakesh. 
Cash And Cards
The Moroccan Dirham is the country's official currency. It is abbreviated MAD and subdivided into 100 santimat.
The exchange rate is 1 US$ = 10.70 MAD and 1 €UR = 11.10 MAD as of January 2023. However, you can check the conversion rate to US$ on this page and to €uros on this page.
Even some small businesses and stands in the old souks accept credit cards. However, not all of them do and not everyone is happy if you pay with plastic. On the other hand, I've stayed in Riads where I had to pay cash for a three-night stay.
In any case, you should have cash on you. On the other hand, there are so many ATMs around that you'll have always access to some cash if necessary.
Language
Although the two official languages are Arabic and Amazigh, most Moroccans are fluent in French since that's the first foreign language they teach at local schools. Also, it's Morocco's primary language of commerce and economics, culture, and sciences.
Spanish is spoken by many Moroccans, particularly in the northern regions.
I came to Morocco to brush up on my rudimentary Arabic skills at a language school in Rabat. If you happen to speak some Arabic, too, beware that Moroccan Arabic, the so-called Darija, is very different from the standard Arabic also referred to as Modern Standard Arabic (MSA) or Al Fusha. Nevertheless, Fusha – which is pronounced Fus-ha and not like Shisha – is used in books, newspapers, TV news, and political talk shows
I've found this really great App to broaden my Arabic vocabulary and practice what I've learned. It's called Lingohut and it offers an amazing choice of more than 45 languages! Hence, if you feel more comfortable communicating in French, you'll find it there, too.
However, due to international tourism, most people working in tourism and gastronomy speak quite decent English and very often also other languages such as Italian or German.
Connection and Communication
Since international roaming is still terribly expensive, you better get a Moroccan SIM card as soon as possible. You can get one for 20 MAD or 50 MAD from Inwi or one for 30 MAD from Maroc Telecom and Orange. They are sold either in their respective stores, at some Moroccan airports, and in many kiosks and convenience stores nationwide. Normally, you should be asked to show some ID, however, I got mine at the train station in Salé outside of Rabat no questions asked.
Obviously, you can also use free Wifi in many places in Morocco. Basically, every mall, museum, eatery, accommodation, train station, and even the tram in Rabat offers free Wifi.
In Morocco, they use plug types C and E. Their voltage is 220 V and the frequency 50 Hz. Whereby, as nowadays all these chargers have integrated adapters, the voltage and frequency don't really matter.
By the way, you'll find comprehensive travel info in my post World's Most Complete Travel Information – an indispensable globetrotter-classic.
My weekend in Fez was only the entrance into an amazing world of Moroccan culture. To read about the others, go to this post and take your pick! There, you'll also find general information on the country and tips that will make your trip much smoother and more enjoyable.
Map
On this map, you can see where all the mesmerizing places I'm introducing in this post are located.
Clicking on the slider symbol at the top left or the full-screen icon at the top right will display the whole map including the legend.
Pinnable Pictures
If you choose to pin this post for later, please use one of these pictures:
Did You Enjoy This Post? Then You Might Like Also These:
* This is an affiliate link. If you book through this page, not only do you get the best deal. I also get a small commission that helps me run this blog. Thank you so much for supporting me!