Cartagena is Colombia's most touristy destination. No wonder, they have a Caribbean beach and a walled old town that is listed as a UNESCO World Heritage Site. Nevertheless, I found spending two days in Cartagena enough.
However, the old city is very alluring and there are lots of touristy infrastructures.
Exactly the reason to dislike it.
Yes, there are the fortresses and the walled old town, Unesco World Heritage blablabla, and yes, it is pretty. However, I don't get the hang of places polished for visitors and Unesco that look nothing like the rest of the country. Spots where you find posh, overpriced "specialty" shops hardly any local can afford.
I didn't fancy Trinidad in Cuba.
I don't fancy the walled part of Cartagena.
Therefore, to me, Cartagena's blessing is rather a curse: It's the most touristy place I've visited in Colombia and the one I liked the least.
Cartagena's Old-Walled Town
You might know by now that I'm totally into hidden jewels, raw diamonds that do not hypnotize but impress in a calm, self-confident way.
Well, Cartagena's walled Old Town, founded in the 16th century, is certainly very cute and deems Colombian….if you've seen only this city and its beaches. In this case, you will adore the lovely squares, cobblestone streets, and colorful colonial buildings in Colombia's fifth-largest city.
And indeed, they are well-maintained – just like any other World Heritage Site is since otherwise, they would lose this status and all the privileges coming with it.
Since maintenance of the old buildings must be quite costly, the shops and restaurants they are housing are stocked to the wealthy tourists' taste and ridiculously expensive.
Bocagrande
The city beach on Cartegena's beach-peninsula Bocagrande is okay. A little like many beaches in the US, i. e. in front of sky-high hotels- and condo buildings.
Rooms are overpriced. You get actually half of the other places' standard, but you easily pay double or even triple.
Trips to Isla del Rosario, Isla Barú, and many more are sold at every corner and are often a rip-off. They promise you the world, and show you intriguing pictures of deserted beaches – I don't know where and when they took them.
Certainly not on the beaches we've seen.
Playa Blanca on Isla de Barú
Since I was a bit disappointed by Cartagena's city beaches, I thought a trip to the celebrated Playa Blanca on the Isla de Barú would appease me.
Well, if you're looking for a secluded beach, Playa Blanca is not what you are searching.
We arrived at Playa Blanca via our shuttle bus about an hour before the first speedboats with tourists did.
Crossing from the parking lot to the beach was a shock. Puddles of reddish-brown liquids flanked the path, covered with styrofoam containers and plastic bags.
However, once we reached the beach, we were offered beach chairs at each and every restaurant.
The Beach During Rush-Hour
Already at this early hour, the beach was far from empty.
It was packed with all sorts of businesses like bars, shops, and jet ski rentals.
The latter must be a gold mine since the entire time that we spent on this stretch of sand, we were inhaling the fumes from the ocean.
Come to think of it, I believe it would have been healthier stretching out next to a freeway.
As a matter of fact, our idyllic spot was right in front of the wooden police station.
Here, we didn't have to rent a beach chair and it was, obviously, the safest spot on the entire beach.
Although I can only recommend you watch your stuff, the biggest issues Playa Blanca's sub-department of the Policia Metropolitana was solving were some territory fights between the local hawkers.
Take it from me – I had been the cops' next-door neighbor, after all.
So, here is my conclusion: If you are into very, very crowded beaches, pushy beach sellers, oceans covered with clouds of gasoline from all sorts of boat motors, and, finally, if you don't mind getting your head shaved off by jet skis while trying to swim in large crowds, then this is the perfect place for you.
Practical Information
How to Get There And Around
By Plane
Coming straight from Medellín, we opted for flying to Cartagena. Although it's, obviously, possible to take a long-distance bus, it's actually quite far and the trip is long. We had only three weeks for our trip, therefore a flight it was.
Cartagena's Rafael Núñez international airport is located about 6 kilometers from the city center.
Therefore, you can normally get to the historic district respectively the beach area of Bocagrande in about 20 to 30 minutes.
The easiest way to get to the center is by a yellow cab.
You don't have to haggle with the driver. Simply pay the fixed fare for your destination at the taxi stand in the airport building. They'll give you a ticket that you then hand to the driver.
However, there are unofficial Cartagena Airport taxis that you can hail outside the airport complex. They charge about half of the official cab prices. But mind you that although these cabs are cheaper, they often have no trunks for large luggage. And if something goes wrong, you're basically on your own.
Mind you, there are also direct flights to Cartagena straight from the US, other Latin American countries, as well as Europe.
By Bus
After two days in Cartagena, we needed someplace more real, much more Colombian.
Hence, we decided on Santa Marta, located likewise on the Caribbean coast – about four hours further east.
To buy a ticket from Cartagena to Santa Marta, we walked in the heat and heavily whirled up sand to the marsol station to buy the tickets at about 16 $, and downtown we could have bought them from a travel agent for like 17,50 $ – so don't bother to walk against the sandstorm, get them in town.
Note that cabs in Cartagena are not metered. Hence, the good old traveller rule applies: Always make sure to ask for the fare in advance.
As I pointed out several times in my posts on Colombia, I'd found Colombian people not only extremely friendly, but also very honest. Nevertheless, Cartagena is a touristy place that does not always bring out the best in locals.
Best Place to Sleep
Actually, I cannot really recommend accommodation – mainly since I don't know what's your focus when visiting Cartagena: Do you want to hang out on the beach? Do you want to explore the Islas del Rosário? Are you mainly interested in the famous old town?
Whatever you choose, you can still do everything since there are local buses and relatively cheap cabs that bring you to all places of interest.
Here is a map where you can check your favorite hotel's location and rate*:
Best Place to Eat
I'm afraid I didn't make Cartagena sound like the greatest place ever.
Well, to me, it wasn't.
Very pleasant, though, were our daily dinners at San Valentin.
They are serving a lighter version of Colombian cuisine – mainly lots of good seafood. Also, there are excellent cocktails at happy hour – from 7 p. m. to 10 p. m.
You'll get two for the price of one.
However, it wouldn't hurt to turn the aircon down a bit. Therefore, don't forget to pack a warm jacket for the evening.
San Valentin
Calle Vicente Garcia # 6-23
Cartagena 57
Phone: + 57 – 7 – 664 11 12
What to See
I'm an avid solo-travelling woman. Since solo travel doesn't equal solitude, I love to join organized tours here and there. They allow me to meet fellow travellers – for just a short moment or a lifelong friendship.
Therefore, here are some great ideas of what to do during your stay in Cartagena. Especially if you travel solo, they'll enable you to see many great sites in a comfortable and fun way*:
Cartagena was only one of many beautiful places I've visited in Colombia. To read about the others, go to the main post and take your pick! There you'll also find valuable general information that will make your trip smoother.
Pinnable Pictures
If you choose to pin this post for later, please use one of these pictures: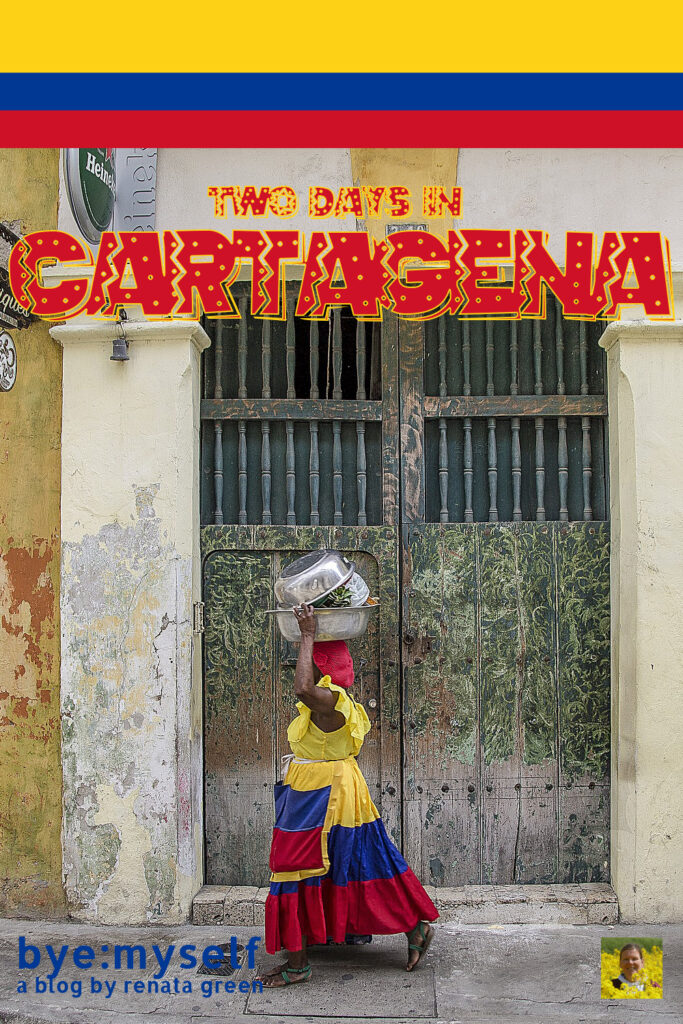 Note: This post is being regularly completed, edited, and updated – last in November 2022.
Did You Enjoy This Post? Then You Might Like Also These:
*This is an affiliate link. If you book through this page, not only do you get the best deal. I also get a small commission that helps me run this blog. Thank you so much for supporting me!